---
Description
Is it hard to make Cheesecake in a Jar? Not at all! You need a few familiar ingredients and cute jars. Individual desserts are the perfect treat to keep in the fridge, and this mini mason jar dessert will soon become everyone's favorite mid afternoon snack.
---
2 Tablespoons

(30g) unsalted melted butter or Coconut oil

1 cup

(100g) graham cracker crumbs (about

8 g

raham crackers)

1 pint

(480ml) heavy cream or heavy whipping cream, cold
one

8

-ounce block (224g) full-fat cream cheese, softened to room temperature (60-68 degrees)

1/3 cup

(65g) granulated sugar

2 Tablespoons

(30g) sour cream, at room temperature or Greek Yogurt

1 teaspoon

lemon juice

1/2 teaspoon

pure vanilla extract

Topping of your choice. I made a blueberry compote for mine.
For the fruit compote topping:
16 ounces

of berries. I used blueberries in this recipe.


1/2 cup

(50g) of caster sugar
juice of

half a

lemon

zest of the whole lemon

half a cup

of water

one

and a half tablespoons of corn starch
---
Instructions
For the graham cracker base:
Combine the melted butter (or coconut oil) with pulverized graham crackers in a food processor until combined. Crushing the graham crackers in a plastic bag also works well if you lack a food processor. Set aside
For the cheesecake filling:
Whip the whipping cream until soft peaks form. Set aside.

Combine the cream cheese, sour cream, caster sugar, vanilla, and lemon juice until smooth.

Fold in the the whipped cream with the cream cheese mixture until well combined.
For the Fruit Compote:
Dissolve the corn starch in the liquid ingredients (water and lemon juice).

Combine the liquids with dissolved corn starch and the sugar and berries in a heavy sauce pan. Cook on medium heat until everything incorporates. About 10 minutes.

Put into storage container and cool to room temperature.

Cover and refrigerate.

Use it in about a week.
To Assemble:
Spoon a tablespoon or two into the bottom of clean jar (or other small container of your choosing).
Carefully spoon (or pipe) in 2 or 3 tablespoons of cheesecake filling. Essentially, fill most of the jar with the cheesecake mixture.
Top with topping of your choice. In this case, blueberry compote.
Notes
The key to this recipe is in the presentation. Having neat, defined layers is what takes this recipe from ok to spectacular. The he tricky bit is with the cheesecake filling. It's easy to get it all over the glass inside the container when adding it, and it doesn't look as good if that layer isn't neatly finished.
We have a couple of options to address this issue:
You don't have to be concerned about it if presentation is not all that important to you. Serving a 5 year old is different that presenting something to you mother-in-law or a neighbor.
I used dampened paper towels to wipe excess cheesecake mixture from the inside of the glass before adding the blueberry topping. It gave me a crisp, clean line for those pretty layers you see in the pictures.
The cheesecake mixture can go into a piping bag and using a large, round tip pipe into the glass jar.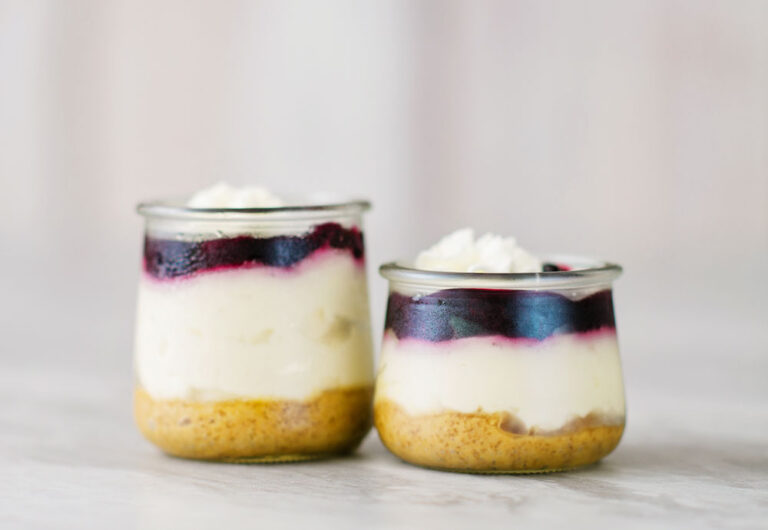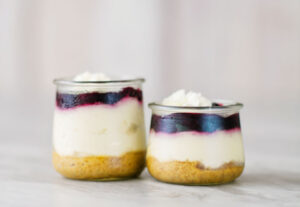 Keywords: Cheesecake in a jar