---
Description
Chocolate almond clusters take only 3 ingredients and are a fantastic throwback to the simpler days of the 70s when the parties were both epic and frequent.
---
16

oz

Raw Almonds

10 oz

bag of Ghirardelli Milk Chocolate Melting Wafers
Sea Salt as desired
---
Instructions
Roast the almonds flat on a parchment lined half sheet pan. 
To Roast Almonds in the oven:
Preheat oven to 325 degrees. Line a rimmed baking sheet with parchment paper for easy cleanup.
If roasting whole almonds, roast for 10-15 minutes
While the almonds are roasting, melt the chocolate. Use your favorite method, but I recommend using a chocolate pot for consistent results. Melt the entire 10 oz bag of  Ghirardelli melts.
Once the almonds have roasted and cooled off a bit, pour them into your large mixing bowl.  (affiliate link) When the chocolate is melted, pour all of it over the nuts in the bowl. Using a large spoon, stir the almonds and chocolate until everything is coated.
Using the cookie scoop,  (affiliate link) scoop the chocolate covered almonds and place them on the parchment lined sheet pan. You can reuse the same setup you roasted the almonds on moments earlier. The main thing is to keep them piled up so that when the chocolate dries, it creates the cluster.
While the chocolate is still wet, sprinkle with a touch of your favorite sea salt. I love Fleur de Sel for any sort of sweet or dessert type recipe.
The clusters need some time to set up and dry. So it's best to leave them sitting in a cool location over night.
Store them in a covered container to preserve freshness.
---
Notes
Don't use chocolate chips for any recipe that calls for melted chocolate. Chips are designed to NOT melt, so use either a higher end chocolate or the wafers I like for this kind of thing. Ghirardelli melts are easy to find in the grocery store and taste good in recipes.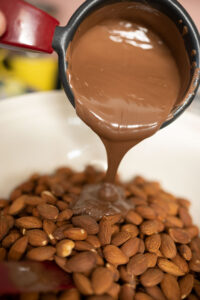 Keywords: chocolate almond clusters