---
Description
Christmas is a wonderful holiday for so many reasons. Not the least of which is the abundance of exotic and special spices like ginger, nutmeg and cinnamon which show up in lots of recipes and dishes this time of year. In this version of Christmas Spice Cake, I'll introduce you to a beloved spice blend from my family's Dutch heritage.
---
For the Cake:
1 2/3 cups

(

180 grams

) Cake Flour: cake flour is more finely milled and gives a much lighter texture

3/4 tsp

Baking Powder

1/2 tsp

Baking Soda

1/2 tsp

Salt

1.5 tsp

Speculass spice blend: A unique blend that once tried is never forgotten

1/2 cup

(

110 g

) Light Brown Sugar: milder than darker versions

2/3 cup

(

127 g

)  Caster Sugar: more finely milled and generally better suited to tender baked goods

1/3 cup

(

80 g

) Shortening: you could sub in butter in equivalent measurements, but don't knock the butter flavored Crisco if you haven't tried it

2/3 cup

(

150 g

) Buttermilk: I use buttermilk in any recipe that calls for a dairy component

2

Eggs

1 tsp

Vanilla extract
For the Frosting:
1 cup

(170 grams)

white chocolate. I recommend the melts from Ghirardelli.


1

cup

(226 grams)

unsalted butter

softened to room temperature 


2 2/3

cups (316 grams)

powdered sugar

(sifted AFTER measuring)

1

teaspoon

clear

vanilla extract

Pinch of

salt

2

Tablespoons

heavy cream
---
Instructions
For the Cake:
Preheat oven to 350 degrees.
Properly prepare 2 6″ cake pans. This recipe is for a small cake. It bakes two 6″ cake rounds that are then sliced in half to make 4 layers.
Beat shortening on medium speed until light in color and fluffy in appearance. About 2 minutes.
Rain in the sugars and cream together until well combined and sugar is dissolved. Mixer will be on medium to medium high speed and this part will take 2-3 minutes.
I always add flavorings, in this case vanilla extract, during the creaming process so the fat can absorb the flavor. In this case the shortening, though I do it for butter recipes, too.
Add the room temperature eggs one at a time beating in each egg until thoroughly mixed before adding the next.
You will have combined the dry ingredients and whisked them together while the mixture is creaming.
Turn the mixer off and add 1/3 of the dry ingredients. Run mixer on low speed and once the streaks of flour disappear, slowly pour in about half the buttermilk. Let mixer run until this is well combined.
Turn the mixer off and add another 1/3 of the dry ingredients. Run mixer on low speed and once the streaks of flour disappear, slowly pour in the remaining half the buttermilk. Let mixer run until this is well combined.
Turn the mixer off and add the remaining 1/3 of the dry ingredients. Run mixer on low speed until the streaks of flour disappear. Once the streaks are gone, turn mixer up to medium speed and let it run for 2 minutes. This part is similar to what we do with a cake mix.
Divide the finished cake batter between two prepared 6″ cake pans. Each pan with take approximately 350 grams of batter.
For the Frosting:
Once melted, set chocolate aside to cool until no longer warm to the touch. Don't put warmed chocolate into butter, because the butter will melt. Not ideal for frosting!

While chocolate is cooling, place room temperature butter in the bowl of a stand mixer fitted with a paddle attachment and beat until creamy. About 2 minutes.

Turn mixer off, scrape down sides and add cooled chocolate. Run mixer on medium to combine chocolate and butter until well whipped. About 2 – 3 minutes.

Add in the clear vanilla extract.

Add sifted powdered sugar in two additions, scraping down the sides and bottom of the bowl in between to ensure everything is well combined. Whip mixture on medium high for about 2 minutes after EACH addition.

While mixer is running add pinch of salt.

With mixer on low-speed, add heavy cream to frosting as needed. You might want to use it all, or might only use some of it. Monitor the texture of you frosting carefully. Increase speed to medium high and beat for 30-60 seconds or until desired consistency is reached. It should be light and fluffy.

Pipe or spread frosting onto prepared, cooled baked goods.
---
---
Notes
Adding a few drops of white food coloring will make frosting even brighter. I added a few drops at the end of mixing. I only use Americolor gel paste food coloring. It's optional, but I love the result.
The golden sprinkles are my favorite! Gold sanding sugar is available in the grocery store and even in Home Goods where I found this very pretty bottle full of gold sprinkles.
The fairy forest is constructed with a few fresh Rosemary sprigs. Trim them and turn upside down.
I decorated this cake with miniatures picked up in the craft store. I've seen really cute ones in Tractor Supply as well, if you are close to one of those.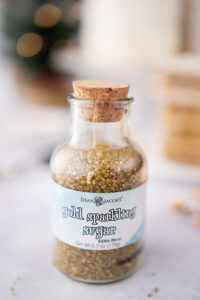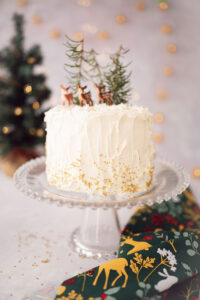 Keywords: Christmas Spice Cake