Inside: Bake my Easter Cadbury Mini Egg Cookies that take chocolate chip cookies to a whole new level! And use less butter in the process.
Who isn't looking for a cookie recipe that uses less butter? The bonus is my Easter Cadbury Mini Egg cookies are also pillowy soft and won't spread in baking.
What a year. New phrases have entered our everyday vernacular, and we're developing new lifestyle habits. We now say things like "social distancing" and "self isolating." We are learning how to do EVERYTHING at home, and lamenting over what counts as an essential business and what does not. Unfortunately getting your hair cut is not considered essential.
We went into this Covid craziness with zest and vigor and proceeded to bake through months of ingredients the first week of being home.
---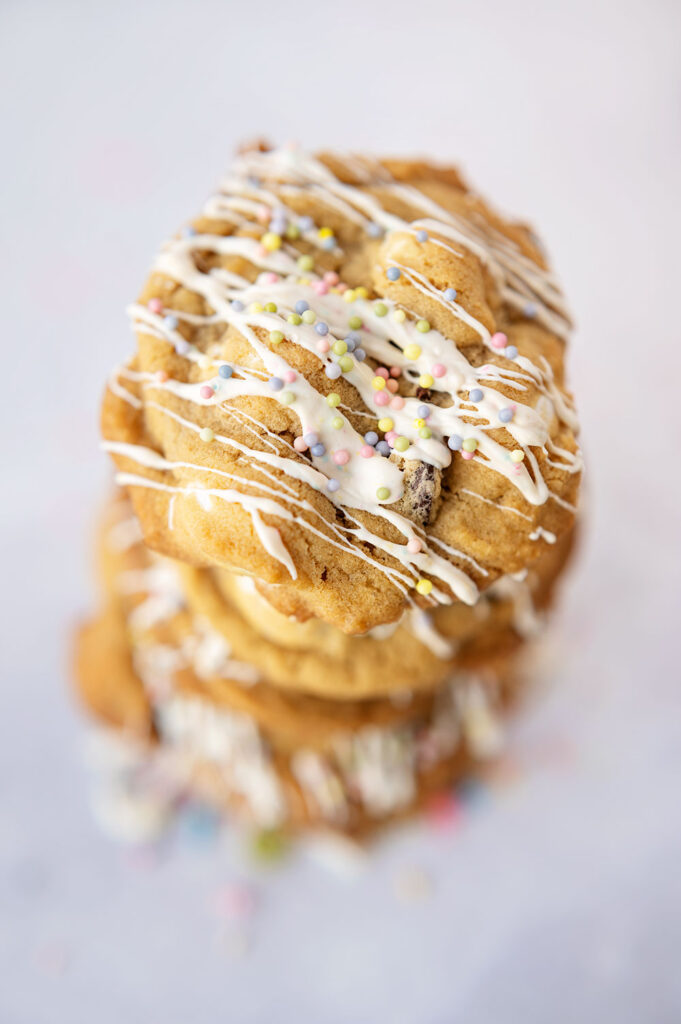 ---
Now we are learning some new terms. Things like "butter substitutions." And "make your own starter." And worst of all, "customers are limited to only ONE ( insert desirable item here)."
Ok, so yes. Things are weird. Things are uncomfortable. We all want to get back to normal. But until then, here we are. And Easter is right around the corner. Remember Easter?
Easter Egg hunts in the city park might be cancelled, but you can still bake my Easter Cadbury Mini Egg Cookies that take chocolate chip cookies to a whole new level. They are perfect packed into Easter baskets or served at your limited-only-to-people-in-your-immediate-household brunch.
---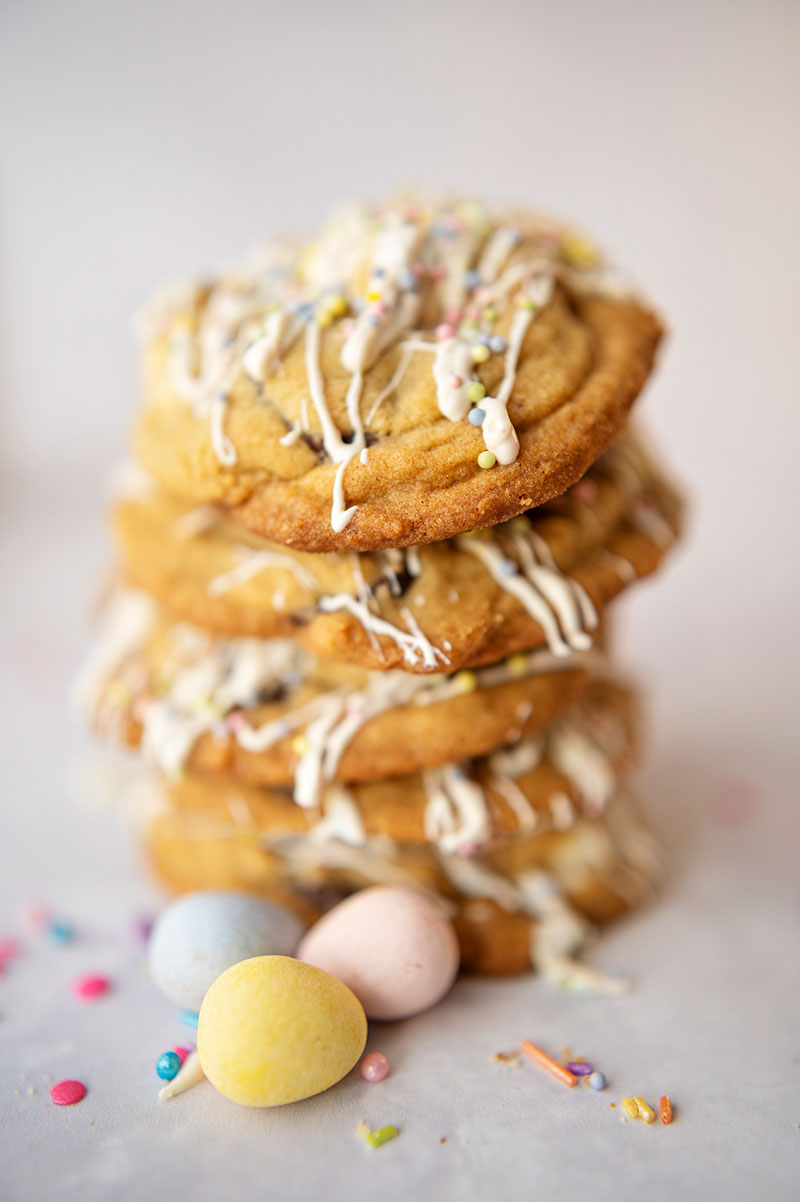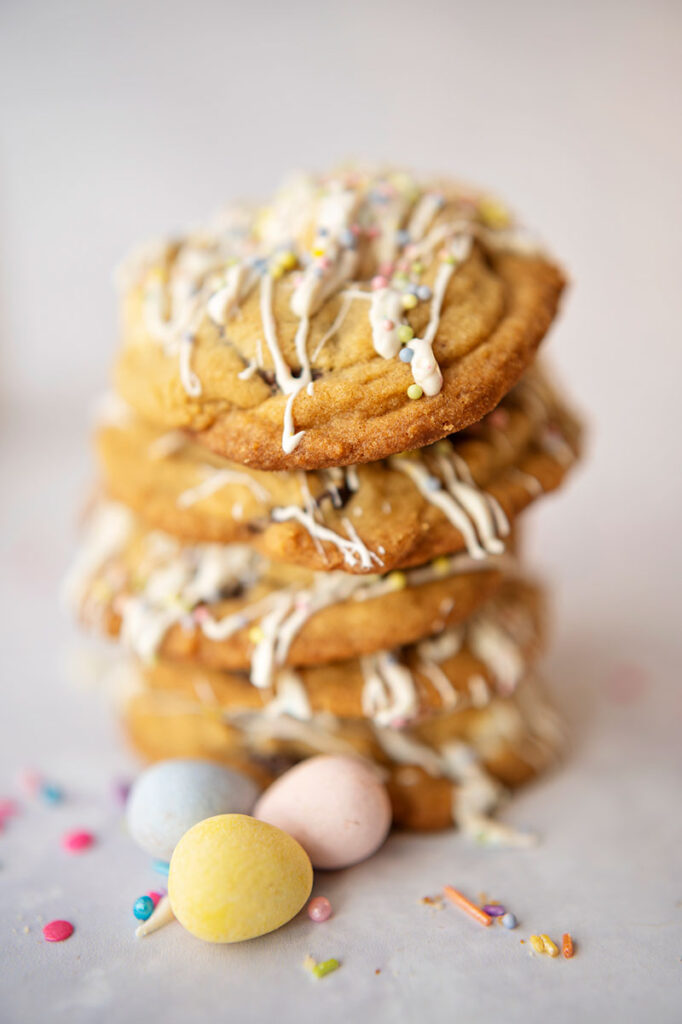 ---
Lots of people are dealing with ingredient shortages after baking up everything they had on hand in the first 5 days. I can't help you with if you are short on flour, but if it's butter you seek pull up a chair.
In the First World War, butter was rationed, and so a lot of bakers turned to using shortening. Food was a bit scarce so baking cookies was considered a very special treat. We are not in the dire straits that people endured during the World Wars, but we are learning that when everyone shops at once, things run out. And it can take a while to get more.
If you are having trouble finding butter, then consider using shortening as a replacement. I find mixing half butter with half shortening is really good, and it helps to conserve the butter.
---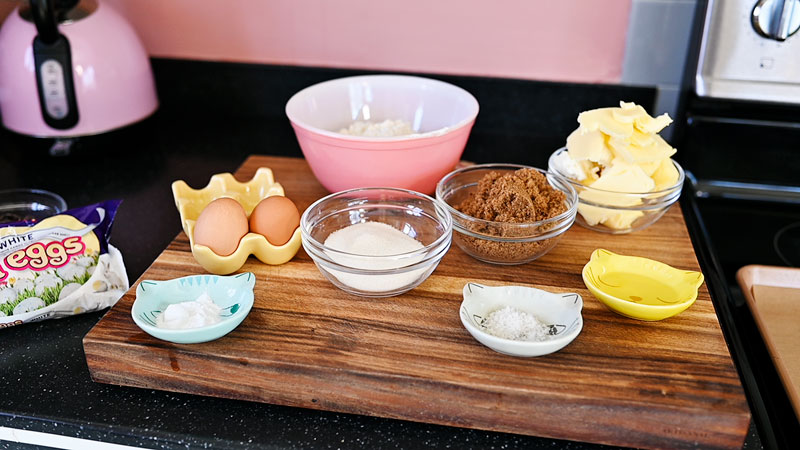 ---
You should know that Crisco was reformulated in 2007 to remove the transfats, so while it's not entirely healthy, it's not completely terrible. Sort of like cookies in general.
In 2020, we deserve a little bit of a pass on strict diets, so bake the cookies AND enjoy eating them.
You can substitute Crisco, or any vegetable shortening, gram for gram with butter. And another thing. Shortening doesn't spread when you bake it.
So you do not have to chill the cookie dough. It can be mixed, scooped and baked straight away. It does not spread like cookies mixed with all butter, because shortening has a higher melting point.
---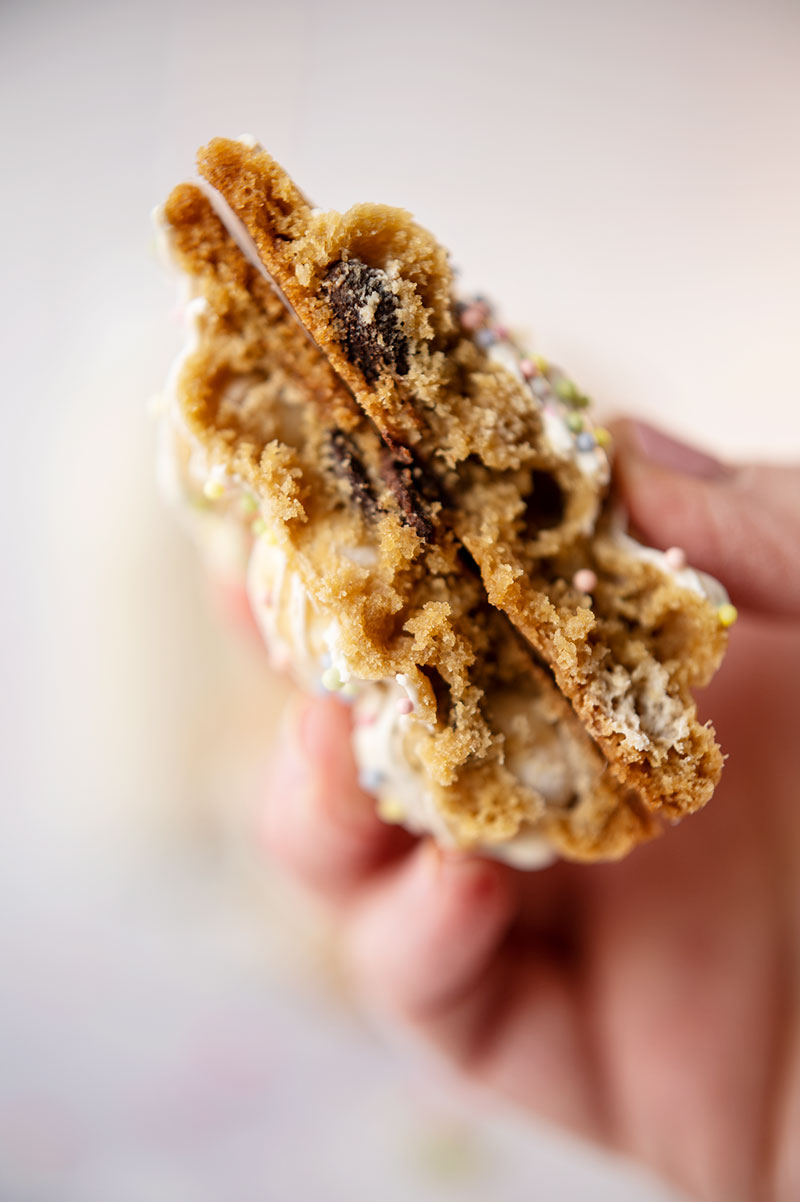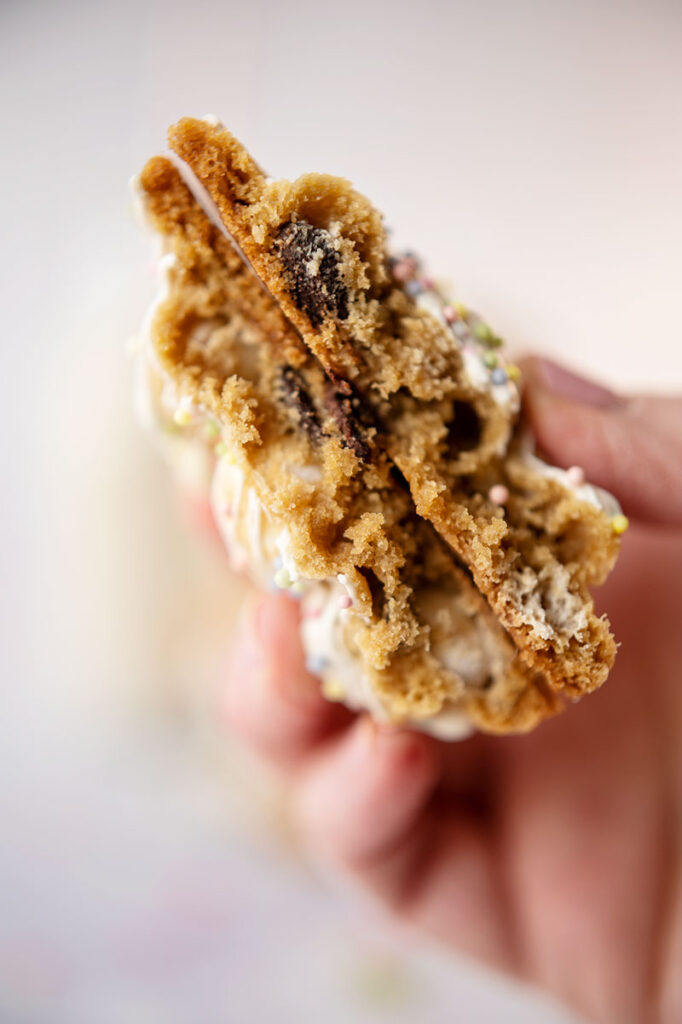 ---
Handle the shortening the same way you handle butter and you will find your cookies are tender and light. If you like soft cookies, these will be your jam.
To be perfectly honest, these are chocolate chip cookies with some Easter candy added in. So if you don't have Easter candy, add extra chocolate chips. But I will let you know that Easter candy is available for delivery from Target. So no excuse to skip the Easter eggs in this recipe.
You're going to need to pick up a few things for the weekend anyway. Just remember to keep your 6 feet of personal space from every one else, don't touch your face, take your shoes off outside when you get home, and wash your hands (and everything you bought) immediately with soap and hot water for 20 seconds.
After that, you're going to need cookies.
---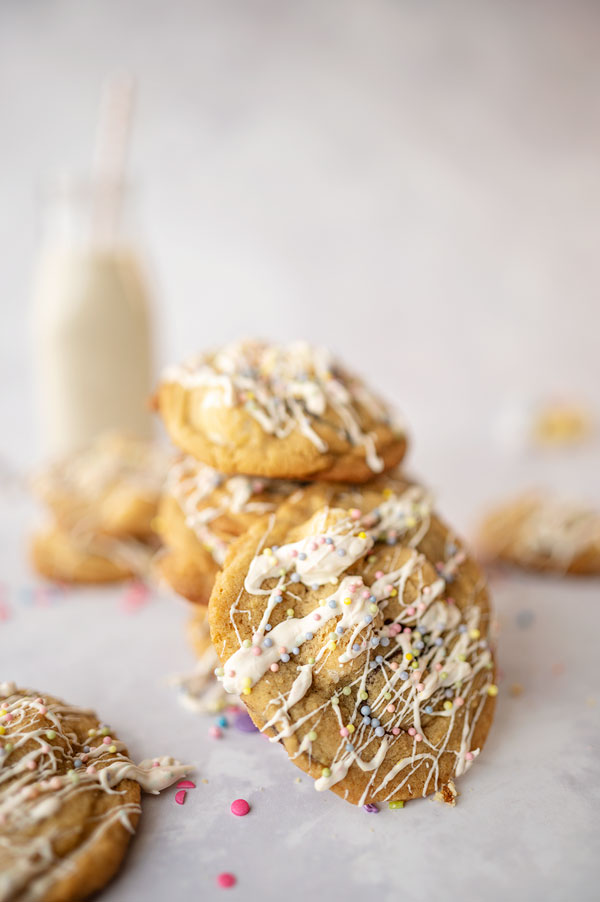 ---
You might notice these are fancied up a little. After doing this technique, I think I may make every chocolate chip cookie going forward like this. It's super easy, but looks amazing.
Melt candy melts (with a touch of coconut or grapeseed oil to thin out the candy), and drizzle over the baked cookies.
Not really, but I thought it was funny so I added that in. Remember laughing? The video in the recipe card will show you exactly how to do this. It's not necessary, but it adds a special touch.
Who doesn't need a few extra special touches in daily life these days?
---
---
I want you to know that it's going to ok. And we WILL get through this mess we are in right now. It will have its challenges, but it can also have its rewards. While your engaged in social distancing, take a few minutes to enjoy the birds singing outside your window (I'm doing that right now), savor the home made meals you're serving every night, and spend a few minutes in gratitude each day for the things that are going right in your world. You might have to search a little bit for that last one, but do try. Find something positive, and hold on to it.
Stay safe and stay sane during this unusual time we are living through. I'm here for you each week, and I want you to know that you do matter.
Now, go bake these incredible Easter Cadbury Mini Egg Cookies.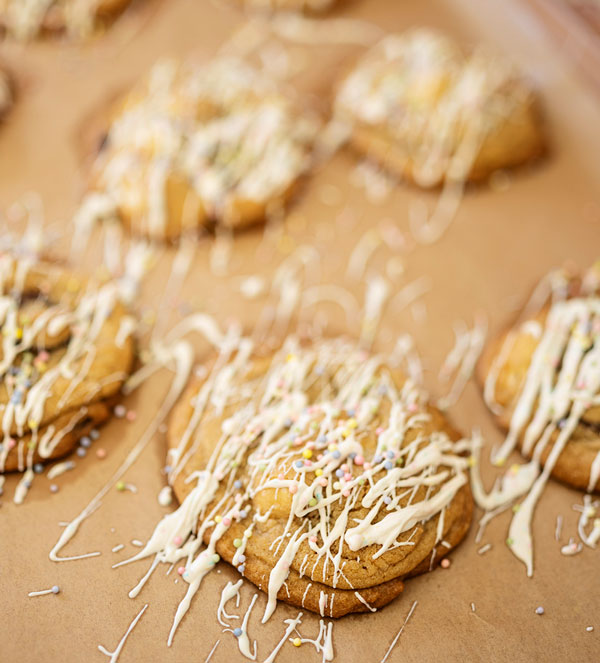 You might also like:
---
---
Print
Easter Cadbury Mini Egg Cookies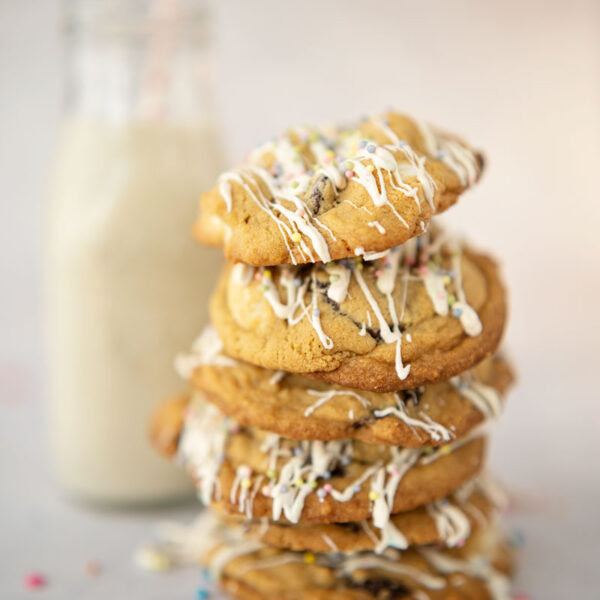 Easter Cadbury Mini Egg Cookies that take chocolate chip cookies to a whole new level! And use less butter in the process.
Author: Pattymac
Prep Time:

20

Cook Time:

14

Total Time:

34

Yield:

27

1

x
Category:

Cookies

Method:

Baking

Cuisine:

American
Scale
Ingredients
1 cup

or

195 grams

Brown Sugar

1/2 cup

or

100 grams

Granulated Sugar

1

stick or

1/2 cup

or

115 grams

Butter

1/2 cup

or

115 grams

Shortening

2

Eggs

2 tsp

Vanilla

2 1/2 cups

or

312 grams

All Purpose Flour

1 tsp

Baking Soda

1 tsp

Salt

1

10oz bag of Cadbury Mini Easter Eggs

8

–

10

oz of Chocolate Chips of your choosing

1/2 cup

White Candy melts (optional)
Pastel sprinkles (optional)
Splash of mild vegetable oil (optional)
Instructions
Preheat Oven to 350 Degrees F
In large bowl cream sugars with butter and shortening. Add vanilla at this time. Cream until well combined.
Add eggs one at a time mixing on medium speed until completely combined.
Turn off mixer and add dry ingredients: flour, salt and baking soda. Mix on low until just combined. Do not over mix.
Fold in Easter candy and chocolate chips. Be gentle as you do not want to break the eggs.
Using a smallish cookie scoop, scoop dough onto a prepared cookie sheet lined with parchment paper. Bake cookies 12 – 15 minutes. They will be slightly underbaked.
Allow cookies to cool on cookie sheet for about 10 minutes.
For the optional drizzle decoration: If you want to add the chocolate drizzle to your cookies, drizzle the melted candy melts over top of the cooled cookies and add sprinkles. Let cookies set up another 15 or 20 minutes and chocolate will be set. Please watch the recipe video for complete instructions on how best to drizzle chocolate decorations.
Notes
I have a chocolate pot I've used for close to 20 years, and I love it. It's an easy way to melt candy melts or chocolate chips without using a double boiler. I always add a splash of grapeseed or coconut oil to the melting chocolate to make it a little thinner and smoother. I also run mine on low as I find it's a better temperature for melting chocolates. It takes a little longer, but the result is much better.
You can use all shortening for this cookie recipe, or you can use all butter. I split them to conserve my butter, but you can easily go with all shortening in this recipe. 
Keywords: Easter Cadbury Mini Egg Cookies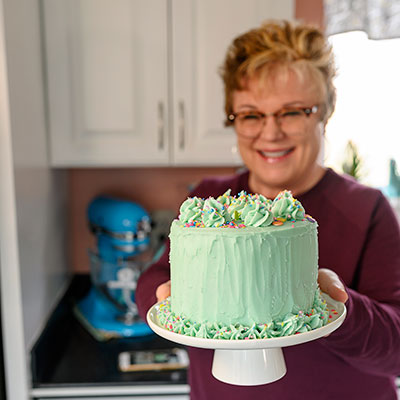 Hi there, I'm Patty.
Sewist, Baker, Maker
I love figuring out new ways to use pom poms, where I can stash more fabric, and I'm always wondering what to bake next…chocolate or lemon? When not dreaming up new things to make (or bake), I love riding my beach cruiser on the Boardwalk, escaping to mid week movie matinees, and planting new things in my tiny but mighty container garden.