Enjoy this easy knit coffee cozy pattern inspired by the magic of winter. These fun Coffee Cozy sweaters pair perfectly with your travel cup.
The holidays are a season of giving, so today I've got an awesome gift for you! Today's post includes a free knitting pattern for these super cute and oh so easy to knit coffee cozies.
Because who isn't running around town sipping a Peppermint Hot Chocolate this time of year? It's the holiday season, so calories don't actually count right now. #AmIRight?
You could settle for using just those cardboard sleeves they give you, but don't you want something more? That's why I created this adorable, quick knit coffee cozy specially designed to show off your favorite colors.
---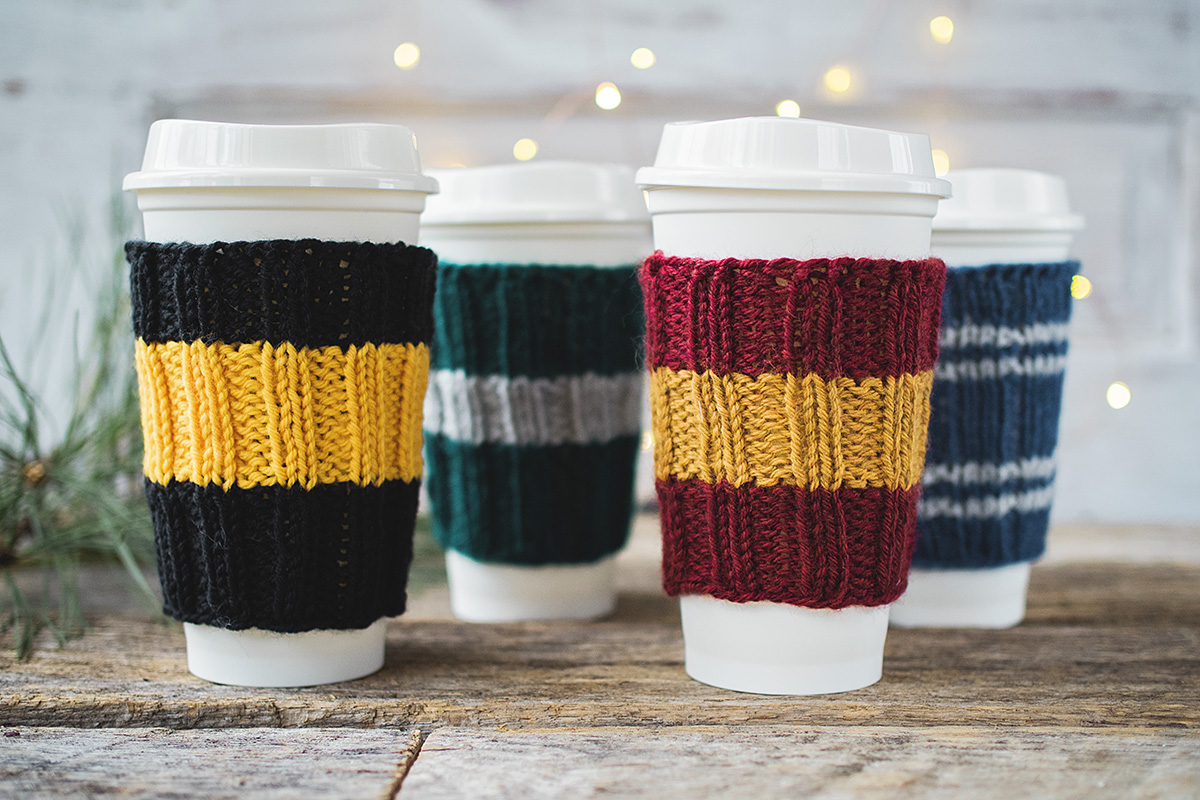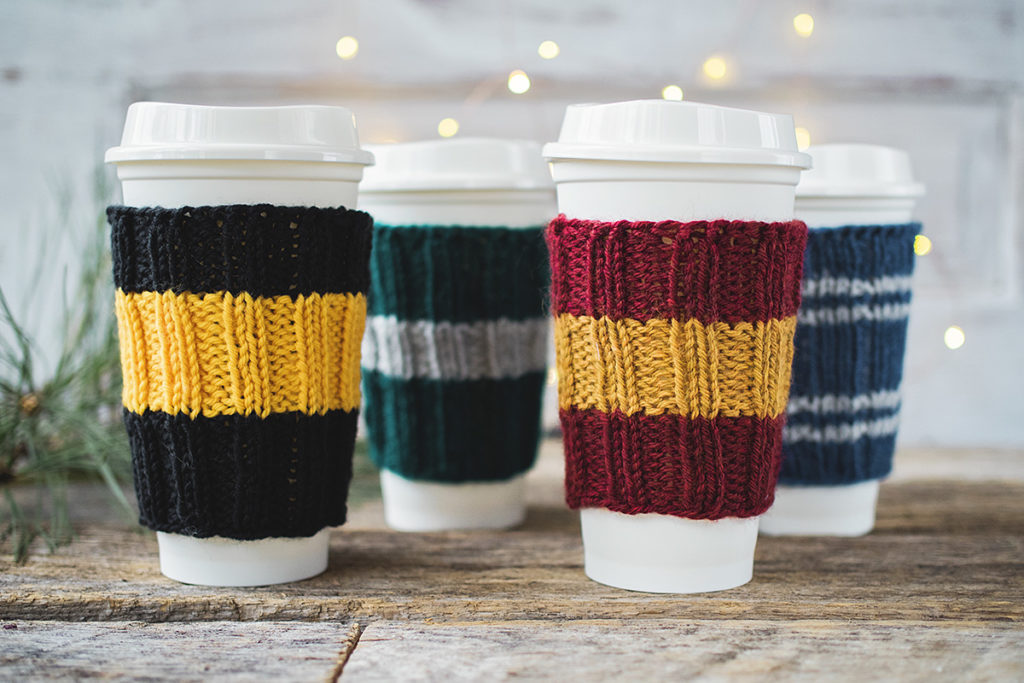 ---
You can certainly blend in with the crowd and use their oh so ordinary sleeve. But I know you better than that. You are someone who was born to stand out. Someone who wants to make a statement.
You're someone who daydreams about finding the easiest, yummiest cookie recipes and all the coolest little handmade gifts.

Which is exactly what we do here!
Case in point:
---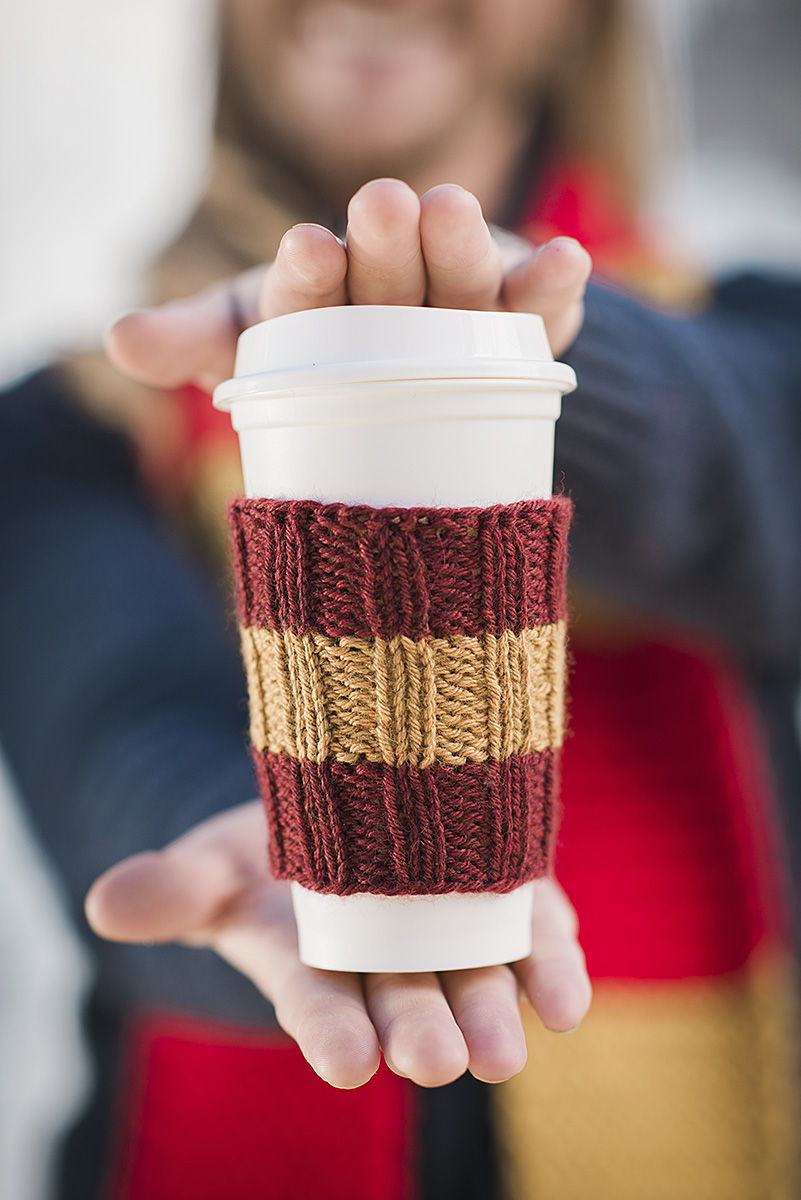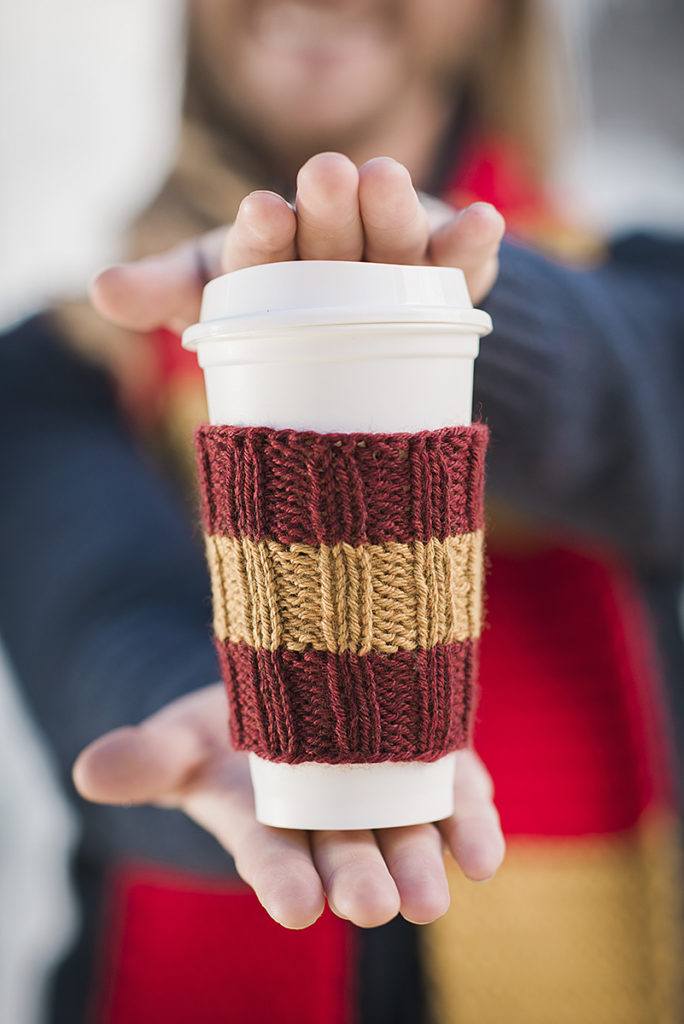 ---
The bonus with this knitting project is that is makes a super fun stocking stuffer, or a fun little extra for your car pool BFF, or that cute guy you make eyes at every morning on the train platform. Surprise them with this easy knit coffee cozy!
---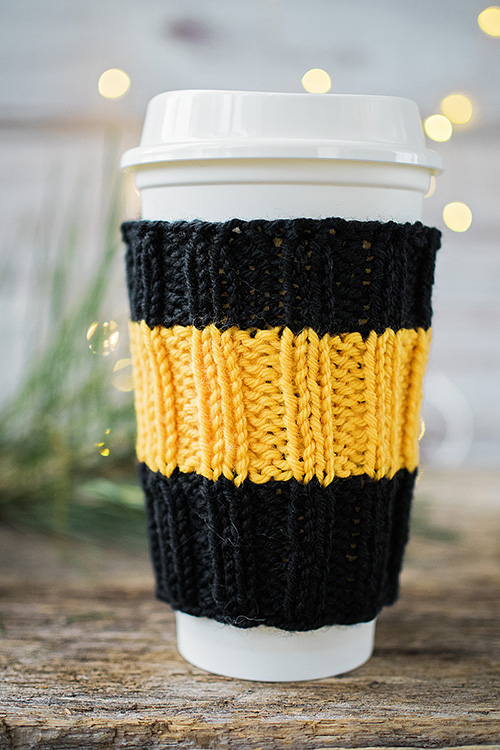 ---
These cup cozies are perfect for so many reasons. Here's why you'll love making them:
Perfect portable project, so it's great travel or train commute knitting.
This is a quick knit project, so you can make up several as gifts.
This project uses so little yarn, you could make several gifts from just two skeins!
Pair your knit with the reusable travel cup and a gift card, and you've just created the most amazing gift set for the coffee obsessed person in your life.
These can be made in any color combinations you choose, so school colors or a favorite team also works. This is very customizable for your friends and family.
Really, when you're looking for ideas for quick and fun gift projects, what could be better than this?
---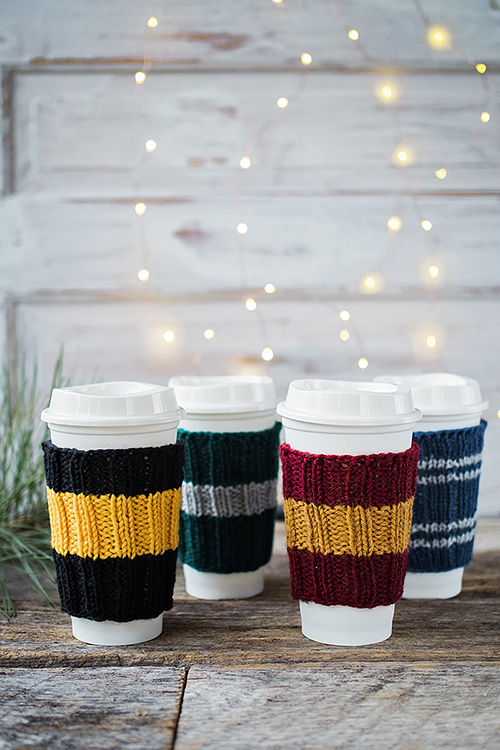 ---
Ok, so how do we actually knit these coffee cozy sweaters?
For three of the cozies, I pretty much knitted the same kind of pattern. I Cast On 44 stitches and went with three color blocks knit in K2P2 ribbing. I knit all of these in the round using the Magic Loop method. I love knitting small projects with magic loop. Your knitting never falls off the needles like it sometimes can with dpns, so it really is the perfect mobile technique. Whether you're taking a road trip or jet setting across the country, having an easy, mobile project is worth its weight in gold.
What's that you say? You aren't sure how to knit Magic Loop? Oh well then, have I got the perfect video for you! Check out my tutorial on getting started with Magic Loop knitting below!
---
---
The blue and silver design is just a little different from the others. I know you like to have some different options for your projects, so consider this one a special bonus pattern.
---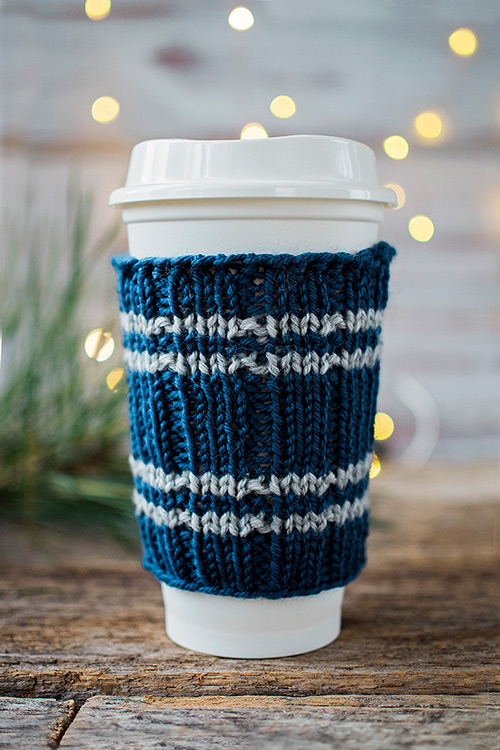 ---
Here's how I knit this coffee cozy :
Same CO (44 stitches) as the other pattern.
6 rounds Blue
2 rounds Silver
2 rounds Blue
2 rounds Silver
10 rounds Blue
2 rounds Silver
2 rounds Blue
2 rounds Silver
6 rounds Blue
Bind off stitches (I use a specific method, but you need the free download to learn that detail.)
There you have it! That's how I set up the stripe. I want to see this one in other colors, because I love it so much.
I also followed the method for jogless color joins and followed the technique for even stripes. There are a few interesting techniques going on is this tiny project.
Are you ready to dive into your own cup cozy project? Well, wait no more! Click on the photo below to receive your printable copy of the pattern. Simply download it to your phone or computer and let the magic begin. And be sure to share follow me on Instagram at @pattymacmakes and share YOUR projects with hashtag #pattymacmakes so we can all see!
---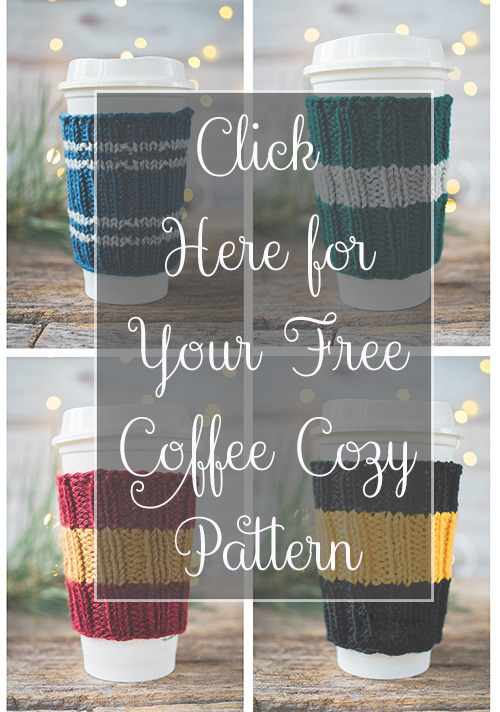 ---
Thanks for dropping by today! Please be sure to subscribe to my newsletter list so you never miss an update! The form is just below. We would love to have you as part of this Maker's Community.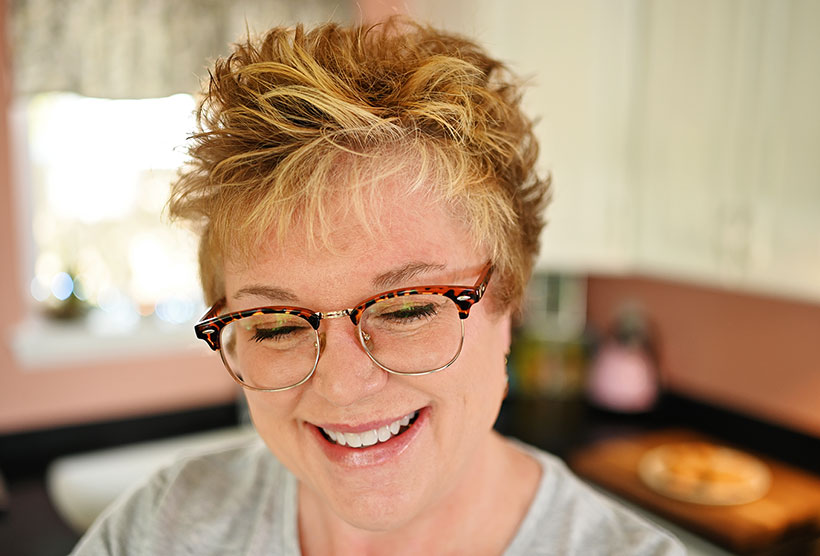 Hi there, I'm Patty.
Sewist, Baker, Maker
I love figuring out new ways to use pom poms, where I can stash more fabric, and I'm always wondering what to bake next…chocolate or lemon? When not dreaming up new things to make (or bake), I love riding my beach cruiser on the Boardwalk, escaping to mid week movie matinees, and planting new things in my tiny but mighty container garden.