How to Sew a Surgical Style Pleated Face Mask with ties
Inside: A pattern with tutorial on how to sew a surgical face mask with ties. Includes a simple written pattern with photo and video tutorial.
Things are weird right now. Like so weird. I never thought I'd be sharing a tutorial for sewing a surgical style pleated face mask with ties. But here we are. Hello 2020. What the heck happened?
Does anybody know what day it is anymore? Yeah I didn't think so.
While we endure this haze of Corona reality, the CDC has suggested it might be prudent to wear a cloth face covering when we go out. And remember, we only leave home for essentials. Unfortunately hair cuts are not considered essential.
So as we maintain our proper social distance and do our best not to handle too many boxes of cereal in the grocery store, it's a good idea to wear some sort of fabric face mask whenever we go out.
Ready to sew a surgical style pleated face mask with ties?
Please note that I make no medical claims regarding the effectiveness of the information included in this post. Do your own research, and use your best judgment.
---
---
In my last update, I shared a resource guide with you that contains a few different patterns and some helpful links on the topic of fabric face masks. Please read that if you haven't already. While I'm sharing my process to sew a surgical style pleated fabric face mask in this post, my way is by no means the only way. It's just the way that worked for me.
Let's get started sewing!
---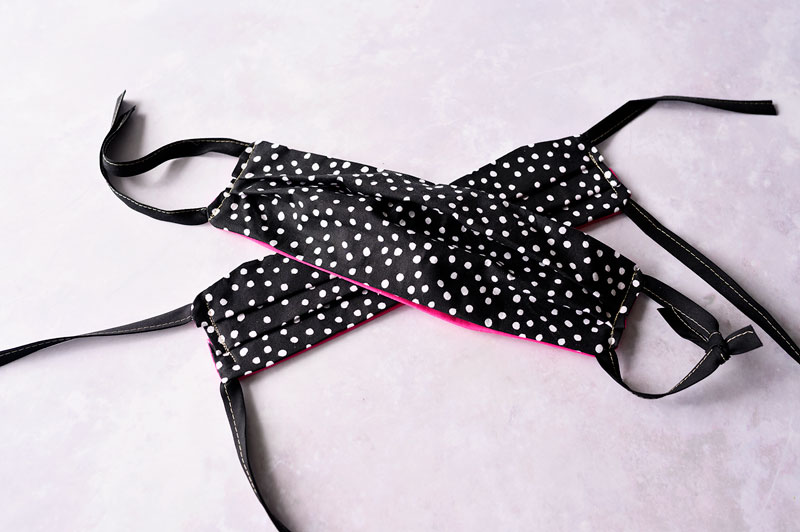 ---
Here's what you need to sew a surgical face style mask with pleats:
2 pieces of heavy quilting cotton cut into 8″ x 12″ rectangles
1 segment of bias tape cut into a 28″ segment
1 piece of cotton flannel cut into a 3″ x 6″ rectangle
Sewing machine
Thread
1 piece of floral wire cut into a 12″ segment (optional)
---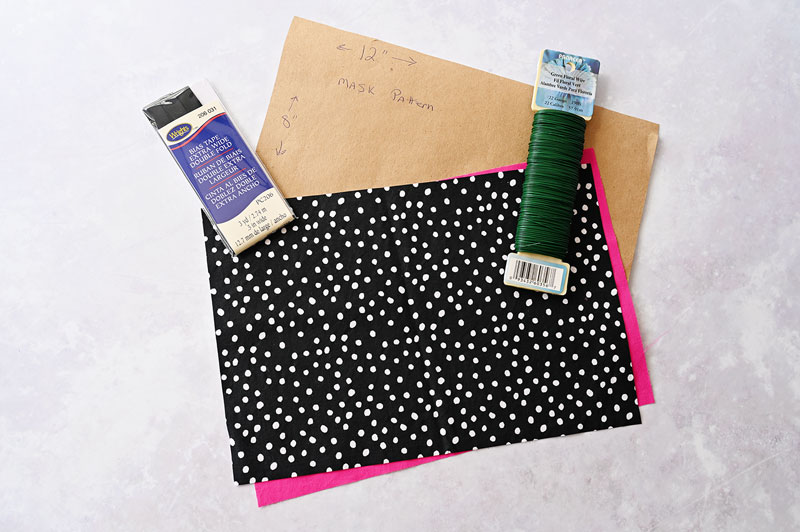 ---
The steps to sew this Surgical Style Pleated Face Mask with ties:
Wash, dry, press your fabrics.
Cut fabric pieces. 2 rectangles cut into 8″ x 12″ pieces. I recommend a print for one side and a solid for the other. That way, you always know what is next to your face. Also, I think a solid is softer on the face than a print, which can be scratchy.
Place fabrics right sides together, sew a straight seam with a 3/8″ seam allowance along a 12″ side.
Press seam with steam iron towards darker fabric side.
Open fabric and on wrong side fold a 1/4″ seam and fold again at 1/4″ to encase the raw edges. Press into place. Do this for each fabric in your mask. Make sure to fold towards wrong side of the fabric. This is your hem for the bottom of your mask.
Sew the hems on either end.
Top stitch the bias tape.
Cut bias tape into 7″ segments.
Turn mask so right sides are facing.
---
---
Pin one bias tape segment into each corner of the mask. You will be slipping the segment of bias tape inside your project.
Leave an opening of 4″ on the bottom edge of your mask. This edge is the same edge with the neat hem you just sewed.
Starting at one side of the opening stitch and back stitch a couple of times. Sew all the way around your mask until you arrive to the other side of the opening. Stitch and back stitch a few times over the the corners with the bias tape.
Turn mask right side out, and finger press open the corners.
Press out mask with steam iron.
---
---
Pinch in pleats and steam press into place. I found 2 pleats were plenty on this mask. You can do 3 if desired.
Stitch the sides to hold pleats in place. Stitch and back stitch over the pleats so they stay in place.
Your mask is done! Adjust it to fit your face.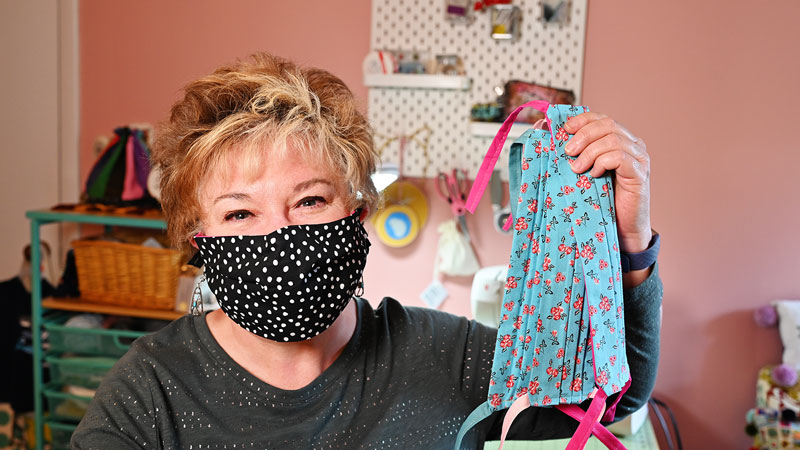 ---
In case you're counting, that's 17 steps to sew one of these. Yup. SEVENTEEN.
How can anyone stitch these in 15 minutes? Not to be critical, but how good is a mask that is stitched in 15 minutes?
This is designed to be a protective barrier. It protects both others from you as well as you from others.
Already we are at a disadvantage, because this is a fabric mask, and it has limitations. So don't you want to wear something as safe and thorough as possible? I know I do.
Realistically, this project is about an hour. It's not fast. And it's a little bit fiddly to get right. If you don't have a heavy duty machine, you will have a little trouble, because it's so many thicknesses of fabric. But it's important to have, and it's important to take your time and get it right.
---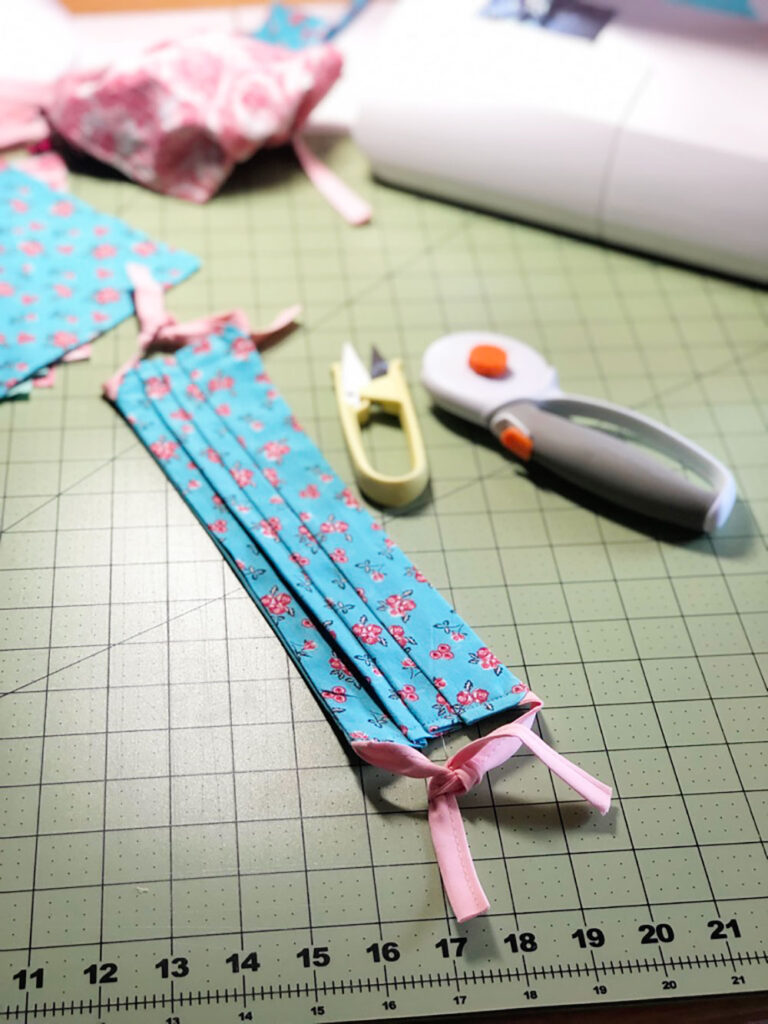 ---
The neatly hemmed bottom with the opening allows you to slip a filter in and out. I've read that flannel is a good filter. So I cut some flannel pieces in 3″x 6″ strips to slip in and out of the mask.
Some people are doing weird things like using vacuum bags, and I don't know about that. I would say to stick to the flannel.
---
---
Earlier I mentioned the floral wire. I bet you're wondering what that's all about.
I put wire in my personal masks so I have a better fit across my nose. Here's the thing.
I zig zag stitched the wire into place and it was kind of hard on my sewing machine. So I left that out of this written tutorial.
There are many ways to put a wire into the surgical style pleated fabric mask, and while I like mine, I don't want to be responsible for tearing up your sewing machine.
However, I did include how I put it into the project in this video. So have a look at that if you want to see what I did.
---
---
I hope that helps you in your quest to sew your own surgical style pleated fabric face mask. Admittedly, it's kind of a strange project tutorial to both share and make, but those are the times we live in.
Until things improve, remember to wear your mask, don't touch your face, please don't throw gloves on the ground, and keep your cool. We will get through this and better days are coming.
Days when we can schedule our hair cuts and nail appointments. You remember hair cuts and manicures. If we learn anything from this crisis, I think it's going to be that those little things are everything. Stay safe and stay healthy and I'll see you in the next post.
That being said, please keep in mind this post is for educational purposes only. The tutorials, designs, or any products created therefrom is intended to be used for educational purposes only and are not intended to be used to create a medical or similar device. These tutorials, designs, or any products created therefrom is not intended, nor has it been tested, to reduce or eliminate the transmission of any respiratory or airborne pathogen, allergen, or any type of particle or droplet, and on that basis, should not be used for any such purpose. Pattymac Enterprises dba Pattymac Makes, Pattymacmakes.com and Patty McGuire make no warranties express or implied, that these tutorials, designs, or any products created therefrom is intended, or is suitable for use to reduce or eliminate the transmission of any respiratory or airborne pathogen, allergen, or any type of particle or droplet. Any user of these tutorials, designs, or any products created therefrom for anything other than educational purposes assumes the risk of serious injury or death. For information on how to reduce the transmission of pathogens, please consult a qualified and competent health care professional.
---

---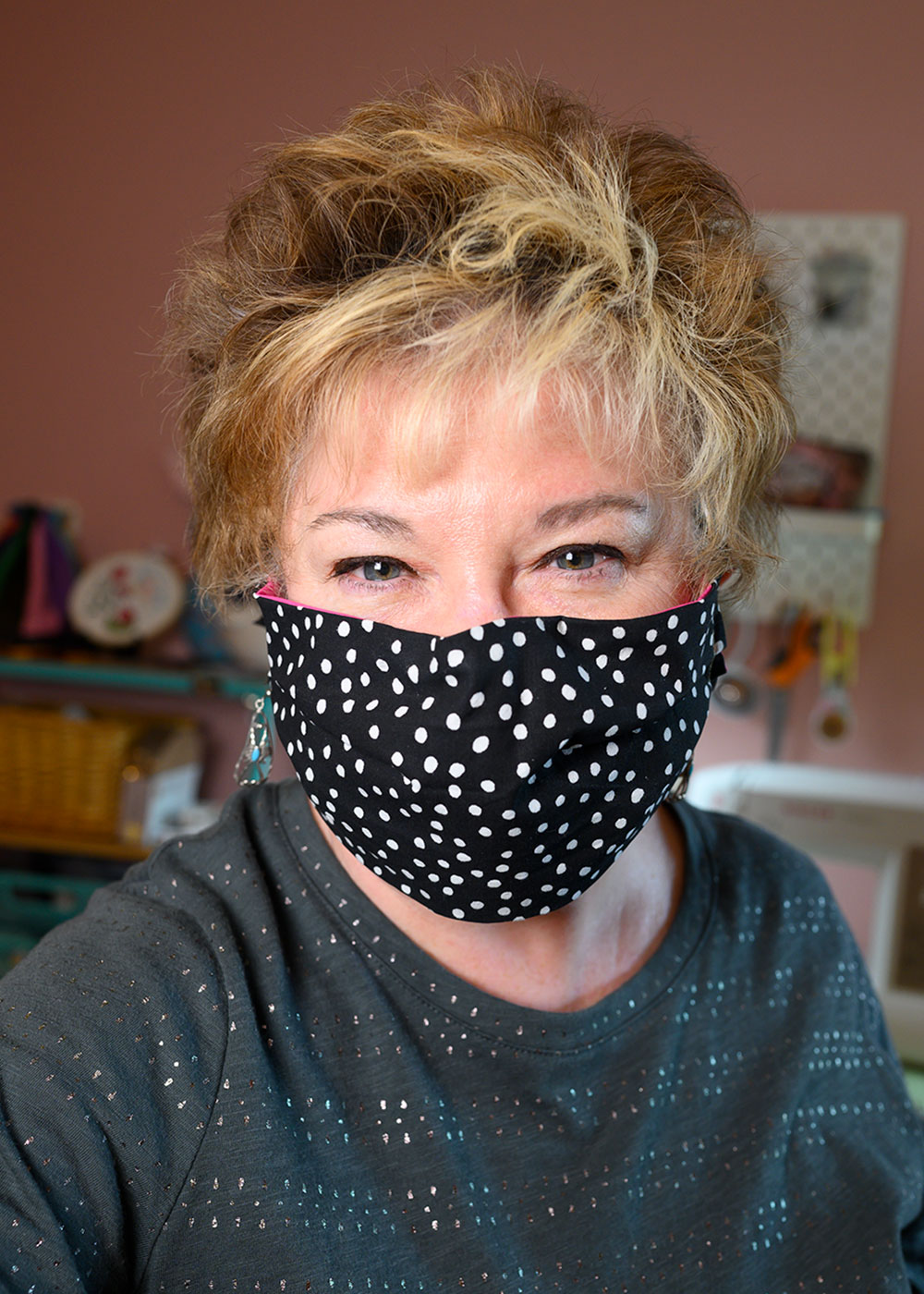 Hi there, I'm Patty.
Sewist, Baker, Maker
I love figuring out new ways to use pom poms, where I can stash more fabric, and I'm always wondering what to bake next…chocolate or lemon? When not dreaming up new things to make (or bake), I love riding my beach cruiser on the Boardwalk, escaping to mid week movie matinees, and planting new things in my tiny but mighty container garden.