---
Description
Looking for a super fancy treat to serve while still holding onto your budget? Wow your guests (or your family) with beautiful, professional looking cookies following a couple of simple steps
---
Bag of your favorite Oreo Cookies

2

Bags of White Chocolate Melts. I always recommend Ghirardelli Melts
Grapeseed Oil
Pretty Sprinkles
---
Instructions
Melt white chocolate using your preferred method. I always recommend a chocolate pot to melt chocolate for best results.
Swirl in small amounts of grapeseed oil until chocolate reaches its desired consistency. Stir, stir, stir after each addition of oil to incorporate. If chocolate is too thin, add in a little more chocolate.
Fill wells of candy mold a little over half way with melted chocolate
Place one oreo cookie in each well .
Gently press cookie into the chocolate and rock back and forth to coax chocolate over the top edges of the cookies.
Cover tops of cookies with more melted chocolate and swipe away excess using a small offset spatula.
Drop filled mold from about 10″ height onto counter 2 or 3 times to encourage air bubbles to rise to the top. This will yield smoother sides and sharper edges.
Place filled molds in a cool, dry space for several hours, but overnight is best. This gives chocolate time to resolidify. Resist putting them into the refrigerator or freezer as this can cause bloom and ruin the look of the chocolate.
Turn candy molds inside out to release dipped cookies once everything is resolidified.
Place cookies on a sheet pan prepared with parchment paper.
Melt more chocolate and thin to a thinner consistency for drizzling.
Dip tines of a fork into the melted chocolate and with a rapid back and forth motion, drizzle melted chocolate in ribbons over the top of the dipped cookies.
While drizzles are still wet, sprinkle decorations on top.
Allow decorated cookies at least 4 hours to set up, but overnight is best. If not, make cookies a day ahead and decorate early the following morning. Allow them all day to set up before serving.
Leftover cookies can be stored on the counter top for 3 weeks in an air tight container.
---
Notes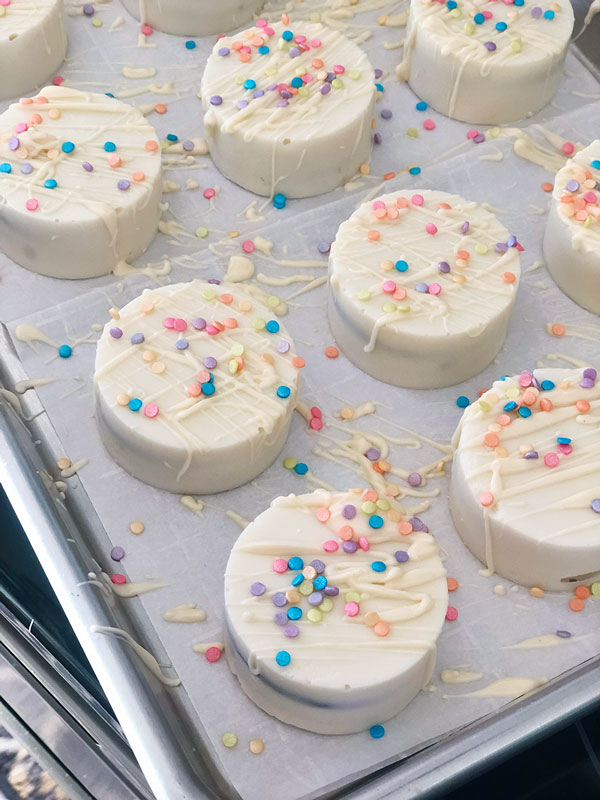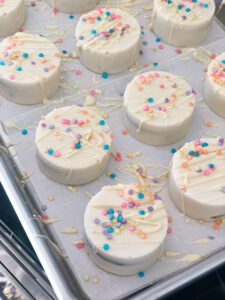 I used tone on tone chocolate for my decorations but you could also use a different chocolate OR colored candy melts for the drizzle. I personally prefer the taste of the white chocolate melts, so I would not dip my cookies in candy melts. It is difficult to color the white chocolate because it's temperamental. It's difficult to get the color the want and you run the risk of causing the chocolate to seize. So if you want color, candy melts are the best option for you.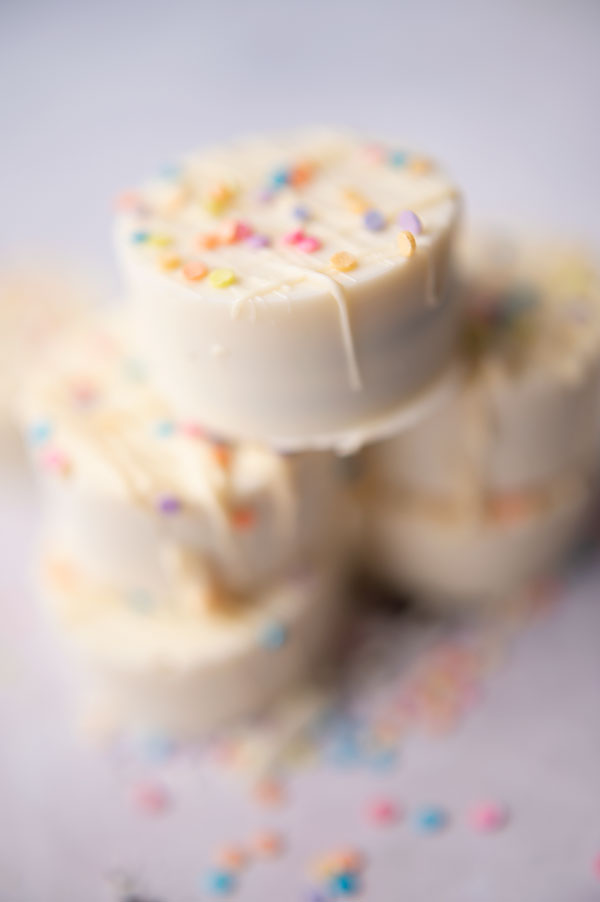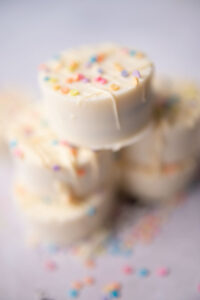 The sharp edges and smooth sides of this cookie are due to the use of the specific candy mold. So if you want THIS look, you need to invest in the silicone candy mold to achieve it. You can lower the cookie into the melted chocolate and let them dry, but you will not achieve this look. If you want this beautiful result, you have to use the candy mold. 
The most surprising thing about making this version of white chocolate dipped Oreo cookies is the sheer amount of chocolate it took to make them. You'll notice I recommend two bags of chocolate melting wafer to make these cookies. That's not a misprint. They used A LOT. So make sure you store several bags of all the flavors of the chocolate wafers in your pantry. It's not life or death to have them, but it sure makes weathering the apocalypse a lot more pleasant.
Keywords: White Chocolate Dipped Oreos