---
Description
Turn a Box Cake Mix into a Bakery Confection! And a bonus Strawberry Frosting Recipe
---
For the Cake:
Box Cake Mix

1

cup

Buttermilk

3

Eggs
One stick (115 grams) of melted Butter

2 tsp

. Vanilla
For the Frosting
8

oz

. cream cheese

1/2

cup

room temperature butter (one Stick)

4 cups

Powdered Sugar or

1

pound which is half a bag

3/4

cup

(17 grams) freeze dried Strawberries (half the bag)

2 tsp

vanilla
---
Instructions
For the Cake:
*Combine butter, eggs and vanilla in mixing bowl. Mix on medium low until well combined. Mixture will look broken, but don't worry. It will come together when you add the cake mix. 
*Add the cake mix all once to the mixed wet ingredients.
*Mix on low to combine wet ingredients with cake mix. Pour the milk in during this time to evenly combine.
*As indicated in the box instructions, turn mixer up to medium high and run continuously for 2 minutes.
*Bake following the box instructions. Everybody's oven and climate is different. So, start with the box time and then check your cakes to see if they are baked.
*I buttered and floured my cake pans so the cakes would pop right out.
*I chilled the cakes in the fridge over night, and frosted them the next day using homemade strawberry frosting.
For the Frosting:
Allow butter and cream cheese to come to room temperature.
Beat butter and cream cheese together on medium high for 3 minutes.
Add the vanilla somewhere at the 2 minute mark.
Pulverize strawberries in food processor to a fine crumb.
Sieve the ground strawberries so the powder is separate from the dried seeds. Save the leftovers in the sieve for later.
Combine powdered strawberries with the powdered sugar.
Add sugar and strawberry mixture to butter and cream cheese mixture in two additions. The first just the sugar and the second, put the strawberry powder on top of the sugar and sift in together.
Combine the sugar with the butter and cream cheese using the paddle before returning to the mixer. It will cut down on sugar going everywhere.
Mix on medium high for 3-5 minutes.
Add heavy cream a tablespoon at a time to thin frosting to desired consistency.
Use immediately.
Notes
I prefer smaller cakes, so I bake mine in 6″ pans. The cake shown in today's post is baked using 2 6″ pans and then made into a layer cake. The leftover batter was baked in silicone molds for something different. A taller layer cake could be made using a third 6″ pan. The baking time is similar because the depth of cake batter is similar to an 8″ pan. Have fun with your cake pans, and don't feel stuck only using standard 8″ layer cake pans.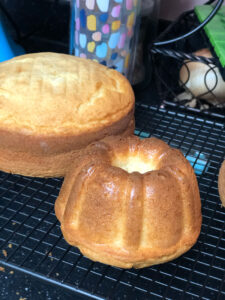 Keywords: box cake mix hack