My Favorite Box Cake Mix Hack
Everyone has a secret in their recipe box. Today I'm sharing my favorite box cake mix hack. It works with every boxed caked mix!
A box cake mix hack is nothing new or unique, but I had never heard it called that until I saw something pop up on youtube. We always called this "doctoring up a mix." I grew up in the 1970s and all the moms had a "secret technique" for jazzing up their mixes. I developed my own version of of this, and it's my absolute favorite box cake mix hack.
While the cake is from mix, I do recommend making the frosting from scratch. There really is no substituting a homemade frosting, and using it is an easy way to make your cake mix cake even better.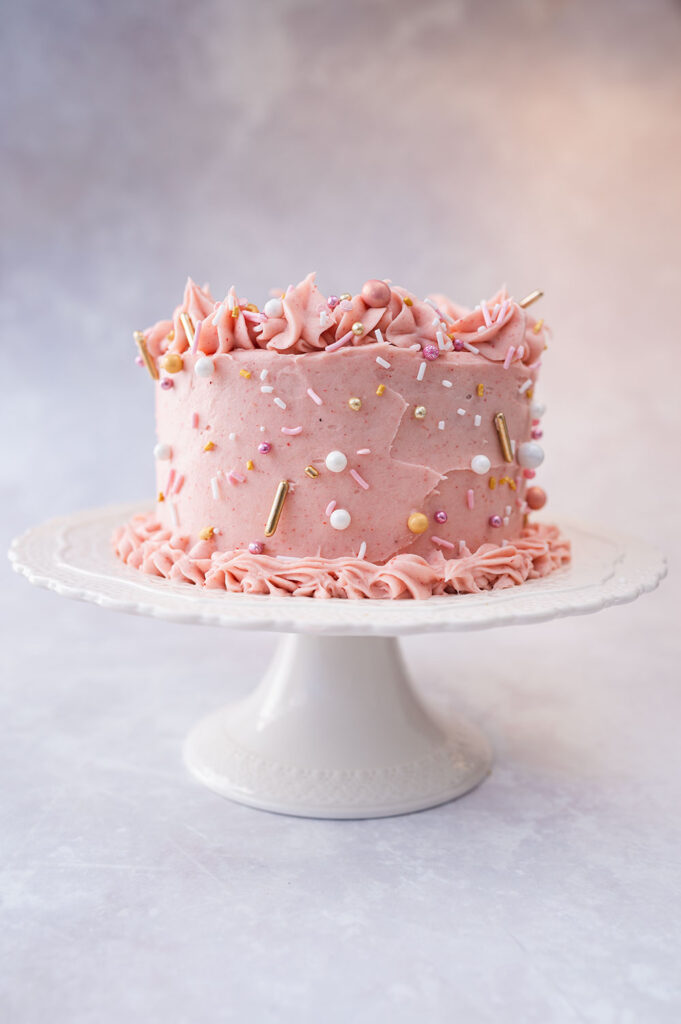 How to make your box cake mix cake better:
Follow the recipe hack I'm sharing with you today.
Make your frosting from scratch. This cake is made using a strawbrerry frosting which is both pretty AND delicious.
Throw on some fancy sprinkles! Like literally….throw them on! That's how I got them on the sides of the cake. Fancy sprinkles elevate any cake!
Take care with frosting and making your layer cake.
Pipe frosting swirls both on top of the cake and at the base where the cake sits on the plate. Piped frosting is both easy and looks special.
Serve your cake on a pretty cake plate. I have a nice collection I've built up by browsing Home Goods on a regular basis.
🍰
Baking a cake from scratch requires a little bit of planning. And it also requires having several different ingredients on hand.
A lot of my readers told me know they never bake cakes or cupcakes at home BECAUSE they don't want to buy all that extra stuff. It just goes bad in the cupboards. Baking soda and baking powder lose potency within 6 months, and if you are not baking a LOT, it winds up going out with the garbage. Which is expensive and wasteful, and in 2023 nobody can justify wasting food.
With a Box Mix, everything but the wet ingredients is already measured and ready to go. You can even use canned milk, which is a great pantry item to have on hand.
Cakes can be temperamental in the mixing process. With a prepared mix, you simply dump everything in a bowl and mix it up following the instructions on the box. I suggest using a hand mixer to get this just right, but you could use a whisk if you have the arms for it. You will need the mixer for the homemade frosting, so just go ahead and invest in one.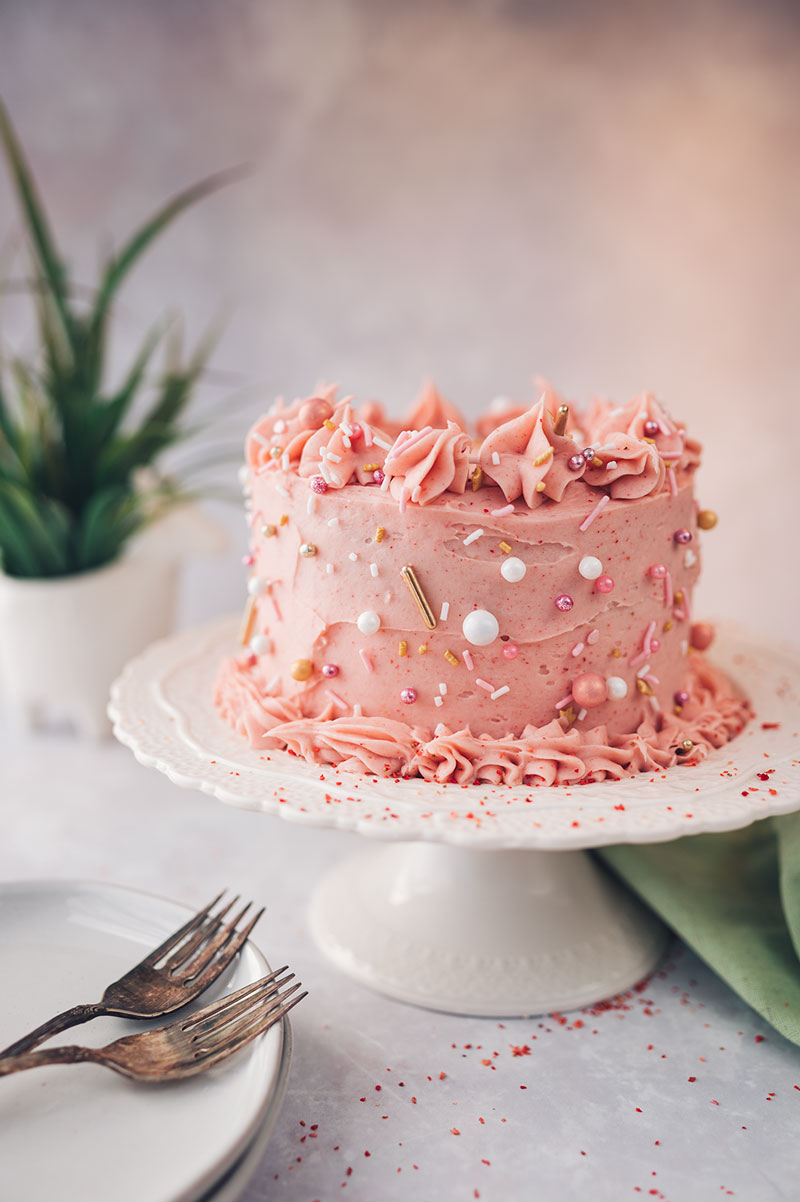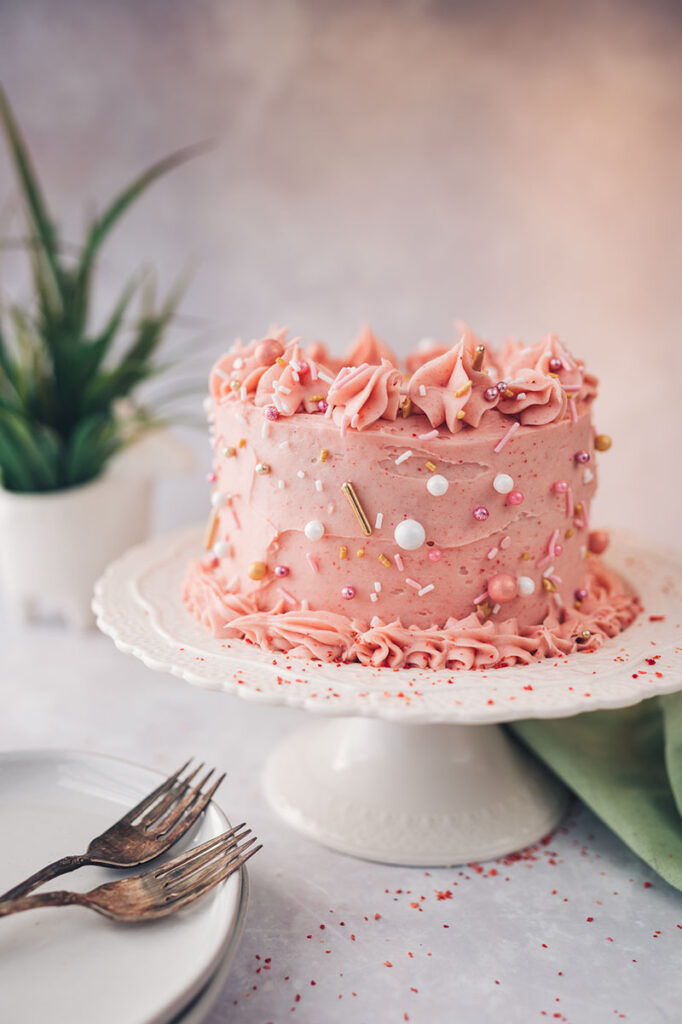 What ingredients are needed to bake an improved cake from cake mix?
Cake mix of your choice
Eggs as listed on the mix ingredients. Lots of people add extra eggs, but I don't. First of all, eggs are very expensive and can be difficult to get right now. So I don't recommend wasting valuable eggs in a cake mix. I also think it's unnecessary and it can be difficult to whip that extra fat into the wet mix.
Substitute the water. My go to is Buttermilk when I swap water in cake mixes. But I have used evaporated milk, which is canned milk if I can't get fresh buttermilk.
Substitute butter for oil. Generally people add melted butter, but I find very soft butter also works well. If you don't have butter or the butter is too expensive, use a non flavored oil like grapeseed oil and add a butter extract for flavor. If you're adventurous, browned butter is another layer of flavor. It also adds pretty flecks to the cake which I love.
Add an extract for flavor. I love vanilla bean paste, which is a little more expensive, but it lasts a long time in the pantry and it really does add delicious flavor to your cake.
Ingredients for the cake
Combine the wet first

Once Mixed, weigh the batter

Smooth the top
How to make a cake mix taste like a bakery cake
Texture is a huge part of a really good cake. It should not be dry, and it should not be heavy. There's more to this than simply dumping everything in a bowl and putting the mixer on high. Take care in HOW you mix the ingredients and prepare the pans.
Combine the wet ingredients first. Mix your butter, eggs and vanilla in the mixing bowl first. I run mine in my stand mixer using the paddle attachment for a minute or so. The mixture will look curdled, but don't worry. Once you add the dry ingredients, it comes together
Add the cake mix all at once to the combined wet ingredients. Follow the package instructions and slowly combine the wet and dry. I run my mixer on low for about 45 seconds. While I'm running the mix like this, I pour in the milk to combine as it's slowly mixing.
After this initial mix, turn the mixer up to medium high and mix for a solid 2 minutes. All cake mixes have this instruction and it's specific. Set a timer and follow this part of the instructions on the box mix exactly
Since we are baking this cake as a layer cake, I would like to have even amounts of batter in the pans so they bake evenly. You don't want one cake dry and the other under done. I use my food scale and put about 350 grams of batter in each pan. I used 6″ cake pans to make a smaller cake, but you can use what you like. (I had a little leftover batter and I put that in a silicone pan to try out. I loved it and I'll share that with you in a different recipe post.) If you want a larger cake, use two 8″ pans as is generally suggested by the mix instructions.
Use a timer when baking cakes. Check for doneness a couple of minutes before the timer goes off, and use the spring back method to gauge doneness. This can take a little practice, but it's worth learning how to do it, and it is a better indicator than a toothpick. If you wait for a perfectly clean toothpick, you risk over baking and then you have a dry cake.
How do you upgrade a box cake mix?
The answer is, "Very carefully." 😆 Joking aside, following the instructions on HOW to add the ingredients together is just as important and how MUCH you use. Which means, correct measurements are not the only factor in your cake's texture.
Here I'm adding the milk as the mixer combines the wet and dry mix at the start of the mixing process. You could add the milk to the other wet ingredients at the start, but it seems to soupy to me. I prefer the more gradual addition of the milk.
Other ways to improve your box cake mix
Use coffee instead of water for chocolate cakes. For chocolate cakes, use strong brewed coffee instead of water to deepen the flavor.
Sour Cream is perfect for adding moisture and rich flavor. Add in 1/2 cup sour cream to add a more dense, rich flavor. You can also use mayo, but that's a topic for another day!
Pudding adds moisture and flavor. Adding a small instant pudding box to the mix can increase moisture and flavor. I personally do not add pudding to my cakes, because I think it makes a dense cake. But a LOT of people swear by it. You should try it and see if you like it.
Vanilla & Salt give the cake a more homemade taste. Add in a teaspoon of real vanilla extract and 1/4 teaspoon of salt the mix. REAL vanilla is key. The flavoring type of vanilla is made from anal glands of beavers. Apparently. Poor beavers.
Butter instead of oil. We've already been over this one, but it bears repeating. Use melted butter in the place of vegetable oil for a richer taste. For added decadence, add two tablespoons of mayonnaise.
Mix-Ins can both personalize your cake and add flavor. Add a handful of chocolate chips, fruit, or nuts to personalize your cake.
Homemade Frosting is your secret weapon! Make homemade buttercream frosting!
Cakes Baking

Cakes Cooling
The real reason I tried this recipe out was for a good friend's birthday party.
I needed a good sheet cake, and I needed it fast, so I decided to try this recipe. Kristin asked for Strawberry, so I made Strawberry frosting from scratch, and used the doctored up cake mix for the cake. It was perfect!
Her party was at a place that is decorated like the 80s never left, complete with Bon Jovi and Poison on the HiFi. So a cake mix cake was kind of perfect here.
---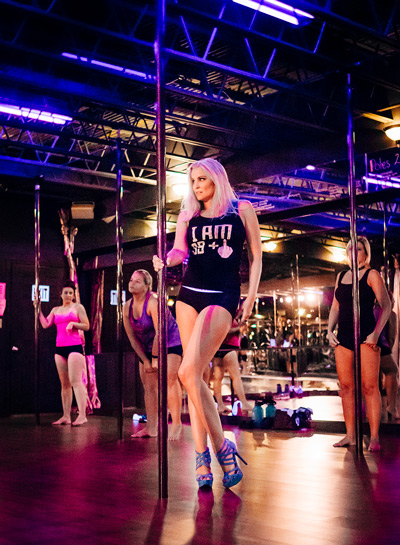 ---
It was a fun party, and I'll never turn down an excuse to crank the 80s tunes. The hair was not nearly as big as it was back in the day, but it was fun to feel like those good old days were still at least partially around.
But back to the cake!
I made this recipe as a test for the party to see how everyone liked it. They were blown away that is was something I had baked at home! Everyone wanted the recipe, and that's always a good sign. I will say, the homemade frosting is what makes it.
Kristin requested strawberry frosting, so I had to figure that one out. I started with the recipe by Sally of Sally's Baking Addiction, and I love it. The strawberry flavor comes from Freeze Dried Fruit, which is an awesome pantry staple. I have some in large cans packed to last for 20 years, but I used the small packages in this version.
Hope this post gave you ideas on how to jazz up a box cake mix.
I used a basic French Vanilla cake mix, which I think is a great place to start. You can put just about any frosting on it, and by altering flavoring or extracts, the cake can be made to taste however you like. Experiment a little and see what works best for you. I think of this cake mix hack recipe as a baseline kind of thing: a good place to start. It's great if you have a last minute birthday party at the office and need a cake fast. And it's far more thoughtful than picking up something in the bakery case in the grocery store. Start here and experiment a little.
It's also a fun way to practice your cake decorating technique. I am a home cook, not a cake decorator. But with simple piping skills and pretty sprinkles, a simple cake can be made incredibly special. Best of all, it's a hobby your whole family can enjoy! Except for that aunt who's always raving about keto. 😆
Related Stories
---
Print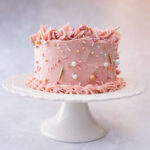 Box Cake Mix Hack
Author:

Patty McGuire

Prep Time:

15

Cook Time:

35

Total Time:

50 minutes

Yield:

1

2

1

x

Category:

Dessert

Method:

Baking

Cuisine:

American
---
Description
Turn a Box Cake Mix into a Bakery Confection! And a bonus Strawberry Frosting Recipe
---
For the Cake:
Box Cake Mix

1

cup

Buttermilk

3

Eggs
One stick (115 grams) of melted Butter

2 tsp

. Vanilla
For the Frosting
8

oz

. cream cheese

1/2

cup

room temperature butter (one Stick)

4 cups

Powdered Sugar or

1

pound which is half a bag

3/4

cup

(17 grams) freeze dried Strawberries (half the bag)

2 tsp

vanilla
---
Instructions
For the Cake:
*Combine butter, eggs and vanilla in mixing bowl. Mix on medium low until well combined. Mixture will look broken, but don't worry. It will come together when you add the cake mix. 
*Add the cake mix all once to the mixed wet ingredients.
*Mix on low to combine wet ingredients with cake mix. Pour the milk in during this time to evenly combine.
*As indicated in the box instructions, turn mixer up to medium high and run continuously for 2 minutes.
*Bake following the box instructions. Everybody's oven and climate is different. So, start with the box time and then check your cakes to see if they are baked.
*I buttered and floured my cake pans so the cakes would pop right out.
*I chilled the cakes in the fridge over night, and frosted them the next day using homemade strawberry frosting.
For the Frosting:
Allow butter and cream cheese to come to room temperature.
Beat butter and cream cheese together on medium high for 3 minutes.
Add the vanilla somewhere at the 2 minute mark.
Pulverize strawberries in food processor to a fine crumb.
Sieve the ground strawberries so the powder is separate from the dried seeds. Save the leftovers in the sieve for later.
Combine powdered strawberries with the powdered sugar.
Add sugar and strawberry mixture to butter and cream cheese mixture in two additions. The first just the sugar and the second, put the strawberry powder on top of the sugar and sift in together.
Combine the sugar with the butter and cream cheese using the paddle before returning to the mixer. It will cut down on sugar going everywhere.
Mix on medium high for 3-5 minutes.
Add heavy cream a tablespoon at a time to thin frosting to desired consistency.
Use immediately.
Notes
I prefer smaller cakes, so I bake mine in 6″ pans. The cake shown in today's post is baked using 2 6″ pans and then made into a layer cake. The leftover batter was baked in silicone molds for something different. A taller layer cake could be made using a third 6″ pan. The baking time is similar because the depth of cake batter is similar to an 8″ pan. Have fun with your cake pans, and don't feel stuck only using standard 8″ layer cake pans.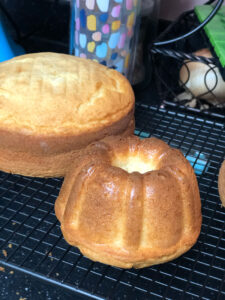 Keywords: box cake mix hack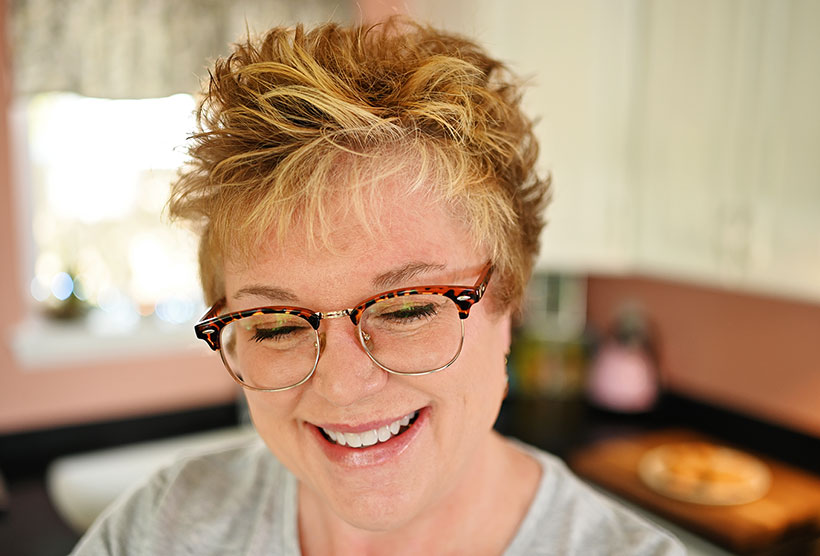 Hi there, I'm Patty.
Sewist, Baker, Maker
I love figuring out new ways to use pom poms, where I can stash more fabric, and I'm always wondering what to bake next…chocolate or lemon? When not dreaming up new things to make (or bake), I love riding my beach cruiser on the Boardwalk, escaping to mid week movie matinees, and planting new things in my tiny but mighty container garden.