---
Description
Chocolate chip cookies made with cake mix are a cookie revelation. Add plenty of color sprinkles to keep the party going.
---
1

 and 1/4 cup (

160g

) all-purpose flour 

1

 and 1/4 cup (

190g

) box cake mix (not the whole box)

1/2 teaspoon

 baking soda

1/2 teaspoon

 salt

3/4 cup

 (1.5 sticks or 

170g

) unsalted butter, softened to 

1/2 cup

 (

100g

) caster, or superfine, sugar

1/2 cup

 (

100g

) packed light brown sugar

1

 egg, at room temperature

1

and 1/2 teaspoons clear vanilla extract

1 1/4 cup

 (200

g

) chocolate chips (go for

1/2 cup

 white and 

1/2

semi-sweet chocolate chips)

3/4 cup

 (100

g

) sprinkles
---
Instructions
Preheat oven to 350ºF (177ºC).
Line a heavy baking sheet with parchment paper.
Whisk together flour, cake mix, salt, and baking soda together. Set aside.
Using a stand mixer fitted with paddle attachment, beat the softened butter, vanilla, and both sugars together on medium speed until creamy and smooth, about 3 minutes. Add the egg and mix on medium high until combined, about 1 minute. Scrape down the sides and bottom of the bowl as needed.
Add the flour mixture to the wet ingredients and mix on low-medium speed until just combined. Add the chocolate chips and sprinkles. Mix on low until the add-ins are evenly combined. Do not over mix!
Scoop the dough, using 1.5 tablespoons per cookie ball, onto a parchment lined sheet, cover with plastic and chill in the fridge for a couple of hours. It definitely improves the cookie, but it's not absolutely necessary. If it's a cooler time of year, then you should be able to scoop and bake right from the bowl. But scoop the rest of the dough and keep it refrigerated as you bake individual trays.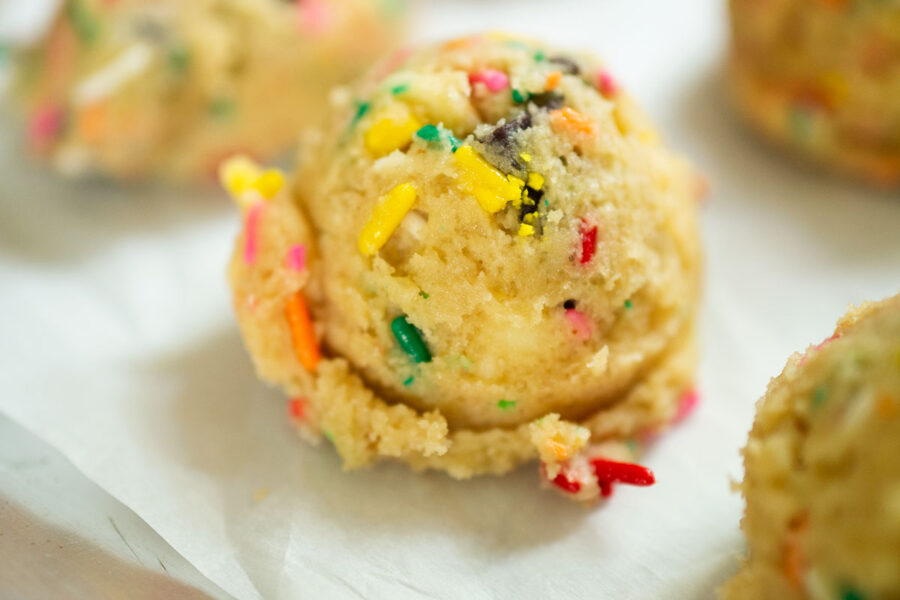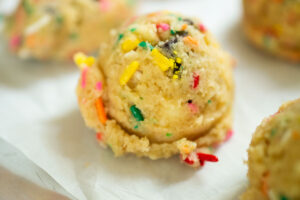 Bake the cookies for 10-12 minutes until edges are lightly browned. The centers will still appear very soft, but the cookies will continue to set as they cool. Don't over bake them, because we want them to stay soft.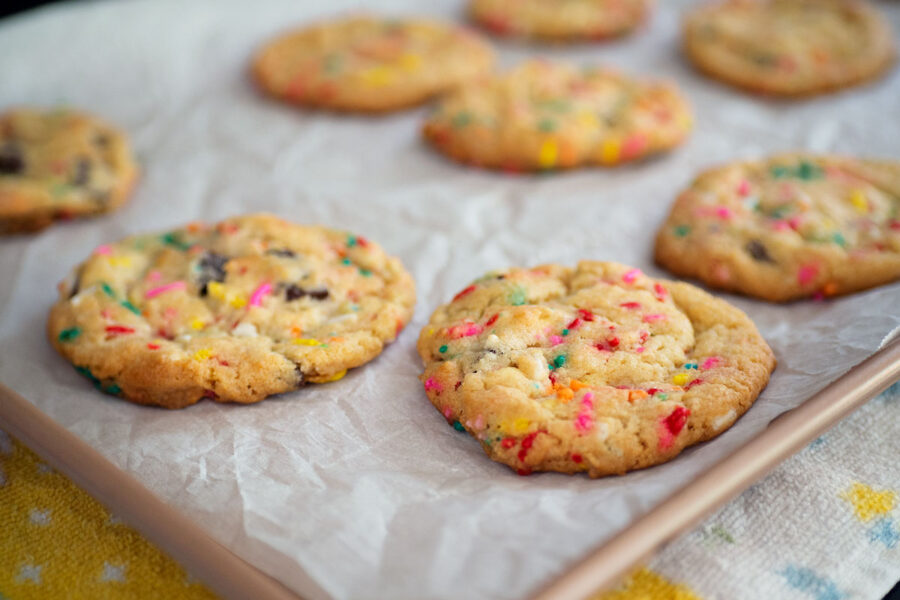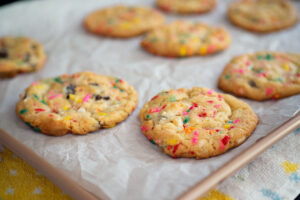 Allow the cookies to cool on the baking sheet for 10 – 15 minutes before transferring to a wire rack to cool completely.
Notes
Invariably people want to know if they need a stand mixer for a recipe like this. And the answer is no, but you need at least a quality hand mixer. Creaming butter and sugar is a specific instruction with the purpose of dissolving the sugar into the butter, dispersing the extract flavor into the fat molecules (in this case the butter) and working air into the mixture. While I know people love to watch videos with wooden spoons, and I suppose you can do that, it's not going to yield the best finished product. Both my grandmothers raised families during the Great Depression, and they still had stand mixers. So save your money, watch for a good sale, and invest in your own mixer. It will last you for years and it's a great investment in your baking hobby.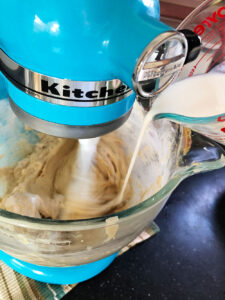 You probably noticed I am using caster sugar, or superfine sugar, in the recipe in place of granulated sugar. You can certainly use granulated sugar, but I hope you will try superfine sugar in your baking. I learned about it watching the Great British Bake Off show, and I would never go back to regular sugar again. The finer texture of the caster sugar makes for a superior finished bake. In my opinion, of course.
Recipe adapted from Sally's Baking Addiction.
Keywords: cake mix chocolate chip cookies