Cake Mix Chocolate Chip Cookies
Cake mix chocolate chip cookies are a cross between soft-baked cookies and your favorite cake mix cake. If you love chocolate chip cookies as much as you love licking the bowl after mixing a cake, you will flip for this yummy cookie recipe!
What's that you say? You've never tried baking a crazy cookie hybrid? Well, hold on to your hats, dear reader, because cake mix chocolate chip cookies are going to be your new favorite thing.
---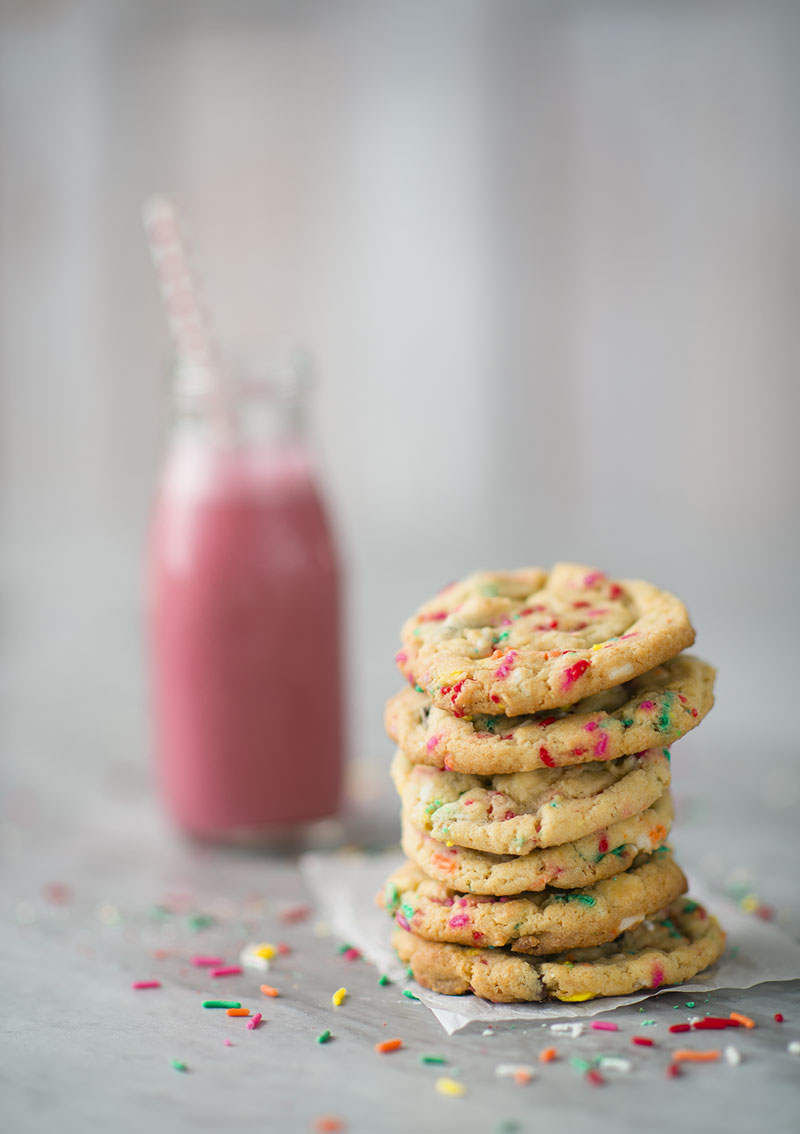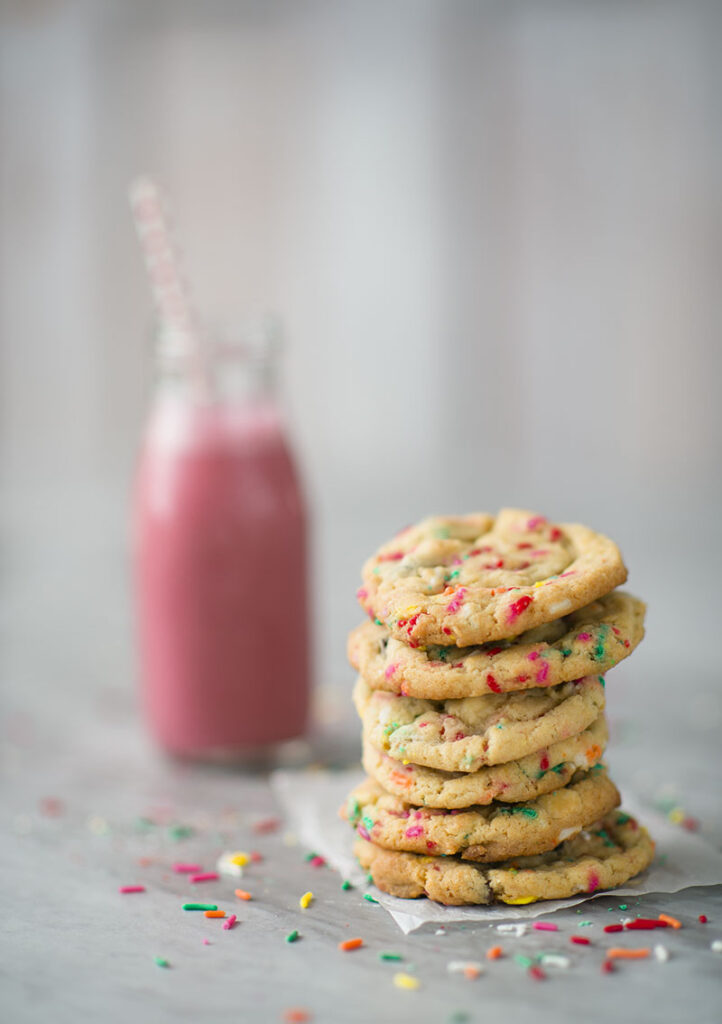 ---
Today's recipe for cake mix chocolate chip cookies will become the most popular cookie recipe in your baking repetoire. I was skeptical about their deliciousness the first time I baked them, but it only took once to open my eyes. Adding a little cake mix to your cookies is a revelation!
Why You'll Love Cake Mix Chocolate Chip Cookies
Soft-baked and chewy with delicate, crisp edges
Loaded with lots of sprinkles
Brimming with chocolate chips
An unmistakable cake batter flavor
Lastly, who doesn't love an update on a familiar chocolate cookie recipe?
---

What makes these cookies special?
Vanilla Cake Mix: We combine part of a box of cake mix with all purpose flour. It's important to only use some of the box. You will have trouble with this recipe if you use the entire box of cake mix. You only want to use 1 and 1/4 cup of dry cake mix. Measuring using grams is highly recommended.
Chocolate Chips: Combine both semi sweet (or even dark) chocolate chips with white chocolate chips. It's pretty and the combo with the cookie dough is amazing.
Sprinkles: To be honest, there is only one colorful sprinkle I ever recommend when it comes time to mix them into a batter or a dough. And it's not even sprinkles. It's Rainbow Jimmies from Wilton. I am brand specific when it comes to this because of how well they retain their color.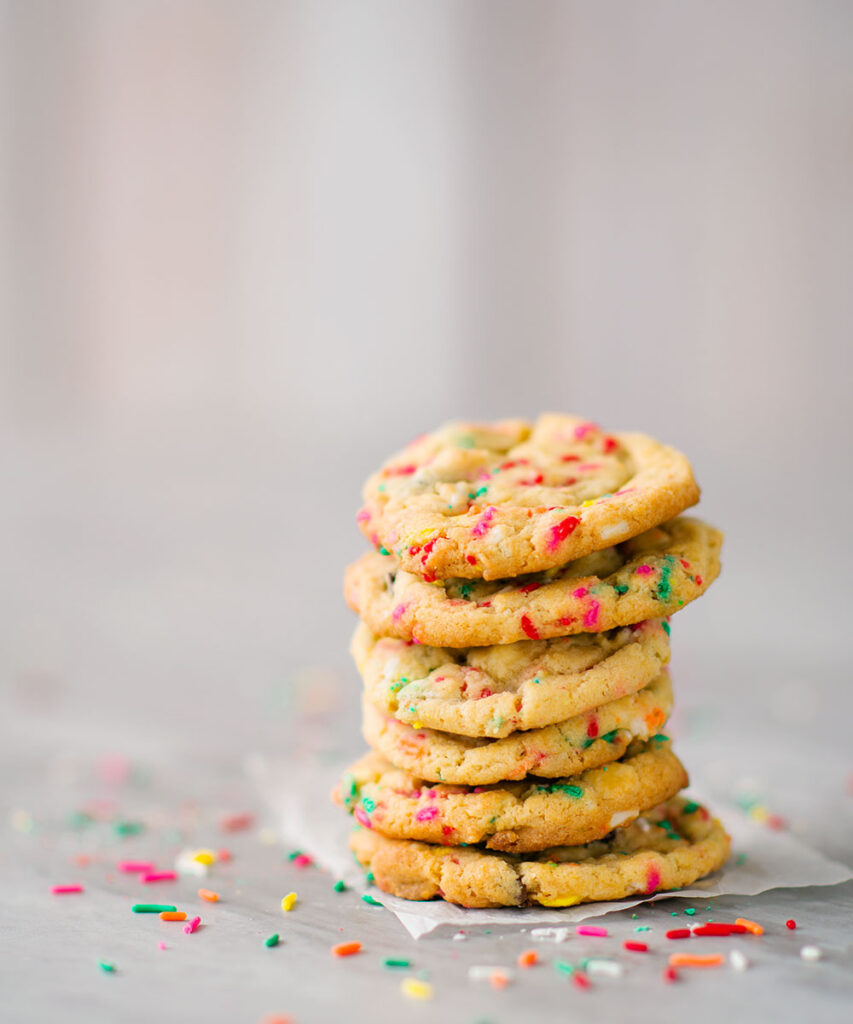 Fun Fact: Brits refer to Sprinkles as hundreds and thousands.
Hundreds and thousands is an idiomatic expression used to mean "an indefinite but emphatically large number"
---
Tips to make the best cake mix cookies:
Use weight instead of volume to measure your ingredients. This means following the grams measure and not the cups. I give you both (because I know how hard headed my fellow Americans are. It's what makes us who we are after all), but I always recommend using grams. I have some instructions and a video to help you with this if you are uncomfortable making the switch. But honest to goodness, you will wonder why you waited so long.
The cookies benefit from having chill time before baking. The cake mix makes for a very soft cookie dough, so in warmer months the cookies will definitely want to spread way out when you bake them. It's freezing and February as I write this story for you, and when I baked my batch last night they did well scooped right from the bowl. Now…they are thinner than those pictured, but still very good cookies. As I say, they definitely benefit, but they are good no matter what.
I use the same vanilla cake mix I use in my cake mix layer cakes, and it tastes great to me. But feel free to experiment. Just keep in mind that cake mix is a very different consistency than all purpose flour and weight is much better that volume.
This is a very soft cookie, so give them 10 – 15 minutes to cool and set up ON the cookie sheet when you pull them from the oven before placing on a rack to finish. Other wise they will literally fall apart. I can certainly think of worse things in life than a warm cookie falling apart as you eat it. But, if your goal is a container of beautiful cookies, then allow them time to cool on the pan.
Step away from the granulated sugar and embrace caster, or superfine, sugar in your your cookies and cakes. It's a much finer texture and yields a delicate texture to baked goods. I switched to this kind of sugar a couple of years ago, and it's made a huge difference in my desserts.
Use this recipe as an excuse to try out Clear Vanilla. It's kind of controversial, and you either love it or hate it. I personally LOVE it in a recipe like this. I used in the Milkbar cake recipe I made last year for my birthday.
---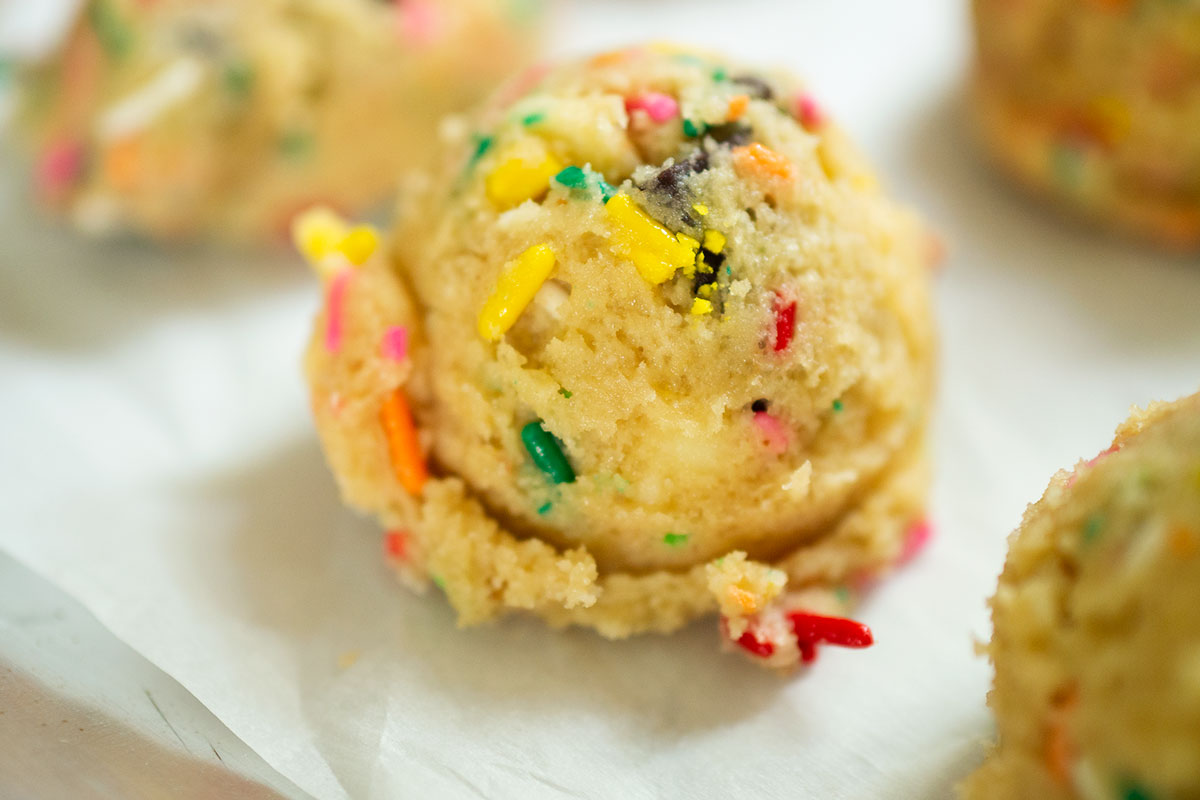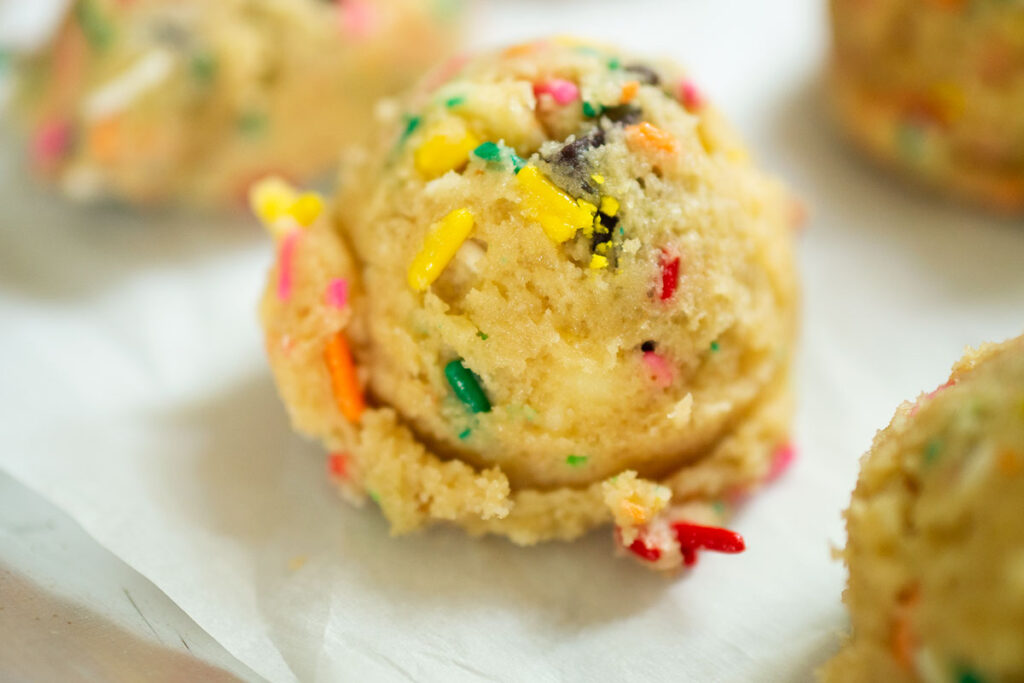 This post has affiliate links to products I use and love. If you buy something I can make a small commission, so thanks in advance. 🙂
Print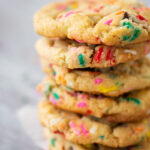 Cake Mix Chocolate Chip Cookies
Author:

Patty McGuire

Prep Time:

20

Cook Time:

12

Total Time:

32 minutes

Yield:

3

6

1

x

Category:

Dessert

Method:

Baking

Cuisine:

American
---
Description
Chocolate chip cookies made with cake mix are a cookie revelation. Add plenty of color sprinkles to keep the party going.
---
1

 and 1/4 cup (

160g

) all-purpose flour 

1

 and 1/4 cup (

190g

) box cake mix (not the whole box)

1/2 teaspoon

 baking soda

1/2 teaspoon

 salt

3/4 cup

 (1.5 sticks or 

170g

) unsalted butter, softened to 

1/2 cup

 (

100g

) caster, or superfine, sugar

1/2 cup

 (

100g

) packed light brown sugar

1

 egg, at room temperature

1

and 1/2 teaspoons clear vanilla extract

1 1/4 cup

 (200

g

) chocolate chips (go for

1/2 cup

 white and 

1/2

semi-sweet chocolate chips)

3/4 cup

 (100

g

) sprinkles
---
Instructions
Preheat oven to 350ºF (177ºC).
Line a heavy baking sheet with parchment paper.
Whisk together flour, cake mix, salt, and baking soda together. Set aside.
Using a stand mixer fitted with paddle attachment, beat the softened butter, vanilla, and both sugars together on medium speed until creamy and smooth, about 3 minutes. Add the egg and mix on medium high until combined, about 1 minute. Scrape down the sides and bottom of the bowl as needed.
Add the flour mixture to the wet ingredients and mix on low-medium speed until just combined. Add the chocolate chips and sprinkles. Mix on low until the add-ins are evenly combined. Do not over mix!
Scoop the dough, using 1.5 tablespoons per cookie ball, onto a parchment lined sheet, cover with plastic and chill in the fridge for a couple of hours. It definitely improves the cookie, but it's not absolutely necessary. If it's a cooler time of year, then you should be able to scoop and bake right from the bowl. But scoop the rest of the dough and keep it refrigerated as you bake individual trays.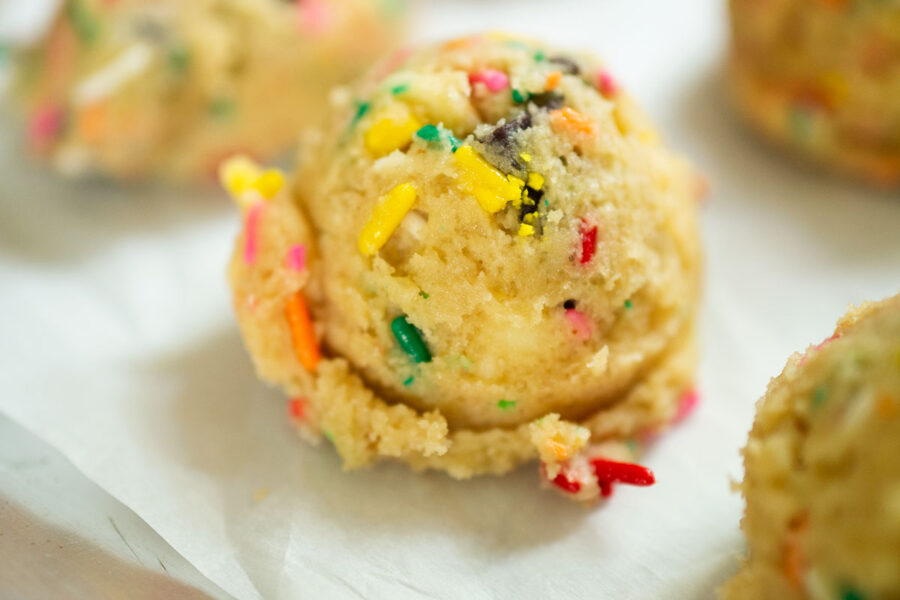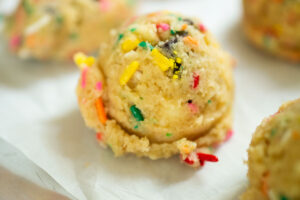 Bake the cookies for 10-12 minutes until edges are lightly browned. The centers will still appear very soft, but the cookies will continue to set as they cool. Don't over bake them, because we want them to stay soft.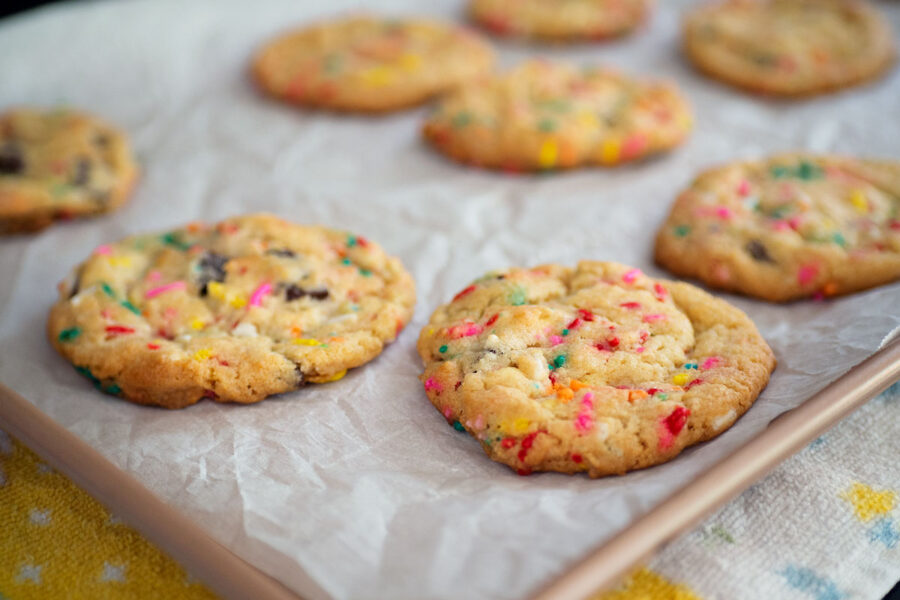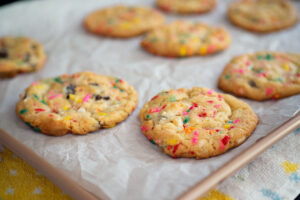 Allow the cookies to cool on the baking sheet for 10 – 15 minutes before transferring to a wire rack to cool completely.
Notes
Invariably people want to know if they need a stand mixer for a recipe like this. And the answer is no, but you need at least a quality hand mixer. Creaming butter and sugar is a specific instruction with the purpose of dissolving the sugar into the butter, dispersing the extract flavor into the fat molecules (in this case the butter) and working air into the mixture. While I know people love to watch videos with wooden spoons, and I suppose you can do that, it's not going to yield the best finished product. Both my grandmothers raised families during the Great Depression, and they still had stand mixers. So save your money, watch for a good sale, and invest in your own mixer. It will last you for years and it's a great investment in your baking hobby.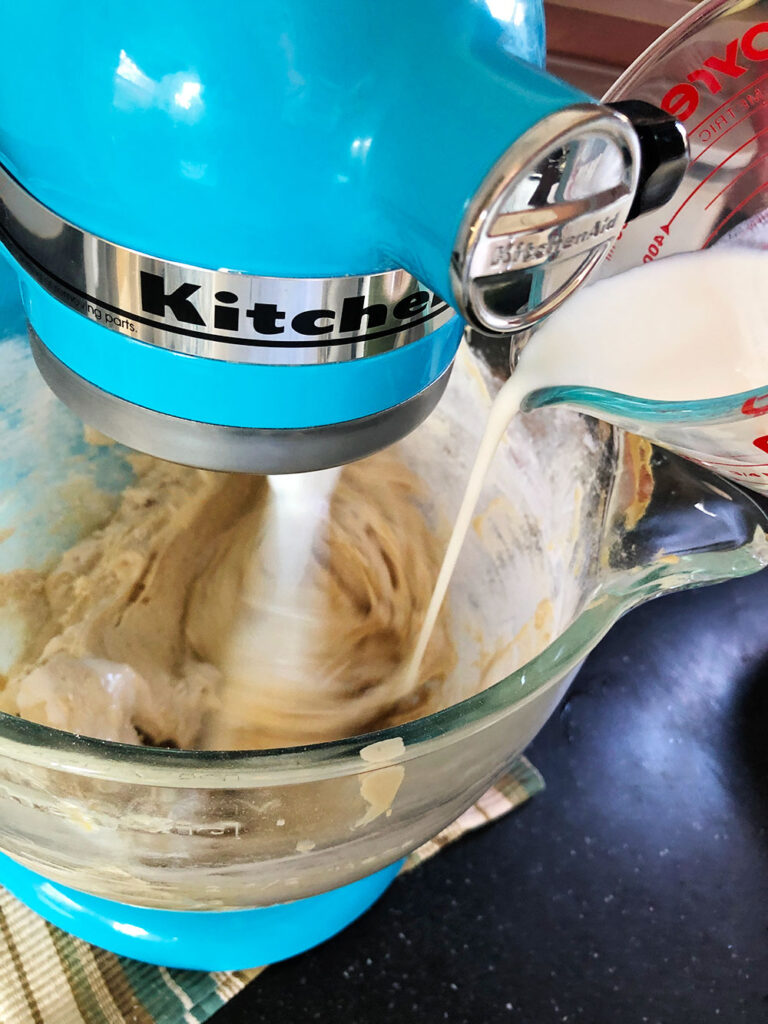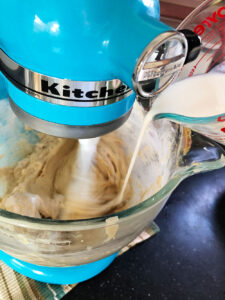 You probably noticed I am using caster sugar, or superfine sugar, in the recipe in place of granulated sugar. You can certainly use granulated sugar, but I hope you will try superfine sugar in your baking. I learned about it watching the Great British Bake Off show, and I would never go back to regular sugar again. The finer texture of the caster sugar makes for a superior finished bake. In my opinion, of course.
Recipe adapted from Sally's Baking Addiction.
Keywords: cake mix chocolate chip cookies
---

---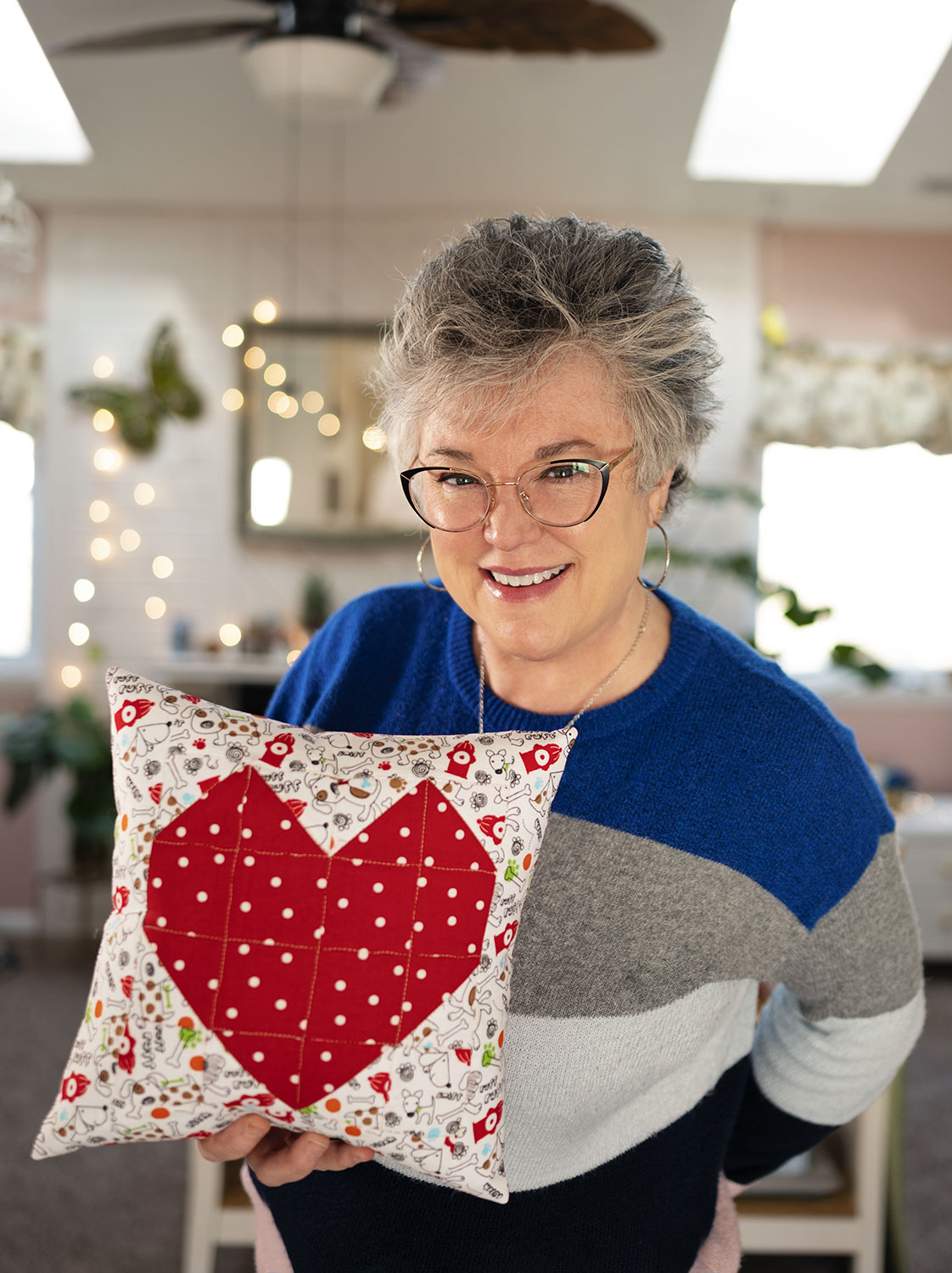 Hi! I'm Pattymac
Sewist, Baker, Maker
I'm a creative lifestyle blogger living and working in Coastal Virginia. When I'm not mixing or stitching or taking pictures, I'm out exploring the cook book section of my favorite library or munching my own home baked cookies at a mid week movie matinee.