---
Description
No bake chocolate peanut butter cookies are delicious and an easy way to make a treat from pantry staples.
---
4

tbs unsalted butter

1 1/2

cups

granulated sugar

1/2

cup

milk

1/4

cup

unsweetened cocoa powder

2/3

cup

creamy peanut butter (Sun Butter® is a good sub if you can't have peanut butter)

1

tbs vanilla bean paste

3

cups

rolled oats

1/4 tsp

salt
---
Instructions
Line two baking sheets with parchment paper. I prefer using 1/4 sheet pans for chilling cookie dough.
In a medium saucepan, whisk the butter, sugar, milk, and cocoa powder.  Heat over medium heat until it starts to bubble, then set a timer and boil for 60 seconds (no more!).  The 60 seconds is a specific instruction. Please use a timer if needed. I always do!
Remove from heat and immediately stir in the peanut butter, oats, vanilla, and salt until combined.
Using a cookie scoop, drop the chocolate peanut butter oats mixture at a time onto the prepared cookie sheet. If you desire a flatter cookie, press them down slightly in the middle with the back of a spoon, but I find they spread a little on their own during their rest phase which is enough for me.  
Allow cookies time to cool to room temperature. Then slip them into a large bag that envelopes the cookie sheet and place in the refrigerator.
Allow cookies to set up for at 4 hours in the refrigerator, but overnight is best.  Store in an airtight container.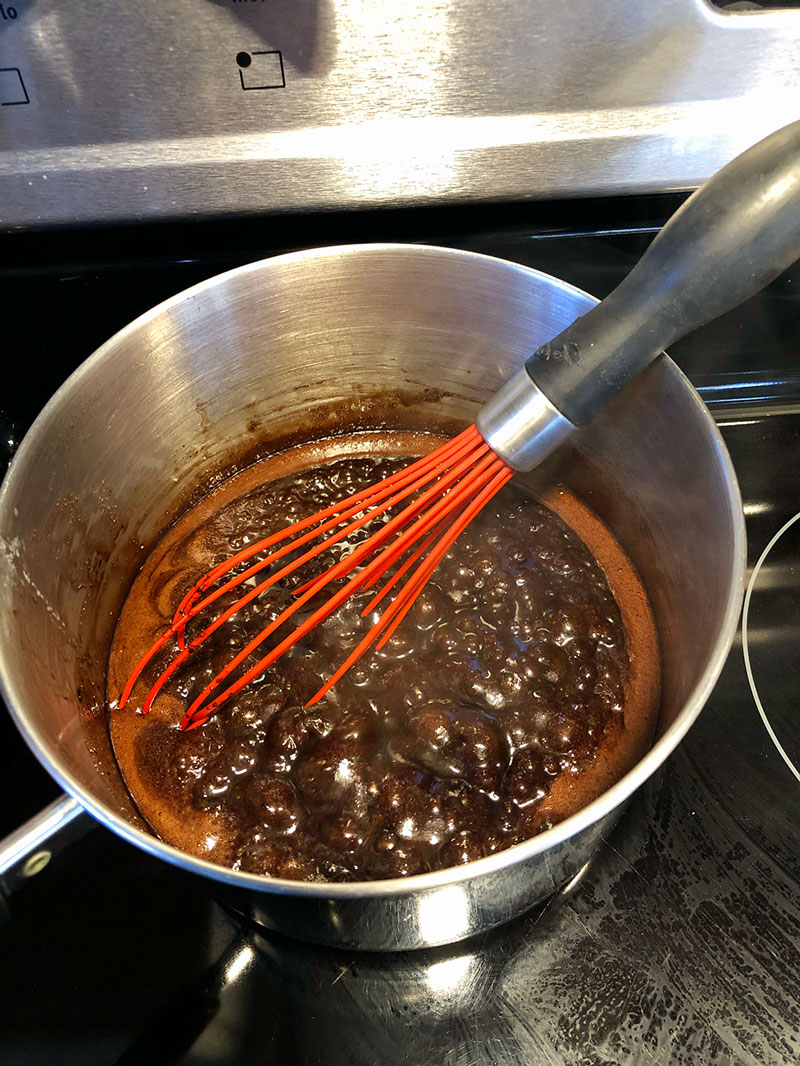 The mixture should be gently bubbling, not boiling over.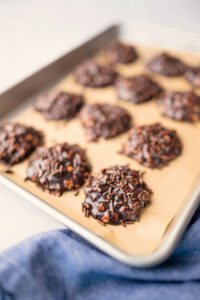 Cookies spread a bit as they cool. Scoop about a dozen per 1/4 sheet pan.
---
Notes
Tools:
Parchment Paper
cookie scoop
food scale
More pantry advice:
I used powdered milk, because I store it and I use it in different recipes. I measured 2 tbs of dry milk into the sauce pan and added 1/2 cup of water. Then whisked and cooked as I would with any other milk. You can also use evaporated canned milk. I'm encouraging you to use stored food so it doesn't feel foreign or weird when the time comes and you need to use these items for real. Practice with them now so it feels natural. I have discovered that I love the powdered milk products I'm using, and I would use them anyway. 
2 gallon Ziploc® bags are a fantastic item to store. I have several boxes on hand and I love them. I use them for all sorts of things, and have found they are perfect for placing my 1/4 sheet pans in and sealing up. I do all my cookies like this. They are covered so the cookie dough doesn't get a weird film or hard out side and they stay fresh.
Keywords: no bake chocolate peanut butter cookies