No Bake Chocolate Peanut Butter Cookies
No Bake Chocolate Peanut Butter Cookies are wonderfully simple and absolutely delicious! Using a handful of pantry ingredients, you'll have soft, chocolatey cookies in no time.
The emphasis on this recipe, and the recipes coming up in the near term will shine a spotlight on PANTRY INGREDIENTS. This means, stuff you should already have heavily stocked in your immediate and longer term pantry locations. No bake chocolate peanut butter cookies are the perfect way to use what we're storing! I've added oatmeal to these which is another pantry staple.
The reason for a well stocked pantry is that if it's either difficult to get to the store, or the items we take for granted are not available (or so expensive we can't afford them anymore), we will have a cushion via our pantry. Before you say this is preposterous, I invite you to think back to 2020 and what happened then. It took MONTHS for staples like toilet paper and yeast and flour to work it's way through the broken supply chain and back to store shelves. I had planned ahead and never ran out of anything. Seriously. I continued to live my life as normal while other people were posting videos of melt downs in front of empty store shelves. Planning ahead makes a difference in your life, because I was home enjoying cookies and tea while other people were literally flipping out.
Which brings us to today's cookie recipe!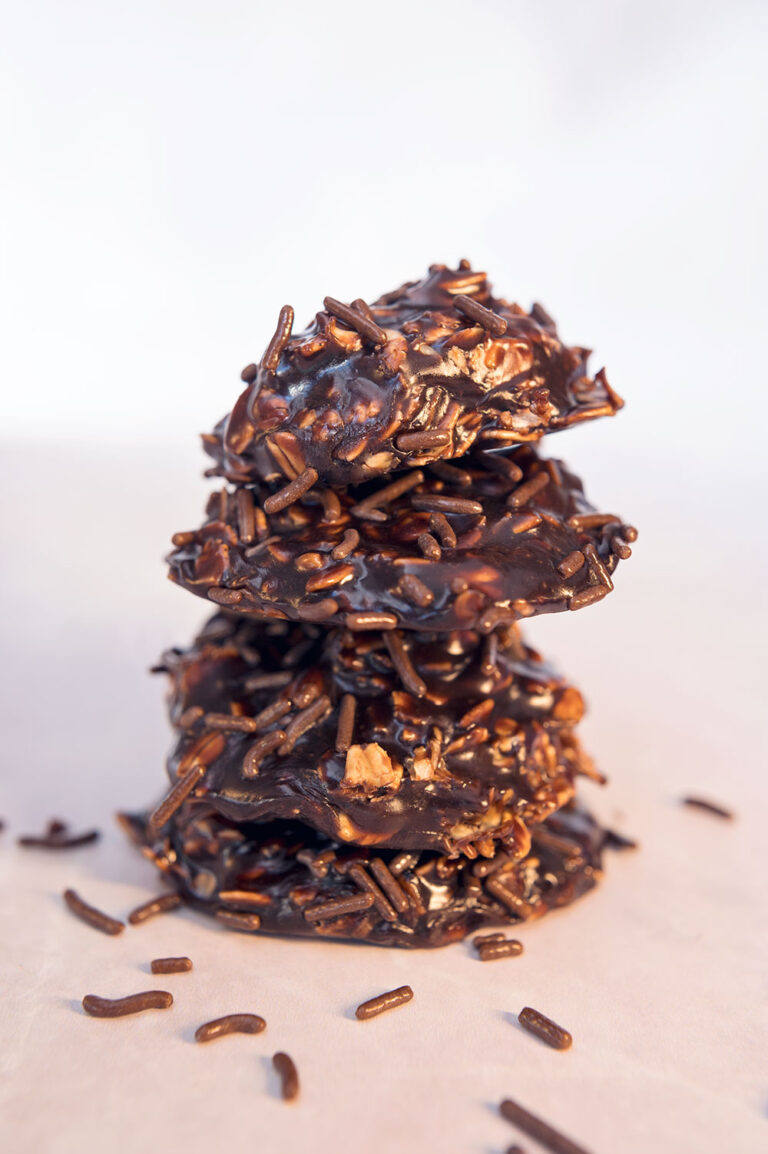 From a preparedness standpoint, I love these cookies for two reasons:
They are easily made using pantry staple ingredients like cocoa powder, peanut butter and rolled oats.
They don't require an oven so in an outage or a situation where you need to minimize your electrical consumption, these chocolate cookies are fantastic!
From a regular baking standpoint, I love these cookies for kids because they don't require an oven or a mixer to make them.
There is a point where the stove is needed to bring the wet mixture to a gentle boil, so that would require adult supervision. A small camping stove (affiliate link) would work for this application if the power is out, so as long as you have some emergency supplies stashed away, you can make these no matter the circumstances. If you are cooking indoors, make sure you use a stove rated for INDOOR use and that you provide ample air circulation.
🍫
What are No Bake Cookies?
The short answer is cookies that set up without using an oven. They are quick, easy to prepare, and use common household ingredients. Similarly, most no bake type cookies call for some variation of ingredients including: sugar, milk, butter, cocoa powder, peanut butter, vanilla extract, and oatmeal. You can add nuts, chocolate chips, raisins, or whatever you want to the mixture. The beauty of this kind of recipe, is you can add the mix ins you like the best. My variation includes sprinkling the cookies with chocolate jimmies. (affiliate link)
Yes, I keep jimmies and sprinkles in my emergency food pantry. The beauty of preparedness is it's completely customizable, so you add the items YOU like best. Some people want piles of jerky. I prefer jimmies and chocolate chips.
Why you'll love these No Bake Chocolate Peanut Butter Cookies
Typically, these are ingredients always on hand. The cookies themselves are simple to whip up and you don't need a mixer to make the cookie dough. Kids love them because they don't need mom to help get pans into and out of a hot oven.
And honestly, who doesn't love chocolate and peanut butter together?
Pantry Ingredients for chocolate peanut butter oatmeal cookies
No Bake Chocolate Peanut Butter Oatmeal Cookies Ingredients
Butter: butter lasts pretty much forever in the deep freezer, so buy it ahead and put it away. I have 15 pounds in the freezer in my kitchen right now and much more in the deep freeze. I love my butter and I'm not planning on running out or paying $8 a pound for it. Buy it on sale if you see it, and stash it in the freezer!
Granulated Sugar: white sugar is used in this recipe, and it's a pantry item that basically never goes bad. It does need to be stored well to avoid insect infestation though. Ants are not your friend.
Milk: typically you would use regular milk, but I used my powdered milk (affiliate link) to make the cookies in the pictures. You could also use canned evaporated milk. (affiliate link) I store and use powdered milk, and since this is a demonstration of a pantry recipe, I wanted to use that pantry item. I love the powdered milk I found, and I use it frequently.
Unsweetened cocoa powder: another pantry item that essentially never spoils. So in a world without chocolate, if you stored enough cocoa powder away, you can be enjoying brownies and chocolate cake when other people are on their last roll of TP. Again this is not gloating. But who would you rather be?
Peanut butter: don't get fancy here. Use a creamy store brand Peanut butter. If peanuts are an issue use what works for your family. Almond butter is always an option. I have a friend who swears by Sun Butter® (affiliate link) and uses it in everything. She suffers with several food allergies, and has no problem with Sun Butter®.
Rolled oats: I love the texture of rolled oats but you can use quick oats if preferred. Also, blitzing oats in the blender or food processor will bring down the size of the individual oats a little if that is desired.
Vanilla extract: I used vanilla bean paste (affiliate link) because it's a prominent ingredient, and this recipe is not cooked, so having a higher end vanilla was a good choice. But use what you have on hand.
Pinch of salt: I love fleur de Sel in my dessert recipes but use what you have.
Substitutions and Variations
Want to customize your no-bake cookies? Try these variations.
Add 1-2 cups shredded sweetened coconut.
Add a little caramel and pecans for a turtle variation.
Leave out the cocoa powder for a peanut butter no bake cookie.
Leave out the cocoa powder and replace the peanut butter with sesame butter, almond butter for an allergy friendly version like Sun Butter®. I've even heard cookie butter mentioned, and you know I've got plenty of that stashed in my food storage!
Add M&M's®, mini marshmallows, or toffee bits to the cookies right at the end before scooping them onto your baking sheet.
Top with sprinkles or jimmies. I used Chocolate Jimmies in my version but Rainbow Jimmies would be cute as well.
How to Make No Bake Chocolate Peanut Butter Cookies
Combine butter, sugar, milk, and cocoa powder in a medium saucepan, and place over medium heat. Whisk frequently until the mixture starts to bubble. This is a gentle bubble, and not an all out boil.
Set a timer for 60 seconds and stir occasionally while the mixture bubbles and boils. Remove from heat immediately once timer goes off.
Stir in peanut butter, oats, and vanilla until combined.
Using a cookie scoop, drop dollops of cookie dough onto a parchment-lined baking sheet. (affiliate link)
Refrigerate 4 hours but over night is best.
What's the best way to measure ingredients?
While the recipe gives you the ingredients using volume, or the cups method, in real life, I prefer weight, which is grams. I started doing this years ago when I became obsessed with The British Baking Show. So while I do provide the volume measurements, a quick toggle of the recipe card will provide you with grams. I like it because it's a consistent way to bake and I can measure everything in one pan.
I put my saucepan on the scale, zeroed the weight and added the ingredients right to the pan. Once everything was in, I put the pan on the heat. Simply zero out the scale after each ingredient is added. From a preparedness standpoint, I've stocked away a decent collection of batteries so I should be able to use my food scale for the next 15 years without an issue.
Oats weighed on a food scale

Measure the initial ingredients in one pan
Why are my no bake cookies crumbly?
The biggest problem most people seem to have when making no bake cookies is getting dry, crumbly cookies or sticky, gooey cookies that don't set up right. There are two main causes that I am aware of.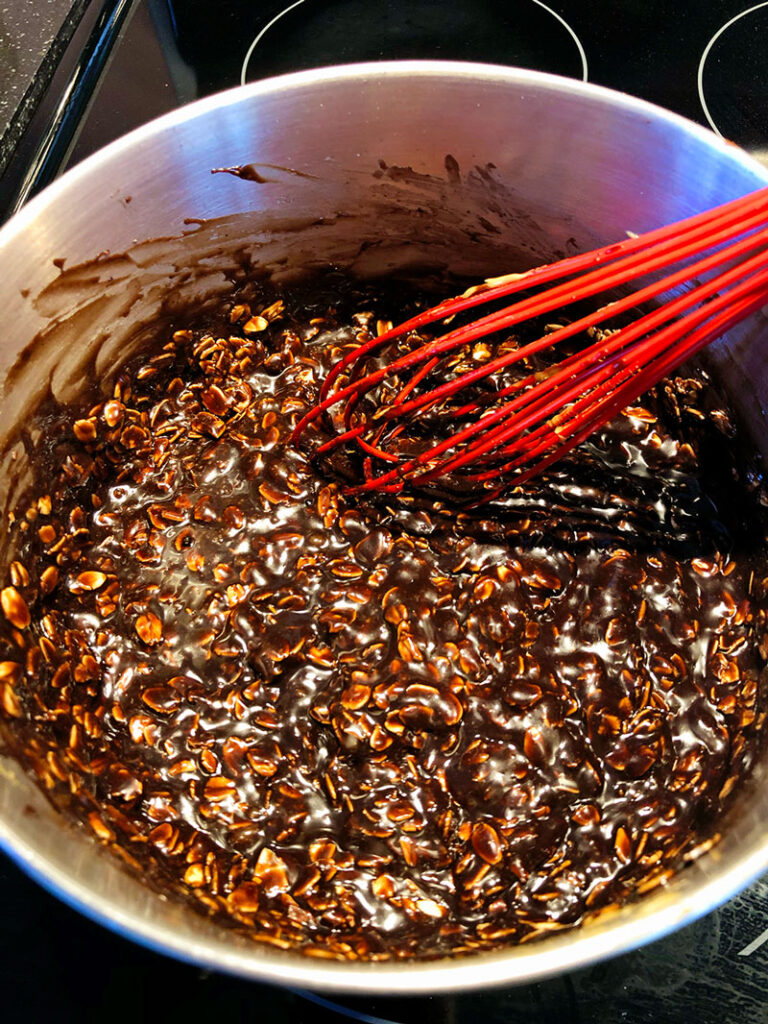 Incorrectly measuring ingredients: Primarily this boils down to having too many or too few oats. Some people adhere to only using quick oats, but I personally love rolled oats. Not measuring the oats correctly is why I showed you how to use the kitchen scale in the previous picture gallery. Grams are the same no matter what while what we measure as cups can change depending on mood, weather etc.
Overcooking the mixture: It's just 60 seconds once the mixture starts to boil. Set a timer and as soon as it goes off, pull the mixture off the heat and add the peanut butter, oatmeal, and vanilla. Don't get impatient waiting for the bubbles and don't walk away once the proper boiling starts. Set your timer and stay in place.
👩‍🍳
Why are my no bake cookies dry?
If the no bake cookies are dry and crumbly, chances are you overcooked them by boiling the sugar mixture for too long. Or you put in way too many oats. Proper timing and measuring are important, but easy.
Lastly, not giving the cookies enough time to set up in the fridge could lead to a gloppy mess. You can't rush perfection! Even though most recipes skip this part, I prefer them this way, and I think they are delicious cold.
I've been encouraging people on my social media accounts to buy extra every month and put away those staples so we all have extra on hand. I was brought up by parents who lived through the Great Depression, so storing a big pantry, growing a garden and preserving food is not a foreign concept to me.
As I'm writing this story, it's early 2023, and things feel volatile to me. So I'm planning ways to have plenty of everything on hand to get us through a protracted time of scarcity and even higher inflation. Nothing makes a tough time easier to get through than having some comfort items on hand…things like chocolate, fruit, coffee, tea.
More information on what to store and how to use it is coming! So until then, enjoy the no bake cookies all made with pantry staples.
🍪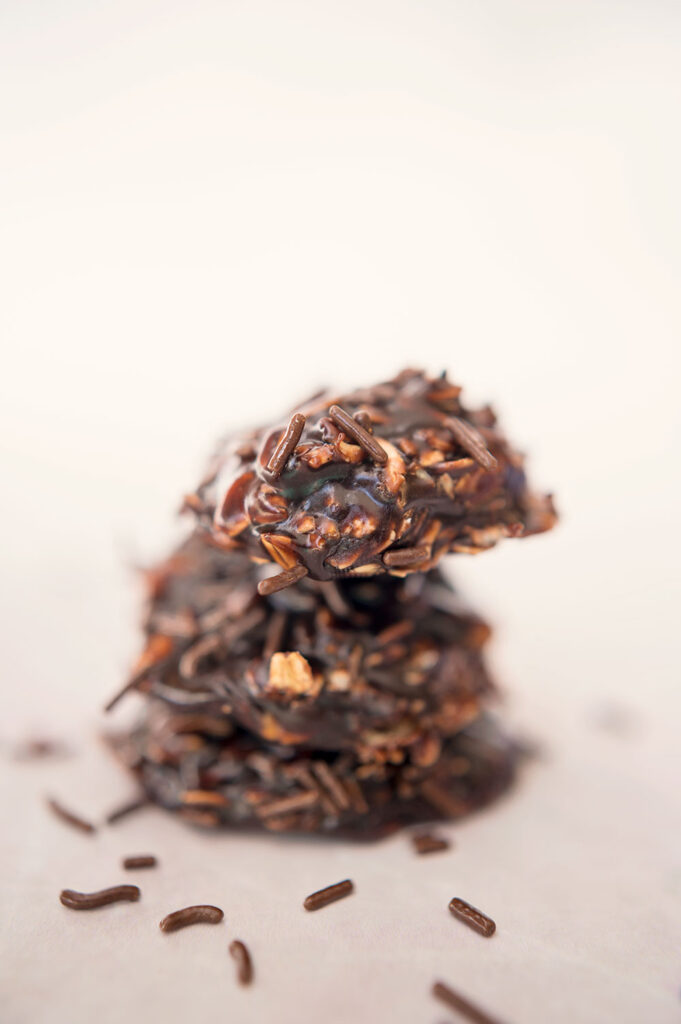 Print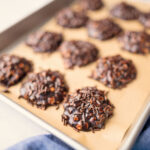 No Bake Chocolate Peanut Butter Cookies
Author:

Patty McGuire

Prep Time:

15

Total Time:

15 minutes

Yield:

2

4

1

x

Category:

Dessert

Method:

No Bake

Cuisine:

American
---
Description
No bake chocolate peanut butter cookies are delicious and an easy way to make a treat from pantry staples.
---
4

tbs unsalted butter

1 1/2

cups

granulated sugar

1/2

cup

milk

1/4

cup

unsweetened cocoa powder

2/3

cup

creamy peanut butter (Sun Butter® is a good sub if you can't have peanut butter)

1

tbs vanilla bean paste

3

cups

rolled oats

1/4 tsp

salt
---
Instructions
Line two baking sheets with parchment paper. I prefer using 1/4 sheet pans for chilling cookie dough.
In a medium saucepan, whisk the butter, sugar, milk, and cocoa powder.  Heat over medium heat until it starts to bubble, then set a timer and boil for 60 seconds (no more!).  The 60 seconds is a specific instruction. Please use a timer if needed. I always do!
Remove from heat and immediately stir in the peanut butter, oats, vanilla, and salt until combined.
Using a cookie scoop, drop the chocolate peanut butter oats mixture at a time onto the prepared cookie sheet. If you desire a flatter cookie, press them down slightly in the middle with the back of a spoon, but I find they spread a little on their own during their rest phase which is enough for me.  
Allow cookies time to cool to room temperature. Then slip them into a large bag that envelopes the cookie sheet and place in the refrigerator.
Allow cookies to set up for at 4 hours in the refrigerator, but overnight is best.  Store in an airtight container.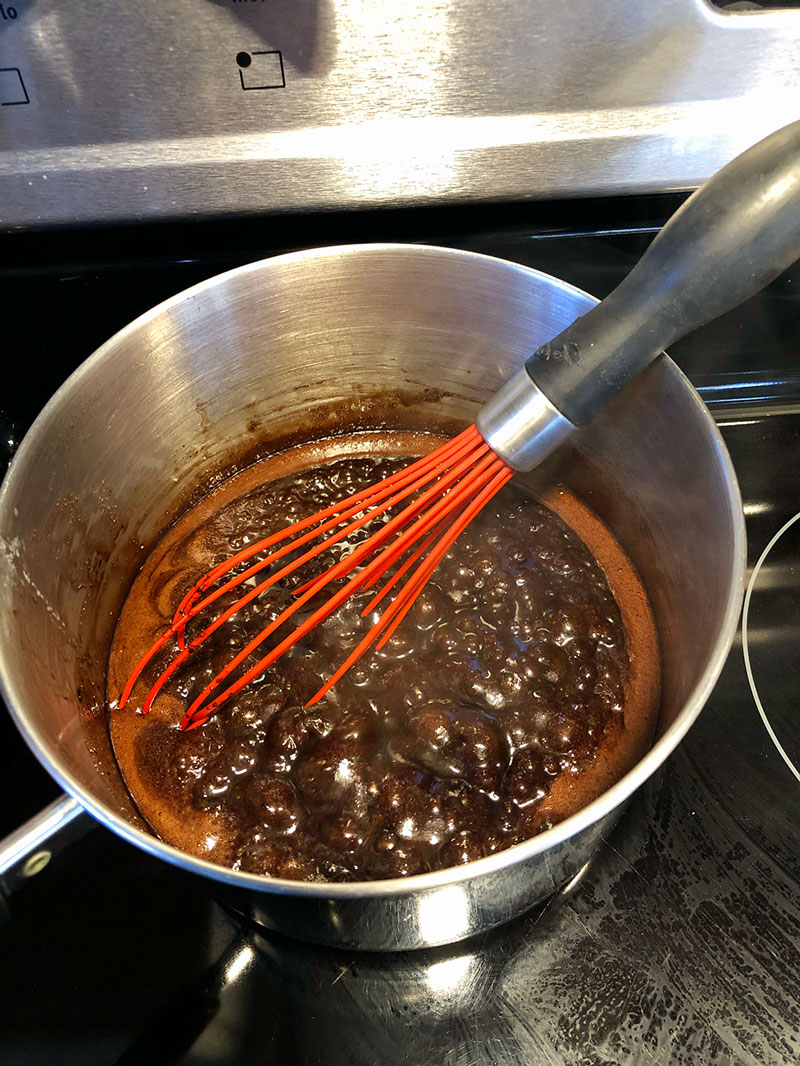 The mixture should be gently bubbling, not boiling over.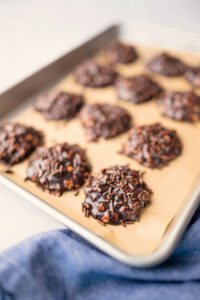 Cookies spread a bit as they cool. Scoop about a dozen per 1/4 sheet pan.
---
Notes
Tools:
Parchment Paper
cookie scoop
food scale
More pantry advice:
I used powdered milk, because I store it and I use it in different recipes. I measured 2 tbs of dry milk into the sauce pan and added 1/2 cup of water. Then whisked and cooked as I would with any other milk. You can also use evaporated canned milk. I'm encouraging you to use stored food so it doesn't feel foreign or weird when the time comes and you need to use these items for real. Practice with them now so it feels natural. I have discovered that I love the powdered milk products I'm using, and I would use them anyway. 
2 gallon Ziploc® bags are a fantastic item to store. I have several boxes on hand and I love them. I use them for all sorts of things, and have found they are perfect for placing my 1/4 sheet pans in and sealing up. I do all my cookies like this. They are covered so the cookie dough doesn't get a weird film or hard out side and they stay fresh.
Keywords: no bake chocolate peanut butter cookies
Hi!! I'm Pattymac
Baker, Maker, Gardener
I'm a creative lifestyle blogger living and working in Coastal Virginia. When I'm not mixing or stitching or taking pictures, I'm out exploring the cook book section of my favorite library or munching my ow home baked cookies at a mid week movie matinee