Easy Refrigerator Pickles
How to make easy refrigerator pickles that are quick to prep, are customizable with your favorite seasonings, and give you delicious, fresh, crisp homemade pickles.
Nothing says summer on the farm quite like home made pickles. My parents made them every year. Huge quarts of pressure canned pickles in several varieties. They were always delicious, but my small household would have trouble finishing a quart of pickles. Also, we don't have a pressure canner. So for decades I thought I couldn't have my own homemade pickles. That is until I discovered recipes for easy refrigerator pickles!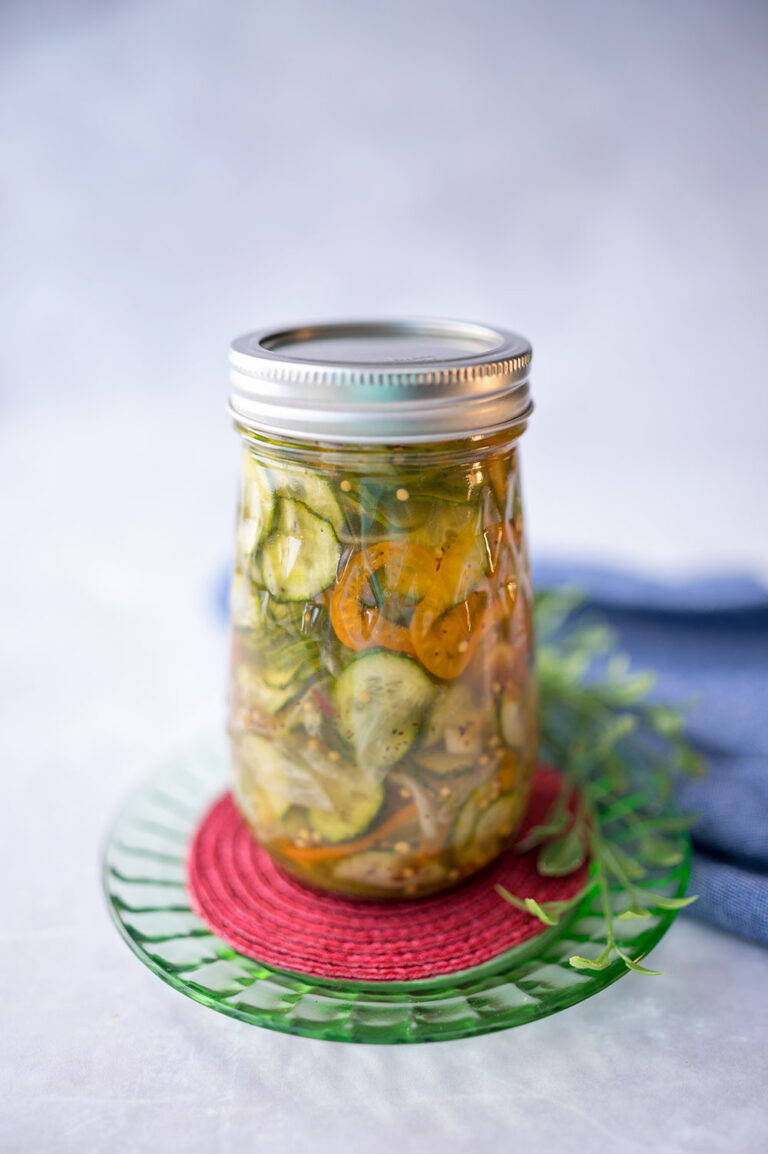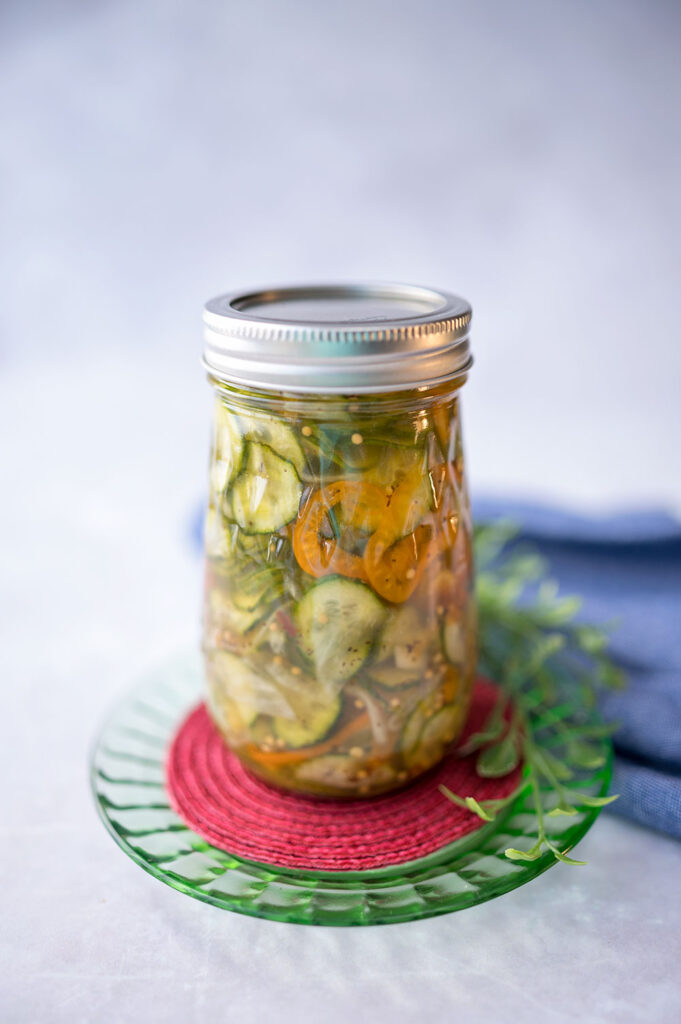 I know what you're thinking. 🤔
Patty, I don't have any cucumbers in a garden right now to be making pickles! It's January when you're publishing this recipe for Pete's Sake! 🥒
Maybe you don't even have a summer garden. Why don't you have a summer garden? Lucky for us, we are blessed with year round produce in the grocery store and that's what we will use to make these yummy and oh so easy refrigerator pickles.
🍅
Homemade Pickle Ingredients
Here are some notes about the ingredients you will need:
Cucumbers: My first choice is always summer cucumbers from my garden, but in the off season I like those mini cucumbers. Also, English cucumbers work great in this recipe.
Onions: I'm in the south, so a Vidalia onion is my go to onion, but any mild or sweet onion would work.
Bell Pepper: Any bell pepper works well. It adds color and extra crunch. In the summer I use my giant Marconi red peppers but in today's version I bought an orange pepper to use. Green is perfectly fine, but the colorful peppers add quite a bit to the over all presentation in the jar. Red is my favorite.
Pickling Salt: This is not your usual salt shaker salt and it is a canning specific thing. So you'll have to either order it (which is how I found mine) or check the canning aisle in your Walmart. It's used to draw some moisture out and helps the pickles to be crisp.
Seasonings: I keep it simple and make my refrigerator pickles making a brine using vinegar and sugar as well as some celery and mustard seeds. You could add a dash or two of red pepper flakes, and feel free to toss in a sprig or two of your favorite herb. I didn't even use herbs in mine and they are delicious.
Vinegar: I use plain old distilled white vinegar in this recipe which can also be used in my summer canning recipes and works well as a household cleaner if needed.
🥒 🧅 🫑
About the Jars
You do need a container for your pickles, and you may not have canning jars. And BTW, canning jars can be used for dry storage, for water bath AND pressure canning and they can even go into the freezer! Mason jars also come in numerous shapes and sizes which was a revelation to me as my parents only used plain, wide mouth quart jars for their canning. I've invested in all sorts of styles and sizes for my own home food preservation adventures.
The good news is that you don't need to have a mason jar collection! Because these are going into the fridge and will be used in a relatively short amount of time, you can use recycled jars from other food products. They should be clean, labels removed and still have the original lid. I started saving my glass jars from everything and use them for all sorts of things. This includes pickles! Those little jars that contain pizza sauce or roasted red peppers are perfect. Focus on something in the half pint to pint size range.
What else is needed to make pickles at home?
Recycled Jar

Fluted Ball Canning Jar
How To Make Sweet Pickles
To make this homemade pickle recipe, simply…
Slice the veggies. Use the mandolin on the thinnest setting to slice the cucumbers and onions. Slice the bell pepper by hand as evenly as possible.
Mix the brine. Pour the vinegar, sugar and seasonings into a sauce pan and bring to a boil on the stove top.
Combine. Once veggies have had their rest in the pickling salt, drain the excess liquid, then pour the hot brine over the veggies in the same large bowl. Let it sit until room temperature.
Refrigerate. Ladle pickles into jars and make sure to cover veggies in jars with pickle brine before covering with lid and placing in the fridge. You can eat them right away, but they are better after having an over night rest in the fridge.
Thin Sliced Veggies

Sliced Cucumbers

The mustard seeds I use
Easy Refrigerator Pickles FAQ
Could I can this recipe? No. This is a refrigerator pickle recipe and is not a canning recipe.
Can I re-use the pickle brine? I would not recommend doing that.
How to store refrigerator pickles? Store them in a cool refrigerator in a clean, sealed jar.
How long do these pickles last? Eat them within up to 3-4 weeks. Remember your manners, and use a clean fork or spoon each time to remove the pickles (no double-dipping). I have not had any issues, but please use your best judgment.
Mandoline and Wide Mouth Funnel

Side view of Large Mouth Funnel
Ingredients for Homemade Pickles Brine
What To Serve With Easy Refrigerator Pickles
Fresh pickles are delicious on their own, so having them with some crackers and cheese for a snack is a simple and delicious way to enjoy them
Sweet pickles are great with a plate of breakfast eggs. Use them as a topper for burgers, hotdogs, egg salad sandwiches, tuna salad, and fried chicken sandwiches. Chick Fil-A is famous for those pickles that come on the sandwich.
Enjoy these pickles right on your salad!
In the Depression, a favorite lunch was sweet pickles on homemade buttered bread. Which is where the term Bread and Butter Pickles gets its name!
Once you've made your own homemade pickles, you'll never want store bought versions again. The flavor and crunch is so fresh, and so clean, you'll wonder why you waited so long!
Just in case you think you don't have space to grow cucumbers next summer, I grew mine in a couple of 5 gallon buckets last year with small tomato cages for the vine to climb. They were prolific AND delicious!
Pickles made last summer with homegrown cucumbers

Cucumber plant growing in my kitchen garden

Giant Red Marconi pepper on the vine
🥒 🧅 🫑
Print
Easy Refrigerator Pickles
Author:

Patty McGuire

Prep Time:

15

Total Time:

15 minutes

Yield:

2

0

1

x

Category:

Fresh Fare

Method:

No Bake

Cuisine:

American

Diet:

Vegetarian
---
Description
Easy refrigerator pickles can be made from either store bought or home grown produce using simple ingredients and recycle jars
---
1

–

1.5

pounds

of cucumbers

1

medium Vidalia or sweet onion

1

medium colorful pepper

1 tbsp

pickling salt

2

cups

white granulated sugar

1

cup

white vinegar

1 tbsp

celery seed

1 tbsp

mustard seed
spigs of fresh herbs like dill, rosemary, basil, or thyme (optional)
---
Instructions
Using a mandoline or making very uniform thin slices, slice the cucumbers, onions and pepper.
Combine sliced veggies in a large bowl, preferably one with a lid, and toss with pickling salt. Allow to stand for 1 hour.
In a medium saucepan over medium heat, combine the sugar, vinegar, celery and mustard seed and bring to slow boil, making sure sugar has completely dissolved.
Drain the excess water from the veggie mixture and toss with hot brine. Be sure to evenly coat all veggies and have veggies under the surface of the brine. Allow mixture to come to room temperature.
Once cooled, refrigerate over night. In the morning, ladle cold pickles into clean jars. Be sure to cover jarred pickles with enough brine to cover veggies.
Keep refrigerated and consume within one month.
---
Notes
While backyard, garden grown produce is always best, don't hesitate to buy fresh produce in the grocery store or farmer's market to use in food preservation and canning recipes at home. I've enjoyed this pickle recipe with both my own summer cucumbers as well as cucumbers purchased in the grocery store.