A recipe for a classic lemon bundt ® cake with glaze is a simple yet elegant cake that's full of sweet-tart lemon flavor – perfect for any special occasion!
Today's recipe is the perfect mashup of two of my favorite things; cake and lemons. It's an incredible cake topped with a thick, citrus glaze. I don't care who ya are, you need this Lemon Bundt® Cake recipe in your life.
---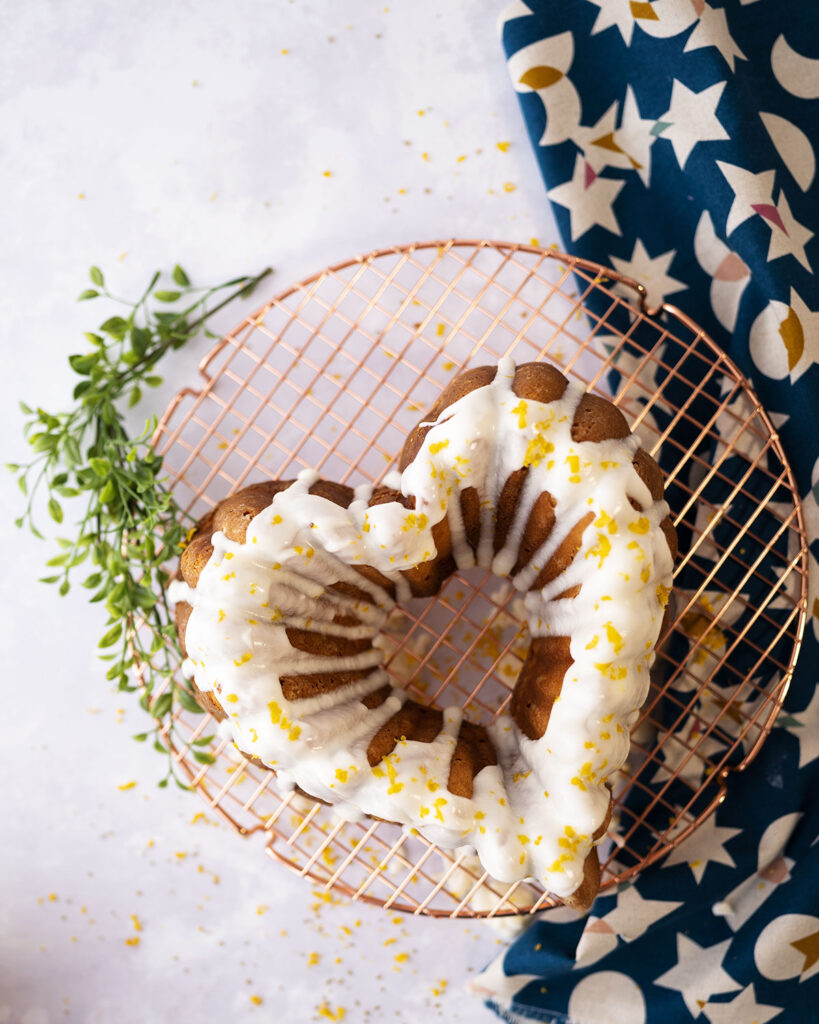 ---
The big question: What IS a bundt® Cake?
A Bundt® cake is simply a cake that's baked in a Bundt® pan. That's it. Well, that's the short answer. You want a nice sturdy cake that develops a golden sugar crust so it holds the shape, and looks pretty. The shape of a Bundt® cake is it's calling card. Which leads us to the specialty pan.

Nordicware developed this style of cake pan back in the 1940s. Here's part of the story of this brand from their website:
"An inspirational American success story, Nordic Ware™ was founded in 1946 by a determined wife, Dotty, and her resourceful husband Dave, newly back from the second world war. With only $500 in their pockets, a few good ideas and a desire to create a business of their own, a humble kitchenware company was launched from the basement of their home in Minneapolis, Minnesota. In the beginning, Nordic Ware's product line was only a handful of items, all of which were specialty Scandinavian ethnic cookware products—the Rosette iron, Krumkake iron, Platte Panne pan, and the Ebelskiver pan."

Nordicware™ is an American owned and domestically produced product, so it makes me love them all the more. The pan I used in today's recipe is from their Valentine's Day Bakeware collection. It's beautiful both in terms of the pan itself as well as the glorious finished cake.
---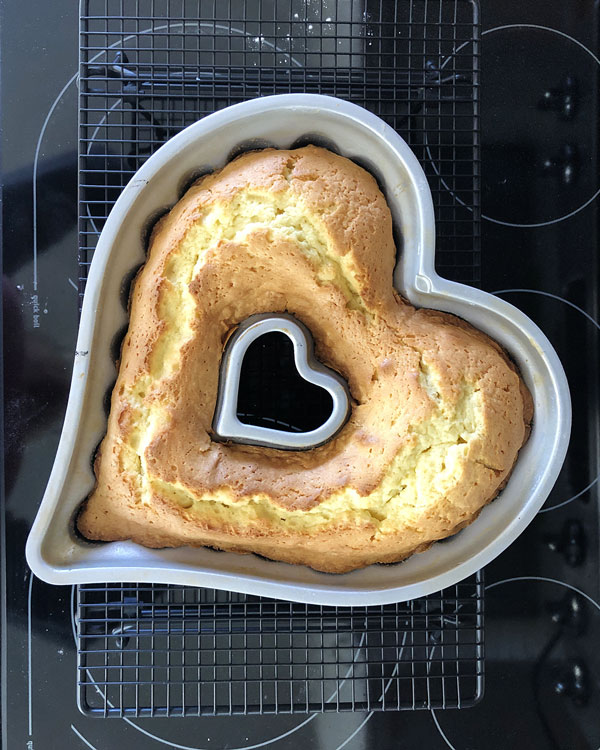 ---
What makes a good bundt® Cake?
Tender, but sturdy.
Denser than layer cakes or cupcakes, but not exactly a pound cake.
Sweet and buttery, but not too sweet.
That glorious sugar, crisp crust.
In layer cakes, people seem to like removing the sugar crust. Bakers trim it away and will use cake straps to keep cakes from browning on the outside. Call me crazy, but I like that sugar crisp on the outside of my cake. I think it's part of the cake, and until the recent spate of cake decorating videos on instagram, I had never considered it a problem to be solved. I still don't.
I think this separates me as a home baker from people who are "professionals." I'm literally a gal who bakes and shares my results on the internet. No assistants and no fancy kitchen. So, I'm keeping my sugar crust like we always did. I guess you just can't take the vintage out of the girl.
Behold the glorious and perfect outside texture of a Bundt® cake.
---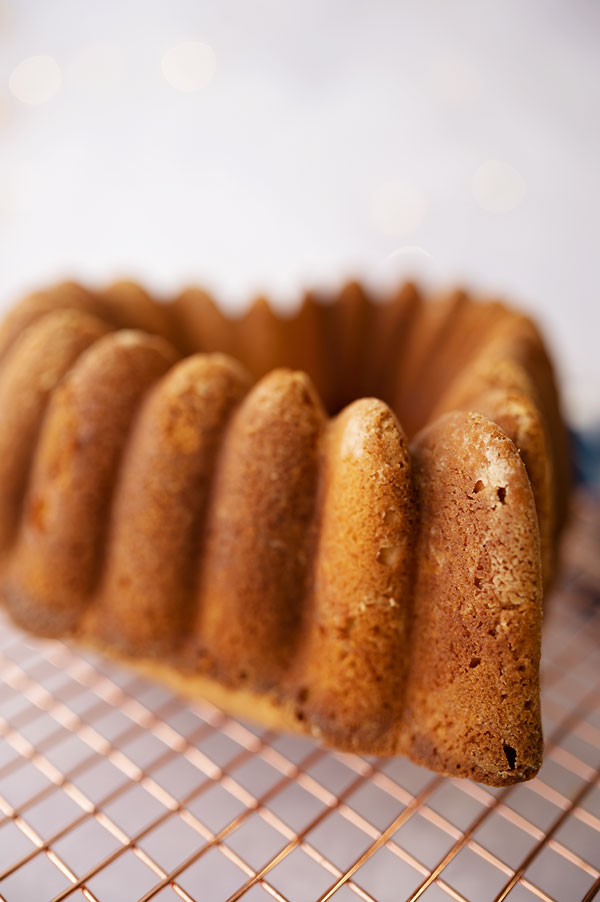 ---
This post has affiliate links to products I use and love. If you buy something I can make a small commission, so thanks in advance. 🙂
Tips for success when baking a Bundt ® style cake:
There a few things no one actually tells you about successfully baking this type of cake, so allow me to share some tips and tricks.
Pay attention to the size of the pan AND the recipe. Bundt ® style pans range from 5 or 6 cups for half size cakes (which we will definitely be making in future!) all the way up to FIFTEEN CUPS for the original Anniversary pan. The cups means the amount of batter.
Know the size of your pan, and the size pan the recipe is written for. A good recipe says how many cups it's written for. Today's recipe is written for that heart shaped pan which is a 10 cup pan. So, any 10 cup size pan will work.
Proper greasing and flour is of critical importance in a Bundt® style cake. The point is to show off the elaborate design of the pan. Honestly. This is what it's all about. That's why you want the crust. It sculpts to show off the design better. The true accomplishment in turning out a Bundt® cake is having it come out in tact. I do my usual heavy buttering and flour preparation, and then I will spray a touch of Baker's Joy ® with flour as my insurance policy. A more intricate design will require brushed on cake goop, but that's a topic for another day.
The point of this style of cake is the actual cake itself. Heavy decorations and frosting are not really appropriate. Serve with a dusting of powdered sugar or a beautiful glaze.
Ultimately, this is a pound cake style recipe and not a layer cake. I actually saw a recipe for a bundt on pinterest, and the person had sliced the cake in half and applied a thick layer of frosting. Horrified is not strong enough a word. Please don't try to frost or over decorate this style of cake, because it's missing the whole point.
---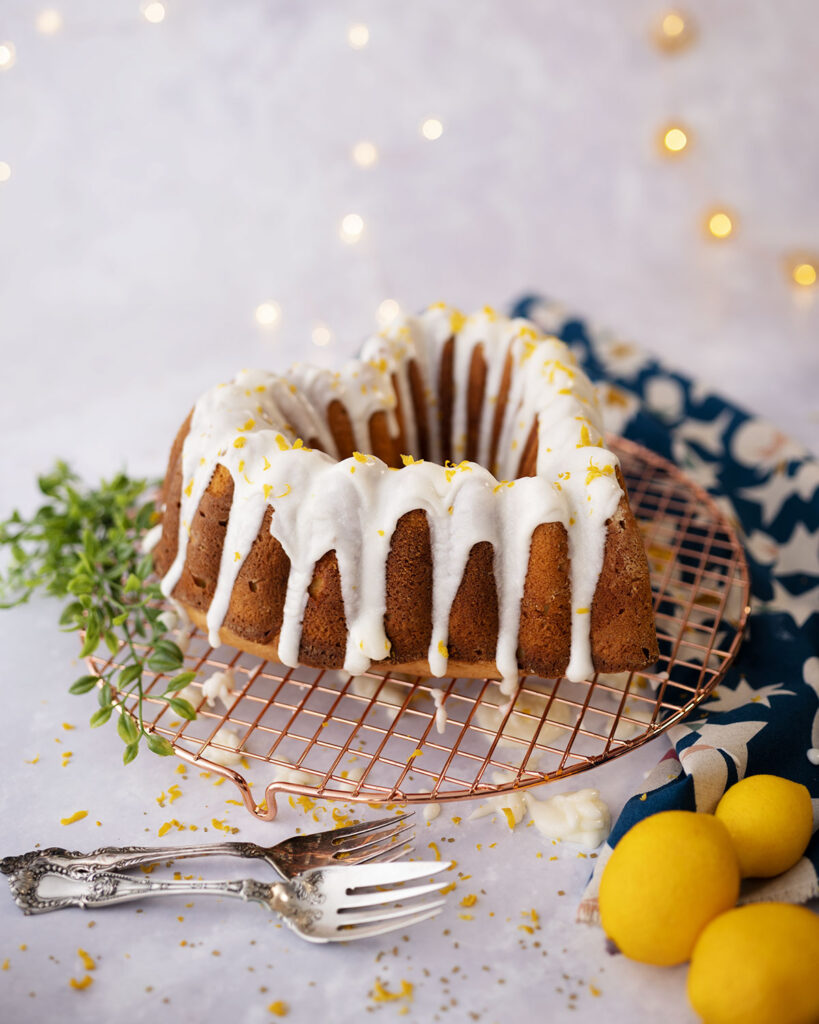 ---
Tips for finishing your Lemon Bundt® cake:
A basic glaze is all you need to complement your perfectly baked cake.
Flavor glaze a million ways with extracts or with juice. Color using with food dye. I personally love to make this basic vanilla cake and then change up the flavor of the glaze. Of course, the extracts can be changed in the cake itself as well.
Keep decorations simple so the elegance of the cake shines. I used fresh lemon zest to top my cake. It's always good to garnish using some of the ingredient used for flavoring. If you use almond, then lovely sliced almonds would be perfect sprinkled on top.
---
---
You've heard the saying that beauty is only skin deep? Well that is definitely not the case here.
A properly mixed and baked Bundt® is as lovely inside as out. Consider it the Snow White of cakes.
The texture is almost identical to a pound cake, so it's denser and more buttery than typical layer cakes. The crumb is fine and the look of the sliced cake has a uniform density top to bottom. If this sounds a bit too technical, don't worry, because all it means is that the cake is tender and delicious.
---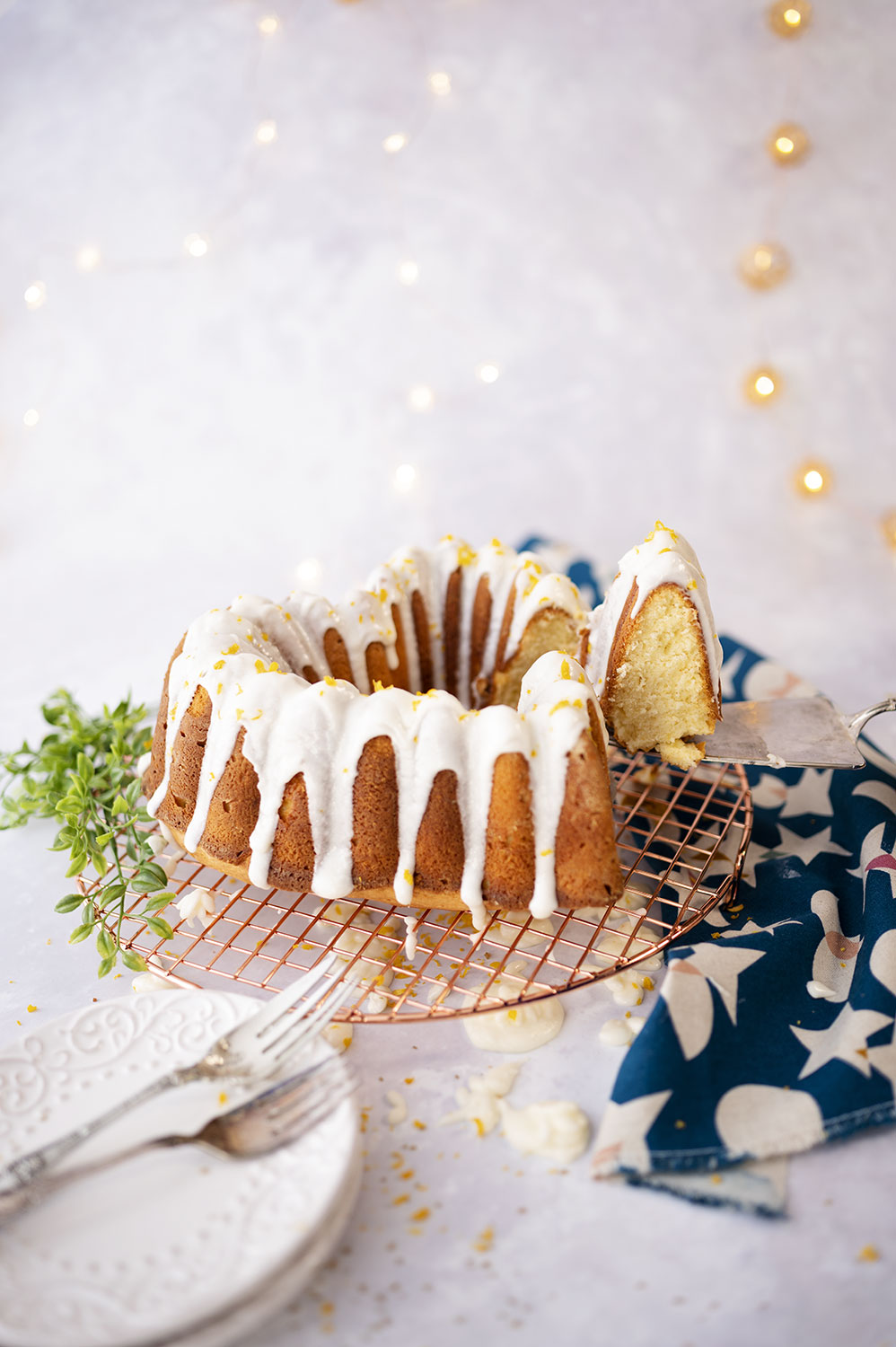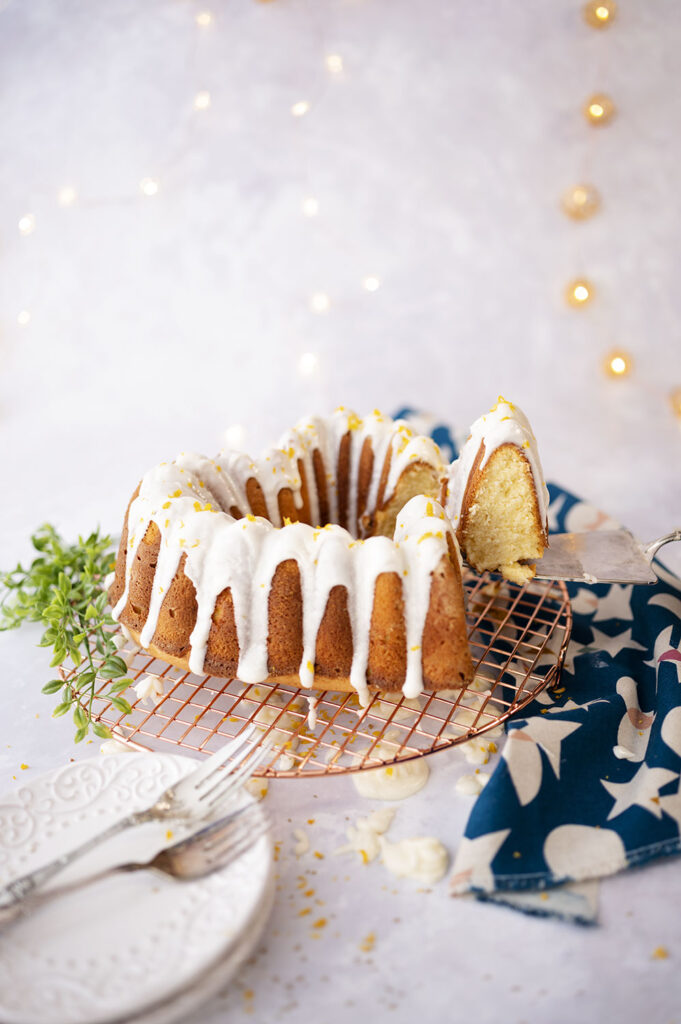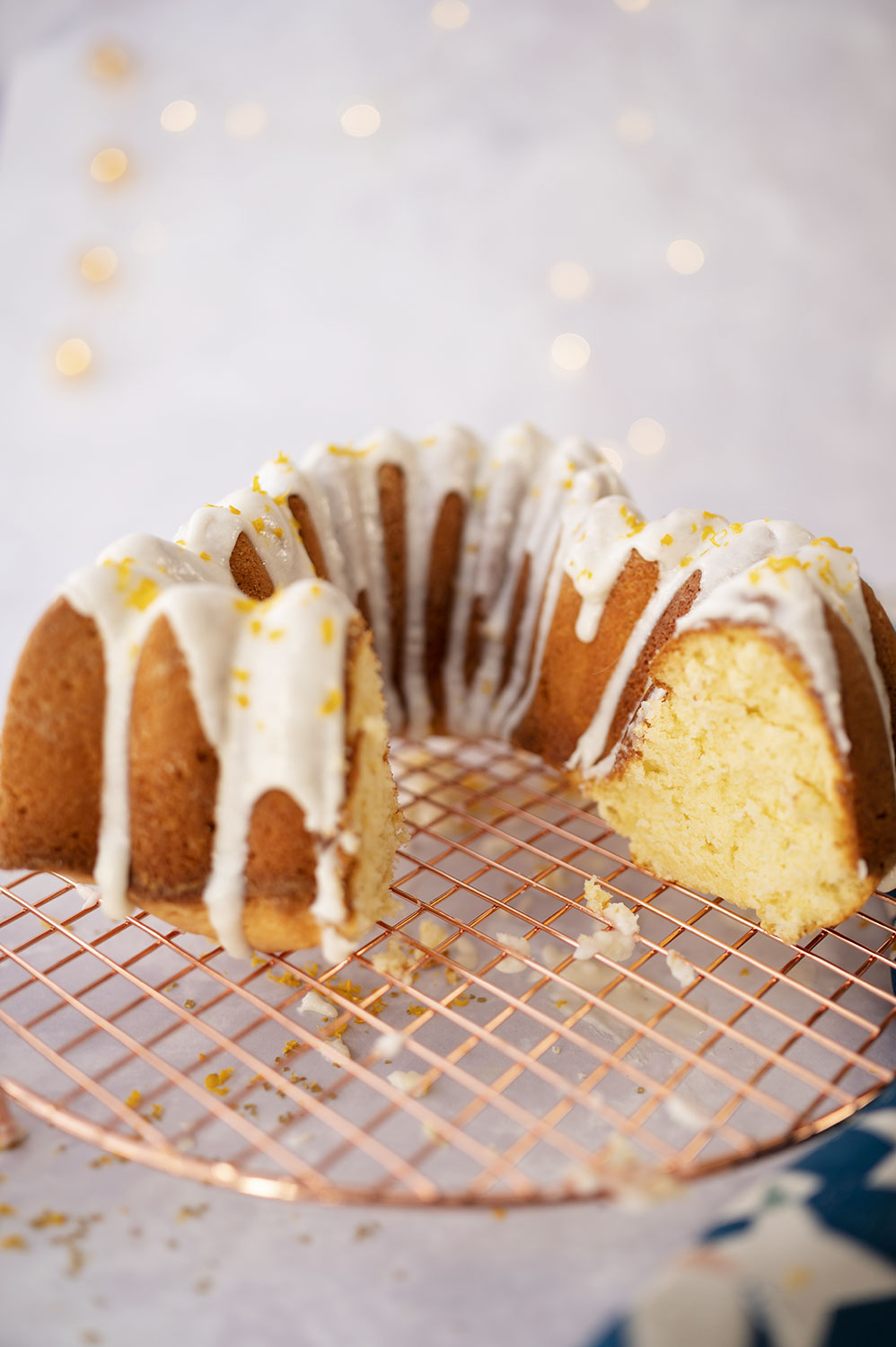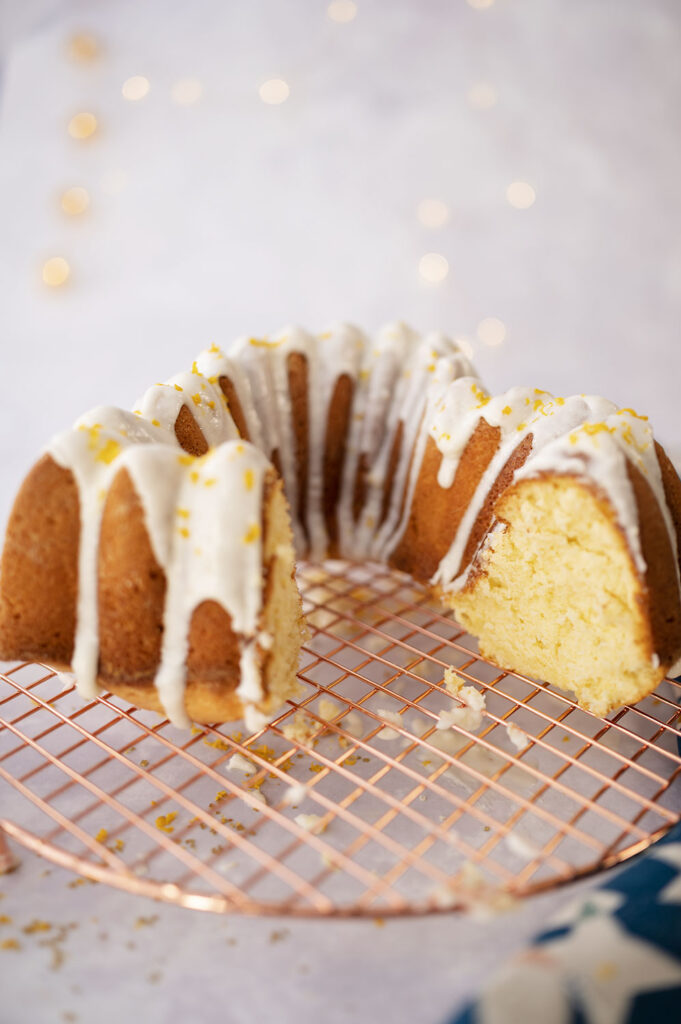 ---
Print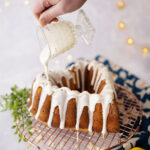 Lemon Bundt Cake
Author:

Patty McGuire

Prep Time:

20

Cook Time:

50

Total Time:

1 hour 10 minutes

Yield:

1

0

1

x

Category:

Dessert

Method:

Baking

Cuisine:

American
---
Description
A recipe for a classic Bundt® cake with lemon glaze is a simple yet elegant cake that's full of sweet-tart lemon flavor – perfect for any special occasion!
---
The Cake
3/4 cup

(

181g

) softened butter, room temperature

1/2 cup

(

136g

) cream cheese, room temperature

2 cups

(

400g

) caster sugar

5

eggs, room temperature

3/4 tsp

vanilla extract (really any extract you like)

2.5 cups

(

300g

) all purpose flour

1/2 tsp

baking powder

1/4 tsp

salt

1/4 cup

(

63g

) buttermilk, room temperature
The Glaze:
1 3/4 cups

(

200g

) powdered sugar

2 tablespoons

(

30g

) melted butter

2 tablespoons

fresh squeezed lemon juice

1 tablespoon

cream or milk
** If you want a different flavor for the glaze, add up to 1 teaspoon of your favorite extract and increase milk to 3 tablespoons. A little more a little less to get it to the proper consistency.
---
Instructions
Preheat oven to 350ºF (175ºC).
Carefully grease and flour a 10-cup Bundt® pan (be sure to tap/shake out excess flour). Finish with a touch of Baker's Joy with flour.
In the bowl of a stand mixer fitted with a paddle attachment, cream butter, cream cheese, and sugar beating on medium-speed until well-combined and batter is lightened in color.
Add eggs, one at a time, combining thoroughly after each addition (about 10 seconds on medium-speed after each addition). Scrape down the bowl and stir in vanilla extract. Mixture should be very smooth, light, and creamy.
Using a separate bowl, whisk together flour, baking powder, and salt.
With mixer on low-speed, alternate adding the flour mixture and milk mixture to the wet ingredients, starting and ending with the flour mixture (Add the flour in 3 separate additions and the milk in 2).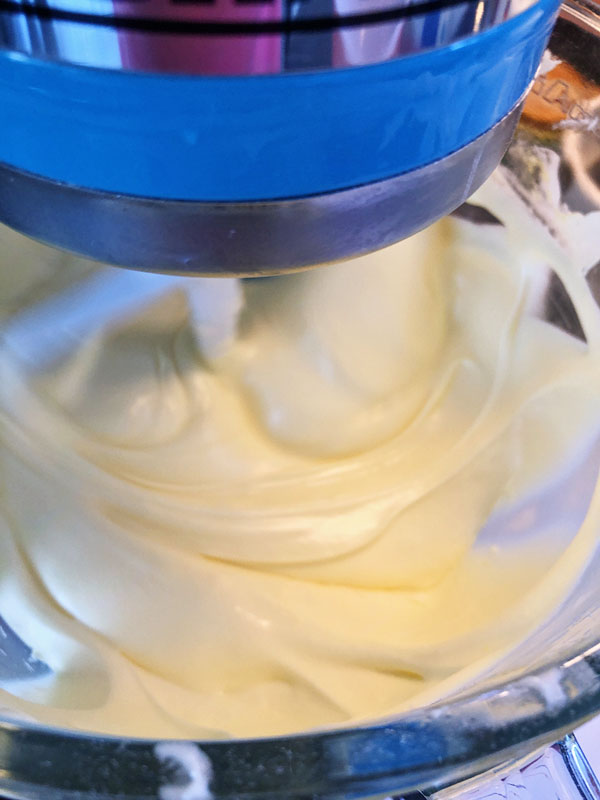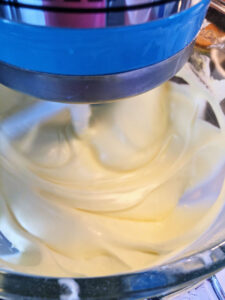 Pour batter into prepared bundt pan and bake on 350ºF (175ºC) for 45-55 minutes or when a knife inserted in the thick part of the cake comes out clean or with a few moist crumbs. If you have a lighter-colored bundt pan, it may take longer in the oven.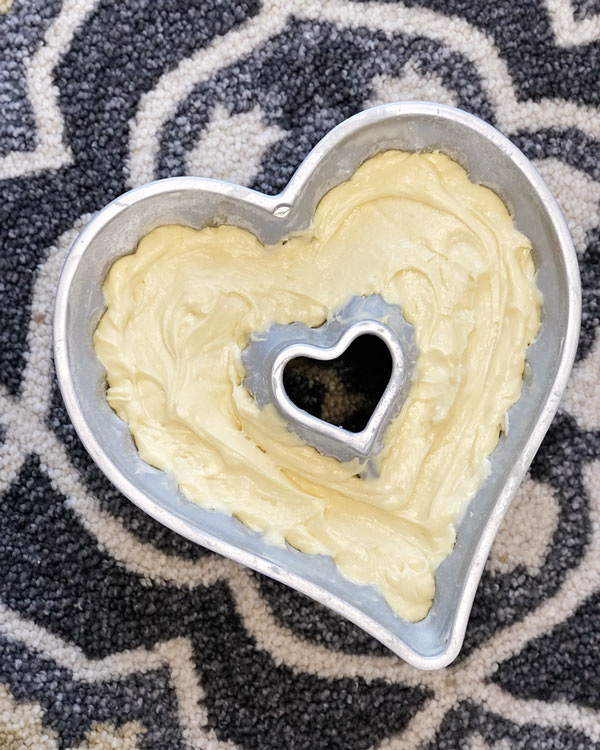 Allow to cool for 15-30 minutes then carefully invert onto cooling rack to cool completely before covering with glaze. You can use a spatula to gently loosen the cake from the sides as an added measure.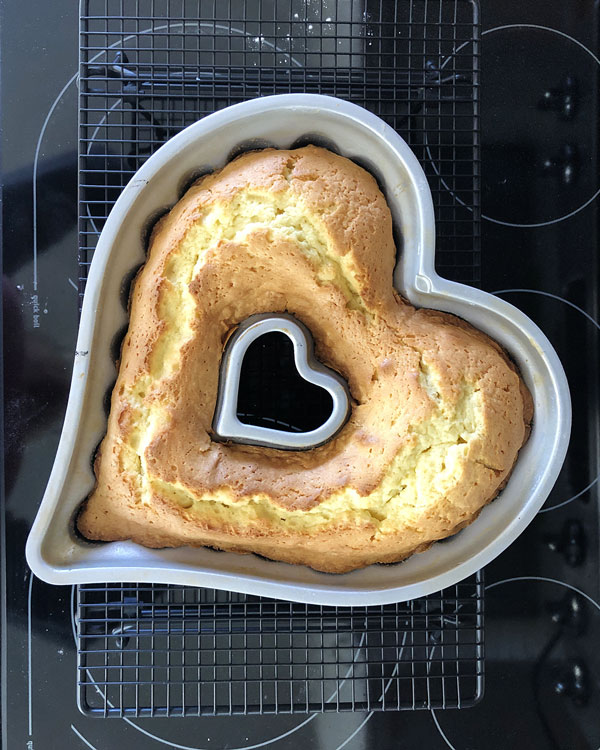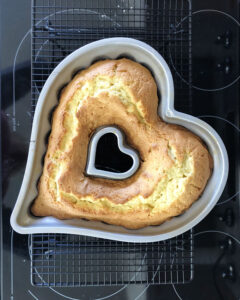 Glaze
Whisk together powdered sugar, melted butter, and lemon juice. Add milk, one tablespoon at a time, until consistency is thin enough that it falls in ribbons off of whisk but holds its shape for several seconds before melting back into the bowl.

Drizzle over cooled cake, allowing glaze to set for 30-60 minutes.
---
Notes
I highly recommend switching to caster sugar for ALL your cakes and cookies. It's a superfine sugar and melts more completely during the creaming process. The texture of your baked goods will improve tremendously just by making this simple change.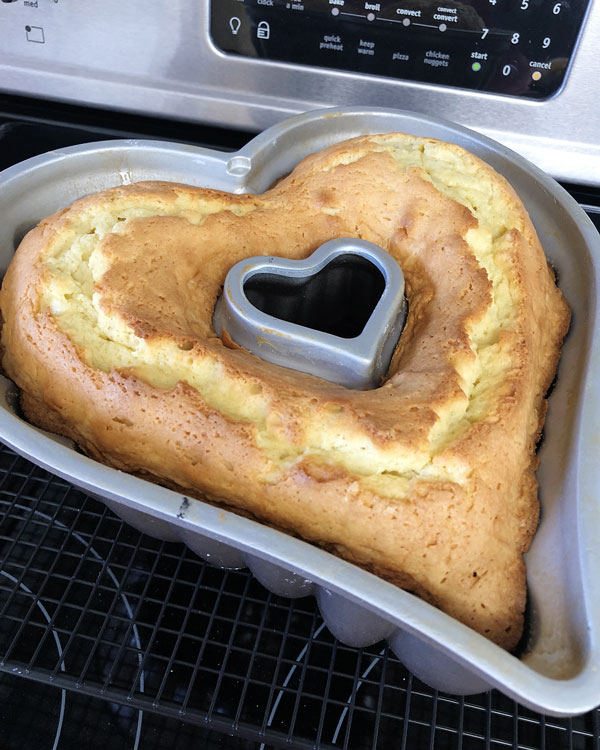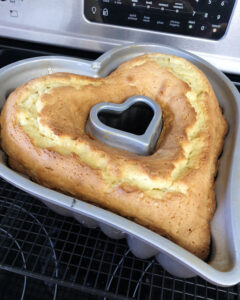 Keywords: lemon bundt cake
---

---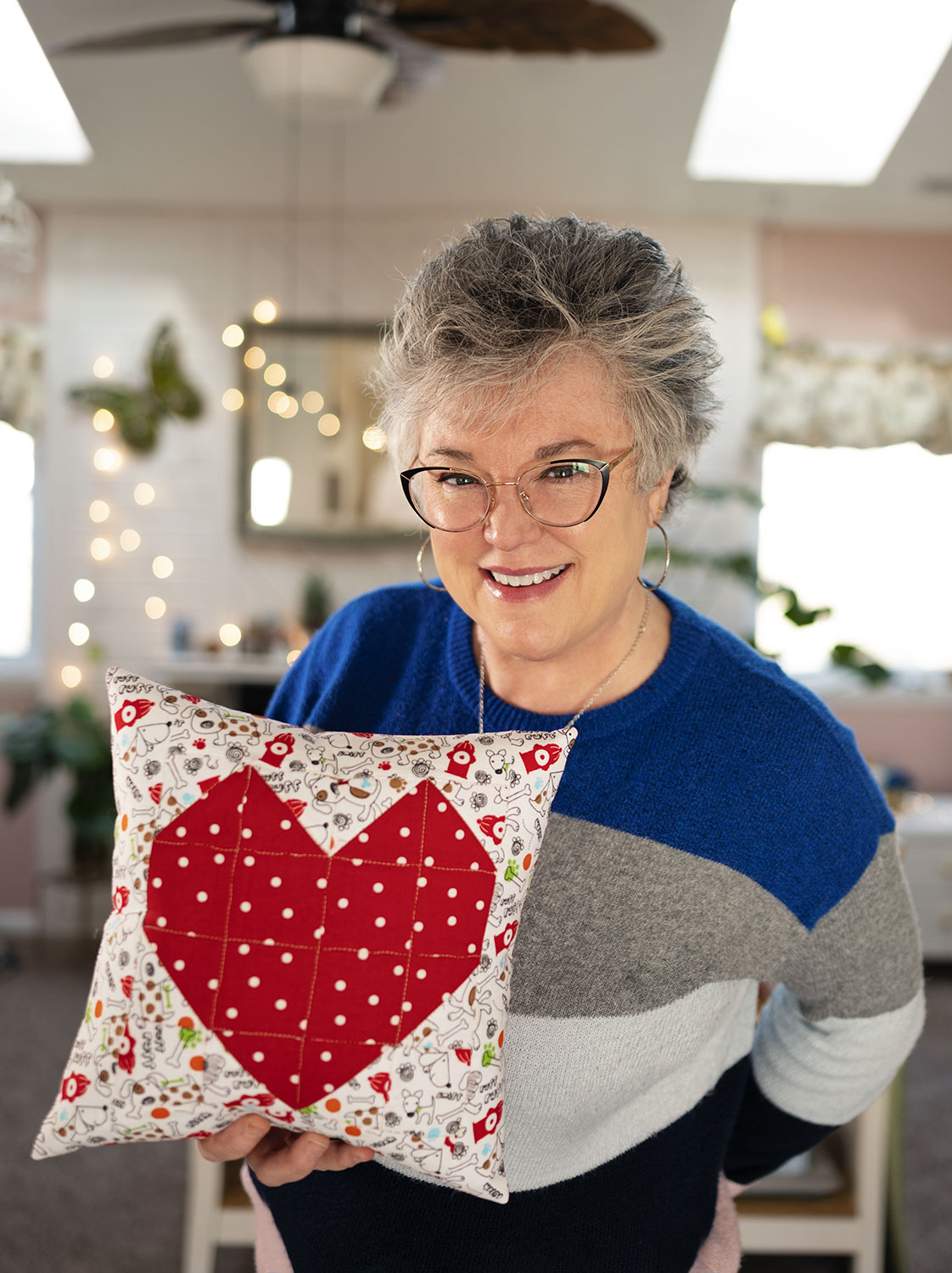 Hi, I'm Pattymac!
Sewist, Baker, Maker
I'm a creative lifestyle blogger living and working in Coastal Virginia. When I'm not mixing or stitching or taking pictures, I'm out exploring the cook book section of my favorite library or munching my own home baked cookies at a mid week movie matinee.