Air plants display beautifully in a terrarium, and it might be the easiest indoor gardening project you'll ever make.
The technical name for an air plant is Tillandsia. They are epiphytes, which means they derive their sustenance from their environment and not through their roots. They do not require soil, and can live happily in all those pretty planters without drainage holes that are so deadly to our other houseplants.
An air plant can pretty much hang out anywhere as long it gets proper care. So today, let me show you how to make an easy terrarium project to display your beautiful new air plant friend. Later I'll show you how to care for your interesting new plant.
---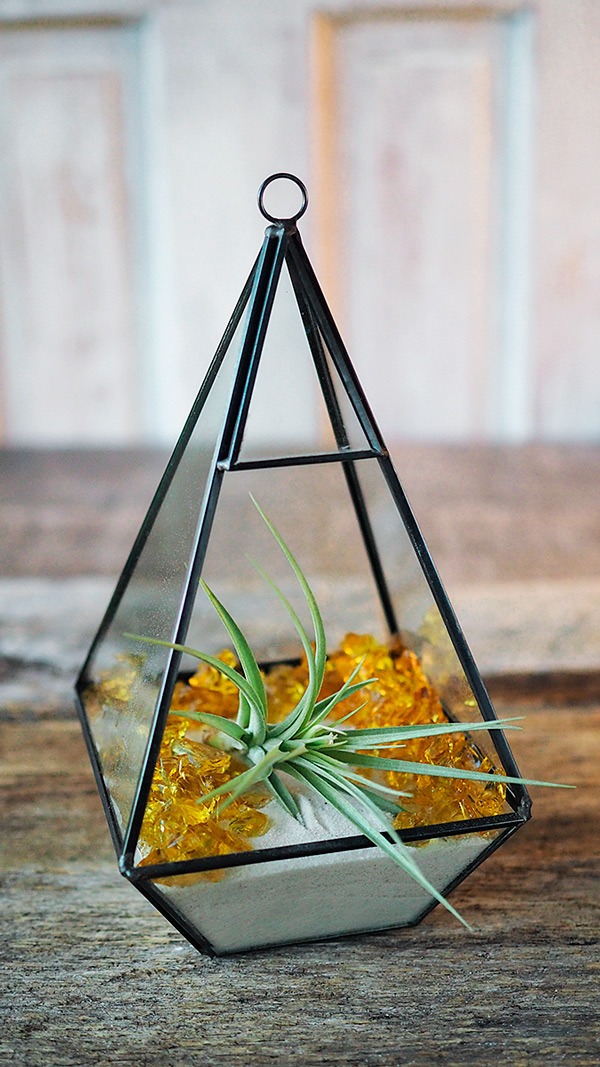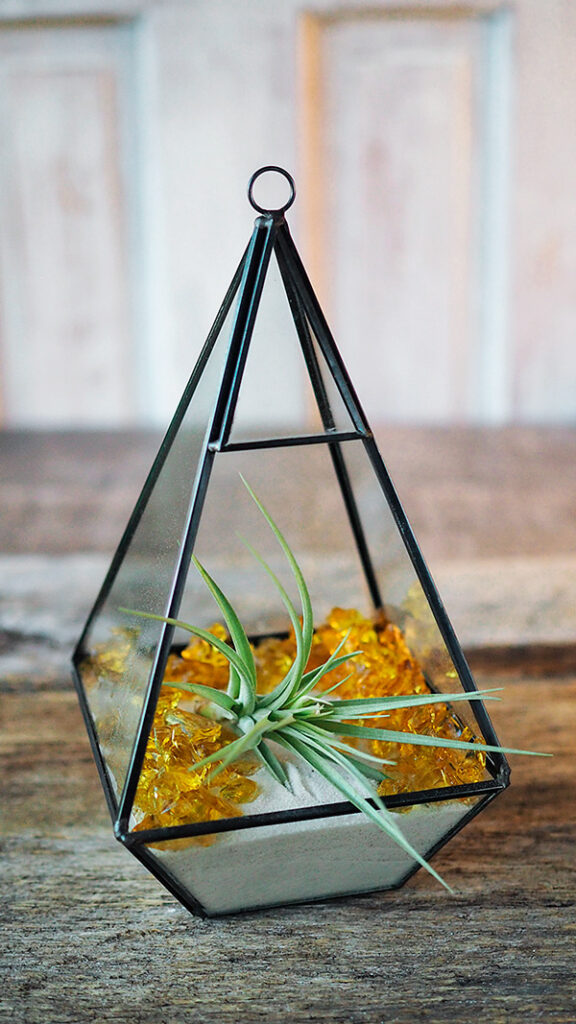 ---
What do you need to make this DIY Air Plant Terrarium?
The glass vessel of your choosing
Aquarium Sand
Something decorative, like the "glass" top dressing
An Air Plant. This one is called Tillandsia Tenuifolia.
A big spoon to put the sand and the decorative stuff inside the terrarium
---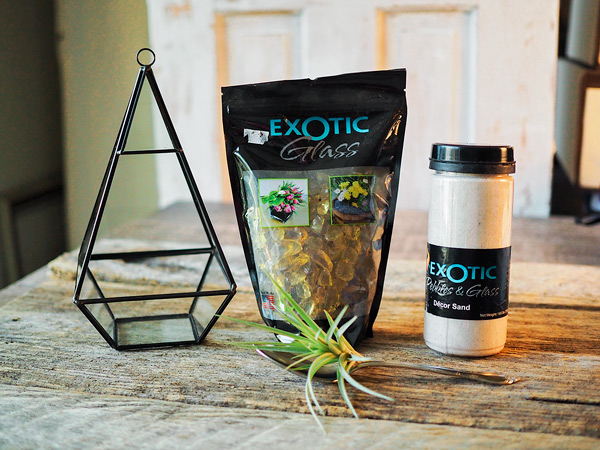 ---
An Air Plant Terrarium could not be simpler to make. Honestly, it boils down to finding a pretty container for your plant. That is the biggest part of this project. I found mine in Michael's, but Home Goods has interesting items that come and go, and there is always something pretty at Target. You'll have to look around a little to find the right thing.
Geometric glass containers caught my eye, and I wound up buying a couple of them. They are perfect for displaying air plants!
To get started, use the big spoon to scoop the aquarium sand into the container.
---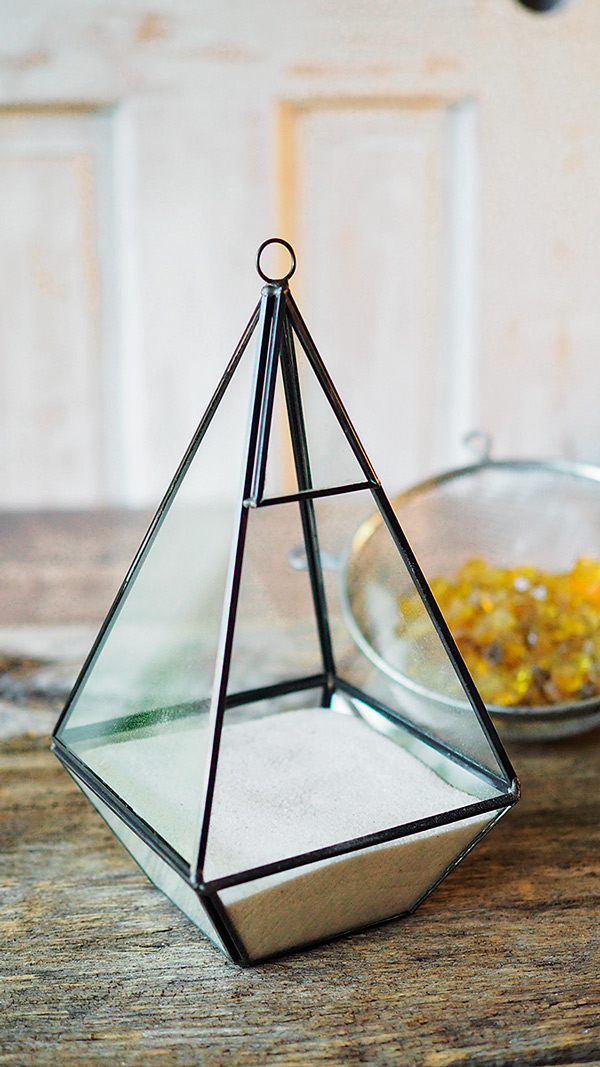 ---
Once you have the decorative sand placed, use the same spoon to place some of the decorative "glass" rocks around the outer edges of the terrarium. You could also use pebbles or any sort of crystals you like for this part of the decoration.
---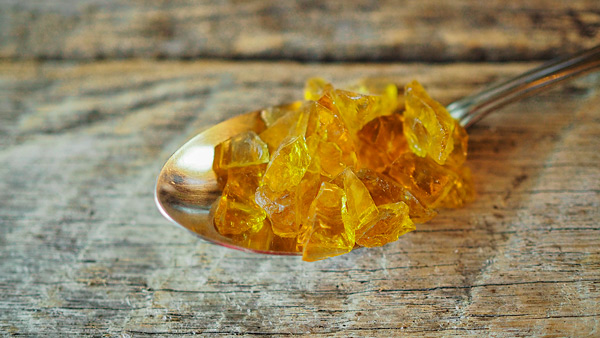 ---
Your last step is to place the air plant on top of the sand.
Style the terrarium with whatever air plants you like and use whatever decorative elements that speak to you.
---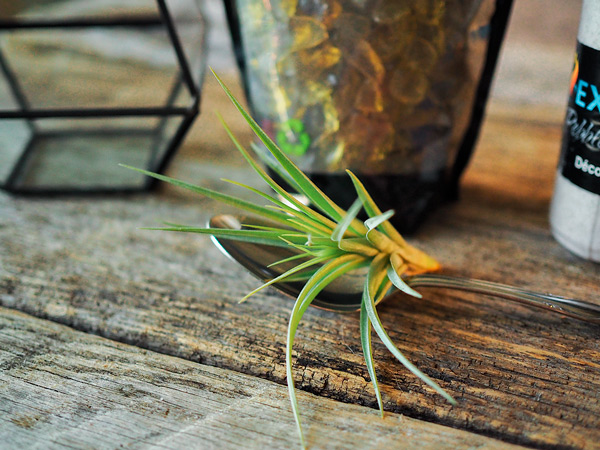 ---
I picked up the sand, the glass "rocks" and the plant at my favorite garden center.
If you are in Virginia Beach, it's the Anderson's out in Red Mill. If you visit the area, definitely check them out while you're here! They have a great restaurant as well as other souvenir shopping. I'm not affiliated with them in any way. I just really love to go there. Like REALLY love to go there.
To make the project:
Pour the sand into the vessel.
Spoon or place the decorative rocks or glass.
Place the air plant inside.
And voila! Your Air Plant Terrarium is complete! No green thumb necessary.
---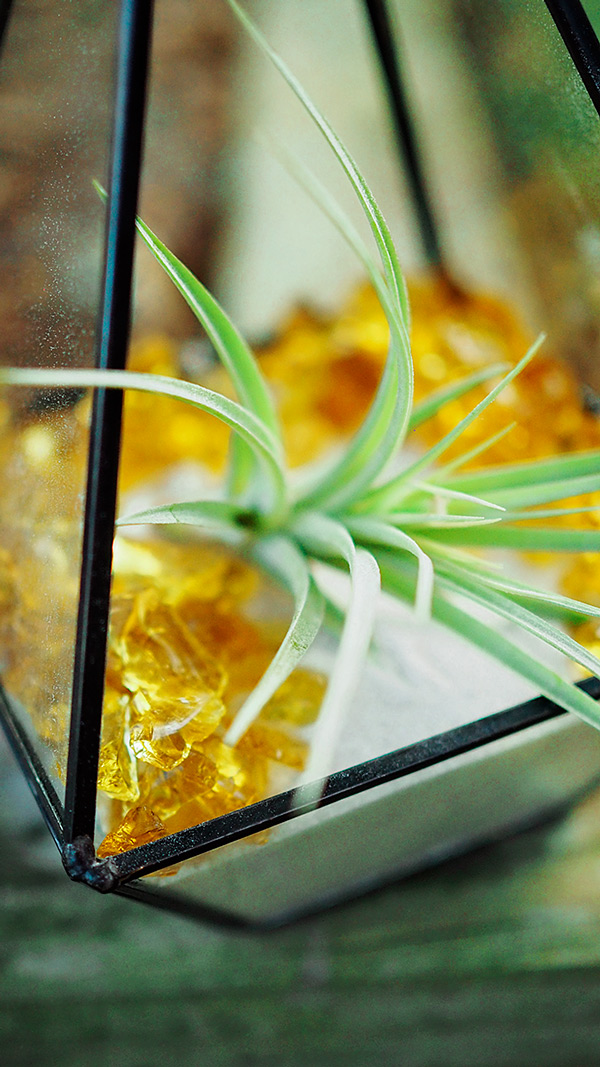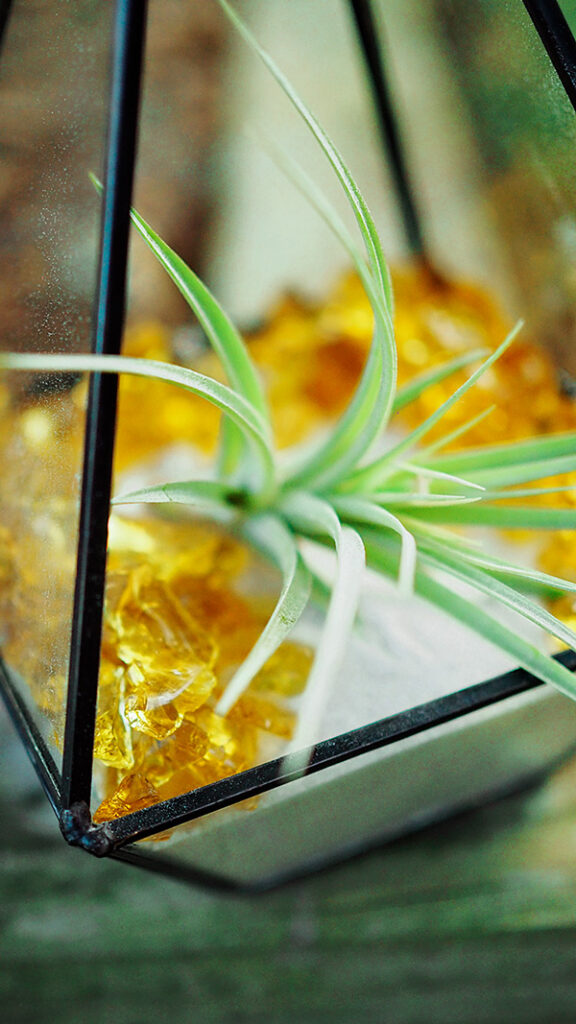 ---
Wondering how to take care of your new Tillandsia obsession?
To be honest, there is a lot of conflicting information out there. And the short answer to your inquiry is that YES, they do need to be watered, and NO, misting is not enough! I'll show you how I water and care for my Air Plants in this video. It should help you with your air plant care questions.
---
---
I do hope this awakens your interest in adding a few new green companions into your life. To be completely honest, there are incredible fakes out there these days, and you could easily substitute an artificial air plant into your terrarium. No one would ever know. 🙂
You might also like:
---

---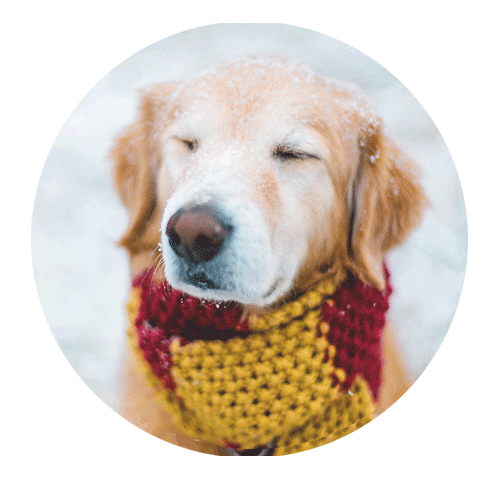 Hi! I'm Patty
Sewist, Baker, Maker
I love figuring out new ways to use pom poms, where I can stash more fabric, and I'm always wondering what to bake next…chocolate or lemon? When not dreaming up new things to make (or bake), I love riding my beach cruiser on the Boardwalk, watching classic movies, and planting new things in my tiny but mighty container garden.