August is that special time of year when our gardens are over flowing with flowers, tomatoes, and assorted veggies. When you've had all the healthy stuff you can take, consider baking a recipe for chocolate zucchini cake with all that extra squash. It's surprisingly delicious.
Peas and Carrots. Dick and Jane. Chocolate and Zucchini.
As strange as it seems at first glance, all of those aforementioned items really do go together.
---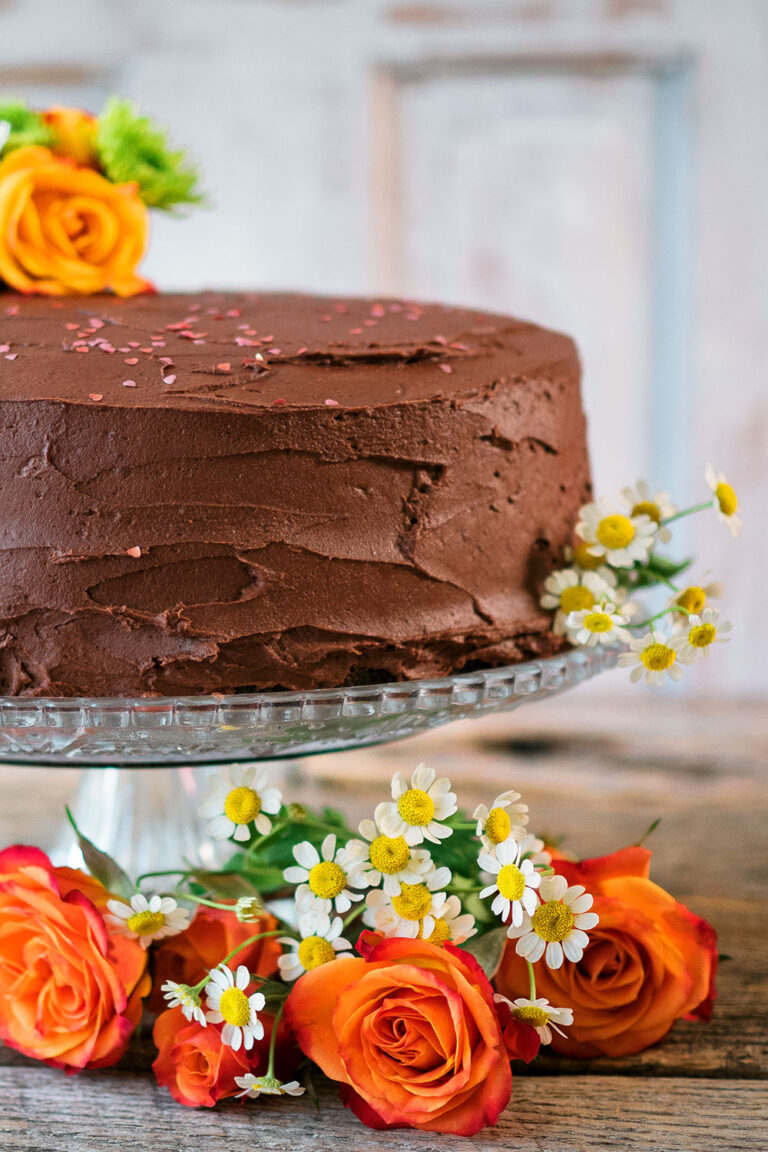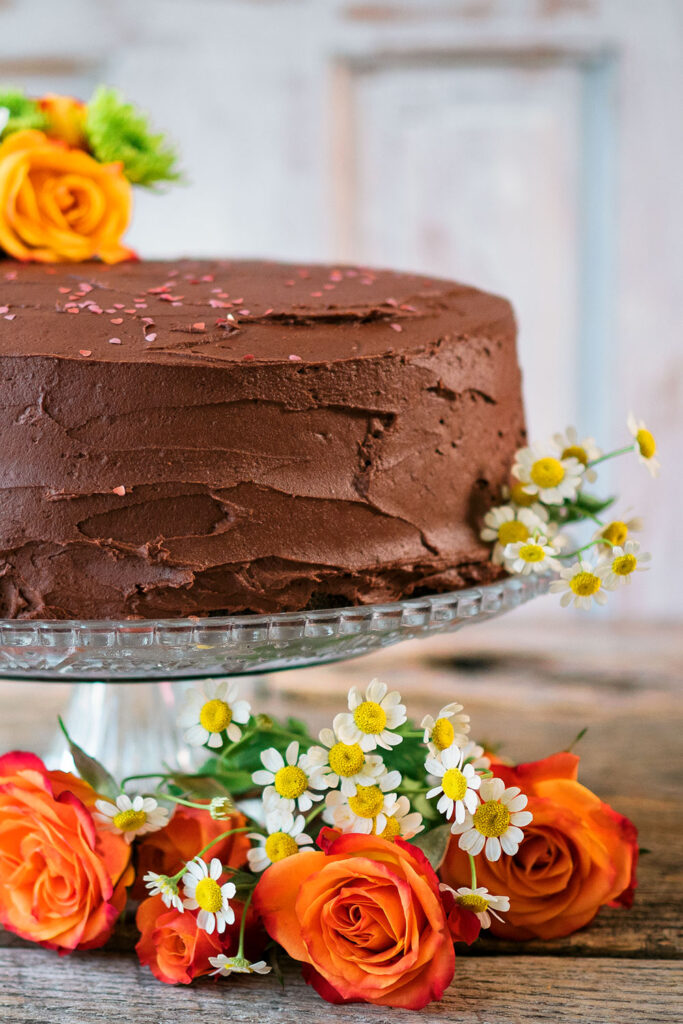 ---
I think Lorelai Gilmore said it best.
"If eating cake is wrong, I don't wanna be right."
Can I get an, "AMEN!" from the back of the house? In case you're confused, that's how we ask if you agree in the south. And we sure as heck love our cake here in the south. In fact, I might be eating this cake while I'm writing about it.
Don't judge me. Because once you've made this recipe for chocolate zucchini cake, you'll understand my obsession.
---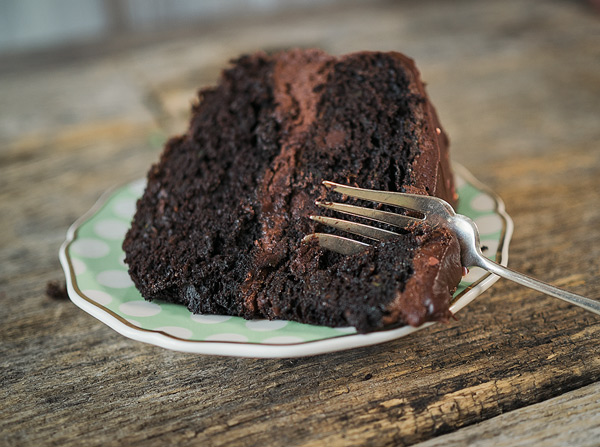 ---
The real secret to the richness of this recipe for chocolate zucchini cake lies in the "secret" ingredient. The Zucchini. If you don't tell your guests or family this is a zucchini cake, they will never know! Honestly. It's amazing how the veg disappears into deep, dark chocolate leaving only velvet texture. I can't honestly say this is a healthy cake, because it's still cake after all.
Frankly, I'm really over those people who keep trying to convert cookies and ice cream and cake into something healthy.
You've seen those pinterest suggestions for "healthy cookies" and "healthy cake." Please stop.
Don't traumatize your children with those mockeries of dessert. Just eat plain fruit or or whatever and stop trying to make quinoa into brownies. Please. For the love of all that's decent. Just stop. If you want a piece of cake, eat the darn cake already and make your peace that not all food is healthy. This is a great place to start!
---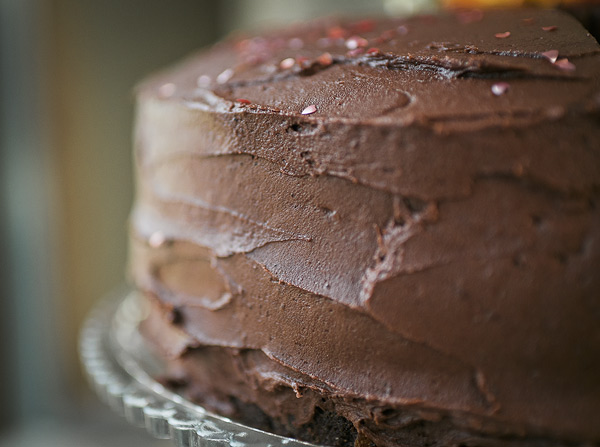 ---
When I tell you this is a chocolate lover's dream cake, I am not exaggerating. Who knew a chocolate cake stuffed full of zucchini could be THIS delicious?
You definitely want to make the chocolate frosting included with today's cake recipe. Don't skimp on the frosting!
If you want to dress up your cake, decorating with fresh flowers always looks so dreamy. Make sure to carefully wash the undersides of the flowers and the stems. Flowers are covered in all sort of sprays and fungicides, so making sure to carefully wash that off before they come into contact with the cake is extremely important. Or see if you can locate a local organic grower. Best of all, pick the flowers from your own garden!
---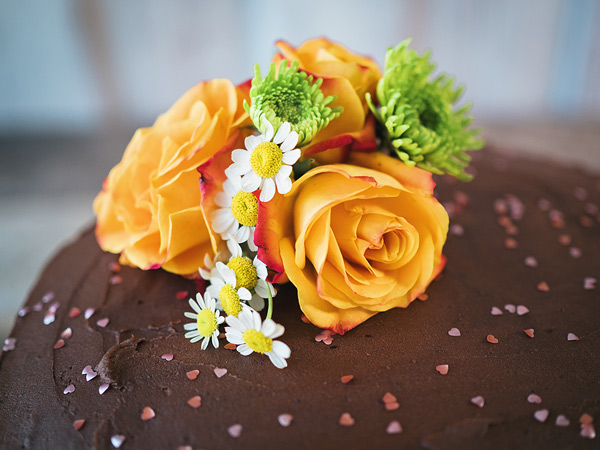 ---
You Might Also Like:
---
Print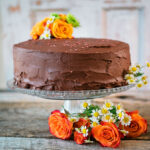 Chocolate Zucchini Cake Recipe
Author:

Patty McGuire

Prep Time:

90

Cook Time:

45

Total Time:

2 hours 15 minutes

Yield:

1

2

1

x

Category:

Cake

Method:

Bake

Cuisine:

American
---
Description
The secret ingredient in this chocolate cake is the zucchini. No one will ever know it's in there unless you tell them. Shhhhhh it's just between us.
---
250 g

(

2 cups

) all purpose flour (spoon and level)

50 g

(

1/2 cup

) cocoa

15 g

(

1/4 cup

) black cocoa

2 tsp

baking soda

1/2 tsp

baking powder

1 tsp

espresso powder

1/2 tsp

salt

240

ml ( 1 cup) vegetable oil

250 g

(

1 1/4 cups

) granulated sugar

100 g

light corn syrup

4

large eggs, room temperature

80 g

(

1/3 cup

) plain greek yogurt or sour cream

1 tbsp

vanilla extract

450 g

(

3 cups

) shredded zucchini (about 2 medium)

180 g

(

1 cup

) chocolate chips. I used semi sweet.
Frosting Ingredients:
284 g

(

2 1/2

sticks) unsalted butter

50 g

  (

1/2 cup

) cocoa

15 g

  (

1.4 cup

) black cocoa

420 g

(

3 1/2 cups

) confectioner's sugar

1/4 tsp

salt

1 tsp

vanilla bean paste

60

ml (1/4 cup) heavy cream
---
Instructions
To Make the Cake:
Preheat oven to 350 degrees F or 177 degrees C. Grease and flour using cocoa two 9×2 round cake pans. These are 9″ round pans and 2″ high. Set prepared pans aside.
Sift  flour, cocoa powders, baking soda, baking powder, espresso powder, and salt together into a large bowl. Set Aside
In another bowl, beat the oil, granulated sugar, corn syrup, eggs, greek yogurt, vanilla. Add the ingredients one at a time in the order listed, mixing thoroughly before adding the next. To beat, either use a hand mixer or a stand mixer fitted with the paddle attachment and use the medium high setting.
Add zucchini and mix until well combined.
Spoon in dry ingredients and beat together on medium speed low until well combined.
Fold in chocolate chips.
Batter will be pretty thick.
Pour batter evenly between the two cake pans. Bake for 40-45 minutes or until cakes are baked through. To test for doneness, insert a toothpick into the center portion of the cake. When the toothpick comes out clean, the cake is done. Ovens vary widely, so keep an eye on your cakes!
When done, remove from the oven and allow cakes to cool completely in the pans set on a wire rack. When cool carefully flip cakes out of the pans an onto a plate or cutting board. If finishing the cake immediately, proceed to the assembly instructions.
If you are waiting to finish the cakes, place each one in it's own ziplock bag and store in the fridge over night. You can frost and decorate the next day if desired.
To Make the Frosting:
Cream the butter on medium high using a paddle attachment for 4-5 minutes. You are looking for the butter to turn white. This is how I make buttercream frosting.
Sift the confectioner's sugar, cocoas and salt together.
Turn off them mixer and add dry ingredients to whipped butter.  Run mixer on low speed to incorporate sugar and then . Then beat 3-5 minutes.
Add vanilla.
Add cream.
Once all the dry ingredients  and vanilla and cream have been incorporated, put the mixer up to high speed and beat mixture for another 3-4 minutes.
At this point turn the mixer off and assess the frosting. If it's too thin add 1-2 more tbsp on confectioner's sugar and if it's too thick, add 1-2 tbsp of cream.  If you added anything, make sure to incorporate it well.
Frost cake either with preferred method.
Assembly:
To get cakes completely flat for better stacking, use a serrated knife and slice off thin layers for the tops. You are just removing the mounded portion so the cake is perfectly flat.
Place on cake layer onto the cake stand or plate you will be serving from. Evenly cover the top with frosting. Go a little thick on this part.
Place the second layer on top of the frosted top.
Use the remaining frosting to finish the top and sides of the cake. An offset spatula works wonders on this.
To finish, pipe decorative elements or sprinkle with chocolate chips or some other colorful sprinkle.
Slice and serve!
Cover your leftovers and store in the fridge for up to 5 days.
---
Notes
This cake is a lot of steps and a lot of ingredients! So take your time with it. I find splitting up the baking of the cakes from the making of the frosting and assembly helps. If you take it one step at a time, you can do this! And if you are an old pro, then you will find this a rather easy, but supremely delicious cake to put together!
This recipe is lovingly adapted from my favorite baking blogger Sally's Baking Addiction.
Keywords: recipe for chocolate zucchini cake

---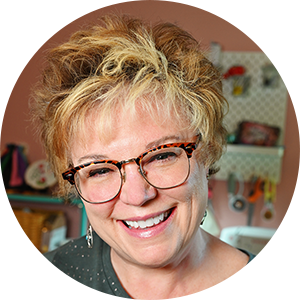 Hi, I'm Pattymac
Sewist, baker, maker
I love figuring out new ways to use pom poms, where I can stash more fabric, and I'm always wondering what to bake next…chocolate or lemon? When not dreaming up new things to make (or bake), I love riding my beach cruiser on the Boardwalk, watching classic movies, and planting new things in my tiny but mighty container garden.