St. Patrick's Day Cupcakes
Jaunty leprechauns, green shamrocks, and lots of free flowing beer. LOTS OF BEER. As someone of Irish descent on both sides of my family tree, I admit to looking forward to March every year. Embrace today's miniature Pot 'o' Gold in the form of St. Patrick's Day Cupcakes.
Generally, St. Patrick's Day Cupcakes come in one of two versions.
Over the top green frosting and/or green cakes.
Guinness infused chocolate cakes.
I decided to go for something in between.
---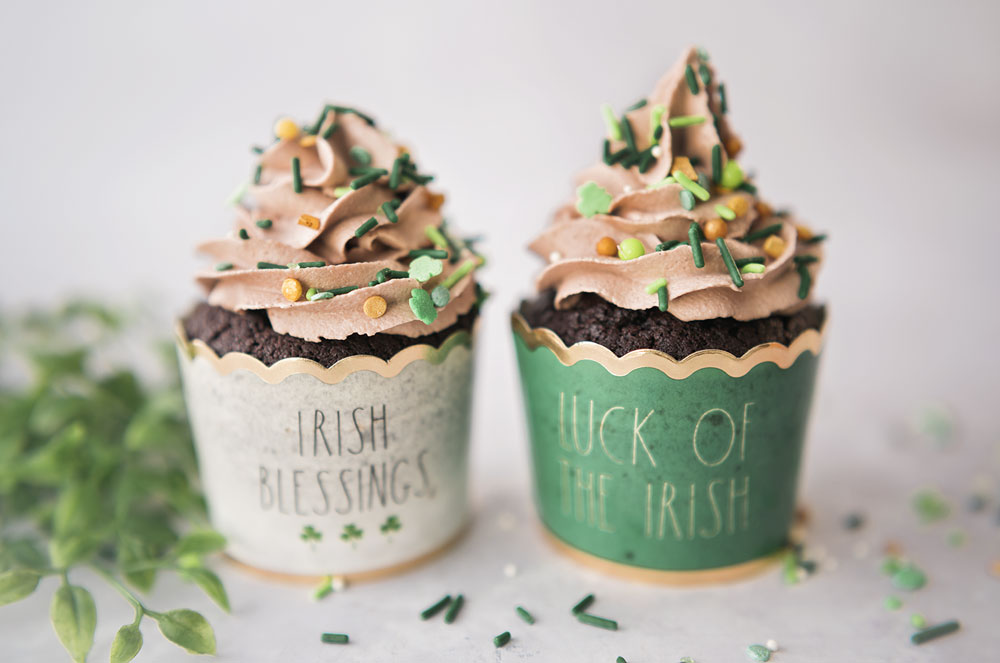 ---
If we aren't going to rely on over-the-top food coloring in our recipe, how do we best decorate St. Patrick's Day Cupcakes?
While I do do enjoy a bit of food coloring in my baking, I don't like to over power the treat with food dye. I thought the seasonal sprinkles and pretty Rae Dunn cupcake wrappers were plenty to balance with the incredible chocolate cake and mocha frosting flavored using grown up ingredients.
I found the cupcake wrappers in my local Home Goods for $5, so I grabbed them. I am sad to report I am unable to find them for you now. I would recommend you keep an eye out for next year as I'm sure they will come around again.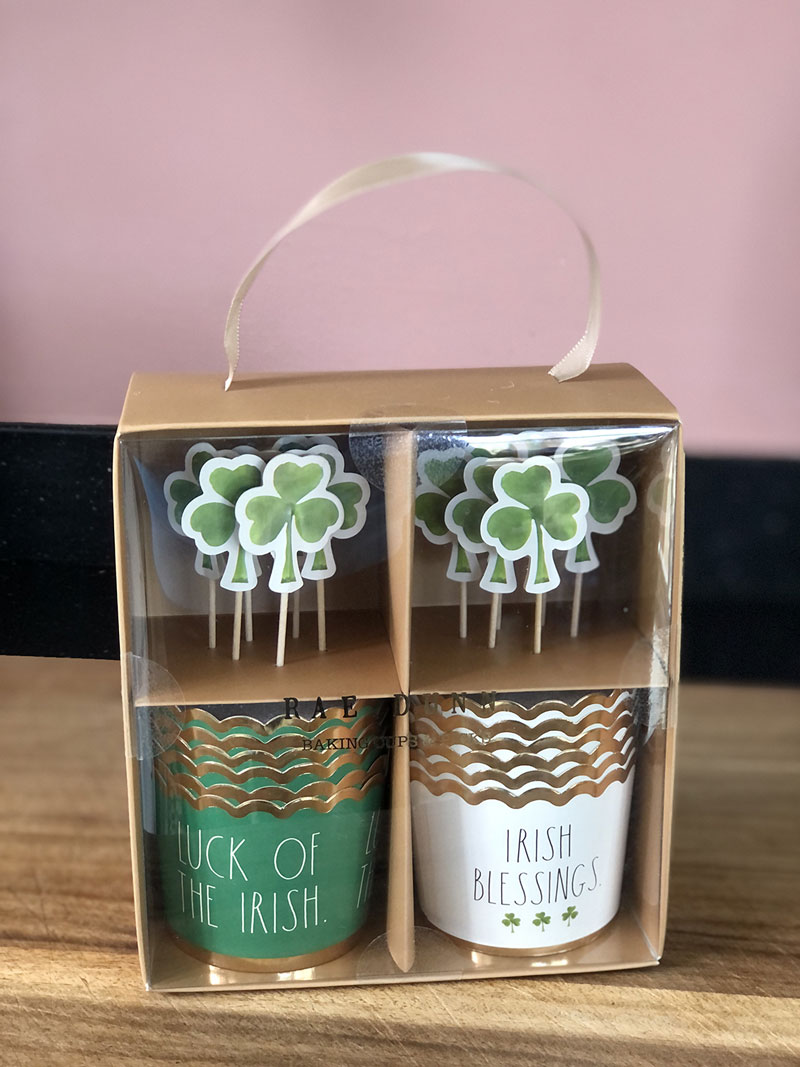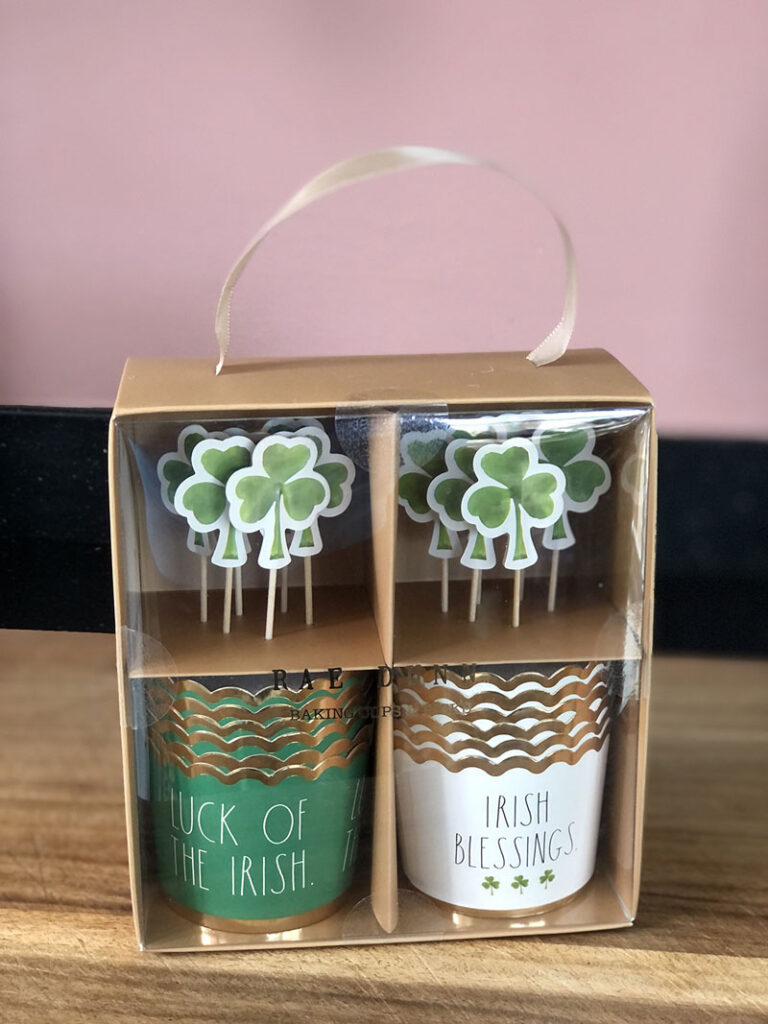 ---
Specialty cupcake wrappers and toppers like this Rae Dun kit I found in my Home Goods make my St. Patrick's Day Cupcakes look instantly professional.
They are larger than your usual cupcake wrapper (affiliate link) and are designed to stand up on their own on the baking tray. They worked wonderfully!
🧁
What are the specialty items in my version of St. Patrick's Day Cupcakes?
The cupcake baking cups (affiliate link) shown above.
Chocolate Ale in the Chocolate cake batter and Irish Cream to flavor the Mocha frosting.
Espresso powder (affiliate link) and cake enhancer.
Sprinkles that reflect the holiday.
Wilton 1M frosting tip used with disposable frosting bags to pipe the frosting.
---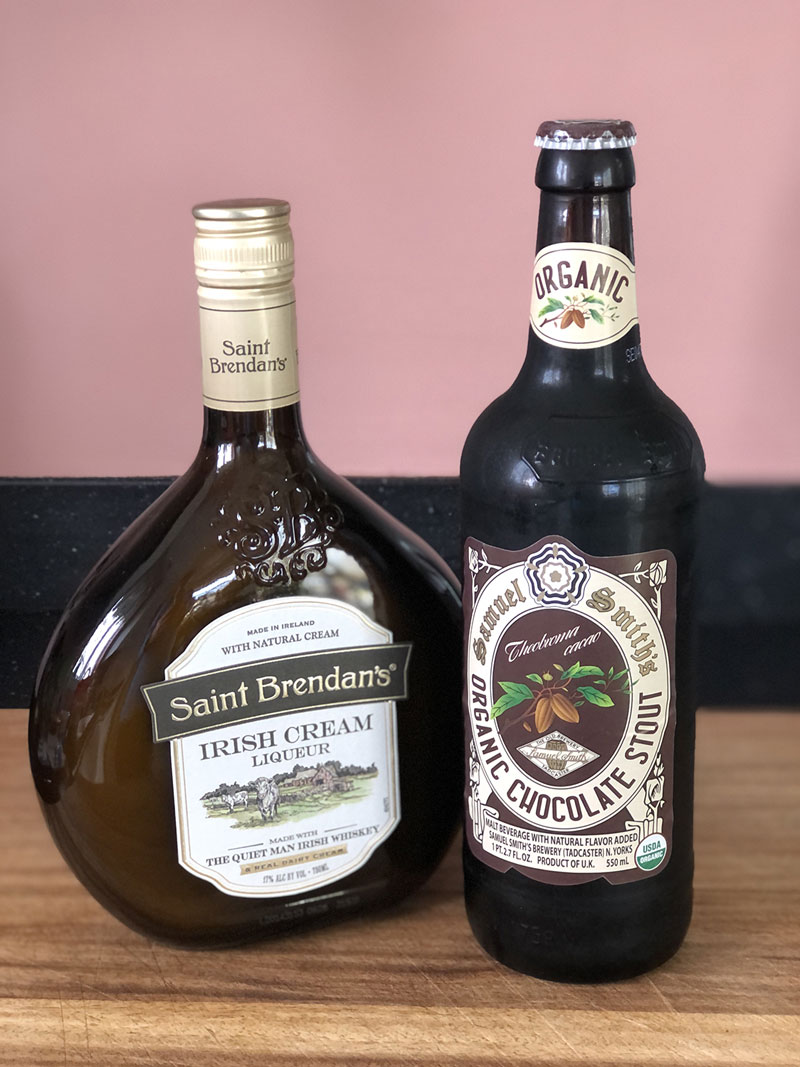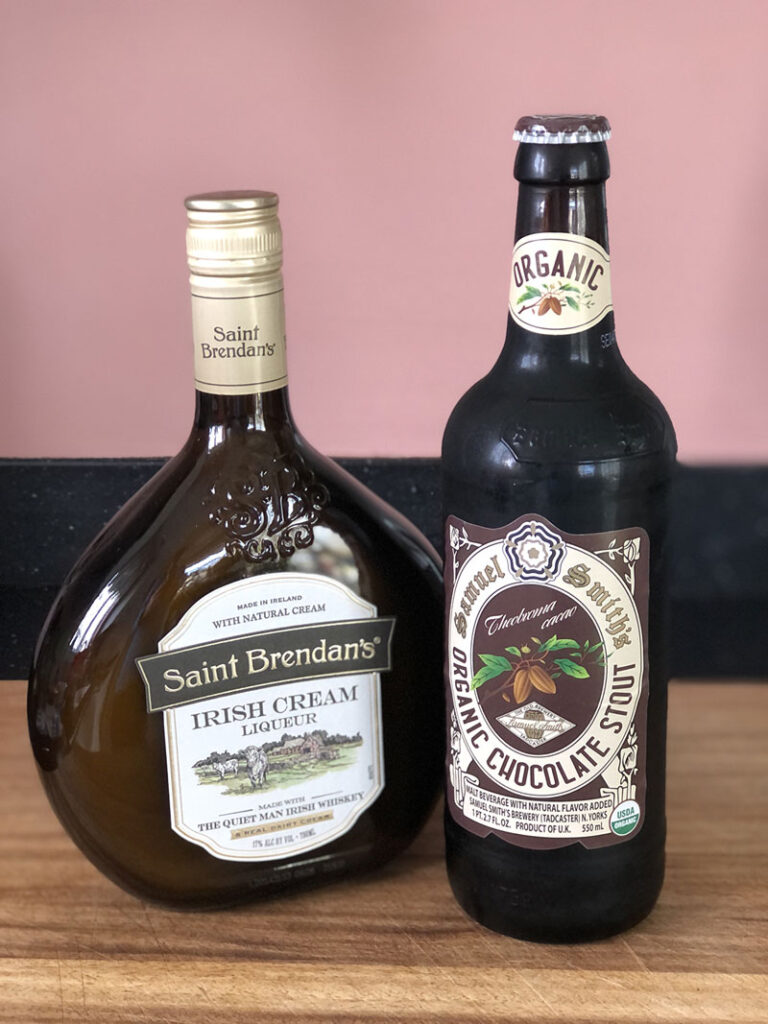 ---
Time for a true confession.
I did not use the big brand names in my recipe for a couple of reasons. One, they are more expensive. And, two, I like to share smaller brands with you as we smaller businesses need to stand together and lift each other up.
Also, the Chocolate Stout I used is not Irish, but English. Honestly, it's so good in recipes and I love the story of Samuel Smith's being a small, family brewery in the UK using a well for the water originally sunk in 1758. This adds charming character no multi national corporation can touch.
St. Brendan's Irish Cream is mixed using The Quiet Man Irish Whiskey, and The Quiet Man is one of my favorite John Wayne movies. Being a big fan of The Duke, that tidbit really jumped out at me. Plus it was half the cost of the large brand name, so that sealed the deal.
---
Well balanced flavors in the cake and frosting fused with pretty decorations and an easy decorating technique coalesce to craft a cupcake as delicious to the eyes as to the taste.
---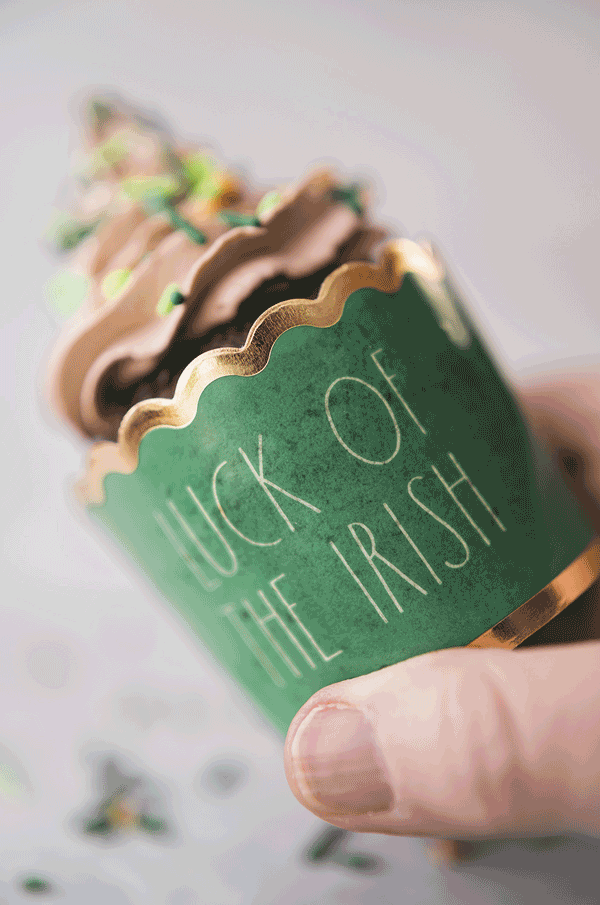 What ingredients are used in the St. Patrick's Day cupcakes?
For the Cake:
Chocolate Ale simmered on the stove to concentrate flavor
Cake flour (affiliate link) for a tender cake
Cake enhancer (affiliate link) for an extra moist, tender cake
Dutched Cocoa Powder
Espresso powder to enhance the chocolate flavors
Grapeseed oil, my preferred vegetable oil for baking
Dark Brown Sugar
Large Eggs
Buttermilk (or sour cream)
Vanilla extract
For the Frosting:
Irish Cream for flavoring
Espresso powder
Unsalted butter
Shortening
Powdered Sugar
Dutched Cocoa powder
Buttermilk
Vanilla Extract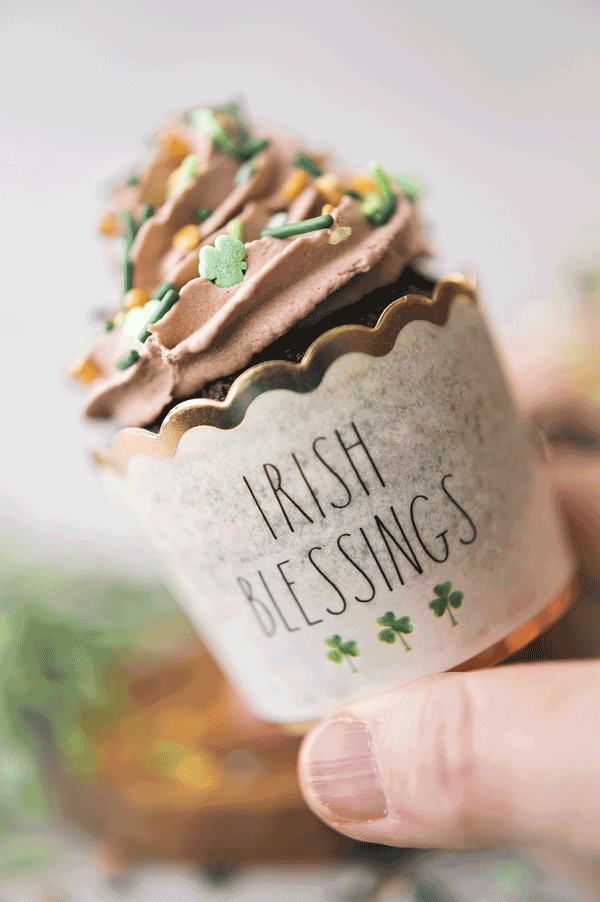 ---
Sifting the dry ingredients prior to mixing makes the biggest difference in the final texture of both the cake and the frosting.
I even sifted my brown sugar to remove lumps as I added it to the other wet ingredients. This yielded a perfectly smooth wet mixture gently whisked into the dry ingredients….also first sifted.
---
Mixing instructions:
Do take the time to first sift all your dry ingredients. This includes the brown sugar, even though sugar is technically a wet ingredient. Lumps do not necessarily dissolve in the wet mixture and for best results, having perfectly smooth sugar provides the best base for your wet part of the mixture.
I used a whisk to combine first the wet ingredients and then to mix the wet and dry ingredients together. I generally use my stand mixer for everything, but when a cake uses oil as opposed to creaming butter, I find the whisk works really well.
The frosting is a combination of butter and white culinary shortening and it does require a stand mixer to get the best possible blending of sugar and fats for the frosting.
Baking Tips:
The cups I used to bake in are free standing and oven safe to 375ºF.
I measured my cupcake batter by pouring the cake mixture first into a container with a pouring spout, and then pouring from there into the cup placed on a scale. I put approximately 90 grams of batter into each cup so the cakes would bake uniformly.
The cakes are larger than cupcakes baked in regular wrappers in muffin pans, so they required extra time in the oven.
---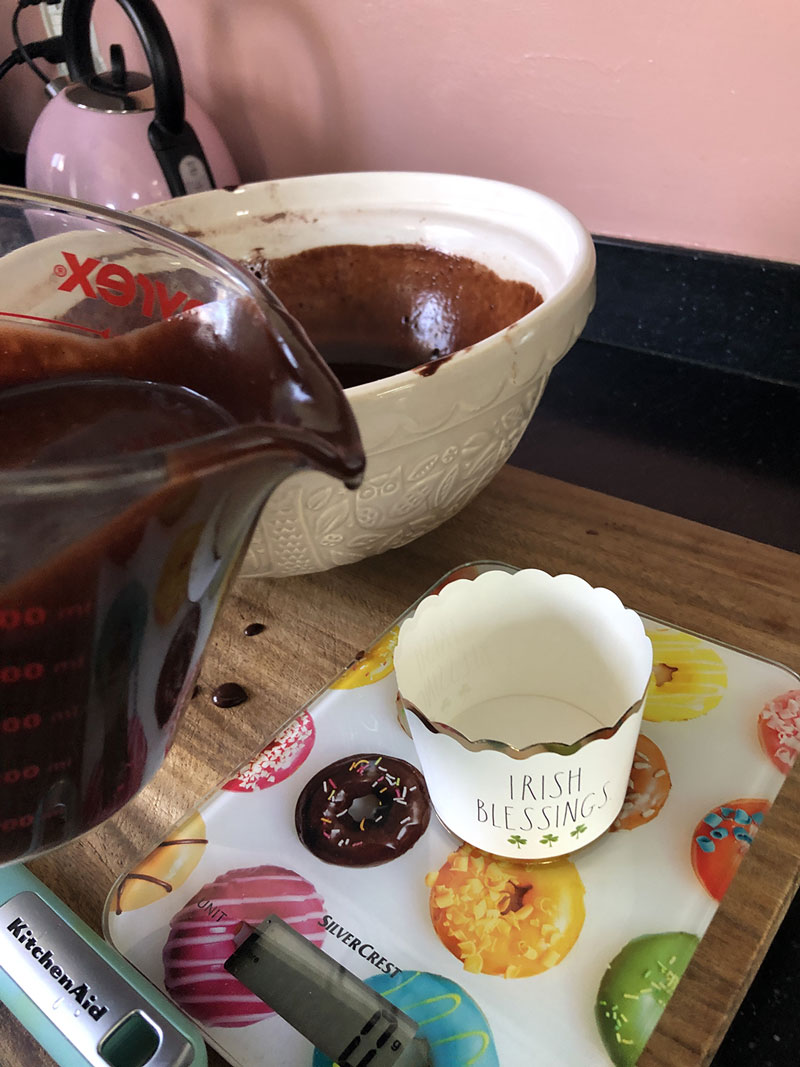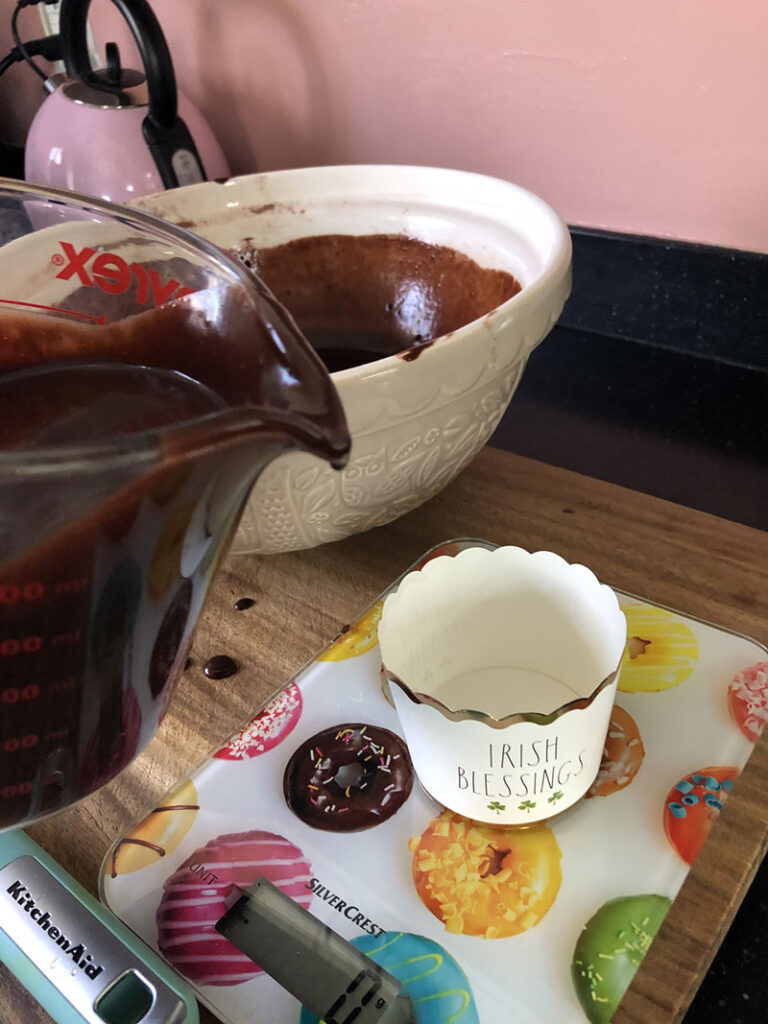 ---
Decorating tips for the cupcakes
Using a 1M Wilton frosting tip is an easy way to pipe frosting swirls that look beautiful and professional with very little skill required. The trick is getting the frosting thin enough to pipe easily but not so thin it doesn't hold it's shape.
I use disposable piping bags, but reusable bags are also a great option.
Leftover frosting can be stored in the piping bag, inside a resealable bag for freshness, for a week in the fridge or frozen up to a couple of months for later use.
Seasonal sprinkles are the final touch on the chocolate cupcakes for today.
---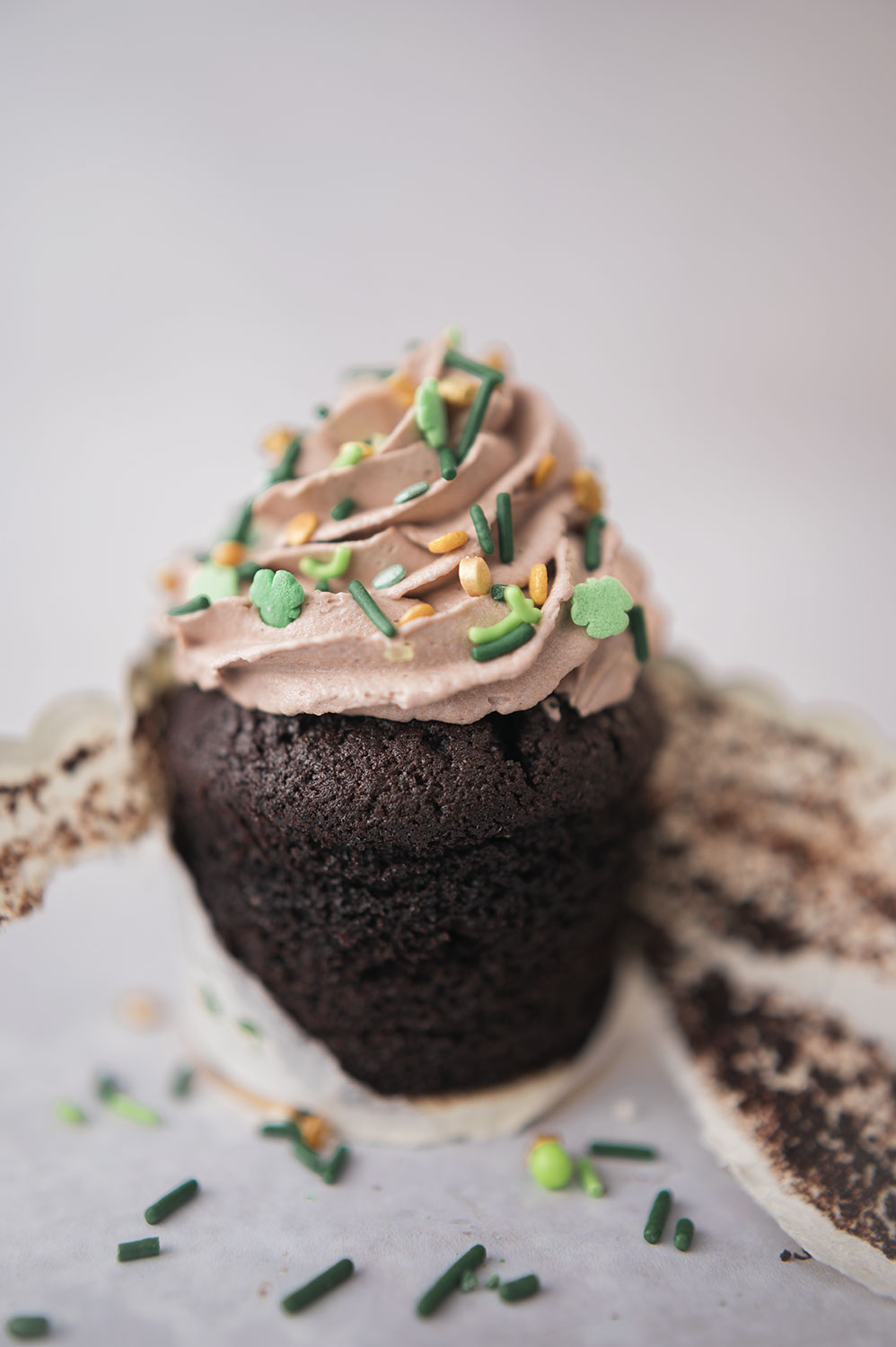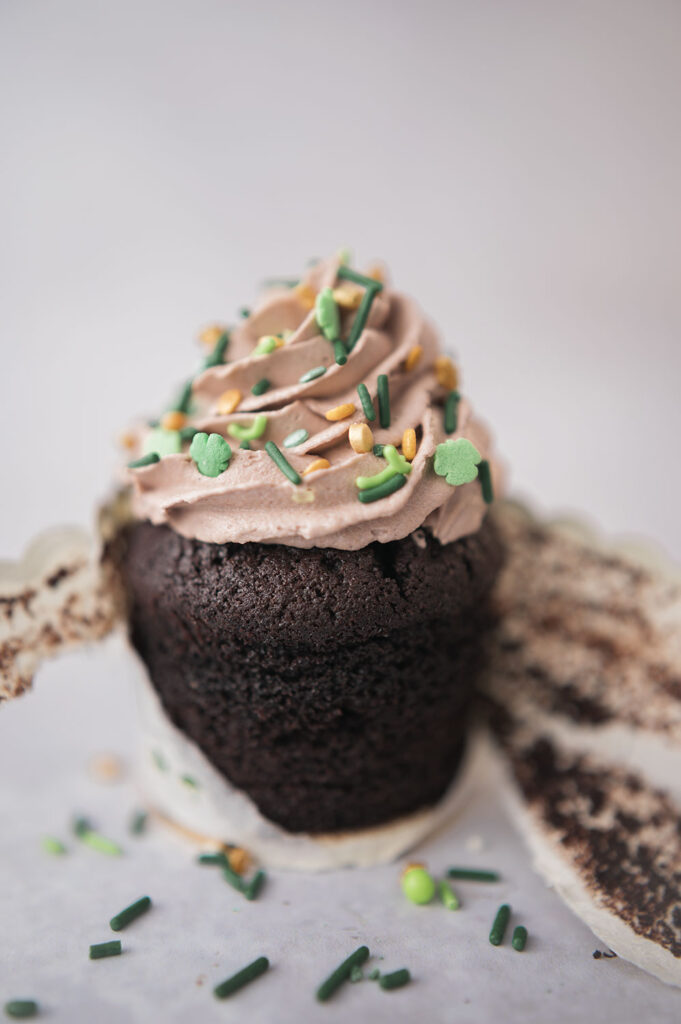 ---
---
Print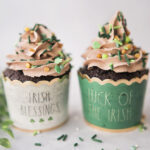 St. Patrick's Day Cupcakes
Author:

Patty McGuire

Prep Time:

30

Cook Time:

20

Total Time:

50 minutes

Yield:

1

2

1

x

Category:

Dessert

Method:

Baking

Cuisine:

American
---
For the Cake
1

cup

(8 ounces) simmered down to 2/3s cup Chocolate Ale (simmered on the stove to concentrate flavor)

1

cup

(125g) Cake flour for a tender cake

2 tablespoons

Cake enhancer (affiliate link) (optional ingredient)

1/2

cup

(45g) Dutched Cocoa Powder

2 teaspoons

Espresso powder (affiliate link)

1/4 teaspoon

salt

3/4 teaspoon

baking soda

1/2

cup

(135ml) Grapeseed oil, my preferred vegetable oil for baking

1

cup

(200g) packed Brown Sugar

2

Large Eggs at room temperature

3/4

cup

(180ml) Buttermilk (or sour cream)

1 teaspoon

Vanilla extract
For the Frosting
2 teaspoons

Espresso powder

1

stick (or 1/2 cup) or (

115g

)Unsalted butter

3/4

cup

(175g) Shortening

4 1/2

cups

(550g) powdered sugar

1 tablespoon

(

6g

) Cocoa powder

1 teaspoon

Vanilla Extract

3 tablespoons

Irish Cream for flavoring, more as needed to thin frosting properly
---
Instructions
For the Cakes
In a small sauce pan, bring the ale (or the beer if you choose to use beer instead) to a gentle boil over a medium heat. Turn down to a simmer and allow it to reduce to 2/3s cup. Once reduced, set aside until completely cooled and at room temperature.
Preheat oven to 350ºF (177ºC).
If using regular cupcake wrappers, line 16 wells in muffin pans, if using larger cupcake wrappers as pictured in this post, then prepare 10 or 12 on a baking sheet. Set aside.
Sift and whisk dry ingredients together in a large mixing bowl: flour, cocoa powder, espresso powder, baking soda, and salt.
In a separate bowl, whisk together oil, brown sugar, buttermilk, and vanilla until completely smooth. You may need to sift the sugar first to eliminate lumps prior to whisking.
Pour wet into dry and whisk until completely combined.
Pour in the reduced ale and whisk chocolate batter until completely smooth. Batter will be fairly thin. Do not overmix!
Ladle into liners. About 2/3s full is plenty.
Bake regular sized cupcakes 19-21 minutes, oversized cups as shown in this post for 30-34 minutes, minis for 11-13 minutes. Once baked allow them to cool completely before decorating.
For the Frosting:
In a stand mixer fitted with a paddle attachment, on medium high speed, beat butter and shortening together until fluffy and well combined. About 5 minutes.
Add in Cocoa powder and vanilla flavoring and beat on medium for about 2 minutes.
In two additions, add in the sifted powdered sugar and beat on medium speed until well combined.
Add in Irish Cream to thin the frosting to the proper consistency. Start with 2 tablespoons and add more as needed.
Decoration:
Cupcakes shown in this recipe were done using a Wilton 1M tip to swirl frosting onto the top of the cupcake. You can frost your cupcakes in the way most comfortable to you.
Garnish with sprinkles as desired as soon as frosting is piped. Sprinkles won't stick as well if you wait too long to apply the sprinkles.
---
Notes
For the smoothest result in your chocolate cakes, mix the batter as noted in the recipe, and then pour the batter through a sieve to to completely smooth out the thin batter. Chocolate cake batters are generally quite thin, almost watery, so running the mixed batter through the sieve is fairly easy. Use rubber spatula to scrape as much as possible off the bottom of the sieve so you get every possible drop.
Keywords: st. patrick's day cupcakes
---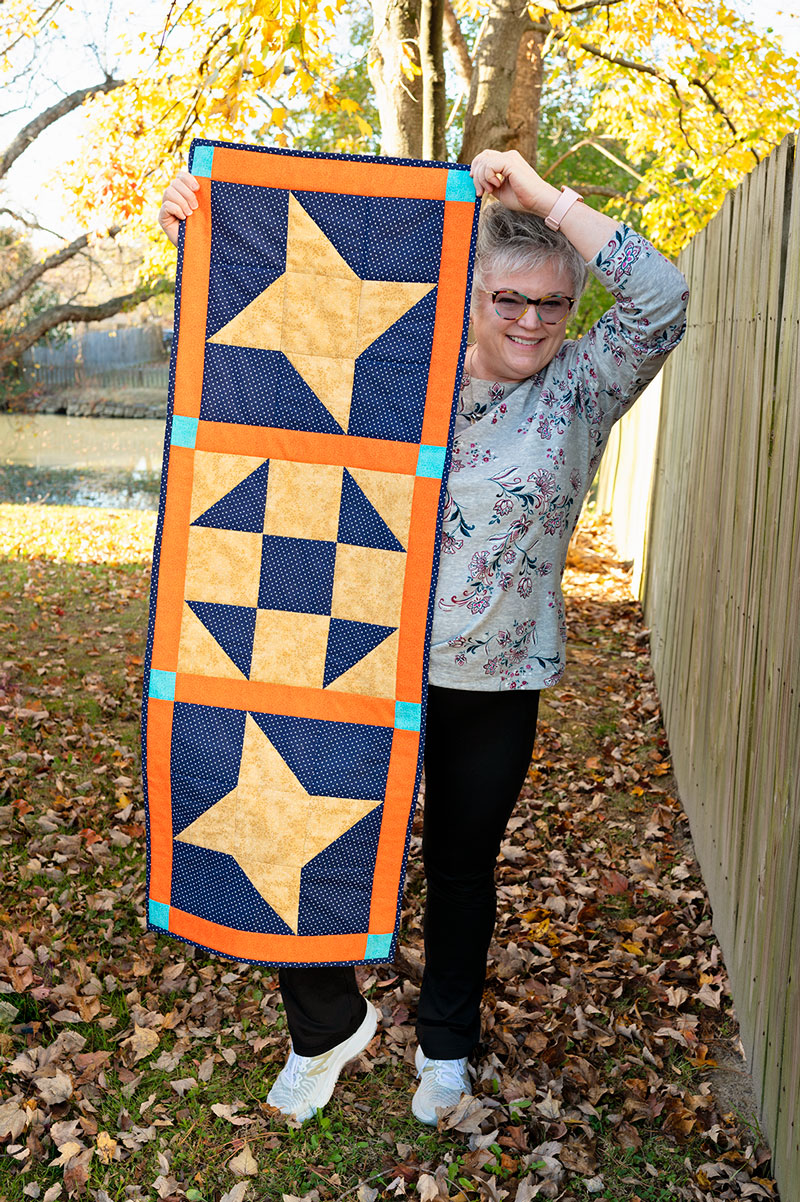 Quilter, baker, maker
I'm a creative lifestyle blogger living and working in Coastal Virginia. When I'm not mixing or stitching or taking pictures, I'm out exploring the cook book section of my favorite library or munching my own home baked cookies at a mid week movie matinee.