Strawberry Angel Food Cake
This post has affiliate links to products I use and love. If you buy something I can make a small commission, so thanks in advance. 🙂
There's not much that brings back summer memories like a fresh baked strawberry angel food cake.
When I posted a behind the scenes photo of today's recipe, instantly people knew what I was baking. Many shared fond memories of their mother or grandmother who had made this light, delicious treat in summers past. Strawberry Angel Food Cake is not only the perfect tribute to a warm summer day, but a way to actively remember those in life who now spend their summer days on the other side of the rainbow.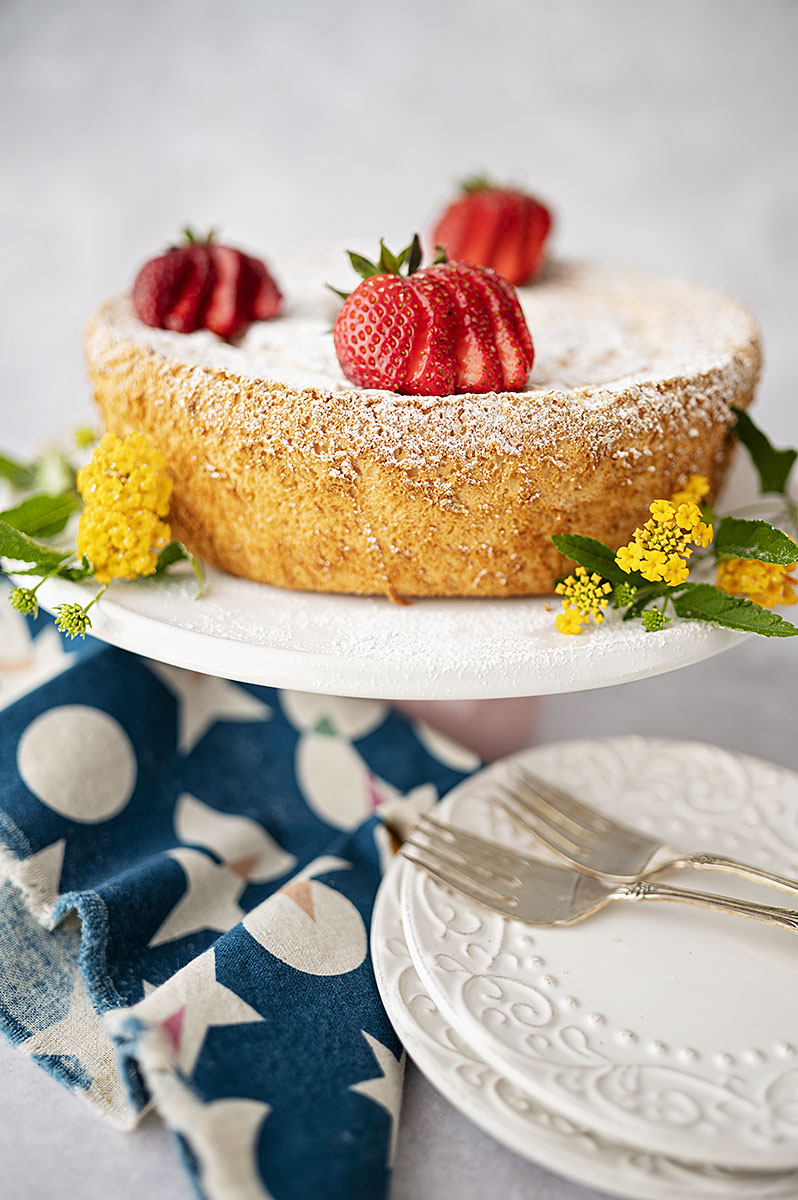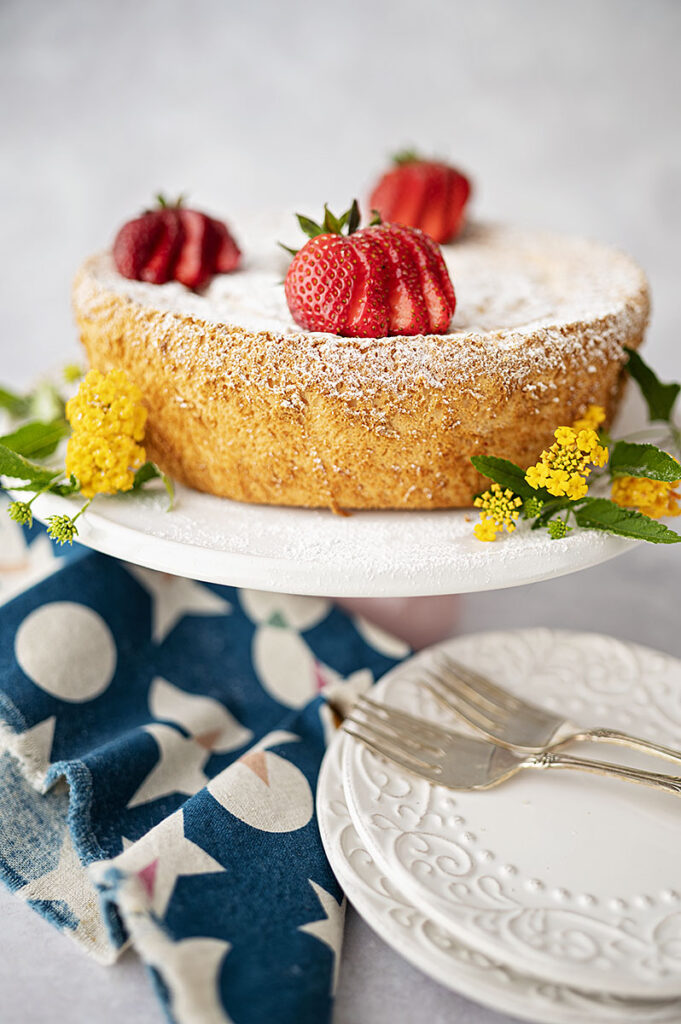 Angel food cake isn't like other cakes you've made. And my version is made using a mix, so it's hands down the easiest darn cake you'll ever make. Other recipes make promises. This one truly delivers.
You will need some special equipment to make this cake so let's talk about that.
Stand mixer: because this batter needs to have a really good beating.
Wire Whip: usually you use the paddle attachment when mixing cake batter, but I recommend the wire whip for this one.
Large Loaf Pan: Angel Food cake looks a certain way because it's baked in a particular pan. You do not grease or flour the pan in any way.
Betty Crocker™ Angel Food cake mix: I started using this one specifically because a close friend said it was what her mom used to make for her, and it was her favorite. We grew up together in the 70s and 80s and I knew her mom very well. It's an honor to remake someone's favorite childhood recipe, so if you can do that for someone you love, then what are you waiting for?
Betty Crocker™ Cake Mix

Wire Whip

Nordicware® Cake Pan
Do I need a special pan?
Ok, it's time for a little tough love. I looked at what other people had published on the topic of Strawberry Angel Food cake, and the results were a little bit painful. Similar to what I found when I made my lemon Bundt® cake recipe, I see people doing all sorts of weird things.
I saw people frost this cake. *horrors* I saw people cut this cake in half and try to make it a frosted layer cake. *double horrors* I saw people cut the cake in half and pile raw fruit and whipped cream between the layers. *I can't look anymore*
I also saw people bake their Angel Food Cakes in Bundt® pans. Which I guess is ok in a pinch…but if you want to make an actual Angel Food Cake, you do need the right pan. You wouldn't bake your Madelines in a muffin pan, so why bake this cake in the wrong pan?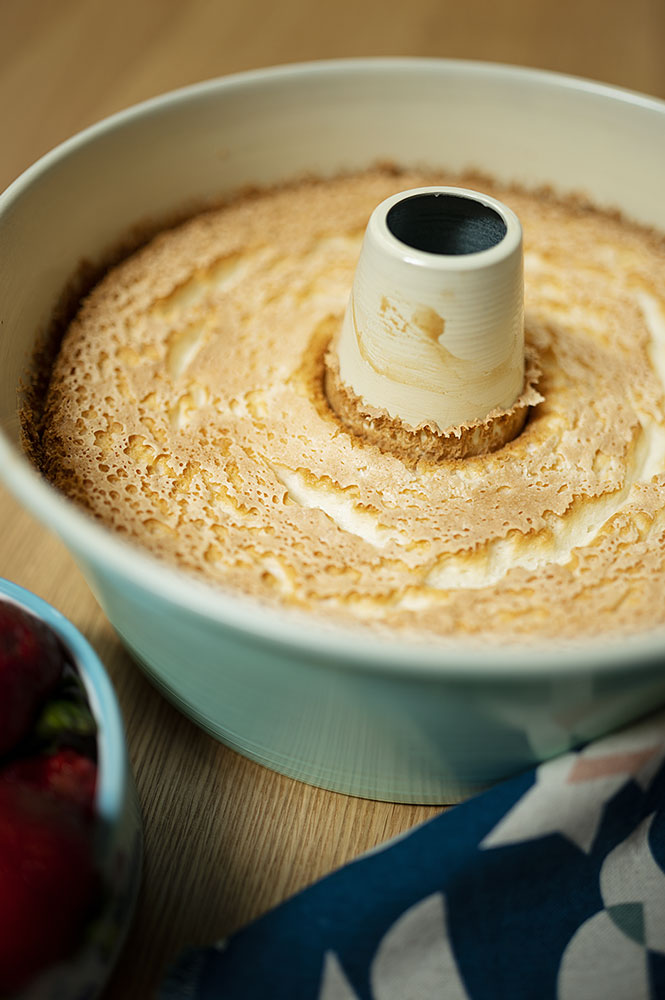 Do yourself a favor and invest in the appropriate cake pan. Also called a tube pan. Some have little feet on them and you turn the baked cake upside down and it drops out of the pan.
Mine is the Nordicware® pan, and I love that brand. But also, the color of this one sold me. It's so pretty to use. I run a small offest spatula gently around the outer edges and inner hole to loosen my cake and it comes right out.
It is a good idea to turn the cake upside down when it comes out of the oven so it stays as high as possible. We don't want our beautiful cake to sink.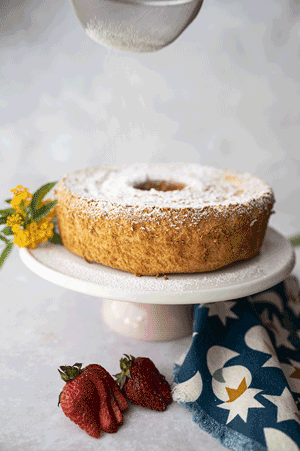 Once the cake is out of the pan, people want to know how to decorate it. Well, this is the easiest cake ever for decorating, because you don't have to do anything. I sprinkled a touch of powdered sugar on top, because that looks special on anything without being over the top.
Don't pile raw fruit or whipped cream on the cake until you are ready to serve, because it will make your cake soggy. I know I have stuff on it in the pictures, but remember taking appealing photos for a recipe is a little different than serving something in real life.

But we are getting ahead of ourselves.
Let's talk about the mixing of this cake and the batter. Angel Food Cake is super light, and it gets that light texture from whipping egg whites. Essentially, we are mixing a meringue based cake. If you made it from scratch, you would mix a dozen egg whites to stiff peaks and then fold in flour. It's a LOT of eggs, and not deflating your batter is tricky. That is why I love this mix so much; I don't burn through a carton of eggs and then have all those yolks to make into something else.
Because the cake is meringue based, I recommend you use the wire whip. Even though we are mixing from a cake mix, using the wire whip will incorporate the most air into the batter.
Tips for your best Angel Food Cake:
Turn the oven on and allow it to preheat completely before you even open the box. Trust me. The cake mixes so fast, if the oven isn't ready, your batter will deflate waiting on it to come up to temperature before you even put it in the oven.
Follow the instructions exactly which is a total mix time of about 90 seconds. YUP. It's that fast.
Adding a little flavoring via an extract is a nice way to pump up the cake flavor a little more. I used lemon in mine which is really good with strawberries.
I used and recommend Betty Crocker ™ specifically because it's the one my friend's mom used to make for her. I wanted to match her memory of her mom's cake as closely as possible.
---
Mixing the Batter

Beautiful Meringue

Freshly turned out cake
How to serve an Angel Food Cake
As I alluded to earlier, this cake really doesn't need anything. But a sprinkle of powdered sugar just before serving is always a nice touch.
This is the original naked cake. It does not require any frosting and definitely don't cut it in half like a layer cake. Please for the love of all that is holy and good in this universe, don't frost this cake.
Whipped cream with fresh berries are all you need to top off this cake. I recommend you serve it on the side unless you know you have enough people there to eat the whole thing. It's a really soft crumb and will get soggy if you leave it over night with fruit or whipped cream on it.
I store my cakes in a cake keeper so they stay fresh.
The texture of an Angel Food Cake is a little different from a regular cake. A regular knife doesn't cut well, so you need to use a serrated knife to cut this cake. You use them to cut bread as well, so it's a good one to have in your kitchen drawer.
I love the look of fresh flowers or garden herbs as a decorative garnish. I recommend using them from your own garden and never put anything in contact with your food that could have pesticide or some other thing on it. I grow my own flowering plants and herbs in an organic garden, so I can easily use them with my desserts.
---
Print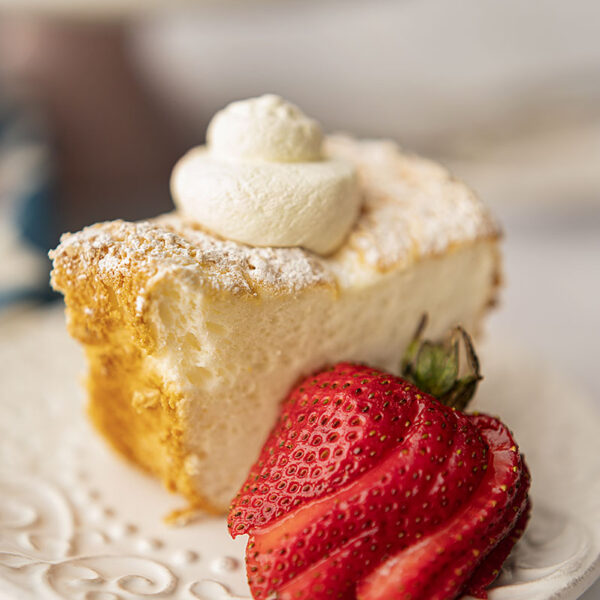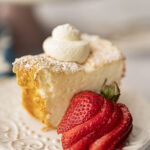 Strawberry Angel Food Cake
Author:

Patty McGuire

Prep Time:

3

Cook Time:

45

Total Time:

48 minutes

Yield:

1

2

1

x

Category:

dessert

Method:

baking

Cuisine:

American
---
Description
Easiest Strawberry Angel Food Cake Ever
---
---
Instructions
Preheat oven to 350º F for a shiny metal pan, or 325º F for a non stick pan. For the pan pictured, I baked at 325º F.
Put cake mix in your mixing bowl and add the water. Using the wire whip, mix on low speed for 30 seconds. Increase mixer speed to medium high and mix another 60 seconds.
Bake 37 – 47 minutes watching until the top of the cake is dark and golden brown. It should not feel sticky. Do not underbake!
Turn cake upside down right away to cool. If it doesn't drop out of the pan on its own, run the offset spatula carefully around the cake to loosen, and it will drop right out.
To serve, turn the cake over with the top showing as the top of the cake.
---
Notes
The pan matters, and having a proper Angel Food Cake pan is important. You'll love this cake so much, you will make it over and over.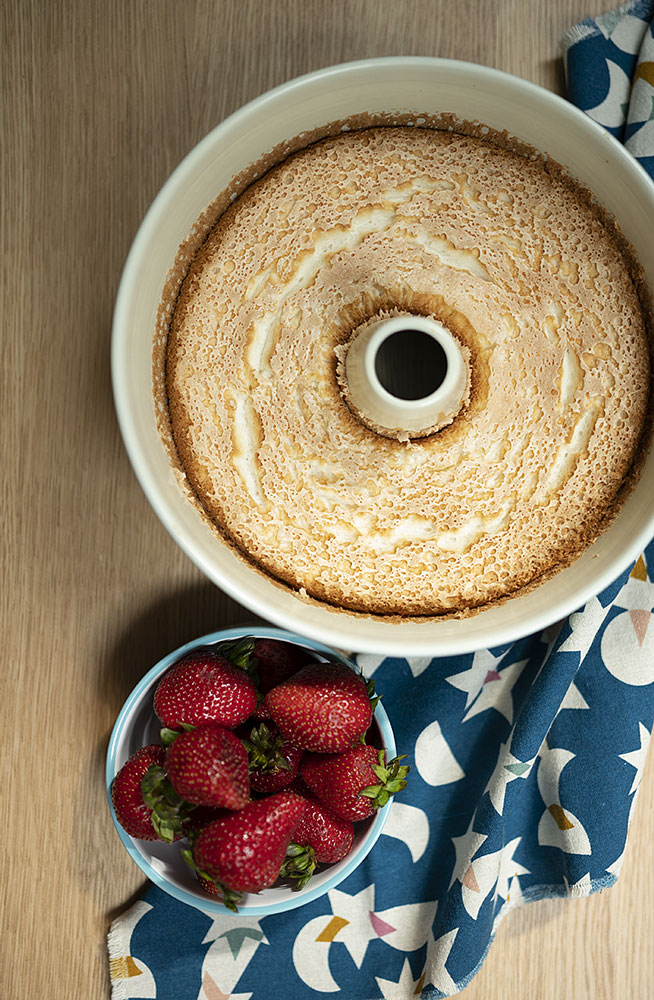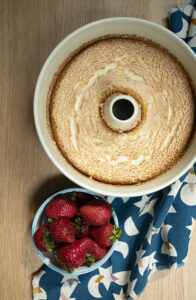 Meringue based recipes don't do all that well in high humidity. So if you live in the south like I do and you are mixing this cake on a muggy July morning, then realize you might not get the same lift in the batter I had and your cake may not rise as high as we would like. But don't let that stop you. The cake pictured was made on a humid day and even though my meringue was a little deflated, I continued on. The cake is still pretty and it was delicious.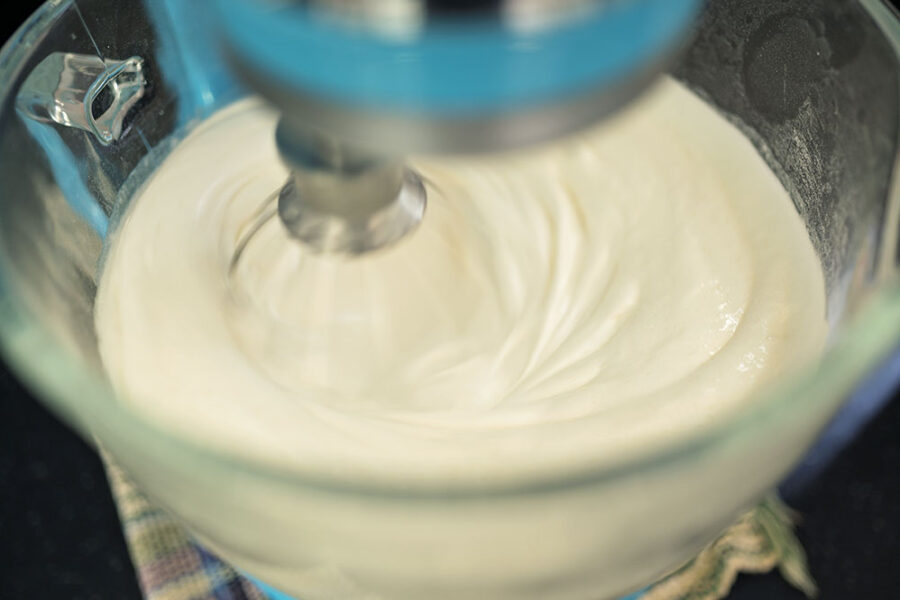 Keywords: Strawberry Angel Food Cake
---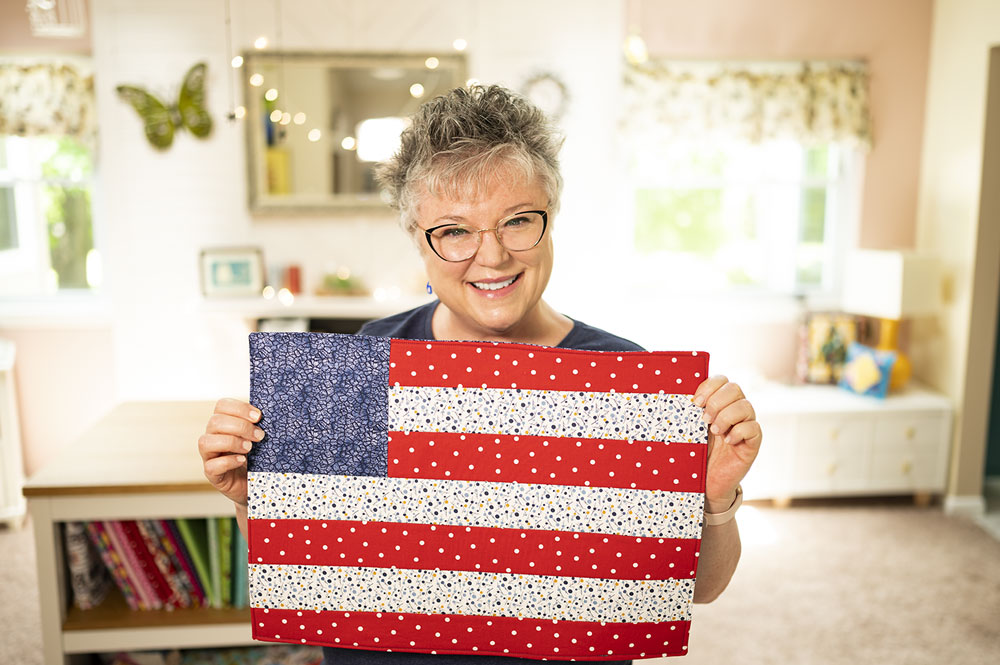 Hi! I'm Pattymac
Sewist, baker, maker
I'm a creative lifestyle blogger living and working in Coastal Virginia. When I'm not mixing or stitching or taking pictures, I'm out exploring the cook book section of my favorite library or munching my own home baked cookies at a mid week movie matinee.