Designing a sewing space that is both pleasing to the eye while being functional can be a HUGE challenge. Customizing a basic organization piece is a great way to check both of those boxes. Let me show you how to add legs to your Kallax unit and share a couple of ways to personalize the basic unit into something ideal for your needs.
I know what some of you are asking…"what the heck does adding legs to Kallax mean?" Kallax is a line of furniture from Ikea, and it's essentially configurations of cubbies. Let's look at the units themselves first.
---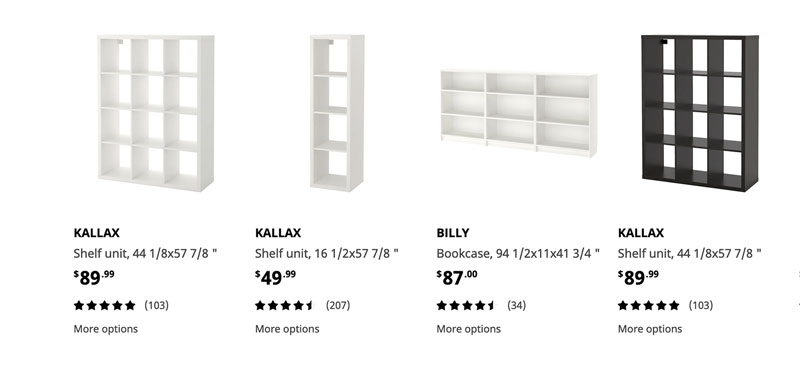 ---
They are very plain and relatively well priced. That is if you can get to an Ikea store in person to shop and pick up the furniture. When you purchase anything Ikea from Amazon, you are not purchasing from Ikea! You will pay significantly more money for the piece AND you are not buying from the manufacturer. Only Ikea sells Ikea.
Why do people love Kallax so much?
Ikea is a master at helping people organize a lot of stuff in a small footprint.
Kallax is a clean design and easily adaptable to a lot of spaces.
Kallax has many different configurations and inserts, so it's an incredible tool for taming chaos and clutter in a sewing or crafts room.
The furniture is pretty inexpensive and light weight.
Cubby units can be customized with drawers, doors or baskets as desired.
---
---
Now that you know what the furniture looks like, let's talk about why we would want to add legs to Kallax.
The base units are literally small boxes and it sits flush on the floor. This is fine, but taking an hour to add legs of your choosing elevates the furniture both in appearance and quite literally off the floor itself.
Here is the 8 cubby unit shown in 2 configurations and flat on the floor.
---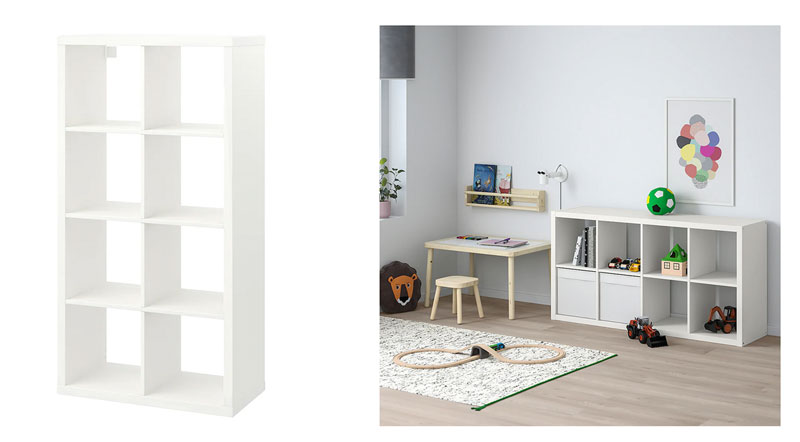 ---
What do we need in order to add the legs or Kallax?
---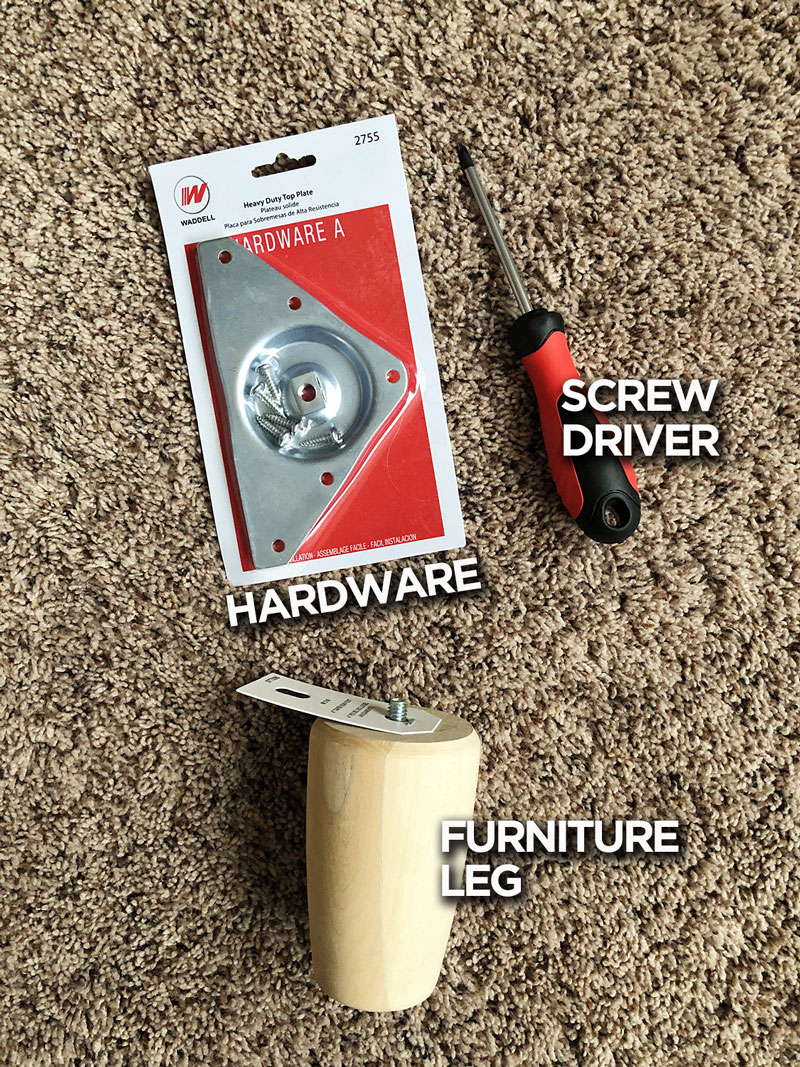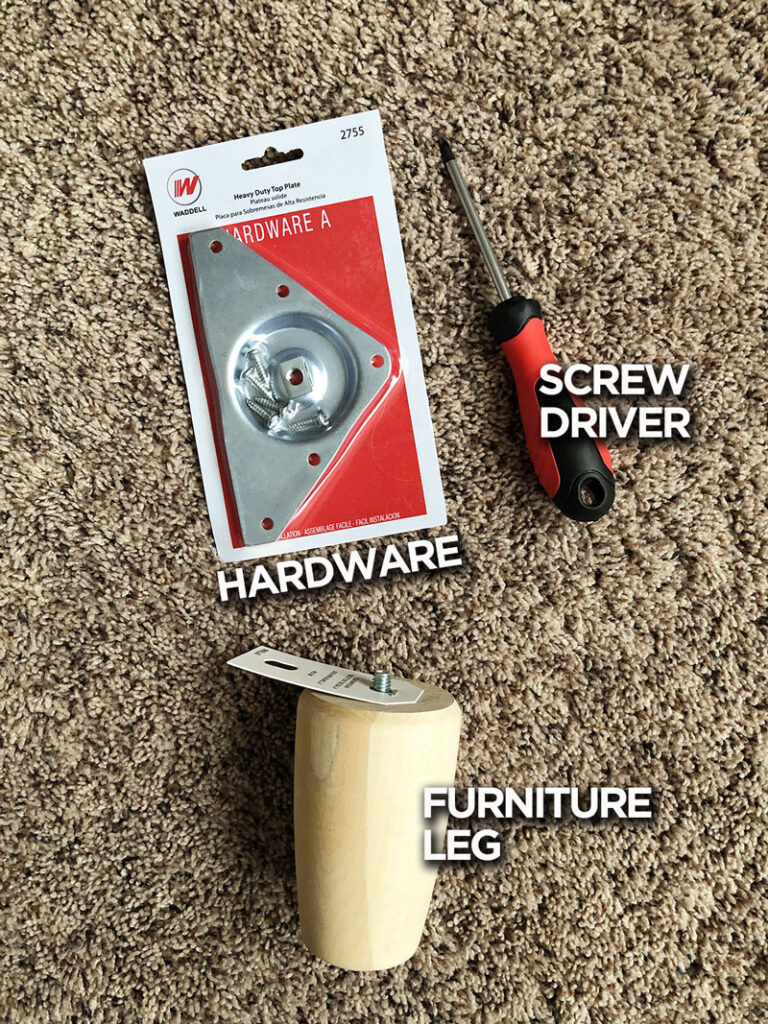 ---
Steps to adding custom legs to your Kallax book shelf:
Screw the hardware plate, flat side down, flush to the book shelf.
Screw the leg into the attached hard ware.
I had the long cubbie, so I added 6 legs, but on a smaller unit, 4 would be sufficient.
---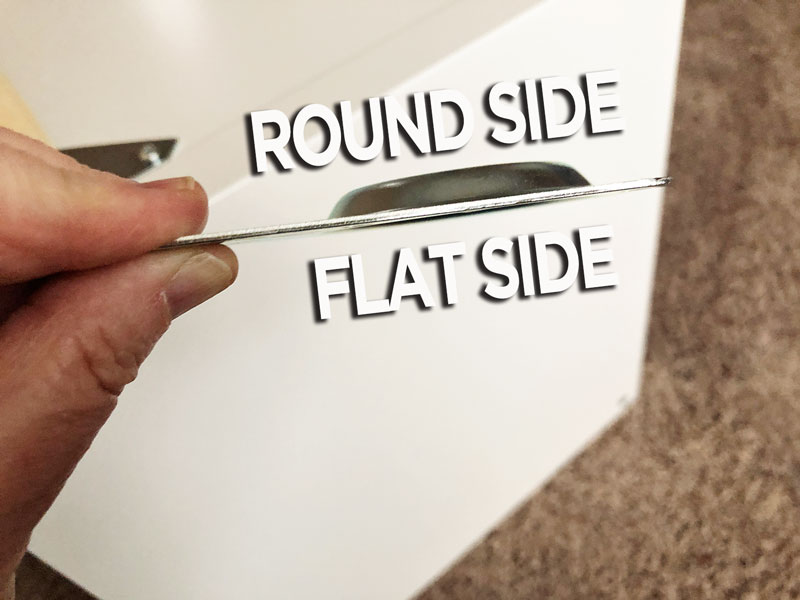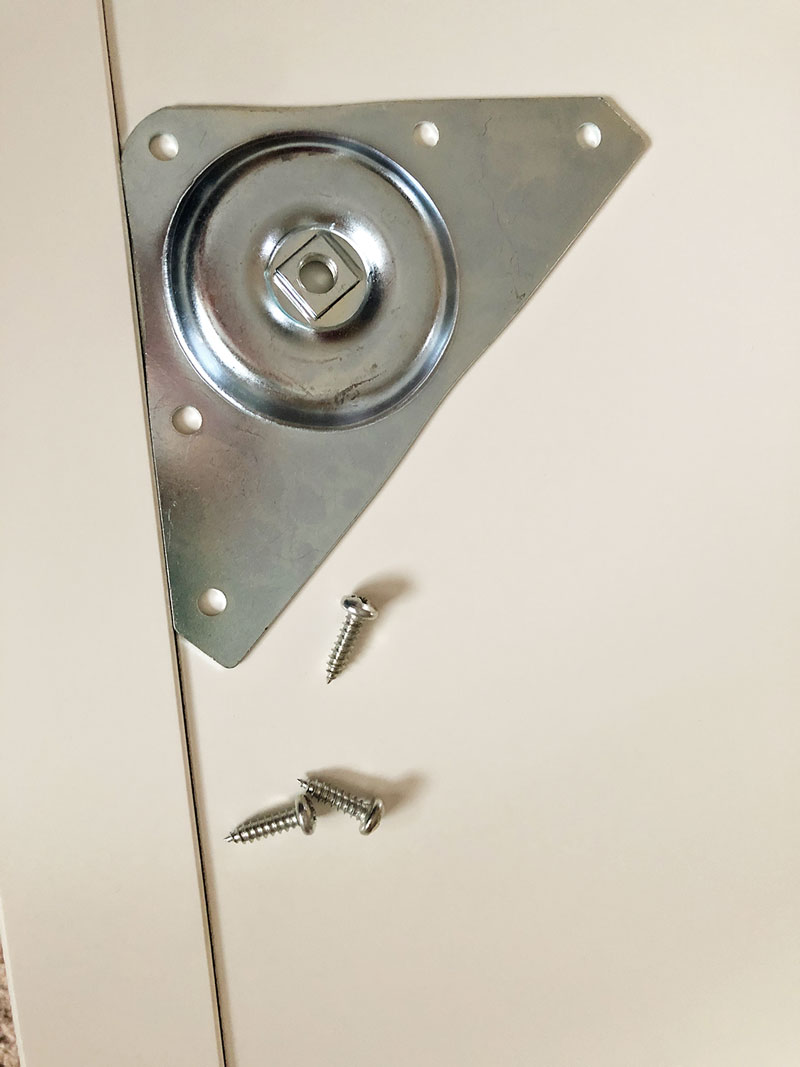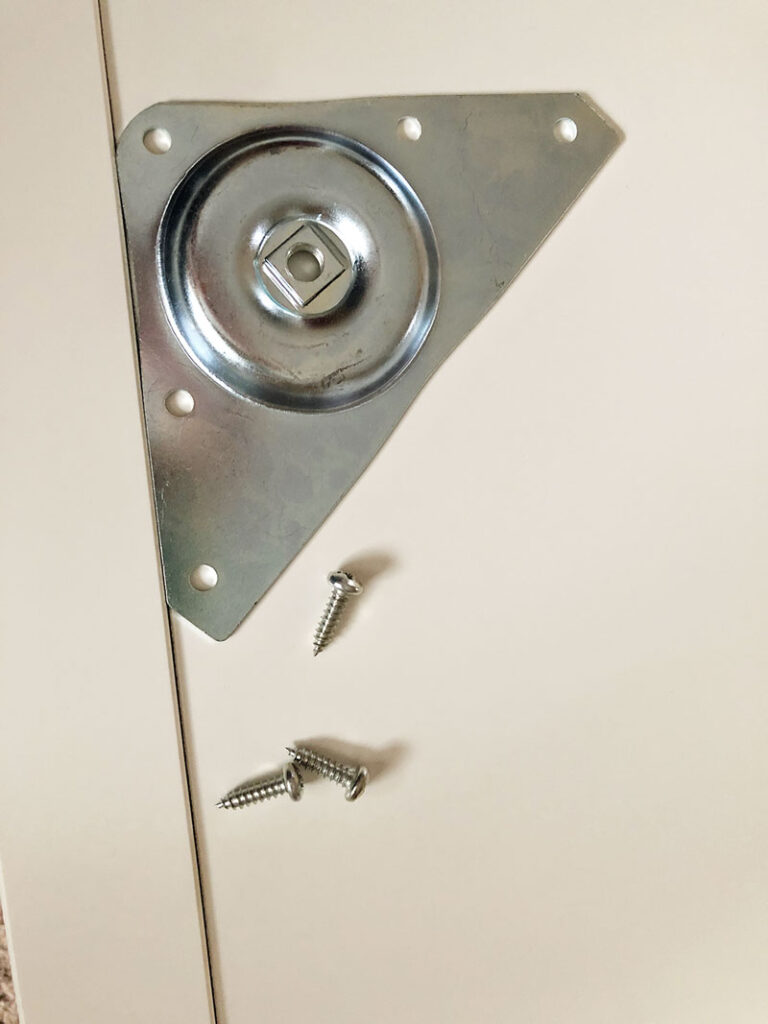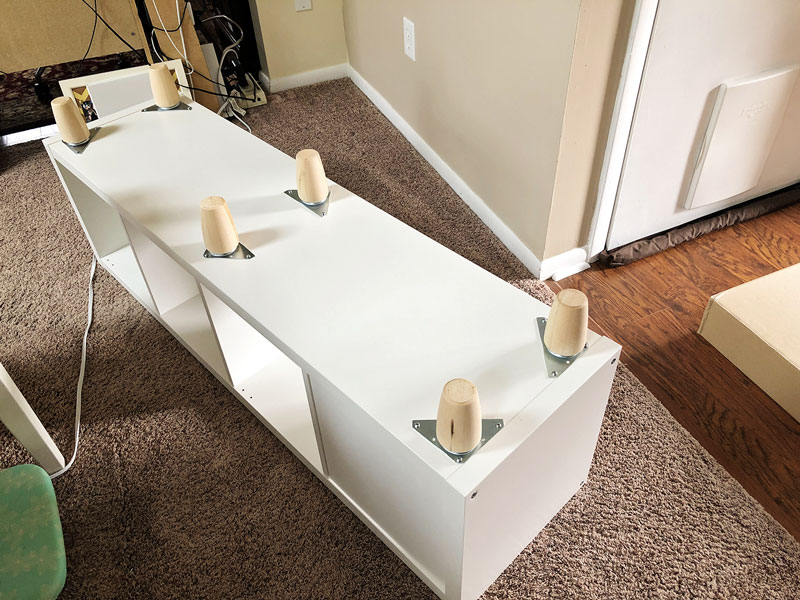 ---
Customizing your Kallax with feet is only the beginning. As I mentioned in the beginning, Ikea also has drawer and door inserts that slip into the cubbies. This allows the furniture to be completely customized for individual needs.
---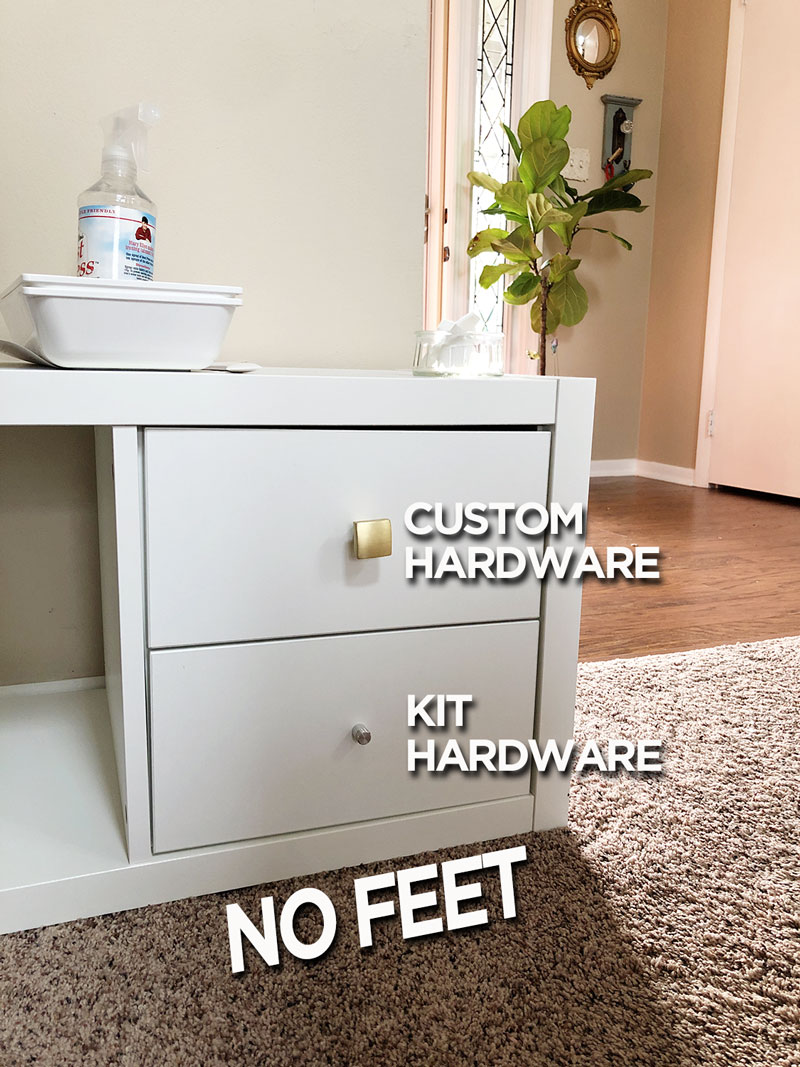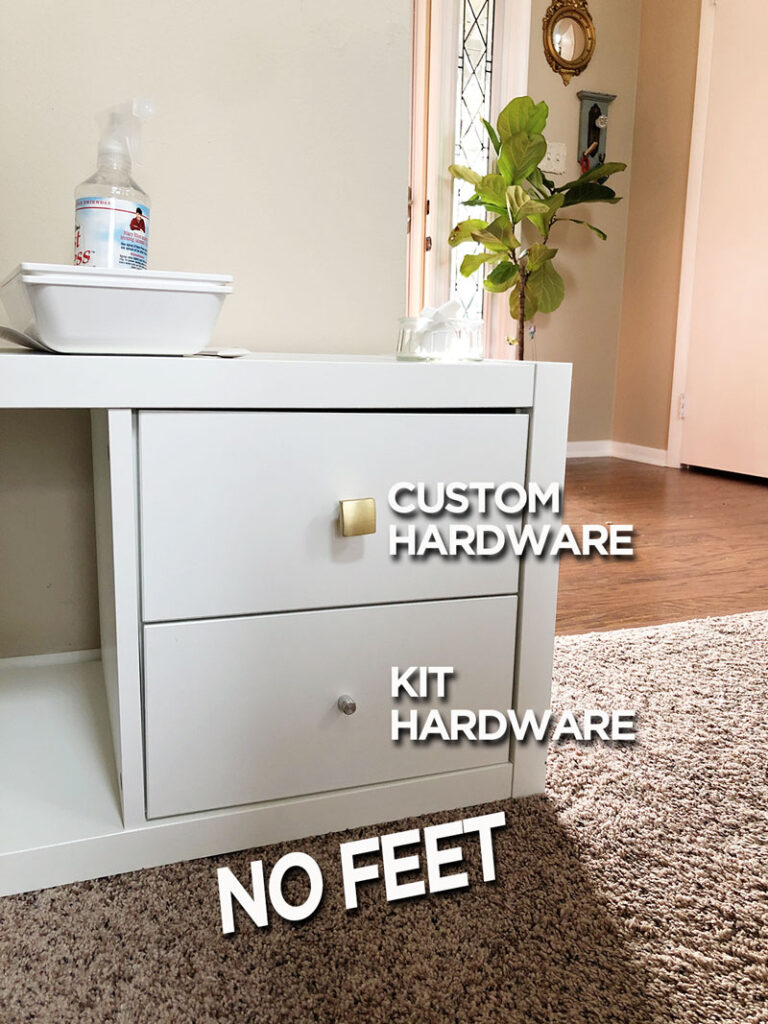 The inserts come supplied with pulls, but I changed those out as well. That way, I glammed the furniture up exactly how I wanted it.
I thought the piece looked unfinished just sitting on the floor like this, so adding the feet made a huge difference.
---
Let's see how it looks with the feet.
---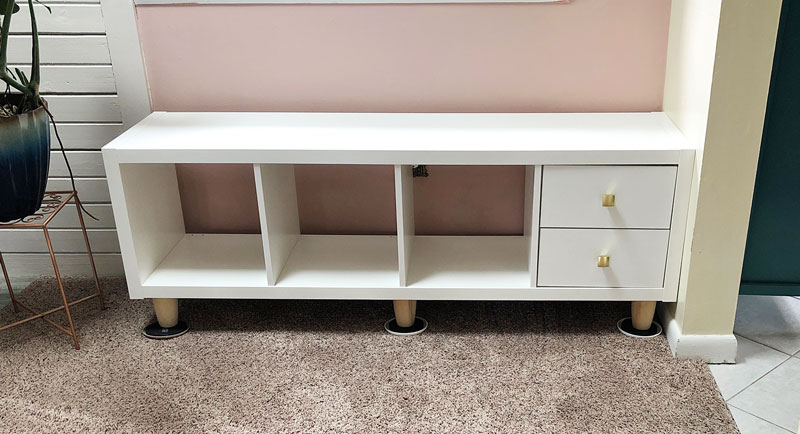 ---
In the end, I put two of these together. I'm using one in my sewing room to organize small sewing supplies like bobbins and thread, sewing machine supplies, notions etc. I used all drawer inserts on this unit.
---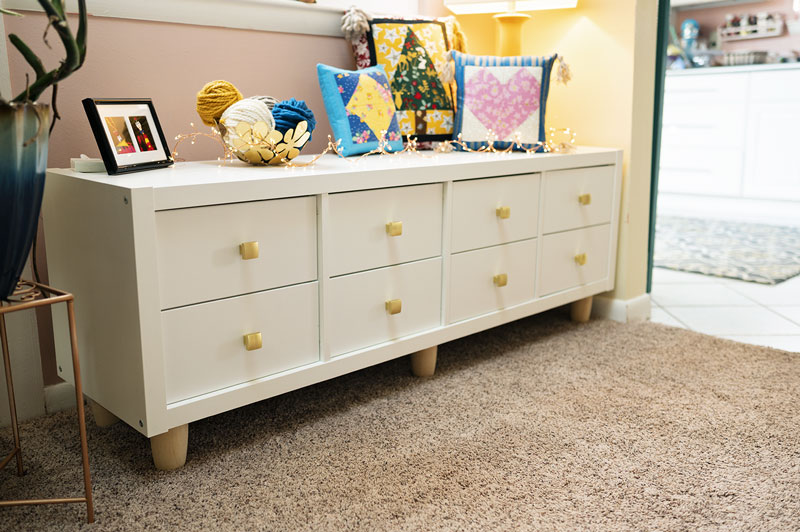 ---
The second unit is used in the den and I added door inserts to store the movies and small exercise equipment out of sight.
I left one cubby as open storage to show off my craft books and the other one used a fabric basket I already owned. It keeps my small space orderly and stores a lot of items in a small footprint.
---
---
Now the question becomes this: Do I recommend adding legs to a kallax unit? YES!! I am still so surprised by how much I love this simple, inexpensive furniture. It has helped me to clean up my space tremendously and gave me beautiful, functional furniture. Think of Kallax as vanilla ice cream and adding your own style of feet and drawer pulls as the fudge sauce and sprinkles. You can add whatever YOU like best!
Enjoy my video demonstration showing exactly how I put the feet onto my furniture.
---
---

---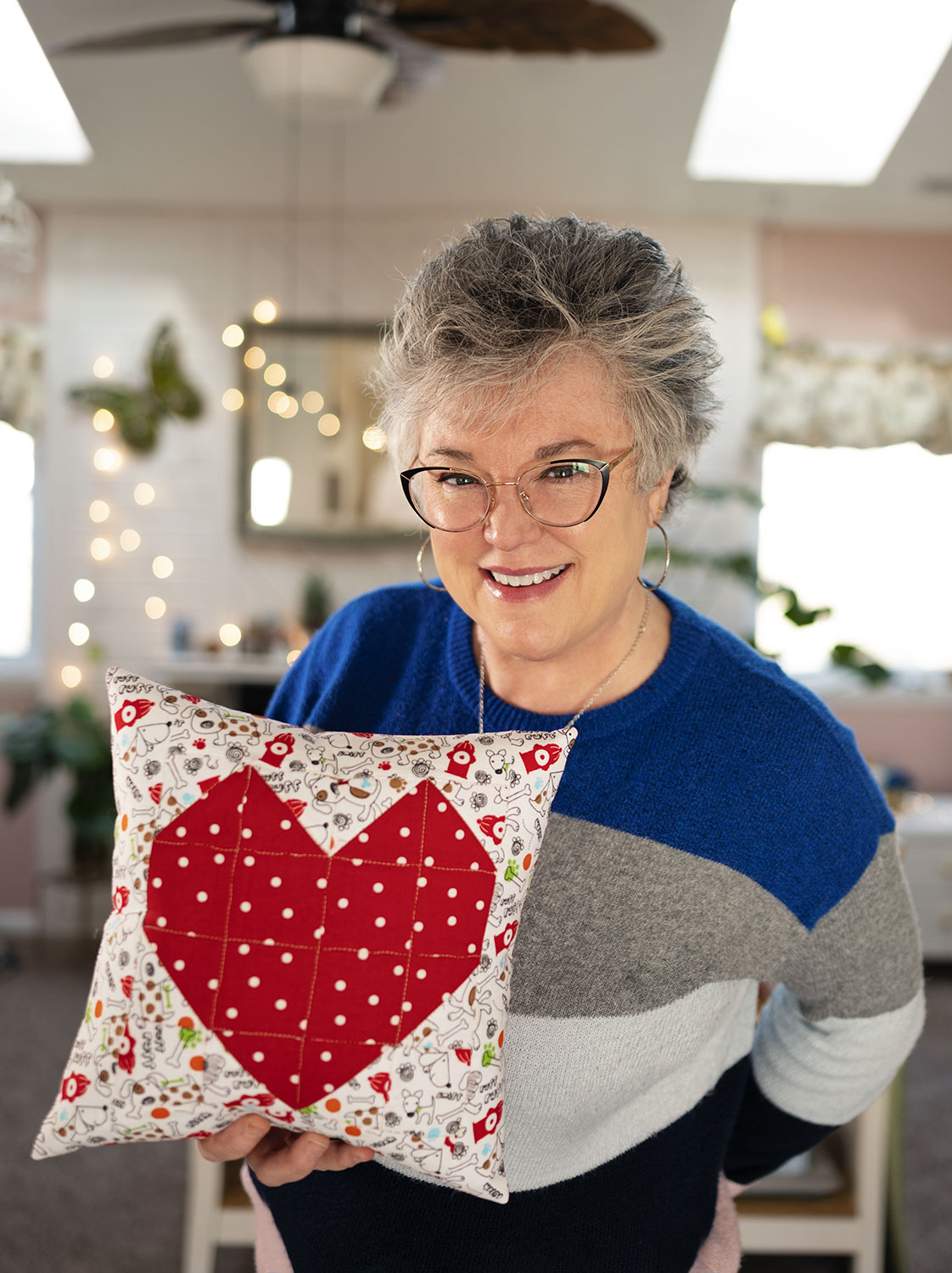 Hi I'm Pattymac
Sewist, Baker, Maker
I love figuring out new ways to use pom poms, where I can stash more fabric, and I'm always wondering what to bake next…chocolate or lemon? When not dreaming up new things to make (or bake), I love riding my beach cruiser on the Boardwalk, enjoying classic movies, and planting new things in my tiny but mighty container garden.