Best Vanilla Cake Mix Recipe
Learn how to bake a delicious layer cake using a simple cake mix hack. I think it's the best vanilla cake mix recipe out there.
Doctoring up a cake mix is nothing new. I've been doing for the last 40 years, at least. And we all have our own way of doing it. This post is my personal recipe. And I think it's the best Vanilla Cake Mix Recipe out there.
Is that a little cocky? To proclaim something "the best vanilla cake mix recipe" on the internet? Maybe a little. Keep reading, try it out, and then let me know what you think.
First of all, when you're all done baking and decorating, you're going to serve THIS to your family.
---
---
That's a 3 layer, beautifully frosted and decorated cake that is pretty enough to have come from any bakery. But guess what? If you stick with me, I'll show you how you, too, can make this beauty in your own home kitchen.
The first step is in baking beautiful cake layers.
To bake a delicious cake, perfect for stacking and decorating, here's where we start.
---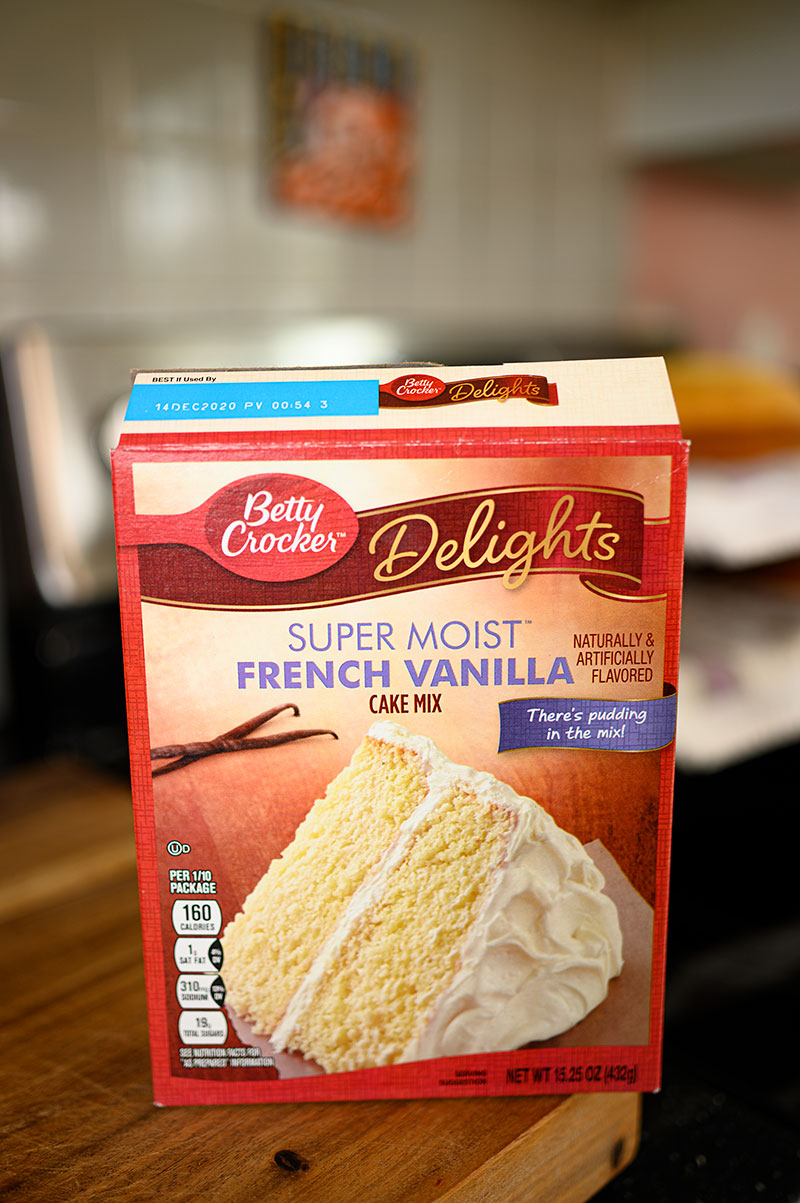 ---
This vanilla cake mix recipe relies on a mix from Betty Crocker. This mix is rated as one of the best cake mixes on the market, and it already includes pudding which is apparently a magic secret ingredient.
This cake is very good and with only a few small tweaks, it's off the charts, roll your eyes back in your head delicious.
Just look at the beautiful baked cake it produces.
---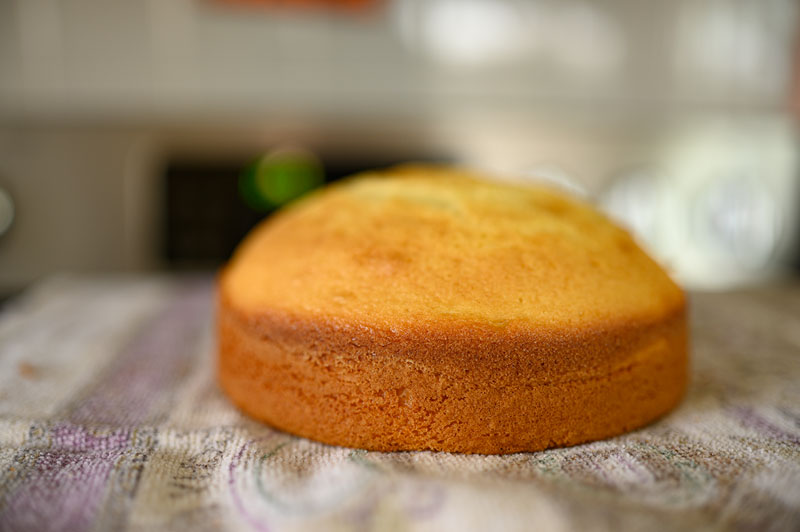 ---
I have a recipe for the same cake mix hack we see going around online and all over youtube. I wanted to try it out and see how it was, and the result is really good! But it uses an awful lot of butter, and quite a few eggs. It gets a little expensive, and packing that much fat into the same dry ingredient mixture can be a challenge. You might find your batter breaks from trying to put too much fat into the flour.
This version uses the oil and eggs in the quantity recommended on the box, but I mixed things more carefully. And I used a "secret ingredient" that I think gives this version of a cake mix hack its punch. You'll have to check the recipe card to see what I used.
Here's a big difference in the way I put this recipe together. I baked 6″ cakes. You can get three 6″ cakes from one box of cake mix if you carefully measure the batter into the pans.
---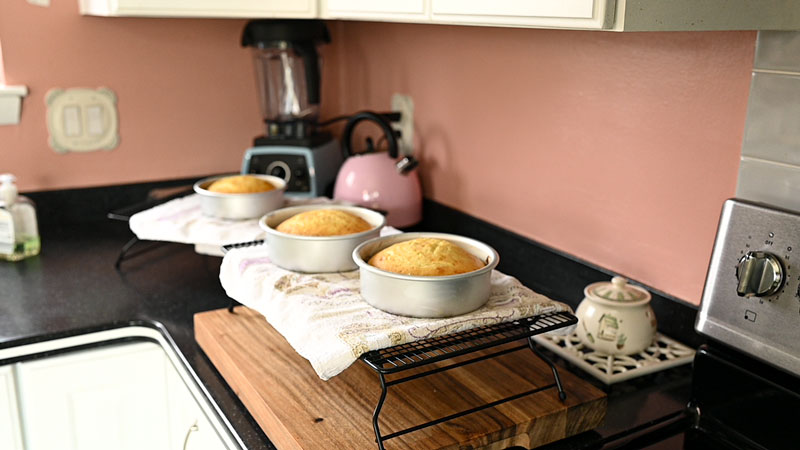 ---
I actually had a bit of a knock down, drag out argument in a facebook group with another baker over this. She went on and on and on about how producing 3 6″ layer cakes from one cake mix is an impossibility. I'm here to show you that it is not. I've started making all my cakes this way.
Any recipe for two 8″ or 9″ layers can be distributed through three 6″ cake pans and bake beautifully. And there is just something about a cake with 3 layers that makes it a wee bit more special than the standard two layer variety.
However, you will need to make a bigger batch of frosting. I used my version of American Buttercream frosting, but I sized up the batch. It requires more frosting to frost that extra layer and to pipe on the cute details, but it's so worth it. For complete instructions, on decorating and finishing this cake, please see my story about how to finish this layer cake.
For today, let's concentrate on getting perfect cakes using my best Vanilla Cake Mix recipe.
---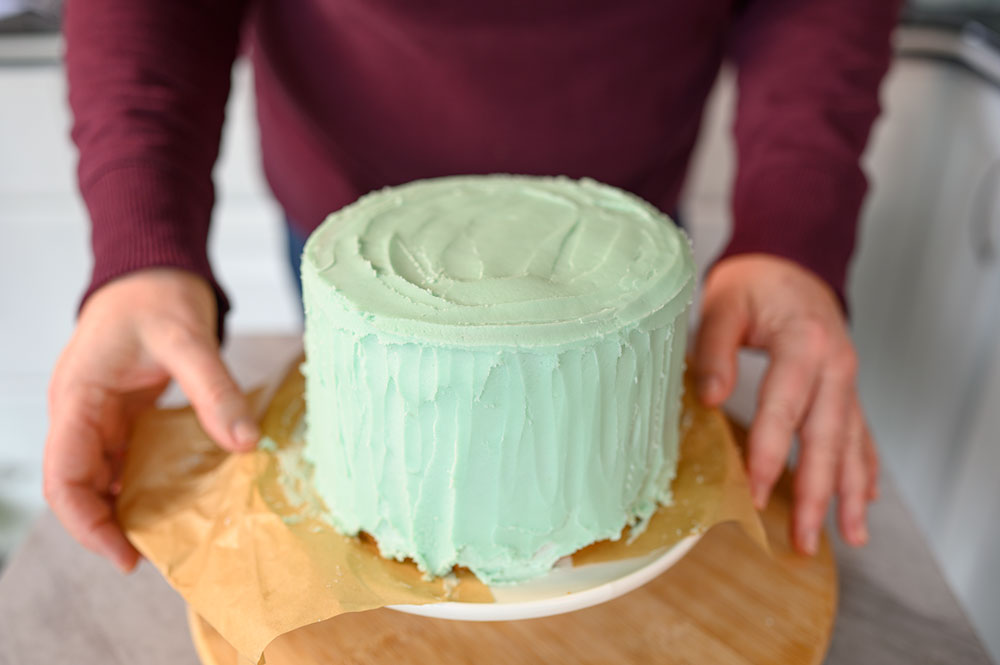 ---
Related Stories
---
Print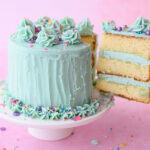 The Best Vanilla Cake Mix Recipe
Author:

PattyMac

Prep Time:

30 minutes

Cook Time:

30 minutes

Total Time:

1 hour

Yield:

12

slices

1

x

Category:

dessert

Method:

baking

Cuisine:

American
---
Description
My personal recipe for hacking a Vanilla Cake Mix.
---
For the Layer CAKE
One box Betty Crocker Super Moist French Vanilla Cake Mix

1 cup

Buttermilk
Grapeseed Oil

3

eggs

2 tsp

Butter Flavor Extract
For the Layer Cake FROSTING
3

sticks or

345 grams

of salted butter  

6 cups

or

750 grams

of powdered sugar

2 tsp

flavoring. I used butter extract in this recipe.
Up to

1/4 cup

milk to thin as needed
Food color if using. I used one small dab of Royal Blue by Wilton and got this lovely pale green. Not exactly what I was going for, but very pretty.
---
Instructions
For the Layer CAKE
Preheat oven to 350 degrees.
Make sure all ingredients are room temperature.
Mix buttermilk and oil until well combined.
Mix in Butter extract.
Add Cake Mix.
With mixer on low, add eggs one at a time making sure to combine each before adding the next.
Run mixer on medium for a full 2 minutes once everything is in. The mix time is key to a successful box mix.
Divide Cake batter evenly across prepared cake pans. About 330 grams per pan.
If baking 6″ pans, bake cakes 28-32 minutes or until done. Mine are done at 30 minutes. If baking in a different pan, follow the instructions on the box.
Allow cakes to cool in pans on cooling racks for 10 minutes.
Once cool, remove cakes from pans and allow them to cool completely before decorating.
For the American Buttercream Frosting:
Whip the room temperature (67-68 degrees) butter until smooth.
Add flavoring while butter is whipping.
Add sifted powdered sugar in two additions whipping thoroughly in between each addition.
Add milk in 1 tablespoon increment until frosting is a spreadable consistency. It varies due to climate and temperatures, so add in small additions. 
---
Notes
Here are the big secrets about making the cake using my method:
Use buttermilk instead of water.
Use Grapeseed Oil for the Oil
Add the butter extract for flavoring instead of vanilla. It already has vanilla flavor. We don't need to add anymore vanilla, but the butter flavor really adds.
I used a food scale to divide my batter at about 330 grams per pan, but you can put about a cup in each pan and then even it out from there.
For the Frosting:
Please note that this tiny cake uses a LOT of frosting. To be honest, I think it actually needs more. I had a little trouble smoothing the frosting how I wanted on the cold cake, and I think it's because my decorative layer was too thin. My crumb coat was also quite thin. So the next go round, I will go up on the amount of frosting I make. This still made a very nice cake! But let's see how it is to decorate with a thicker layer of frosting the next go around. Also, I have a full post and video on making American Buttercream, so I will include that as link for you by clicking here.
Keywords: Vanilla cake mix hack
---

---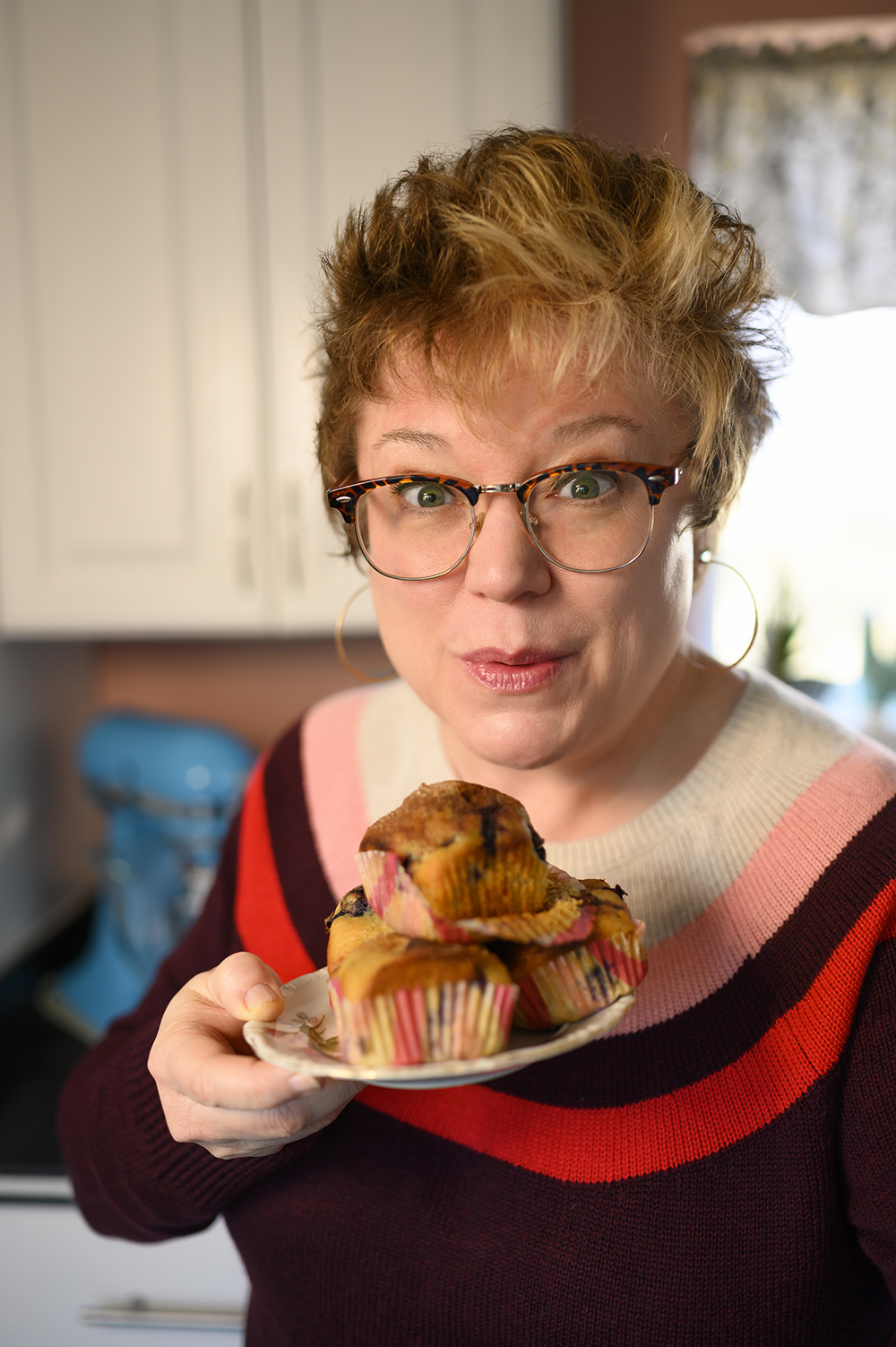 Hi there, I'm Patty.
Sewist, Baker, Maker
I love figuring out new ways to use pom poms, where I can stash more fabric, and I'm always wondering what to bake next…chocolate or lemon? When not dreaming up new things to make (or bake), I love riding my beach cruiser on the Boardwalk, escaping to mid week movie matinees, and planting new things in my tiny but mighty container garden.