How to Make the Layer Cake of your dreams
Let's jump in and make that dreamy layer cake, and while we're at it, let's make that layer cake from a box mix.
Two small words. How can two small words like Layer Cake lead to so much work and frustration? No worries friend. Today let's talk exactly about how to make that layer cake of your dreams.
To be clear, this is a cake for home bakers. This cake is for someone who wants to make and decorate a layer cake in a home kitchen for a family or friend's celebration. This is a special Sunday dinner cake. This cake is not 8 layers tall and when sliced spills a mountain of sprinkles.
Why is that a thing? Nobody is going to eat all those sprinkles, and let's be real. Fancy sprinkles are expensive!
Let's take a look at our final project. I call this a Project, because it has steps and requires special tools and techniques like any other craft project.
---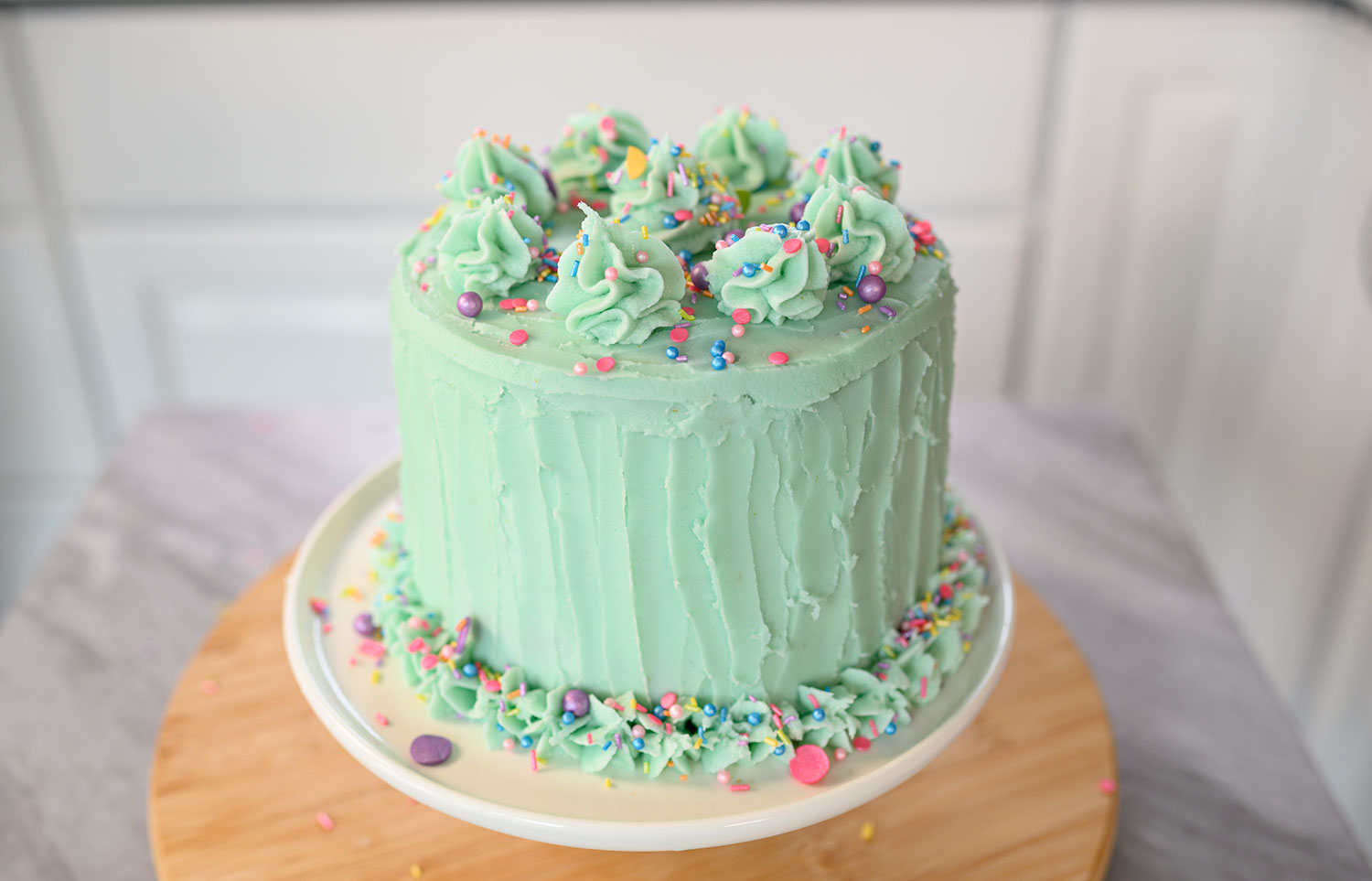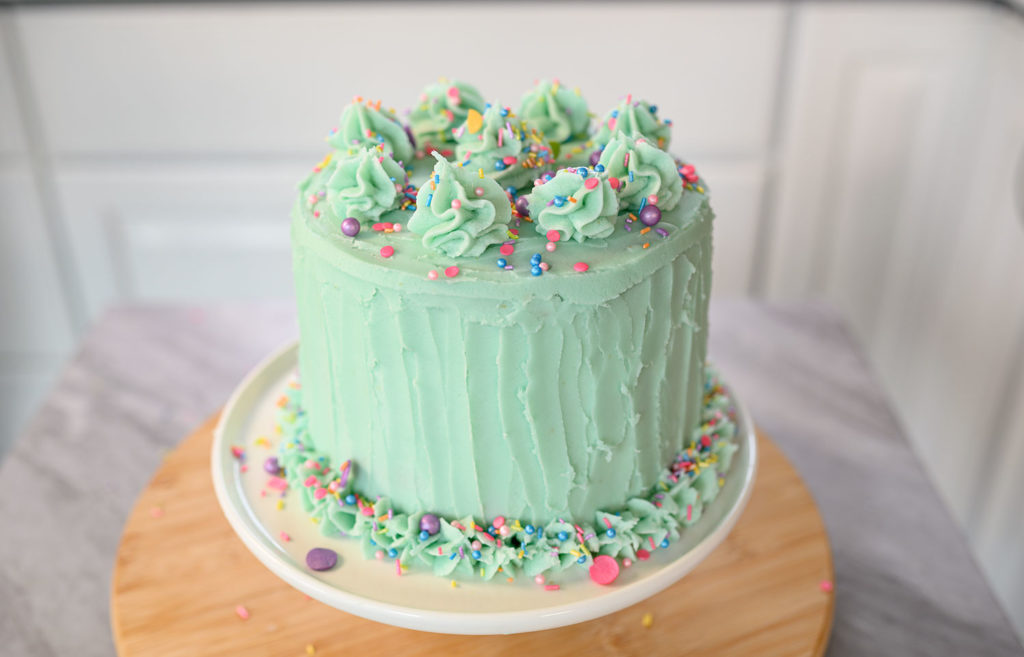 ---
Steps to crafting your perfect layer cake at home:
Perfectly prep your cake pans
Level your cake layers
Assemble your cake, one layer at a time putting a generous amount of frosting in between the two inner layers.
Frost the whole cake lightly to apply the crumb coat, and let the cake with its fresh crumb coat chill somewhere cool about 30 minutes. Or wrap it in plastic to leave until the next day to finish. (I generally recommend baking and decorating layer cakes as a two day process so this tutorial assumes you are doing the same.)
Put the remaining frosting into an air tight container and leave to sit on the countertop.
When ready to apply the decorative layer of frosting, allow the cake to sit out for about 20-30 minutes first.
While the cake is coming back to room temperature, revive the frosting by remixing with an electric mixer. Add milk a tablespoon at a time until the frosting reaches a smooth, spreadable consistency.
Apply the frosting to the cake. Make sure to cover the top and the sides completely. Use a bench scraper or a large spatula to smooth the frosting.
To finish the decoration, use a small offset spatula and working is a circular motion, smooth the top of the cake. Working in upward strokes, add texture to the sides of the cake. Spend some time smoothing the transition from the sides to the top.
---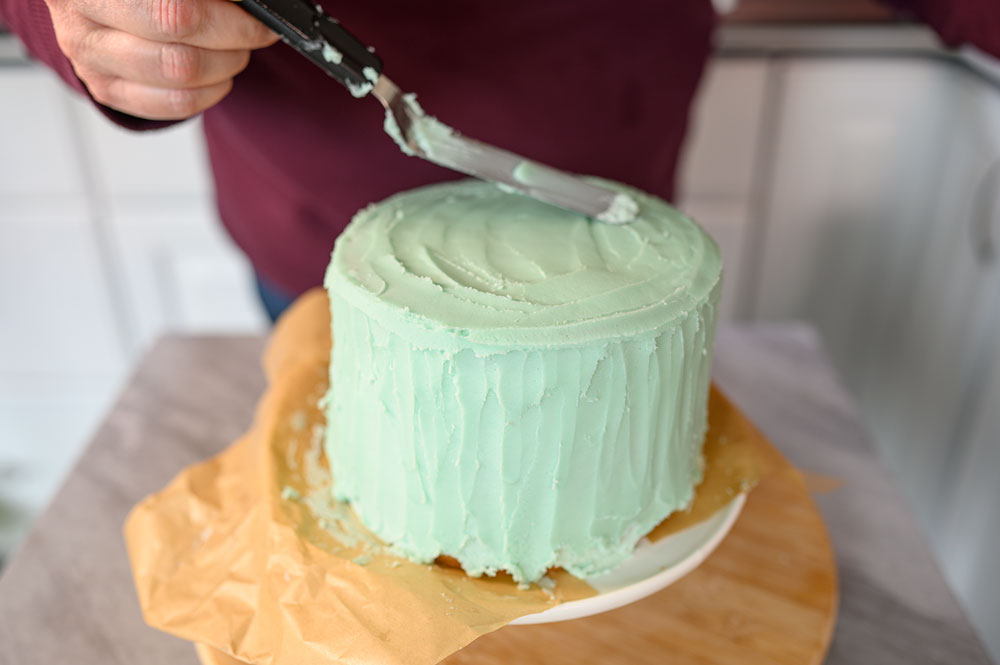 ---
Finish the cake by piping decoration along the edge where the cake meets the plate. Also pipe tall swirls on the top of the cake. Complete your cake by adding colorful sprinkles to the top and bottom piped frosting on the cake.
---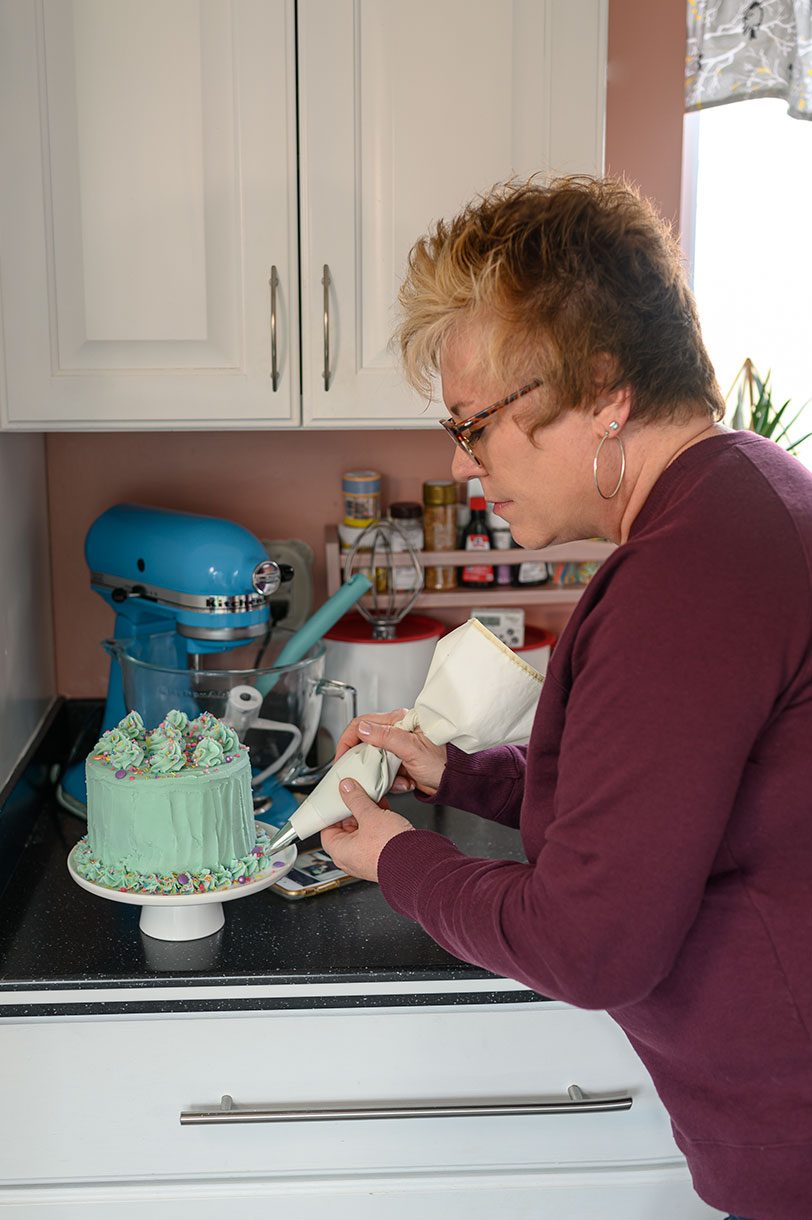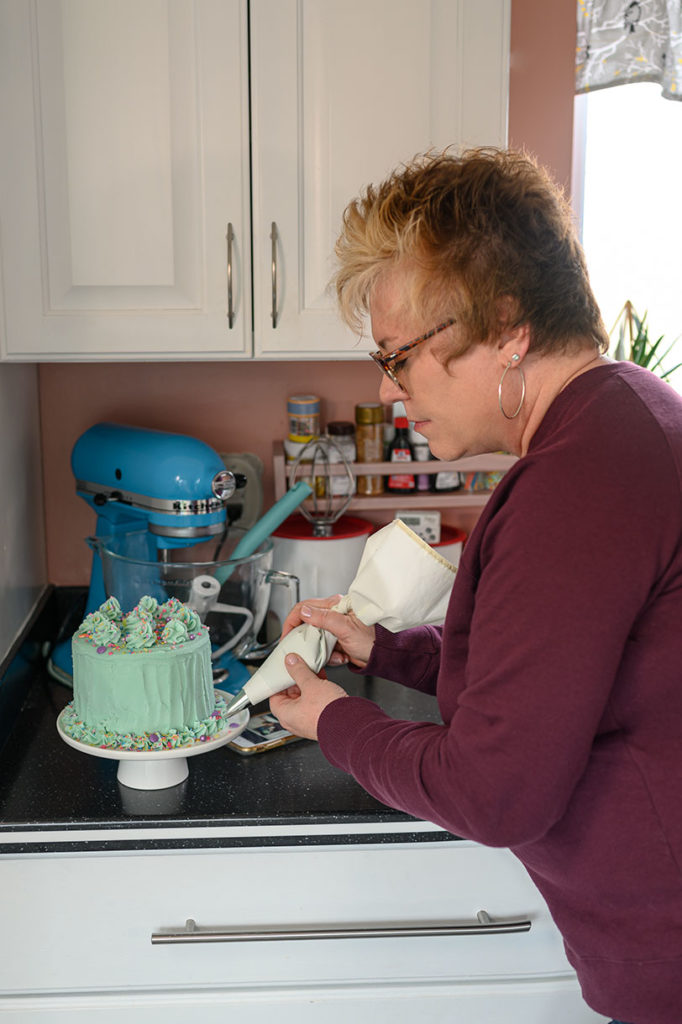 ---
When ready to serve, use either a serrated knife or a heavy chef's knife to cut. First, dip the knife into a tall glass of very hot water to heat the blade. Wipe the water off the blade with a kitchen towel. Apply one cut in a fast downward motion to the cake. Cut top to bottom in one fell swoop. Dip the blade back into the hot water to reheat, wipe the knife with the towel and make a second cut like the first one to cut the first piece of cake.
Use a server to get under the slice of cake and remove from the whole cake.
Continue slicing until everyone is served.
Go book your trip to a spa resort to rest and recuperate after making and serving the layer cake.
---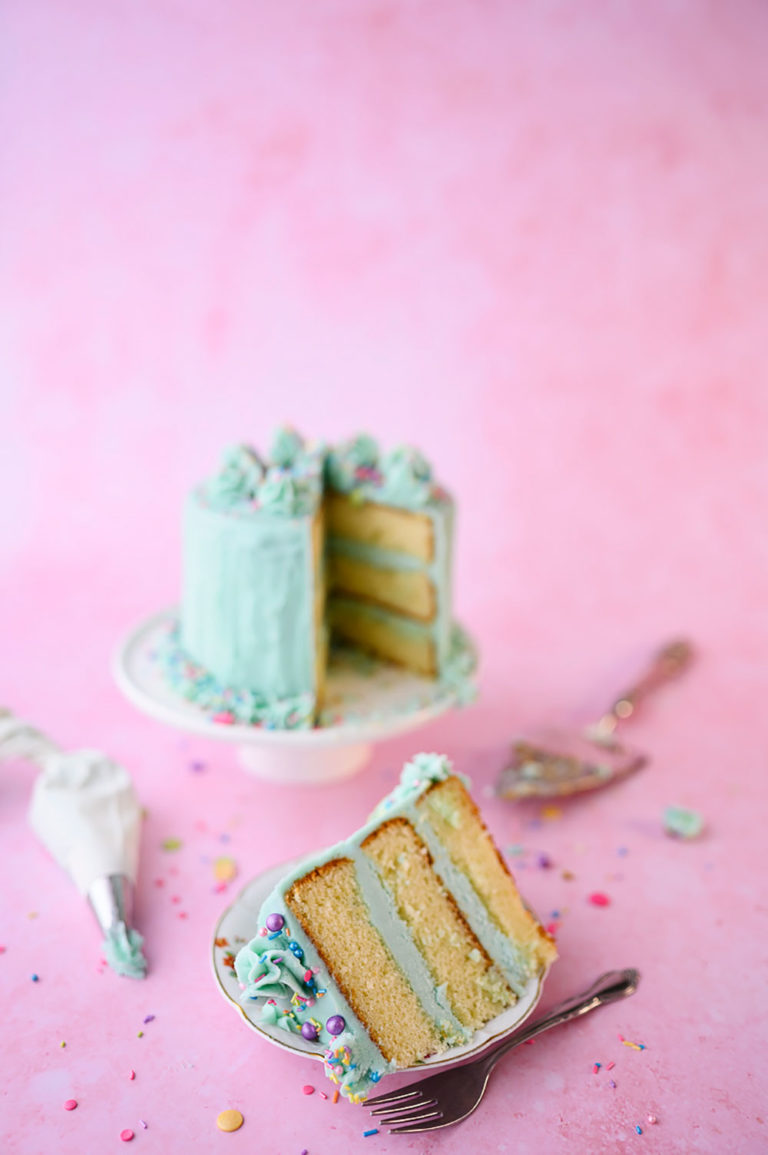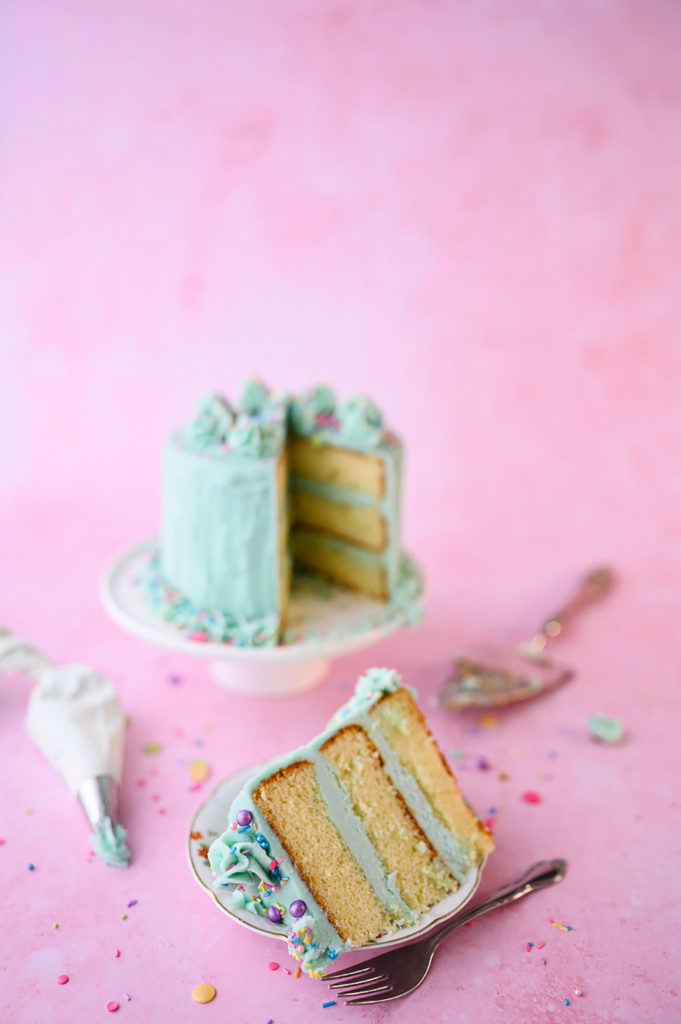 ---
Ok, so the last instruction is a joke….well kind of. Making a layer cake is a LOT of work, so make sure you have the time and energy for it before you start. Now you understand why home makers in the 50s so readily embraced cake mix. They knew their cakes would be perfect no matter what, and all the extra measuring and mixing of the cake itself was greatly simplified. Can you imagine going to ALL THAT only to have a dry cake (which often happens with a scratch baked cake) that no one wanted to eat? You might swear off ever making layer cakes again.
---
---
But that would be so incredibly sad! Don't give up my baking friend, but know going into this you will need to carve out some time, you will need to put forth a little effort, and you will need a few tools to get your cake just right.
The truth about how to bake a layer cake might be a little more involved than you realized, but if you practice, it does get better.
---
---
Tools and equipment you need to make layer cakes:
Cake pans. I used 3 6″ cake pans, but you can use what you like.
A pretty plate to put the cake on for display. I love these little pedestal cake stands.
An offset spatula to smooth the frosting.
A bench scraper to REALLY smooth out the frosting
Big spoons to get the frosting out of the bowl and onto the cake.
A silicone spatula or two to help remix the frosting.
A cake leveler. A serrated knife works, but I love the inexpensive cake leveler I found in the craft store.
You have a couple of options for piping on the final decorations. You can put frosting into a larger ziplock bag and cut the corner to use for piping. That's how I made the pink cake above. The green cake used a piping bag and a Wilton 1M tip.
---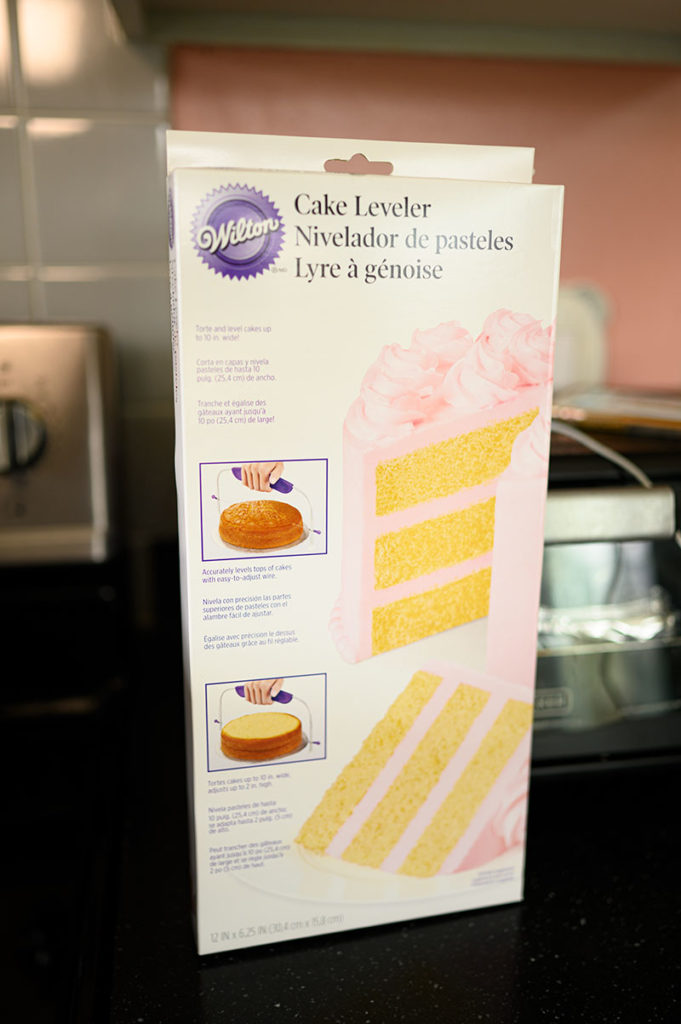 ---
Other stuff you will need to make layer cakes:
A stand mixer to properly mix your cakes and frosting.
Food coloring for the frosting. I use Amerigel Gel Paste colors.
Measuring spoons and implements. I prefer using a scale for measuring.
A hand mixer.
Sprinkles!!
Serrated knife for cutting the cake.
Quite a bit of free time and a fair amount of patience
Most importantly….My special VIDEO!!
Watch the video start to finish and it will walk you through the whole process of stacking your layers and getting your cake decorated.
I also leave in some stuff in the video where I had a little difficulty getting the frosting to spread.
I left that in on purpose. It's what actually happened and if it happens to me, it probably will happen to you. So I wanted you to see it, and I wanted you to see how I worked around it.
---
---
So now that you know what really goes into making these, promise not to flip. Because I know you can do it. Take it a step at a time by following my complete series. Split up the baking and decorating on two different days so it's not so over whelming. And get in the kitchen and bake that layer cake!
---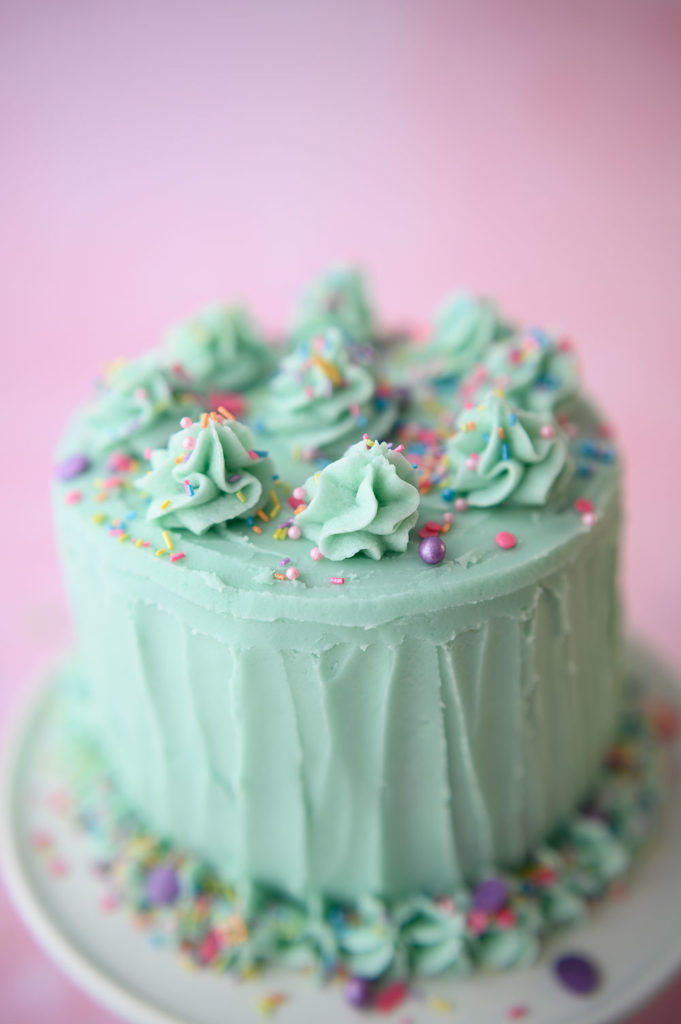 ---
Related stories:
---

---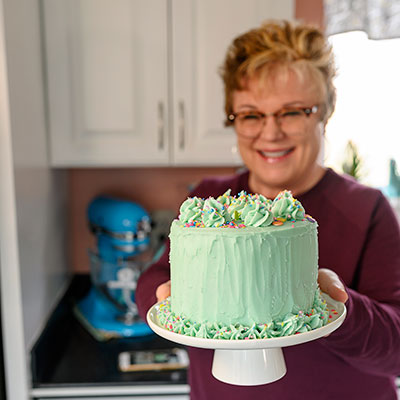 Hi there, I'm Patty.
Sewist, Baker, Maker
I love figuring out new ways to use pom poms, where I can stash more fabric, and I'm always wondering what to bake next…chocolate or lemon? When not dreaming up new things to make (or bake), I love riding my beach cruiser on the Boardwalk, escaping to mid week movie matinees, and planting new things in my tiny but mighty container garden.