The only thing better than enjoying the summer bounty of our gardens and farmer's markets is to enjoy that delicious produce with fresh homemade salad dressing.
I'm not sure why it took me so long. It was like some big mystery I couldn't figure out. But when I got tired of consuming soybean oil in my salad dressing, it was time to figure out how to make my own homemade salad dressing.
Because who would want to ruin this?
Growing a garden is work. Hard work. And it's expensive. Just tossing seeds here and there without a care in the world and expecting nature to provide you with a bounty of produce is going to leave you with an empty dinner plate. If you aren't growing your own, but instead choosing produce grown on small or regional farms, you know it's not only much better quality than large corporate operations, you know it's quite a bit more expensive.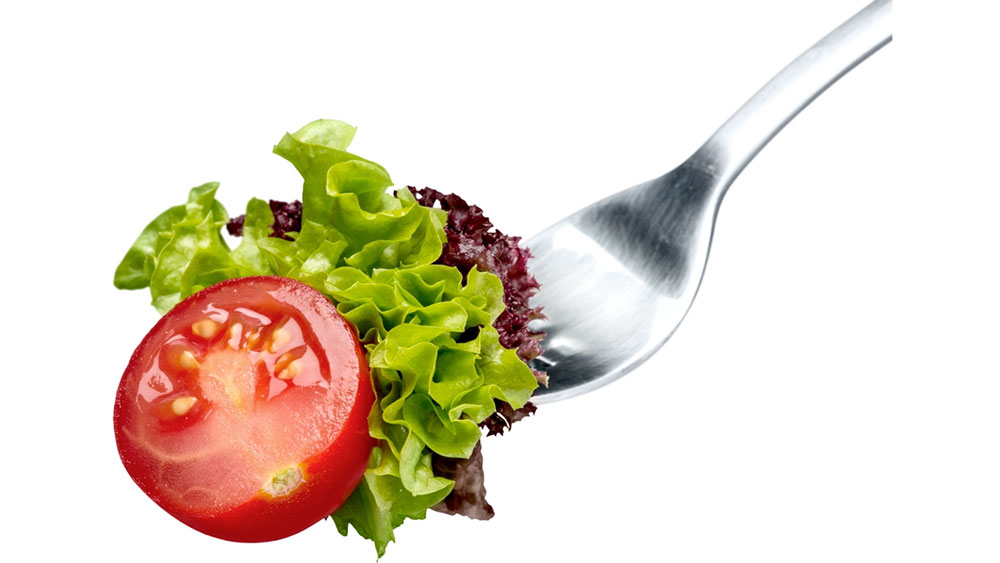 So after all that hard work and expense why ruin it with a commercial salad dressing?
I love a good, creamy salad dressing, but I don't love the additives and preservatives and oils. Soybean oil is NOT good for you, and after my mom had breast cancer, we were told to eliminate all the soy products we could from the dinner table. It's not easy. It's in everything! Even in our favorite blue cheese salad dressing. So I started looking for ways to make salad dressing at home.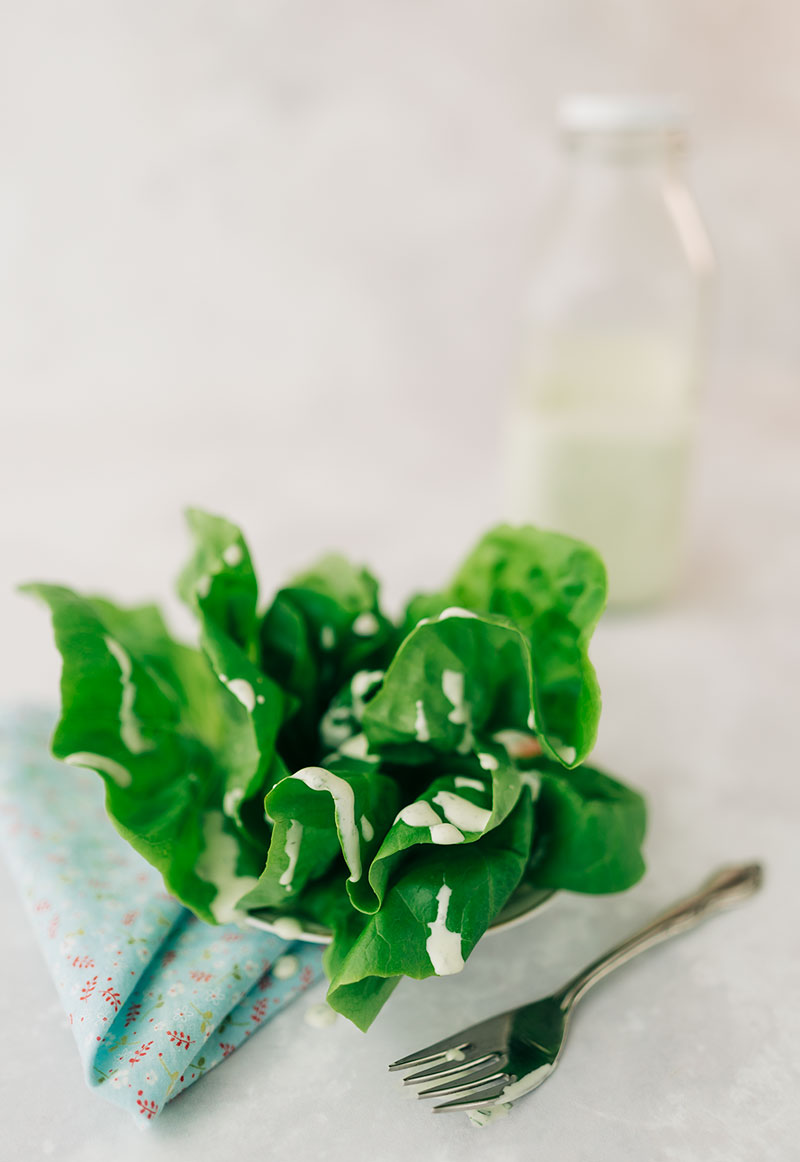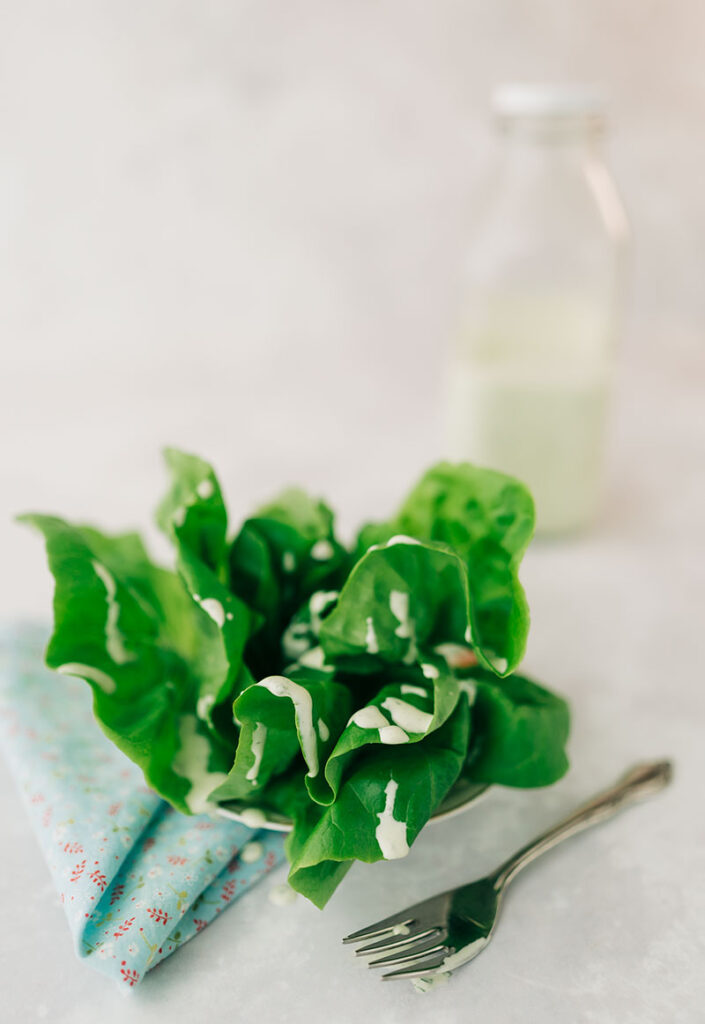 You might not know this about me, but I'm a bit of a gardener. A lady farmer if you will.
I grew this head of butter lettuce and was not about to ruin it with preservatives and emulsifiers I couldn't pronounce. When you learn how much effort it is to grow your own food, you are far less likely to be wasteful with it. I consider crappy ingredients on high quality food to be wasteful.
I grow in containers and small raised beds. Generally I concentrate on herbs and flowers and a few tomatoes, but in the last couple of years, I started adding a little bit more to the mix.
If you have a small space and can only grow in a few small containers, then definitely grow your own herbs. The herbs are the foundation of the salad dressing I'm sharing with you today.
Let's discuss the herbs for a really good homemade salad dressing
Honestly, it's going to boil down to what you like the best. Some people can't get enough dill. Other people think basil is the best herb of all. (I'm one of those people) Still others think cilantro tastes like soap. (that's a real thing) So even though I'm going to give you a recipe at the end of this story for making your own creamy dressing, make a note that you will want to experiment and try out the herbs YOU like the best.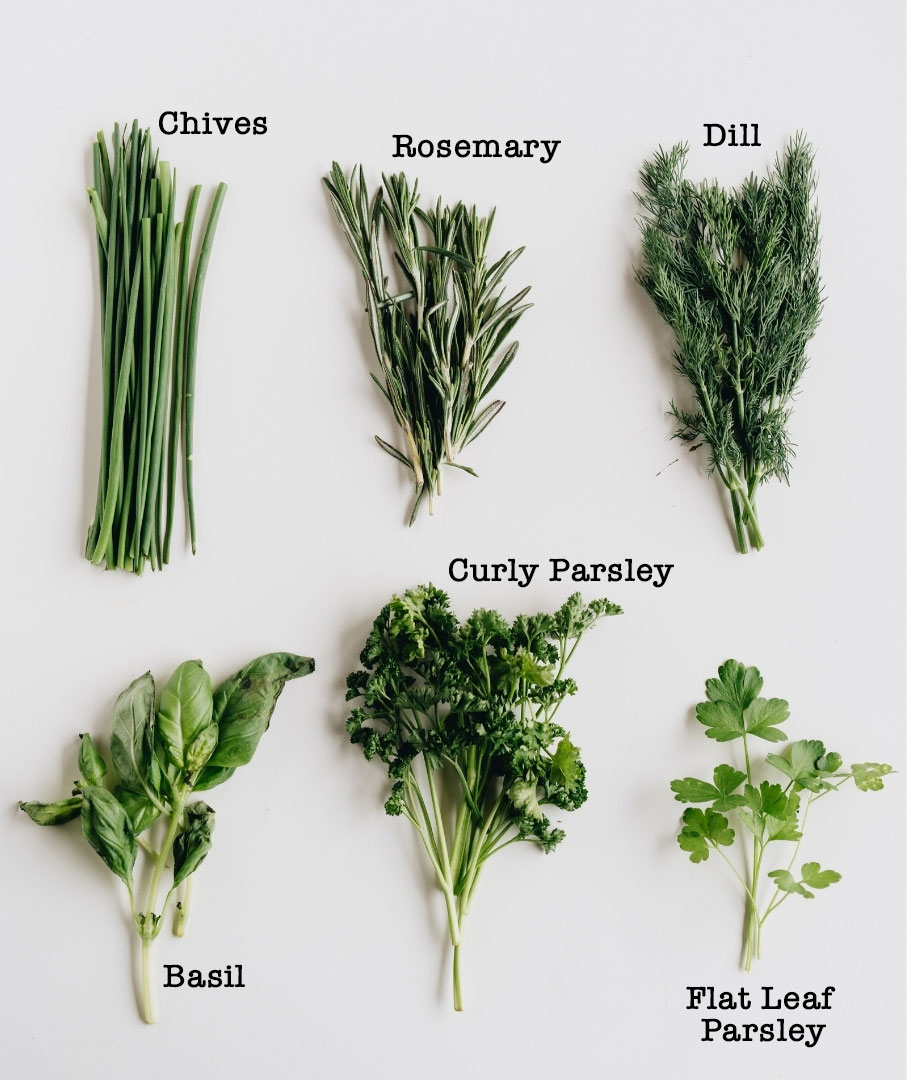 Here are some very well known herbs that show up in tons of recipes. You can also grow all of these in a small container garden.
Chives and rosemary come back every year. Even my parsley plants grow back on their own each spring until the butterflies show up and the caterpillars take over. Basil has to be regrown from seed every spring.
Ingredients for an Easy Homemade Salad dressing
Buttermilk
Sour Cream
Mayo
Dijon Mustard
Lemon Juice, fresh squeezed is best
Minced garlic
Salt and Pepper to taste
Combination of herbs: chives, rosemary, curly parsley
The fresh herbs really are the star of this recipe, so don't scrimp and use bottled, dried herbs.
Finely chop your herbs by hand or use a small food processor. (affiliate link) When it comes time to mix the rest of the ingredients, you could use the same food processor or put everything into a high powered blender, (affiliate link) or use an immersion blender. (affiliate link)The main thing is you want some real horsepower to mix everything really well.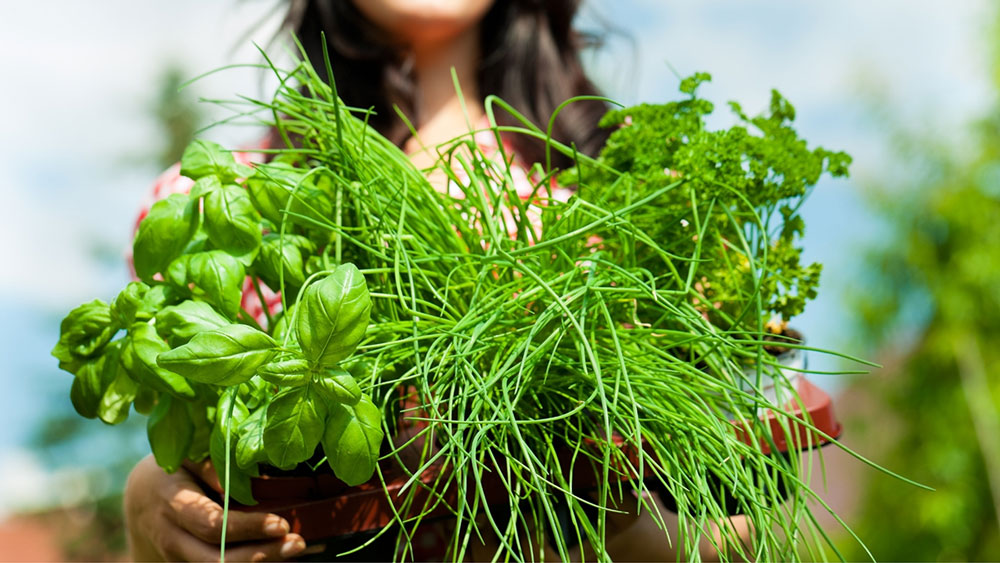 Enjoy nature's bounty
Not all salads are diet food
Let's be honest. A creamy salad dressing like this is not diet food. And that's ok! I love my garden fresh produce but I also love food that tastes really good and that fills me up. Nobody is going to get filled up on plates of plain cucumbers. While they are delicious, without the added fat of cheese or a rich dip like this dressing, you'll never feel filled up. After everything we've been through the last couple of years, enjoy the extra calories on you salad. You earned them after all that weeding and pruning and picking!
Print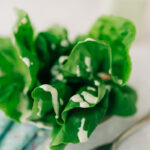 Homemade Salad Dressing
Author:

Patty McGuire

Prep Time:

15

Cook Time:

5

Total Time:

20 minutes

Yield:

6

1

x

Category:

Fresh Fare

Method:

No Bake

Cuisine:

American
---
Description
How to make a homemade, creamy, buttermilk ranch salad dressing using your own garden grown herbs.
---
1/4

cup

Buttermilk

1/2

cup

Sour Cream

1/4

cup

Mayonaisse

1 tsp

Dijon Mustard

1

tbs fresh squeezed lemon juice

1 tsp

minced garlic

1

–

2

tbs fresh herbs chopped fine. I used rosemary, chives and parsley
Salt and pepper to taste
---
Instructions
Finely chop the herbs. Fresh herbs are best, and experiment with them to find your favorites. I used rosemary, chives and parsley. You may chop by hand or run rough chopped herbs through a small food processor.
Combine sour cream, mayo, mustard and lemon juice. Mixing in the same food processor with the herbs works well, as does a whisk or inversion blender.
When the thicker ingredients are well mixed with the herbs, stream in the buttermilk until the desired consistency is reached. This could be while the food processor is running or continue whisking while adding the buttermilk if doing by hand.
Add salt and pepper to taste.
Store in a covered container in the refrigerator for up to one week.
Keywords: homemade salad dressing