Instant Pot Steel Cut Oats with Bananas
Steel cut oats are so easy in the instant pot and topped with caramelized bananas it's the perfect Sunday morning treat.
Today's recipe is perfect for chilly mornings. What could be better than Instant Pot Steel Cut Oats with Caramelized Bananas? It tastes great without a lot of work.
So, yes. This is an Instant Pot recipe. And no. I'm not going to write it two different ways for people who don't have the Instant pot. Not to be curt or anything, but if you still don't have an instant pot, what on earth are you waiting for? This small kitchen appliance has totally changed my life, and I use it every single week! I would use it more often, but it does such a great job of making big recipes that I can easily freeze dinners ahead or happily eat leftovers for a few days following the original meal.
Which is is what I love about this oatmeal. It can be made on Sunday morning, and reheated throughout the week for a warm, hearty breakfast in a flash.
---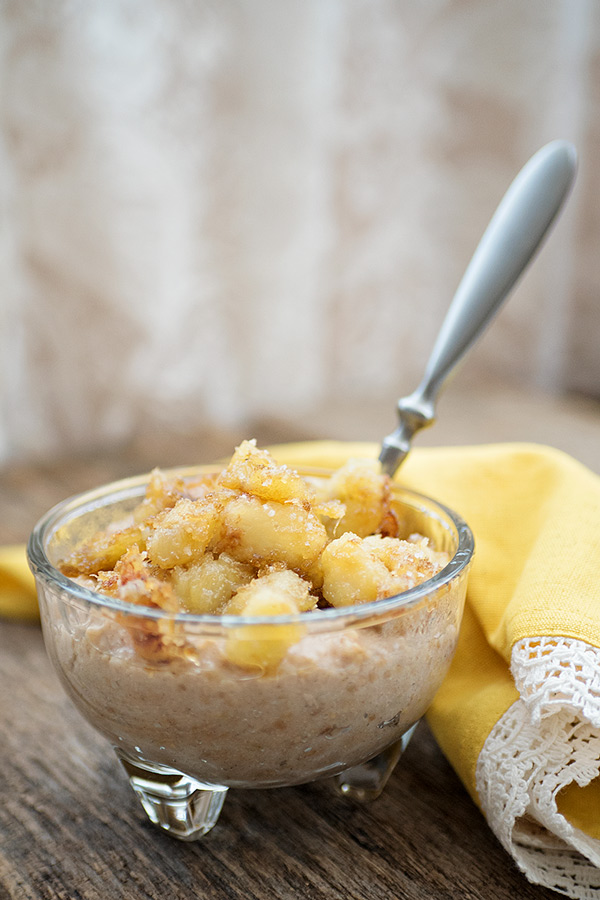 ---
For this breakfast recipe, I thought the addition of caramelized bananas made the perfect topper! And was I ever right about that! They are soooooo good! And they refrigerated beautifully, so reheating this was a breeze.
The cook time is a bit long, because it takes a while for the Instant pot to come up to pressure, but more importantly, it's critical not to rush it while depressurizing. The real trick to tender steel cut oats in your instant pot is in following the slow release method of depressurizing. All this means is you wait for the appliance to come back down to normal on it's own as opposed to flipping the pressure valve which releases steam right away.
The real beauty in making this using Instant Pot is that you combine the ingredients and don't have to do another thing. No endless stirring and monitoring for burning and sticking. That is what makes it so wonderful, in my opinion.
---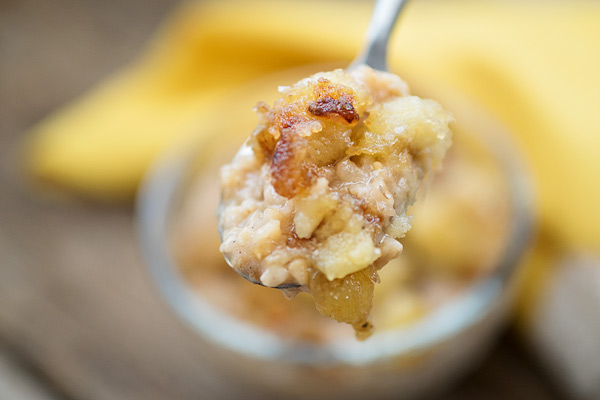 ---
I've seen some other recipes showing the process of caramelizing the bananas without adding a little sugar, and I don't know how they can get it to work. The little bits of sugar in the butter are what gave me the best results in terms of the right amount of crisp and sweet. It doesn't take much, but it does take something.
---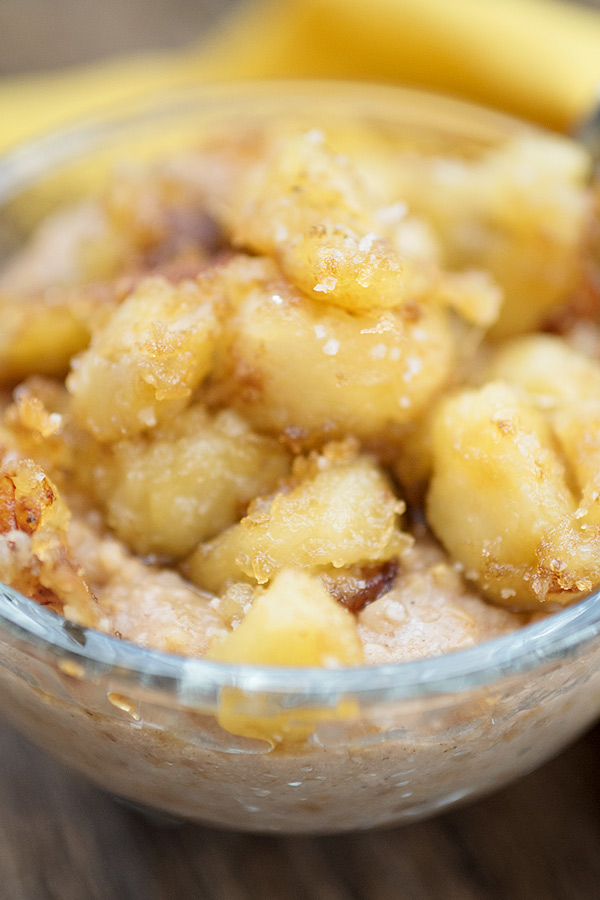 ---
I have a printed recipe and a video for you ! So you can print out the instructions if needed, and you can watch me fix the dish. If you don't know about my Youtube Channel, then you should know I do have recipes every month along with plenty of sewing and recipes and gardening. So be sure to subscribe and follow along there as well!
---
Print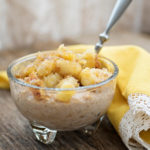 Instant Pot Steel Cut Oats with Bananas
Author:

Pattymac

Prep Time:

15

Cook Time:

45

Total Time:

1 hour

Yield:

6

1

x

Category:

Breakfast

Method:

Instant Pot

Cuisine:

American
---
Description
Steel cut oats made easy with an instant pot! Top with caramelized bananas for a delicious and healthy breakfast!
---
The Oatmeal:
1 Cup

Steel Cut Oats

1 1/2 Cups

of Almond Milk. Any nut milk is fine. Avoid dairy milk as it has a tendency to scorch.

1 1/2 Cups

of Water

1 tablespoon

Maple Syrup (optional)

2 teaspoons

Cinnamon (optional)

2 teaspoons

Vanilla (optional) I used Vanilla Bean Paste
The Bananas:
3

Bananas

1 tbsp

Coconut Oil

1

tbs Butter

1

tbs Brown Sugar
---
Instructions
For the Oatmeal:
Put all the ingredients in the Instant Pot. Set the cook time for 4 -7 minutes. You will need to experiment with this cook time as I find it varies with different brands and personal taste. Use 4 minutes as a starting point, and find your perfect cook time from there! Allow cooker to come down in pressure after cooking using the slow release method.
To Caramelize the bananas:
Preheat a saute pan on medium high heat and melt coconut oil in the pan. Cut the bananas into even pieces and and place in the hot pan, cut side down. Brown for 2-3 minutes and turn over. If bananas stick a little add a little butter….or add more coconut oil to keep the recipe vegan. Brown another 2-3 minutes. For extra caramelization, sprinkle about a tablespoon of brown sugar over the bananas. Remove from heat and allow banana and sugar mixture to combine.
Assemble the dish by putting oatmeal in your favorite bowl and top with bananas. Sprinkle on nuts or sliced dates for next level breakfast!
Notes
Steel cut oats are different between brands and manufacturers. They all cook a little bit differently. You will need to experiment a little to fit the texture you like best for your oatmeal. Start with the instructions here, and if you think they are a little under done, add another minute or two to the cook time and allow the pot to sit for up to 30 minutes before opening the lid.
Once you figure out the best combination for your oats and your taste, this will be a go to meal option for you!
This reheats really well. Be sure to add some non dairy milk when you reheat on low heat to be sure it doesn't stick. Or microwave it. I don't have a microwave, so I reheat on the stove top.
Keywords: Instant Pot steel cut oats with bananas
---

---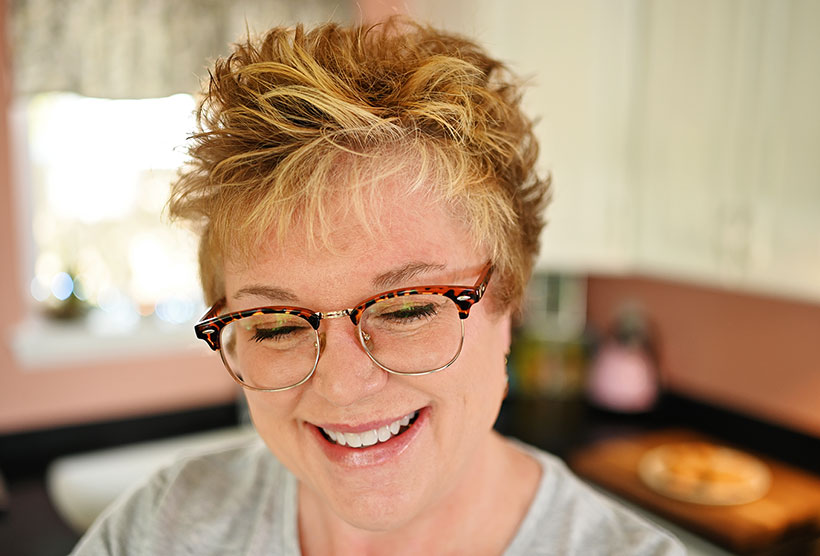 Hi there, I'm Patty.
Sewist, Baker, Maker
I love figuring out new ways to use pom poms, where I can stash more fabric, and I'm always wondering what to bake next…chocolate or lemon? When not dreaming up new things to make (or bake), I love riding my beach cruiser on the Boardwalk, escaping to mid week movie matinees, and planting new things in my tiny but mighty container garden.