Anything but Basic Muffin Recipe (with Variations)
Learn to bake a delicious basic muffin recipe (with variations) to let you personalize a muffin for any day or any mood.
A muffin is really just a tender baked delivery system for a mix in. The mix in can be anything from blueberries to chocolate chips. So once you have a good muffin base, the sky is the limit for what can be added in. And that's why this story is called a basic muffin recipe with variations. Once you understand the muffin part, adding the variations, i.e. the berries or the chocolate, it allows you to be creative in what you bake.
For a new baker, fancy layer cakes can be daunting. Getting everything measured properly, and then finishing and assembling and decorating can be enough to burn out any baker. So, let's start with something simpler.
A basic muffin recipe doesn't require the precision of a scratch made cupcake.
Honestly, muffins are a quick bread served in a cupcake wrapper.
You get the cute factor of a cupcake with the ease of baking that comes with muffins.
I love this basic muffin recipe, because it tastes great on its own, which is a huge win if you are dealing with picky eaters.
Kids can go through that phase where they don't like stuff touching or things in their food. I know you know what I'm talking about.
This is a muffin recipe that you can literally mix and bake with nothing else added. Scoop a few plain batter muffins into the tin and add the mix ins once you've separated out a few to be baked plain. Dress up the remaining batter to your your heart's delight by adding your favorite mix ins. The muffins pictured are baked with a mix of blueberries and raspberries served with sparkling sugar on top.
Tools and equipment needed to make this muffin recipe:
Two Mixing bowls: one for dry ingredients and one for wet.
An electric mixer is helpful. Mixing by hand is perfectly fine, but creaming method is a LOT easier and more efficient with an electric mixer.
Two muffin tins. This generally makes a little more than a dozen.
Cute paper wrappers.
A way to measure the ingredients. I recommend a scale and using grams, but you can use cups if you are careful in your measuring.
A pastry brush (not required, but helpful)
Cooling rack (not required, but helpful)
Sparkling sugar (found in the cake aisle and not required, but really pretty)
An oven, of course.
The recipe! So keep reading. 🙂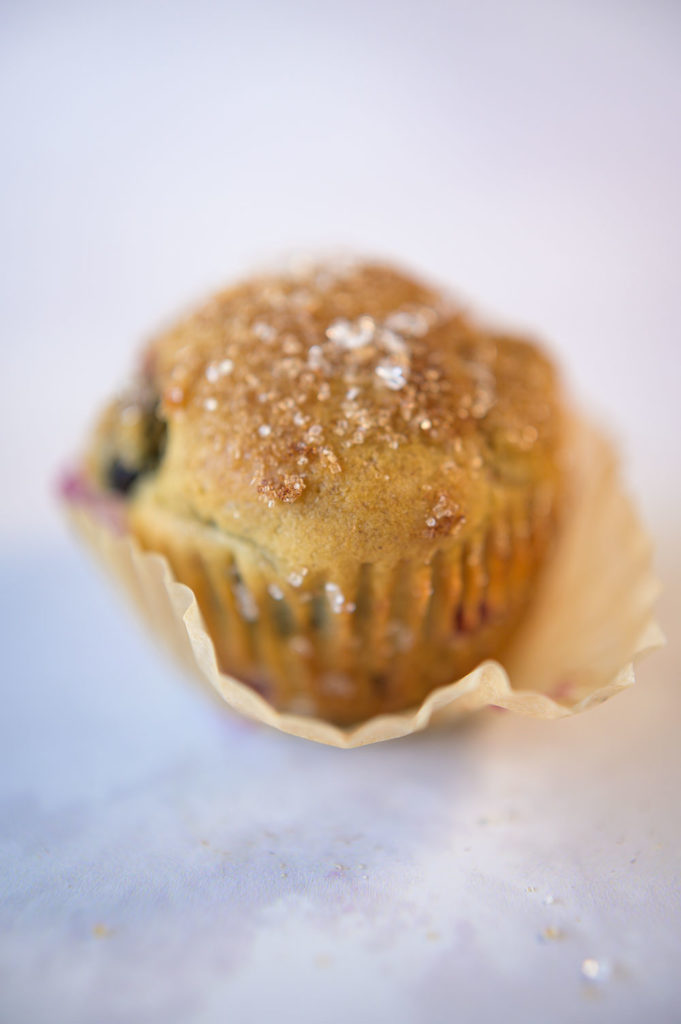 Adding a topping to your muffin is another way to dress them up and add more texture. A little strudel topping (oats tossed with butter, brown sugar and cinnamon) or even a brush of melted butter with a sprinkle of course sanding sugar creates a bakery finish to your home baked treat.
Tips and tricks for mixing the best muffins:
Have your ingredients at room temperature (68 degrees F) before starting.
The creaming method, which means to cream the butter, sugar, and oil together. You can do this by hand, but it's a lot easier with an electric mixer. I use a stand mixer, but you can use can use a hand held mixer.
This recipe uses milk in the batter, and it's good baking practice to alternate the addition of the dairy with the flour at the end. You will always begin and end with the flour. This means, you put in a third of the flour and let it mix a little and then add half the milk. Let this incorporate, then add half the remaining flour, mix, add the rest of the milk. Once incorporated, you will add the remaining flour. It is important the mixer runs on low and that you do not over beat the batter.
While we are on the subject of milk, I always use buttermilk in my baking. ALWAYS. It adds a lightness and extra flavor that straight milk is not going to match.
Also remember to scrape down the sides of your bowl throughout the mixing process. Scraping down the sides is a very important part of mixing, so don't neglect this step.
If you add a mix in, like berries, toss them first with a tablespoon or two of either flour or powdered sugar. This will ensure the berries distribute throughout the the muffin and that they don't all sink to the bottom. If you don't coat, the mix ins will sink to the bottom, and we want the berries evenly throughout each muffin. This also applies to chocolate chips.
Fold in your mix in, especially berries, so they distribute throughout the batter. Additionally, gently fold so the berries do not break. We want them to stay in one piece and not break during mixing.
A cookie scoop is a good way to get the batter into the muffin pan. It helps to get even amounts in the cups so they bake evenly. If one muffin is significantly larger or smaller than the others, they won't bake the same. We want them all to be the same.
Bake the muffins for the recommended time and then check them with a cake tester or a knife. When the knife comes back clean, the muffins are done. Don't over bake.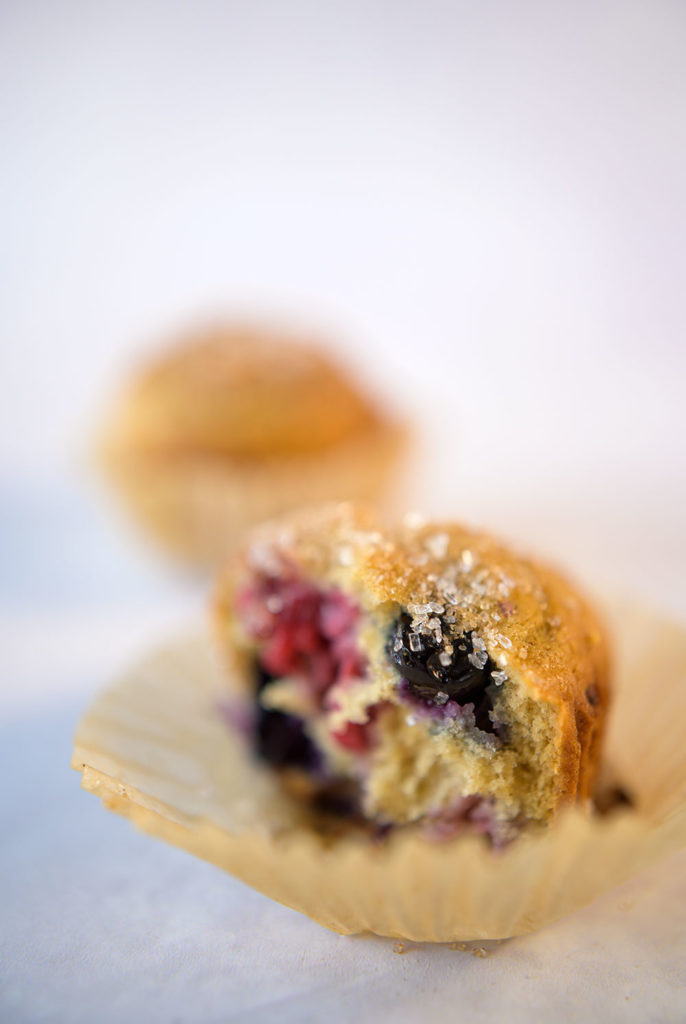 Allow baked muffins to cool for a few minutes before putting them on a cooling rack (or a large plate). They are delicious like this, but if you would like to take them one step further, you can add a delicious topping.
How to apply the topping:
Melt the extra butter in a small pan.
Mix the extra sugar and cinnamon together in a small bowl.
Going one muffin at a time, using the pastry brush, brush the muffin top with the melted butter and then invert the muffin to dip the melted top into the sugar and cinnamon mixture.
Sprinkle sparkling sugar while the muffin is still "wet" from the melted butter.
That's how to bake this basic, but so delicious muffin recipe that allows for many variations. Blueberries or chocolate chips are the usual suspects for something like this, but you can also make them plain.
Sometimes children are in a picky stage and don't want "things" in their food, so baking this basic muffin plain should keep them happy. And you can feel good about serving them to your family, because you know what's in them.
Enjoy! And let me know what your favorite mix ins are for your muffins!
What about the Variations?
Feel free to mix in just about anything you like. Keep the proportions about the same as the blue berries in the recipe card, but let yourself have fun with this. Some great options are:
Blackberries and raspberries
Chocolate chips: anything for super dark to white is amazing. And feel free to chop your own chocolate
Roasted nuts
Bacon (especially with a maple syrup glaze)
You get the idea. Experiment and have fun. That's the point of baking at home!
Print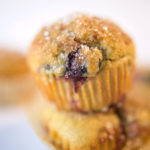 Basic Muffin Recipe with variations
Author:

PattyMac

Prep Time:

15

Cook Time:

15

Total Time:

30 minutes

Yield:

15

muffins

1

x

Category:

dessert

Method:

baking

Cuisine:

American
---
Description
Turn a basic muffin recipe into your new favorite treat. This version features fresh berries but you can add anything from roasted nuts to chopped chocolate.
---
For the Muffins
1/4 cup

(57g) butter

1

/4 cup (50g) vegetable oil

1/2 cup

(99g) granulated sugar

1/3 cup

(71g) brown sugar

2

large eggs

1 cup

(227g) buttermilk

2 2/3 cup

(319g) all purpose flour

1 1/2 teaspoons

baking powder

1/4 teaspoon

baking soda

1

to

1 1/4

teaspoons ground cinnamon, to taste

3/4 teaspoon

salt

1 teaspoon

vanilla extract

8

–

10

ounces of the mix in of your choice. Here I used Blueberries and few raspberries
For the Topping:
2

–

3

tablespoons melted butter

3 tablespoons

granulated sugar

1 tablespoon

cinnamon
---
Instructions
Preheat the oven to 425°F.

Lightly grease a standard muffin tin. Or line with 12 paper or silicone muffin cups, and grease the cups with non-stick vegetable oil spray; this will ensure that they peel off the muffins. Or use the tip I share in the video for the best liners.

Cream together the butter, vegetable oil, vanilla, and sugars till smooth.

Add the eggs one at a time, beating to combine.

Whisk together the flour, baking powder, baking soda, cinnamon, salt.

Stir the flour into the butter mixture alternately with the milk, beginning and ending with the flour and making sure everything is thoroughly combined.

Fold in the berries or the mix in of your choice.

To prevent the berries from sinking to the bottom of the muffin, be sure to first toss them in a tablespoon or two of flour!

Spoon the batter evenly into the prepared pan, filling the cups nearly full.

Bake the muffins for 15 to 17 minutes, or until they're a pale golden brown and a cake tester inserted into the middle of one of the center muffins comes out clean.

Remove them from the oven, and let them cool for a couple of minutes, or until you can handle them.

While they're cooling, melt the butter for the topping (this is easily done in the microwave).

Use a pastry brush to paint the top of each muffin with the butter, then sprinkle with the cinnamon-sugar. Or simply dip the tops of muffins into the melted butter, then roll in the cinnamon-sugar. For added sparkle, use the coarse sugar I show you in the video.

Serve warm, or cool on a rack and wrap airtight. Store for a day or so at room temperature.
Notes
If you use frozen berries then make sure you break them apart before mixing in AND allow a few extra minutes for baking time. You'll have to keep an eye on them. My friend baked from frozen this morning and reported it was 21 minutes until they were baked through.
The basic recipe is adapted from King Arthur Flour who is one of my favorite sites for recipes, information, ingredients and tools. They are amazing!
Keywords: basic muffin recipe with variations, blueberry muffin recipe, bake muffins at home