This post has affiliate links to products I use and love. If you buy something I can make a small commission, so thanks in advance. 🙂
Buttery, light, festive and incredibly British: today we are baking Mary Berry's very own recipe for Viennese Whirls.
Brits call these biscuits and in the States we call this a sandwich cookie. Don't let the conflicting terms throw you for a loop. Viennese Whirls are absolutely gorgeous and honestly, a feast for the eyes and tastebuds.
If you don't know, Mary Berry was one of the original judges on the The Great British Bake Off, the show on PBS with all the polite bakers making the craziest things you've ever seen inside a tent constructed in an idyllic British countryside. Watching that series is what introduced me to British baking and recipes. It's what broke me of using volume and switched me to using the weights in baking. Which means I went from using cups to instead using grams. My baking improved tremendously, and I've never looked back.
If you have not yet ventured into weighing your ingredients NOW is a good time to start. This recipe is Mary's and we are using grams, because that's how she's written it, and I'm not converting Mary's recipe to cups. That feels like a sacrilege. Don't panic (a line from a famous British series called Hitchhiker's Guide to the Galaxy). I have a blog post to show you exactly what to do. When you switch to this method, you'll honestly wonder why you waited so long. I convert everything in cups over to grams, because I refuse to go back to the cups. I'm a believer.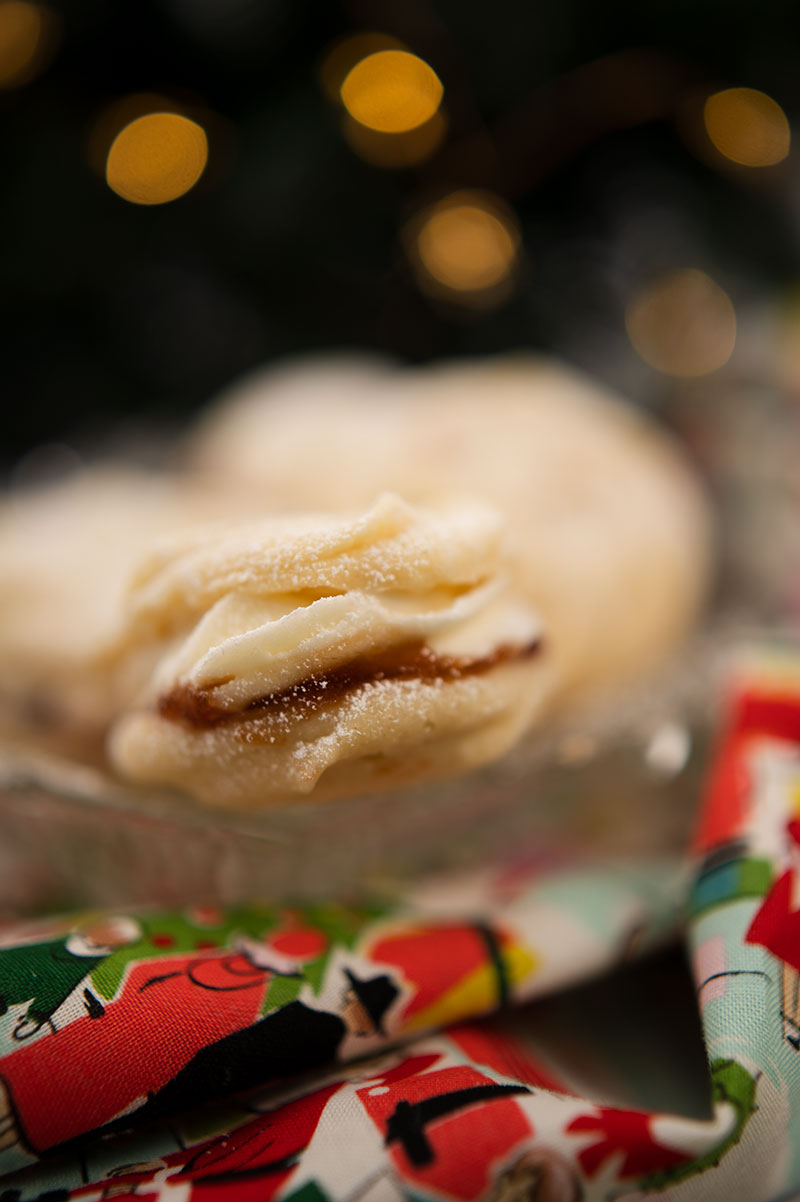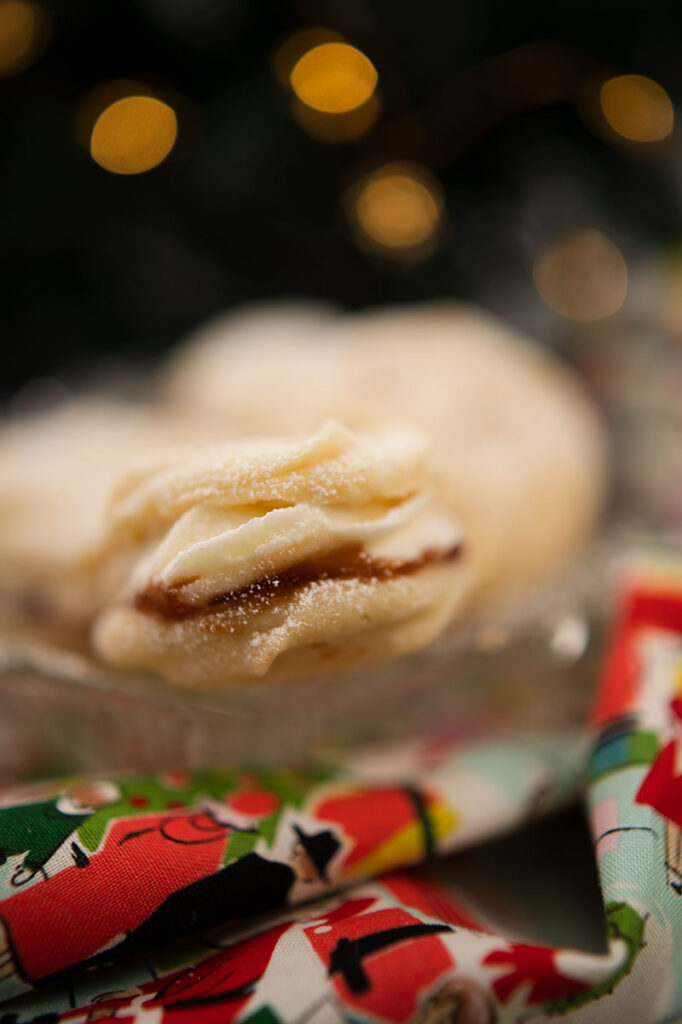 Some things to know about Making Viennese Whirls:
The cookies themselves and not very sweet, so if you don't finish the recipe with the sandwich filling you will not understand what the fuss it about. But with the filling it's the most perfectly balanced thing you'll ever have.
The traditional British version is filled with seedless raspberry jam. The expectation is that you make the jam yourself and strain it to remove the seeds. I had raspberry jam in the pantry that needed to be used up so I used that. I strained some to be true to Mary's vision, but it was kind of a pain so I finished with using jam straight from the jar.
This recipe changed my whole perspective on making buttercream and I can hardly wait for the next cake to try this version out in a bigger batch.
In baking, the type of butter you use is important. And the better the butter you use, the better the cookie will be. This recipe uses only a few ingredients, so use the best you can. The way the butter is handled in this recipe will make or break the whole thing. That's generally true of butter in baking. People really don't talk enough about this, but paying attention to what you do with the butter is a critical step in baking. In this recipe, it's everything. So mind the instructions on how to handle the butter. I'm not writing all this out for no reason. It does matter.
Tips for using butter in Viennese Whirls:
It's important to use soft butter when you begin mixing the ingredients. I do mean soft. Not melted. Not about to melt. But squishy soft. Generally we use something called "room temperature" butter. This is a specific instruction. What it really means is the butter should be between 65° and 68°F. I'm not kidding. That's what it means. I use a thermometer to check the temperature of my butter so I know it's where it should be. The butter for Viennese Whirls should be 72°F or so. But not past 74°F.
The soft butter is critically important, because once the dough is mixed, it goes into a piping bag and we pipe the characteristic swirls. If the butter is too hard, then good luck getting it through the nozzle. I used a 1M tip, which is my favorite and it delivers beautiful rosettes. But a star tip with a wider opening would be easier. Actually, Mary says not to pipe rosettes, so a large star tip is better. Still the 1M is a beautiful result if you have the oomph to do it.
When the cookies are piped, return them to the fridge to chill. I see people suggesting 15 minutes, but I recommend 4 hours or overnight if possible. The cookie has a lot of butter in it, it's incredibly warm (in terms of butter that is), and if it's not sufficiently cold when it hits the oven, it's going to spread everywhere. What I see all the time is recipes giving very short or no time in the fridge for the cookies to chill. And alternatively I see the #1 question from the home bakers is, "why did my cookies spread?" Nobody wants to wait the extra time for the cookies to set up properly before baking. We are impatient and we want them right away. So while you can do that, you will not have the characteristic whirl but rather a blob. And a Viennese Blob is not exactly what we're going for.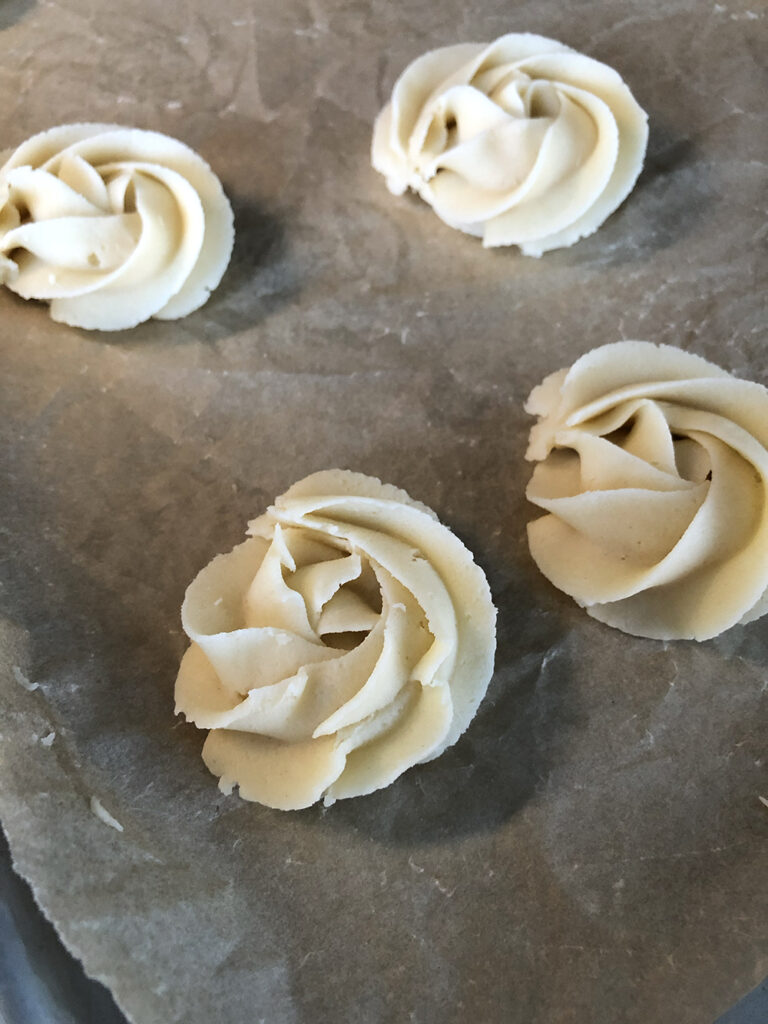 Here's a batch of freshly piped rosettes ready for the fridge.
Most recipes have you trace out circles on your parchment to keep your cookies uniform in size, and you can do that. If you are handy enough with making rosettes, just pipe them out on the parchment and they will be fine.
I piped my dough and and put the cookie sheet inside a 2 gallon storage bag that I sealed shut to keep the dough fresh. I let the cookies sit in the fridge over night, and baked them in the morning.
Even with letting the piped cookies rest in the cool of the fridge overnight, I still lost the sharp edges of the rosette which was disappointing. I'll be honest. It wasn't what I had hoped for, especially after seeing all the beautifully defined versions on pinterest. Maybe it's the tip they used. I'm making them again because they were so darn good and I'm going to experiment with the tip. Stay tuned.
Piped cookie

Baked cookie
Assemble your Sandwiches:
Once the cookies have baked and cooled, beat the remaining, soft, 72°F butter into your butter cream and get to stacking.
Put the jam on the bottom cookie's bottom.
Pipe the buttercream with the same 1M tip, and put another baked cookie on top to finish the sandwich.
A light sprinkle of powdered sugar finishes the cookie.
A tip here is don't over fill the sandwich and don't squish too hard when you put the top on. Squish enough to secure the top to the buttercream and have the fillings fill to the edge of your cookies without dripping out everywhere. This is an elegant cookie we would serve for high tea, so dripping and oozing don't really work here.
Seedless raspberry jam on a cookie

Perfectly Piped Buttercream
At this point, the cookies, er biscuits, are ready to be served. What you will notice about this cookie is that it's very tender and crumbly. Or very "short" as they say in Britain.
What does "short" mean in a recipe?
"Short," is a baking term, and means that there is a high proportion of fat to flour. Short dough and batters are rich, crumbly, and tender with butter. Think about another British classic known as Shortbread biscuits (or cookies). The descriptive term is used to describe not only the type of cookie dough you'll be making, but what you can expect from the texture and flavor. Calling a mixture short is for non yeast bakes so you would not have short cinnamon rolls.
I store the finished cookies in an airtight container on the countertop, and they are gone in a couple of days. Some people don't like butter left out at room temps (and warmer), but I leave mine out all the time. And we're fine. I also eat raw cookie dough as I have for more than 50 years, and that's been ok, too. But if you flip over warm butter, then I suppose you can put the air tight container in the fridge to keep the buttercream chilled. I personally didn't worry about that, but I'll let you make that decision for yourself.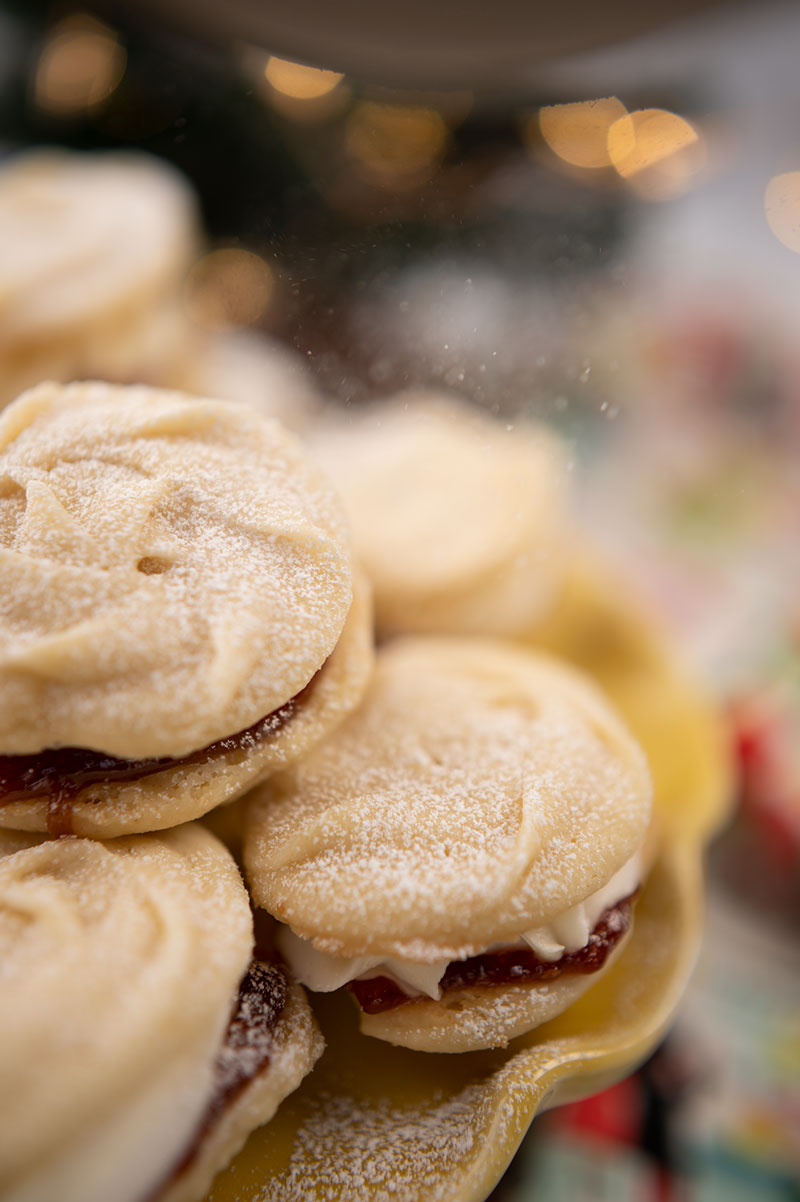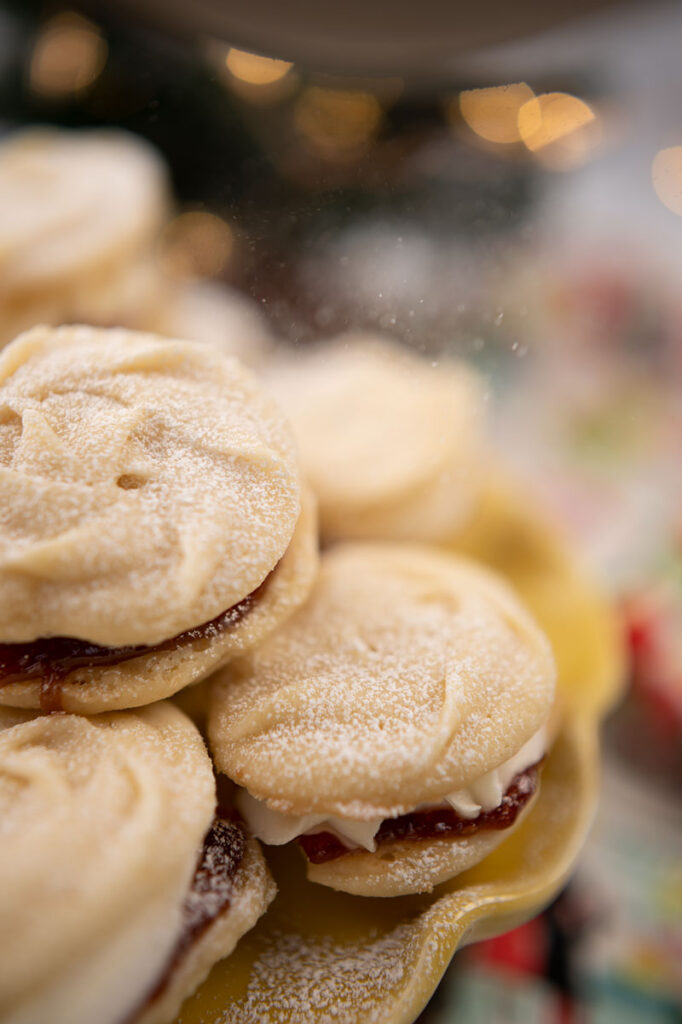 For a final finish, top the Viennese Whirls with a touch of powdered sugar.
A light dusting of powdered sugar is pretty and it adds a hint of sweetness to the cookie. The cookies themselves are not sweet, so a light dusting of powdered sugar is a wonderful finish.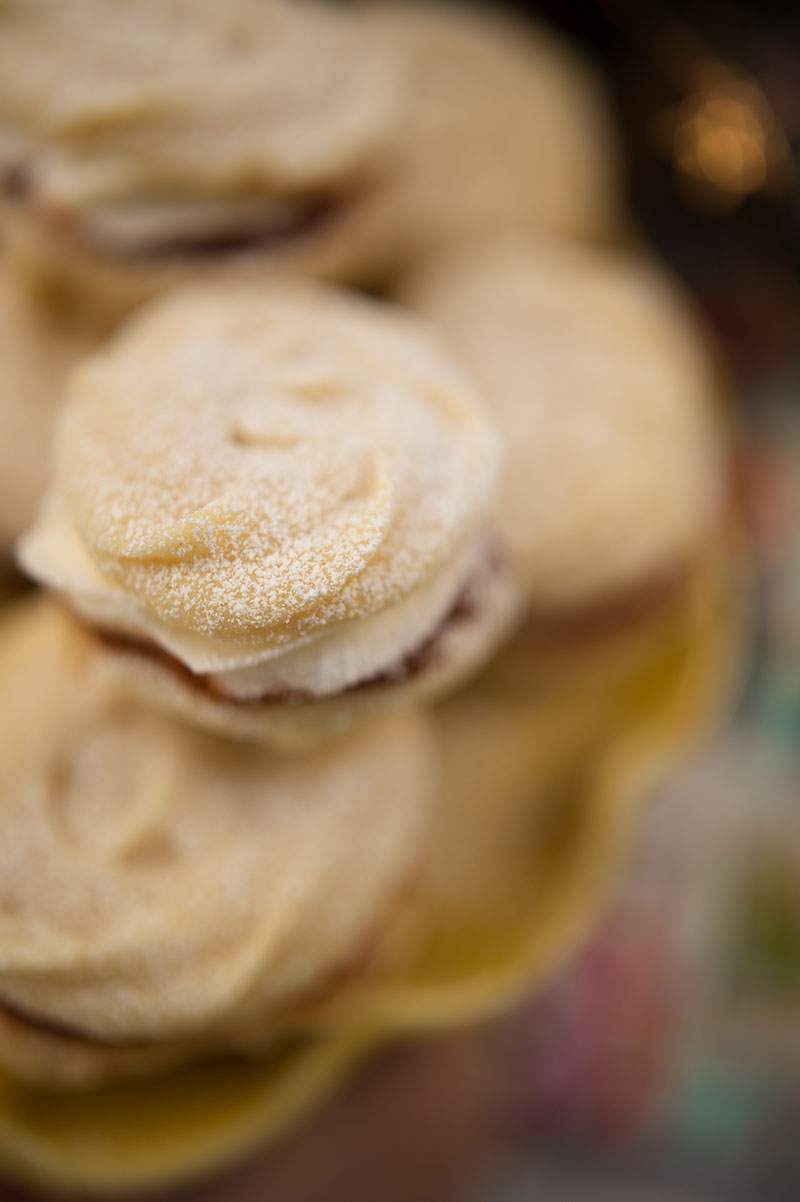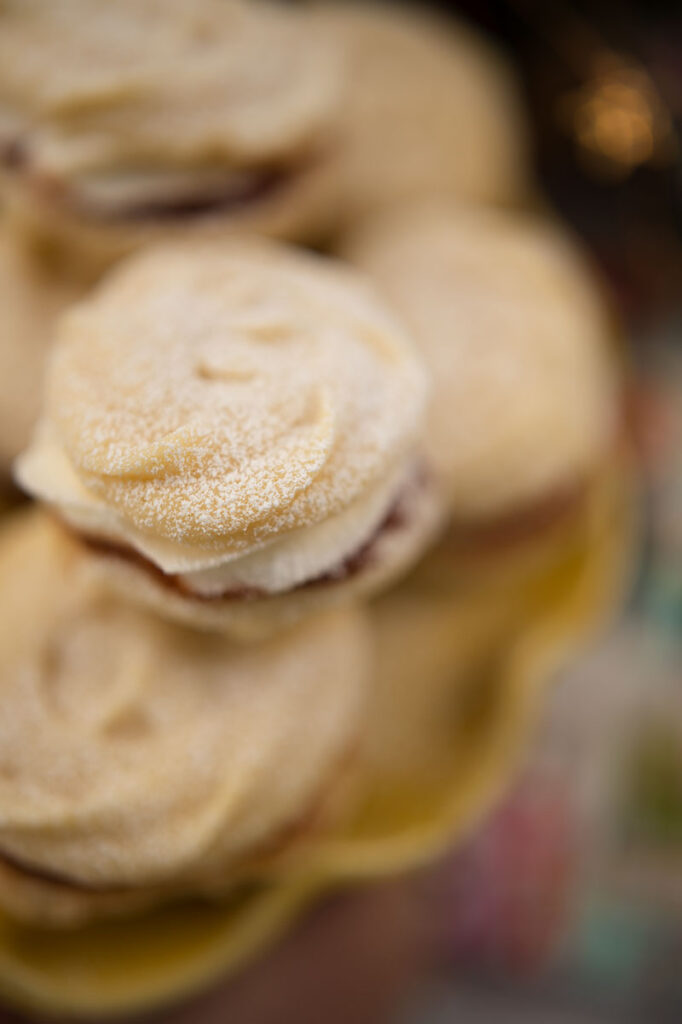 Display your beautiful Viennese Whirls on a small cake stand or use a fancy serving plate.
They are gorgeous cookies so display them using an appropriate dish. I used a 6″ cake plate and they looked amazing. Remember we first eat with our eyes, so presentation is important. Besides, you worked hard to make these cookies, so serve them with pride.
Print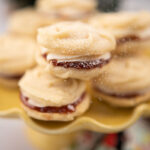 Viennese Whirls
Author:

Patty McGuire

Prep Time:

15

Cook Time:

15

Total Time:

30 minutes

Yield:

1

2

1

x

Category:

Dessert

Method:

Baking

Cuisine:

British
---
Description
Viennese Whirls, a classic British sandwich cookie made by an American using the recipe from Mary Berry
---
For the Cookies:
250

g

very soft unsalted butter (butter should be around 72°F)

50

g

powdered sugar

225

g

all purpose flour

25

g

corn starch
For the Buttercream:
100

g

unsalted butter, softened (72°F)

200

g

powdered sugar, plus extra for dusting

1/2 tsp

vanilla extract (I used clear vanilla to keep my buttercream bright white, but use the vanilla you like)
For the Jam Filling:
A small jar of a nicer quality Raspberry jam.
---
Instructions
To make the cookies:
Pre-heat the oven to 375°F. (I'm giving you this instruction because it's a standard to give it at the start of the recipe. You can bake your cookies right away if desired, so you need that preheated oven. But I suggest you chill the piped rounds and bake the next day wherein you will actually preheat your oven in the morning.)
Line baking sheet with parchment paper and set aside. If desired use a 2″ round as a guide,  and draw circles on each sheet of paper, spaced well apart. Turn the paper over so the pencil marks are underneath.This is your guide to piping the cookies.
Place butter and powdered sugar in a bowl and beat well until pale and fluffy.
Sift in flour and corn starch over beaten butter and sugar mixture, and beat well, until thoroughly mixed. But don't over do it.
Spoon the mixture into a piping bag fitted with a medium star nozzle. Pipe 24 swirled rounds inside the circles on the baking sheets.
Cover piped cookies and place in refrigerator for 4 hours or overnight.
When ready to bake the cookies, remove them from the fridge and while still cold, transfer them 8 or 10 at a time to a full size, room temp cookie sheet lined with parchment paper. Return remaining cookies to the fridge until time to bake.
Bake in the center of the preheated oven for 13–15 minutes. They should be a pale golden-brown color. Cool on the baking tray for 5 minutes before transferring to a cooling rack to cool and harden.
For the Buttercream Filling:
Measure the butter into a bowl. It should also be very soft as in the cookie instructions. Beat the butter for a couple of minutes on medium high in a stand mixer fitted with a paddle attachment.
Sift the powdered sugar on top of the beaten butter.
Add the vanilla extract and beat until very light and smooth. Maybe 2 minutes. This part goes very fast. Mix on medium.
Spoon into a piping bag fitted with a large star nozzle. I used a 1M tip from Wilton because I love a good Rosette but Mary used the large star.
To assemble:
Match tops and bottom of cookies together deciding which go best as a pair and pick your best cookie for the top of each sandwich.
Spoon a small amount of jam onto the bottom side of your bottom cookie. Don't spread all the way to the edge.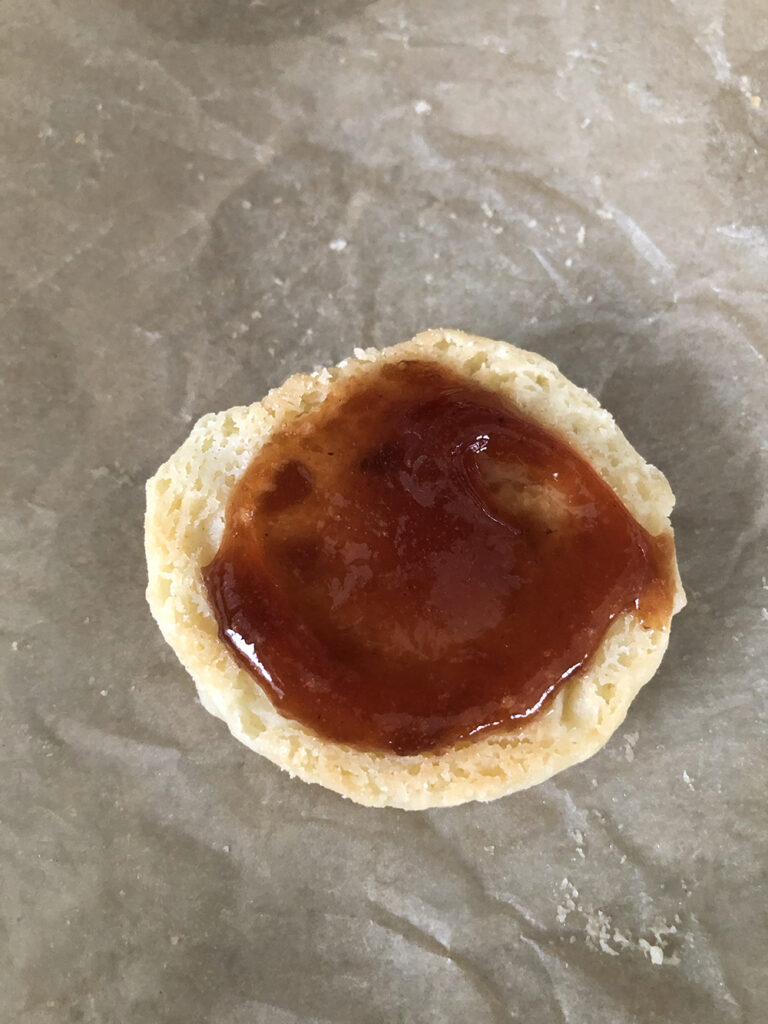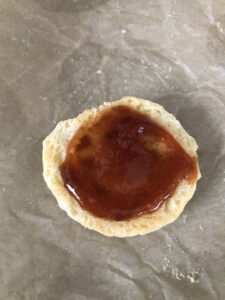 Pipe the buttercream on top of the jam.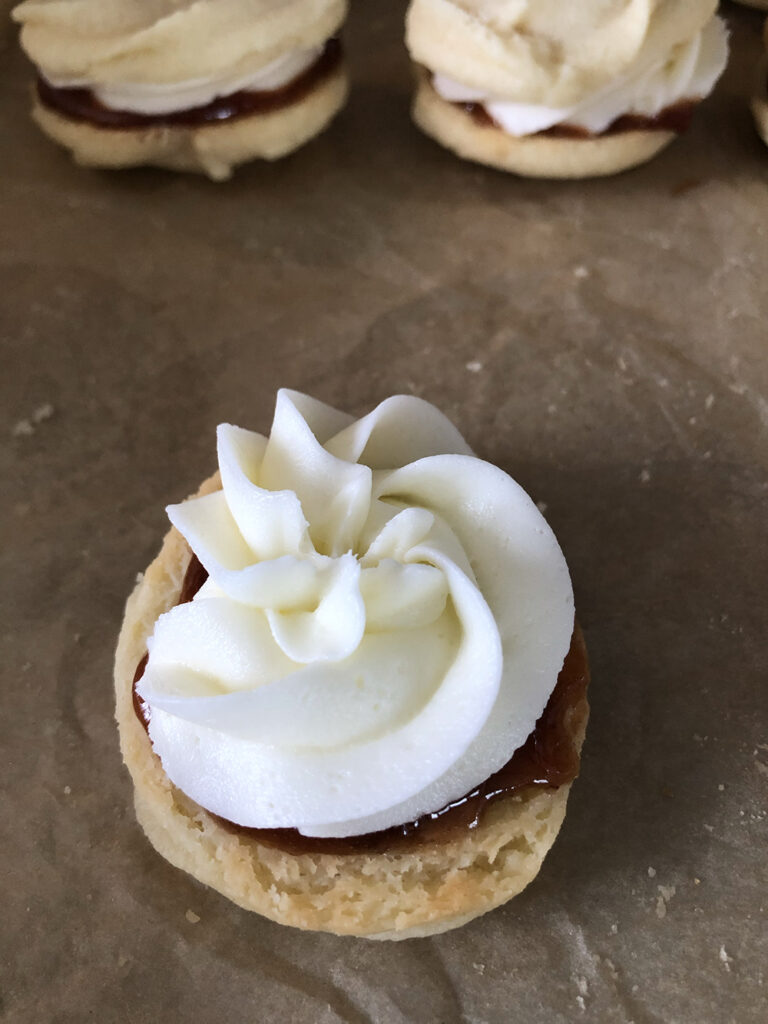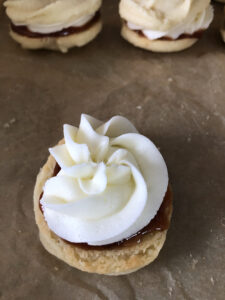 Put the top cookie of the sandwich pair bottom side down onto the top of the piped buttercream and gently compress. You are pressing enough to get the sandwich to stay together, but not so much the fillings ooze out.
Using a small sifter, sprinkle a touch of powdered sugar on top of the sandwich cookies.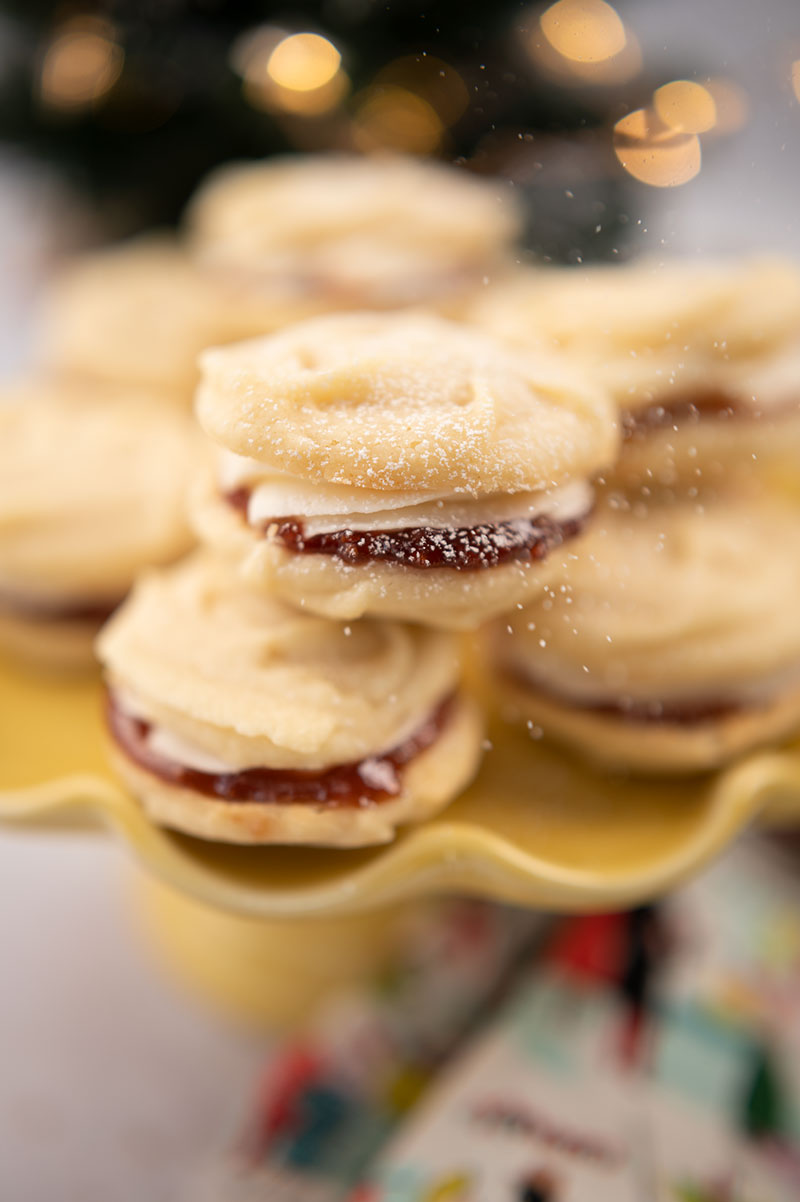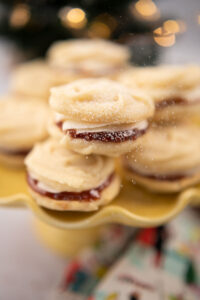 ---
Notes
Mary's instructions specifically say not to pipe the cookies into rosette shapes, so that may be why my cookies did not hold their shape as well. For round 2 I'll use the larger open star nozzle and see what happens.
When I placed my piped cookies into the fridge, I did so by transferring piped rounds to a parchment lined 1/8 sheet pan. Then I slipped the sheet pan filled with cookies inside a 2 gallon zip locking bag. This way the dough was covered and would not dry out in the fridge overnight.
Keywords: Viennese Whirls