Chocolate Dipped Chocolate Chip Cookies
Learn to learn how to make these beautiful chocolate dipped chocolate chip cookies. Delicious, and are so easy to make! Perfect for parties or for Santa!
Today we are going to learn how to make these beautiful chocolate dipped chocolate chip cookies. They look as good as they taste, and are so easy to make!
Here it is friends. One more weekend until Christmas. Yup. Christmas Eve is little more than a week away. So I know on the first of the month you were determined to make everything from scratch and have as much of a handmade holiday as possible. I understand that. You know I do.
But there is nothing wrong with a few strategic shortcuts. These chocolate dipped cookies are a genius hack, and your kids will love them.
So today, I'm introducing you to my very good friend. Readers, meet King Arthur. He's about to make your baking life infinitely easier.
---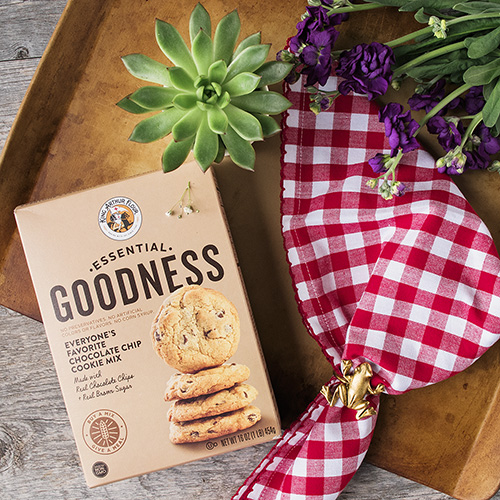 ---
You know I can't stand artificial anything.
Not fake food, not crappy yarn, and certainly not fake people. When this mix turned up on the baking aisle in my grocery store I was reluctant to try it, but I picked it up anyway. I was quite thrilled to read the mix contained only whole ingredients. No fake food. No weird ingredients.
I was intrigued, and decided to give these a go.
---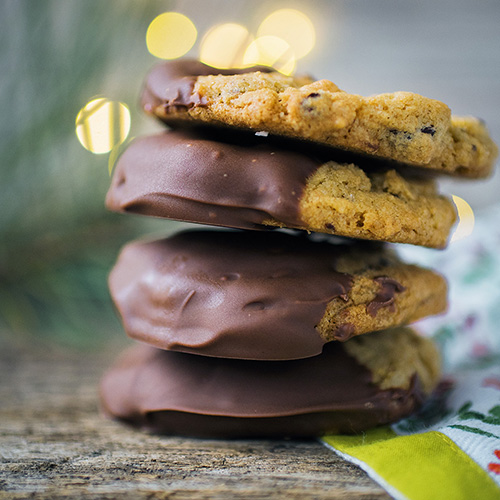 ---
I am THRILLLED!! These cookies are GREAT. I did jazz them up a bit, but not by much. And for some reason it's so fast and easy to bake with this mix. Probably because it only gives you 24 cookies, but for us, that's perfect. Not too many.
Two trays to bake, and you're done.
I use an organic egg, and Kerrygold butter, because everything is better with those two ingredients.
---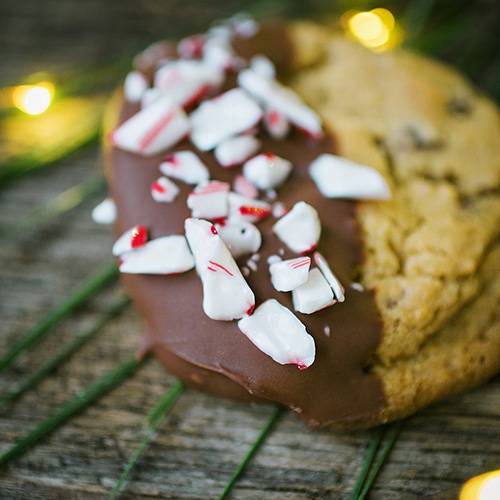 ---
Why am I sharing a cookie recipe for an extra post this week? Because Santa's coming, and we all leave cookies out for Santa on Christmas Eve. But the time crunch right now is REAL. Rather than use those dreadful slice and bake things, or have to carve out a couple of extra hours to bake cookies when you're already overwhelmed, try using this. If you measure out the butter, your littles can mostly bake these cookies by themselves.
I remember being small and baking Santa's cookies. It was the most important thing I made all year.
---
---
To make this a little extra special, I melted chocolate chips and dipped half the cookies in the melty chocolate. Oh man. This was sooooo good. If you have a party coming up, bake the cookies a day ahead, cool them overnight, and dip them in the morning. They'll set up and be perfect for the party. Put them on a tray lined with parchment paper and they'll cool to perfection with no sticking.
I put a few candy canes in a Ziploc bag, and crushed them up. Then I sprinkled the peppermint candy onto the warm, melted chocolate on the cookies. That's it. So easy, and soooooo special.
---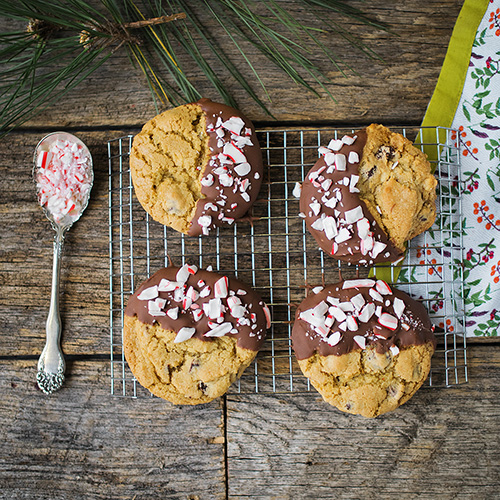 ---
Oh good grief. How pretty is that? And so festive. These are nothing but simple semi-homemade chocolate chip cookies all dressed up for Christmas Eve.
Put these on your holiday table, and people will either think you are a baking genius or that you must have paid a ton of money to buy these in a fancy bakery.
You can use all high end ingredients and still make 2 dozen of these for under $10. They would cost four times that from a bakery.
Leave these out for Santa, and you might find that fancy Mercedes in the driveway on Christmas morning. That's what I'm hoping for anyway.
---
Print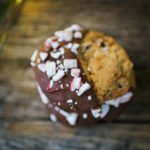 Chocolate Dipped Chocolate Chip Cookies
Author:

Pattymac

Prep Time:

15

Cook Time:

12

Total Time:

27 minutes

Category:

Dessert

Method:

Baking

Cuisine:

American
---
Description
Semi Homemade Chocolate Chip Cookies dipped in Chocolate and sprinkled with peppermint.  These are Santa's favorite Christmas cookie
---
King Arthur Chocolate Chip Cookie Baking Mix
One Egg (room Temp)
One stick of butter
Your favorite chocolate chips
Peppermint Candy Canes
---
Instructions
Bake cookies using the King Arthur mix according to their instructions.
Allow cookies to cool for at least an hour. Two is better.
Melt chocolate chips in the chocolate pot. Or on the stove top if you prefer.
Dip half the cookie in the melted chocolate.
Place them to cool on a baking sheet lined with parchment paper.
Sprinkle with crushed peppermint while chocolate is still warm.
Allow chocolate on cookies to cool for at least an hour.
Pour a nice cold glass of Cashew milk and enjoy a couple of these babies.
---
Notes
I created this recipe idea because it looks really fancy, and the truth is, it was very easy to make. So it's perfect for last minute gifts or for having kids help in the kitchen. What child doesn't want to help make cookies for Santa? It's a great way to introduce them to baking in a fun way.
Keywords: chocolate dipped cookies
You might also like:
---

---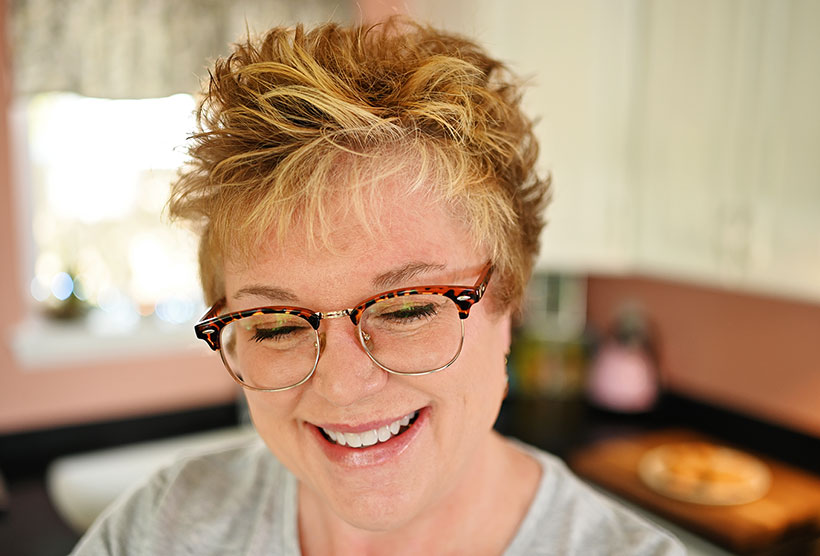 Hi there, I'm Patty.
Sewist, Baker, Maker
I love figuring out new ways to use pom poms, where I can stash more fabric, and I'm always wondering what to bake next…chocolate or lemon? When not dreaming up new things to make (or bake), I love riding my beach cruiser on the Boardwalk, escaping to mid week movie matinees, and planting new things in my tiny but mighty container garden.