Pumpkin Chocolate Chip Bread
Disclosure: This post may contain affiliate links. As an Amazon Associate, I earn from qualifying purchases. 😊
Savor Pumpkin Bread loaded with warm spices and chocolate chips. Pumpkin Chocolate Chip bread will quickly become one of your fall favorites.
Fall is finally here. With that comes cooler temperatures and fall colors in our beautiful trees. I live on the coast, so most of our trees are evergreen with a few deciduous thrown in. Not too many trees with lemon yellow fall leaves here, so when I find one, I stop everything and drink it in. Add a delicious Pumpkin Bread to your list of fall favorites!
Let's be real. Pumpkins are every where right now. And with good reason! Jack-O-Lanterns are ubiquitous with fall and especially Halloween. But did you know you can also create a beautiful floral arrangement with a pumpkin? For more on that lovely little treasure, enjoy my blog post where I show you how to turn a pumpkin into a special table arrangement.
Today, let's talk about baking with pumpkin.
The color of the bread comes from the Oil I used
While the world is awash with pumpkin spice lattes, how about trying something a little bit different? Pumpkin Chocolate Chip bread is not exactly a bread and not exactly a cake. It's somewhere in between and it's utter perfection! Quick breads are the perfect bake for beginners to get a handle on proper measuring and mixing as well as a yummy treat for more experienced bakers to pop in the oven.
If your guests are too uppity to enjoy a good quick bread, then I humbly suggest you need some different friends.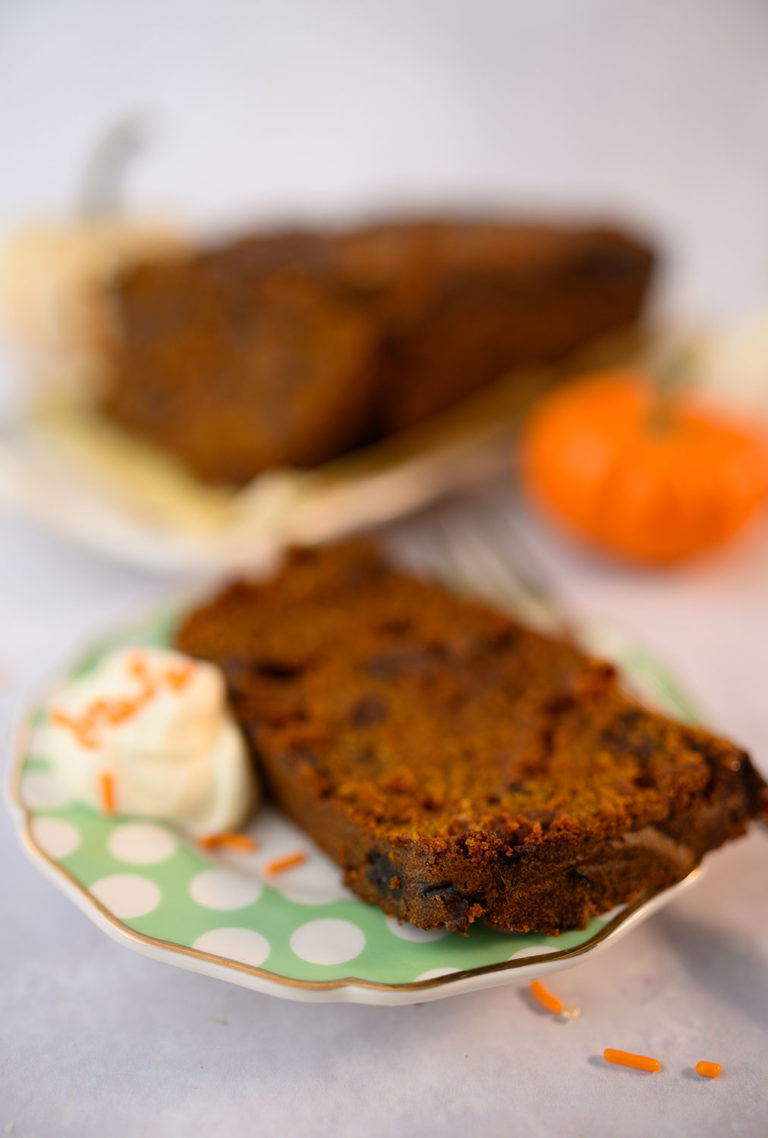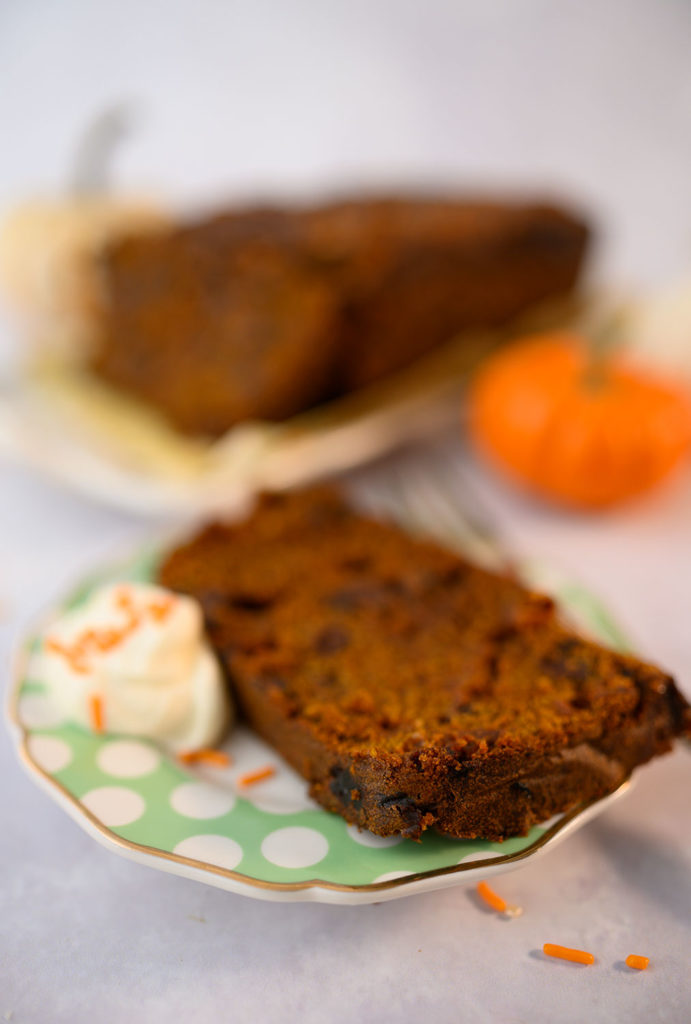 Quick breads are a popular choice for bakers, both experienced and beginners. They are somewhere between a cake and a simple bread, and extremely satisfying.
Quick breads are fun, fast, and easy to make. They are the casual baker's friend, because they allow you to dip your toes in the vast world of cake baking without the headache of making layer cakes.
Pumpkin Bread recipe travels really well. Bake with Parchment paper covering the bottom and sides, spilling over the sides, and take your bake to it's destination in the pan. No spilled cakes here! When you arrive at your destination, lift the bread from the pan using the dog ears of the paper. Place it neatly on your serving dish and discard the paper. Slice and serve. It doesn't get easier than that, people.
The texture of Pumpkin Bread is incredibly moist! And the surprise of the butterscotch chips make it a delightful treat! I was inspired by my baking guru, Sally of Sally's Baking Addiction for this recipe. I started with her instructions and then made a few adjustments to suit my taste.
Isn't that what baking and knitting and sewing is really about? We start with the instructions, and adjust things to suit our own taste.
The big thing with this recipe is getting the flour right. Honestly, that's the key to all cakes. The ingredients need to be perfectly measured. Otherwise, things can go wrong, and fast. This is why I recommend you weigh the ingredients. Once you've started baking this way, you won't go back! Switching from cups (volume) to grams (weight) is very easy.
The texture of Pumpkin Bread is amazing

This loaf won't last long!
Ingredients for Pumpkin Chocolate Chip Bread:
Pumpkin: Pumpkin contributes both flavor and moisture. Make sure to use plain, canned pumpkin and not yams or anything already flavored or sweetened.
Oil: Increases moisture and lightens the crumb. I recommend pumpkin oil to amp up the flavor profile, (affiliate link) but it's a little spendy. If not using pumpkin oil, then grapeseed oil is best.
Fall Spices: Cinnamon, nutmeg, ginger, cloves, or the crowd pleaser pumpkin pie spice. (affiliate link) Fall spices are a symphony of flavor that instantly say football and falling leaves without saying a word.
Orange Juice: It's recommended for a little something special, but if you don't have it on hand then milk or my personal favorite in baked goods, buttermilk.
Butterscotch Chips: Don't skimp on the chips. Cheap chocolate (or butterscotch) doesn't do anything to enhance your hard work. My chocolate chip of choice these days is Guittard. (affiliate link) Not everyone carries it. It's the only reason I go into Whole Foods these days, because here that is the only place I can find it. I also highly recommend mixing a little bit of white chocolate in with all my dark chocolate chip recipes, because the balance of the sweet with bitter is amazing.
Perfect bite of Pumpkin Bread
As delicious as a home baked pumpkin bread can be, things can go terribly wrong. Let's fix that.
Why is my pumpkin bread gummy? Recipes like banana bread and pumpkin bread, incorporate as much fruit purée as the batter can handle. Too much fruit will throw off the ratio of wet to dry ingredients. If there's not enough flour to absorb the moisture, it leads to a gummy bottom.
Why is my pumpkin bread dense? While moisture is good, too much will cause the bread to get spongy and not rise properly. This leads to a dense and gummy loaf. This is why weighing the ingredients becomes important. Getting the cup measurement right is tricky, but measuring out to the gram is not.
Why is my pumpkin bread not cooked in the middle? Your bread could be undercooked or unbaked inside because either your oven was too hot, and the outside of the bread cooked faster than the inside. Or you pulled your bread out of the oven too early. Which leads to the next very important instruction:
When you bake pumpkin bread, put it on the lowest rack of your oven. Tent aluminum foil over the bread about half way through the cooking. The batter is very dense, so this recipe bakes for a long time. If you don't tent, the bread will burn on top. The goal is to bake the break completely through without burning the top. The aluminum protects the top from excess heat while the inside of the loaf rises to the proper temperature.
Print
Pumpkin Bread Recipe
Author:

Patty McGuire

Prep Time:

20

Cook Time:

60

Total Time:

1 hour 20 minutes

Yield:

2

4

1

x

Category:

Recipe

Method:

Baking

Cuisine:

American
---
Description
Delicious Pumpkin Bread that includes the surprise of chocolate chips. This recipe is a little more than a bread, but not quite a cake. It's delicious and travels really well!
---
220

g

(1 3/4 cups) all purpose flour

1 tsp

baking soda

2 tsp

cinnamon

1/2 tsp

freshly ground nutmeg

1/4 tsp

ground cloves

3/4 tsp

salt

2

large eggs

150

g

(3/4 cup) granulated sugar

150

g

(3/4 cup) brown sugar

340

g

(1 1/2 cups) pumpkin puree

120

ml

(1/2 cup) vegetable oil (I used Pumpkin Oil) (affiliate link)

60

ml

(1/2 cup) buttermilk (or half and half, or milk)

1 tsp

vanilla

120

g

(2/3 cup) milk chocolate chips

150

g

(3/4 cup) butterscotch chips (affiliate link)
For the Cream Cheese Whipped Cream
4

oz

Cream Cheese (room temperature)

2 tablespoons

Maple Syrup or Castor Sugar

1

cups

Heavy Whipping Cream

1/2 teaspoon

vanilla
Lemon Zest
---
Instructions
Lower the oven rack to the lower third. Lowering your rack lets your bread bake without over browning the top. The recipe bakes a LONG time so extra care must be taken in terms of how you position the bread in the oven and how you protect the top.
Preheat oven to 350 Degree F°
Butter a 5×9 loaf pan. Tear a long piece of parchment paper so that the bottom and sides are covered with the paper. Leave enough hanging over both sides to make it easy to transfer your finished bread from the baking pan to serving dish. I also buttered the paper to make sure nothing sticks. Plus, butter.
In a large bowl whisk together the dry ingredients and the spices. Set aside.
In a mixer fitted with the paddle attachment add the eggs and beat on medium until sunny yellow.
Add the sugars and beat on medium until well incorporated.
Add the vanilla, pumpkin, oil and milk. Add each one and mix until well incorporated before adding the next ingredient. Allow this to mix on medium until well incorporated.
Fold in the dry ingredients, mixing until just incorporated. Lumps are ok at this stage.
Fold in the chocolate chips until just incorporated.
Pour batter into prepared pan.
Bake for about 30 minutes. At the 30 minute mark, tent the top of the bread with aluminum foil to keep it from over browning. Continue to bake. At the 55 minute mark, check the bread by inserting a toothpick in the center. If it comes out clean, your bread is done. If it's not clean, bake another 5 minutes. Check your bread in this manner every 5 minutes until the toothpick comes out clean. It's not exact, so stay close and watch your bread closely at this point.
When the bread is completely baked, remove it from the oven and allow it to cool on a wire rack completely IN THE PAN.
When cool, use the paper to lift the bread from the pan and place it on the serving dish or cutting board of your choice. This yummy delicious bread is fresh on the counter for 2 or 3 days or up to 10 days in the fridge. Store it in an airtight container.
For the Cream Cheese Whipped Cream:
Place the cream cheese and sugar (or maple syrup) in a large bowl. Beat until completely smooth. Scrape down the sides of the bowl.
Pour 1/2 of the cream into the cream cheese mixture. Beat until completely smooth. Scrape down the sides of the bowl. Repeat.
Add the lemon zest and vanilla and beat until smooth. Store in the refrigerator until ready to use.
If you want the cream cheese whipped cream to be soft, make sure to take out of the refrigerator for about 15 minutes and give it a good whisk before serving.
---
Notes
If you have a pot luck event, this is a perfect dish to take! Unlike a cake or cupcakes, it's not going to get ruined on the drive over. You can bake this a day or two ahead and transport it in the baking dish. Lift it out of the dish and slice and serve it on your platter or cutting board when ready. No muss and no fuss!
Pattymac Makes
Quilter, Baker, Maker
I love figuring out new ways to use pom poms, where I can stash more fabric, and I'm always wondering what to bake next…chocolate or lemon? When not dreaming up new things to make (or bake), I love riding my beach cruiser on the Boardwalk, escaping to mid week movie matinees, and planting new things in my tiny but mighty container garden.