Mason Jar Breakfast Parfait
Meet a delicious and healthy Mason Jar Fruit on the Bottom Yogurt, better known as a breakfast parfait.
As we approach the end of January, I know we have all had our fill of seeing people posting the weekly meal prep photos. Frankly, I wonder how that 5 day old baked chicken is tasting by Friday….but no one ever tells you that. It seems to me the veg would nothing but mush and the chicken must have that odd "too long in the fridge" taste it always gets the day after. So 5 days later is something I can scarcely consider.
Lovely readers, this is how I do meal prep:
---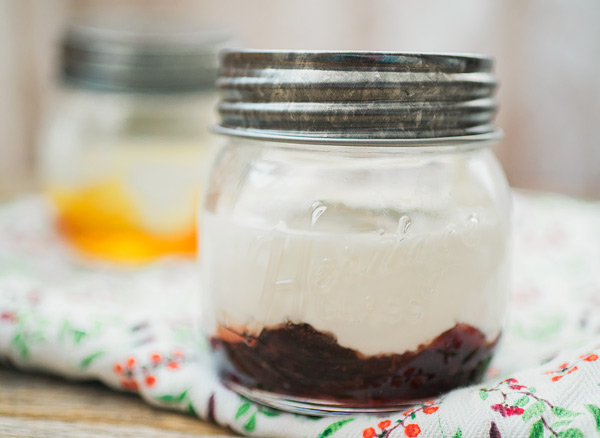 ---
Its every bit as pretty as it is delicious! And you will love the ease of this recipe.
I call this my DIY Fruit on the Bottom Mason Jar Yogurt. It's absolutely lovely to eye, and I think that makes it even more fun to pull out of the lunch box!
I came up with this simple make ahead snack because I don't really like the way the fruit on the bottom yogurt cups taste. They are generally too sweet and the fruit is never very good. It always has a strange, artificial taste. So I wondered about making my own. Of course, it had to be pretty…..so I found these adorable vintage looking mason jars in Michaels and bought a few to try out.
---
---
If you saw my last recipe sharing my take on a healthy turkey sandwich, then you already know that Grandma Hoerner's sent me products to try out. This Seedless Raspberry Preserves jar is the first thing they sent me to try out, and I absolutely love it! I cannot wait to try out more of their items. This is technically a "sponsored post" because they sent me the jam to try out and share with you. But I would buy this in a heartbeat if they weren't sending me anymore. It's very good.
---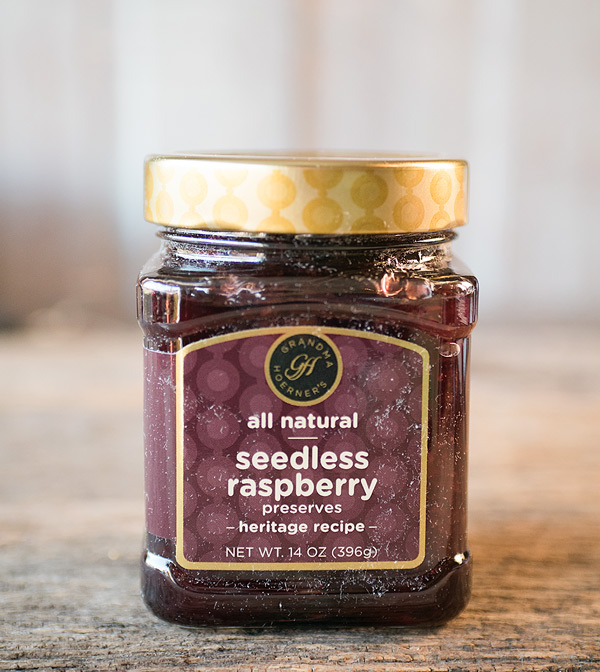 ---
I am so pleased with this easy to make recipe, and I'm sure you will love it as well! I like it, because I can buy the large tubs of yogurt which are more cost effective than the ready made minis. I can measure out my yogurt serving and know exactly what I'm getting instead of rushing to glop a serving in a bowl when I'm half asleep in the morning. I can measure the preserves and know exactly how much sugar I'm consuming. I may not follow super strict diets, but I do like to keep count of some things.
---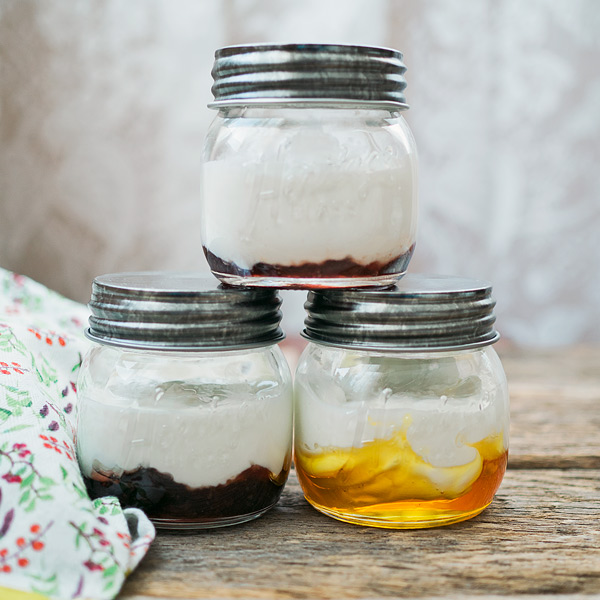 ---
Because of my love of baking, I have to be super mindful about how much sugar I consume else where in life, and it can really sneak in if your are not careful.
I made up my prepped jars on a Sunday, and I've had them all week long to try out, and packing one of these with a fancy turkey sandwich takes that bag lunch to new levels.
Whether you are in the office grind or whether you work at home like me, lunch breaks are precious commodities in our day, and should be enjoyed and savored. And we should consume healthy food to keep us humming along the rest of the day.
---
---
My new favorite yogurt is Iclelandic yogurt. Oh my. It's wonderful! We have a new Lidl that has opened nearby and they carry the best Icelandic yogurt ever. It's very high in protein and extremely low in sugar. So a little bit of jam goes a long way with this creamy treat. Experiment with your favorite yogurt, but if you love Greek, you will adore Icelandic.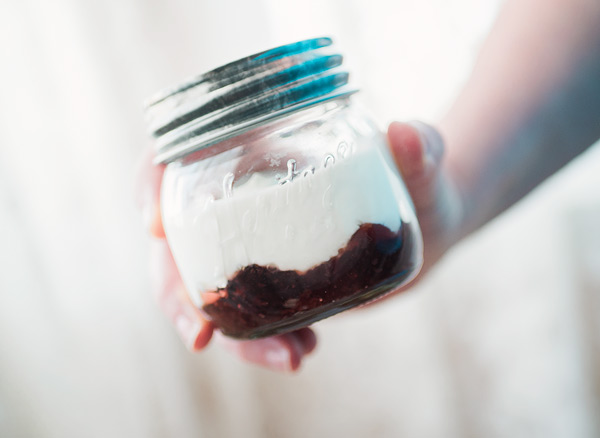 ---
You can add some granola on top or not. I know a lot of us are watching grains so I leave the topping as an optional item. I found this yummy enough to enjoy on it's own!
---
Print Mason Jar Breakfast Parfait
Author:

PattyMac

Prep Time:

5

Total Time:

5 minutes

Yield:

6

1

x

Category:

Breakfast

Method:

No Bake

Cuisine:

American
---
Description
Meal prep just became a lot sweeter with this delicious make ahead fruit on bottom mason jar yogurt.
---
1

–

3

tsp fruit preserves

1/2

–

3/4

cup yogurt
---
Instructions
Spoon the preserves or jam into the bottom of the mason jar (or whatever container you choose)
Spoon the yogurt on top.
Seal the top and keep refrigerated until use.
---
Notes
The fruit preserves are to your personal taste. I found using a product like Grandma Hoerner's I actually wanted and needed less, because the flavor is so good. You don't need as much as you might want with an artificial product.
Experiment with yogurt to discover your favorite. I'm having a moment with Icelandic yogurt so that's what I used. It's very high in protein and very low in sugar. So if you have this yogurt with a tsp of jam, you have a very high protein snack with very little sugar. And it's so creamy, it feels like a treat.
This is so good, I can recommend this as your night time sweet fix. Instead of reaching for ice cream, consider one of these prepped mason jar yogurts!
Granola and oats are optional. I'm watching grains so I didn't add them, but they would be delicious, I'm sure.
I also made a version with honey on the bottom as my fruit option and it was fabulous. If you can obtain locally sourced honey, this with fresh squeezed citrus would be a powerful immune booster.
---

---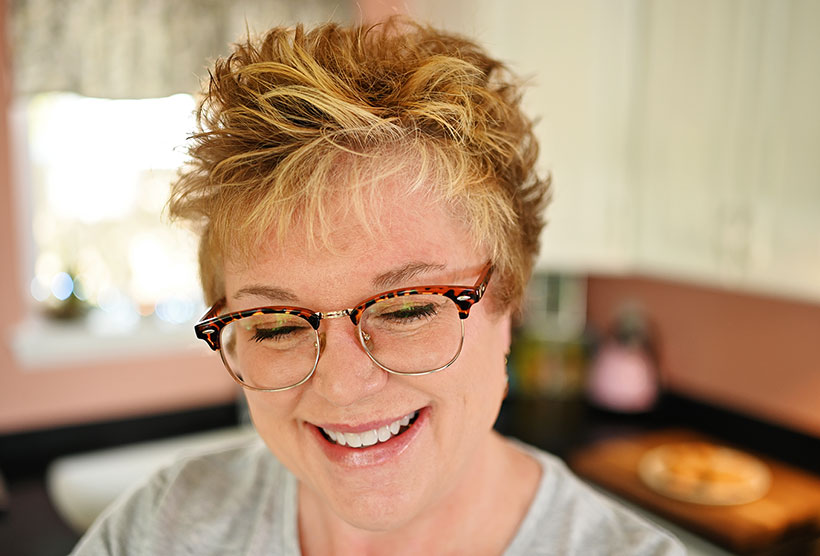 Hi there, I'm Patty.
Sewist, Baker, Maker
I love figuring out new ways to use pom poms, where I can stash more fabric, and I'm always wondering what to bake next…chocolate or lemon? When not dreaming up new things to make (or bake), I love riding my beach cruiser on the Boardwalk, escaping to mid week movie matinees, and planting new things in my tiny but mighty container garden.