Cheesecake in a jar is a fun individual dessert. No baking involved and the entire dessert takes around 30 minutes to make. What's not to love?
Is it hard to make Cheesecake in a Jar? Not at all! You need a few familiar ingredients and a few cute jars. Individual desserts are the perfect treat to keep in the fridge, and this mini mason jar dessert will soon become everyone's favorite mid afternoon snack.
---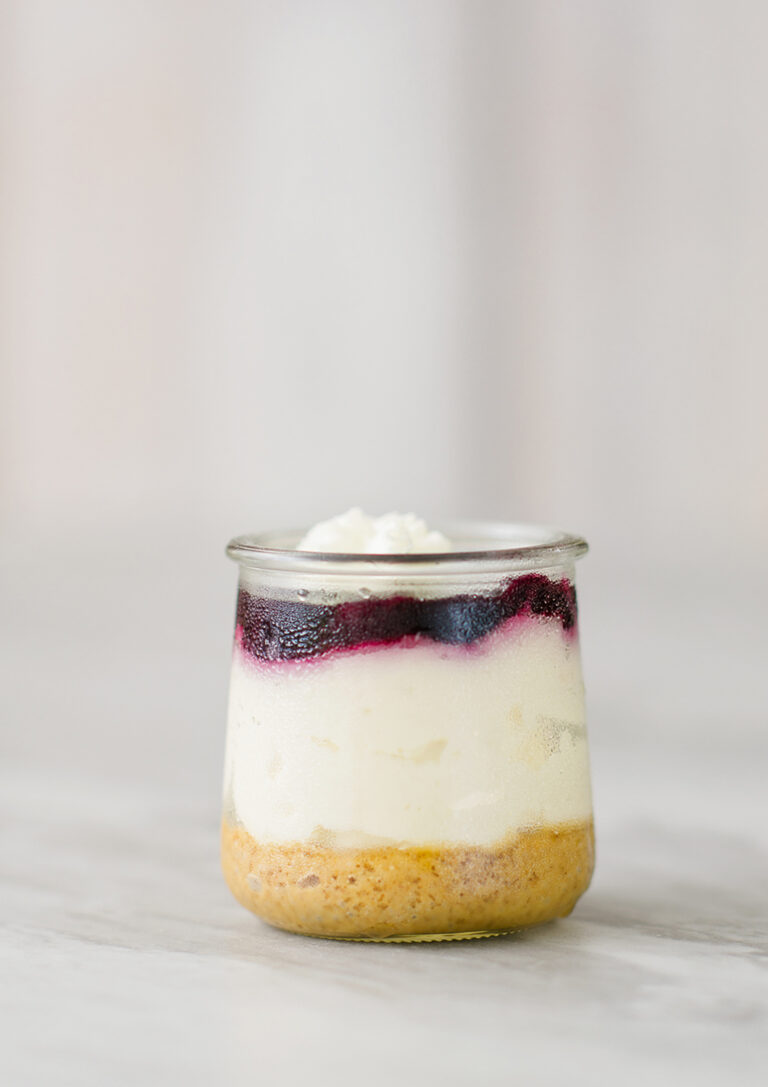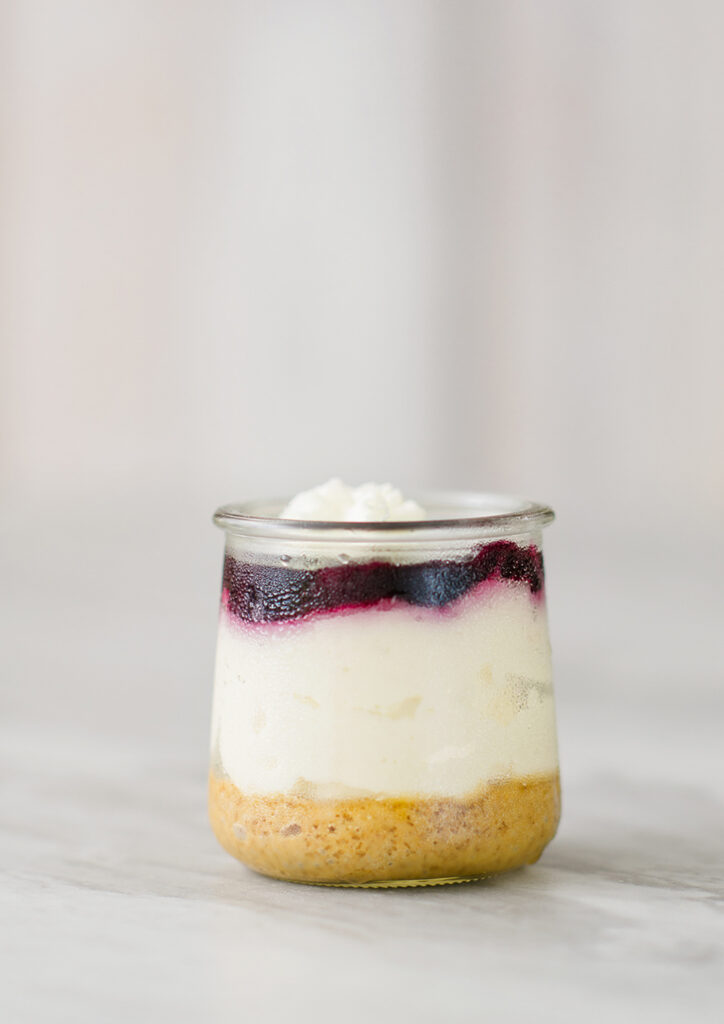 ---
Why You'll Love Cheesecake in a Jar
Let's discuss the elephant in the room. Cheesecakes can be difficult to get right. They can also be a challenge to bake. Water bath is not exactly a phrase most bakers like to hear. Let's fix that.
Today's Cheesecake in a Jar is a not only cute, it's a NO BAKE dessert. No water bath required.
Also,no eggs. Without eggs and baking, this version of cheesecake is is basically impossible to mess up. You can't over bake it, and you don't have to worry about over whipping eggs. If you over whip the cream, it's still usable.
What else makes cheesecake in a jar a family favorite?
Looks special, but is easy to make.
Who doesn't love a creamy cheesecake filling?
Light on the kitchen tools, so no special pans required.
Ready in less than an hour.
Easy to personalize with toppings.
Uses repurposed jars.
Did I mention no baking?
---
---
They say we first eat with our eyes, so having a presentation that looks good and complements the food is important. Especially with a dessert where the whole point is creating something special. And so the jar itself becomes important in today's dessert.
What can I use for containers?
I used repurposed yogurt jars. I saved them from the Oui yogurts I enjoyed recently. The jars were too cute to toss in the recycling, so I kept them. Perfect for something like this.
Like most of us, you probably have a big mug collection. Even though you can't see the layers, a mug would work well to serve your individual cheesecakes.
Small mason jars are always great to have on hand. I personally think the smaller, 6 oz size is best for this application. I used special jars with lids to create beautiful mason jar yogurt parfait.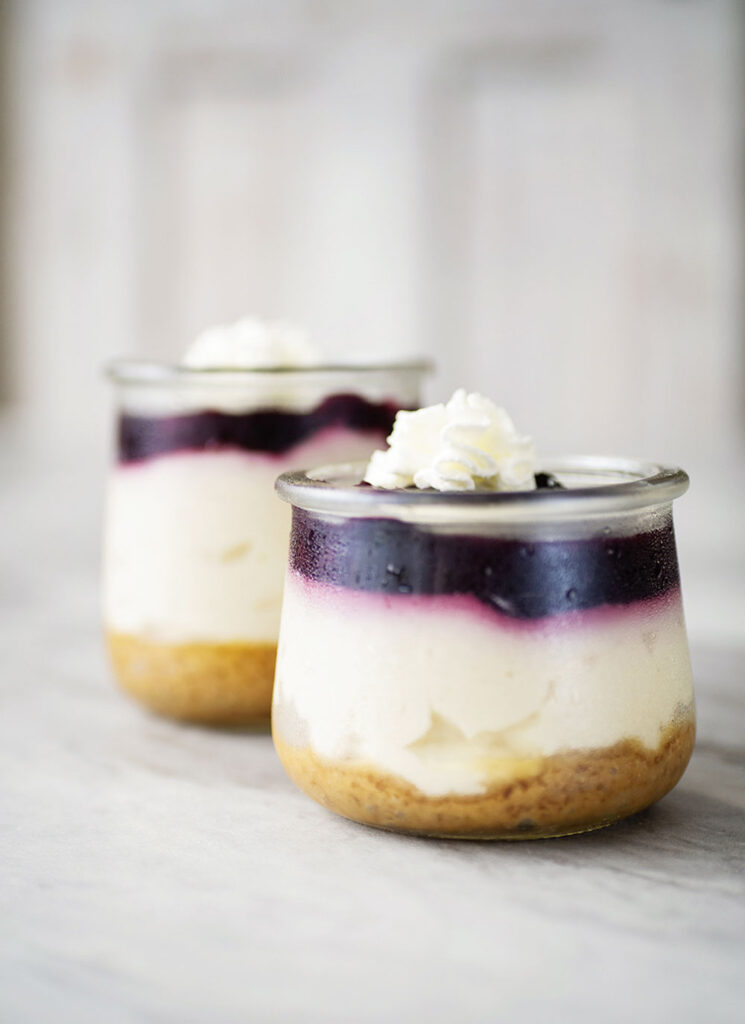 What makes up the layers?
Graham cracker crust
Cheesecake filling
Fruit topping
Whipped cream as an optional garnish

How do we make each layer?
Graham Cracker Crust: Because this is a no bake treat, simply pulverizing graham crackers and mixing them with butter is all we have to do. Make the crust and spoon a little into the jar as the first layer.
Cheesecake Filling: There are 2 parts to the cheesecake filling. The first step is to whip heavy cream into soft peaks. Basically, we are making whipped cream without sugar or flavor. Once the whipped cream is done, set it to the side and beat the remaining cheesecake filling ingredients together. Once the cream cheese, sour cream and sugar is well combined, fold in the whipped cream. Whipping the cream supplies the fluffy texture. Think of this as a cheesecake mousse. It's lighter than a traditional cheesecake, and that is thanks to the whipped cream.
The Topping: Let your imagination run wild! For the samples I made and photographed for today's recipe, I used a blueberry compote. Don't let the fancy term, compote, scare you off. It's nothing more than some cooked blueberries with sugar and lemon juice. It's kind of a simple jam. You could use actual jam if the compote scares you. Or a little whipped cream, or a dollop of Nutella, or a little lemon curd.
---
---
Cheesecake Ingredients:
Heavy Cream whipped into soft peaks.
Block Cream Cheese and this means full-fat block cream cheese, not a cream cheese spread.
Caster Sugar is a fine grained sugar, and dissolves easier into cream cheese. This is not an overly sweet dessert, so we don't need much. But you do need something to sweeten the middle layer.
Sour Cream imparts a tangy cheesecake flavor and ultra creamy texture. It's a great secret ingredient in all my cheesecake recipes.
Vanilla Extract adds flavor.
Fresh Lemon Juice adds a little brightness and slight flavor.
---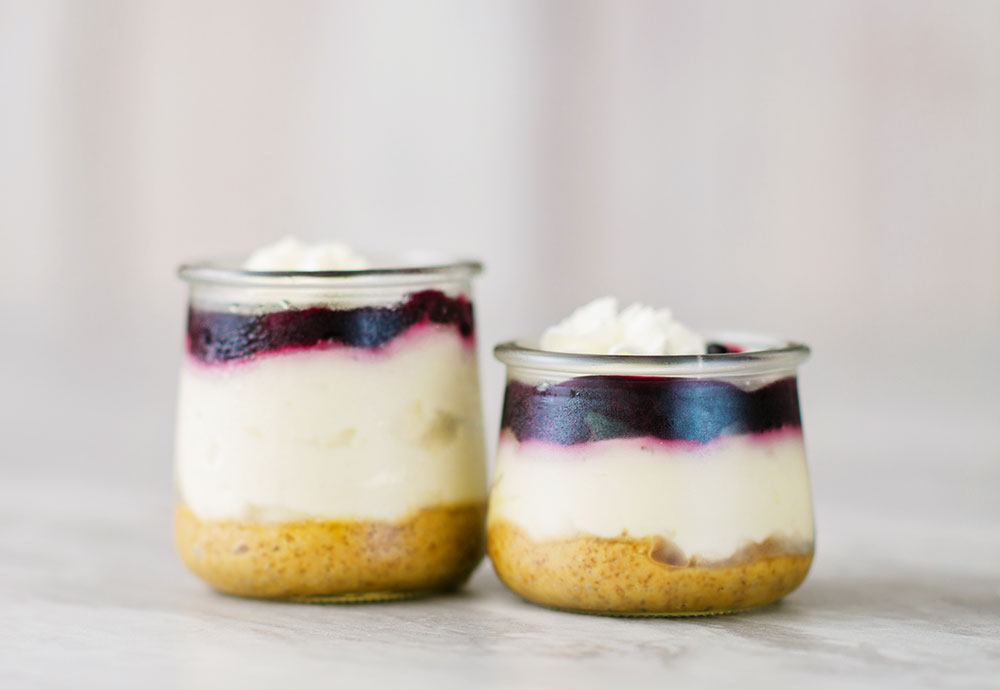 ---
Print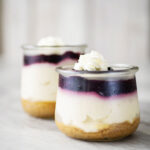 Cheesecake in a Jar
Author:

Patty McGuire

Prep Time:

20

Cook Time:

10

Total Time:

30 minutes

Yield:

8

1

x

Category:

dessert

Method:

no bake

Cuisine:

American
---
Description
Is it hard to make Cheesecake in a Jar? Not at all! You need a few familiar ingredients and cute jars. Individual desserts are the perfect treat to keep in the fridge, and this mini mason jar dessert will soon become everyone's favorite mid afternoon snack.
---
2 Tablespoons

(30g) unsalted melted butter or Coconut oil

1 cup

(100g) graham cracker crumbs (about

8 g

raham crackers)

1 pint

(480ml) heavy cream or heavy whipping cream, cold
one

8

-ounce block (224g) full-fat cream cheese, softened to room temperature (60-68 degrees)

1/3 cup

(65g) granulated sugar

2 Tablespoons

(30g) sour cream, at room temperature or Greek Yogurt

1 teaspoon

lemon juice

1/2 teaspoon

pure vanilla extract

Topping of your choice. I made a blueberry compote for mine.
For the fruit compote topping:
16 ounces

of berries. I used blueberries in this recipe.


1/2 cup

(50g) of caster sugar
juice of

half a

lemon

zest of the whole lemon

half a cup

of water

one

and a half tablespoons of corn starch
---
Instructions
For the graham cracker base:
Combine the melted butter (or coconut oil) with pulverized graham crackers in a food processor until combined. Crushing the graham crackers in a plastic bag also works well if you lack a food processor. Set aside
For the cheesecake filling:
Whip the whipping cream until soft peaks form. Set aside.

Combine the cream cheese, sour cream, caster sugar, vanilla, and lemon juice until smooth.

Fold in the the whipped cream with the cream cheese mixture until well combined.
For the Fruit Compote:
Dissolve the corn starch in the liquid ingredients (water and lemon juice).

Combine the liquids with dissolved corn starch and the sugar and berries in a heavy sauce pan. Cook on medium heat until everything incorporates. About 10 minutes.

Put into storage container and cool to room temperature.

Cover and refrigerate.

Use it in about a week.
To Assemble:
Spoon a tablespoon or two into the bottom of clean jar (or other small container of your choosing).
Carefully spoon (or pipe) in 2 or 3 tablespoons of cheesecake filling. Essentially, fill most of the jar with the cheesecake mixture.
Top with topping of your choice. In this case, blueberry compote.
Notes
The key to this recipe is in the presentation. Having neat, defined layers is what takes this recipe from ok to spectacular. The he tricky bit is with the cheesecake filling. It's easy to get it all over the glass inside the container when adding it, and it doesn't look as good if that layer isn't neatly finished.
We have a couple of options to address this issue:
You don't have to be concerned about it if presentation is not all that important to you. Serving a 5 year old is different that presenting something to you mother-in-law or a neighbor.
I used dampened paper towels to wipe excess cheesecake mixture from the inside of the glass before adding the blueberry topping. It gave me a crisp, clean line for those pretty layers you see in the pictures.
The cheesecake mixture can go into a piping bag and using a large, round tip pipe into the glass jar.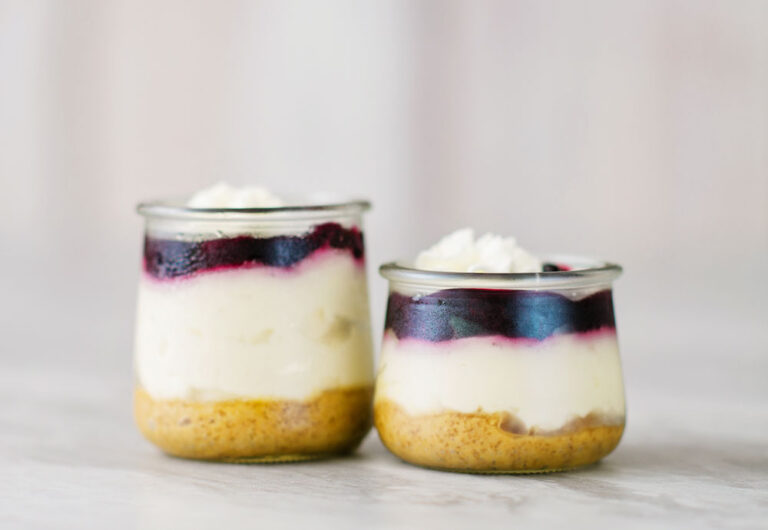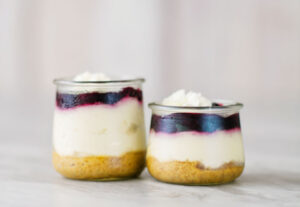 Keywords: Cheesecake in a jar
---

---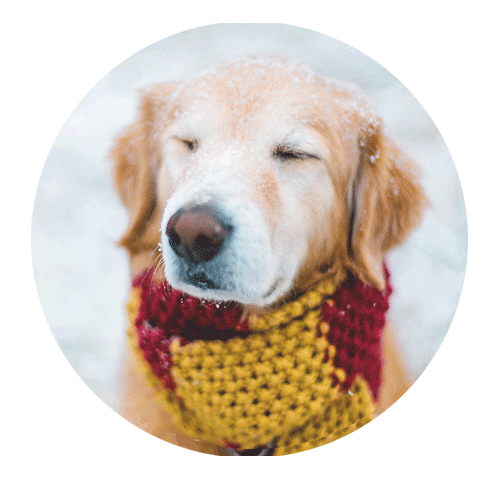 Hi! I'm Pattymac
Sewist, Baker, Maker
I'm a creative lifestyle blogger living and working in Coastal Virginia. When I'm not mixing or stitching or taking pictures, I'm out exploring the cook book section of my favorite library or munching my own home baked cookies at a mid week movie matinee.