Baking Christmas Hand Pies might sound complicated and involved. They look fancy and complicated, but are so easy your kids can make them.
It's the holiday season, and what do we most want in our lives right now? Besides that cruise to someplace warm….How about something yummy, easy to make, and looks beautiful. You want your home baked gifts to stand out and be appreciated. But you don't want to pull all nighters to make it happen.
To make your life easier, today I'm sharing my adorable Christmas hand pies.
---
---
I knew you would love this. So easy to customize and so easy to put together.
What do you need?
Cookie Cutters
Pastry Brush
Baking sheets
Fork
If you don't already have the pastry brush, now is a great time to pick it up and add to your baking collection. It makes a big difference in how the egg wash applies to the pastry, and once you've used it you will wonder why you waited so long. Kind of like learning to weigh your ingredients using a kitchen scale and getting away from using cups. Once you start, you will ponder what the big deal was and why you waited so long to try it.
What goes into this wonderful recipe?
---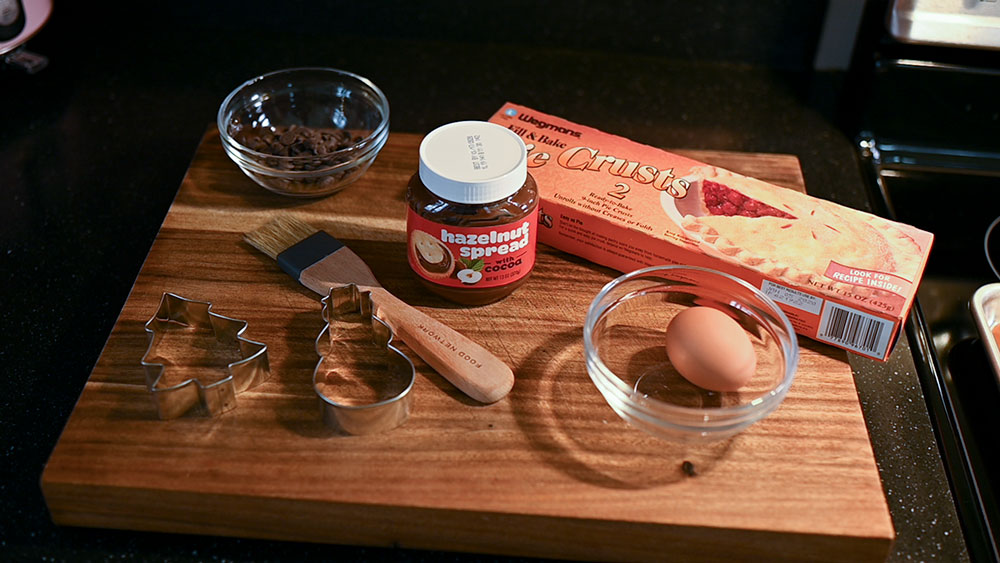 ---
Pretty much all you need is premade pie crust of your choice, a filling, some chocolate chips, an egg and some sanding sugar and sprinkles to finish it off.
Any cookie cutter shape will work, but I do suggest going with larger ones.
Bold is your friend when it comes to hand pies.
---
---
Literally we cut, stuff, crimp and bake. Brush on your egg wash, and sprinkle on the coarse sugar and sprinkles.
I know pies are generally kind of complicated, but these hand pies are super simple.
I actually think of them as next level Christmas cookies, because you can absolutely include them in your special cookie box gifts.
---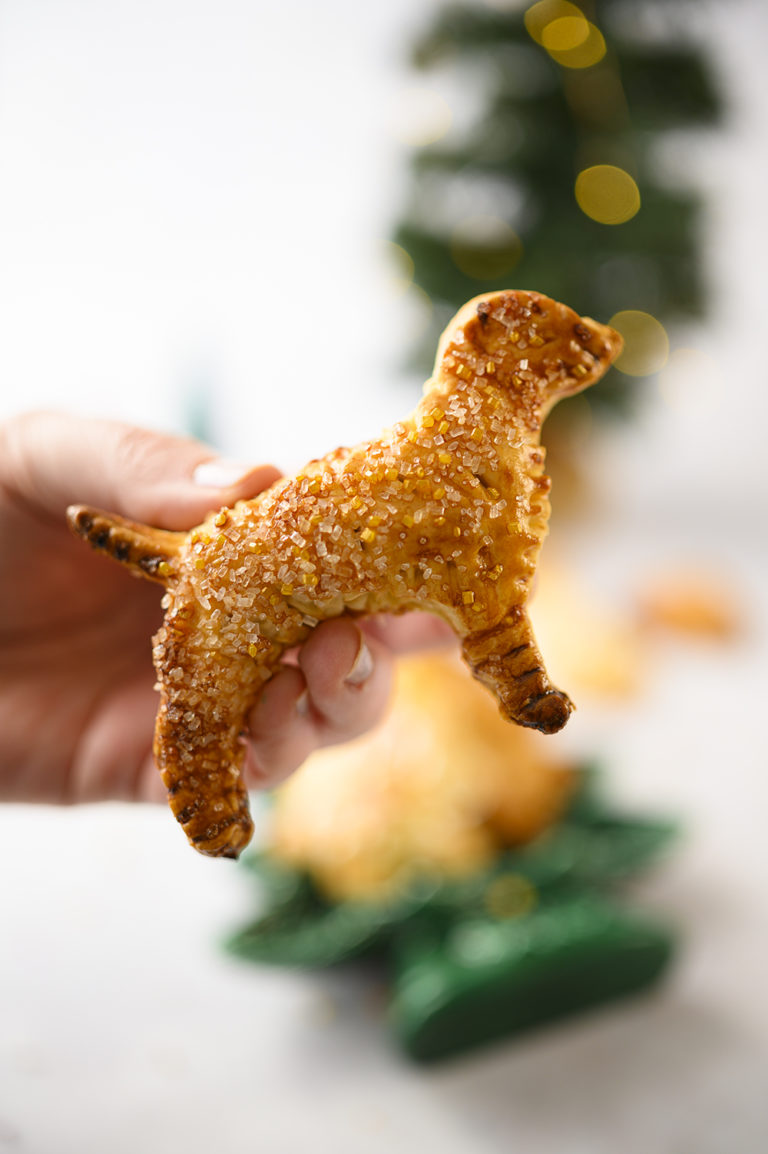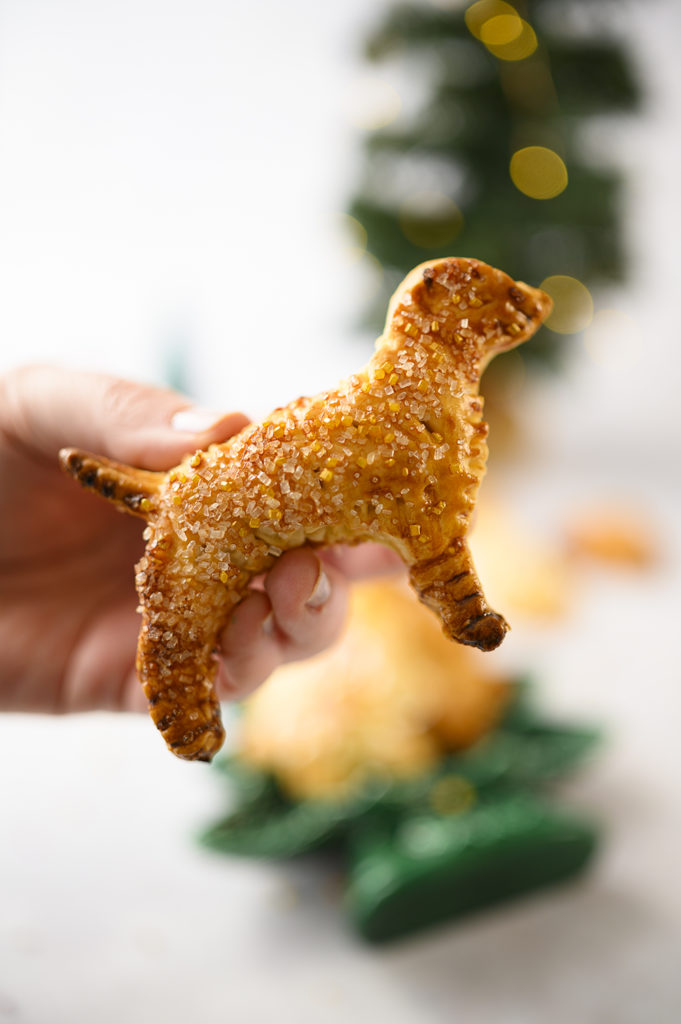 ---
I shared a very similar idea with you for Thanksgiving, and you could make them for Christmas, too! I always think of anything Harry Potter as a Christmas related thing, so Pumpkin Pasties in a Potter fan's gift bag will definitely earn you some serious house points. Trust me when I say, this is a very good thing.
---
---
This is a great recipe to get younger bakers into the kitchen with you.
They can pick out their own shapes and decorate with the sugar and sprinkles of their choosing. Which is much easier than decorating with royal icing. It's easy for you because there is very little mixing of ingredients.
It's a win win and I hope you enjoy making these delicious Christmas Hand Pies for your friends and family this year.
---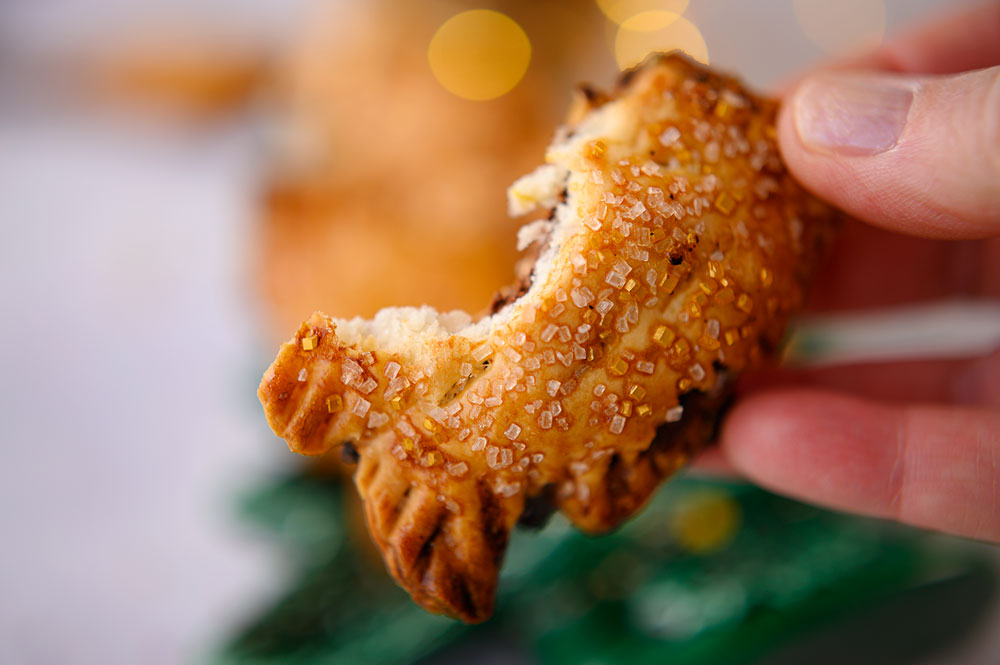 ---
Enjoy this step-by-step video on how to make these delicious Christmas Hand Pies start to finish.
---
---
Print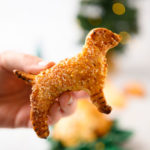 Christmas Hand Pies
Author:

Pattymac

Prep Time:

20

Cook Time:

15

Total Time:

35 minutes

Yield:

14

Category:

semi homemake

Method:

baking

Cuisine:

dessert
---
Description
Christmas hand pies with chocolate filling.
---
Box of Pie Dough (contains two rolls of pastry)
Jar of Chocolate Hazelnut spread
Chocolate chips
Egg
Sanding Sugar
Sprinkles
---
Instructions
Preheat your oven to the temperature recommended on the pie dough you are using.
Allow pie dough to sit at room temperature for about 15 minutes.
Unroll first package of dough, and cut as many shapes as possible. Transfer shapes to prepared baking sheet. You may reroll scraps to 1/8″ thickness and cut again. Rolling more than once will lead to tough pastry.
Spoon fillings onto pie dough leaving space for crimping edges.
Unroll second sheet of pastry and cut the same shapes.
Place second cut outs on top of the first ones now filled with filling.
Crimp all the way around using fork.
Brush lightly with beaten egg.
Sprinkle on sugar and/or sprinkles.
Cut small steam vents in the top layer with a small knife.
Bake according to package directions.
---
Notes
I found that the really big sprinkles did not do well in the oven, so stick to smaller ones. The sanding sugar held up really well. It looks pretty and gives a good crunch. There are so many great cookie cutters out there! Cookies are not just for Christmas so don't be afraid to buy them in shapes other than the usual holiday themed varieties.
Keywords: Christmas Hand Pies, Easy Christmas cookies, Christmas baking

---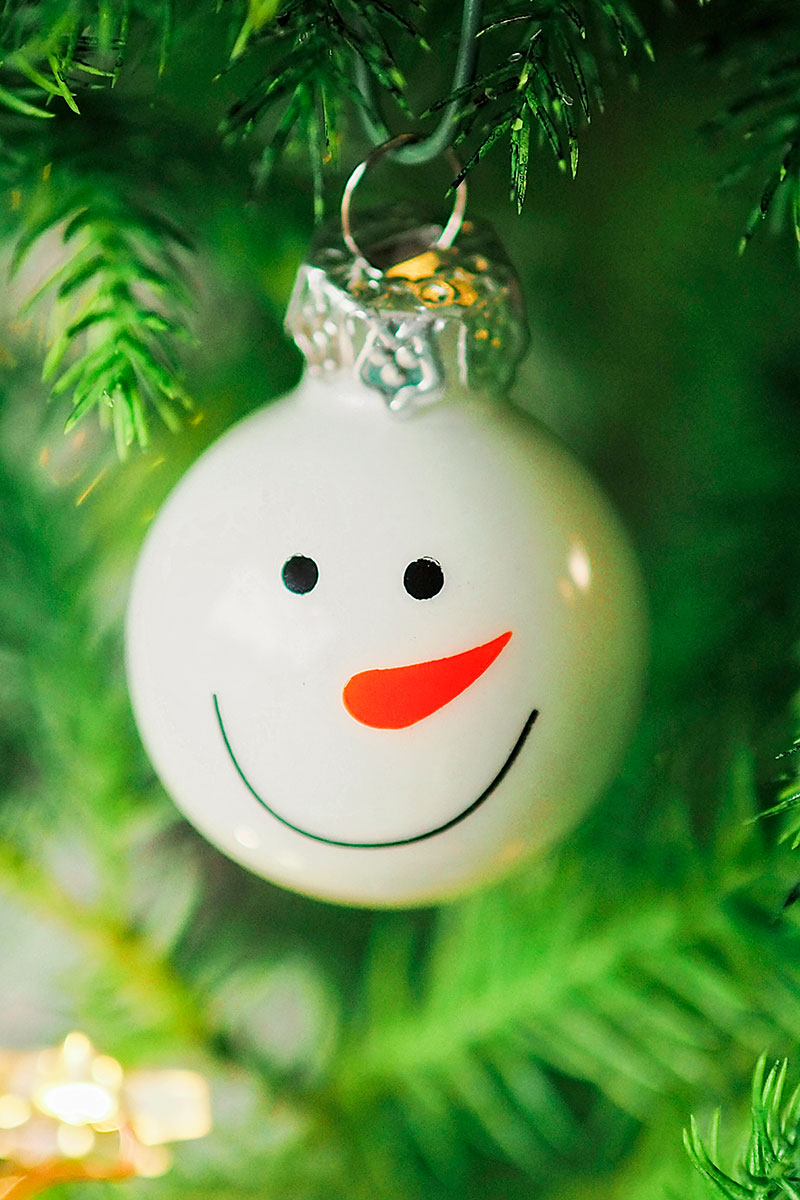 Hi there, I'm Patty.
Sewist, Baker, Maker
I love figuring out new ways to use pom poms, where I can stash more fabric, and I'm always wondering what to bake next…chocolate or lemon? When not dreaming up new things to make (or bake), I love riding my beach cruiser on the Boardwalk, escaping to mid week movie matinees, and planting new things in my tiny but mighty container garden.