This post has affiliate links to products I use and love. If you buy something I can make a small commission, so thanks in advance. 🙂
Finding a really good yet easy strawberry cake recipe is not as simple as you might believe. Strawberry is a fan favorite for summer, but infusing that tangy, sweet berry flavor into a cake proved a bit challenging.
I love a good cake mix hack, so when I started researching and trying out strawberry cake recipes, I started there. To be honest, it wasn't good. In fact, it was pretty awful. I tried the strawberry box cake mix as well as taking a really good vanilla cake mix and adding in strawberries. They were both absolutely terrible.
So I'm going to give you my honest opinion on this. If you want a good strawberry cake, you need to make it from scratch. You also want to cook the strawberries down to a jam like substance, only with less moisture.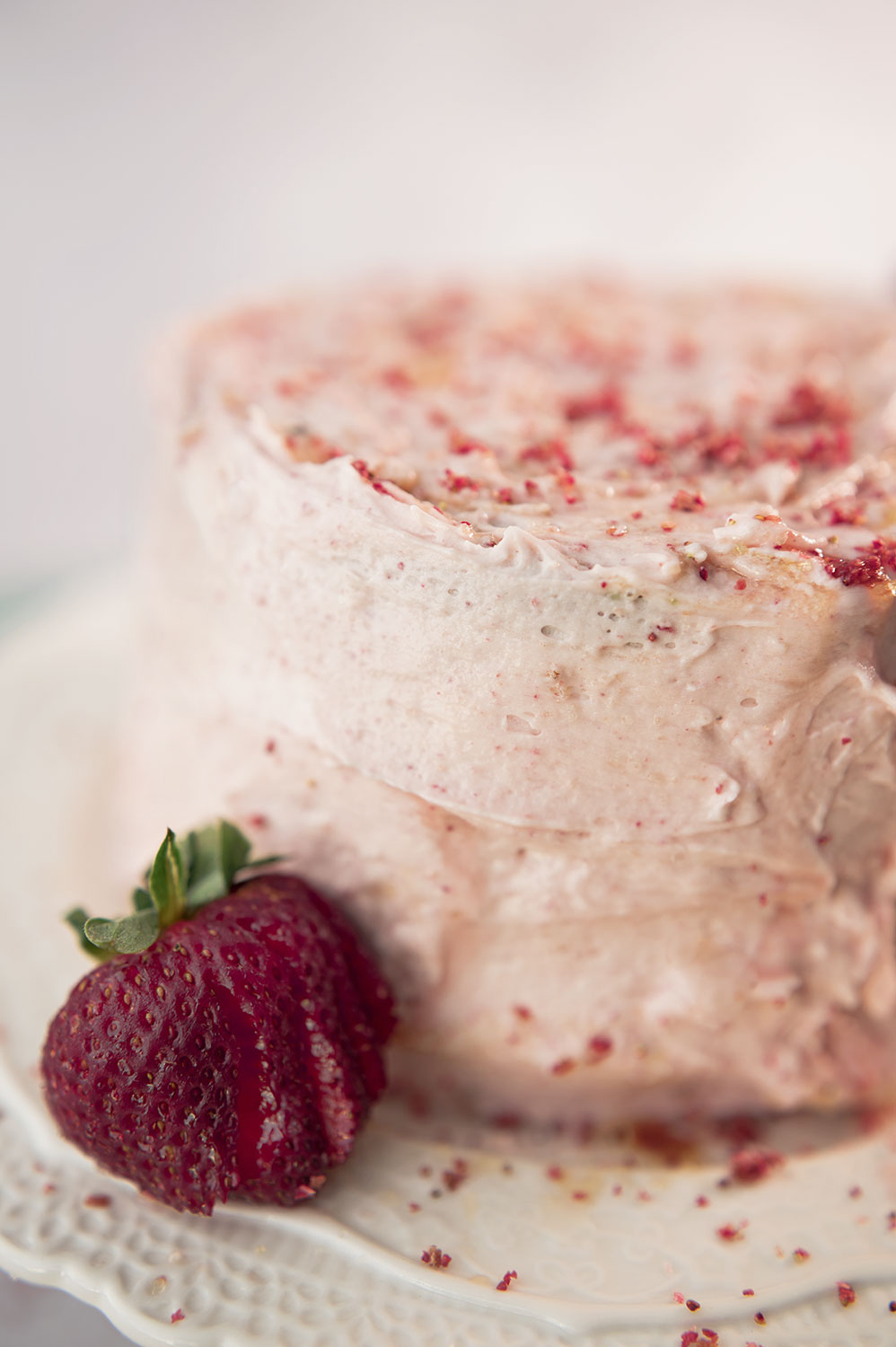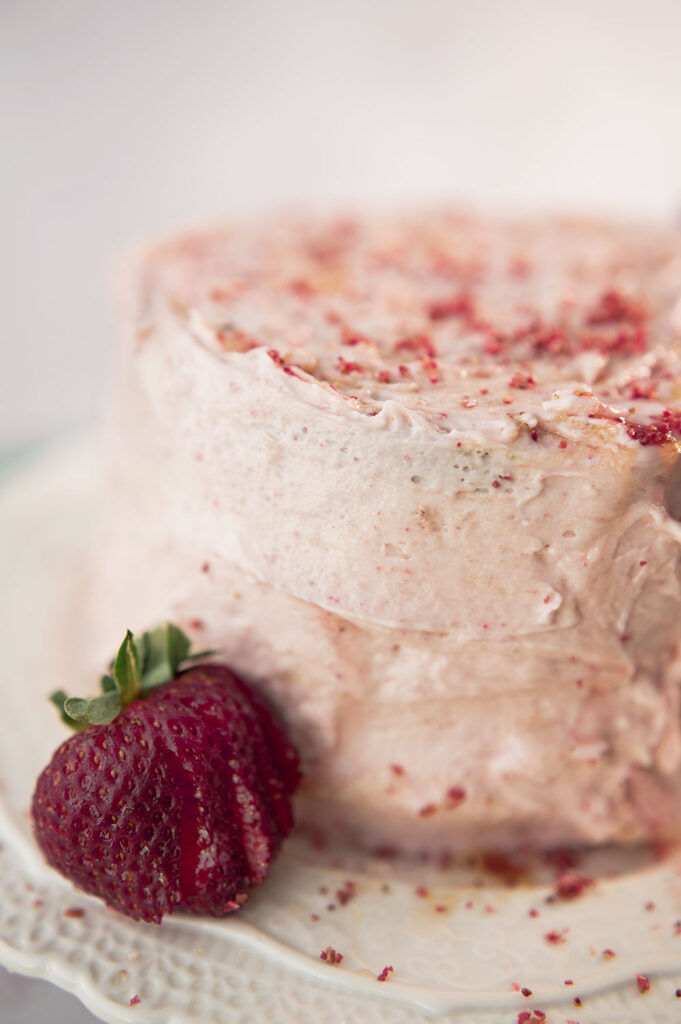 Time for some tough love. While today's cake is billed an easy strawberry cake, getting strawberry flavor into the cake part of this is pretty tough.
Ok, ok, ok….so if the raw fruit isn't going to work, what do we do? We cook the fruit, of course!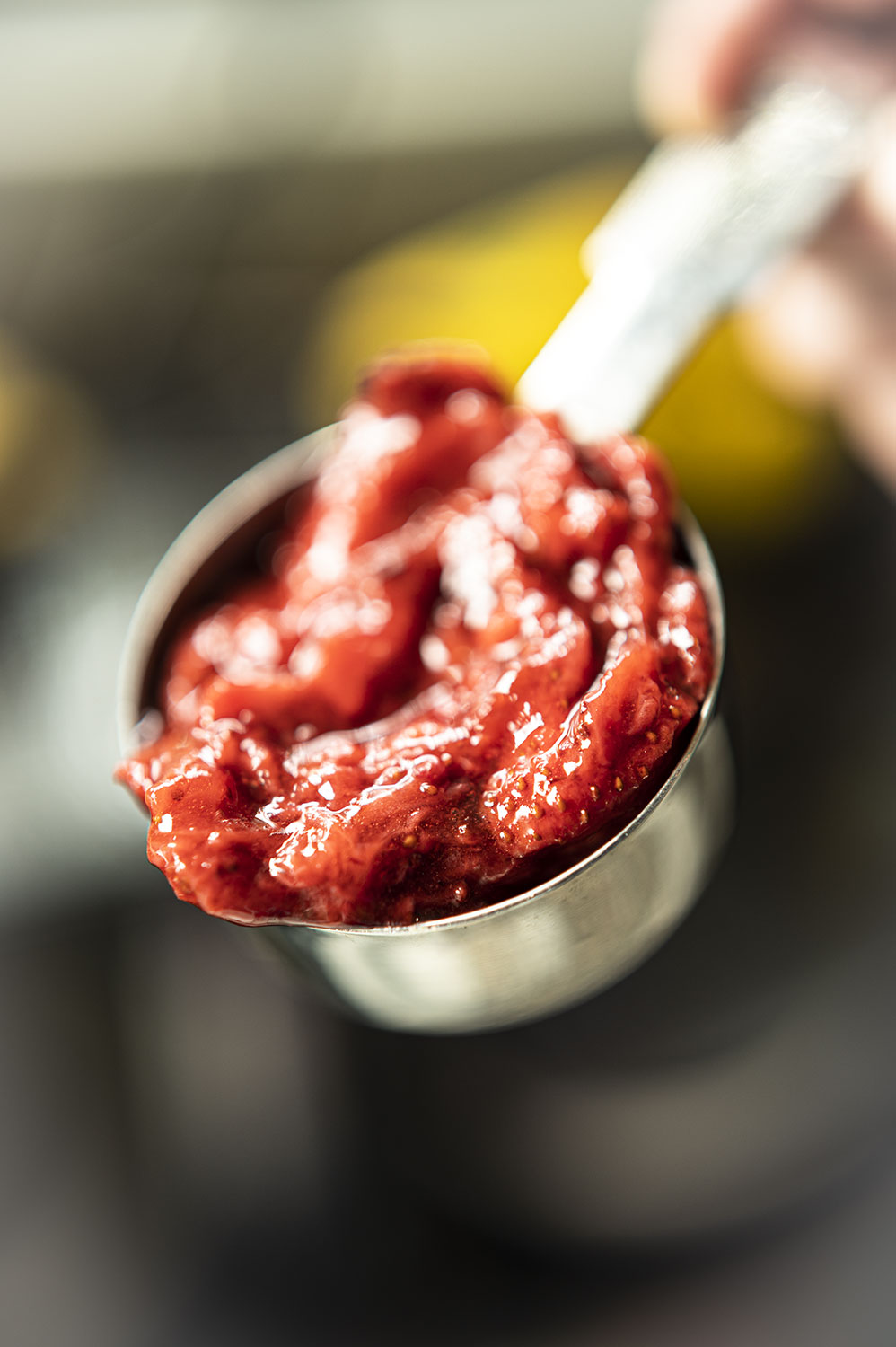 To prep the strawberry component of the cake, we cut the berries into smallish pieces and put them in a heavy sauce pan, cover them in sugar and cook them down.
Bring them to a light boil and allow the water to cook off. When the berries start breaking down, use a potato masher to break them into little bits. Don't cook on high heat, because they will burn. A medium low heat, cooking low and slow is the best way to craft your strawberry paste.
Mixing the Strawberry Cake Batter
This cake is essentially a vanilla cake with the strawberry paste we made in the last step. It imparts a lovely flavor and it colors the batter a pretty pink. You don't even need to use food coloring to get that pretty shade.
A couple of words on ingredients:

Let's show some love for small cakes.
I have a small family and find that dessert recipes are generally written for a platoon of people. Or a family with a couple of teenagers. I don't have either, so I often size my cake recipes down. I developed today's strawberry cake for 2 6″ cakes.
I love 6″ cakes! The pans are from Wilton and easy to find in a craft store on the cake aisle or on amazon. Today's recipe uses two 6″ pans. If I bake a full sized cake recipe, then 3 6″ pans work wonderfully. A 3 layer cake looks impressive, and is perfect for a special party or celebration.
The icing on the cake
A strawberry cake would not be complete without a rich Strawberry Frosting.
Tips for decorating the cake:
Print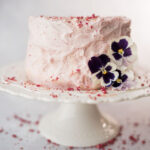 Easy Strawberry Cake
Author:

Patty McGuire

Prep Time:

30

Cook Time:

25

Total Time:

55 minutes

Yield:

6

1

x

Category:

Dessert

Method:

Baking

Cuisine:

American
---
Description
Strawberry cake and frosting flavored with real strawberries.
---
For the Cake:
1

and 1/2

cups

(190g) all purpose flour

1

and 1/2 teaspoons baking powder

1/4 teaspoon

baking soda

1/2 teaspoon

salt

1

stick, 1/2 cup, (

115g

) unsalted butter

1

and 1/4 (

230g

) super fine sugar

2

whole eggs

1/4

cup

(50g) sour cream

1 teaspoon

vanilla

1/3

cup

(80g) whole milk

1/4

cup

reduced strawberry sauce
For the Frosting:
1

cup

(10g) freeze dried strawberries

4

ounces

or

1/2

block

cream cheese

1/2

cup

,

1

stick

, (115g) unsalted butter

3

cups

(360g) powdered sugar

1

–

2

tablespoons milk

1 teaspoon

vanilla
Pinch of salt
For the Strawberry Sauce:
1

pint

of strawberries

1

cup

granulated sugar or enough to cover the sliced strawberries in the saucepan
Juice of

half a

lemon
---
Instructions
Make the Strawberry Sauce:
Core and slice the strawberries and place in medium sized, heavy sauce pan. Cover completely with granulated sugar.
Put heat on medium low and allow strawberries to bubble as they heat.
As the strawberries break down over the heat, use a manual potato masher to break down the strawberries and mix thoroughly with the sugar. As strawberries cook down, add the lemon juice.
Simmer the strawberries down for about 20 minutes.
Once thoroughly cooked down, allow the strawberries to cool down and then press the strawberries through a sieve. This separates the remaining liquid from the whole strawberry pieces. Use the solids in the cake recipe. Reserve the liquid for an ice cream topping or use with your breakfast yogurt or oatmeal.
Make the Cakes:
Preheat over to 350°F (177°C). Prepare cake pans with butter, flour and parchment.
Whisk flour, baking powder, baking soda and salt together. Set aside.
Using a mixer fitted with the paddle attachment, cream butter and sugar together until smooth, about 2 minutes. Sugar will be dissolved completely into the butter. While creaming, add the vanilla.
Scrape down the sides of bowl and add the eggs one at a time beating until completely incorporated.
On medium low speed, add the sour cream and mix until incorporated.
For the last ingredient additions, add the flour in 1/3 increments alternating with milk, with mixer on low. Mix only until ingredients are incorporated. Do not over mix.
Fold in the strawberry sauce until completely incorporated. Add a drop or two of food coloring if desired.
Pour batter evenly between the two prepared 6″ cake pans. Bake the cakes on the middle rack of the oven for 22-27 minutes. When a toothpick inserted in the center comes out clean, cakes are done. Allow cakes to cook on a wire rack.
When cakes are cooled, use a cake leveler to even the cakes and remove domes so cakes are flat and even.
Make the Frosting:
Using a food processor, pulverize the freeze dried strawberries. Once completely pulverized, run the powder through the sieve to separate strawberries from the seeds. Use the powder the in the frosting and reserve the seeds for decoration on the top of the cake if desired.
Cream room temperature frosting and butter together in mixer using the paddle attachment. Add the vanilla during the creaming process.
Add sifted powdered sugar and strawberry powder in two additions until the dry ingredients are incorporated. About 2 minutes. Add milk only to thin frosting to spreadable consistency.
Assemble and Decorate the Cake:
Level cakes with a cake leveler.
Place first layer on a plate and cover the top with frosting. Place the second layer on top and finish frost. Crumb coat if desired before finishing the final decoration. 
Once frosted garnish as desired. I sprinkled the strawberry seeds over the top and added a couple of flowers picked from my garden.
Any leftover cake should be kept in an airtight container and refrigerated.
Please see my complete instructions for decorating a layer cake if you desire more information on assembly and decoration.
---
Notes
OK, so this is a lot of steps. Believe me, I know. So do what I do which is split up the work. Bake the cakes, make the sauce and make the strawberry powder on one day. Then make the frosting and do the decorations and serving the next day. We see people cranking out layer cakes like it's nothing on Instagram, and it minimizes the time and effort that go into making the complete cake. Split your work up to make it easier for you to do. I have complete instructions of making and decorating layer cakes for home bakers.
I always pick up my freeze dried strawberries and raspberries when I'm in Trader Joe. Which is not often anymore, but they last well in pantry storage. If you can't get to a shop to find them, they are available here.
Other cake options:
Make cupcakes by filling your wrappers about 2/3s full and bake for about 20 minutes.
Frosting: Cream cheese frosting is on the looser side so it doesn't pipe well. It simply won't hold it's shape well enough to justify piping decorative frosting. So if you want to pipe frosting, as you would do with cupcakes, use my Raspberry buttercream frosting and sub in the dried strawberries.
If you want a 9×13 cake or full sized 9″ layers, double the recipe.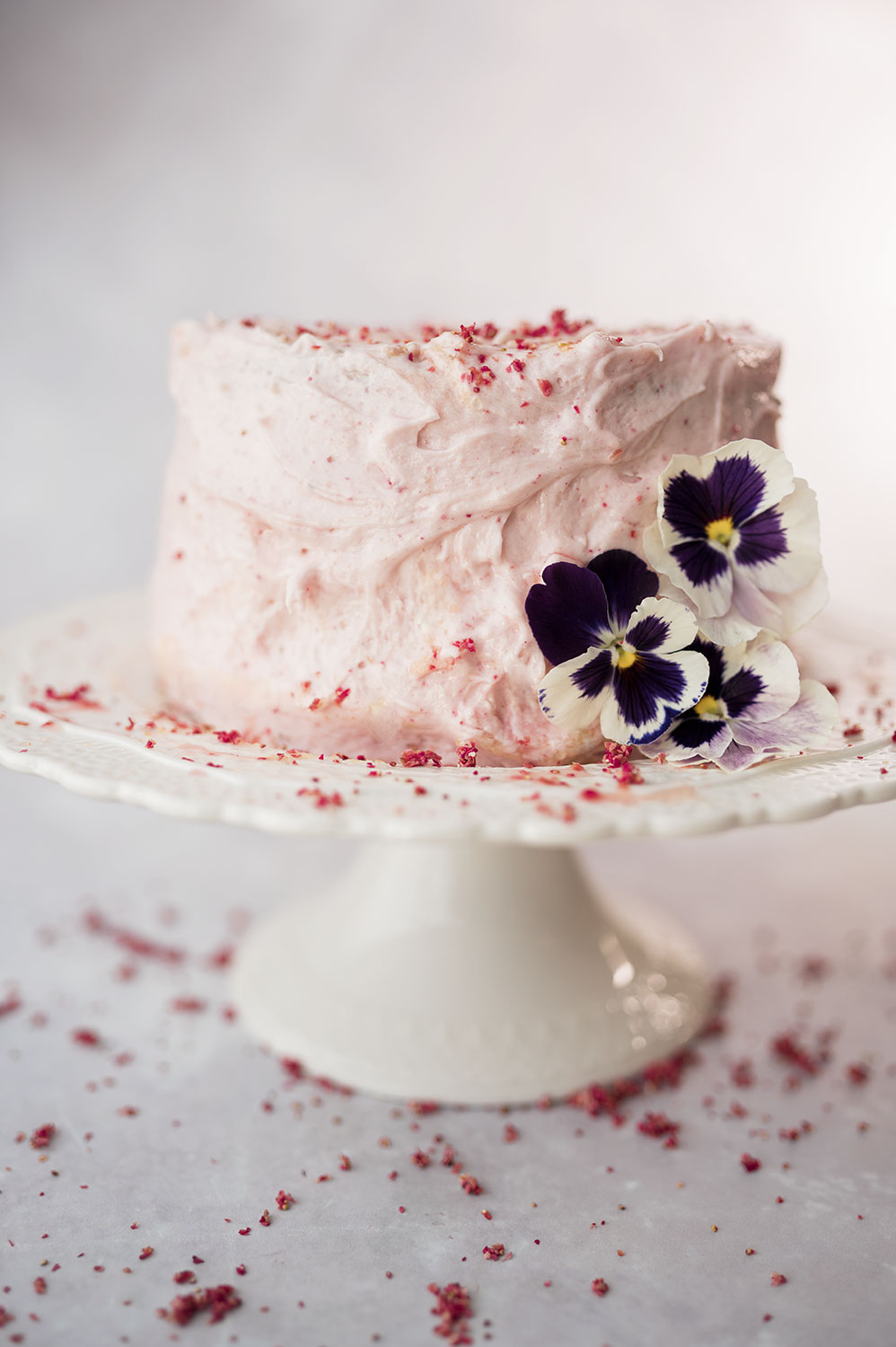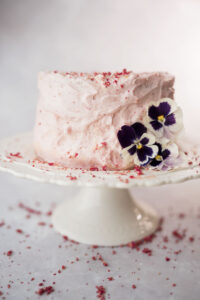 Adapted from Sally's Baking Addiction. I love Sally!
Keywords: Easy Strawberry Cake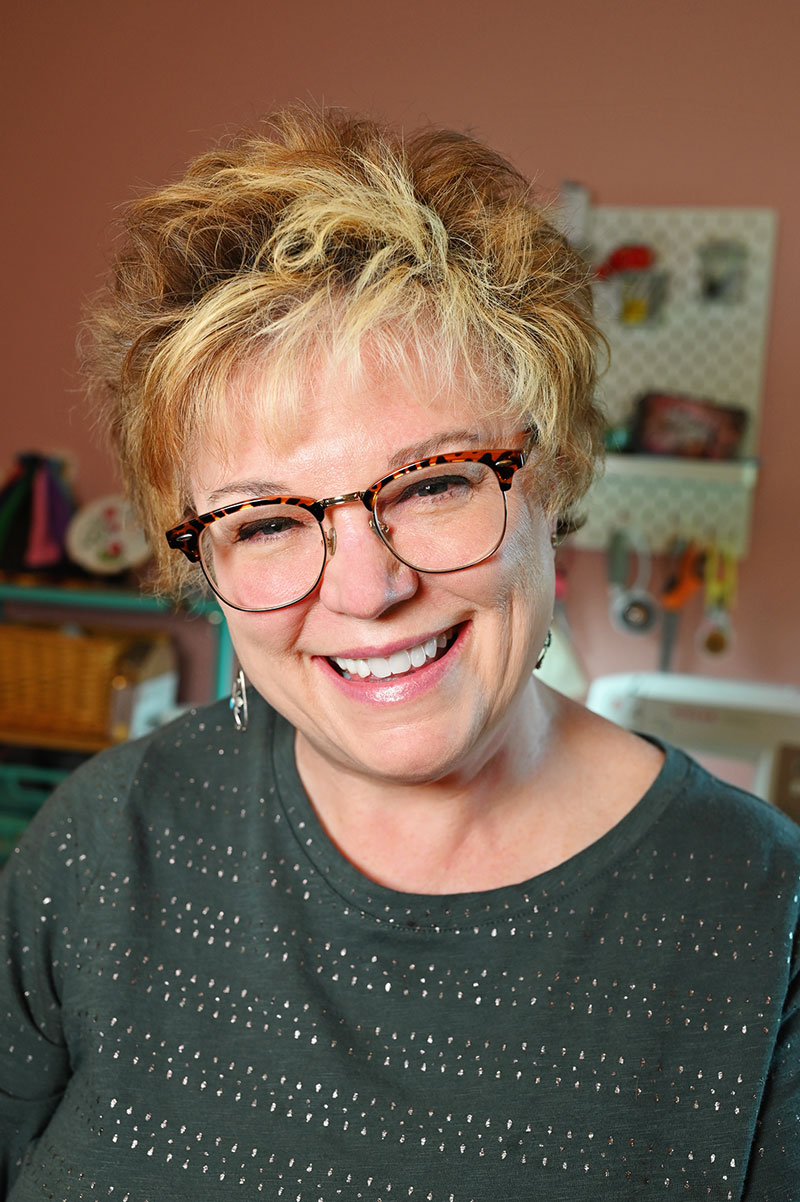 Hi! I'm Pattymac

Sewist, Baker, Maker

I'm a creative lifestyle blogger living and working in Coastal Virginia. When I'm not mixing or stitching or taking pictures, I'm out exploring the cook book section of my favorite library or munching my own home baked cookies at a mid week movie matinee.