Jelly Roll Baby Quilt Pattern
This post has affiliate links to products I use and love. If you buy something I can make a small commission, so thanks in advance. 🙂
A jelly roll baby quilt pattern is perfect as a weekend project and can be used as a decorative throw, a small picnic quilt, a throw for a beloved pet, as well as a quilt for a baby.
Today's project combines two of my favorite things: precuts and a small quilt. Allow me to share this lovely jelly roll baby quilt pattern which is perfect for a beginner as well as a more experienced quilter.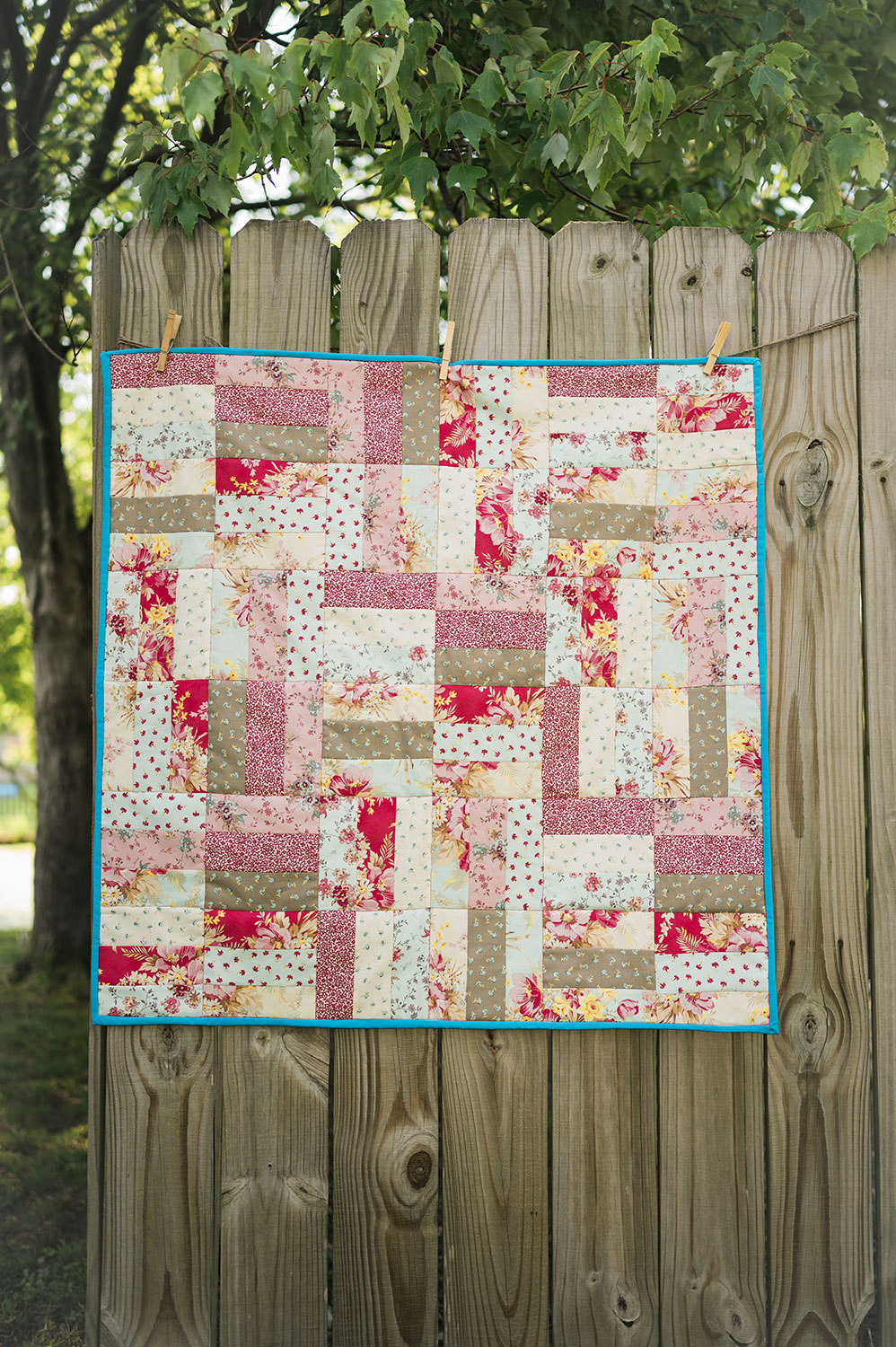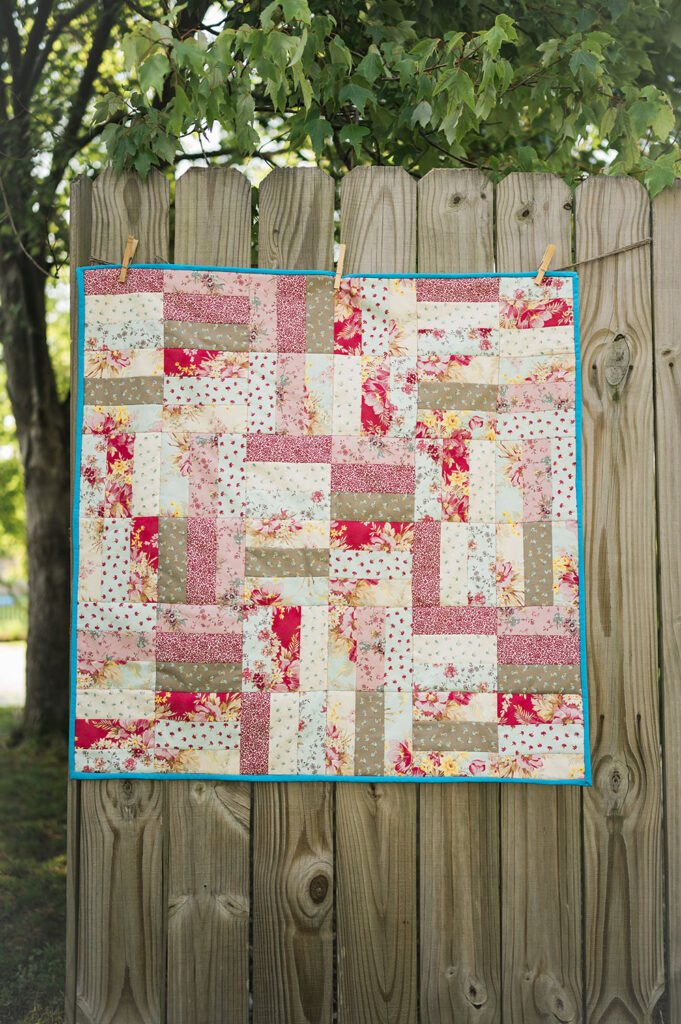 Today's project is from Kimberly of Fat Quarter Shop, and it's called the Jelly Roll Jam Quilt.
Though it may look somewhat complicated, the quilt is in essence constructed from 9 patchwork blocks. Because the quilt is made from pre cuts, the fun is mixing and matching the strips.

What is a jelly roll in quilting?
Even though it sounds like something to be served with a high tea, a jelly roll is a type of precut used in quilting. A jelly roll is a bundle of 2.5″ strips of precut quilt fabric, featuring an array of coordinating fabric from a designer's collection. The cutting is done for you, so the fun is in mixing and matching the colors and prints. Because a jelly roll is all from a singular collection, everything in the package will beautifully coordinate.
Why use a Jelly Roll?
The big benefit in using a jelly roll is that the strips are already cut.
A jelly roll contains at least one cut of each fabric in a collection. If a design collection has fewer prints, the package will have more than one cut of the same fabric. A full jelly roll contains 40 strips of fabric cut on WOF (width of fabric) which is at 42″. So doing the math, a collection with 20 prints will have 2 cuts of each fabric design.
Jelly rolls are convenient to use and are a great way to get a small selection of a complete line of fabric.
There are also solid color jelly rolls available which are fantastic to use for sashing and binding.
There are a lot of patterns available made specifically for use with a jelly rolls including the one in today's project.
---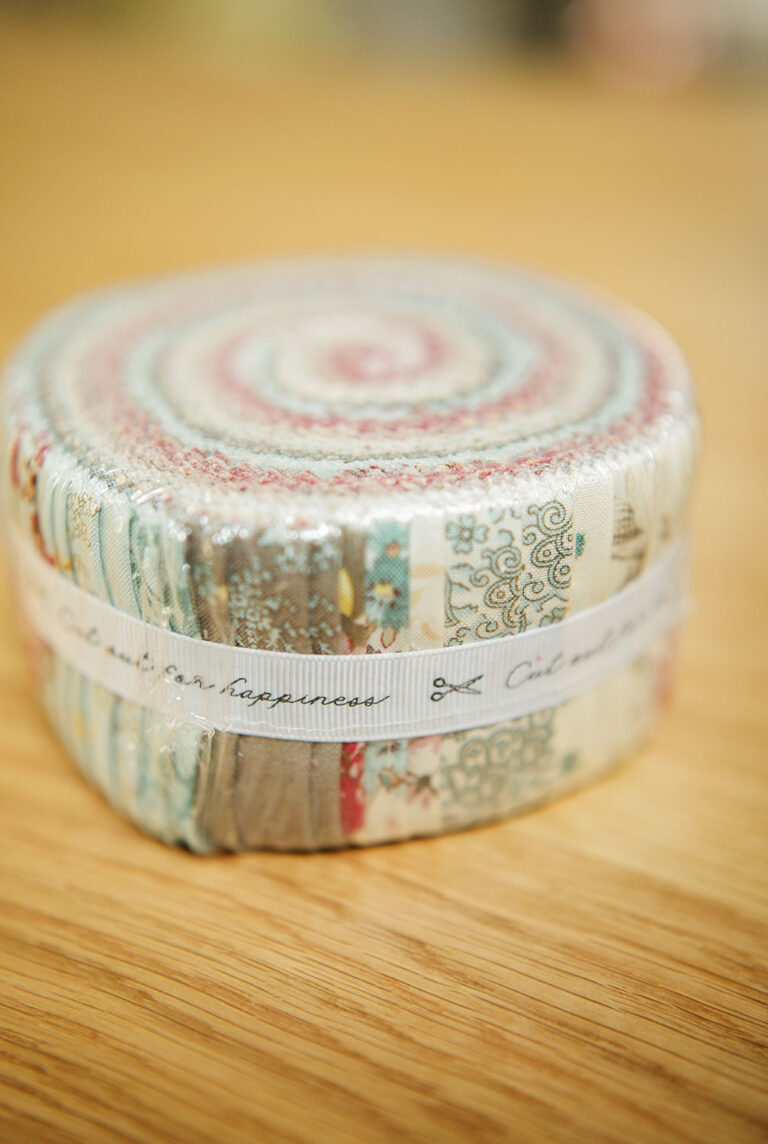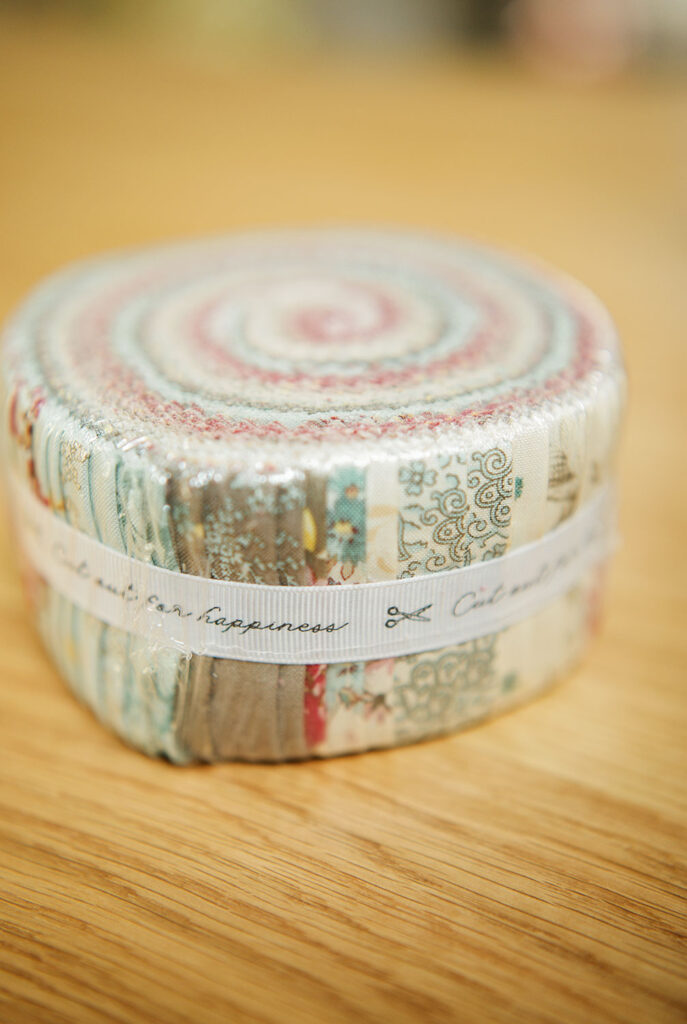 A jelly roll comes packaged like this. All the strips are wrapped around each other to form a pretty roll.
---
Today's jelly roll baby quilt pattern is formed by sewing strip sets, and then subcutting the strips sets to size.
What's a Strip Set?
It's a term used for piecing two or more strips together in long strips that are then cut down to the size needed in the pattern. Cutting to the required size is also known as sub cutting. We used strip sets in my Patriotic Place mats pattern which is another fun and easy weekend project.
Strip set piecing sounds easy? Right? Well yes and no.
Here are a couple of tips for getting the best result when piecing your strip sets.
If you are cutting your own strips, be sure you are cutting on the straight of grain and that the fabric is perfectly lined up and flat.
When piecing, a 1/4″ seam allowance is critical. Take your time sewing strips together and make sure you are getting that accurate seam allowance.
When sewing strip sets, alternate the direction you're feeding the strips through the machine. Changing the direction the fabric travels through the machine helps to keep the set straight.
Press seams to the dark side whenever possible. But in a larger set like today's, press the seams in one direction.
Be very careful pressing out long strips so as not to warp the fabric. It is very easy to warp a long strip set so taking your time in this stage to keep the seams straight and not stretched is very important.
Even if you warp your strips sets a little, don't flip. Careful sub cutting can generally alleviate the issues, but the straighter the better.
---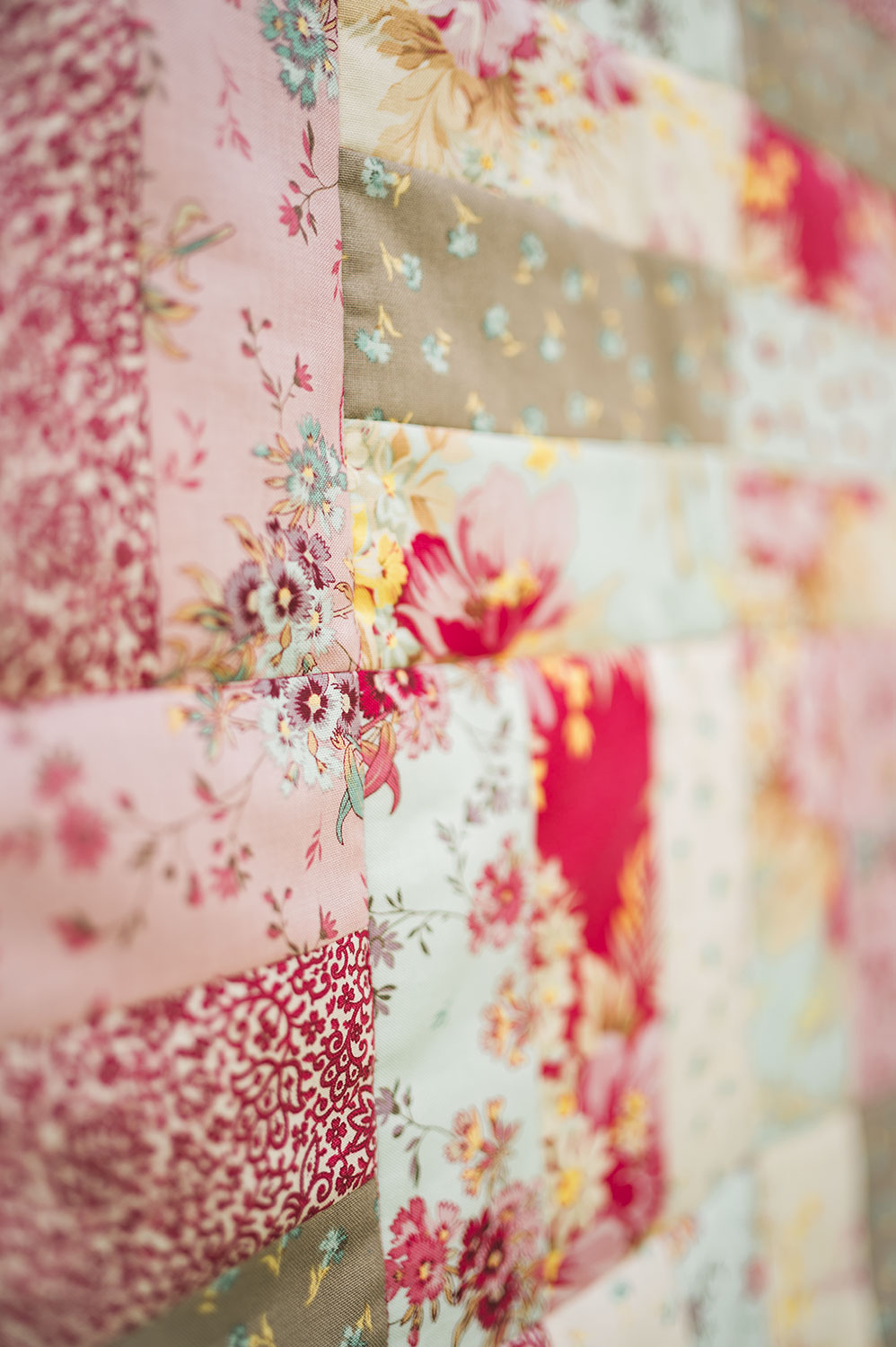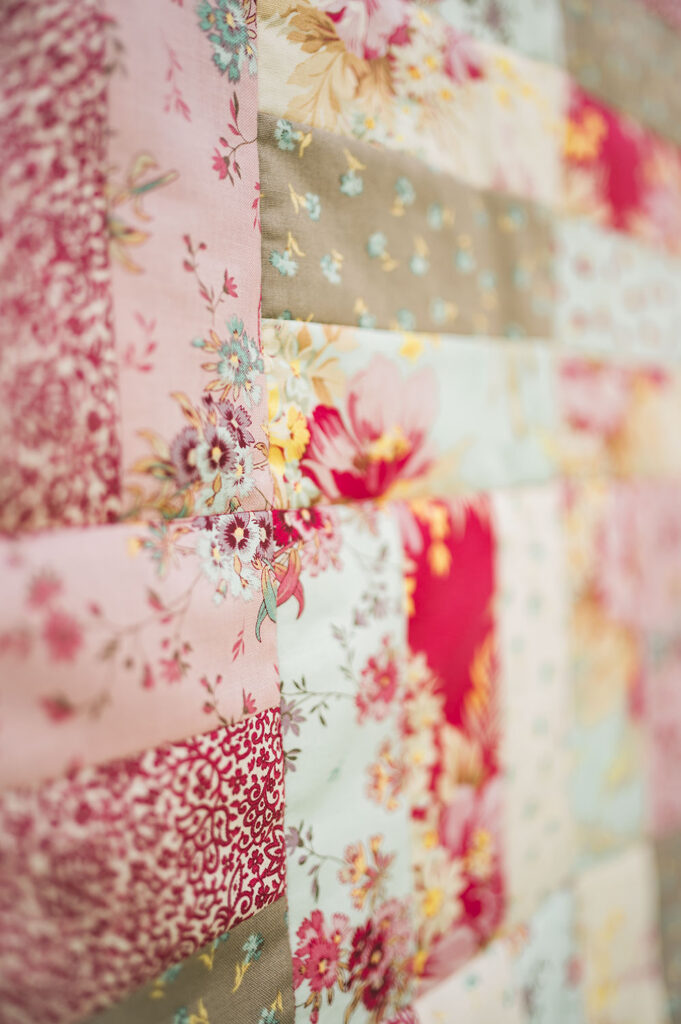 ---
Other fabric you'll need to complete the Jelly Roll Jam Quilt:
4 additional strips pieced together to form the quilt binding. I used a coordinating solid from my stash, but you could also use strips from the same jelly roll joined together to create a scrappy looking binding.
Quilt batting: I used standard 80/20 polyester medium loft batting.
Backing fabric: The fabric on the back of your quilt can be a coordinating fabric from the same collection as your jelly roll. The finished quilt measures 36″ x 36″ so the back will take about a yard and a quarter of yardage.
To save money in my quilting hobby, I've started using old sheets as my backing fabric. Unless you are making your quilt for a special gift, I have found the older sheets or even a less expensive muslin bought on sale to be a thrifty alternative to fancy quilt yardage. It's the perfect solution for smaller quilts like wall hangings, table runners, or decorative door quilts. If nobody really sees the back, they why use expensive fabric? I started using old sheets I found during a big decluttering session as a way to help me save a little money on the projects I sew for the blog, but I have come to really like this method.
---
---
How do we piece this easy jelly roll baby quilt pattern?
First select 18 strips and place them into 3 sets of 6 strips.
Piece 3 strips sets each containing 6 strips.
Once careful pressed, subcut each set into 6.5″ sections. You should get 6 from each strip set.
Placing these into piles, match blocks from one pile with blocks in another. Piece them together.
In essence, you will piece 9 patchwork blocks that will form the quilt top.
How to finish the project?
You can quilt this piece however you desire. Be as fancy or as minimal as you desire.
I prefer stitch in the ditch as I'm fairly minimal in my quilting approach. So I simply used my walking foot to quilt stitch in the ditch following the outline of the smaller subcut units. This created 36 smaller blocks on the back of my quilt, and I thought it did a nice job showcasing the quilt top.
Start in the center of the quilt and work your way to one edge and then the other.
---
---
Enjoy Kimberly's free pattern for this fun quilt! While you're on the Fat Quarter website, have a look around at all of her lovely jelly rolls. While I am an affiliate of Fat Quarter Shop, meaning I receive a small commission when you use my links or the banner in the side bar, it costs you nothing extra, but it helps me to maintain the cost of having the website. So thank you for using my provided links when you purchase from FQS.
I host weekend make alongs where as a group we complete one of these cute quilts in just a couple of days. Be sure you sign up for my email list so you are notified the next time it rolls around! Here is the free printable pdf that guides the steps for constructing and completing this quilt in a weekend.
Enjoy Kimberly's tutorial for the project which she designed.
---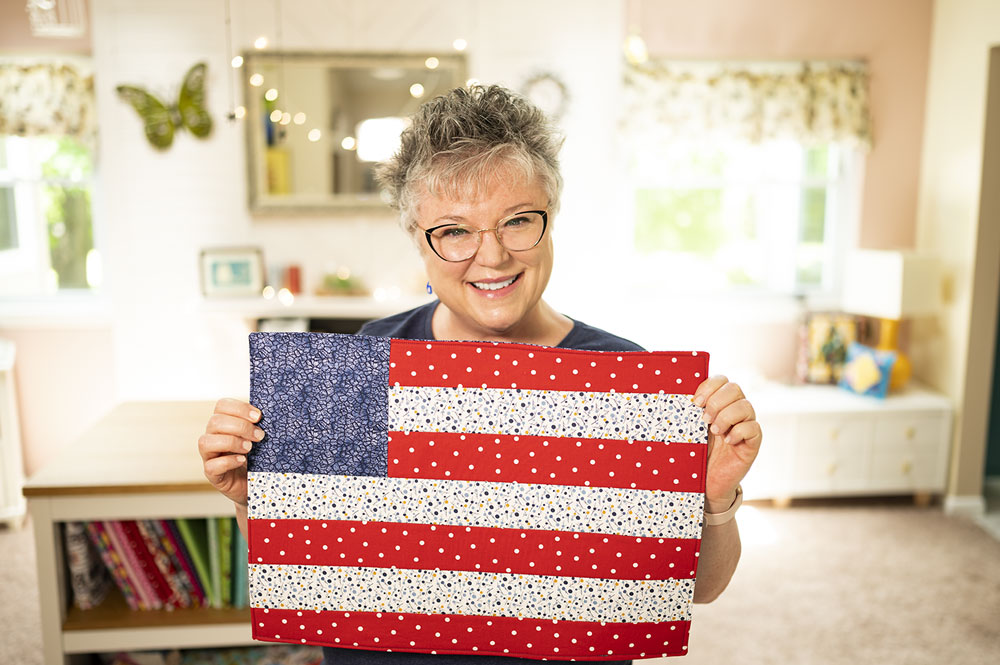 Hi! I'm Patty.
Sewist, Maker, Baker
I'm a creative lifestyle blogger living and working in Coastal Virginia. When I'm not mixing or stitching or taking pictures, I'm out exploring the cook book section of my favorite library or munching my own home baked cookies at a mid week movie matinee.