Strawberry Frozen Yogurt with only 4 ingredients? Yes please. A Perfect summer recipe!
Living in the south, my city, Virginia Beach, is a very popular resort location. We are inundated with 100s of 1000s of visitors every summer who come for the narrow strip of trucked in , carefully placed sandy beach. People save all year to spend a few precious days walking up and down our concrete boardwalk. And while this touristy stuff is all well and good, it's the 3rd biggest economic driver in our city that I am mostly interested in.
I'm all about the local agriculture, and right now we are in high strawberry season. It seemed like the perfect time to share my 4 ingredient Homemade Strawberry Frozen Yogurt Recipe with you.
---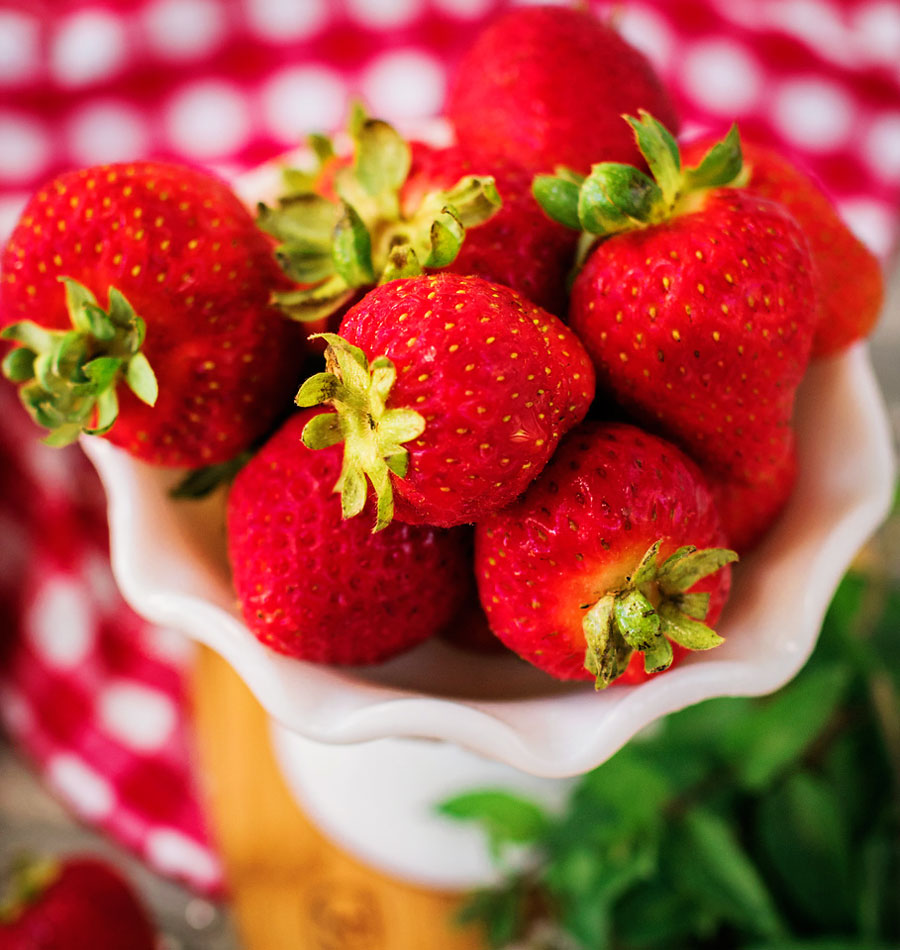 ---
Strawberries are such a big crop here that we have an annual festival dedicated to our love for them. It's called the Pungo Strawberry Festival, and it's about 8 miles from my home. Even though I live in the middle of town, in 15 short minutes, I can be transported to farming countryside. We call that area Pungo, and I love Pungo far more than the artificial beach the city builds out every year to keep the tourists happy as the burn their skin to the match the bright red shade of a plump, perfectly ripe strawberry.
Virginia Beach is a Suburban City Filled With Farm Stands Featuring Beautiful, Locally Grown Produce. We Have Strawberry Fields Full Of Pick Your Own Berries located On Real Working, Family Owned Farms.

---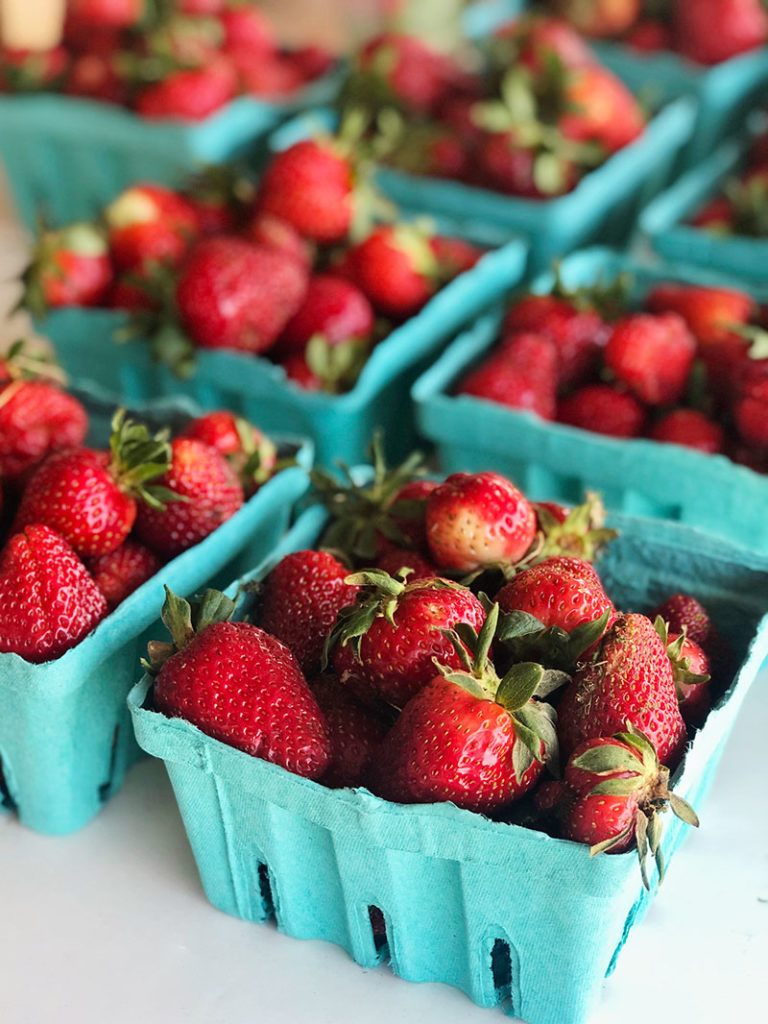 ---
In most cities, they are blessed to have a farmer's market on Saturday morning. Here, we have at least one that is open 7 days a week all year long, and several every weekend. We have numerous road side stands that are wonderful small markets featuring produce grown here and regionally. They open in April and close as Thanksgiving nears. But right now, everybody is open, and it's all about the strawberries!
If you can obtain farm grown, sunshine ripened strawberries for this recipe, then by all means, get thee to the farm stand! There is nothing like true farm to table produce, and if you are half as blessed in that respect as I am, use locally grown strawberries.
It's Hard To Believe That Something This Simple To Prepare Could Be So Delectable.
---
---
I highly recommend an ice cream maker to churn the mix. You could follow the instructions people have posted about making no churn ice cream, but WHY WOULD YOU DO THAT? Really. Just buy the ice cream maker already. You'll wonder why you waited so long.
---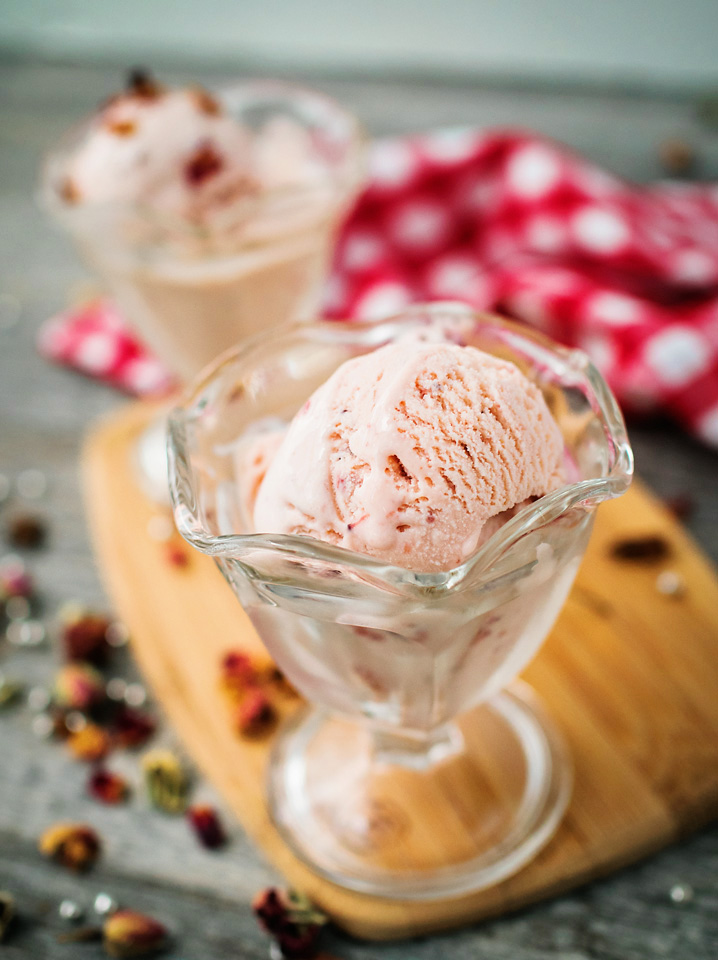 ---
This recipe has 4 ingredients. Yeah. You heard me right. Four ingredients. (5 if you go with the optional ingredient)
Here's What You Need To Make This Ah-Mazing Strawberry Frozen Yogurt.
Roasted Strawberries (directions below)
Greek Yogurt
Sweetened Condensed Milk
Vanilla
Karo Light Corn Syrup (optional)
Seriously. Could it BE any easier? (say that in your best Chandler Bing voice)
---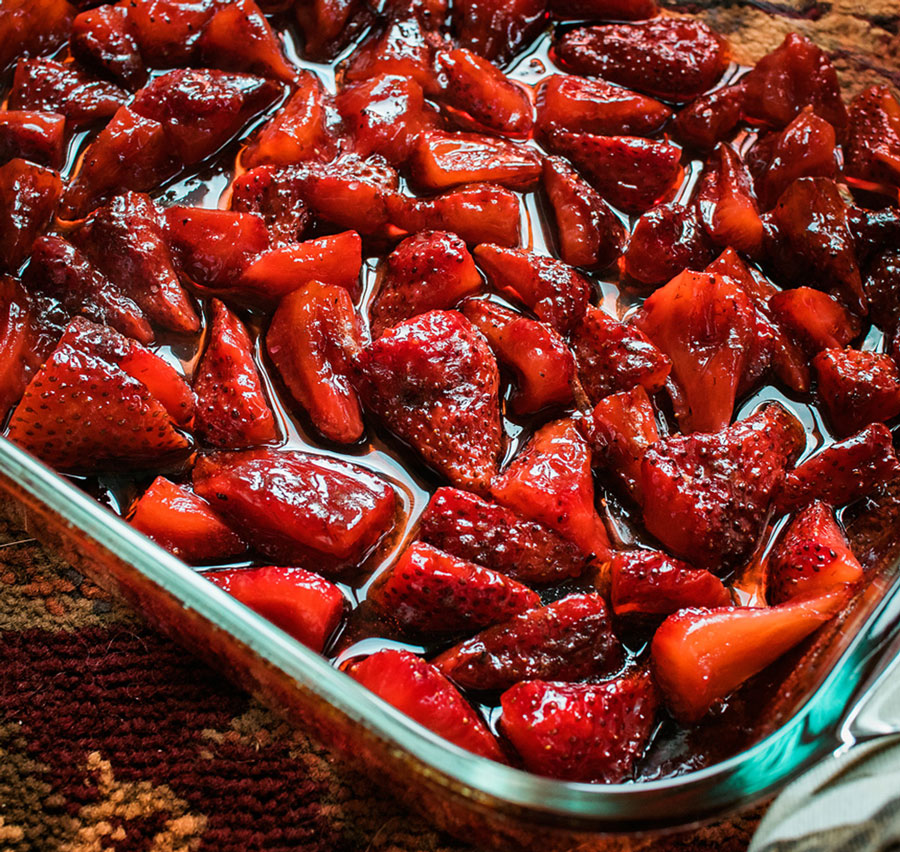 ---
There's one secret to this making this recipe work. And you can do this with any fruit that would make a delicious Ice Cream Style Frozen Yogurt.
Roast Your Strawberries.
You wind up with a delicious fruit syrup as well as strawberries that are tender and have real depth of flavor.
Most Recipes Use Raw Fruit, And It Short Changes The Finished Product. There's Still So Much Water In The Fruit That The Chunks Wind Up Solid Ice Crystals. Worst Of All, The Strawberry Flavor Is Not Dispersed Through The ice cream….er frozen yogurt.
I would use this roasting method with peaches, blueberries, blackberries or raspberries.
---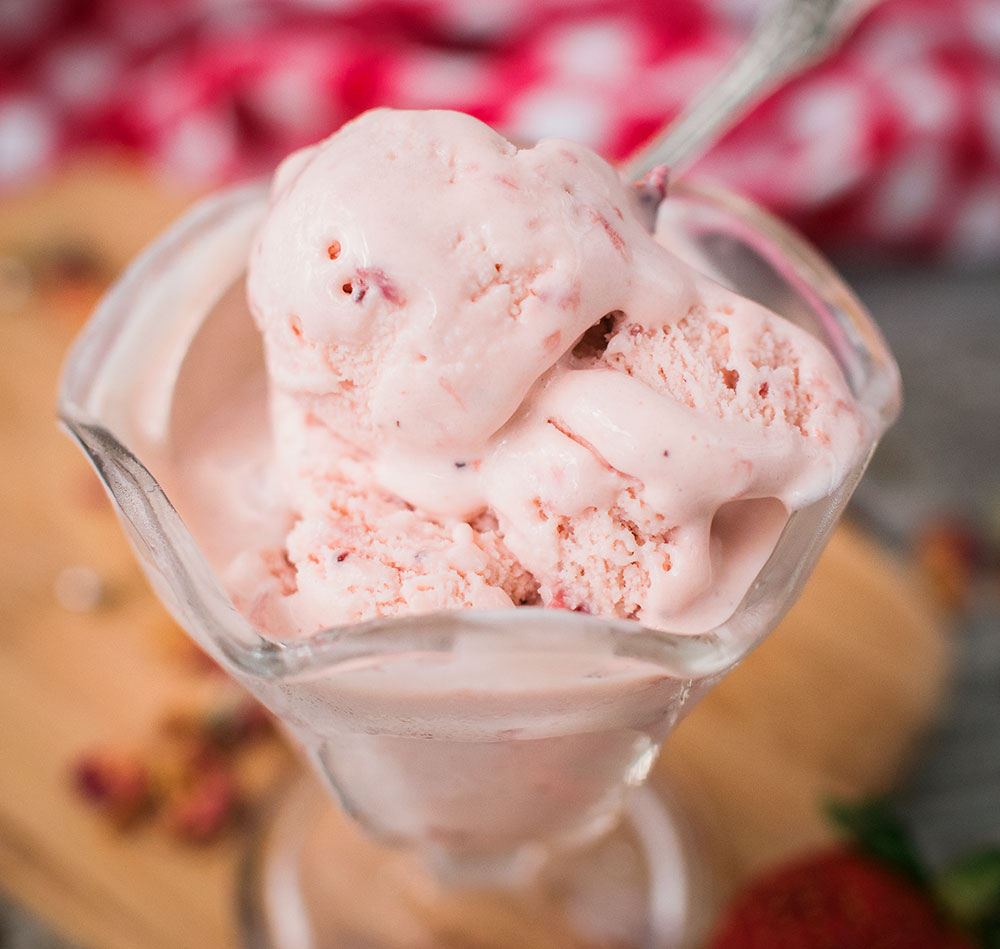 ---
Enjoy this super simple frozen yogurt recipe, that you will swear is the richest ice cream you've ever had. Once you've made this, you'll be making roasted fruit frozen yogurt All. The. Time. Ask me how I know. I've included a video just in case you are a little wary of using an ice cream maker. Trust me when I tell you it's easy, and you'll wonder why you waited so long.
---
You might also like:
---
Print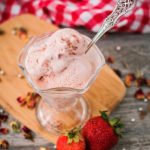 Strawberry Frozen Yogurt
Author:

Patty

Prep Time:

15

Cook Time:

75

Total Time:

1 hour 30 minutes

Yield:

1

2

1

x

Category:

dessert

Method:

no bake

Cuisine:

dessert
---
Description
Enjoy this easy to make Roasted Strawberry Frozen Yogurt. It's rich, creamy and so full of fruit flavor.
---
32 oz

whole milk yogurt. I prefer Greek.

14 oz

sweetened condensed milk (

one

can)

1/4 cup

light corn syrup

16

–

24

oz strawberries (

one

big pint)
---
Instructions
To Prepare the Fruit:
Preheat oven to 425 degrees F.
Wash and hull the strawberries. Cut them into quarters and place them into a 9×13 parchment lined baking dish.
Generously sprinkle cane sugar on top of the cut fruit. Grind a smidge of cracked black pepper on the strawberries. Pepper is optional, sugar is not.
Place baking dish filled with prepared strawberries into the oven and roast for 30 minutes. Use the middle rack in your oven.
After roasting, allow fruit to cool. Place in a covered container and refrigerate at least 2 hours or overnight.
To Make the Frozen Yogurt:
Add the yogurt, the sweetened condensed milk, and the corn syrup to a large mixing bowl.
Mix on low speed until incorporated. I used the whisk on my Kitchen Aid mixer to do this.
When well combined, spoon in the strawberries and pour in the juice until it's well mixed.
Pour this mixture into a prepared ice cream maker and follow instructions to churn the ice cream that came with the machine.
Allow frozen yogurt to set up at least 4 hours after churning, but overnight is always best.
Notes
This recipe calls for roasting strawberries, but you can roast any fruit you like. Roasting fruit prior to using it in ice cream or frozen yogurt allows the fruit flavor to deepen. Roasting allows the fruit  to better incorporate into the final product. Tossing in sliced raw fruit can lead to hard, icy chunks and the flavor does not distribute through out the ice cream/frozen yogurt. Once you've roasted fruit for your ice creams or frozen yogurt, you'll never consider raw fruit again.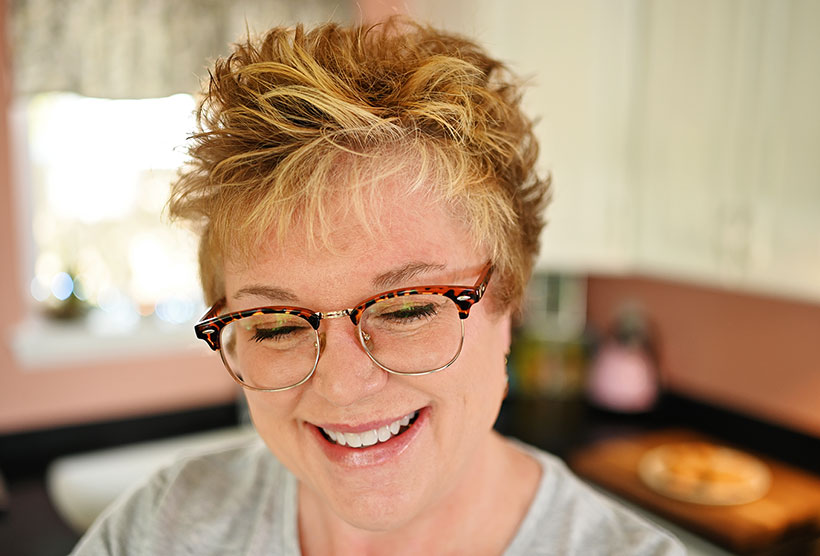 Hi there, I'm Patty.
Sewist, Baker, Maker
I love figuring out new ways to use pom poms, where I can stash more fabric, and I'm always wondering what to bake next…chocolate or lemon? When not dreaming up new things to make (or bake), I love riding my beach cruiser on the Boardwalk, escaping to mid week movie matinees, and planting new things in my tiny but mighty container garden.