Raspberry Buttercream Frosting
Inside: Homemade raspberry buttercream frosting that holds structure and will pipe beautiful decorations.
Conduct a search for frostings, in this case raspberry buttercream frosting, you will find 183 MILLION possibilities. Yeah. That's a LOT of chatter about this one topic.
And so you may be asking with all of that available, what makes this version new, or different, or better than what's already out there?
I'm so glad you asked!
Pull up a chair and let's talk about American buttercream frosting and what makes it wonderful.
---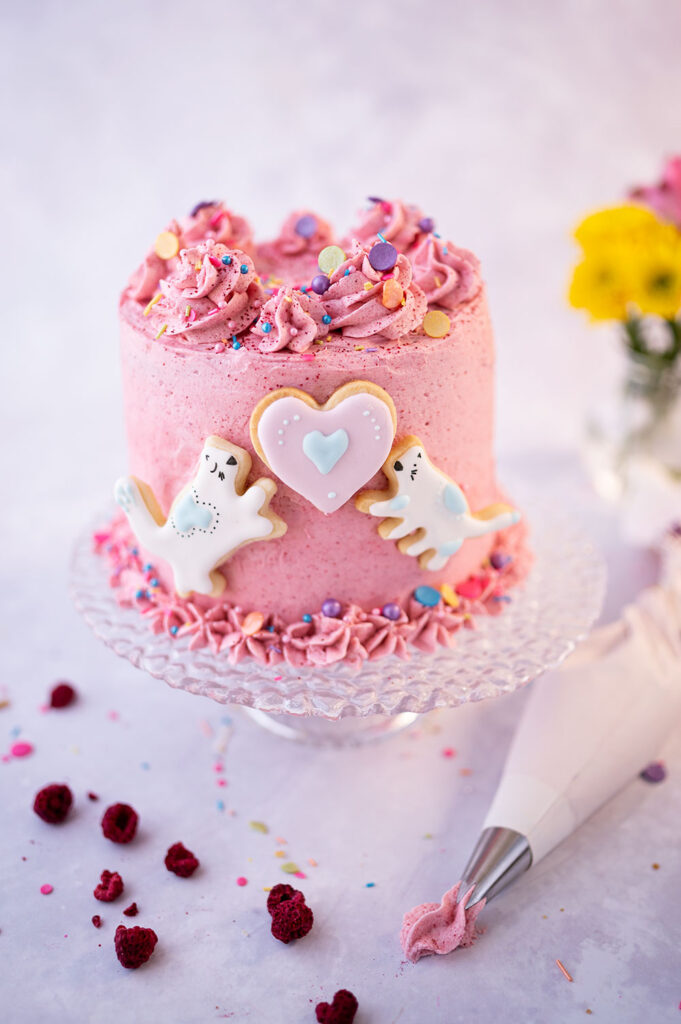 ---
First of all, American Buttercream frosting is the easiest frosting to make. It's a thick mixture made from butter, powdered sugar, flavoring, and some milk or cream to thin it out to a workable consistency at the end.
Temperature and weather conditions play pretty heavy into the amount of milk you need to add at the end. Obviously, if it's summer and 85 degrees with some humidity, the butter will be softer so you will need a lot less milk than if you are decorating Christmas cupcakes and there is snow on the ground.
People complain about American buttercream being too sweet and containing too much sugar.
Well, tough love, sweetheart…the sugar is what makes the frosting work. It provides the structure so your frosting stays in place on the cake, and it is very nice to use when piping decorations. It has a ton of structure, so it holds the shape really well. Just as long as you don't over do the milk addition at the end of mixing your frosting.
---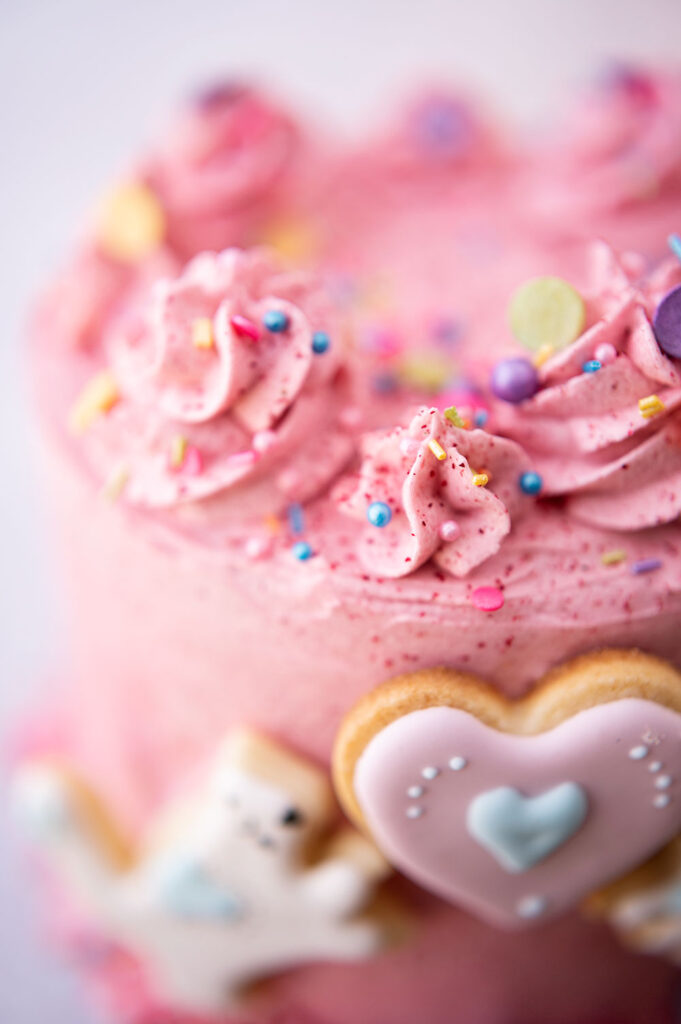 ---
When reviewing the other versions of this frosting, and while I am sure they are delicious to the taste, you see comment after comment about the frosting being gloopy. Or they express disappointment that the frosting won't hold it's shape when they try to pipe a swirl. Same thing as gloopy.
Why settle for gloopy when you can do this with my version of Raspberry Buttercream?
---
---
Why are these 183,000,000 other versions of frosting not pipeable you ask?
It's because they are adding a liquid ingredient to the frosting, and adding a liquid component to a buttercream frosting kills the structure. If you use jam, maybe it tastes ok, but it's a runny mess. Or it breaks the mixture, which is very common when trying to add liquid to fat. In this case, raspberry juice to butter.
If you puree raw fruit, I honestly don't know how you can save that. And yet I see it over and over. First of all. Don't use raw fruit in your recipes, unless it's a pavlova or a berry filled muffin. Roasting fruit first is something I learned from David Lebovitz, specifically when it comes to making ice cream. But I have found it carries over into a lot of other recipes.
---
---
But even in this version of Raspberry Buttercream Frosting, we are not using David's tried and true method.
What's left you ask?
---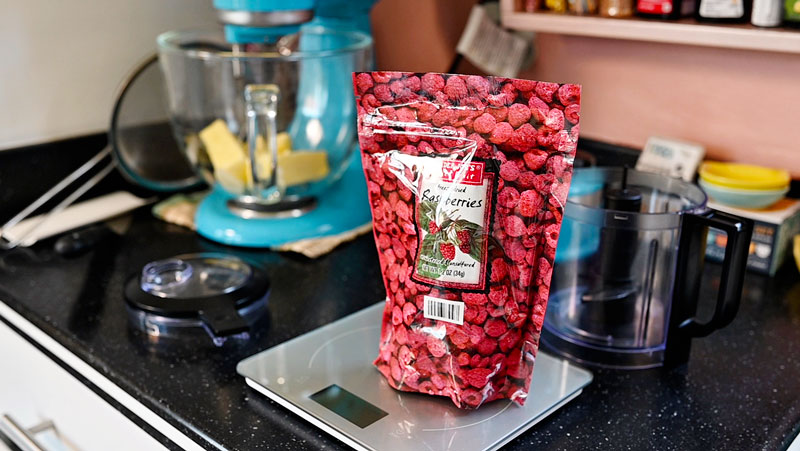 ---
Freeze dried fruit. Yup. And it's amazing.
Pour about half the bag of freeze dried raspberries into a food processor and grind them to dust. Then sift the dust to catch the seeds. You will be shocked by how many seeds your strain out. Replace a small amount of the powder sugar with the newly pulverized raspberries and mix your frosting as usual.
Boom.
That's it. You get intense flavor and a beautiful pink color without any food coloring or flavorings. You can sprinkle some of what's left in the sifter over top of the cake with your sprinkles for a beautiful, organic looking decoration.
Plus sprinkles. Always. Add. Sprinkles.
---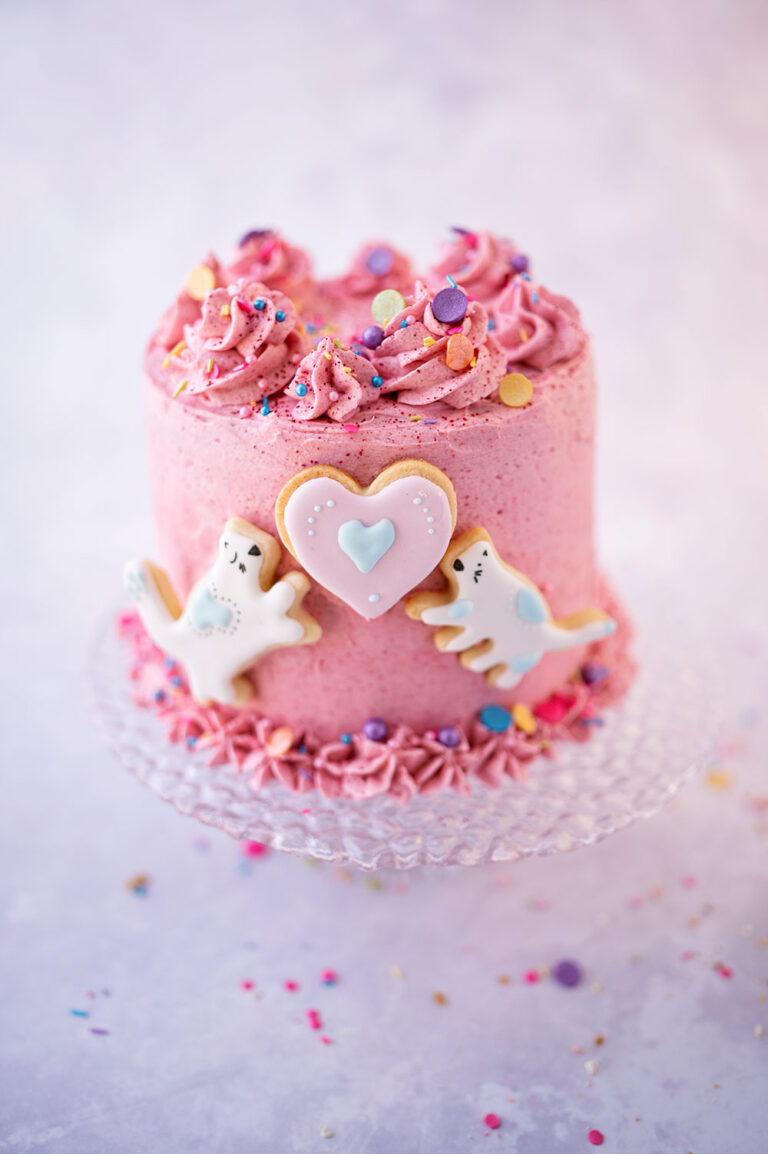 ---
So while your choice might be amongst 183 MILLION versions of this, I do hope you give this recipe a go, and see what you think. I personally think it's astonishingly good and the tart raspberry powder balances out beautifully with the sweet sugary frosting.
I paired this frosting with my Seriously Moist Chocolate Cake which I've linked for you below. But I think it would be incredible with lemon cake, too. And on that note, I'm off to the kitchen to whip up a batch of cupcakes to pair with this Raspberry Buttercream Frosting.
You might also like:

---
Print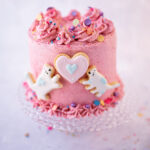 Raspberry Buttercream Frosting
Author:

Pattymac

Prep Time:

20

Cook Time:

11

Total Time:

31 minutes

Yield:

4 cups

1

x

Category:

Dessert

Method:

No Bake

Cuisine:

American
---
Description
Raspberry Buttercream Frosting
---
1.5 cups

or 350

 gram

s room temperature salted butter

3 1/2 cup

s or 750

 gram

s sifted powdered sugar
Half bag or 20 grams first pulverized and then sifted freeze dried raspberries

1/4 cup

of cream (as needed, a little more a little less) also milk or half and half is fine

1 tsp

 vanilla 

 
---
Whip the butter for 5 minutes on medium high in a stand mixer fitted with a paddle attachment. Stop frequently to scrape down the sides.
While the butter is creaming add the vanilla. Fat carries flavor so adding your flavoring now is a great way to enhance the taste.
Blitz the freeze dried rasberries in a food processor until they are an even powder.
Sift your raspberry powder into the powdered sugar. Don't just dump the pulverized dried raspberries in, because it's full of seeds and you will not have a smooth result.
Reserve the raspberry seed leftovers because a little bit of that sprinkled on the cake or cupcakes at the end is quite pretty. In a small amount.
Add powdered sugar in TWO additions. Include the raspberry powder in the first addition. It is important the sugar is sifted as lumpy sugar will give you lumpy frosting. Nobody wants that. Mix the first addition for 3 minutes and be sure to scrape down the bowl and the paddle several times to make sure everything is mixing properly. Add the second addition, and do the same.
After the final whip of the second addition of sugar, assess the consistency of your frosting. Time of year and elevation will play heavily into your frosting thickness. Also, if you are frosting a layer cake, you will want denser frosting to go in between the layers.
Add cream a tablespoon or two at a time and mix well before deciding to add more. You don't want it so thin it won't hold its shape. If you desire more color in your frosting, add it now.
Run the mixer on a lower speed and add color one drop at a time until desired hue is created. But really, with this frosting, I don't think it needs any additional color.
Frost as desired. I used the offset spatula to frost the cake and then piped on decorations using my reusable piping bag and Wilton 1M Star tip.
---
Notes
I recommend salted butter, because the salt balances out the sugar really well. I also recommend using a European style butter if you can get your hands on it. French butter has more butter fat, and it makes the best desserts.
Save your pennies and invest in a good quality stand mixer. You cannot whip frosting with a wooden spoon. So, please, stop trying to do that.
This is a larger batch of frosting than what I generally mix for cupcakes. This is because I mixed this for my layer cake, and the layer cake with piped decorations uses more frosting. If you don't want to pipe decorations or maybe have only 2 layers, you could cut the recipe by one third. Follow my basic American Buttercream recipe measurements, but add the same amount of Raspberries.
Some notes on the Raspberries: I get my freeze dried raspberries in Trader Joe's, but they can be found in other markets and online. Pulverize in a food processor for best results.
Visit my All In One Cupcake recipe to see how to further hone your butter and weighing skills.
Check out this Seriously Moist Chocolate cake that pairs beautifully with this frosting.
Keywords: Raspberry Buttercream Frosting
---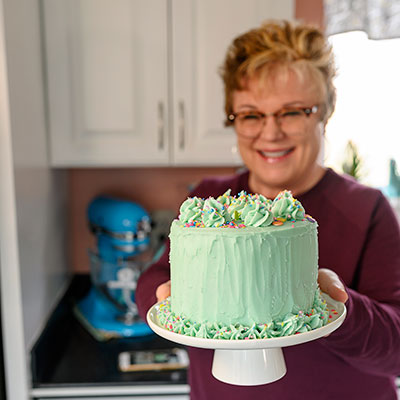 Hi there, I'm Patty.
Sewist, Baker, Maker
I love figuring out new ways to use pom poms, where I can stash more fabric, and I'm always wondering what to bake next…chocolate or lemon? When not dreaming up new things to make (or bake), I love riding my beach cruiser on the Boardwalk, escaping to mid week movie matinees, and planting new things in my tiny but mighty container garden.