Chocolate Brownie Cupcakes
Embrace the magic of a moist chocolate cake enhanced by the richness of brownies. My friend, meet the Chocolate Brownie Cupcake, which is essentially a chocoholic's nirvana.
When baking anything chocolate, there are generally two major issues that emerge. My Chocolate Brownie Cupcakes do a great job of addressing both of these concerns.
The cakes are dry.
The cakes are not all that chocolatey tasting.
Allow me to help you with both of these issues. And let me make this easy for you.
---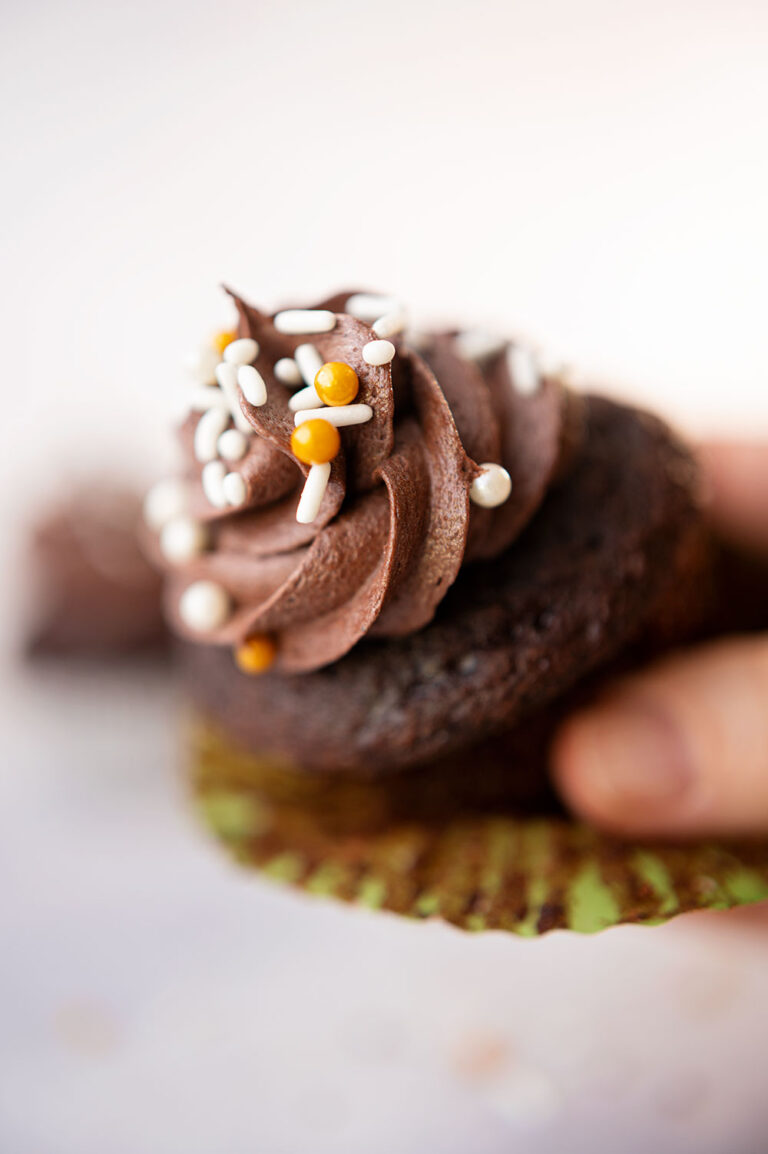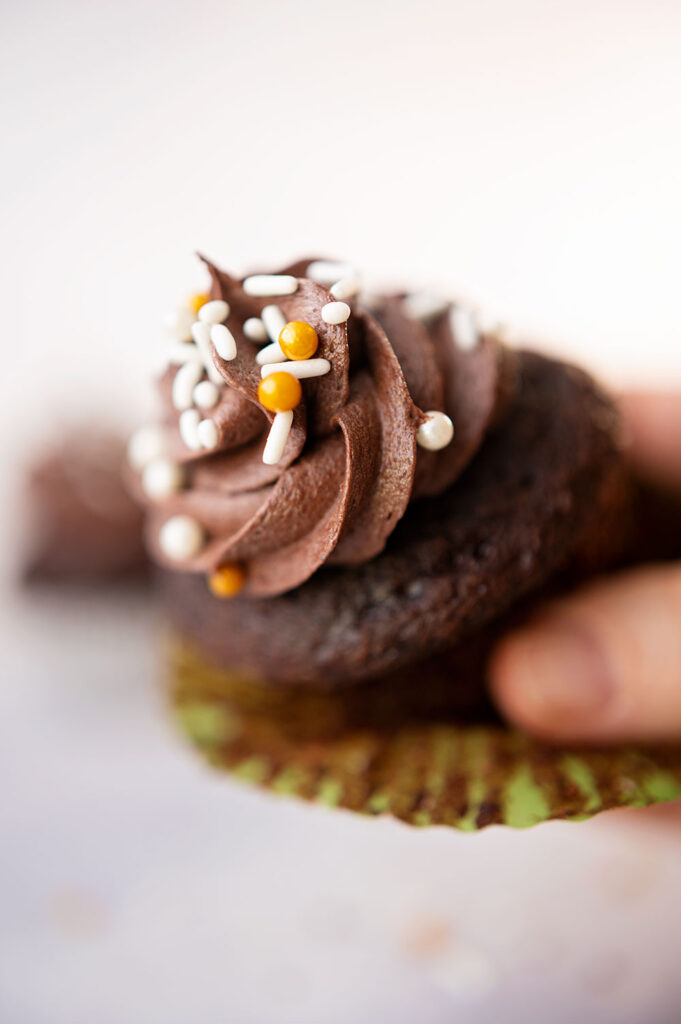 ---
For today's recipe, we are using not one, but TWO mixes. Yup. I love a good mix, and it this one I used two of my favorites. And the results are spectacular. It is a chocolate brownie cupcake, after all.
This is a "recipe hack" to top all recipe hacks. We are combining mixes and then we are using a specific addition of wet ingredients. I wish I could take credit for this madness, but I can't. The original recipe came from Amanda on I Am Baker, whom I adore. I did make a couple of ingredient changes to her recipe, but the measurements stayed the same.
I also found that this recipe yielded a LOT more than she indicated in her post, so unless your family is the size of the Brady Bunch, you will have plenty to share with neighbors and coworkers.
---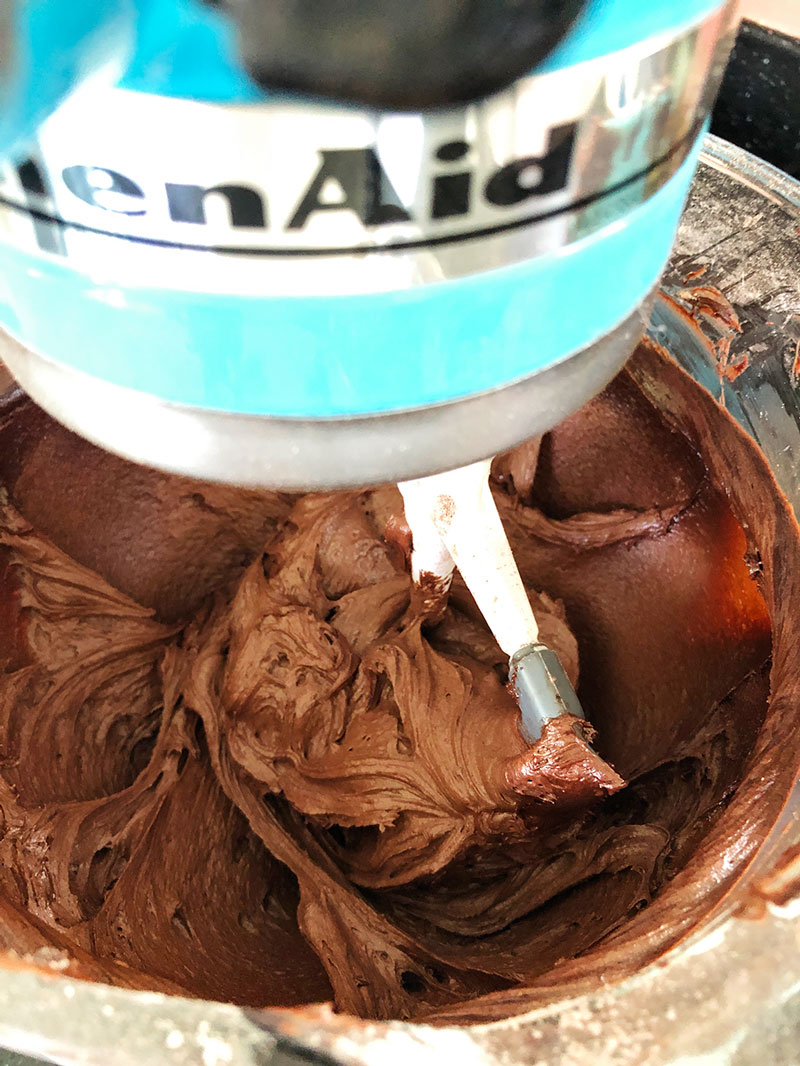 ---
Chocolate Brownie Cupcakes Ingredient List:
This chocolate cupcake recipe is mixed using Southern pantry staples you probably already have in your baking stash. You only need 6 ingredients, so easy peasy.
---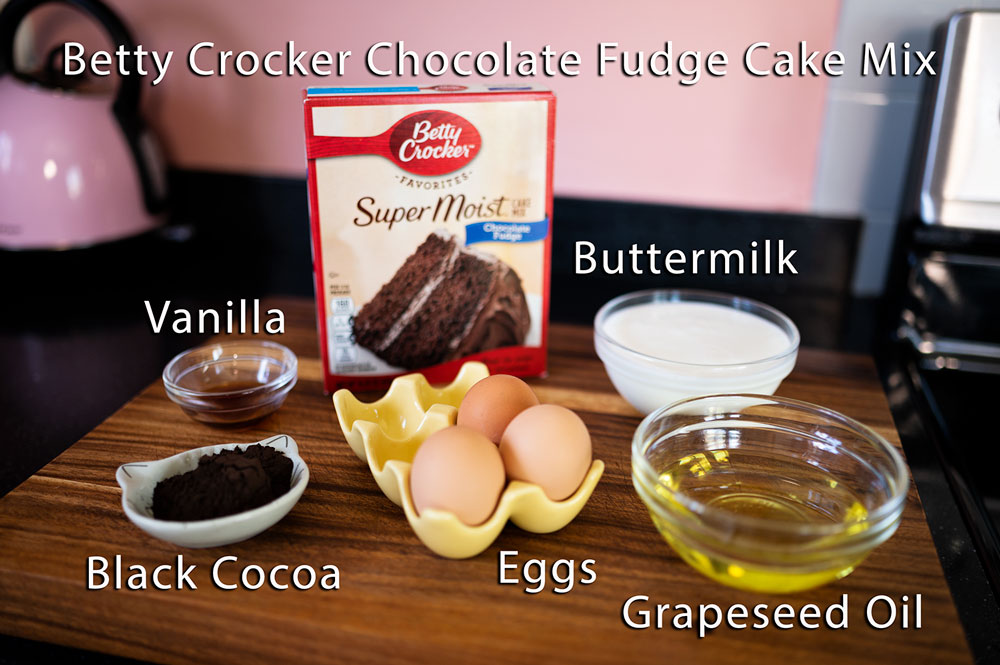 ---
Tips for the best results:
My chocolate brownie cupcakes taste like a bakery confection, but a child could make them. Which is about the level of difficulty I can handle these days. This is the perfect indulgent treat to mix up with your nonbaker friend or a younger child. Just follow these three simple steps and you're pretty much guaranteed an amazing cupcake.
Make sure the ingredients are room temperature and measured correctly. I can't stress this part enough. It seems so simple, and it is. But people neglect to take out the refrigerated ingredients ahead of time, and mixing cold ingredients is not going to yield the best results. And please be careful measuring. Make sure your box mix is the correct amount of ounces, because otherwise, you will be short on dry ingredients and the cakes won't bake properly.
Use the Buttermilk. Buttermilk is so good in baked goods. I use it in every single cake or muffin I make. The slightly acidic nature gives a light texture and good rise. So use it if you can.
Mix the ingredients correctly. Follow the mixing instructions on the cake mix. Essentially they are all the same because of the way a cake mix functions. You need 2 minutes on medium high speed with a stand mixer and high speed with a hand mixer. Don't ask me why. The chemists who designed the mixes made them to work best following that instruction. Set a timer if you need to. I always do.
Don't over bake the cakes! The biggest complaint people have about chocolate cakes is that they are dry. This is generally because people tend to over bake the cakes. Set the timer, and follow the baking times. Check the cakes by using the spring back method which I believe is more accurate than the skewer. Gently touch the top of your cake and if it "springs back" it's done.
Also checking to see if the sides have pulled away from your pan is very important. The bottom line is you will need these methods to check for doneness because visually, you won't be able to tell.
---
---
How many chocolate brownie cupcakes will this make?
The original recipe I followed says this will bake 24 cupcakes. I wondered about that as I looked at the amount of batter in my bowl. Well it baked 24 beautiful cupcakes, but it also baked a 6″ cake!
I made the 6″ mini cake into a lovely mini layer cake. You could bake another dozen cupcakes and have 36 altogether if you prefer. So keep in mind this is a massive recipe, and be sure you have enough people around to eat these. Chocolate cakes can go stale pretty fast, so this isn't something you want hanging around the kitchen for a couple of weeks. And they are too good to waste.
Or if things keep going the way they are going, you may want to drown your feelings in all the cake you can get. Remember that cake called Death by Chocolate? This could be your pathway there. But whatta way to go, my friends.
---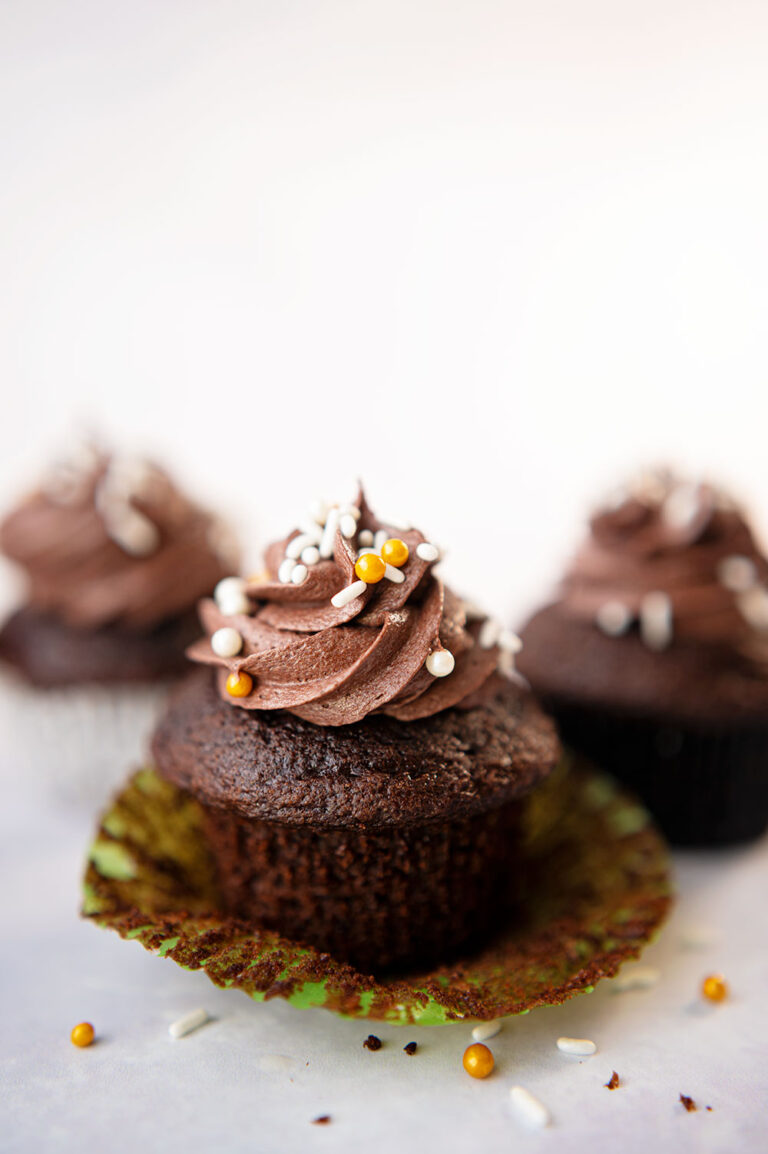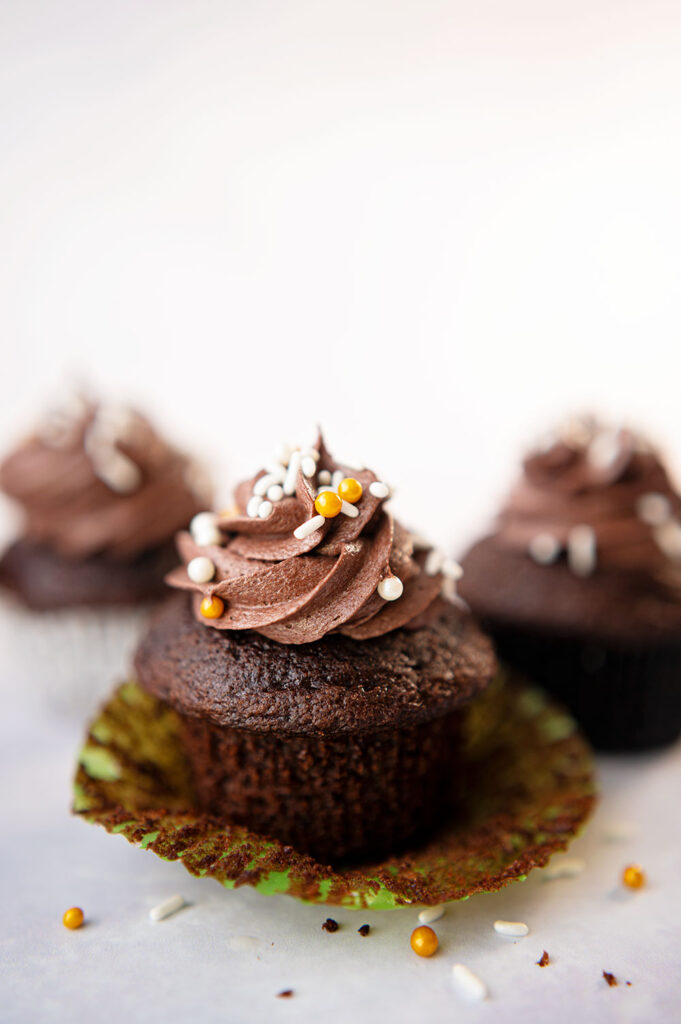 ---
Print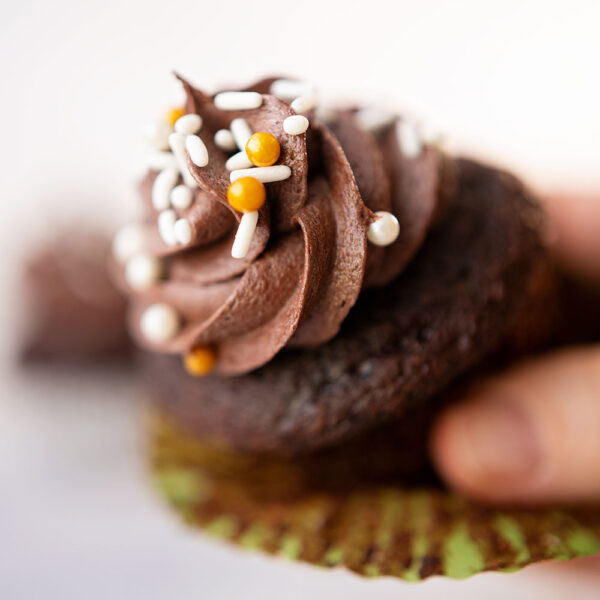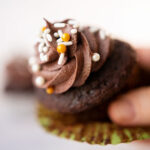 Chocolate Brownie Cupcakes
Author:

Patty McGuire

Prep Time:

15

Cook Time:

20

Total Time:

35 minutes

Yield:

3

6

1

x

Category:

dessert

Method:

baking

Cuisine:

american
---
Description
Embrace the magic of a moist chocolate cake enhanced by rich brownies. The Chocolate Brownie Cupcake, a chocoholic's nirvana. Easy Recipe.
---
Chocolate Cake Mix (15.25 ounces)
Fudge Brownie Mix (18.3 ounces)

4

Large Eggs, Room Temperature

1 1/4 cup

(

296 grams

) Buttermilk

1 cup

(

207 grams

) Grapeseed Oil

1 tsp

clear vanilla (or the vanilla of your choice)

1/8 cup

Black Cocoa
---
Instructions
Preheat oven to 350 degrees F.
Prepare cupcake tins. I use wrappers and lightly spray with Baker's Joy so the paper releases.
Using a stand mixer fitted with the paddle attachment, pour the buttermilk and oil and vanilla into the mixing bowl. Mix on medium low until well incorporated. About one minute.
Add eggs one at a time to the liquid mixture and mix on medium low until all the eggs are emulsified. About 90 seconds or two minutes.
Turn off mixer and add all the dry ingredients at once.
Mix according to package directions on the cake mix, but this is generally mixing on medium high for 2 straight minutes. Don't skip this step.
Portion batter across the cupcake tin and bake 20 – 22 minutes. Check for doneness at 20 minutes using the spring back method.
When done baking, remove cupcakes and allow to cool in the muffin tin for about five minutes. Carefully place cupcakes on a cooling rack and cool completely.
Frost as desired. But I thinking pairing this cupcake with my Death By Chocolate frosting is the only way to go.
---
Keywords: chocolate brownie cupcakes
---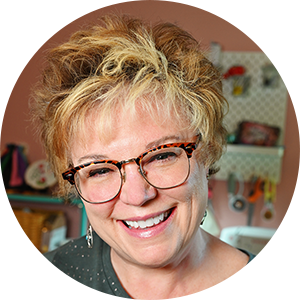 Hi! I'm Pattymac
Sewist, Baker, Maker
I'm a creative lifestyle blogger living and working in Coastal Virginia. When I'm not mixing or stitching or taking pictures, I'm out exploring the cook book section of my favorite library or munching my own home baked cookies at a mid week movie matinee.