Share this beautiful sachet with your best friends for Galentine's Day this year.
So many of us have taken to spending time with our lovely best lady friends, that making and sharing a pretty Galentine's Day Gift is officially a thing now.
We are allowed to love lots of people in our lives.
Our hair stylists, our baby sitters, our coworkers, our best friends. The list goes on. And isn't the point of Valentine's Day to share something sweet with someone you care about? Why does love have to confined only to a romantic relationship? I think that's incredibly limiting. Love is so much bigger than that.
This week I have a lovely little sewing project for you! It's perfect to pair with a card or a sweet treat to share with those ladies in your life that mean so much.
---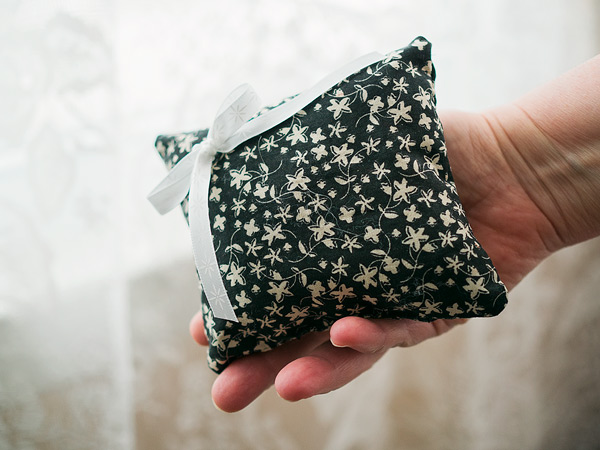 ---
This is such a fun and quick sewing project. It's so easy, and you can be really creative with this,and if you don't have a sewing machine, then you use a running stitch to sew the pillow together.
---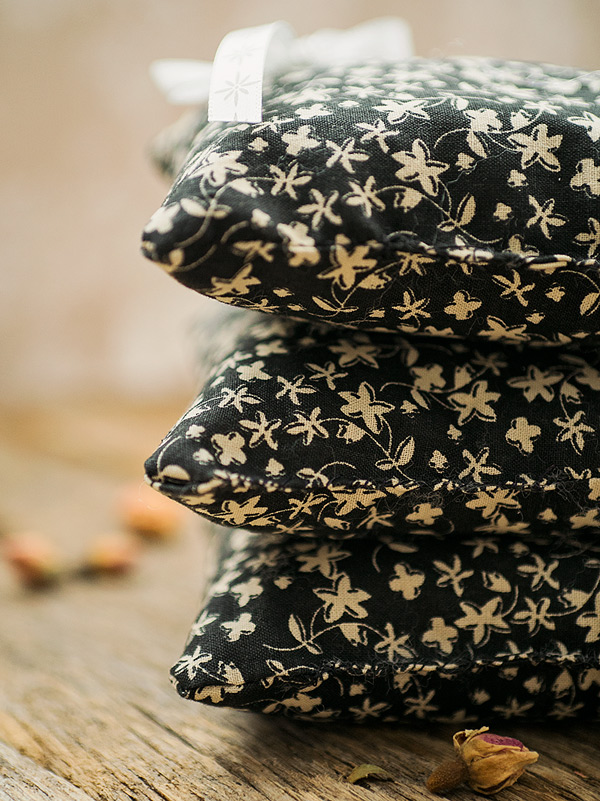 ---
They are not just little pillows, they are stuffed with a combination of pillow fluff and dried herbs to create the prettiest little sachet.
Gift your BFF with a pretty sachet and a lovely little succulent and be prepared for the biggest hug you've ever gotten! Because, not only is this a thoughtful and sweet gift, it contains NO EXTRA CALORIES. That pretty much makes this a miracle gift as far as I'm concerned.
I have friends with health issues or who are otherwise watching the sugar intake, so the gift of a sachet is pretty much the greatest gift ever.  
---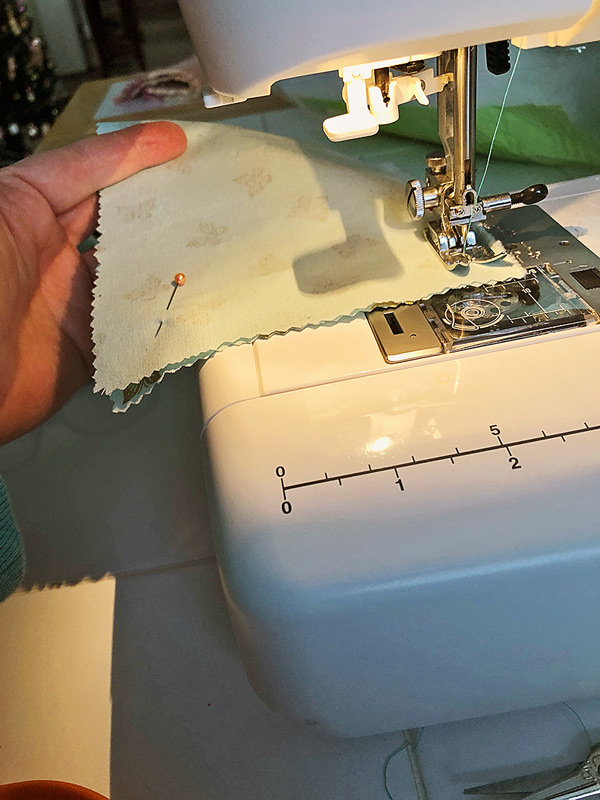 ---
Here is your supply list for this Galentine's Day Gift project:
Small quantity of cotton fabric. Fat quarters or pretty scraps are great for this.
Matching Thread
Poly fill pillow stuffing
Dried Herbs. I recommend dried rose petals.
Needle for hand sewing.
Straight Pins to hold the fabric in place.
Small spoon to spoon the herbs into the pillow.
Sewing scissors. I used pinking shears.
Sewing machine to sew the pillows OR this can be done by hand using a running stitch.
Chopstick or something similar to push out the corners of the pillows when turned right side out, and to stuff the Poly Fill into the corners.
Parchment paper (we use this to make our pattern piece)
Sharpie pen (to draw the cutting lines on the parchment paper)
Straight edge to draw the lines for the pattern
Rule or tape measure to measure the dimensions for the pattern
OPTIONAL Supplies:
Ribbons for trim or decoration
Glue gun to attach trims.
---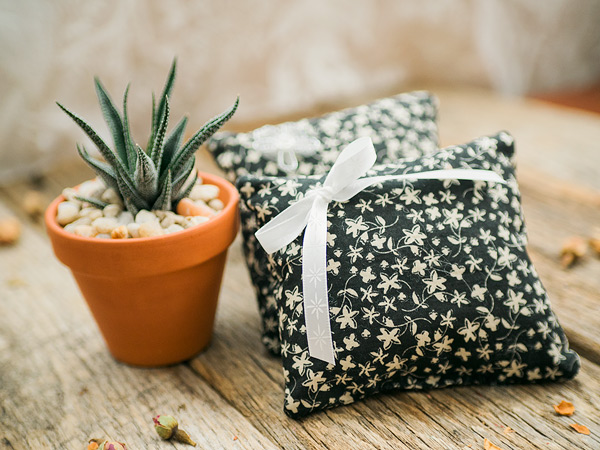 ---
This project is completely customizable. I used a fat quarter of quilting cotton and made 3 sachets. I still have leftover fabric, so 2 or 3 fat quarters goes a really long way. Be sure to use linen or cotton fabric.
Here's how to make this Galentine's Day Gift Project:
On parchment paper, measure and draw out a pattern piece that measures 6″ x 11″. Cut out the pattern piece.
On freshly washed and pressed fabric, pin down the pattern piece and cut out your fabric. Cut out 6 or more of rectangles, because you can make and sew this project in small batches for gifts.
Fold the fabric rectangles together. Be sure to have the fabric wrong side OUT. Pin the fabric in place to hold. Three rectangles will make 3 sachets.
Starting on one edge of the fabric, and using a 3/8″ seam allowance, sew the first seam. When you reach the top edge, leave the needle down, raise the presser foot and turn the fabric 90 degrees. Put the presser foot back down and sew about 2″. Back stitch to secure and cut the thread. Skip over about 1.5 or 2″ of the edge and then lower the needle and presser foot to sew to the end, follow the same instructions as above for turn the work at the corner. You are leaving an opening on one side of the sachet. This is to turn the work right side out and to leave room for stuffing.
Turn the project right side out. Use a chopstick to gently put out the corners to a square.
Stuff a little pillow stuffing inside the pillow. Use the chopstick to distribute the stuffing into the corners. Be gentle. You don't want to stick the chopstick through the pretty corners and tear out the seams.
Using a spoon, spoon the dried herbs into the pillow. Crush them gently by squeezing the pillow to get them evenly distribute. Fill almost to the top. Leaving space for more pillow stuffing.
Evenly distribute more pillow stuffing into the top corners and over the top of the herbs being careful not to over stuff.
Bring the edges of the opening together, and pin closed with the straight pins.
Using the same thread used to sew the pillow seams, use an overcast or ladder stitch to close the sachet. Trim the loose thread.
Squish the pillow to even it out. The squishing is sooooo satisfying and it smells really good.
If you care to add a little more decoration to the finished pillow, you can either sew on or glue gun on a decorative trim. I tied a bow with ribbon and glue gunned it into place on one sample and did the same with a fabric ready made flower on the others.
---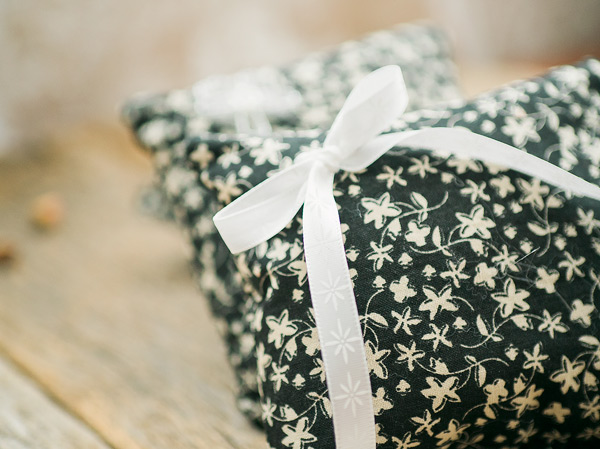 ---
The herbs are a very important part of this project. Don't skimp on the aromatherapy part of this Galentine's Day Gift. There are a few suppliers online, but I've always used Mountain Rose Herbs. Many years ago, I supported myself as a Certified Massage Therapist, and used to make these pillows as surprise gifts for my clients. So I bought my herbs in bulk to make all the fun things I gifted these lovely people who made my business possible. I got out of the business almost a decade ago, but I still have some of those herbs remaining. I used them in these sachet pillows, and they are still fragrant and wonderful as ever!
---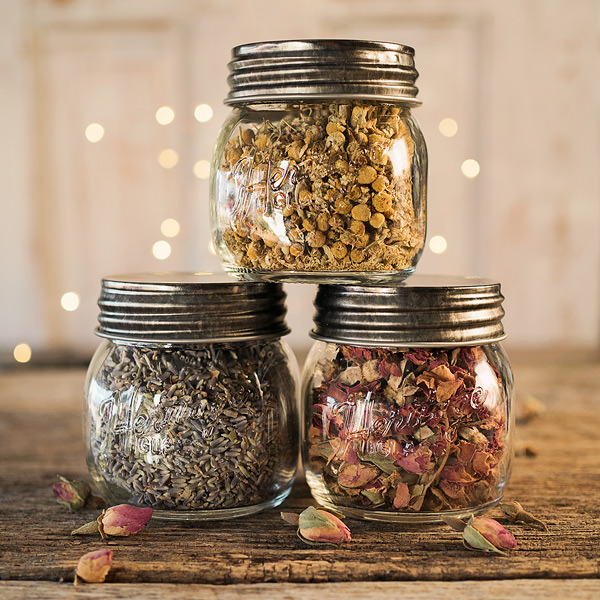 ---
Be creative and mix and match fabrics and trims!! There is so much joy to be had in a craft project that uses all the crafty skills including a little hand sewing and a glue gun!
Thanks for popping in today! I share new projects and tasty recipes every month that I make in my home kitchen along with my crafting adventures. Please subscribe to my Maker's Newsletter to receive personal notifications whenever something new goes live!
---

---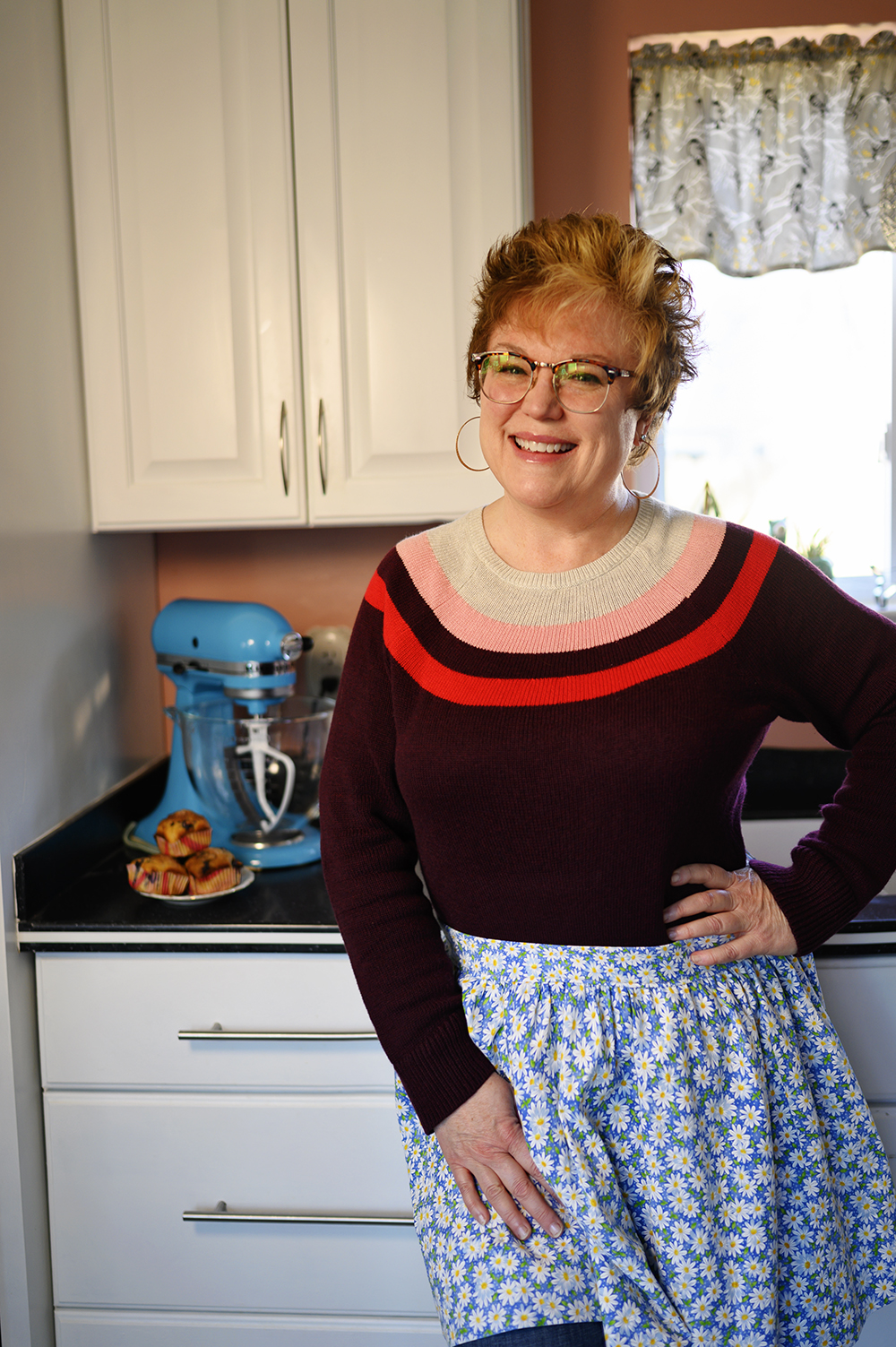 Hi there, I'm Patty.
Maker, Baker, Sewist
I love figuring out new ways to use pom poms, where I can stash more fabric, and I'm always wondering what to bake next…chocolate or lemon? When not dreaming up new things to make (or bake), I love riding my beach cruiser on the Boardwalk, escaping to mid week movie matinees, and planting new things in my tiny but mighty container garden.