Homemade Chocolate Cupcakes
Any time is the right time for Homemade Chocolate Cupcakes with Buttercream Frosting
One thing is for certain. Chocolate Cake and Buttercream Frosting go together like Peas and Carrots or Bread and Butter.  And I ask you, what's better than chocolate and frosting? Especially when we are talking about homemade chocolate cupcakes and frosting.
---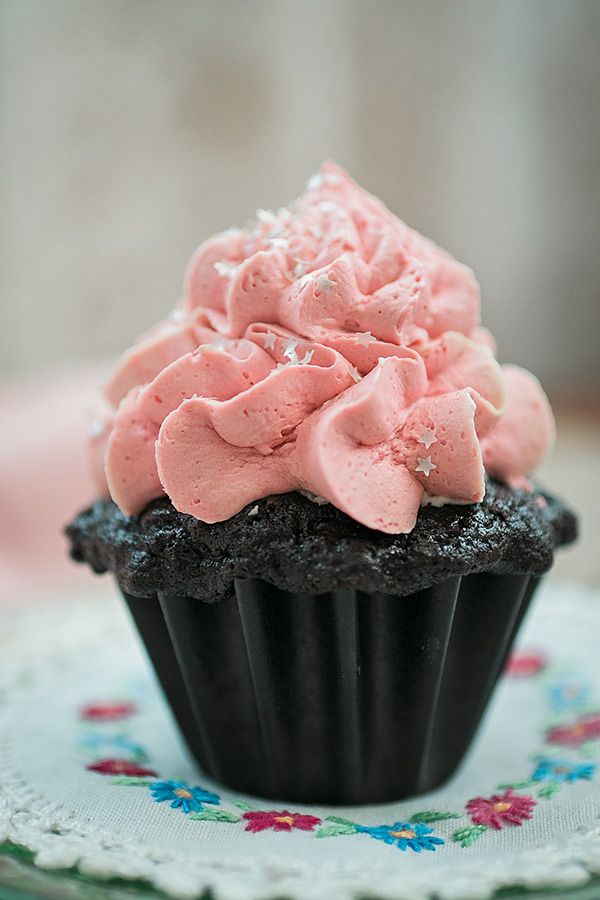 ---
What if I told you these homemade chocolate cupcakes come together super easy, and you will wonder why you waited so long to make baked from scratch cupcakes?
Still need convincing? Look, I couldn't even get through the pictures without gobbling up this one. They are that good.
---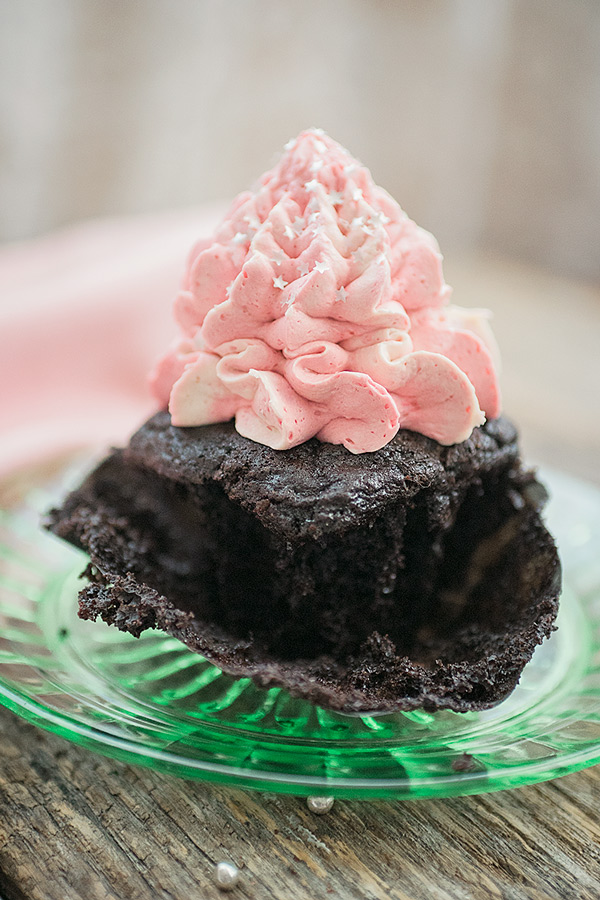 ---
Let's take a minute, and get real about the state of cakes these days. You can make something pretty and very delicious even if you can't do the next level cake decorating acrobatics we see every where.
I offer this humble cupcake as an homage to the cupcakes of yesteryear. The cupcakes we all can make in our own kitchens. Cupcakes like our moms and grandmas made. I even styled the cupcakes with a Depression glass plate I bought in a Vintage sale at the beach. (I have a video about that if you would like to watch and I'll link to it here. )
There's a lot of pressure to do fancy cake decorating these days. SO MUCH PRESSURE. Like it's normal to whip up 6 cake layer cakes in a home kitchen a couple of times a week. And get perfectly smooth, crumb coatings on those cakes which are then followed up with extensive piped decorations.
And while decorating a six layer cake is compelling to watch on instagram, it's not practical. And it shouldn't stop the rest of us from enjoying normal cakes and cupcakes.
---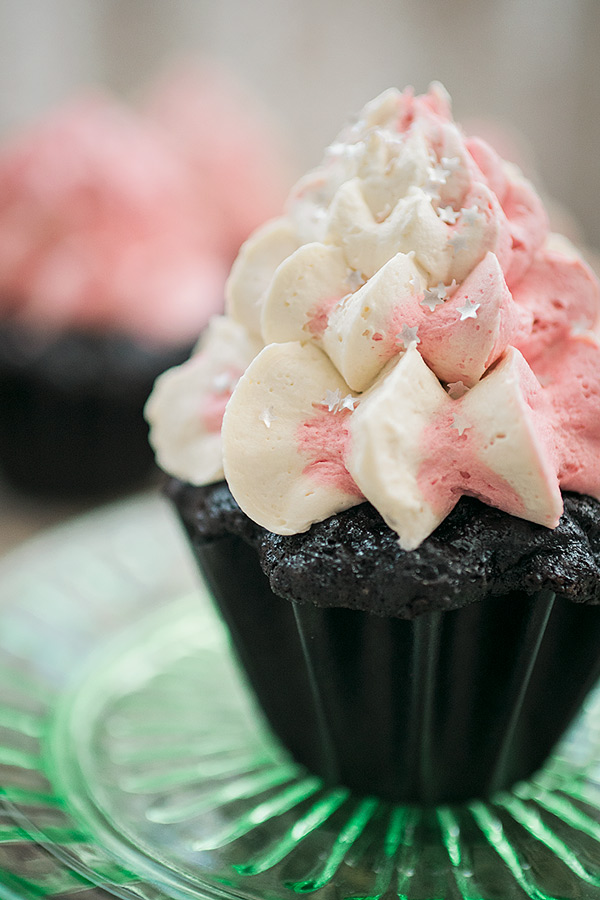 ---
I say it's time to step away from the circus and embrace a little normality.
Honestly, all this over the top decorating and baking leaves people feeling like why bother to make plain old stuff when they should be making cakes that look like animals or stacked layers so high you need extra oxygen to frost the top.
Let's focus on making good bakes. Let's get the mixing and baking and measuring right. Let's enjoy the process and enjoy the eating and sharing. Isn't that what all this baking rigamarole is about?
---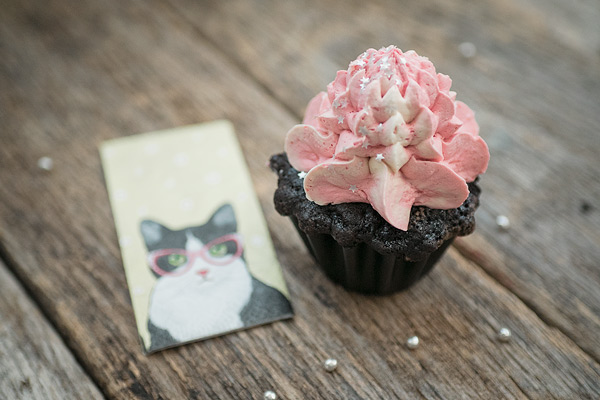 ---
I paired this cupcake with my own recipe for American Buttercream Frosting. That particular frosting goes with anything. It's flavored however you like with the extract of your choice.
Half of the frosting is colored pink and left the other half white. I loaded it on either side of my piping bag to mix the colors and while it didn't exactly swirl, it's still pretty. Then topped the cupcakes with edible silver stars from the cake decorating section of my craft store.
And voila. A beautiful little cupcake that everyone will enjoy eating and you can feel proud to share. No six layer cake shenanigans required.
---
Print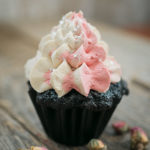 Homemade Chocolate Cupcakes
---
Description
Delicious chocolate cupcakes with piled high Butter Cream frosting is perfect for any day you crave a cupcake.
---
For the Cupcakes
3/4 cup

, (

95g

) all-purpose flour (spoon & leveled)

1/2 cup

, (

42g

) unsweetened natural cocoa powder

3/4 teaspoon

baking powder

1/2 teaspoon

baking soda

1/4 teaspoon

salt

2

large eggs, at room temperature

1/2 cup

(

100g

) granulated sugar

1/2 cup

(

100g

) packed light brown sugar

1/3 cup

(80ml) vegetable or canola oil (or melted coconut oil)

2 teaspoons

pure vanilla extract

1/2 cup

(120ml) unsweetened yogurt, at room temperature
For the Buttercream Frosting:
1 cup

(

200g

) salted butter, softened to room temperature

3 1/2 cups

(

420 grams

) confectioners' sugar

2 tbsp

whipping cream

2 teaspoons

  vanilla bean paste
---
Instructions
For the cupcakes:
Preheat the oven to 350°F (180°C). Line a 12-cup muffin pan with cupcake liners. Line a second pan with 2 liners – this recipe makes 14  – 16 cupcakes. Set aside.
Sift and whisk the flour, cocoa powder, baking powder, baking soda, and salt together in a large bowl until thoroughly combined. Set aside.
In a mixer using the paddle attachment, beat the eggs, granulated sugar, brown sugar, oil, and vanilla together until completely smooth.
Pour 1/3 of the dry ingredients into the wet ingredients. Then half of the yogurt. Gently combine on low for a minute. Add another of the dry ingredients followed by the yogurt. Finish with the dry ingredients. Mix together until *just* combined; do not overmix. The batter will be thin.
Pour or spoon the batter into the liners. Fill only halfway to avoid spilling over the sides or sinking. Bake for 18-21 minutes, or until a toothpick inserted in the center comes out clean. Allow to cool completely before frosting.
Frost cooled cupcakes however you'd like. I used Wilton Star 2110  piping tip for these pictured cupcakes. Top with sprinkles, if desired. I used these stars. Store leftovers in a sealed container for up to 5 days.
How to make the Frosting:
With a handheld or stand mixer fitted with a paddle attachment, beat the butter on medium speed until creamy – about 5 minutes. You're going to run the mixer for the full 5 mintues.
Turn the mixer off and add the sifted powdered sugar in two additions.  Run the mixer on low to incorporate. Bring the mixer up to medium high and run for about 4 minutes with each addition. Once the sugar is mixed in, add the cream and the vanilla bean paste with the mixer running on low. Increase to high speed and beat for another 3-5 full minutes.
If you need to make adjustments, add some more confectioners' sugar if frosting is too thin or another Tablespoon of milk if frosting is too thick. Add a pinch of salt if frosting is too sweet. (I like 1/8 tsp salt.)
If you would like to add color to your frosting, a gel paste is best. You will use less and you won't ruin the structure of your perfect buttercream frosting.
Cover tightly and store for up to 1 week in the refrigerator.
Notes
I piped my cupcakes using that huge star tip and then sprinkled the edible silver stars to finish them off.

---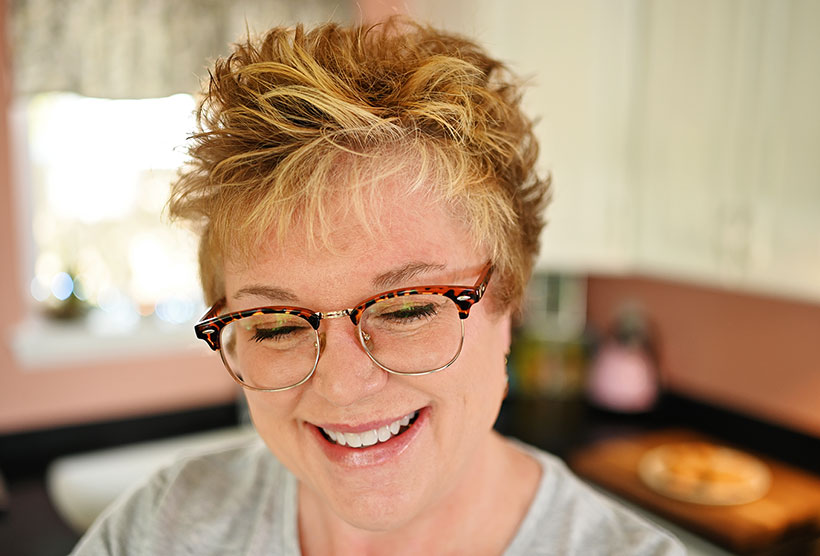 Hi there, I'm Patty.
Sewist, Baker, Maker
I love figuring out new ways to use pom poms, where I can stash more fabric, and I'm always wondering what to bake next…chocolate or lemon? When not dreaming up new things to make (or bake), I love riding my beach cruiser on the Boardwalk, escaping to mid week movie matinees, and planting new things in my tiny but mighty container garden.