Seriously Moist Chocolate Cake
My recipe for seriously moist chocolate cake that starts with a box cake mix.
Can we all agree that having a slice of seriously moist, delicious chocolate cake is one of life's simple pleasures?
The fragrance of chocolate is better than any fancy French perfume, and when you pair that aroma with a moist cake it's literally pure heaven on earth.
Unless you don't like chocolate. And in that case, why are you here?
And more importantly…how can you not like chocolate?
---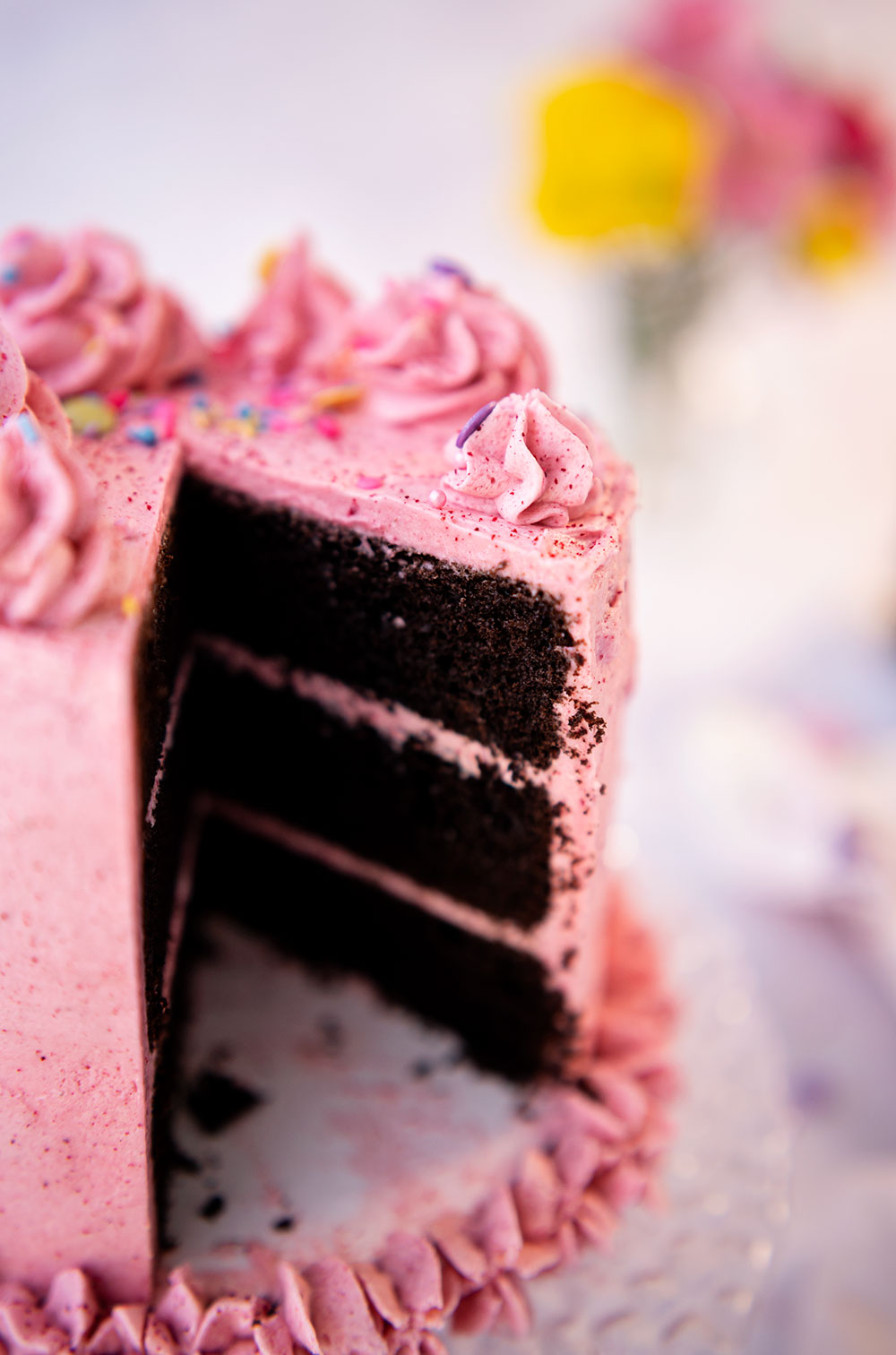 ---
The best part about this chocolate cake is that it's pretty darn easy to make and bake. I started with a Betty Crocker Super Moist Chocolate Fudge Cake mix. What's not to like about that? And I paired it with my homemade Raspberry Buttercream Frosting. Again, what's not to like? First off, it's pink and secondly, it is so flavorful.
Many people share a cake mix recipe and do all sorts of gymnastics to the mix. I really don't see the need in this case. This is a great mix, and I incorporate the ingredients mostly as written, with only a couple of optional alterations and additions.
---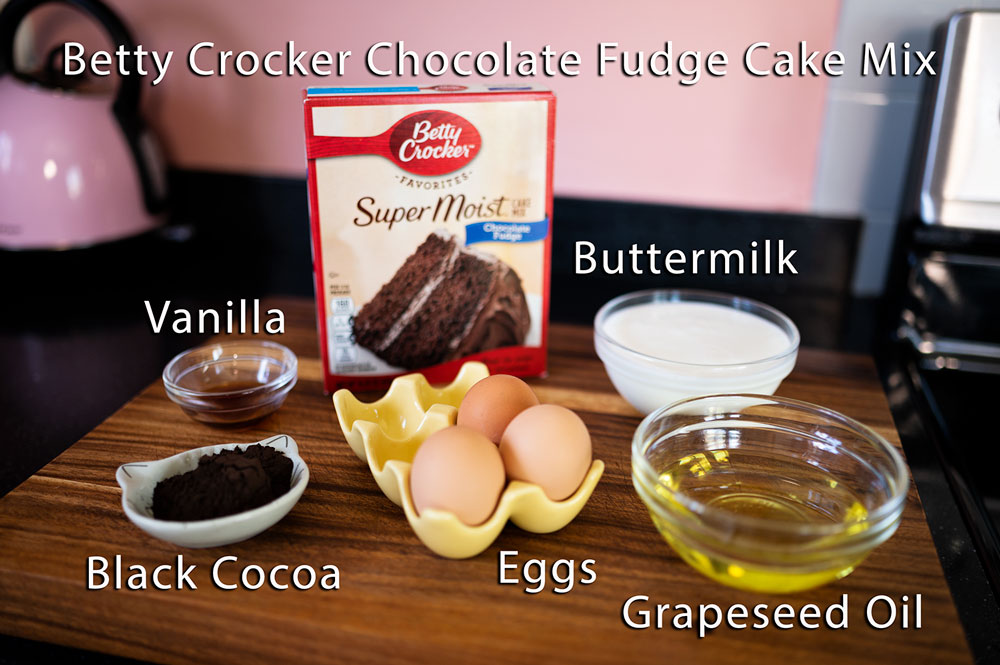 ---
In all my cake mix recipes, I do substitute buttermilk for water, I use grapeseed oil as my oil, and I like to add vanilla. For this one, I also added a 1/8 cup of black cocoa to deepen the chocolate notes. I had it on hand, and I like the flavor of it.
It's kind of a specialty ingredient and what is used to give oreo cookies their signature look and taste. So if you like Oreos, you will like black cocoa. I order mine from King Arthur Flour and the bag lasts me a year or more. You replace a portion of your regular cocoa used in recipes with black cocoa for a different flavor profile. However, this is completely optional! If you are not interested in trying out a different cocoa powder, it can be omitted. No problem.
But look at the beautiful cakes it bakes.
---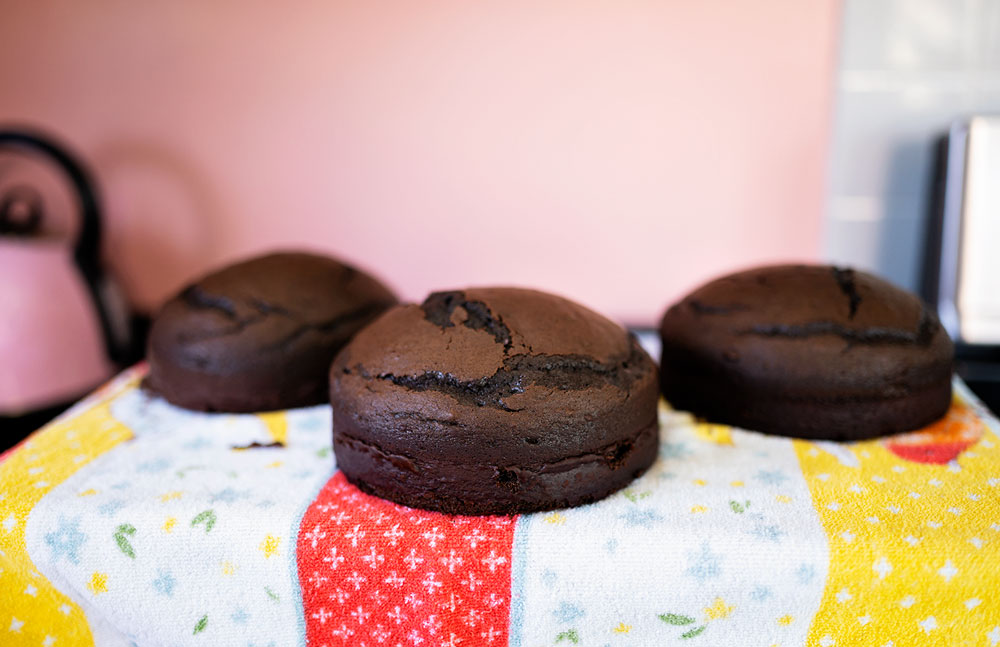 ---
If you are new around here, then you may not know how much I love making 6″ cakes. I have pretty much started baking all my cakes as 3 – 6″ layer cakes, because one cake mix bakes into 3 – 6″ pans perfectly well.
You might enjoy this little series if you are new to baking or have never made layer cakes like this:
Don't skip the part on how to prep your cake pans. That is of critical importance in baking cakes.
---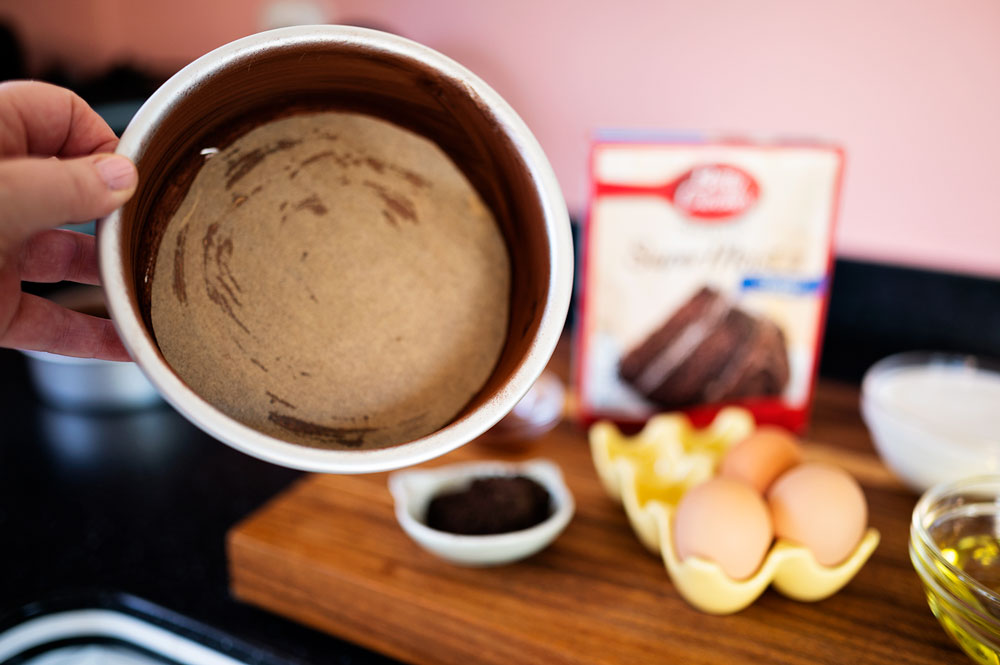 ---
The real secret to baking a moist chocolate cake is three fold:
Use oil (not butter) when mixing the batter. I use grapeseed oil in all of my baking where oil is used.
Don't over bake the cake.
Do NOT over bake the cake.
I know I said the last instruction twice. So many bakers refuse to take that instruction seriously enough when it comes to making chocolate cakes.
I cannot over emphasize the importance of these actions to create the chocolate cake of your dreams.


Oil is critical, because cocoa is kind of dry and if it is not properly moistened in mixing, you will have a problem.
Also, the over baking issue. Baking a chocolate cake, or cupcake for that matter, is bit more challenging because the color makes it more difficult to judge doneness. Setting your timer for the earliest baking time is key. And then using the spring back method to test for doneness is essential.
Spring back method is lightly pressing the top of the bake and seeing if it springs right back. A completed bake will bounce right back while something that needs a little time will hold the indentation from you pressure.
---
---
Also checking to see if the sides have pulled away from your pan is very important. The bottom line is you will need these methods to check for doneness because visually, you won't be able to tell.
---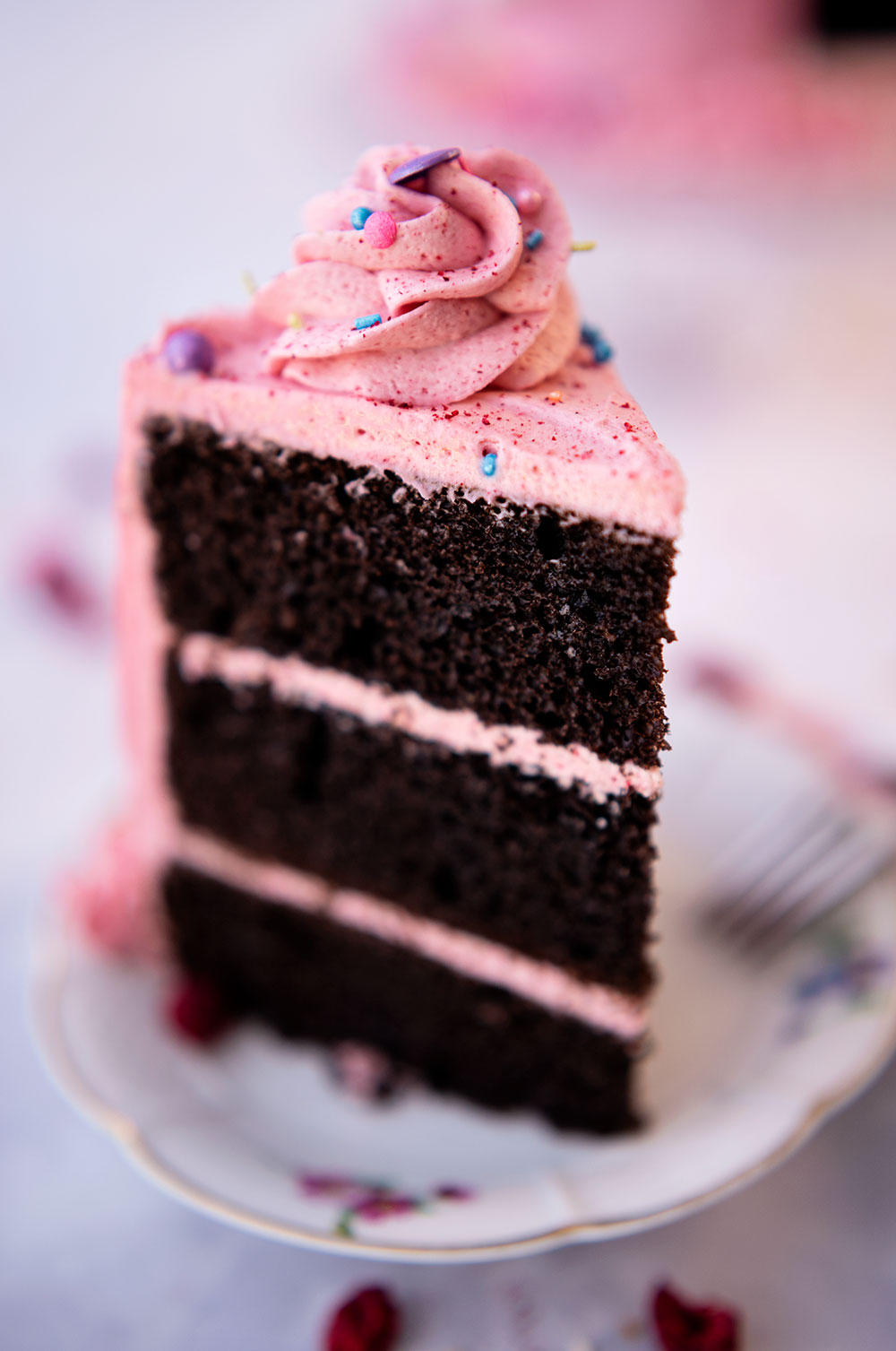 ---
So take your time with this. Making a moist chocolate cake requires a little more attention than other cakes. You go from done to dried out in a hot minute, so set that timer, and stick close to your oven.
If you haven't jumped on the layer cake wagon yet, now is a great time to start! They are a little extra effort, but so worthwhile. If you are blessed with some extra time to experiment with your baking right now, then I encourage you try making layer cakes. There is a lot of satisfaction in slicing into a perfectly frosted, piped, decorated layer cake. It does require a few special tools and a little extra patience and time, but it's so worthwhile.
You Might Also Like:
---
Print
Seriously Moist Chocolate Cake
Author:

Pattymac

Prep Time:

15 minutes

Cook Time:

20 minutes

Total Time:

35 minutes

Yield:

8

servings

1

x

Category:

Dessert

Method:

Baking

Cuisine:

American
---
Description
Seriously moist chocolate cake made from a Betty Crocker cake mix.
---
15.25 ounce

(

432g

) Betty Crocker Stuper Moist Chocolate Fudge Cake Mix

1 1/4 cup

Buttermilk

1/2 cup

Grapeseed Oil

3

eggs

1 tsp

vanilla. **optional

1/8 cup

Black Cocoa **optional
Recipe for homemade Raspberry Buttercream Frosting
---
Preheat oven to 350 Degrees F.
Prepare cake pans. I used 3 6″ pans and prepped with butter, cocoa, and parchment rounds.
Set up stand mixer with paddle attachment. A hand mixer also works.
Combine the wet ingredients together, including eggs and vanilla and mix on medium low until well combined.
Turn off mixer and add dry ingredients.
Run mixer on low until mixture just comes together, and then turn mixer to medium high and beat the batter for 2 straight minutes. Do not skip this step.
Divide batter evenly in selected pans. I like 6″ pans so I put about 330 grams of batter into each pan.
Smooth the tops with an offset spatula and then tap on counter to release bubbles.
Place in preheated oven and bake 18 – 22 minutes, but check close to the 18 minutes mark to see how they look. Follow the package instructions if you bake in any other pan. Use the spring back method and look for the sides of the cake pulling away from the pan to judge doneness.
Let cakes sit for 3-5 minutes when out of the oven.
Tip them out and let them finish cooling on a cooling rack. 
Frost as desired, but I recommend the Rasberry Buttercream featured in the pictures with this cake.
Notes
I put dish towels on my kitchen rack so the cakes don't get indentations in the surface.
To get a sharp, level layer cake, I use a cake leveler and trim each cake once cooled to the same height.
This beauty is frosted and decorated with Raspberry Buttercream which you can find by going here!
Keywords: moist chocolate cake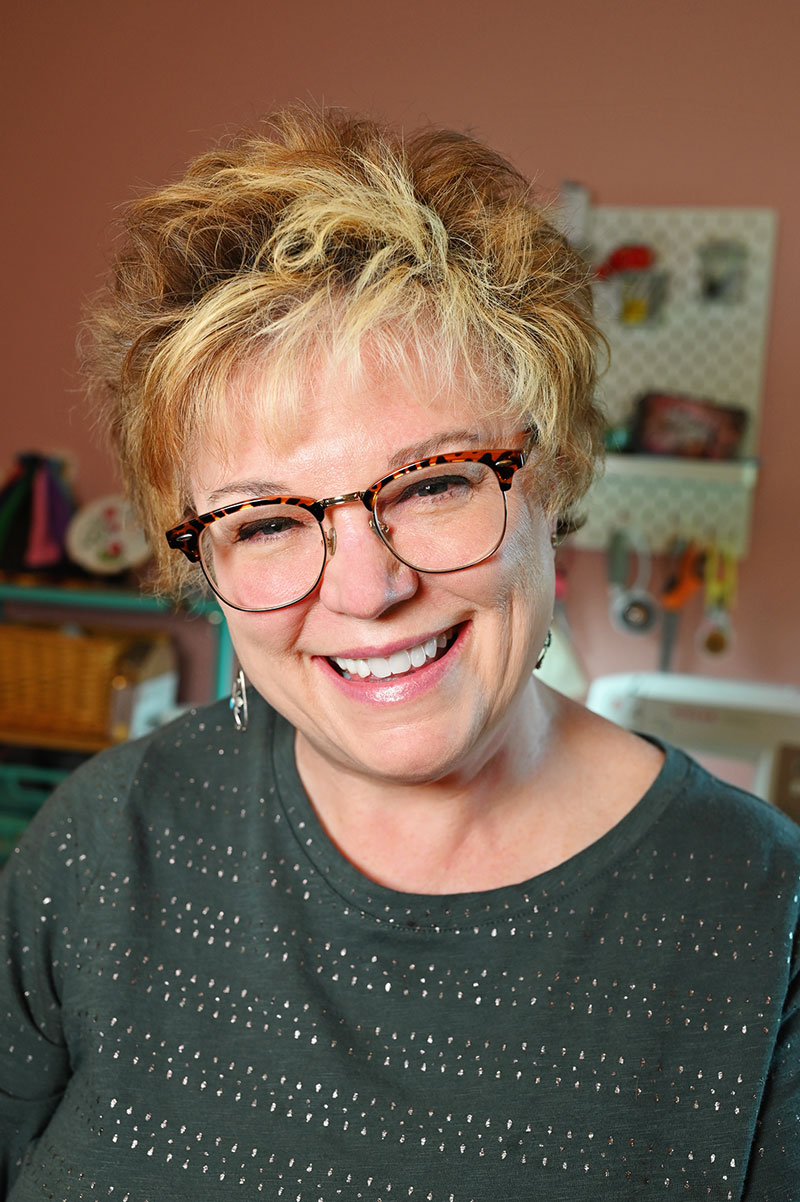 Hi there, I'm Pattymac.
Sewist, Baker, Maker
I love figuring out new ways to use pom poms, where I can stash more fabric, and I'm always wondering what to bake next…chocolate or lemon? When not dreaming up new things to make (or bake), I love riding my beach cruiser on the Boardwalk, watching classic movies, and planting new things in my tiny but mighty container garden.