Meet the delicious Funfetti Cupcakes, bakery style vanilla cupcakes topped with American style buttercream frosting.
Say hello to my little friend, the Funfetti Cupcake topped with American Buttercream frosting.
As you know, baking is pretty big around around here. And making cupcakes is very high on the list when it comes to favorite hobbies. What's not to love about them?
"What are Funfetti cupcakes?" you ask. They are cupcakes with sprinkles in the batter as well as on top of that luscious frosting.
---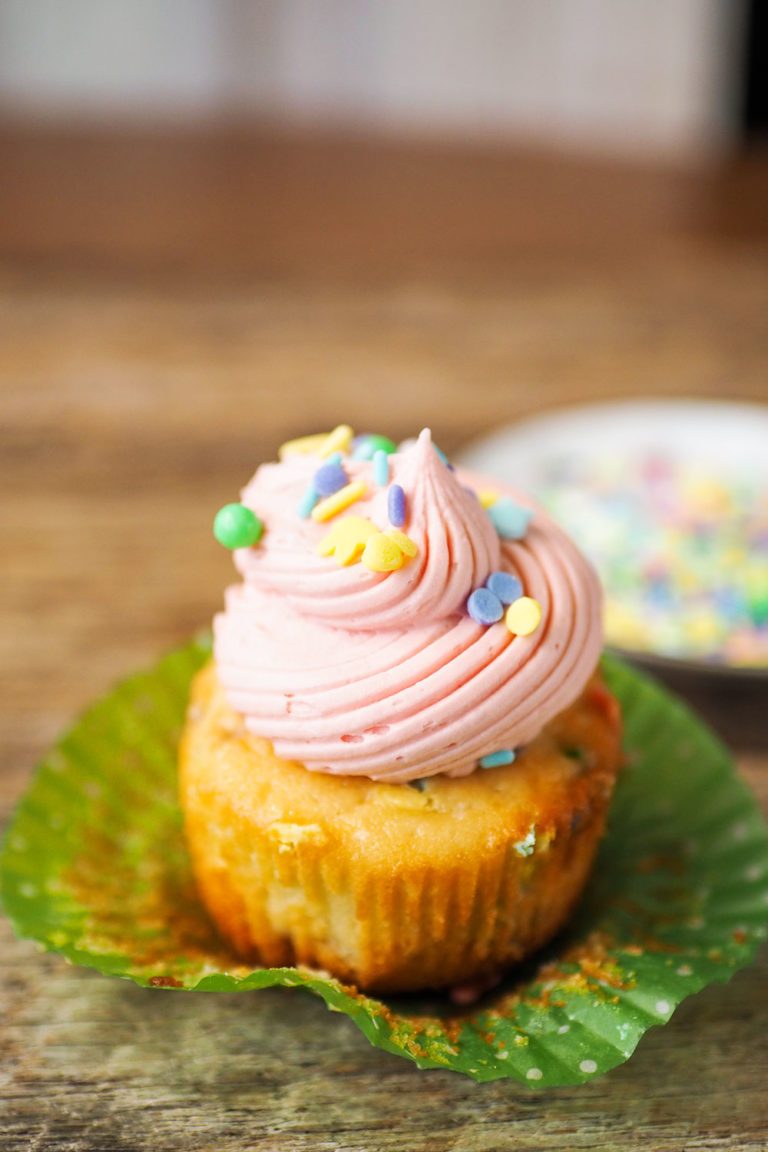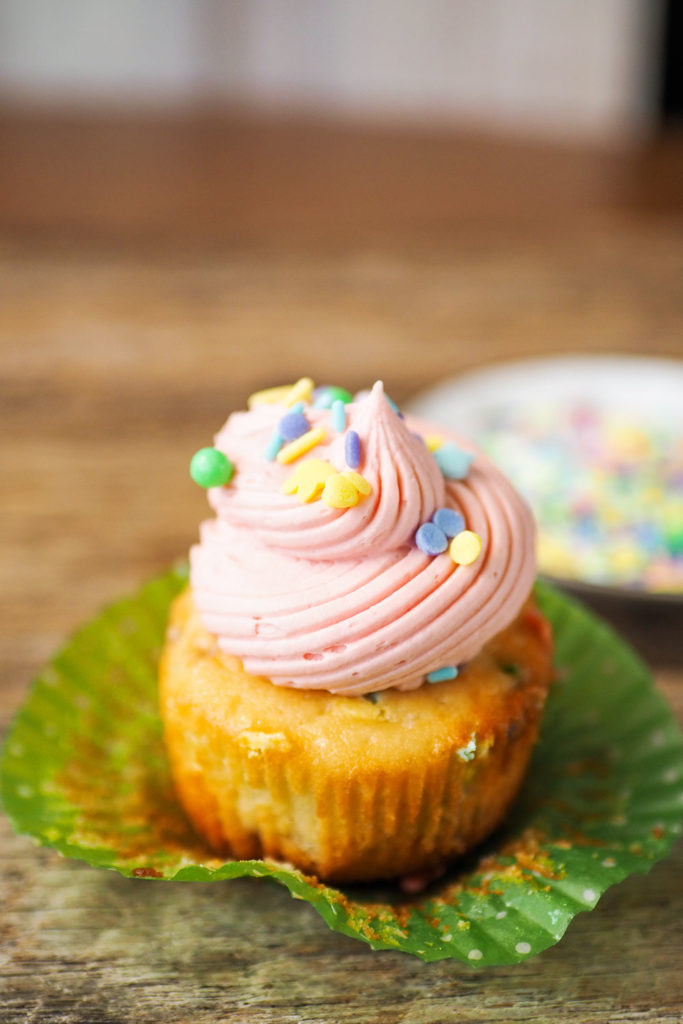 ---
Your eyes do not deceive you. Those are bunnies in the sprinkles you see. I bought a HUGE tub of Bunny Sprinkles purchased to decorate my Peanut Butter eggs that were the hit of Easter. Huge tub was the only size available, the sprinkles were cute (and inexpensive), so I bought them. But if you think I'm going to let those cute sprinkles go to waste just because Easter is over, well, then you don't know me very well. Bunnies are cute all year long, and we get them in droves here all summer. So I think anything bunny should be allowed all summer long. That's my story and I'm sticking with it.
Besides, don't they absolutely scream SPRING?
---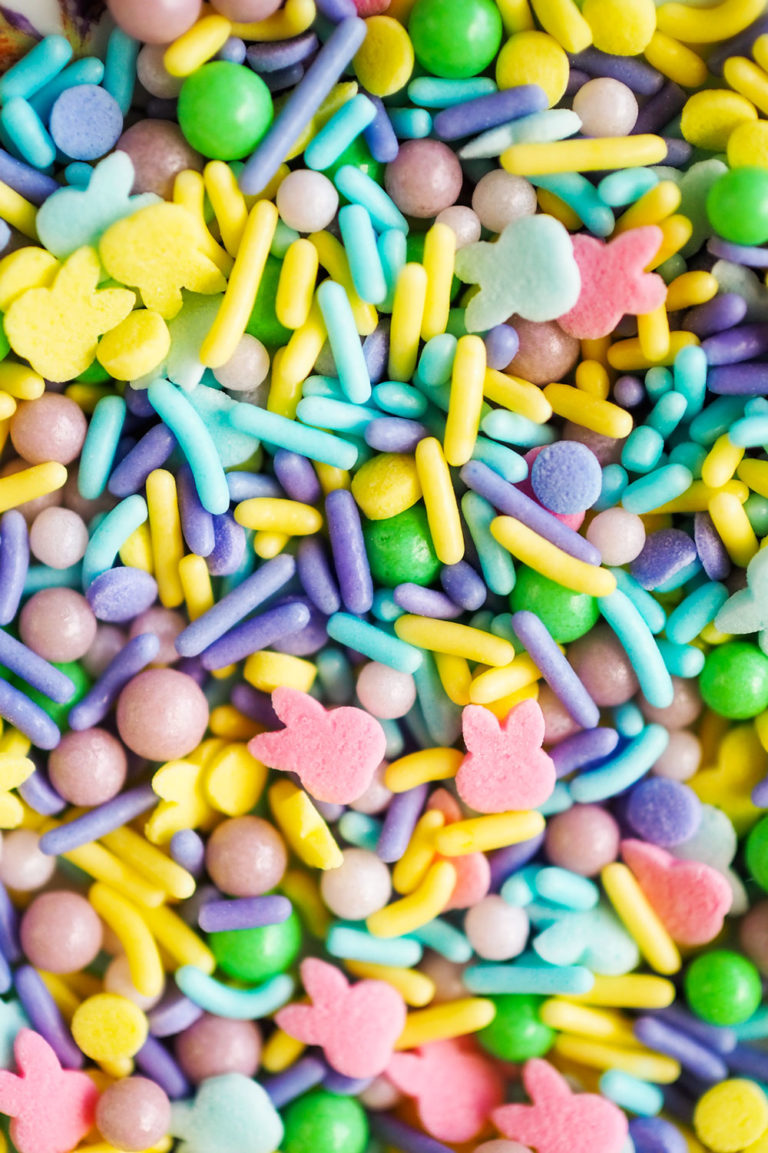 ---
Now that Bunny Gate is out of the way, let's discuss the funfetti cupcakes. That's why we're all here!
The cupcake itself is a vanilla cupcake and the frosting is flavored with Lavender extract. Doesn't that sound good?
There are few steps to getting these cupcakes right, and I used quite a few bowls to have all my ingredients ready to go. But totally worth it. I want to make them again to try out different sprinkles.
Doesn't the swirl looks great with sprinkles? Sprinkles on swirls is an easy way to dress up any cupcake.
---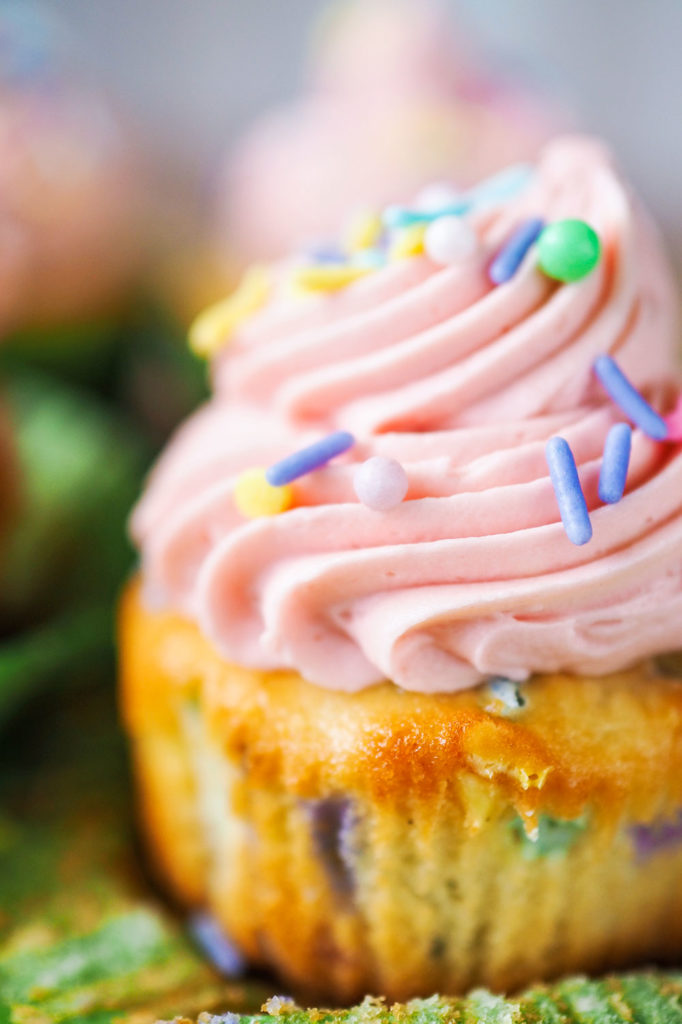 ---
As is so often the case, I started with a recipe from my favorite baker, Sally's Baking Addiction. She inspires me to be my best in the kitchen and in blogging.
Let's be real for a minute. It's 2019 and pretty much every thing has been made in every alliteration known to man. So having a completely unique cupcake recipe is not really likely anymore.
Some people will add an extra 1/4 teaspoon of baking soda and call it a unique recipe. This happens constantly in food blogging. I like using recipes and I'm not ashamed to admit it, but I will always provide links back to the inspiration. I made a couple of alterations to this recipe and if you read mine and then check out Sally's you'll see the differences. So you can decide how you choose to make your cupcakes. I have a pinterest feed full of yummy looking stuff I want to try out, so why not do that and share the results here? I see no need to reinvent someone else's working wheel. I will however, link to the inspiration recipe as well as give you my own here.
Let me totally honest with you. Food blogging is expensive and it's hard work.
I will never take anything away from anyone else, but I also want to have the enjoyment that comes in sharing bakes with you. Ok. Now that the moral statement is out of the way, let's get on with the cupcakes!
---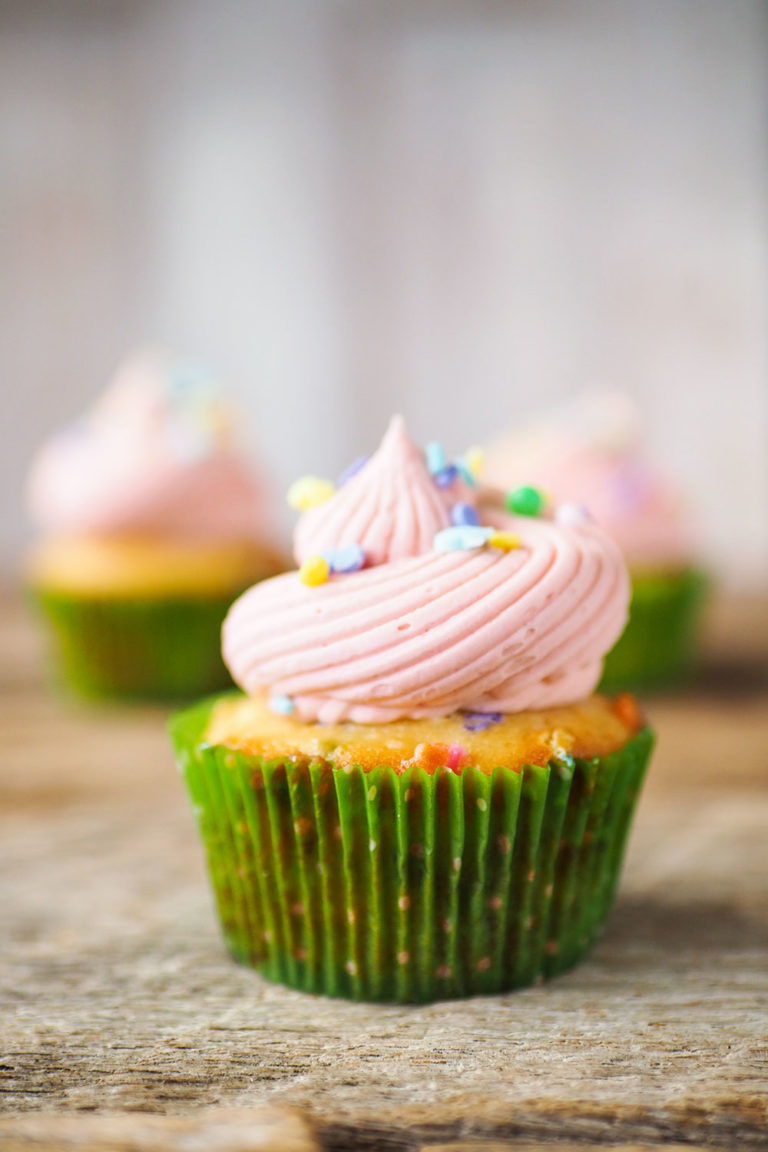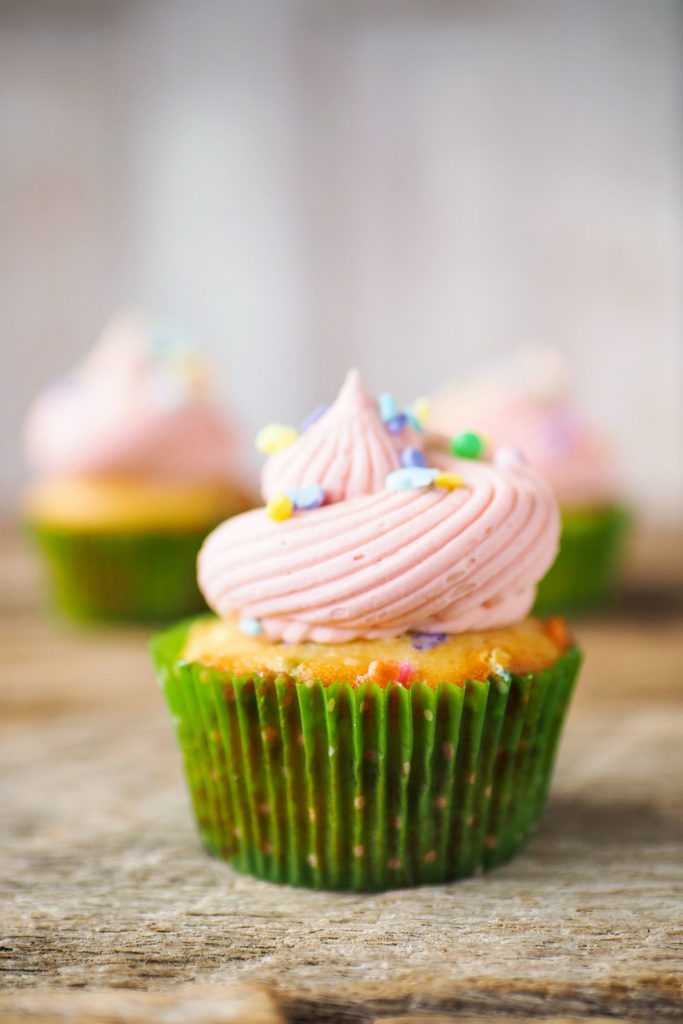 ---
Print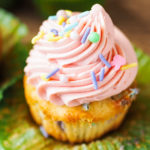 Funfetti Cupcake Recipe
Author:

Pattymac

Prep Time:

25

Cook Time:

20

Total Time:

45 minutes

Yield:

1

6

1

x

Category:

Dessert

Method:

Baking

Cuisine:

American
---
Description
Bakery style Funfetti cupcakes with American style Buttercream Frosting. Perfect for any party or celebration. Let's be honest, they are perfect for any old Tuesday afternoon. Just make them. They are delicious.
---
1 3/4 cups

or

200 grams

cake flour

3/4 tsp

baking powder

1/4 tsp

baking soda
One Stick or 115 grams unsalted butter

1 cup

or

200 grams

granulated sugar

3

large egg whites (room temperature please)

2 tsp

vanilla extract

3/4 cup

or 120 grams Greek yogurt (my preference is Siggi's Triple Cream)

1/2 cup

or

120

ml Buttermilk

1/2 cup

or

80 grams

of sprinkles for the batter mixins and more for topping
For the Frosting:
2

sticks or

200 grams

salted butter, room temperature

4 cups

or 420 grams icing sugar (powdered sugar)

1/4 cup

or 2 oz. dairy (Anything from milk to heavy cream. Use what you have.)

2 tsp

Lavender (any flavor you like, really) extract
---
Instructions
For the Cupcakes:
Preheat the oven to 350 degrees F (180C). Prep cupcake pans with liners. I also recommend using baker's spray. The papers will come right off the cakes.
Sift and whisk the dry ingredients together.
Cream butter and sugar together until well combined. Use a medium speed on your mixer so you are whipping in air without heating up the butter beyond room temperature. Stop the mixer and scrape down several times during this mix which will take at least 5 minutes. Don't rush this step. The creaming process is the foundation for this style of baking.
When butter and sugar are adequately creamed, add in egg whites and vanilla. Scrape down the sides a couple of times and continue the mixer on medium. Do not crank her up full blast. Just. Don't. Do. It.
Add in yogurt and mix until well combined.
You are left with the dry ingredients and the buttermilk. Finish it this way: Spoon in 1/3 of the dry ingredients and mix until it just starts to combine, then pour in half the buttermilk. The mixer should be on LOW. Scrape down the sides as needed. Spoon another 1/3 of the dry ingredients, mix until it starts to combine, and then pour in the rest of the buttermilk. When this is coming together, put in the remaining dry ingredients. Only mix on low until it just comes together. Do NOT overmix! We do not want gluten development as it will lead to a tougher cake, and we are going for tender. As Paul Hollywood would say, "This is cake not bread, so don't over develop the gluten." Actually I can't remember a single instance where he actually said that, but you know he was thinking it, girl.
Gently whisk in the sprinkles. Pastel colors are better as bright ones tend to bleed their colors.
Fill cupcake liners 2/3s full and bake for 20 minutes + or – 2 or 3 minutes depending on your oven. When a toothpick comes out clean they are done. Don't over bake! Allow them to cool completely on a wire rack for frosting.
For the Frosting:
Beat the room temperature butter for about 5 minutes on a medium speed. I have a video on making frosting, so please have a look at that.
Add the sifted icing sugar (powdered sugar) to the butter with the mixer turned off. Slowly crank up the speed on the mixer so the powdered sugar doesn't wind up going everywhere. Add the sugar in a couple of additions, and scrape down your bowl before and after each addition! 
When the sugar is well incorporated, turn the mixer to medium high and add your flavoring. I used Lavender, but you can use whatever you prefer. Add the cream in a steady stream and monitor when the frosting is the perfect consistency. Kitchen temperature, mixer, humidity, etc all effect this, so don't add it all if it isn't needed. You want the buttercream to hold its shape, but not be so thick you can't pipe it comfortably. It takes time to learn the proper consistency, so don't be upset if your frosting is not perfect. It still tastes good! And if it's too thick to pipe, use a spoon or offset spatula to frost your cupcakes.. Let's be real, no home baker piped anything before Instagram.
At this point you can add a drop or two of gel paste food coloring. Use the gel paste as the liquid versions can impact the consistency of the frosting. Or don't add anything. It's completely up to you!
Put the frosting on the cupcakes. I piped mine using a swirl technique and then topped with more sprinkles.
Notes
The frosting can be any flavor or color you desire. I used Lavender extract in mine, but you could use lemon or almond. Or stick to vanilla if you desire. The frosting is perfect for whatever you are in the mood for.
This frosting is the perfect carrier for your favorite colors and flavorings. It can be anything. It's like the perfect Drag Queen of frosting. Dress her up all you want, girl, because she loves it.
I used a couple tiny drops of gel paste food coloring to get the pink tinted frosting. If you haven't noticed already, pink is sort of my thing. I used a disposable piping bag and big star tip, called a Wilton 8B.
Have all your liquid ingredients (anything not dry) at room temperature which is approximately 67 degrees F. If you're going to bake well, you need to plan ahead a little. And use the darn kitchen scale. Grams are life changing. Trust me.
Keywords: best funfetti cupcake recipe
---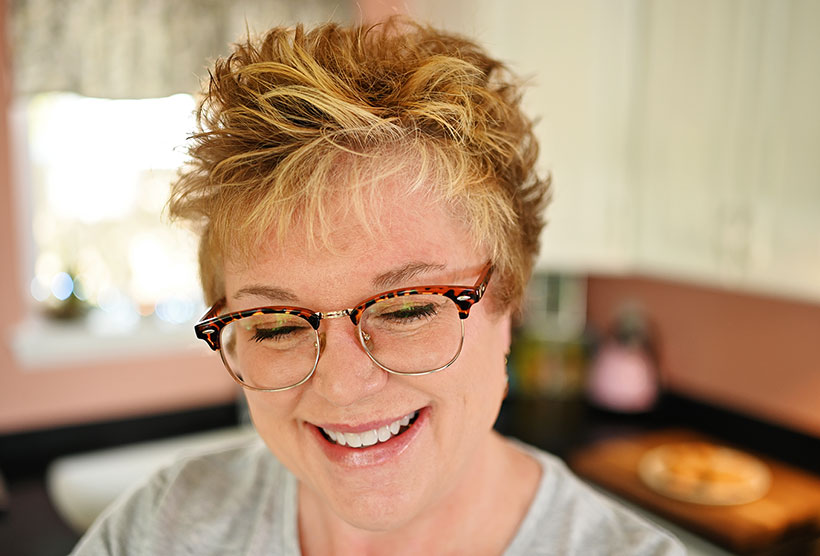 Hi there, I'm Patty.
Sewist, Baker, Maker
I love figuring out new ways to use pom poms, where I can stash more fabric, and I'm always wondering what to bake next…chocolate or lemon? When not dreaming up new things to make (or bake), I love riding my beach cruiser on the Boardwalk, escaping to mid week movie matinees, and planting new things in my tiny but mighty container garden.