My favorite Recipe for Carrot Cake
In this world of unlimited options, even Carrot Cakes can be whipped up a million different ways. There's no actual right or wrong way, only what we all like the best. So in this post allow me to share my favorite recipe for Carrot Cake.
In the old days, before there were smart phones and food blogs and pinterest stories we had only a couple of ways to access recipes: dog eared, spill laden, well worn, much loved cook books and hand written recipe cards. Our space was limited unlike pinterest boards bursting with 1000s of ideas for swirling buttercream frosting on a cupcake, so the recipes we kept were the ones we loved the most. This cake is one of those. When I say this is my favorite recipe for carrot cake, I'm not kidding.
First of all, can we just take a minute to admire how pretty this cake is? Part of what makes it my favorite recipe for carrot cake is that it is so darn pretty.
The cream cheese frosting, which is a MUST with carrot cake is incredibly creamy, and any sprinkle looks good on on it. I think a cake is a celebratory thing, so I just about always decorate mine with colorful sprinkles. If you're going to go to the effort to make a scratch cake, then why stop short of adding sprinkles? (affiliate link) Also, I have to share the darling bunny rabbit cake plate (affiliate link) with you as a perfect complement to your home baked carrot cake.
Ingredients for My favorite recipe for Carrot Cake:
Brown Sugar
Caster Sugar (affiliate link)
Grapeseed Oil (any non flavored vegetable oil)
Eggs
Applesauce (affiliate link)
Vanilla
All purpose flour
Baking powder
Baking soda
Salt
Cinnamon
Nutmeg
Ground clove
Grated Carrots (the star of the show)
Tips for success:
Carefully measure all your ingredients. Personally, I recommend getting away from volume or using cups and instead weigh your ingredients in grams. (affiliate link) Switching to grams is easy and it's far more accurate.
I used the individual packets for applesauce so I only have to open the individual portion at a time to make recipe as opposed to opening a big jar. Unless you really like applesauce, of course!
Use fresh carrots and grate them really fine. This is a cake and no one wants a chunk of carrot in their slice….even if it is a carrot cake.
Caster sugar is a super fine sugar, (affiliate link) and I first learned about it watching the Great British Baking Show. I use it now for most all of my baked goods. But any granulated sugar works.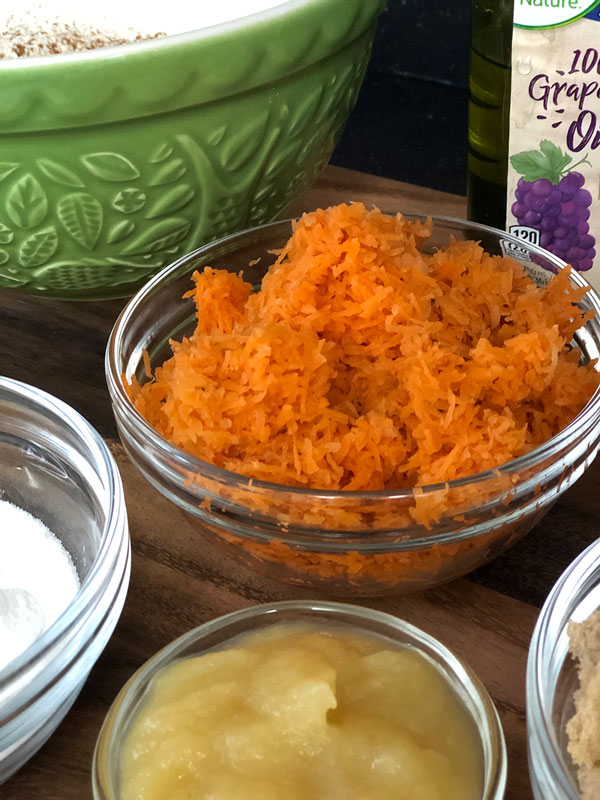 Finely grating carrots makes for a delicate texture and sweet flavor.
Don't scrimp on your grating. Use the finer grate side of your box cutter instead of the big chunky grate we generally use. I had baby carrots on hand and used them for my carrots, so don't be afraid to use them as opposed to regular carrots.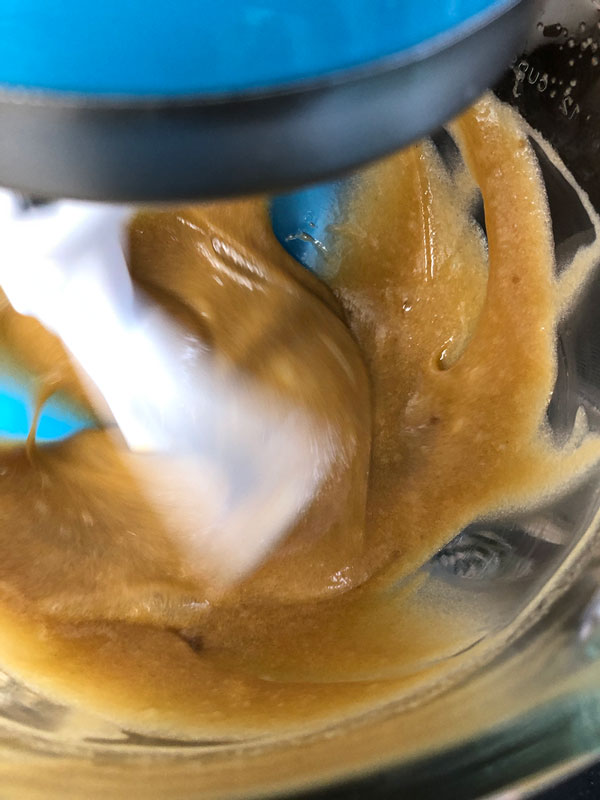 Carrot cake batter goes together pretty fast.
Mix your wet ingredients in a stand mixer if you have one, but a handheld mixer will also work. Carrot cake is oil based, as opposed to butter based, and has quite a bit of wet ingredients to combine. Using the paddle attachment on the mixer will best incorporate the sugar into the applesauce, oil and eggs.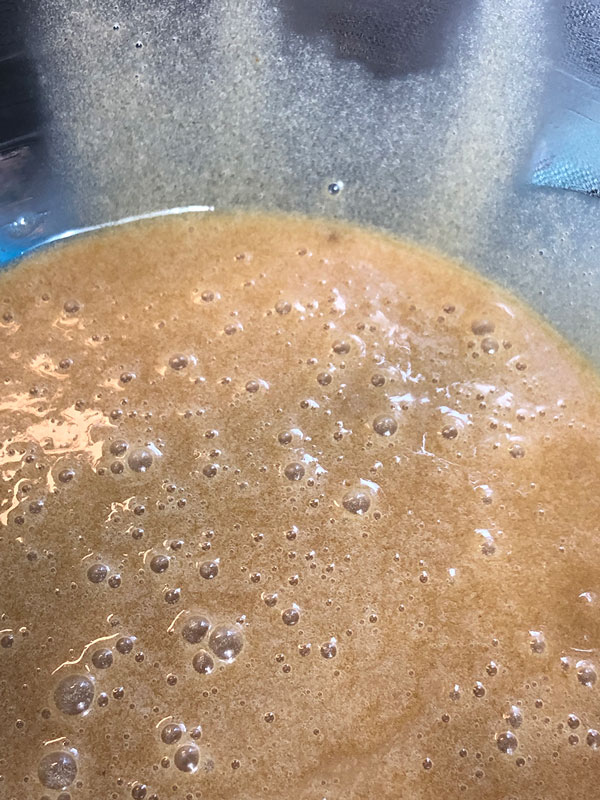 The wet part of this cake batter is VERY WET!
Carrot cake is a wet, heavy cake batter filled with "mix-ins" in this case the shredded carrots and chopped pecans. At this stage, all we've done is get the wet ingredients mixed. I wanted you to see how liquid this base is as opposed to a cake made by creaming butter and sugar.
Time to combine the wet and dry ingredients of my favorite recipe for carrot cake recipe
While the wet ingredients are mixing, take that time to measure your dry ingredients to include the spices. When the wet component is well combined, add it all at once to the dry ingredients and mix by hand just until mixed. Mix with a gentle hand to have the more tender result for your baked cake. Not over doing the flour is how to keep baked goods tender. Mix until just combined, and add the carrots and pecans mixing until combined. No over mixing once the flour goes in.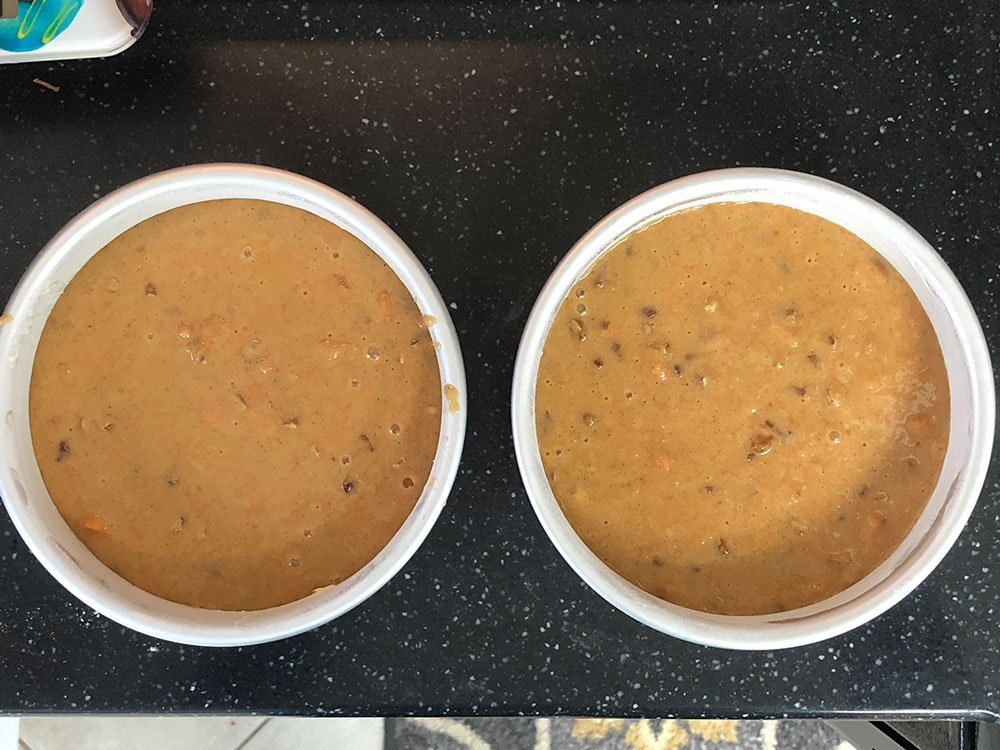 The biggest difference between this recipe and other carrot cakes, is the size.
This recipe is written for two – 6″ cake pans. Significantly smaller than the usual 9″ cakes other recipes call for.
Also notice how wet this batter is. And it's pretty chunky looking with the mix-ins, the pecans and carrots, stirred in at the end.
A carrot cake that's small in size but big on taste.
When I decided I wanted to make a carrot cake and started looking for the right recipe, I was shocked by the size of the cakes. They are HUGE. One was made from three 9″ cakes, and used 4 blocks of cream cheese and 1200 grams (10 cups) of powdered sugar in the frosting. It was crazy. And in today's environment, who can afford that?
This is a much smaller version. While small in stature, it's a GIANT in the taste department. And you won't go broke making this version of carrot cake. I make all my cakes in 6″ cake pans these days. I love the size and the reduced ingredients definitely makes it easier for me to bake more often.
Commonly asked questions about making carrot cake from scratch
Is it better to have shredded or grated carrots for cake? While carrots are the star of the show, aim for finely grated pieces rather than chunky. The finer the grated the carrots, the more evenly they distribute in the cakes (giving perfect texture), and the more evenly the cake and carrots will bake. Who wants to bite into a chunk of raw carrot in their cake?
Why does carrot cake need so much oil? Cakes are either butter or oil based, and carrot cake is an oil based cake. Oil will keep the cake moist. Unfortunately, it also means you lose the leavening power that creaming butter and sugar would bring. (Creaming, or beating together the two ingredients on high speed, aerates the butter.) So both baking powder AND baking soda help the cake layers rise.
Why did my carrot cake not rise? Even though the carrot cake relies on a leavener to rise, adding too much baking powder can cause your cake to have peak on top due to too many air bubbles in the mix. So measure carefully. Alternatively using baking powder that's old or stale or has been stored improperly, can result in not enough rise, and flat dense cakes.
What side of grater do you use for carrot cake? The small shredder side of the box grater shreds carrots into very small strands, which is ideal for baking.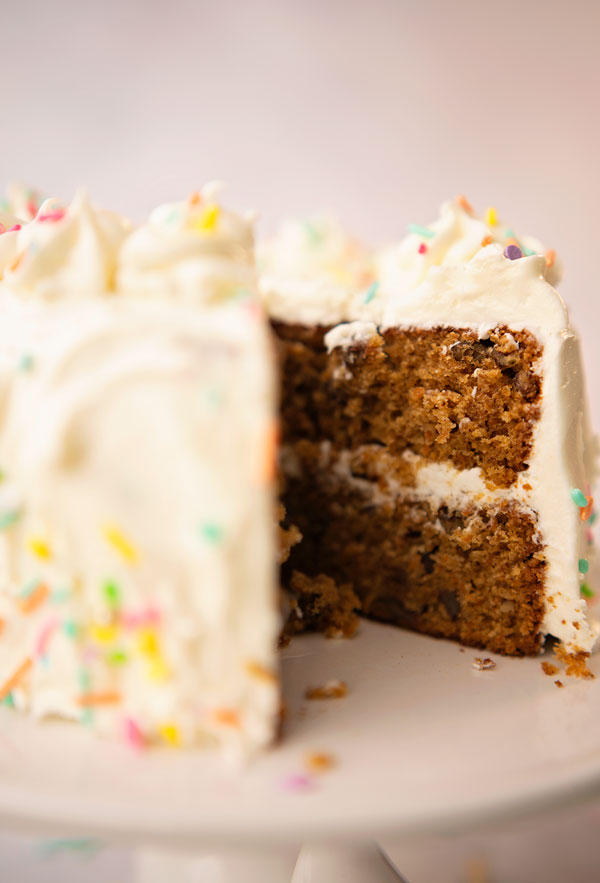 What is the frosting on carrot cake?
Why Cream Cheese frosting, of course! The tanginess of the cream cheese pairs so well with spicy sweetness of the cake itself. Butter is added to the cream cheese when whipping to give the frosting a little more structure and smoothness. Don't scrimp on the powdered sugar as it's needed to give structure to the frosting. Not enough sugar, and the frosting will pretty much slide off the cake!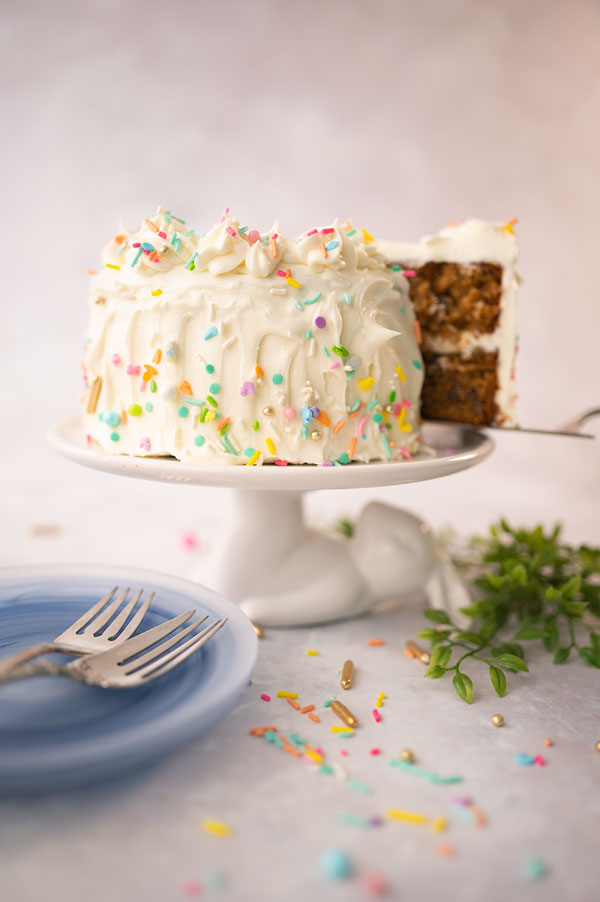 Why won't my cream cheese frosting thicken?
Generally the issue of thin cream cheese frosting is one the following:
Using cream cheese in a tub and in a block. Frosting calls for FULL FAT cream cheese in the block form. Don't skimp.
Using cold cream cheese. Like butter, the cream cheese has to be room temperature before using. This means right around 68° F. Use a thermometer to get this just right.
Not using enough sugar. Believe me. I get it. That bowl of sugar you measured and sifted looks crazy big. And it is. But we're making cake, not keto bars. The sugar is as much for texture as it is for flavor, so don't cut back on it.
Not measuring the sugar correctly. I mentioned earlier about the importance of weighing ingredients instead of using cups. Invest in a good food scale and measure out all your dry ingredients in grams. You'll wonder why you waited so long.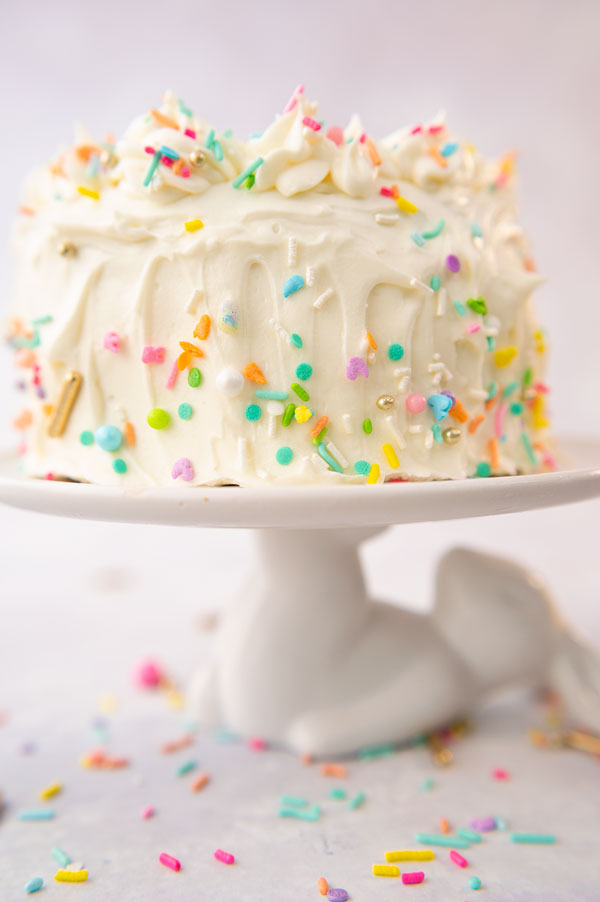 Lastly, have fun with your presentation of the cake.
Carrot cakes are most often associated with Easter and bunny rabbits…but I find the bunnies in my neighborhood much more prevalent in June than in April. And carrots are a delicious fall crop….so really Carrot Cake should be deemed the perfect year round cake! Give your guests (or your family) a clue about the cake hiding under all that frosting by serving your creation on a bunny rabbit cake plate. (affiliate link) I bought this one specifically for carrot cakes. And as luck would have it, the cake plate is sized for 6″ cakes! Not all cake plates are sized for small cakes, so you have to pay attention to the measurements when you purchase. The one I used and the one I'm linking to in this post is absolutely perfect with this cake.
Ok my friends! I do hope you'll make this amazing cake for your loved ones. If you haven't yet jumped onto the 6″ cake band wagon, what are you waiting for? (affiliate link) It's a great size and so much easier on the baking budget. Who isn't looking for a way to save a little bit of money on the grocery bill these days? Here are a couple of other posts on the site that you might find helpful in making this beautiful cake in your own home kitchen
Print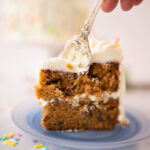 My favorite Recipe for Carrot Cake
Author:

Patty McGuire

Prep Time:

30

Cook Time:

35

Total Time:

1 hour 5 minutes

Yield:

8

1

x

Category:

Dessert

Method:

Baking

Cuisine:

American
---
Description
Enjoy baking a rich carrot cake topped with creamy cream cheese frosting. This recipe is designed for two 6″ cake pans so less spending at the grocery store and less food waste.
---
Ingredients for the Carrot Cake
180

g

light brown sugar

60

g

caster sugar

144

ml

grapeseed oil (or any non flavored vegetable oil)

2

large eggs

80

g

unsweetened applesauce

1 tsp

vanilla

190

g

all purpose flour

1 tsp

baking powder

1/2 tsp

baking soda

1/4 tsp

salt

3/4 tsp

ground cinnamon

1/2 tsp

ground ginger

1/4 tsp

ground nutmeg

1/4 tsp

ground clove

160

g

finely shredded carrots

156

g

chopped pecans
Ingredients for Cream Cheese Frosting
8

oz

full fat block of cream cheese, soften to room temperature
One stick of room temperature butter

420

g

sifted powdered sugar

1

–

2

tablespoons heavy cream or milk

1 tsp

vanilla
pinch of salt
---
Instructions
To make the Cakes:
Preheat oven to 350° F and prepare two 6″ cake pans by greasing and flouring the bottom and sides of the pans and adding a sized parchment round to the bottom for added insurance. That is, you want your cakes to release easily once they have baked.
Prepare the wet ingredients: thoroughly mix the first six ingredients in a large bowl. I mix mine on medium high using my stand mixer and a paddle attachment. Mix for about 3 minutes until everything is thoroughly combined. A hand mixer of even a whisk also works, but you might have to mix a little while longer.
Prepare the dry ingredients: Combine the next 9 ingredients in a separate bowl. Whisk the dry ingredients to combine.
Pour the wet mixture into the dry ingredients. With a light hand, mix gently using a big whisk or a large wooden spoon, just until the batter comes together. Do not over mix.
Fold in the shredded carrots and pecans.
Split batter evenly between the two prepared cake pans. Bake for 30-35 minutes. Test the center with a toothpick. If it comes out clean, the cakes are done. If not, continue to bake until the toothpick comes out clean. Bake in 3 minute intervals until done. Do not over-bake. Allow the cakes to cool completely in the pans set on a wire rack. The cakes must be completely cool before frosting and assembling.
To make the frosting:
Combine the cream cheese and butter in a large mixing bowl. A stand mixer fitted with the paddle attachment is the best choice but a hand mixer also works. Beat the butter and cream cheese on medium high for about 3 minutes. You want it to be light colored and fluffy.
Add the sifted powdered sugar in two additions. Mix thoroughly after the first addition before adding the second addition. Add the vanilla in with the second addition of sugar.
Add the cream or milk as needed to to thin frosting to the desired consistency.
Assemble and decorate cooled cakes as desired.
---
Notes
Serve your cake on an adorable bunny rabbit cake plate! (affiliate link)
You can toast the nuts before using in the cake if you like. Simply spread them out in one layer on a sheet pan and bake at 300 for 15 minutes. Allow them to cool completely before putting into the cake batter.
This recipe is adapted from one of my favorite bakers, Sally's Baking Addiction.
Keywords: recipe for carrot cake