The whole world is cookie crazy this time of year. Christmas and cookies go hand in hand. But let's not forget the magic that can be created from a piped Christmas cupcakes doused in fancy sprinkles.
May I introduce you to the Christmas cupcake?
Because the Christmas cupcake is so elegant, right?
---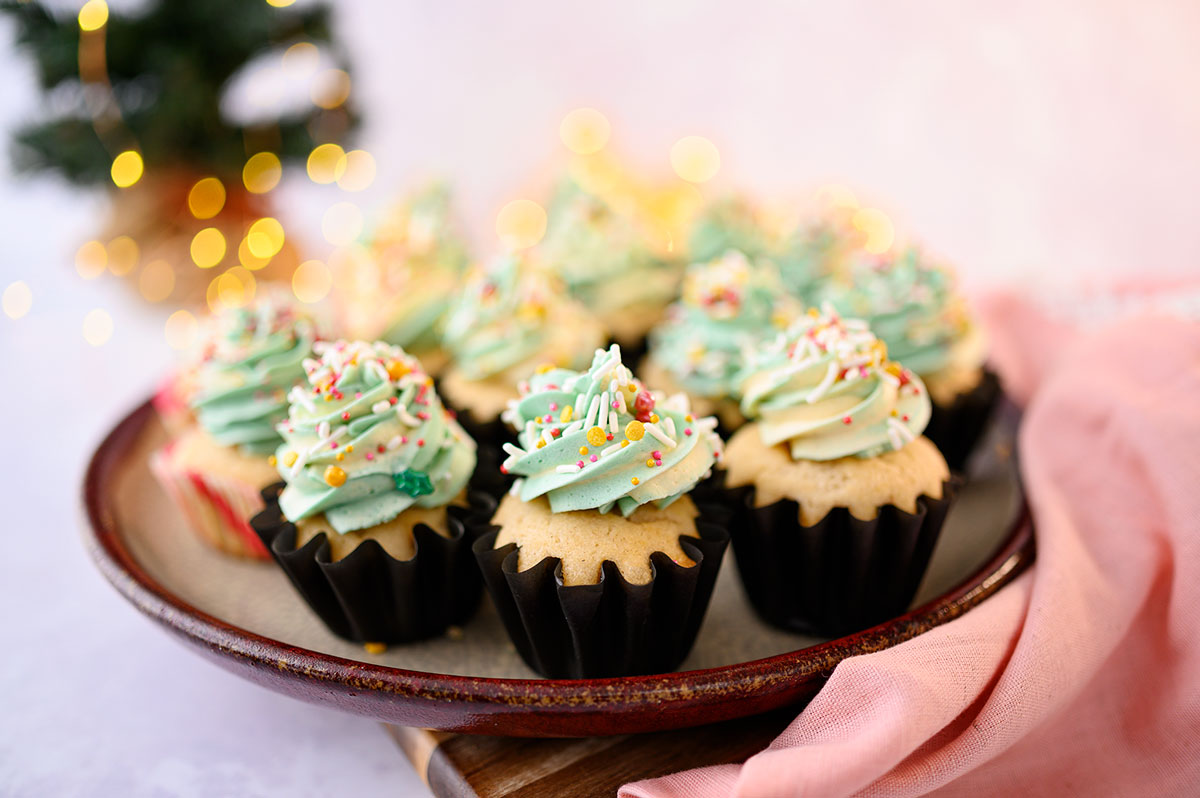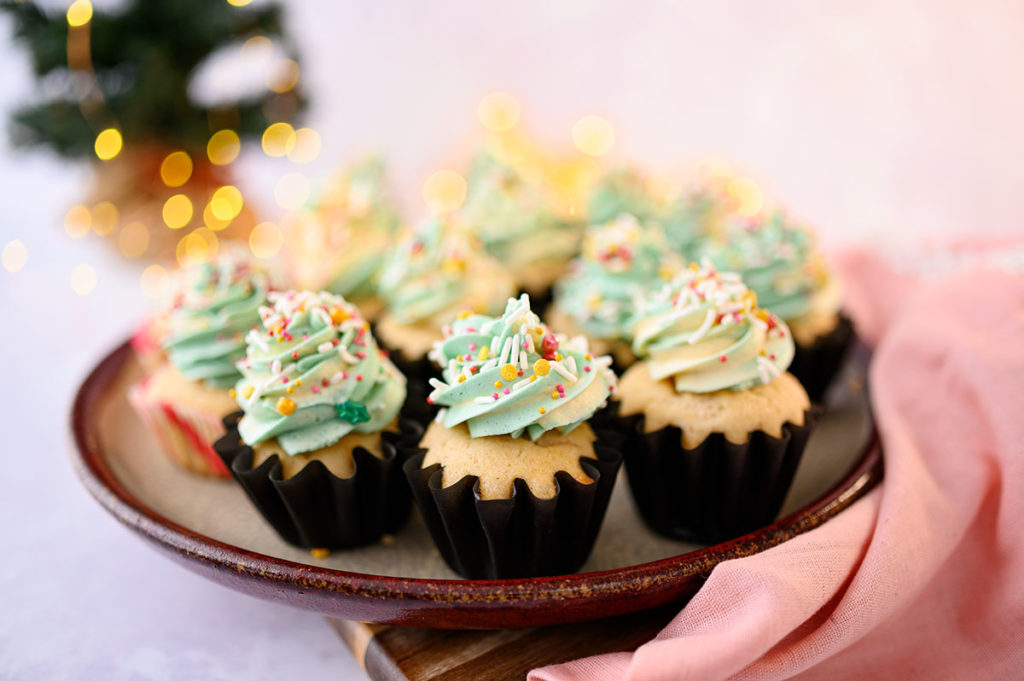 ---
By selecting fancy cupcake papers and special sprinkles, the cupcake is elevated to a next level treat. Pipe your frosting with the proper tip, and get ready for magic.
Is there anything more mesmerizing than watching a Christmas cupcake receive frosting?
---
---
I used a vanilla cupcake for the base. Before you say, "Oh how boring." Consider the array of tastes on a Christmas buffet. SO MUCH. Having a clean flavor with perfect texture is going to stand out over all the insanity lined up before you. What good is having 6 different chocolates and caramel and ganache and whatever else can be crammed into one little dessert bite? Your mouth can only taste but so much at once.
---
---
I find all these expertly made, overly sumptuous desserts being paraded before us every minute of every day online to be completely overwhelming and exhausting. So to have a perfectly baked, simply decorated cupcake is kind of a relief to all the infusions, heavily colored and, frankly, totally over done stuff we are seeing these days.
Your brain can only handle so much fancy in one bite. After that, it's a waste of expensive ingredients and your time. This is my personal opinion as a home cook and baker.
And for goodness sakes, all that EXTRA is not necessary. If you want to explore the challenges of those Olympic level bakes on instagram, then that is wonderful. But …no one should feel pressured to crank out that kind of stuff for a family gathering.
Why would you when you can serve this alongside the Chex mix and popcorn balls?
---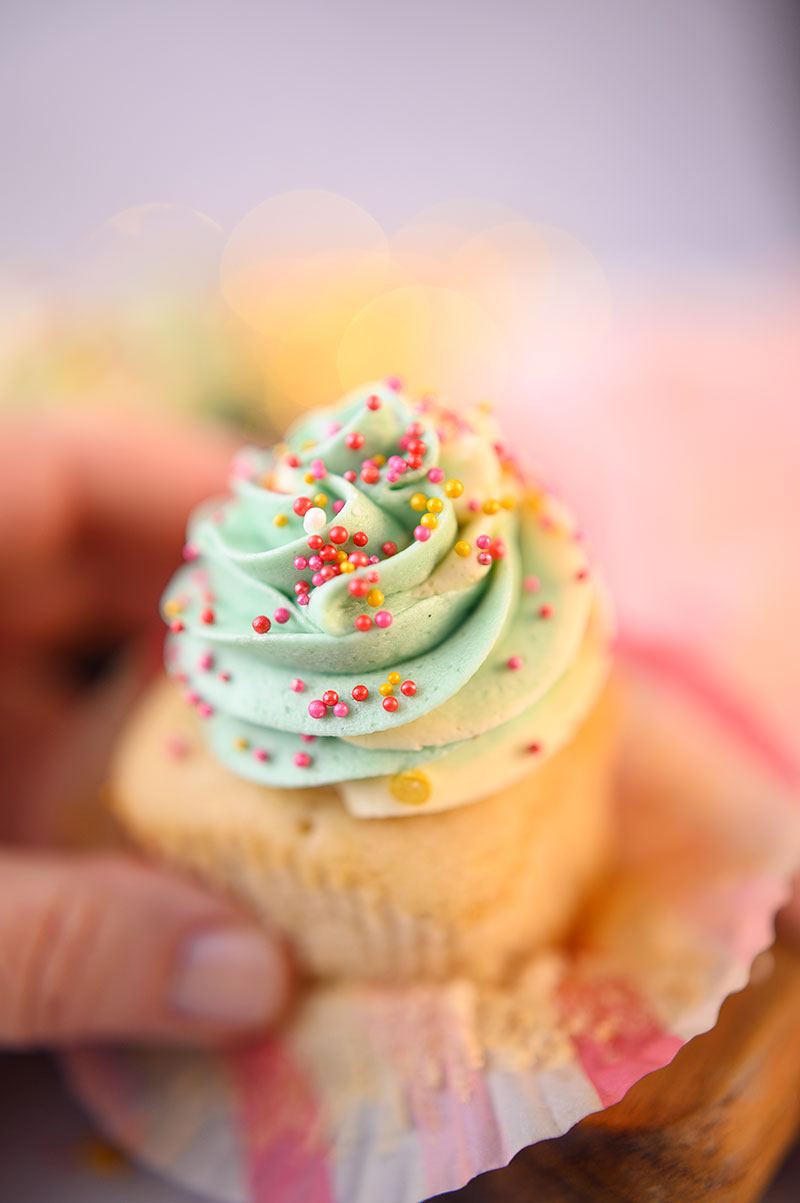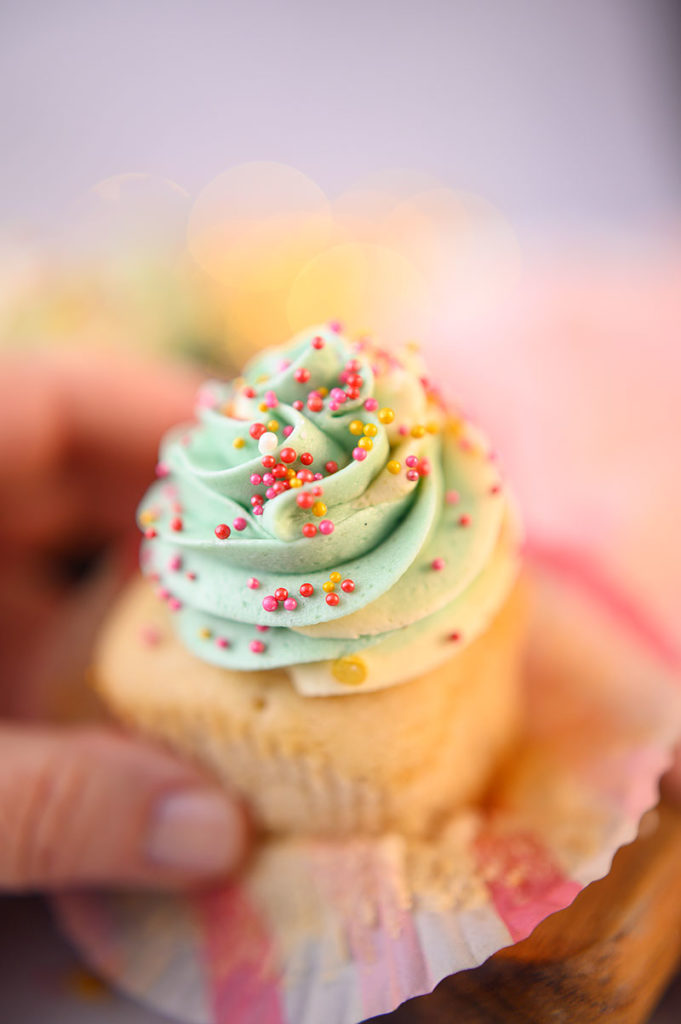 ---
Here's the truth. I would rather share something with you that is actually achievable in the absence of a degree from the Culinary Institute.
Certainly studying at Le Cordon Blue is a fantastic opportunity, but you really don't need that if you're making something for Book Club or to take to work for an afternoon Christmas party.
The fanciest decorative technique used with these Christmas cupcakes is that the frosting is a swirl of two colors. I put one color on one side of the piping bag, and the other color on the other side. I went for a light green and tinted the remaining frosting with an antique look. I
I'm more for tinting frostings and glazes than doing saturated color. It's a personal preference, so you can add more color if you like. In any case, do invest in gel food colors as a liquid can impact frosting consistency. After all that time carefully whipping the frosting and using those expensive ingredients, we certainly don't want to ruin that gorgeous, pipeable texture at the last minute.
---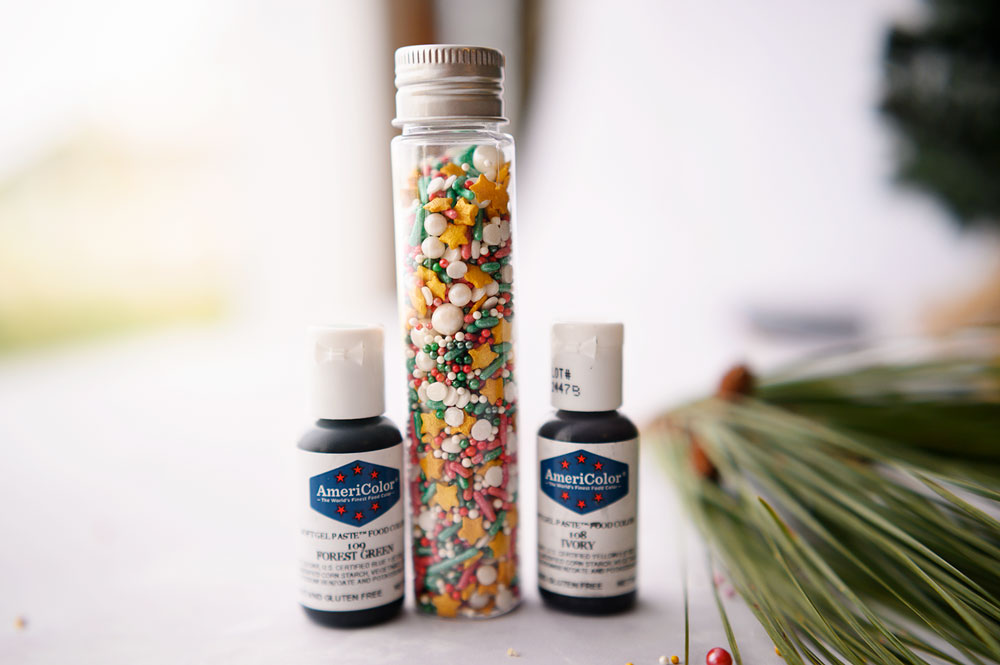 ---
This is my favorite vanilla cake. I used buttermilk, and caster sugar instead of granulated sugar. I added the buttermilk at the end alternating the mixing with the dry ingredients, and I also used my food scale. Don't fear the food scale! I have a post with video instructions you can read while you're here. The frosting is my version of American Buttercream, and it's absolutely delicious.
Is it sweet? Yes. It's frosting. It's supposed to be sweet.
Apologies in advance if that sounds a wee bit snarky. I'm just a little fatigued on people wanting piped decorations on their cakes and cupcakes who then proceed to complain about the amount of sugar in the frosting. The sugar is there to give the frosting it's structure. Otherwise, it's not going to hold the shape. I didn't invent the physics of this, but I can tell you, it's real.
---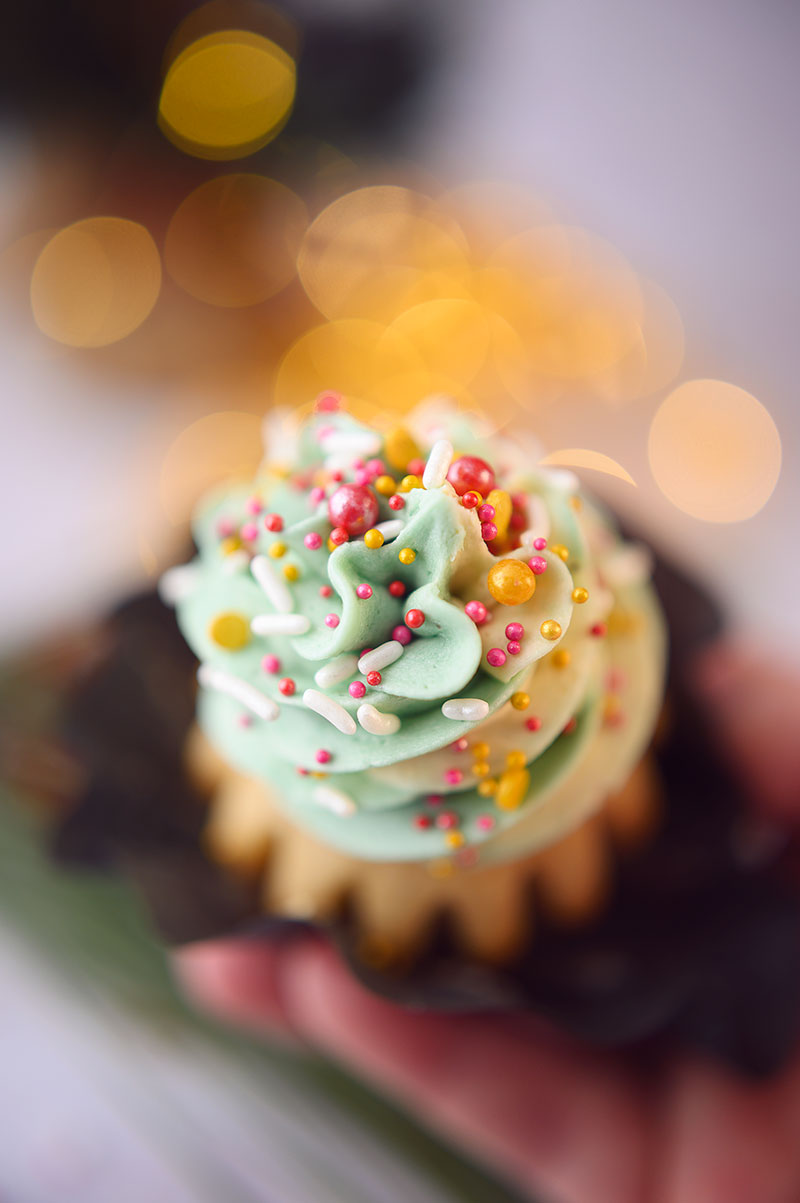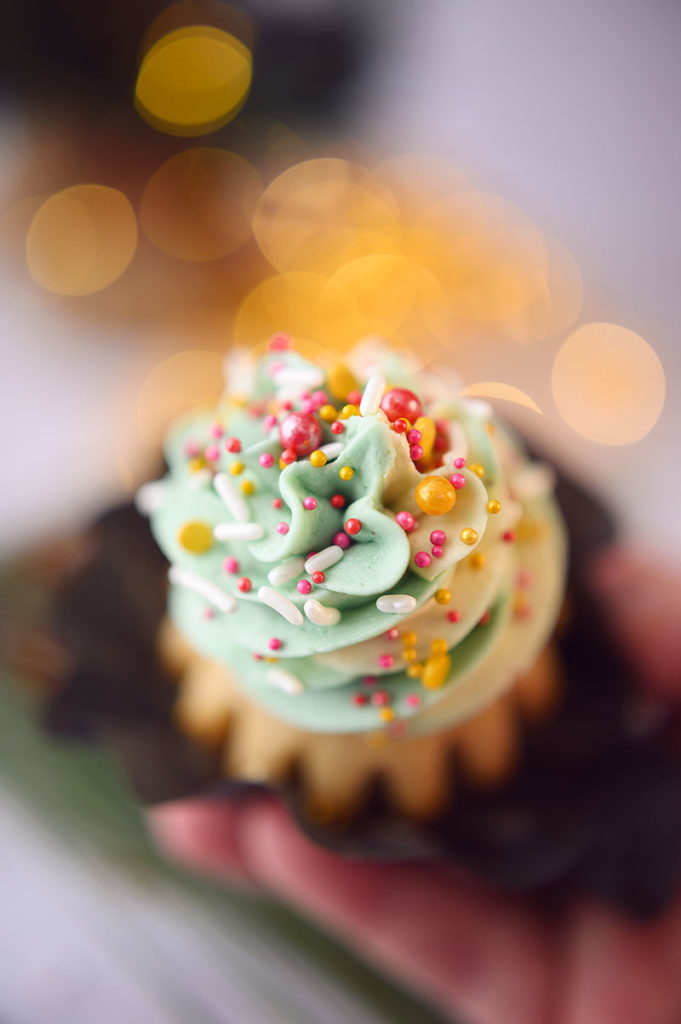 ---
I'm including the video I made showing the full mixing process for this cupcake recipe. They are just a little bit tricky in terms of getting the mixing and baking just right. But once you master this little cake, you can do all sorts of things to personalize it for any occasion.
Merry Christmas and Happy Holidays to you! I sincerely hope you enjoy these little bites of heaven and that you make these for your own gatherings this season.
---
Print
Christmas cupcakes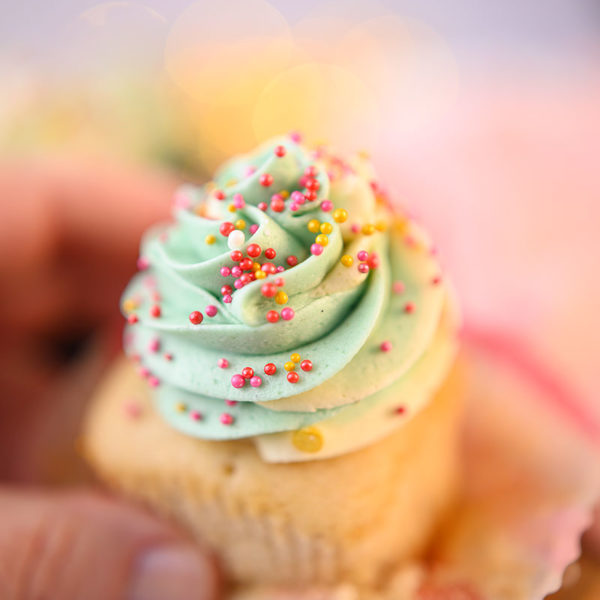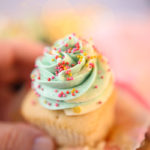 Vanilla cupcakes decorated as Christmas cupcakes with American Buttercream Frosting and sprinkles.
Author: Pattymac
Prep Time:

30 minutes

Cook Time:

20 minutes

Total Time:

50 minutes

Yield:

15

1

x
Category:

Dessert

Method:

Baking

Cuisine:

American
Ingredients
1

 and 3/4 cups (200g) 

cake flour

3/4 teaspoon

 

baking powder

1/4 teaspoon

 

baking soda

1/4 teaspoon

 

salt

1/2 cup

 (115g) 

unsalted butter

, softened to room temperature (which means

67

–

68

degrees)

1 cup

 (200g) 

caster or superfine sugar sugar

3

 large 

egg whites

, at room temperature

2

 teaspoons 

pure vanilla extract

1/2 cup

 (120g) full-fat 

sour cream

 at room temperature

1/2 cup

(120ml) butter

milk

 at room temperature

American buttercream

 and 

sprinkles

 for decorating (I use something I found in the craft store)
Instructions
Preheat the oven to 350°F (180°C). Line a 12-cup muffin pan with cupcake liners. Line a second pan with a few extra liners – this recipe makes between 15 and 18 cupcakes. Set aside.
Whisk and sieve the cake flour, baking powder, baking soda, and salt together. Set aside.
Using a stand mixer fitted with a paddle attachment, beat the butter on medium high speed until smooth and creamy, about 1 minute. Rain in the sugar and beat on medium high speed for 2 minutes until creamed together. Scrape down the sides and up the bottom of the bowl with a rubber spatula at least 2 or 3 times in the mixing process here. Add the vanilla at this stage of mixing.
Add the egg whites one at a time and allow each to fully incorporate before adding the next one. Beat on medium-high speed until combined, then beat in the sour cream. Remember to scrape down the sides and up the bottom of the bowl during this part of mixing.
With the mixer on low speed, add 1/3 of the dry ingredients and then half the buttermilk. When that is incorporated, repeat the first step. Finally, add the the final addition of the dry ingredients. Do not over-mix. Remember to scrape down the sides and the paddle attachment while adding this last part of the recipe. There should be no lumps or unmixed batter, but if there is, whisk it all by hand to make sure there are no lumps at the bottom of the bowl. The batter will be slightly thick.
Pour/spoon the batter into the liners – fill only 2/3 full to avoid spilling over the sides. Bake for 19-22 minutes, or until a toothpick inserted in the center comes out clean. The spring back method is a good tool to use with this recipe as the appearance of the cupcakes can be deceptive. Don't over bake! Allow the cupcakes to cool completely before frosting.
Frost cooled cupcakes with vanilla buttercream. I simply used a reusable piping bag and a Wilton 1M nozzle. Leftover cupcakes keep well covered tightly.
Notes
I piped the cupcakes using my reusable frosting bag and a Wilton 1M tip. That tip is magical, and makes anything pretty. If you only have one, that's the one.
Recently I switched to using caster sugar in my cakes and cookies. I'm a big fan of the Great British Bake Off, and they use that in all of their bakes. I have really liked the texture and taste of making this change.
Getting comfortable and familiar with the spring back method is really the only way to bake cakes. Just looking at them can totally fool you. Resist the temptation to keep baking. You must use visual queues like the tester coming out clean, the cupcakes pulling away from the sides of the pan and the all important spring back test to determine doneness. Start checking them at the beginning the recommended baking time to be safe.
Adapted from Sally's Baking Addiction
Keywords: vanilla cupcakes, christmas cupcakes,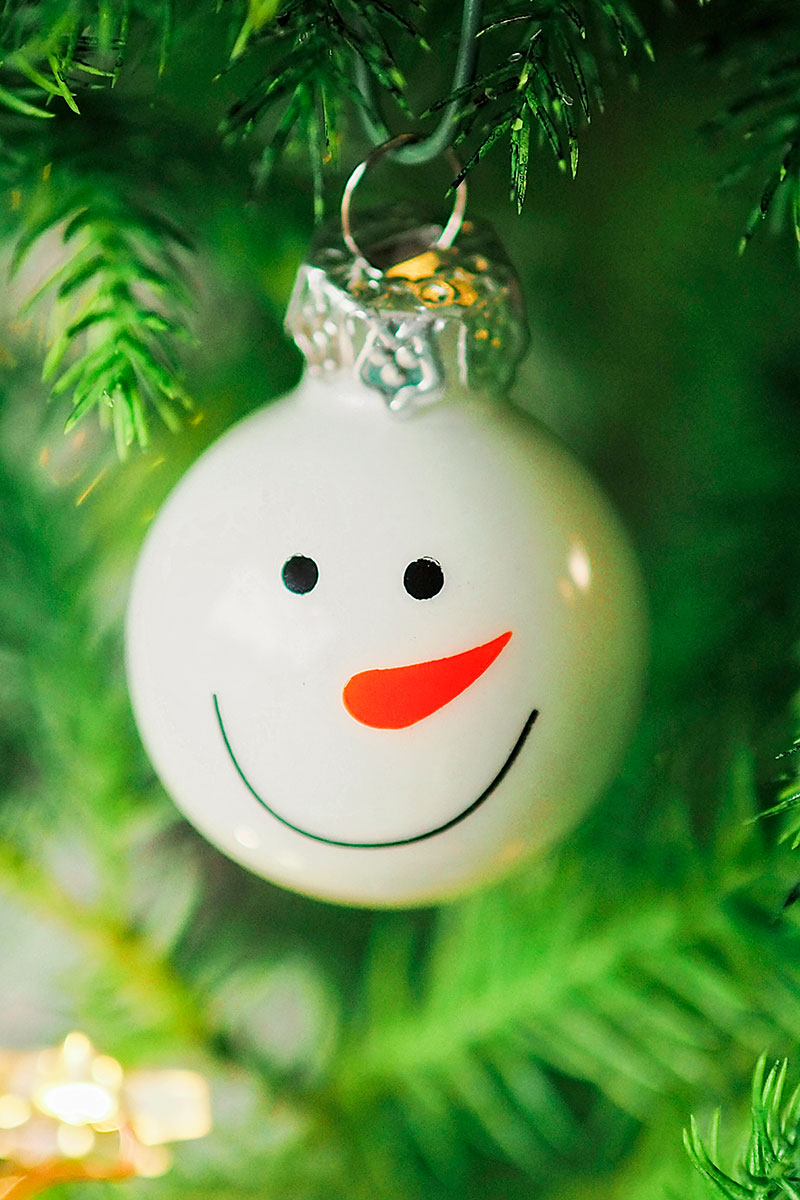 Hi there, I'm Patty.
Sewist, Maker, Baker
I love figuring out new ways to use pom poms, where I can stash more fabric, and I'm always wondering what to bake next…chocolate or lemon? When not dreaming up new things to make (or bake), I love riding my beach cruiser on the Boardwalk, escaping to mid week movie matinees, and planting new things in my tiny but mighty container garden.