This post has affiliate links to products I use and love. If you buy something I can make a small commission, so thanks in advance. 🙂
Sometimes you need something rich and chocolatey, and you need it STAT. When you need it fast, you probably want something easy. Allow me to share my simple method to make box brownies better.
In the world of baking, people either love mixes or they despise them. I personally love them. Not ALL of them, because some are better than others. Without question, some of them are not great. But brownies are typically pretty good. And easy to jazz up.
So allow me to share my quick tips on how to make box brownies better.
First of all, let's get our priorities straight. And this is probably the most important part. Use a good mix. My personal favorite is Ghirardelli.
---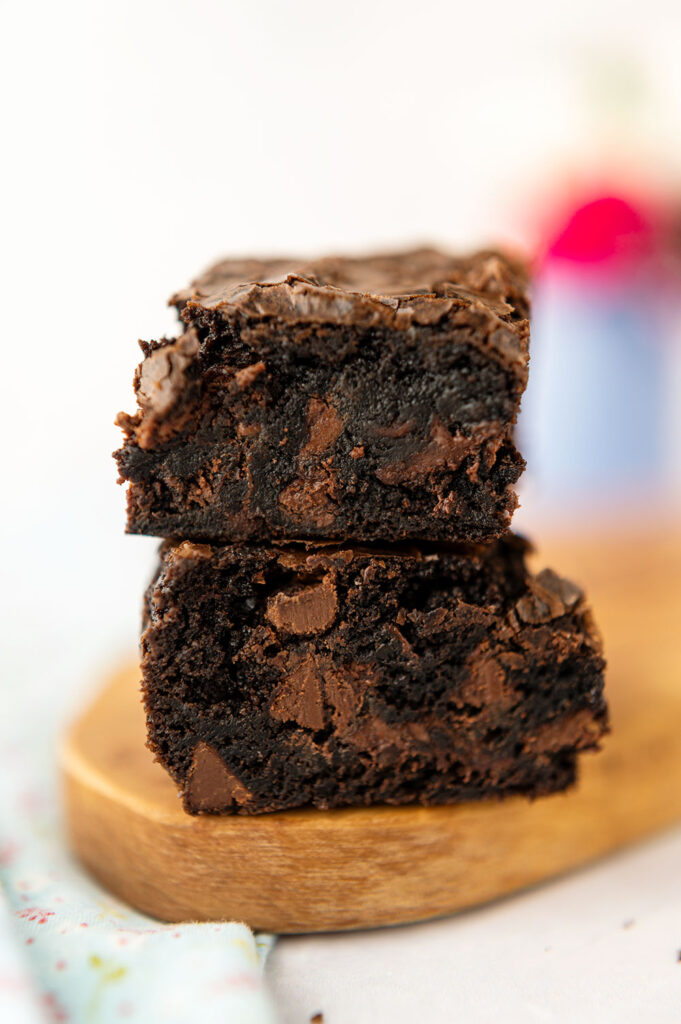 ---
Ingredients to make box brownies better:
A good quality brownie mix. Ghirardelli is my personal favorite, but you should experiment and find your favorite.
Use Grapeseed Oil as the vegetable oil. I use Grapeseed oil in all my baking where oil is an ingredient. It's light and flavorless, so that allows the cake or the brownie flavor to really shine.
Room temperature egg.
Vanilla Extract: Clear vanilla is my new favorite flavoring in all my baked treats, but any vanilla is good with these.
High Quality Chocolate Chips: Guittard is my favorite chocolate chip maker, and the bonus is they are made in America.
Espresso Powder: Just a dab of espresso powder amps the flavor profile of any chocolate dish, so definitely have this item in you pantry.
Black Cocoa: Black cocoa is another chocolate flavor to add in a sparing amount to bring out the richness of the other cocoa and chocolates in the batter. It's optional, but once you start adding it to your chocolate baked goods, you'll wonder why you waited!
---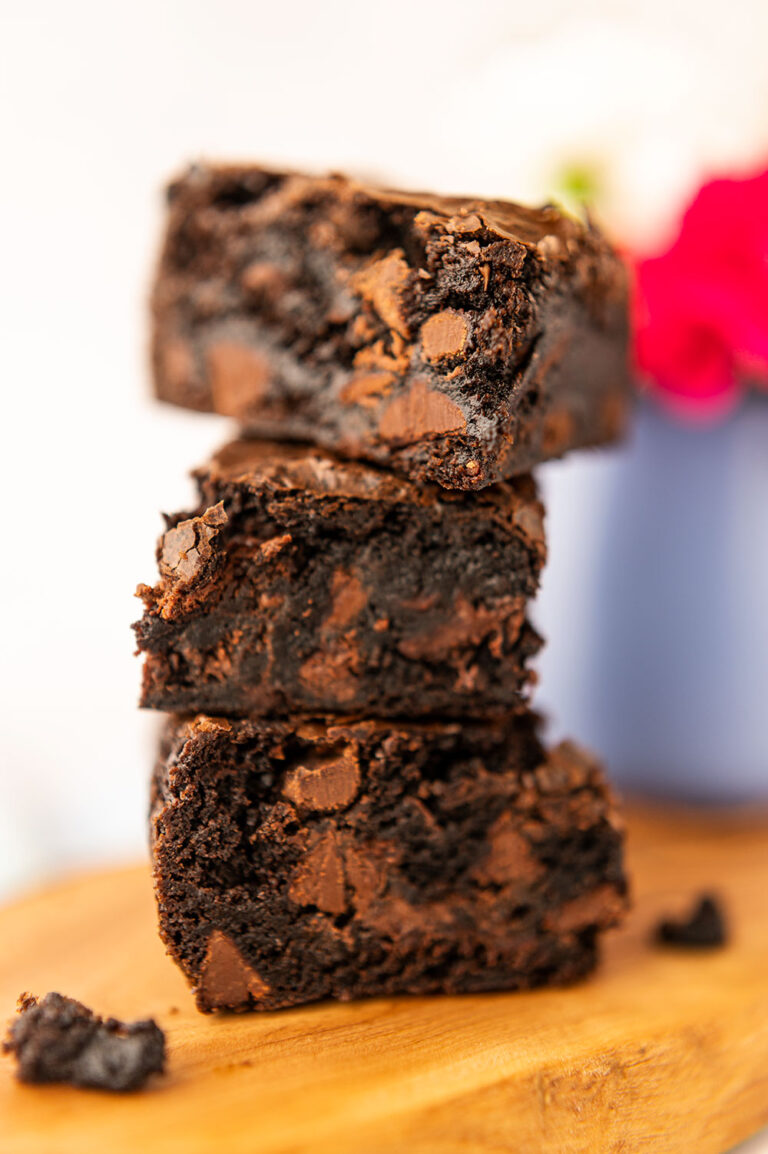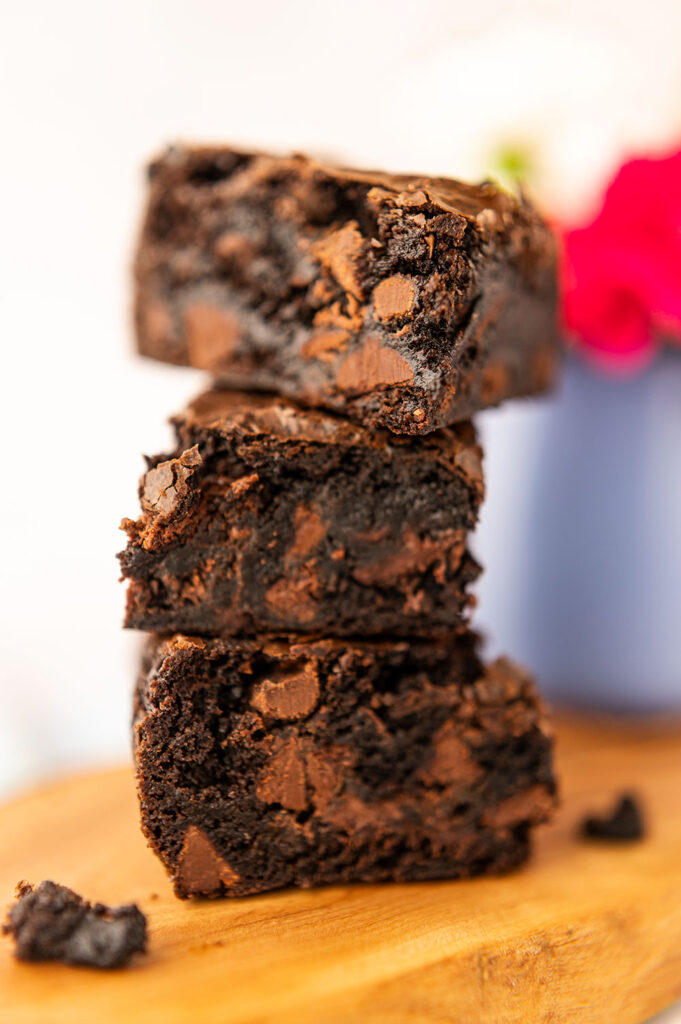 ---
Tips to mix the best box mix brownies:
Use an 8×8 pan lined with parchment: I think brownies should be really thick, so using the smaller size pan gives a great thickness for the final bake.
Why use parchment? With a parchment lined pan, you simply lift your bake right out of the pan, and slice easily on a cutting board. No sticking and no digging the first brownie out of the pan.
Combine the wet ingredients first and then add the dry, mixing with a light hand. This is definitely a great recipe to mix by hand using that beloved wooden spoon. I personally use my stand mixer, but it's not a requirement for something like this.
Slightly underbake your brownies for a better result. Nobody likes a dry, over baked cake or cookie, and it's even worse in a brownie.
---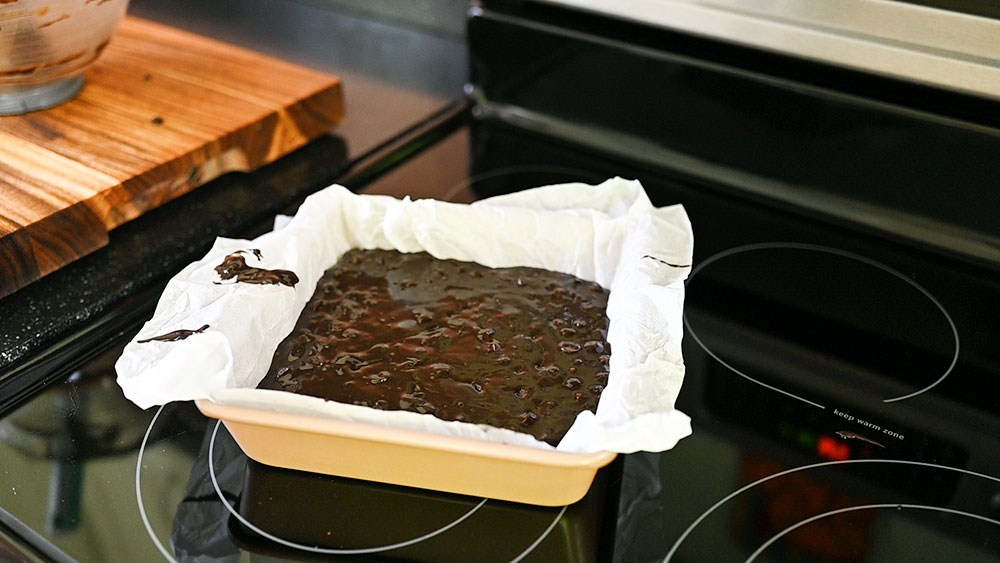 ---
The biggest secret of all: How to get a shiny, crackled top on your brownies.
Remember how I mentioned earlier we would be adding in some extra chocolate chips. It's not only because extra chocolate chunks in a rich brownie is next level. Because it definitely is. We want those additional chocolate chips because something magical happens when chips are added to brownie batter.
It provides a shiny, crackled top that is IMHO the virtual cherry on top when it comes to brownies.
---
I am not a food scientist. I have not trained in cooking school. I am a home baker like you, and I am here sharing my personal recipes and tips. So I don't have a learned explanation for the reason behind why this chocolate chip thing works.
I read it on the King Arthur website, and went with it. They are, in fact, trained chefs so I feel like I can trust their advice. So when they say to add the chips for the shiny crust, I'm going to do it.
---
The next time you roll through the grocery store….even if it's virtually using a shopping app, (How did we live before Instant Cart and Amazon delivery?) I do hope you'll consider adding a brownie mix or two. They are a quick and easy crowd pleaser, and something you could easily bake anytime that chocolate craving hits.
You might also like:
---
Print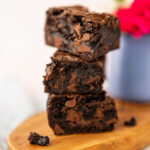 Make Box Brownies Better
Author:

Patty McGuire

Prep Time:

10

Cook Time:

40

Total Time:

50 minutes

Yield:

1

2

1

x

Category:

Dessert

Method:

Bake

Cuisine:

American
---
Description
Allow me to share with you an easy method to make box brownies better.
---
---
Instructions
Preheat oven to 325 degree F.
Prepare 8×8 baking pan by lining with parchment paper.
Combine all the wet ingredients together and mix well. This can be done on either a stand mixer fitted with the paddle attachment or with a balloon whisk.
Add the dry ingredients to the wet ingredients and mix on low until just combined.
Fold in chocolate chips.
Bake according to the box directions, or in my case an 8×8 metal pan bakes for 39-43 minutes. Brownies should be slightly underbaked.
Cool in the pan for 10 minutes and then lift out by the over hang of paper to a plate or cutting board to finish cooling.
Notes
Fresh baked brownies will appear underbaked but cool to doneness.
Keywords: make boxed brownies better
---

---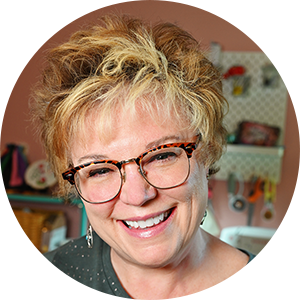 Hi! I'm Pattymac
Sewist, Baker, Maker
I'm a creative lifestyle blogger living and working in Coastal Virginia. When I'm not mixing or stitching or taking pictures, I'm out exploring the cook book section of my favorite library or munching my own home baked cookies at a mid week movie matinee.