Make an adorable vintage inspired Mason Jar Snow Globe project for Christmas.
Thanksgiving is behind us and the sprint to Christmas is here. All the craziness and pressure that is now synonymous with the holiday season is also here. Please don't misunderstand. I really enjoy the holiday season, but I don't enjoy the level of craziness that is normalized in our culture now. Step off the modern crazy train, and let's make a mason jar snow globe project to recapture some of the vintage charm of the holidays.
To combat the over the top craziness, today I would like to share a Vintage inspired Mason Jar Snow Globe DIY with adorable woodland animals. I used a mason jar, because who doesn't love mason jar crafts? It's a perfect indoor Christmas decoration idea that can be tucked on to window sills or displayed with other decorations. I display mine on the fireplace mantle.
---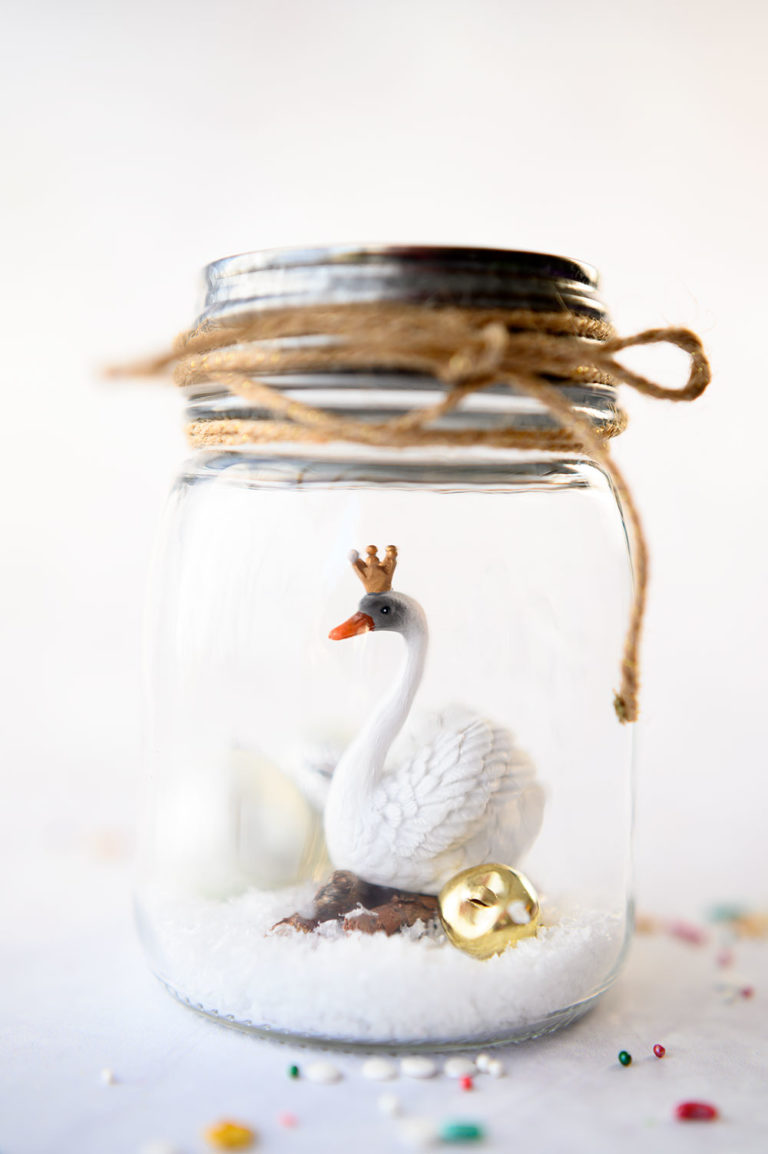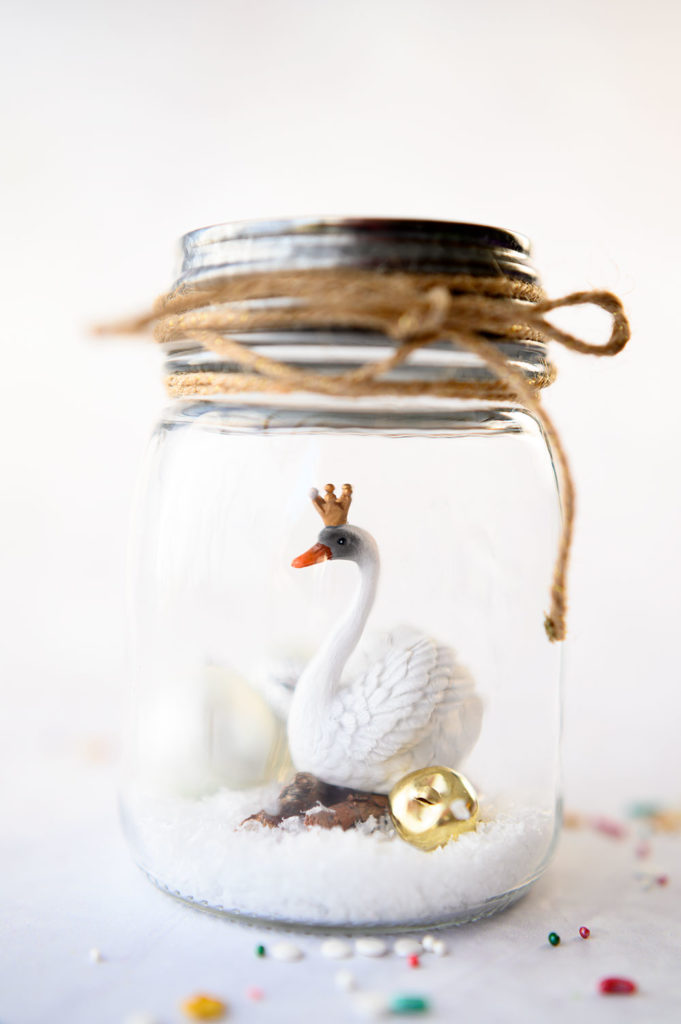 ---
Isn't that beautiful? The best part is that this is a really easy project. Scratch that.
This is the easiest Christmas project you will make.
This is not a project for small children, because it involves a glue gun. And I think they are too hot for little kids to handle. And you need the fast acting sticking power of the glue gun for this to work. But any small child would be delighted to receive one of these as a gift. And it's so easy to personalize them. You could also have the child pick out their favorite elements and decide how they want it laid out and then do the glue gun portion for them.
---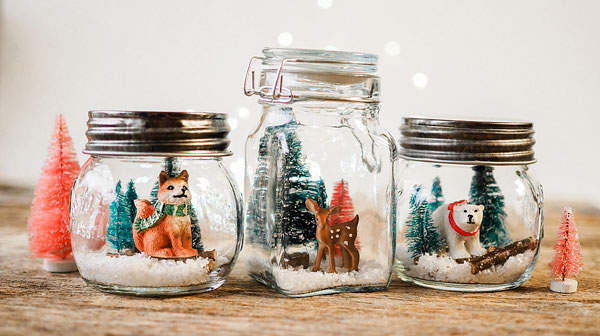 ---
To start, you need to decide on the jar you want to use. I already had a several on hand, and so I wanted to use what I had. And I've been itching for something that included bottle brush trees, because they are the cutest thing ever. I was inspired by someone's project I saw on Pinterest. She made her snow globes using mini cars.
I found all of my items in a section of my craft store with Christmas tree ornaments and miniatures. I picked out the trees and the animals I liked, and found a tub with little sticks that looked like forest logs. I also bought the snow in this section, because it seemed like a better scale.
When I came home, I placed the items together I wanted in the mason jar.
---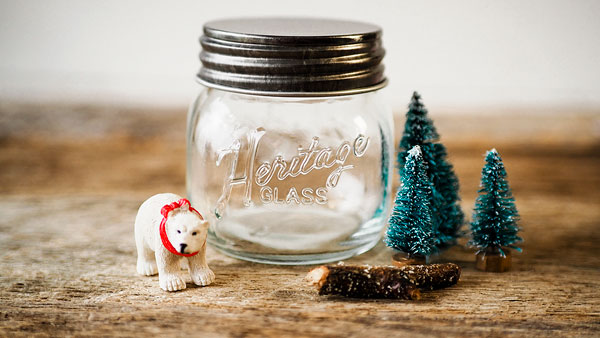 ---
Apparently, anything in a mason jar elevates to a new level of cuteness.
I also made a couple of things with a different style jar to try that out, too.
---
---
The fawn is truly a vintage motif, so I knew I wanted to make something using this precious little baby. I thought the pink tree really took this snow globe to all new retro heights and I'm super happy with the outcome.
If woodland animals are not your thing (how are they not your thing?), don't despair, because I thought the mini ornaments in the mini mason jar also looked adorable.
---
---
Here's what you need to make this project:
A container of your choosing. I selected small glass jars with lids.
An assortment of treasures to put into the jar. I used bottle brush trees, woodland animals, sticks and fake snow.
A spoon, and I found that a long handled tea spoon is best.
A pair of tweezers.
A glue gun.
To assemble:
---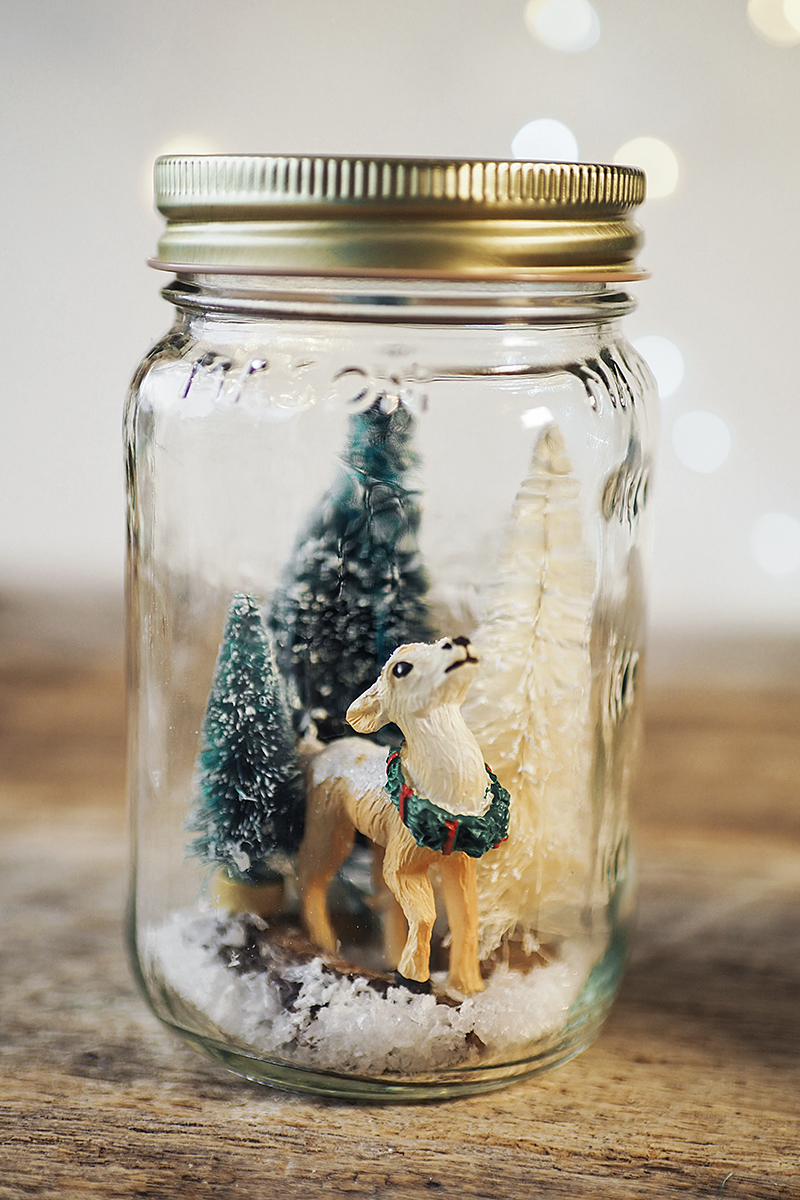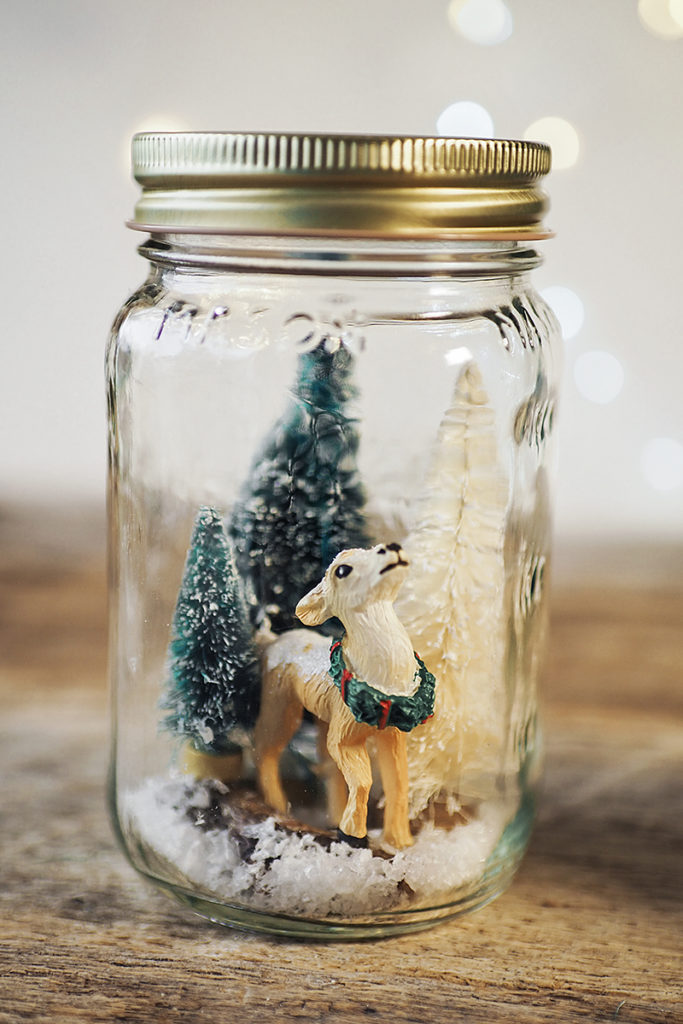 ---
I made several of these in under an hour! If the trees were too tall, I used wire cutters to cut to bottoms off the trees and then placed them into the jars. A pair of kitchen scissors would likely do the trick on this as well.
Here is a video I filmed to show the complete process I used to make the mason jar snow globes.
---
---
Please note that this is a WATERLESS mason jar snow globe. It's not something to shake up and watch the snowy bits float around. This is a dry snow globe. The water part won't travel well, and I would be concerned the trees would start breaking down and the paint start coming off the animals pretty fast. As these are made, they will basically last forever.
And as you can see, the jars add to the personality of the snow globe. So spend a little time at your craft store looking at every thing to pick out the pieces you like the best. Although, if you find a larger figure that you love and it doesn't really fit into a mason jar, don't worry. I made this deer arrangement, and it sits happily on my fireplace mantel.
---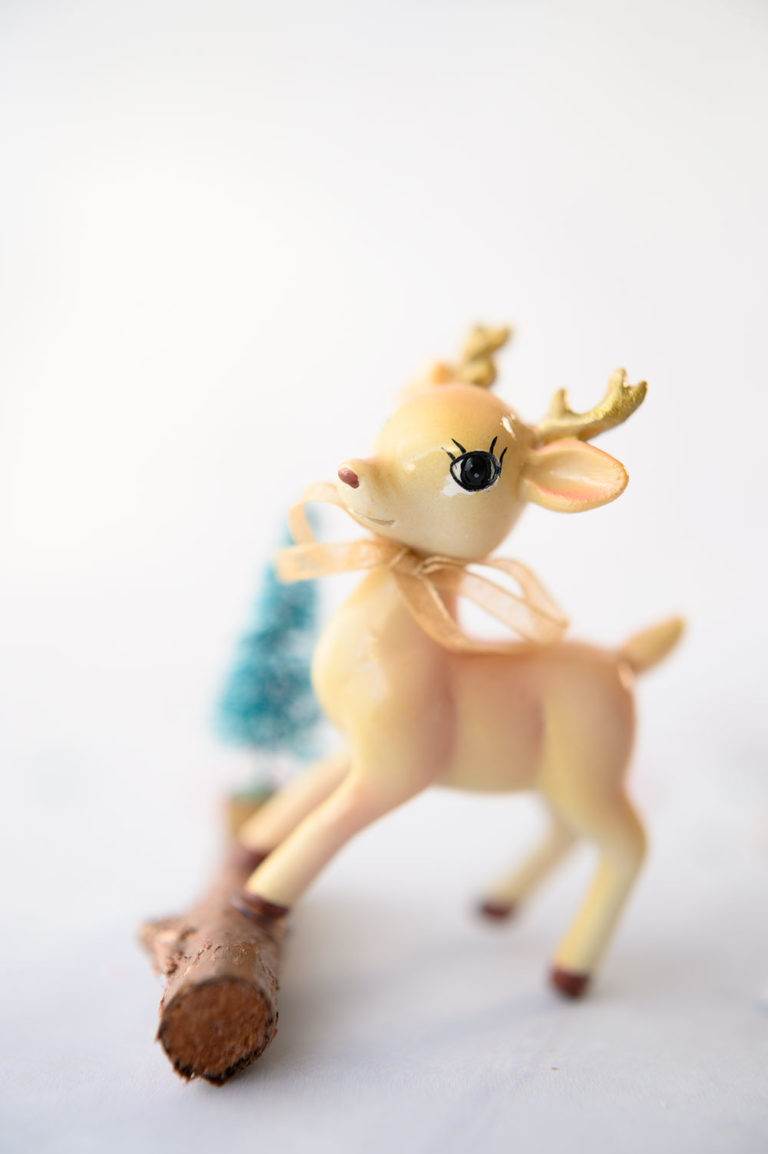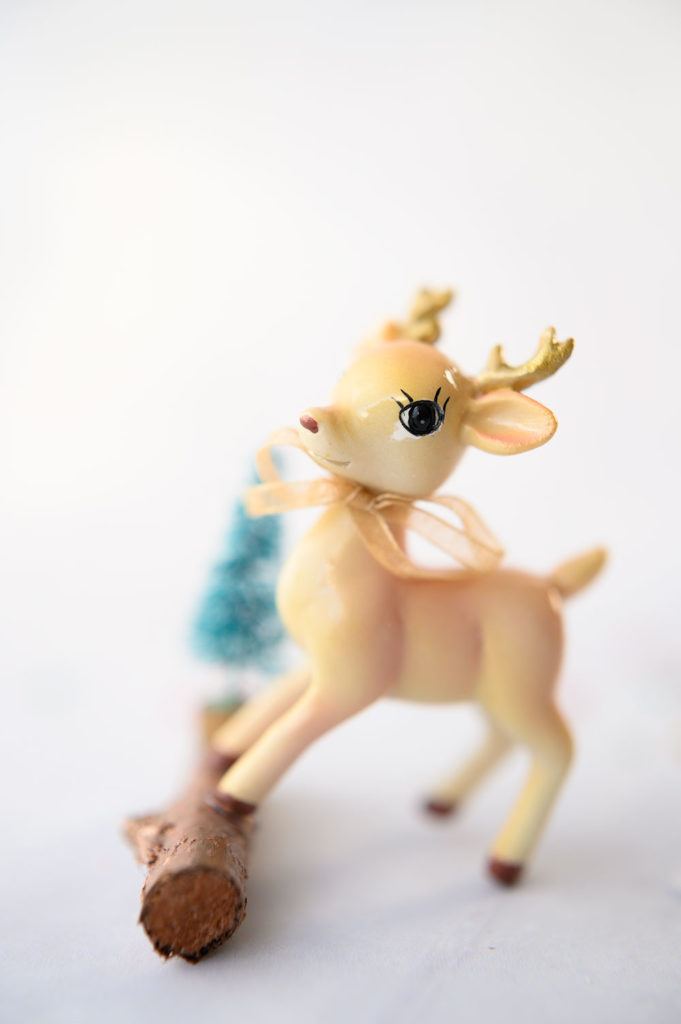 ---
I hope you enjoy this and make your own little projects. If you are new to the blog, welcome!! And if you are a returning reader, then welcome back! Please be sure to sign up for my email list before you leave today. I create all sort of fun new projects and videos and tutorials every week, and I will email them to you so you don't miss anything.
---
You might also like:

---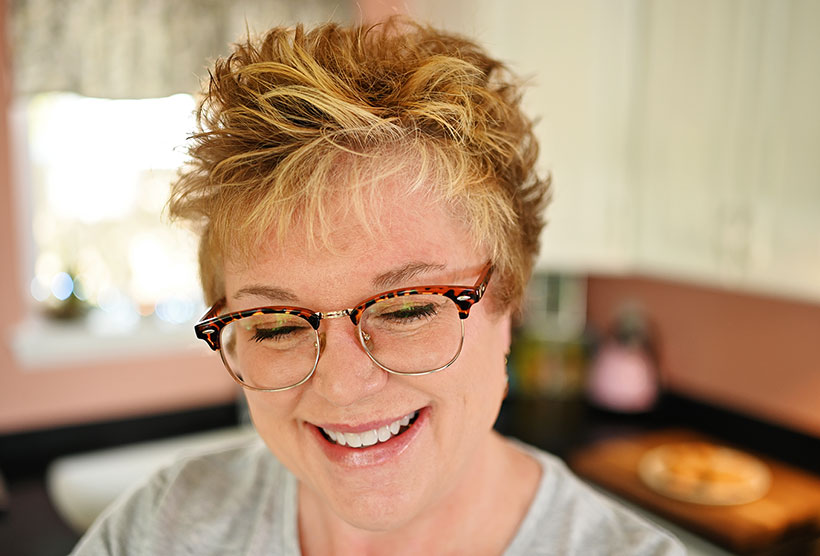 Hi there, I'm Patty.
Sewist, Maker, Baker
I love figuring out new ways to use pom poms, where I can stash more fabric, and I'm always wondering what to bake next…chocolate or lemon? When not dreaming up new things to make (or bake), I love riding my beach cruiser on the Boardwalk, enjoying classic films, and planting new things in my tiny but mighty container garden.