This post has affiliate links to products I use and love. If you buy something I can make a small commission, so thanks in advance. 🙂
---
Allow me to share an adorable cat sewing pattern with you today. Best of all, this cute cat will slip right inside your bag or your pocket to go everywhere you do. No allergy medicine required! 🙂
You've heard the saying, "Cat's rule and dog's drool!" Personally, I love both cats and dogs, and appreciate them for their differences. They say you are either a dog person or a cat person, but honestly, I'm both. My last story was all about my beloved dog, so to keep things evened out, I thought it would be fun to share something cat related today.
---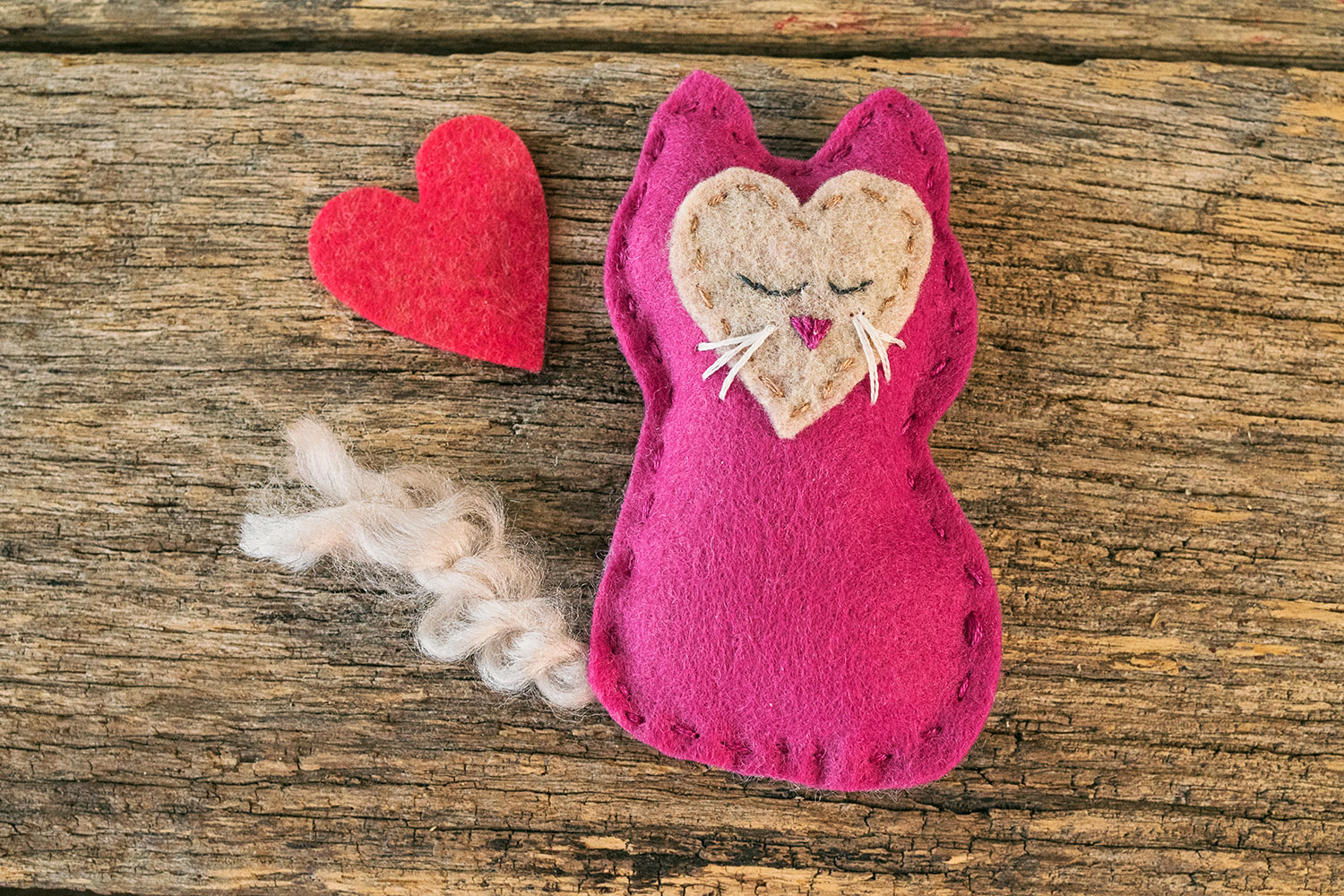 ---
This hand sewing project is everything I love in a craft. It's cute, it's fast and it uses simple embroidery stitches. The original cat sewing pattern is from my online friend Swoodson Says, and she has the pattern you will need to cut and sew these little kittens. But before you run off to get your download, allow me to share my version with you.
---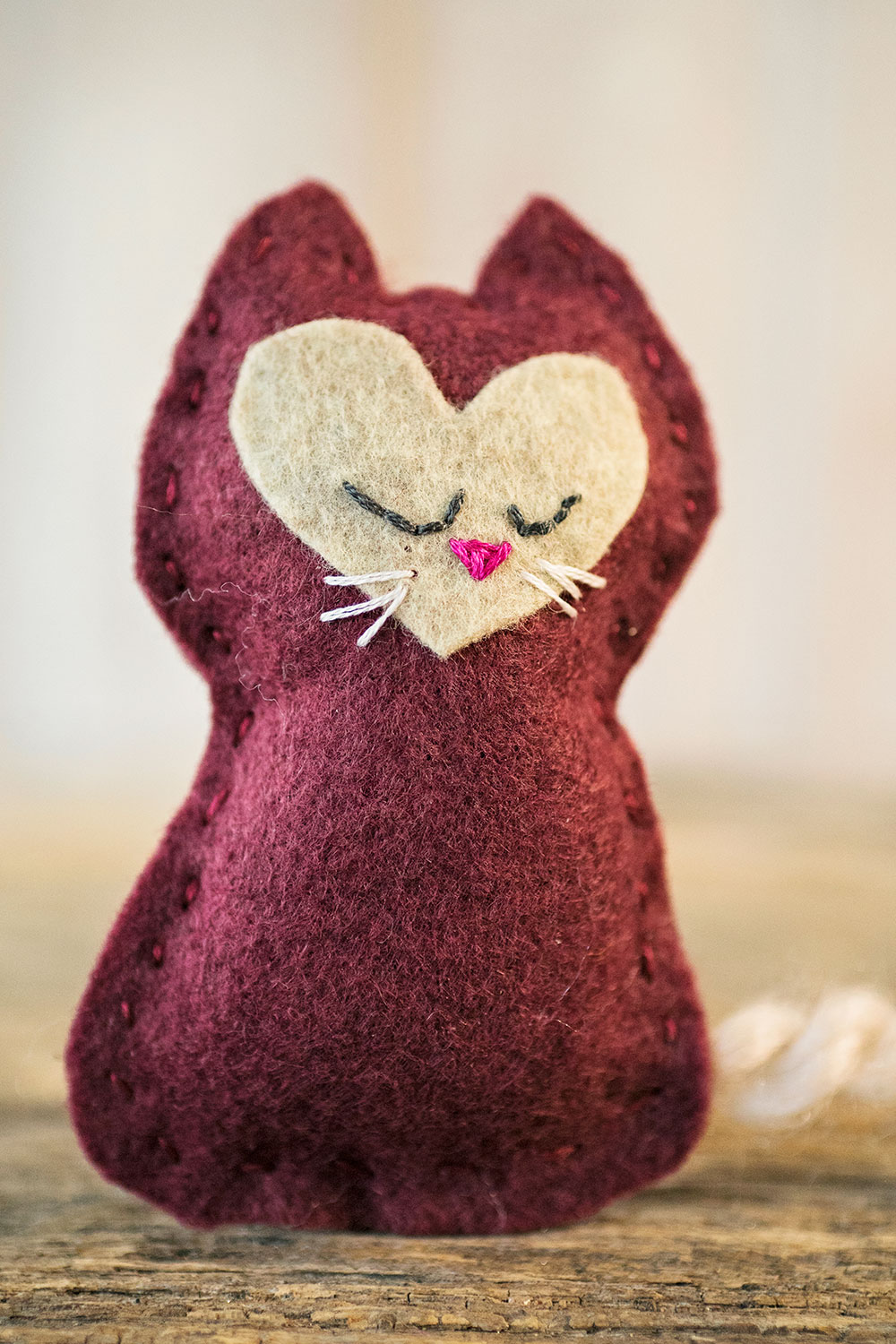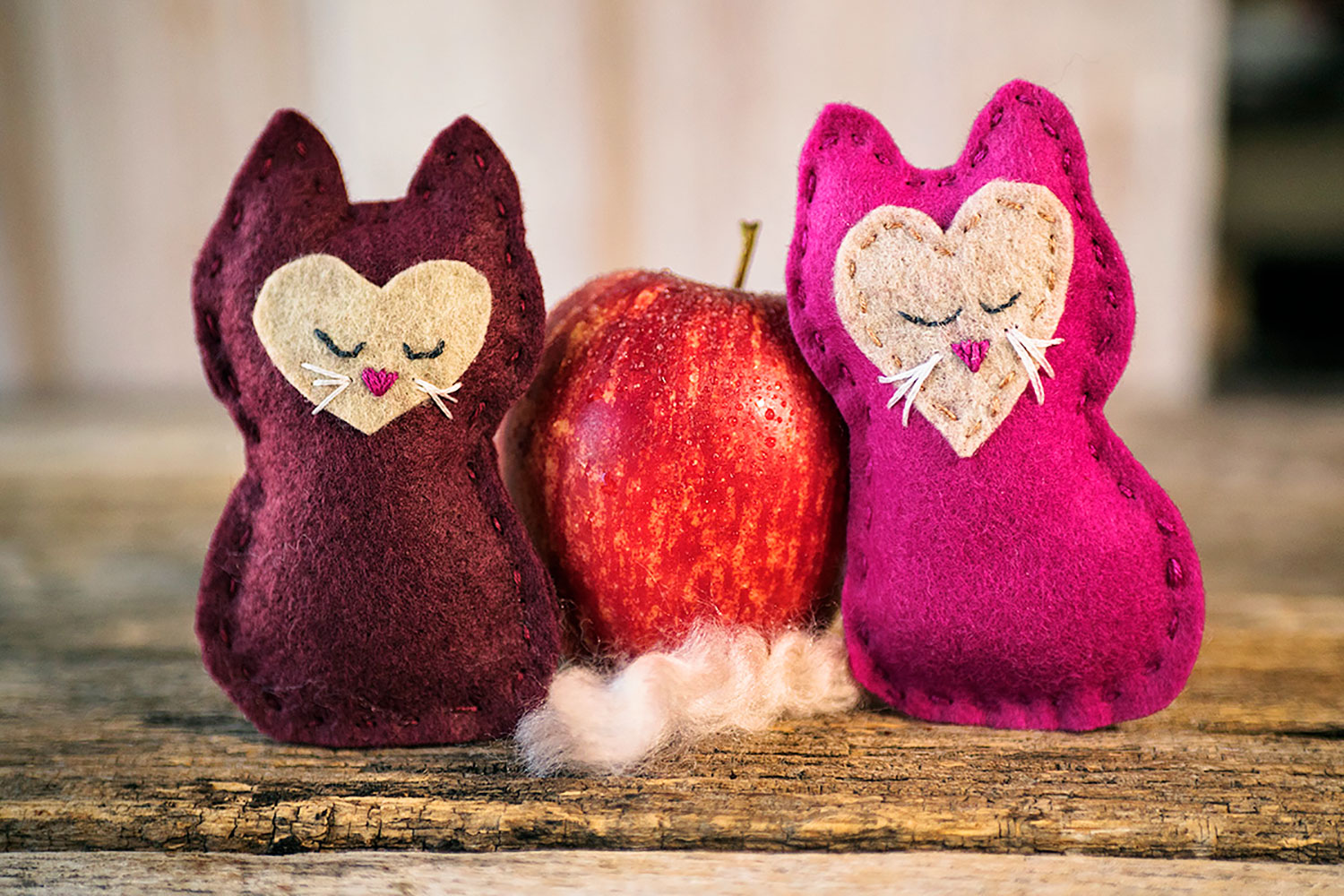 ---
What you need to make this cat sewing pattern:
Supplies
Wool Felt: two colors; one for the face and one for the body
Disappearing Ink Pen to draw the face
Embroidery Needle
Embroidery floss in a few different colors
Small Scissors
The cute pattern
---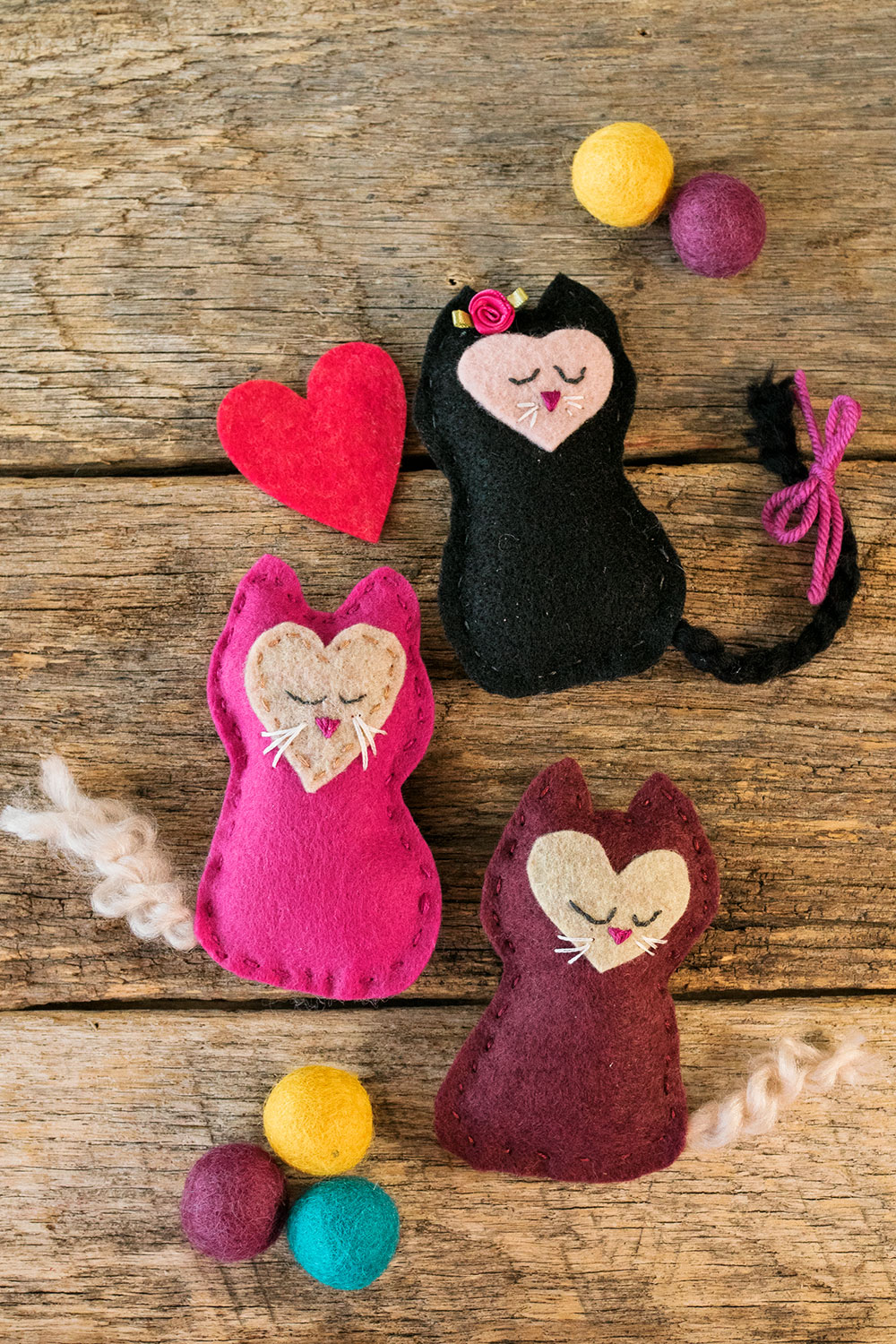 ---
How to make the Cat Sewing Pattern project:
Cut two body pieces and one face
Stitch the eyes and nose. The one I made used a back-stitch for the eyes and a satin stitch for the nose.
Center and sew on the face onto one body piece. I used running stitch.
Stitch on the whiskers.
Using running stitch, sew around the cat body stitching the front and back body pieces. Work close to the edge, with the two body pieces wrong sides together.
Leave a small gap on the bottom, stuff, and then finish sewing closed.
If you would like to add a fluffy tail, cut a 4″ length of super bulky weight yarn. Slip one end into the opening after the cat is stuffed, and stitch closed catching the yarn tail in the final stitches. Gently pull the yarn apart to fluff the tail.
---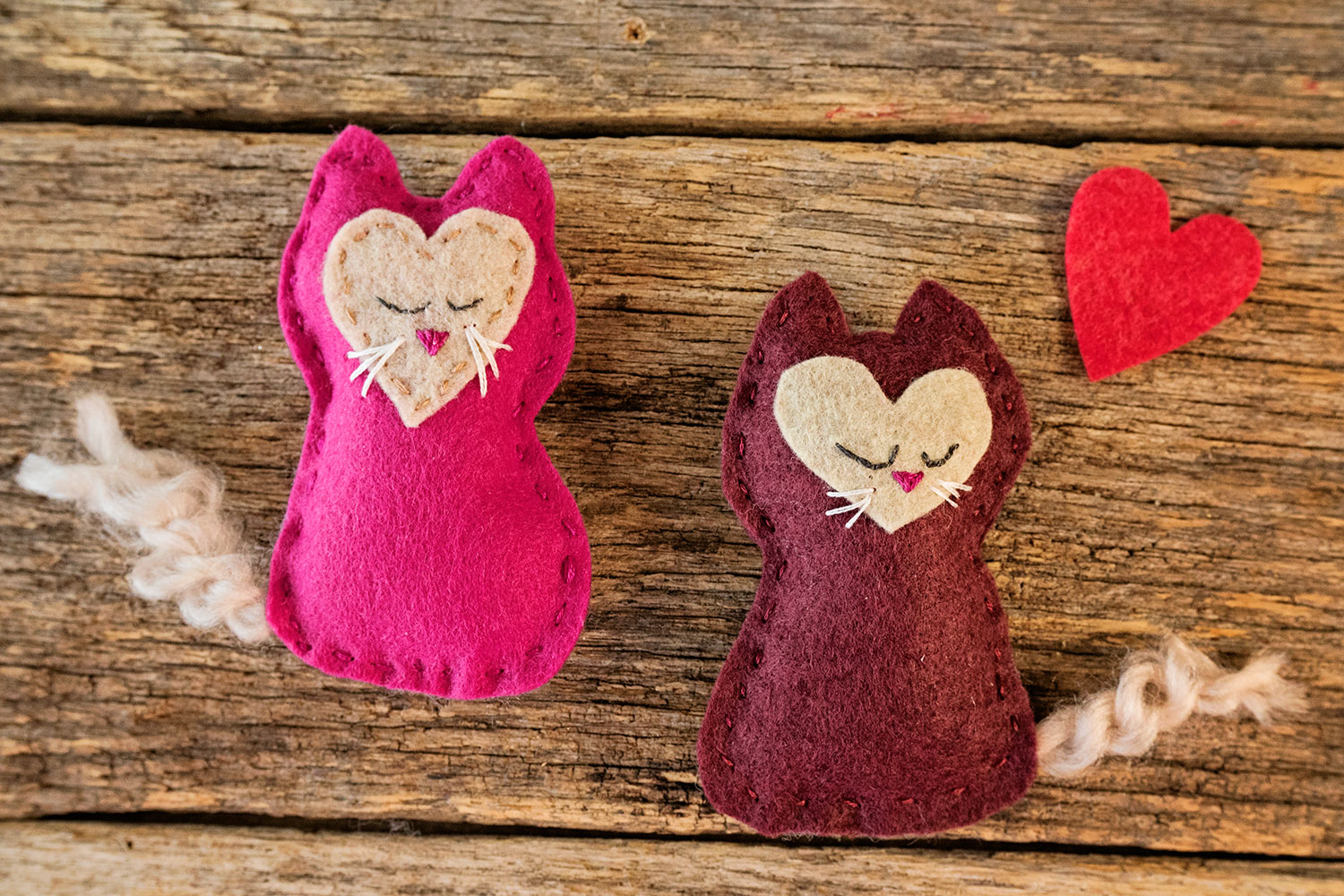 ---
The cat sewing pattern pairs really well with my Mr. and Mrs. Mouse, so be sure to make them together.
---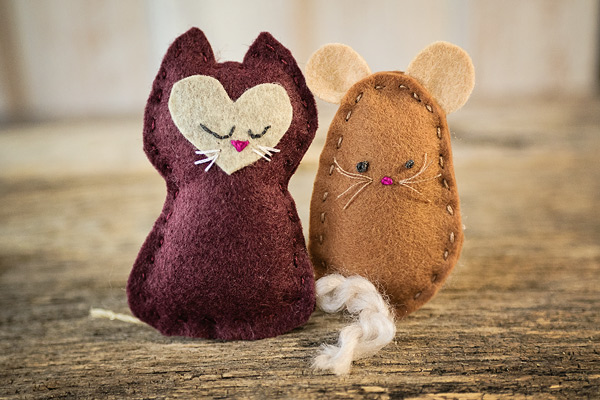 ---
What could be more perfect that a cat and mouse spending time together in peace and harmony?
Enjoy this light hearted video that shows the cat family, and how to make them. I'll show you how to do the simple embroidery stitches, and demonstrate how to put this simple felt craft idea together for you on camera.
---
---
You might also like: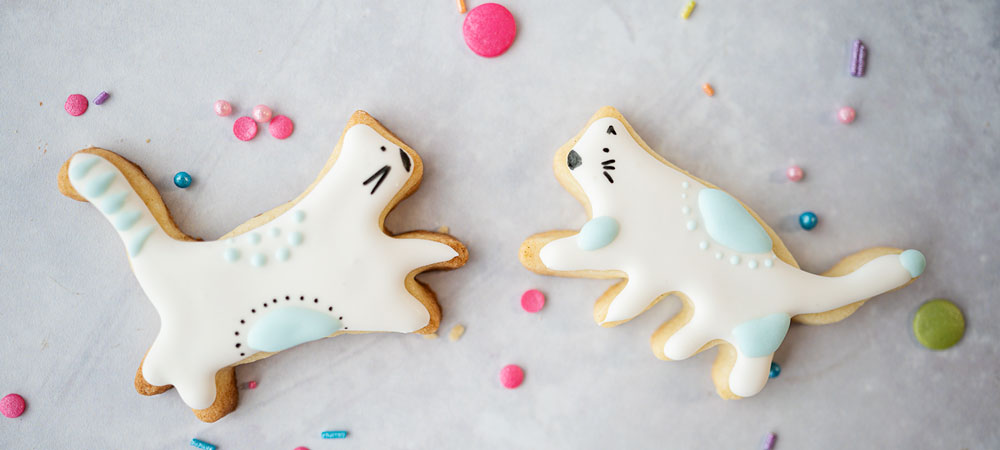 Hi! I'm Pattymac
Sewist, Baker, Maker
I love figuring out new ways to use pom poms, where I can stash more fabric, and I'm always wondering what to bake next…chocolate or lemon? When not dreaming up new things to make (or bake), I love riding my beach cruiser on the Boardwalk, enjoying classic movies, and planting new things in my tiny but mighty container garden.