Easy Knitted Cat Hat Pattern
Knitting garter stitch in the round not only makes for an easy knitted cat hat pattern, but it creates the cutest, squishiest fabric.
I love to knit in garter stitch. I'm more of a process knitter than anything so making swatches and knitting scarves in garter stitch is still enjoyable to me. Even after a decade of knitting, I still love working in this most basic of all stitch patterns. When I learned how to knit garter stitch in the round, I thought it was the coolest thing ever!
---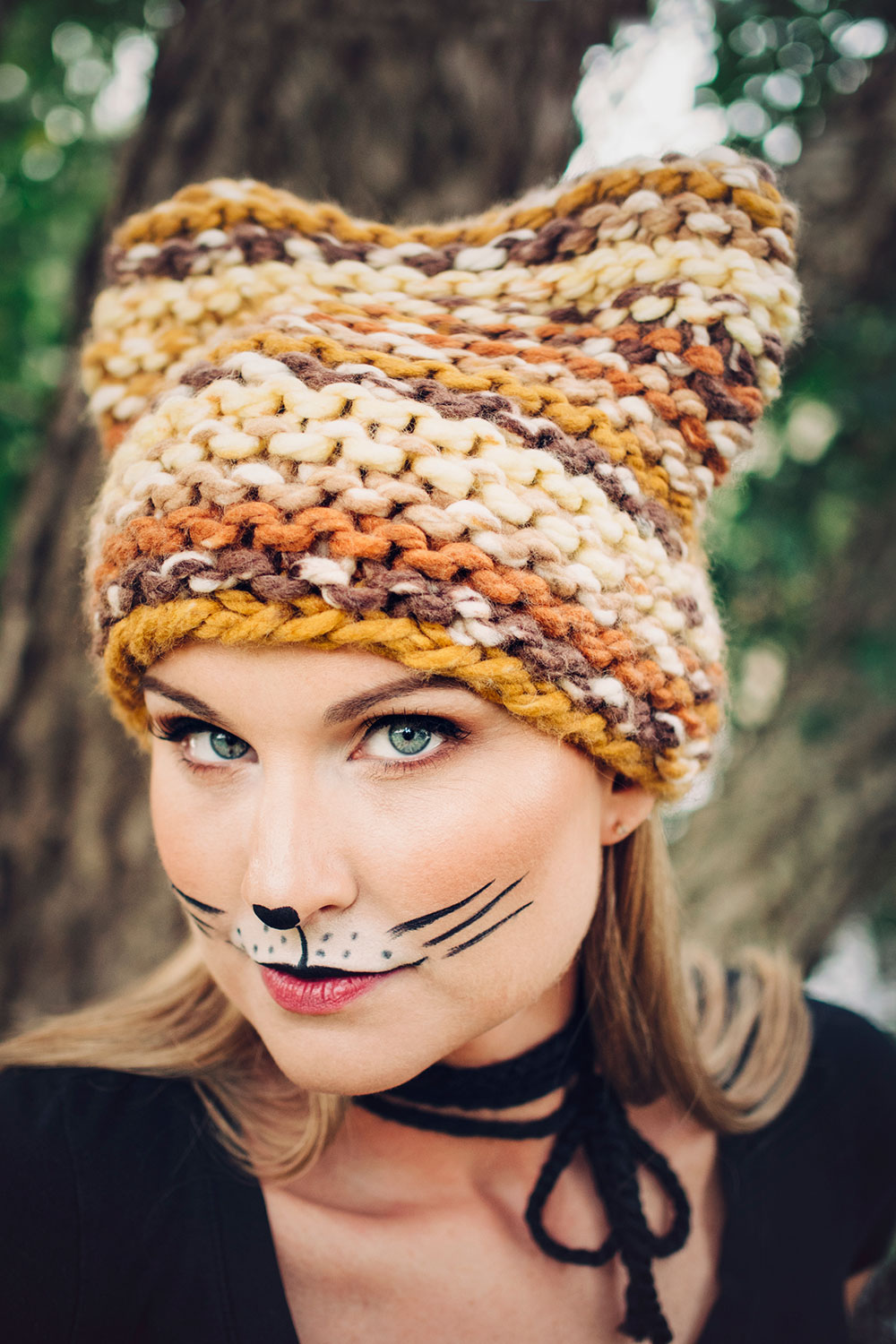 ---
Seriously. What's not to love about this easy knitted hat pattern? When paired with simple kitten makeup, it's a perfect Halloween costume.
But let's talk a little more about this adorable hat!
---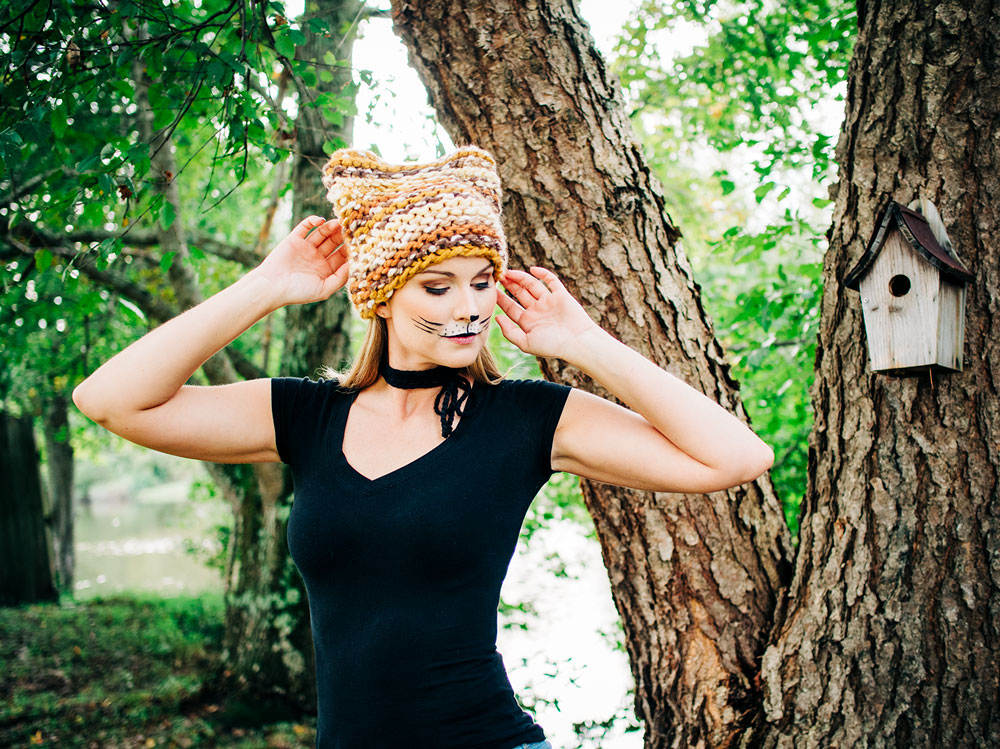 ---
Here's the recipe for the easy knitted hat pattern.
The knitting pattern is Garter stitch in-the-round, so basically you knit a round and then purl the next round. Repeat until your hat is high enough.
The Calico Cat Hat Recipe:
Yarn: Lexington from Isaac Mizrahi Craft. Shown in Stuyvesant in the video and in Downtown on Kristin. One skein, but it's a game of yarn chicken towards the end, so you might want to get two of these to be safe. Any size 6 weight of super bulky weight yarn will work, though.
Knitting Needle: Size 13US 16″ cable needle
Crochet Hook : Size J or larger
Notion: Tapestry Needle
---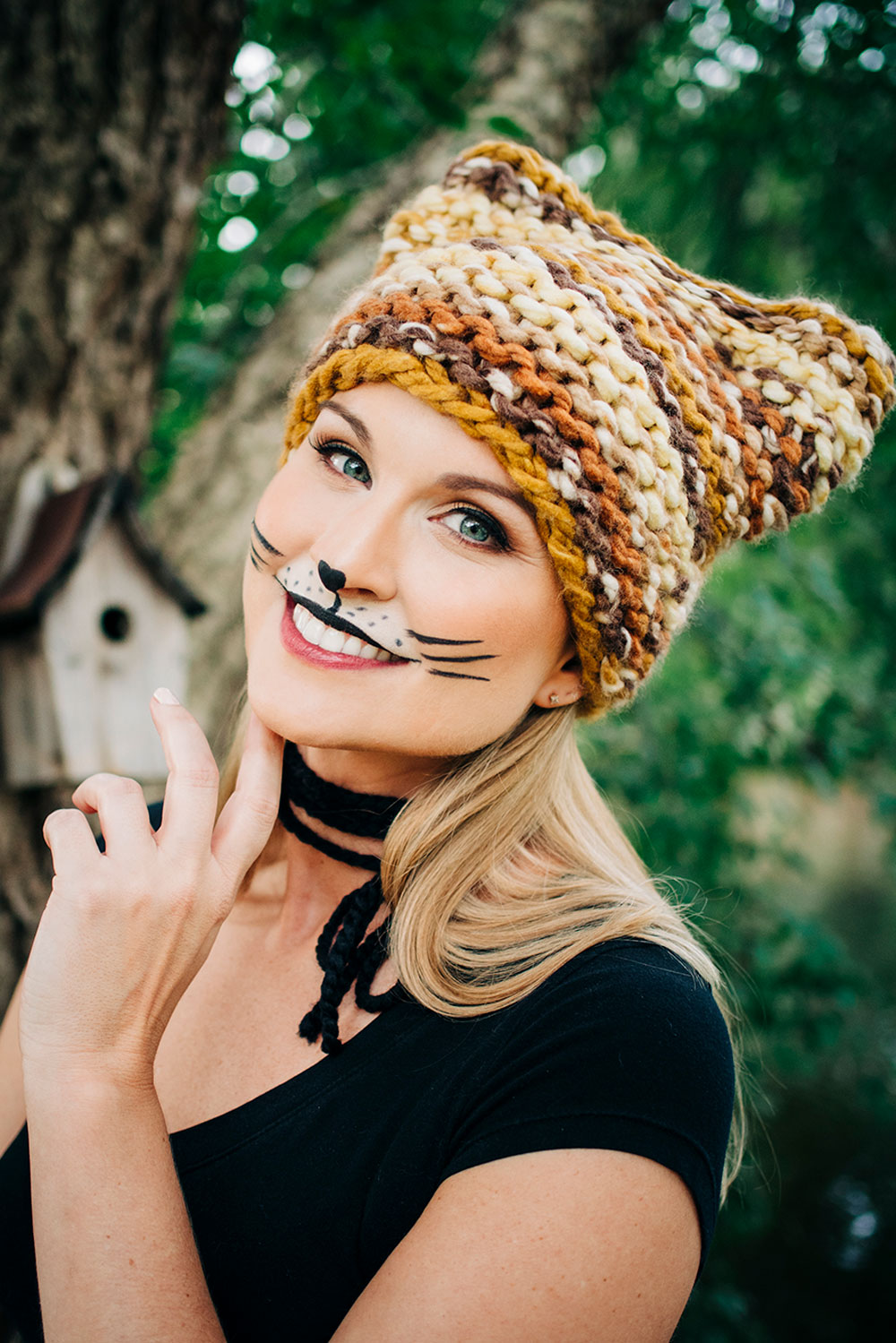 ---
The Pattern:
Co 43 stitches.
Slip the last and first stitches together and k2tog. You are now joined in-the-round.
Place Marker.
Knit the first round.
Slip Marker.
Purl the second round.
Repeat rounds 1 and 2 until the hat is approximately 8″ high.
Flip hat inside out and seam. I like to use 3 Needle Bind Off for my seam.
Weave in the ends.
Garter stitch is so squishy and fun, and you can stretch and shape this hat to get your ears to really show. If you knit this in a brown, it would be very teddy bear like. I have some orange Malabrigo in a project I never really liked that I'm going to rip and reknit into this pattern and see what kind of Fox hat I can get. Yarn really does make or break this particular project.
---
---
This video might be helpful to you:
---
I'm assuming you can already make knit and purl stitches. If not you might want to start with my super beginner project by clicking here.
You might also like:
---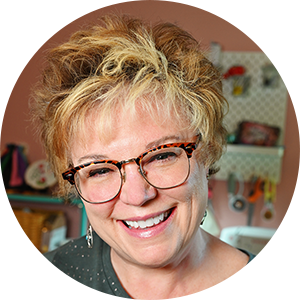 Hi! I'm Pattymac
Sewist, baker, maker
I love figuring out new ways to use pom poms, where I can stash more fabric, and I'm always wondering what to bake next…chocolate or lemon? When not dreaming up new things to make (or bake), I love riding my beach cruiser on the Boardwalk, escaping to mid week movie matinees, and planting new things in my tiny but mighty container garden.