Today's update is inspired by Cosplay and includes a free knitting pattern for a seed stitch scarf scarf.
Not only is this post sharing about the cutest costume I can imagine, it also includes a knitted seed stitch scarf accessory!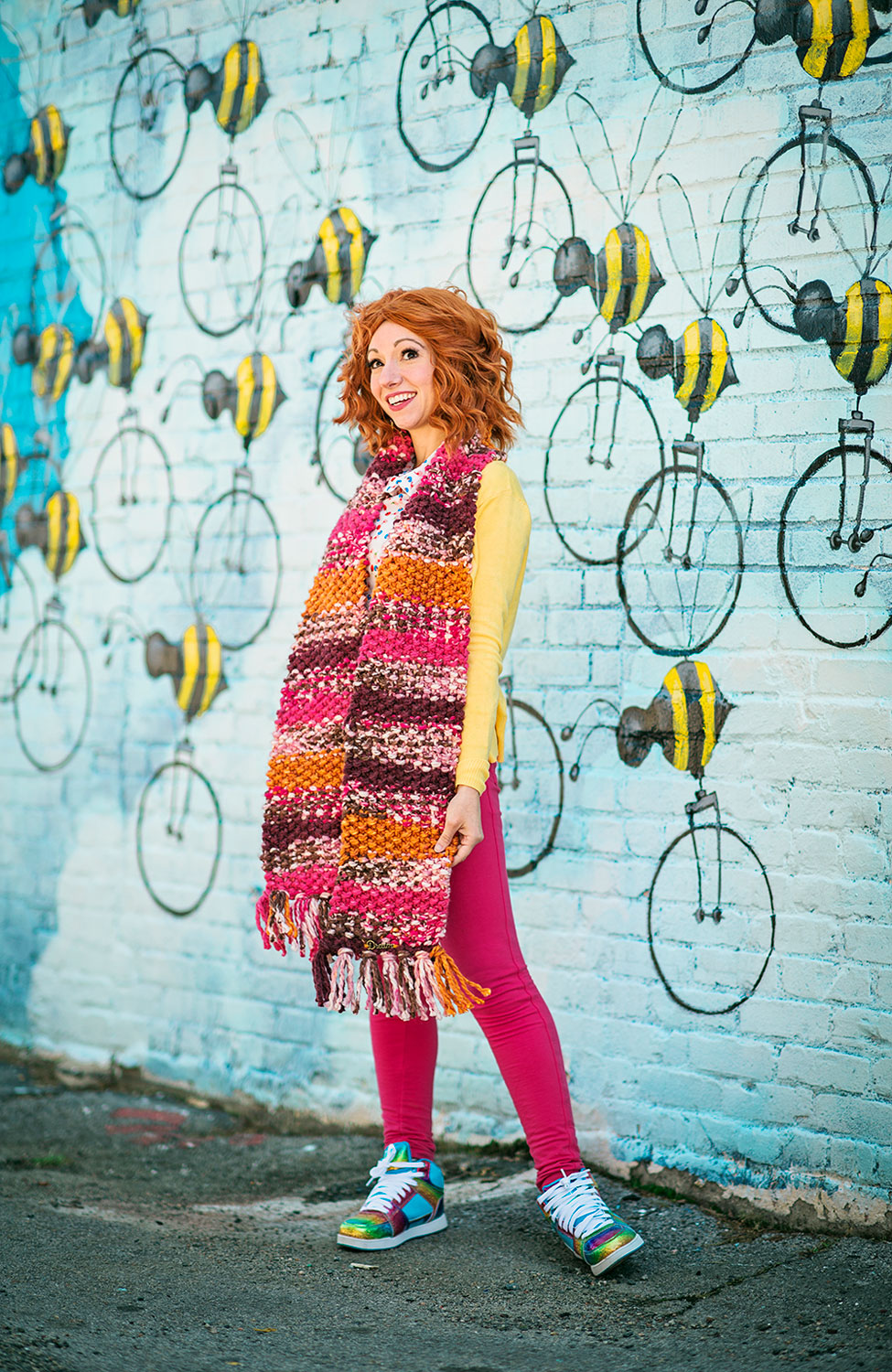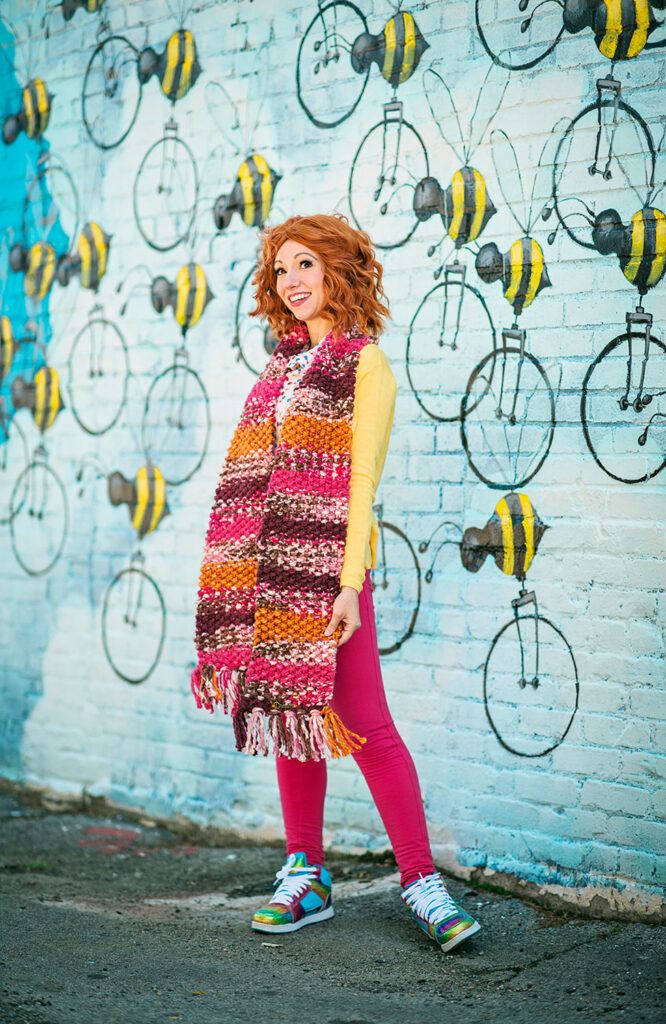 This scarf is so awesome, you can wear it as part of a Halloween costume, and then keep it around to wear next winter! You know I love my fun, but I still need that side order of practicality.
In case you don't know this about me, Kimmy Schmidt is my favorite Netflix show. It's funny and sweet and very upbeat. Everything I crave in real life right now. How about you? Kimmy is inspiring and so fun to watch. So…..in season 2 when this scarf turned up, I knew right away I would have to make my own version. As luck would have it, I met the very sweet Jamie of Whimsical Wishes who created her own Kimmy character……unbelievably enough we actually lived in the same city. We got together and created the cutest ever Kimmie Schmidt photo shoot featuring my handknit scarf
There are six reasons you're going to love this scarf!
The downside to sharing this project idea with you right now is that the pictured yarn is currently out of print. So sad! 😪 But if you dig around a little, some can be found on etsy or ebay.
However….don't let the inability to find this exact yarn stop you from knitting up a really pretty, very warm squishy scarf.
It may not be the exact Kimmie Schmidt version featured in the pictures, and that's perfectly ok. Focus on using a size 6 or 7 weight yarn, and find something with color variations. The bulky weight of the yarn with the color variation is what makes this scarf work.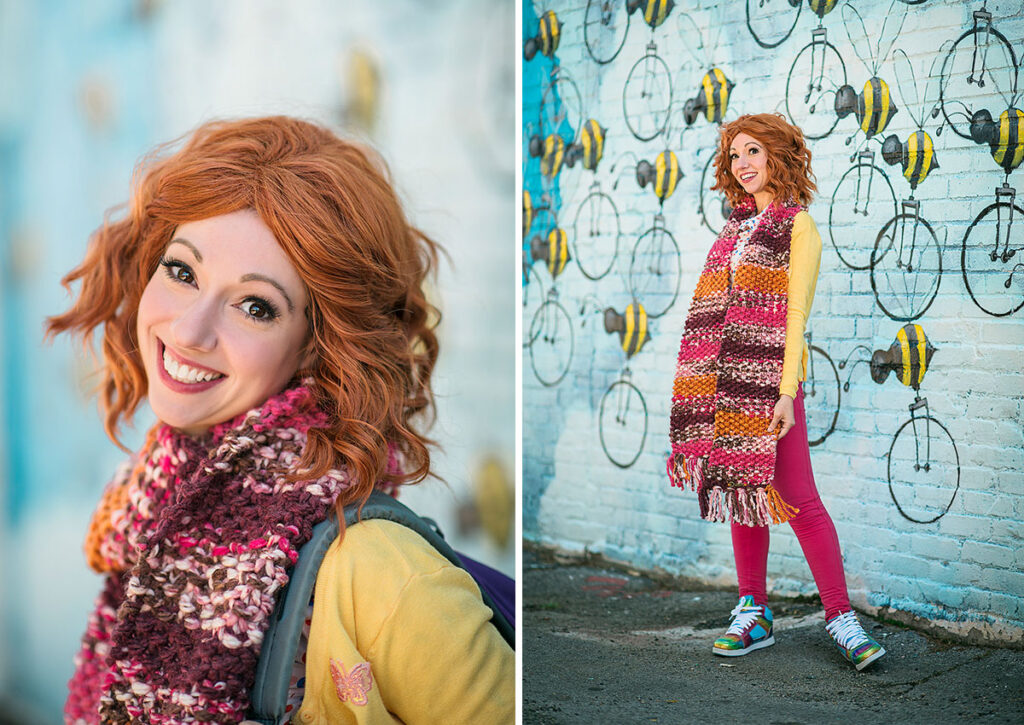 Seed Stitch Scarf Pattern
Yarn: 2 Skeins of Super Bulky Weight yarn in 6 or 7 weight. In the pictured scarf, I used 2 skeins of Isaac Mizrahi Lexington Yarn in the colorway Gramercy Park. The original yarn is about 69 yards per skein.
Needles: Size 15US
Pattern:
Measure out about 6 feet (2 meters) of yarn and set aside.
Cast on an even number of stitches. Between 10 and 14. I used 14 in my sample.
First row: K1, P1 (repeat to end of row)
Second Row: P1, K1 (repeat to end of row)
Repeat the first and second rows until the scarf is your desired length. I used two full skeins, but you could easily CO 10 stitches and have something long enough from one skein. I just happen to like really, really long scarves.
When 12″ of Skein 1 is remaining, add skein 2.
When about 12″ of Skein 2 is remaining, bind off.
Add fringe to both ends of the scarf using the yarn reserved in the beginning.
Sew on an upbeat charm with a saying of your choice if desired. This is optional.
**the original yarn had 69 yards to a skein, so the pictured project is about 126 yards of yarn. The project is a bit long, so you could easily still use 2 skeins of something else in the 50 yards or so length. But if you want this extra wide, over sized statement piece, I would suggest 3 skeins to be sure you have all you need. Remember that you are reserving 6 feet or 2 yards off the top for the fringe.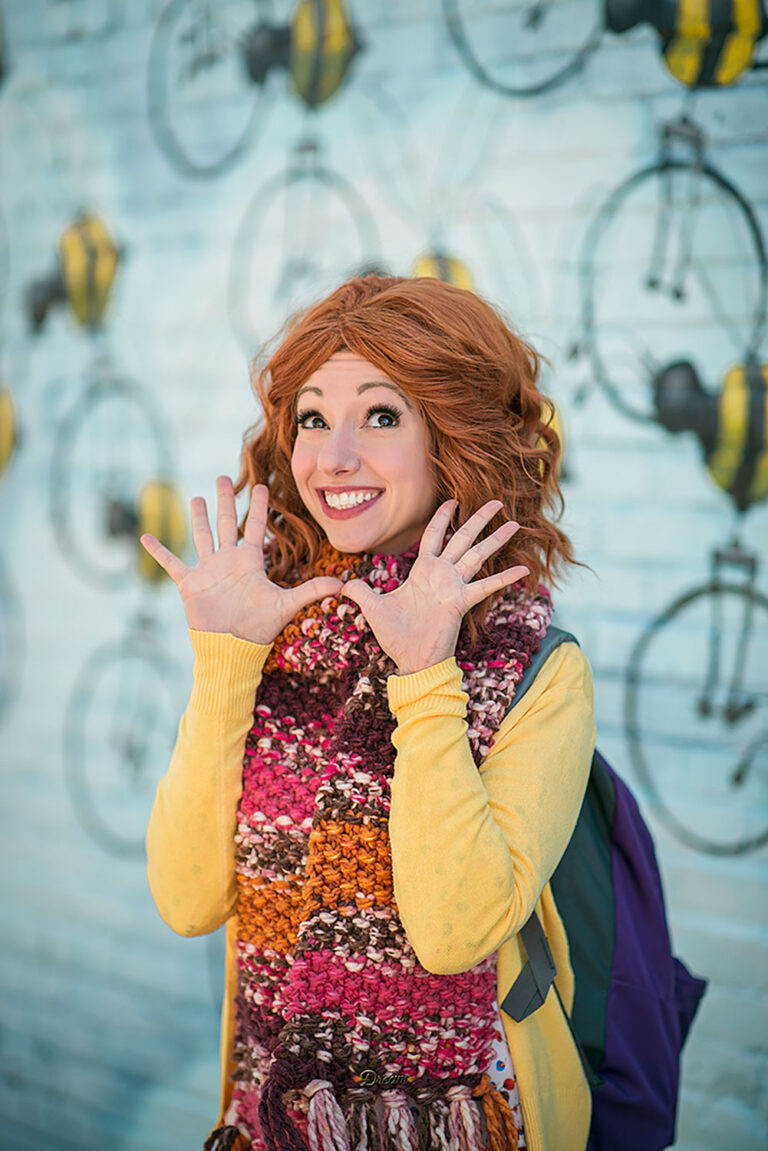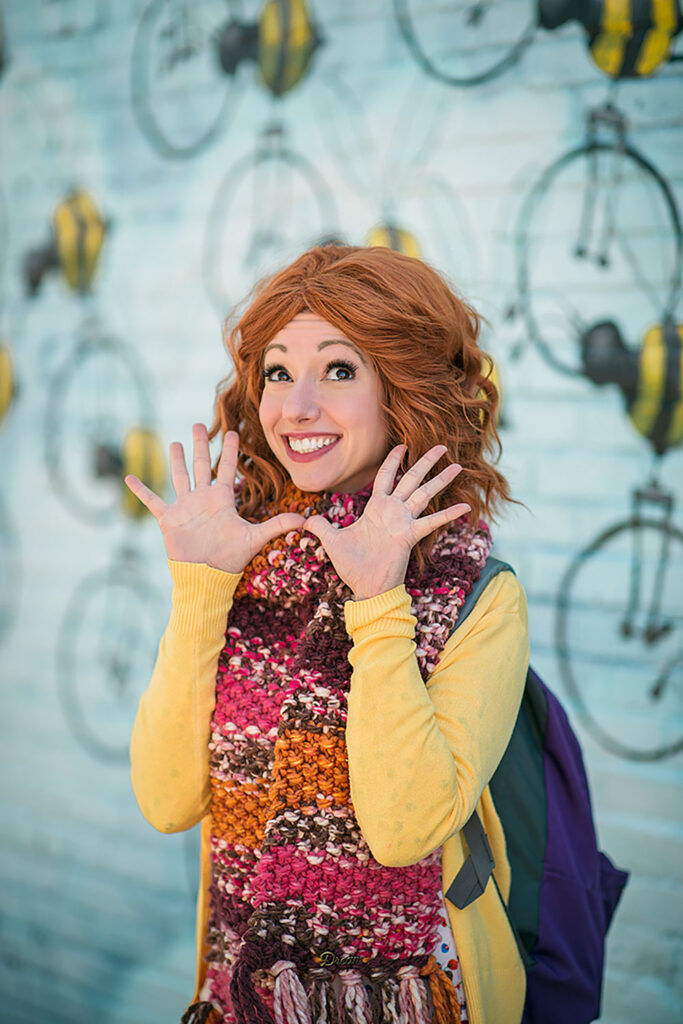 To put it simply, you're going to seed stitch your way through 2 skeins of yarn and add some fringe to the ends.
Done and done. Pretty darn easy!
Here's the gosh honest truth….this yarn and stitch pattern are so much fun, you can knit it into any colorway and still love your final scarf. I have another free knitting pattern that shows off the same weight of yarn only in garter stitch , and you can get that free pattern by going to read this blog post. Yeah. I really do love Isaac Mizrahi, and I really do love Kimmy. So putting them together in one knitting pattern makes me super happy. And I hope it does you as well!
Hi There 🤩
I'm Pattymac
I love figuring out new ways to use pom poms, where I can stash more fabric, and I'm always wondering what to bake next…chocolate or lemon? When not dreaming up new things to make (or bake), I love riding my beach cruiser on the Boardwalk, escaping to mid week movie matinees, and planting new things in my tiny but mighty container garden.
Be sure to sign up for my email list. I'll share fun projects and yummy recipes with you a few times a month. I also share some of my favorite items so you're always in the know .