Herbal Dream Pillows are a fun and simple sewing project. They create sweet little presents, easily made.
Currently, it's 2020 and this is the year that home sewing has made a HUGE comeback. Unfortunately it's because everybody is sewing their own mask, which though necessary, becomes a monotonous task after a while. When you need a rest from sewing masks, why not try herbal dream pillows?
Herbal dream pillows are quick, simple and beginner friendly sewing. They are a wonderful combination of aromatherapy and machine sewing.
---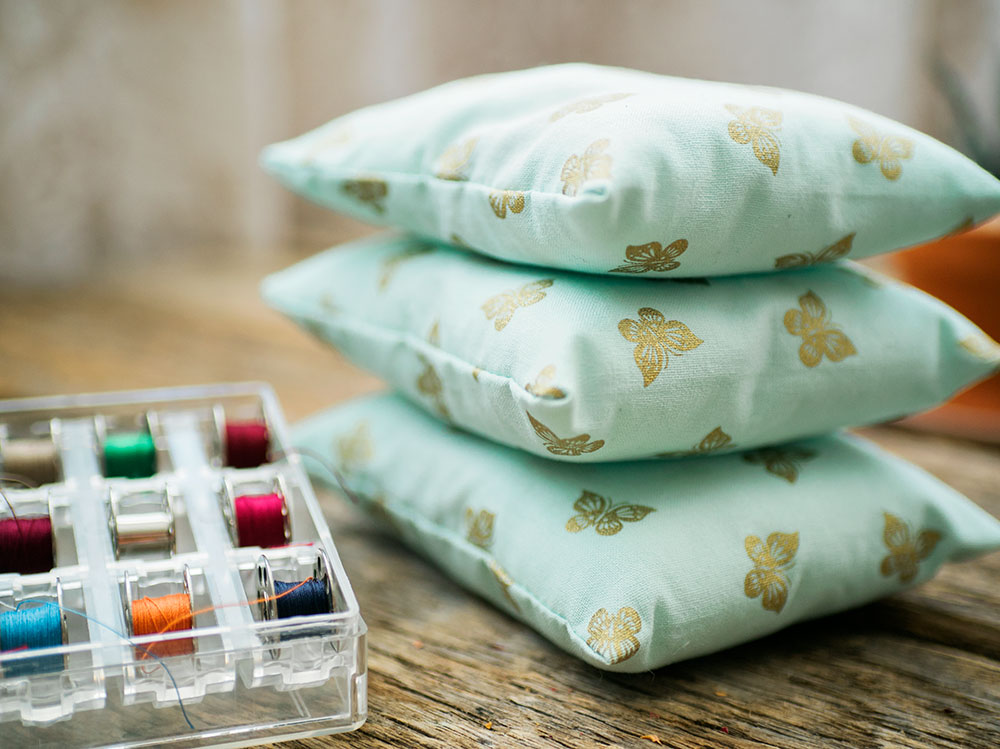 ---
When I sewed these adorable little pillows, I stuffed them with a combination of herbs designed to promote a little extra chill factor. Who couldn't use a little extra chill factor these days? My tutorial uses actual dried herbs and not essential oils. They are quite different.
Herbal Dream Pillows are a simple sewing project, and while they can be made using a sewing machine, they can also be hand sewn using running stitch.
Whether the pillows are machine or hand sewn, the opening left to stuff the pillows will need to be closed by hand, so there is an element of hand sewing no matter which way you go.
---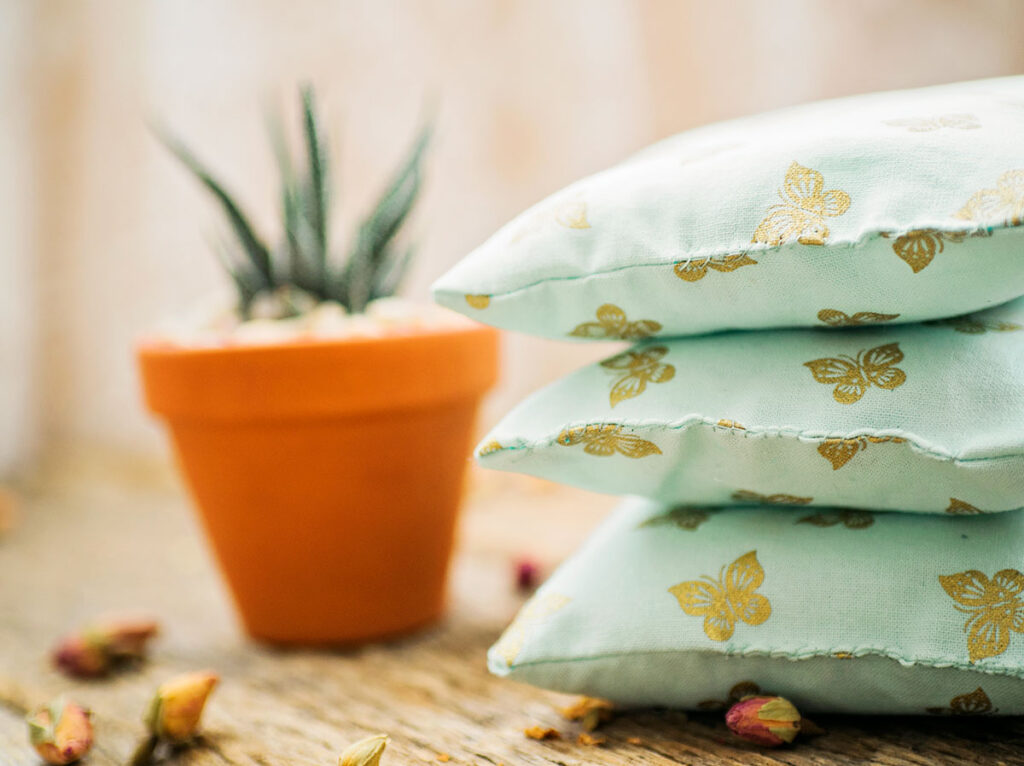 ---
Here is your supply list for Herbal Dream Pillows:
Small quantity of fabric. Fat quarters are great for this. However, I purchased a half yard each of these two different quilting cottons, and I still have plenty left over.
Matching Thread
Poly fil pillow stuffing
Dried Herbs. I used a mixture of lavender buds, chamomile flowers and rose petals.
Needle for hand sewing.
Straight Pins to hold the fabric in place.
Small spoon to spoon the herbs into the pillow.
Sewing scissors. I used pinking shears.
Sewing machine to sew the pillows OR this can be done by hand using a running stitch.
Chopstick or something similar to push out the corners of the pillows when turned right side out, and to stuff the Poly Fill into the corners.
Parchment paper (we use this to make our pattern piece)
Sharpie pen (to draw the cutting lines on the parchment paper)
Straight edge to draw the lines for the pattern
Rule or tape measure to measure the dimensions for the pattern
OPTIONAL Supplies:
Ribbons for trim or decoration
Glue gun to attach trims.
---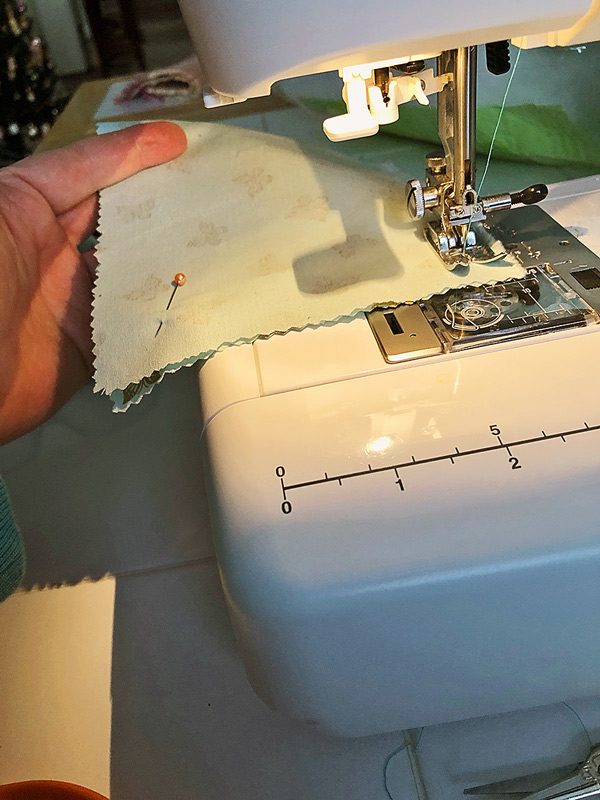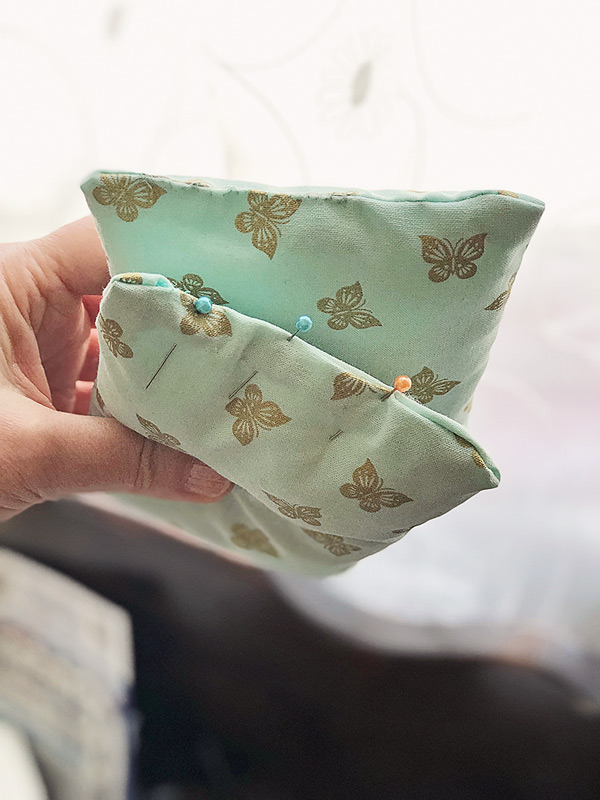 ---
How to sew an Herbal Dream Pillow:
On the parchment paper, measure and draw out a pattern piece that measures 5″ x 12″. Cut out the pattern piece.
On freshly washed and pressed fabric, pin down the pattern piece and cut out your fabric. Cut out 3 or more of these, because you can make and sew this project in small batches for gifts. They are a perfect stocking stuffer.
Fold the fabric in half making the piece 5″ x 6″. Be sure to have the fabric wrong side OUT. Pin the fabric in place to hold.
Start on the right edge of the fabric, using a 3/8″ seam allowance, sew the first seam. When you reach the top edge, leave the needle down, raise the presser foot and turn the fabric 90 degrees. Put the presser foot back down and sew about 2″. Back stitch to secure and cut the thread. Skip over 2″ and then lower the needle and presser foot to sew to the end, follow the same instructions as above for turn the work at the corner. Leave an opening on the short side of the pillow. This is to turn the work right side out and to leave room for stuffing.
Turn the project right side out. Use the chopstick to gently put out the corners to a square.
Stuff a little pillow stuffing in. Only stuff the lower 1/3 of the pillow. Use the chopstick to distribute the stuffing into the corners. Be gentle. You don't want to stick the chopstick through the pretty corners and tear out the seams.
Using a spoon, spoon the dried herbs into the pillow. Crush them gently by squeezing the pillow to get them evenly distribute. Fill almost to the top. Leaving space for more pillow stuffing.
Evenly distribute more pillow stuffing into the top corners and over the top of the herbs being careful not to over stuff.
Bring the edges of the opening together, and pin closed with the straight pins.
Using the same thread used to sew the pillow seams, use and overcast or ladder stitch to close the pillow. Trim the loose thread.
Squish the pillow to even it out. The squishing is sooooo satisfying and it smells really good.
If you care to add a little more decoration to your finished pillow, you can either sew on or glue gun on a decorative trim. I tied a bow with ribbon and glue gunned it into place in my sample
---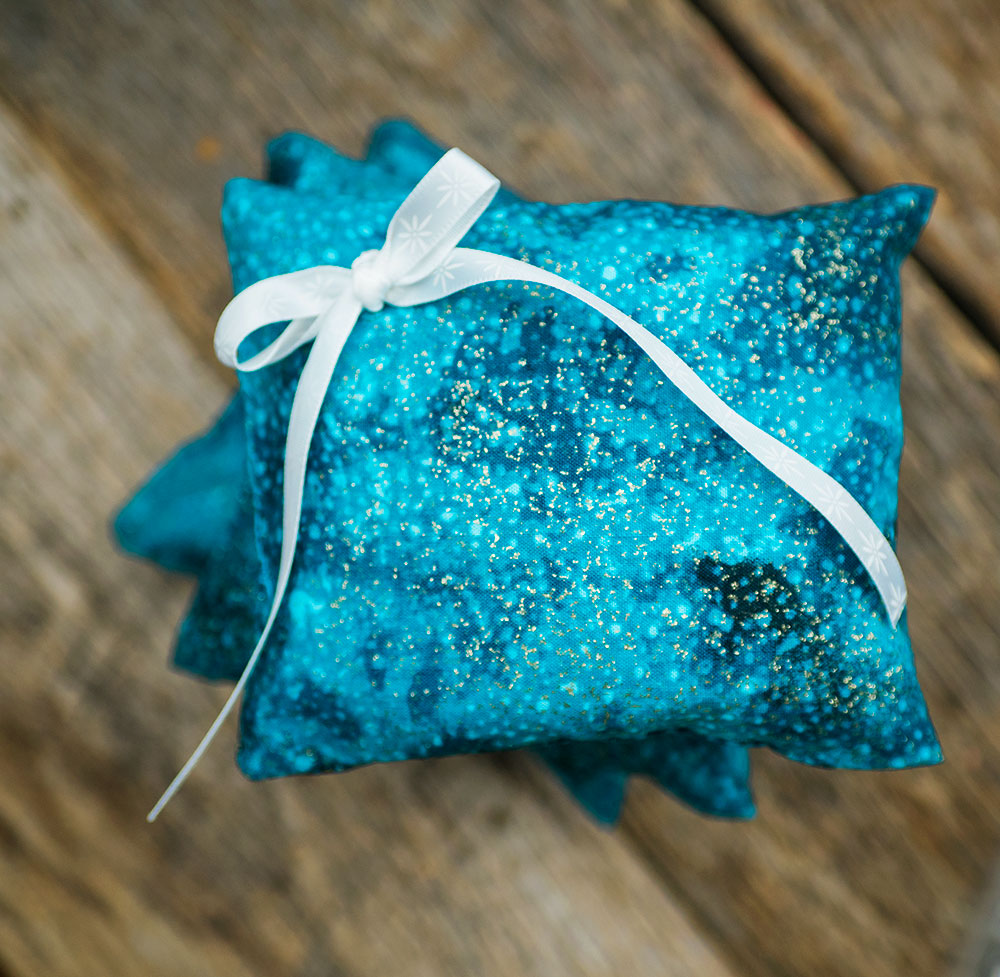 ---
The herbs are a very important part of this project. While there are a few suppliers online, I've always used Mountain Rose Herbs. They carry dried herbs and tons of interesting teas.
---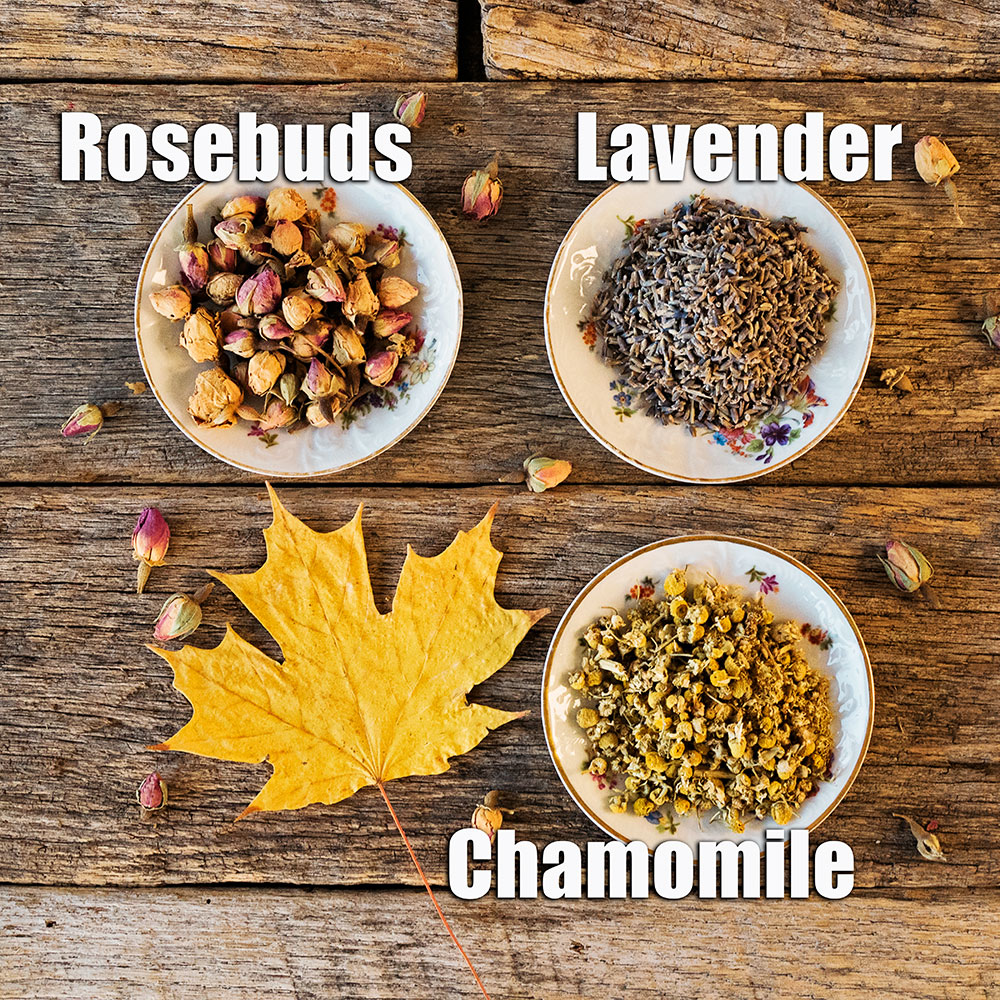 ---
Dried herbs also look really pretty in mason jars, so you can use them for a few different projects! Anytime you need a moment to regain your composure, open a jar and take a deep breath. However, if you have ragweed allergies, be careful with the chamomile flowers! They can make you sneeze!
Ready to learn more about herbal dream pillows? Check out Making Herbal Dream Pillows by Jim Long. I love this book and have used several recipes to make dream pillows for people I care about.
---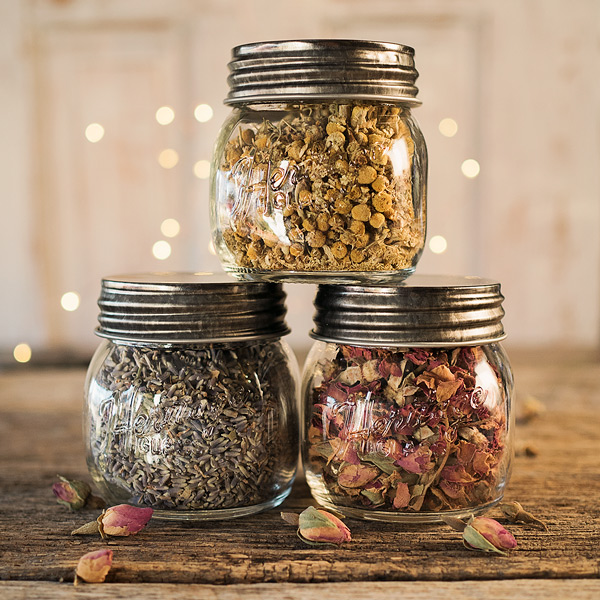 ---
Enjoy this wonderful project!And remember, you matter, too! Sewing an Herbal Dream Pillow for yourself is a wonderful thing to do! The world deserves you at your best, and that starts with a good night's sleep. Pleasant dreams!
---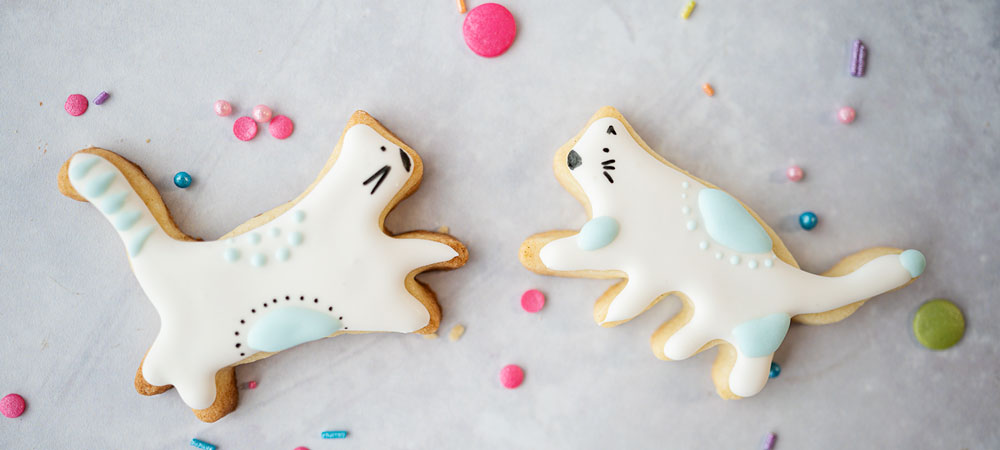 Hi! I'm Pattymac
Sewist, baker, maker
I love figuring out new ways to use pom poms, where I can stash more fabric, and I'm always wondering what to bake next…chocolate or lemon? When not dreaming up new things to make (or bake), I love riding my beach cruiser on the Boardwalk, enjoying classic movies, and planting new things in my tiny but mighty container garden.