The best thing about learning how to make cashew milk is that is super easy. For real. Something promoted as being easy is ACTUALLY easy.
Things have really changed in the last couple of years at the grocery store. In case you missed it, (how could you possibly miss it) the dairy case is filled with dairy alternatives now. Coconut, almond, soy and cashew milk in all sorts of different flavors and from different brands are just some of the options available. It's a little mind boggling, actually. If you are wondering exactly how to make cashew milk at home, you have come to the right place.
---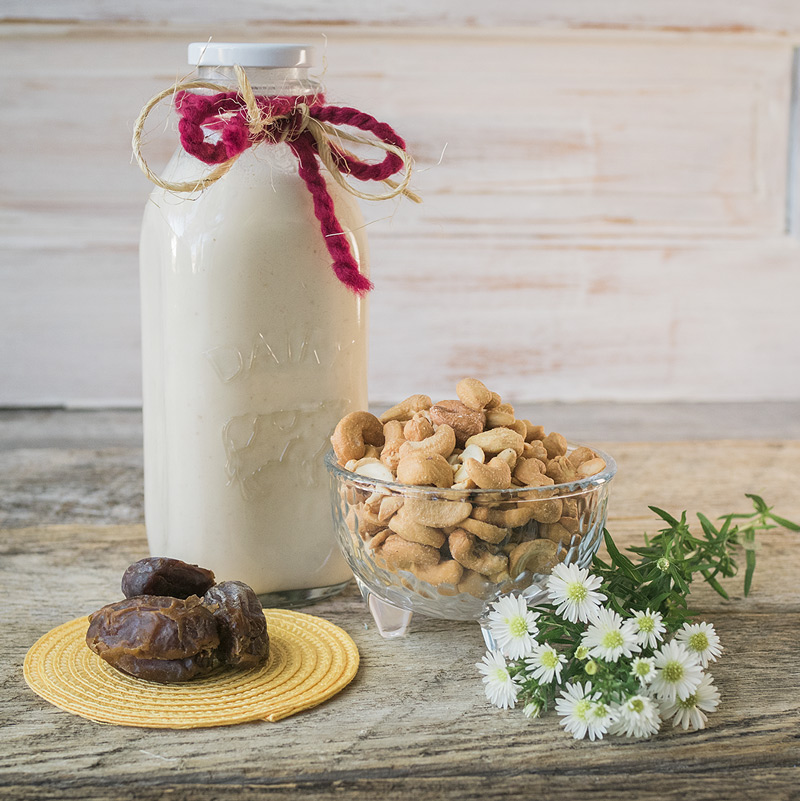 ---
Cashews and medjool dates are all it takes to create the best tasting cashew milk you've ever had! I use low salt roasted whole cashews as my cashew base. The funny looking things on the yellow coaster are the medjool dates. Yeah I know. I had not heard of them either. But they're a thing, and even though they look weird, they taste great in the milk.
In Trader Joe's, the dates are in the refrigerated section with the berries. In Whole Food they are in the dried fruit section across from the tea. So you will need to figure out where they are kept in your store.
The main think about the dates is to remove the pit prior to blending. It's huge and it will mess up your blender if you don't get them out. So cut the date and squish out the pit.
---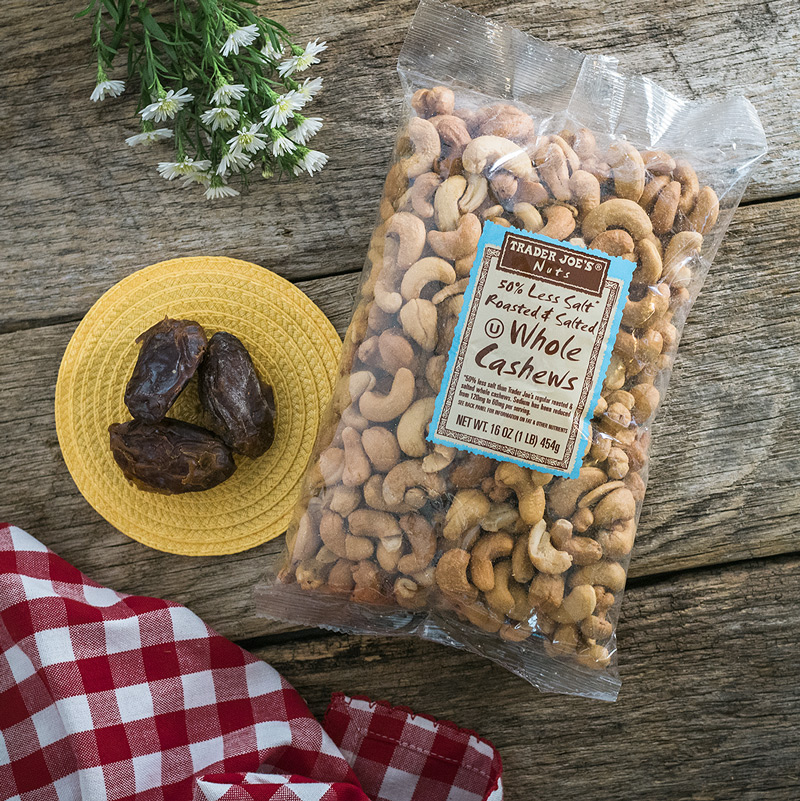 ---
What you need to make cashew milk at home:
Cashews: of course there is active debate about what's best, but I prefer roasted
Medjool Dates: this is your sweetener
Filtered water: I run mine through the Brita so nothing too fancy
Vanilla: this is optional, but vanilla makes everything better
You'll also need a pretty good blender to do this. So here's your excuse the get that Vitamix on easy pay from QVC. That's how I got mine!
You Might Also Like:
---
Print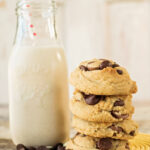 How to Make Cashew Milk
Author:

Patty McGuire

Prep Time:

10

Cook Time:

5

Total Time:

15 minutes

Yield:

8

1

x

Category:

healthy

Method:

no bake

Cuisine:

American
---
Description
Howto make cashew milk at home. It's perfect for smoothies!
---
1 1/2 cups

Cashews (roasted or raw)

2

Medjool Dates

6

–

8

cups filtered water

1 tsp

vanilla (optional)
---
Instructions
Soak the nuts overnight. When ready to make the milk, rinse the cashews in a colander.
Measure one cup of soaked nuts and put into the blender.
Add 1-2 PITTED medjool dates.
Add the vanilla.
Add 4 cups of water to the blender once the nuts and dates are in.
Blend until smooth.
Pour into jars. I bought my milk bottles in Michael's. They hold a quart of milk.
Repeat steps 2-6 in the process listed above. The one and a half cup of nuts will measure out to two cups of soaked nuts in the morning.
This recipe will yield about 2 quarts and a pint of milk.
Notes
The first time I made this, I had a smaller blender so I had to split up the batch. With my Vitamix, I can make this in one batch. So if you have the larger blender put all the nuts and dates and 8-10 cups of water in. Blend until smooth.
Cashew milk needs to be used up rather quickly. Use your batch within the week so it doesn't go bad. When you taste how delicious your smoothies are, it won't be a problem finishing this quickly. And, of course, keep refrigerated.
Make sure to remove the pits before blending. If you forget, the deafening racket coming from the blender will remind you.
You will need a good blender for this recipe. If you are using an old Oster from the thrift store, you may need to strain your cashew milk before using.
Keywords: how to make cashew milk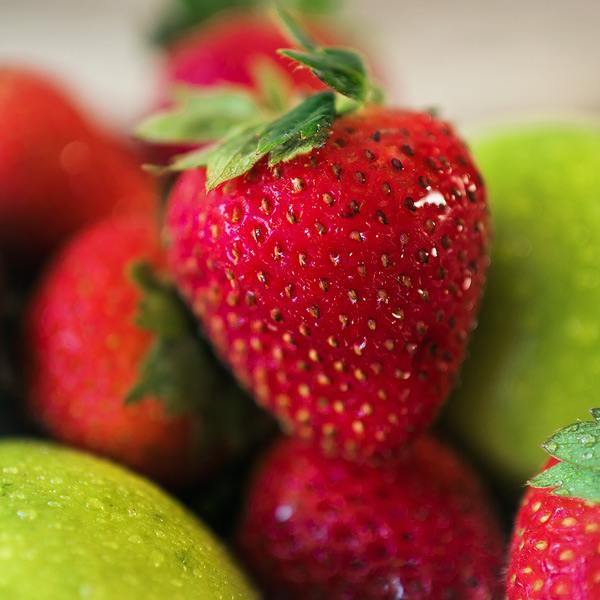 Hi! I'm Patty
Sewist, Baker, Maker
I love figuring out new ways to use pom poms, where I can stash more fabric, and I'm always wondering what to bake next…chocolate or lemon? When not dreaming up new things to make (or bake), I love riding my beach cruiser on the Boardwalk, enjoying classic movies, and planting new things in my tiny but mighty container garden.